This mocha martini is a combination of an espresso martini and a chocolate martini – the best of both worlds. If you like chocolate and coffee, this is the drink for you! It can be made traditionally or gluten-free and vegan.
If you're doing some entertaining this holiday season, nothing is grander than serving dessert cocktails! Besides these Santa Hat Brownies, maybe. ;)
I love an easy cocktail recipe. I rarely make anything too exaggerated – just a nice, festive, sweet, after-dinner cocktail will do. And nothing is more appropriate than the flavor of coffee and chocolate!
But believe me, this cocktail isn't just for the holidays. It's great any time of year, so let's get to it!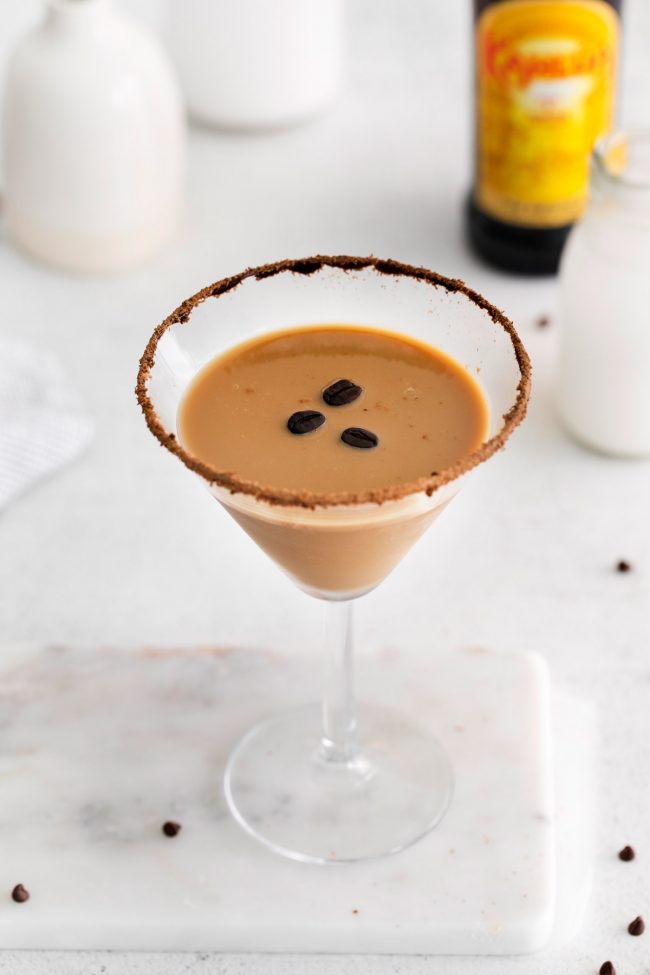 Ingredients
Chocolate liqueur – Godiva or Mozart work great.


Kahlua or Tia Maria – adds the coffee flavor to the martini. If you want the coffee flavor without the additional alcohol, swap the Kahlua for a shot of espresso or coffee.


Vodka – adds a bit of extra alcohol to the martini.


Half-and-half or cashew milk – adds a bit of creaminess.
To make this cocktail, you only need a cocktail shaker and those 4 ingredients. It's as easy as filling the shaker with ice, adding all the ingredients, and stirring until it's well combined. Then strain into your prepared glass.
If you want to boost the chocolate flavor, swirl in some chocolate sauce around the edge of your glass and rim the glass in chocolate shavings or chocolate sprinkles.
This recipe makes 1 cocktail, but you can easily double the recipe for two. To see the measurements, scroll to the recipe box at the bottom of the page.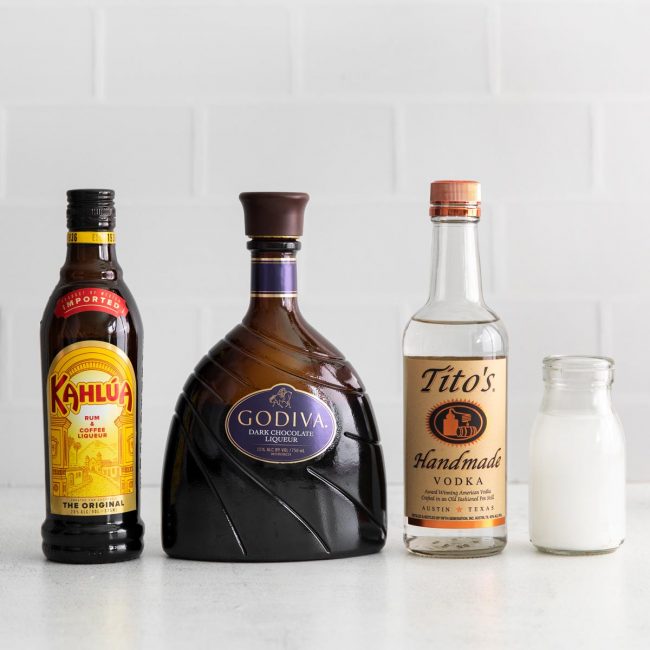 What is chocolate liqueur?
Chocolate liqueurs make dessert-like beverages by adding chocolate to an alcohol base liquor. It's 30-proof, but the alcohol taste is subtle against the velvety richness of the chocolate.
I used Godiva Dark Chocolate Liqueur, but they also have milk chocolate and white chocolate liqueur.
In general, chocolate liqueurs can significantly vary in taste, consistency and color.
I bought Mozart chocolate cream liqueur to test in my Godiva Chocolate Martini, and I actually prefer it over Godiva. But it's harder to find in the US.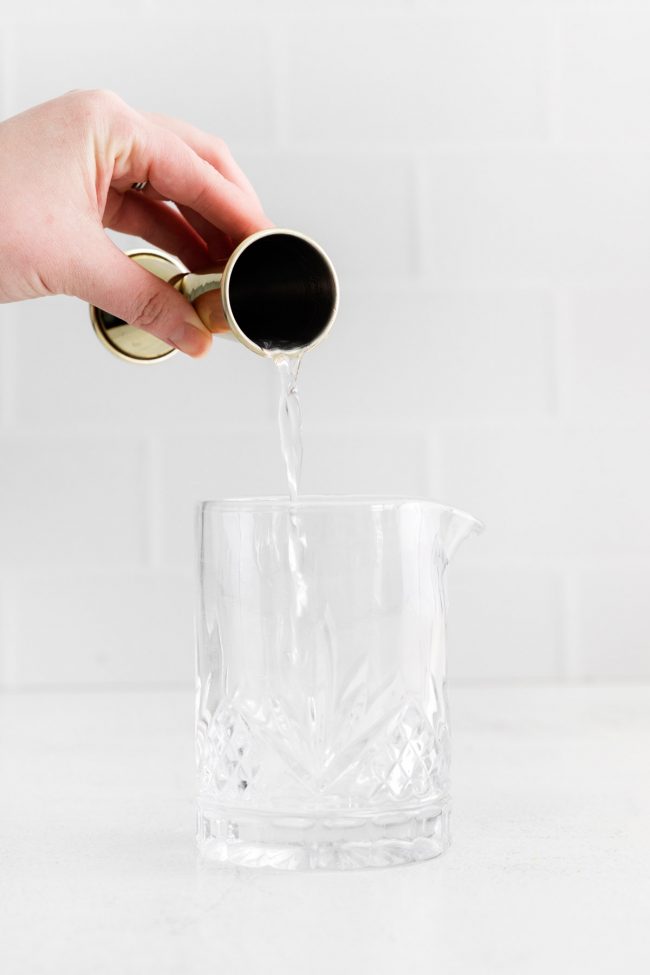 On their website, I saw that Cost Plus World Market has it along with some other chains, so it's not impossible to find. And if you happen to live in in Germany or Austria, it's super easy to find. :D
There are other chocolate liqueur options like creme de cacao. It's extremely sweet, so be aware your drink will be sweeter than the recipe is intended. Bols, Hiram Walker and DeKuyper all make creme de cacao products, but they're not creamy like Godiva and Mozart.
If you have creme de cacao and want to use that instead of Godiva or Mozart, you'll probably want to add some extra half-and-half to make it silkier.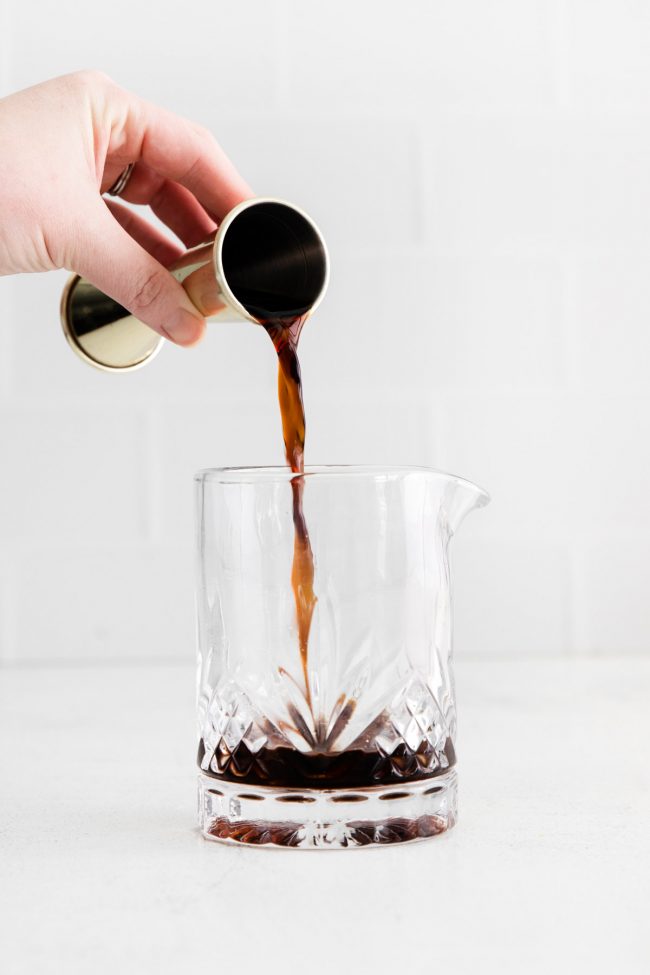 Other sweet martini recipes
Here are my most recent holiday-inspired cocktails for the holidays.
If you're looking for baked holiday treats, check out these holiday recipes.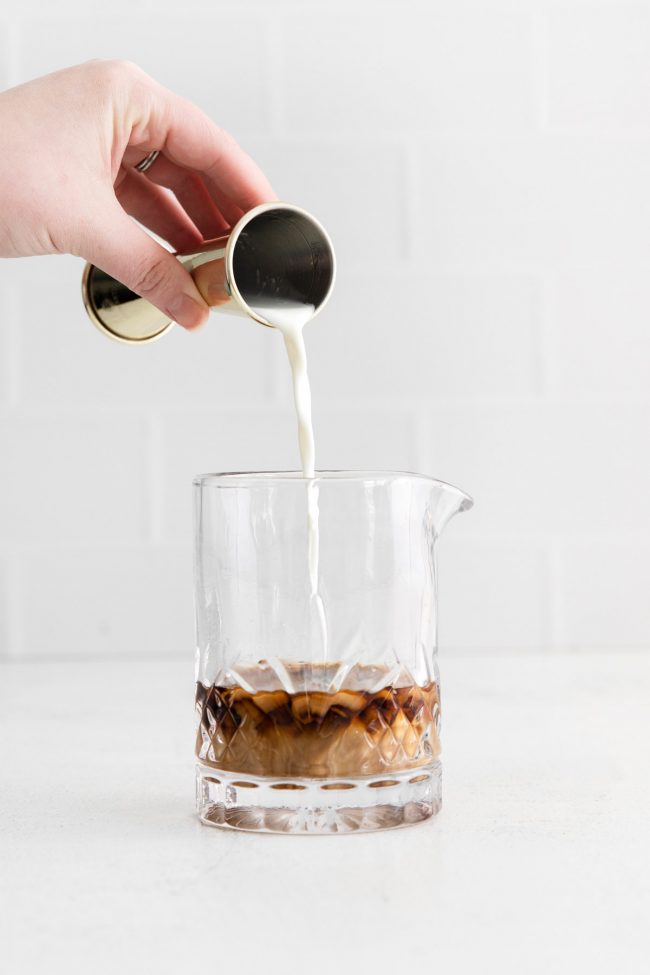 Is this drink gluten-free?
We'll start with Kahlua. Their website states, "The processes of distillation should eliminate cereal proteins from distilled spirits, and therefore distilled drinks are generally accepted for a gluten-free diet. We do not add any known gluten ingredients…" but they go on to say to discuss matters with medical or dietetic advisors.
Tia Maria, on the other hand, is another top brand for coffee liqueurs, and it's gluten-free and vegan. If you want more information, check out this post on the top gluten-free coffee liqueurs, so you're sure you're getting the suitable liqueur for your dietary needs.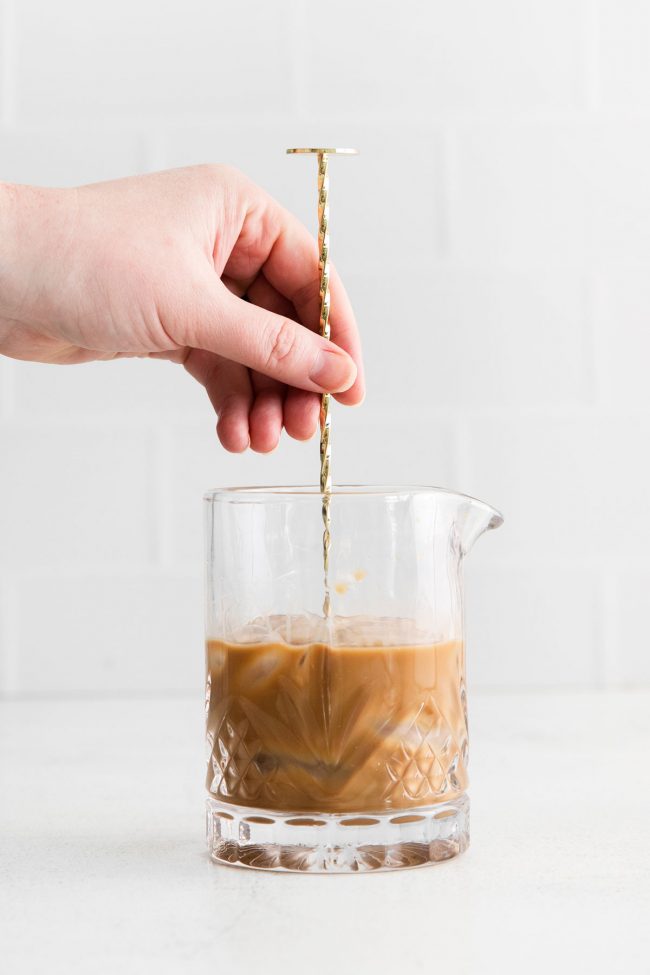 Godiva has conflicting information about its chocolate liqueurs. Some say the company uses gluten ingredients, while others say they don't, but the company isn't careful with cross-contamination. Several of their chocolates contain gluten, so I would avoid Godiva if you're gluten-free.
Instead, find Mozart! On their product page, they've listed cream, white, dark and coffee liqueurs as gluten-free. The ones that aren't gluten-free are pumpkin spice and strawberry. Plus, their dark chocolate liqueur is even vegan!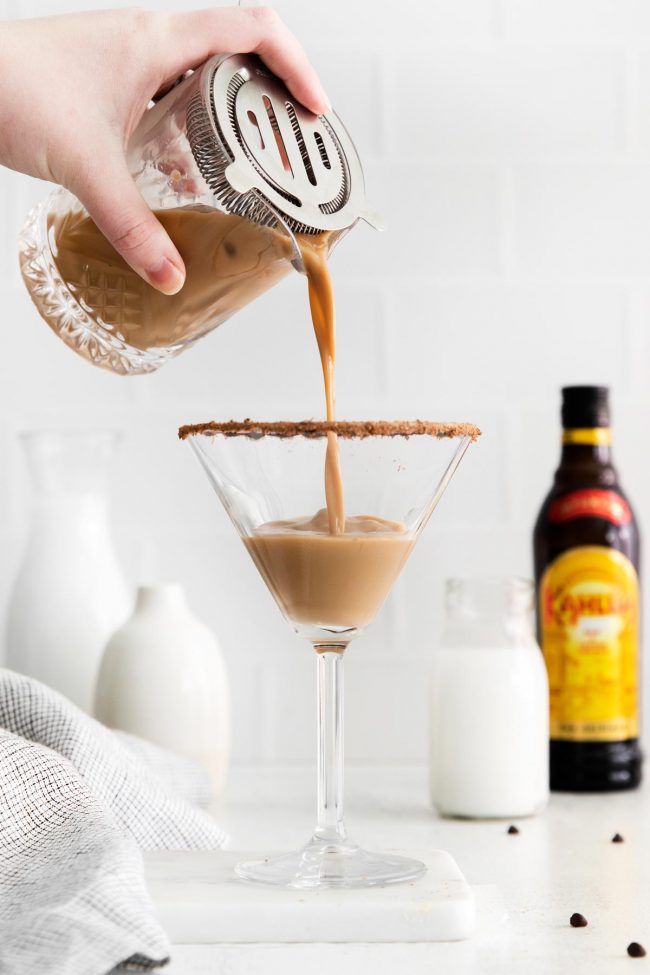 Vegan version
You can make minor adjustments if you're excited to make this mocha martini vegan.
Godiva dark chocolate liqueur is dairy-free, but there are no claims by the company that it's vegan. Mozart Dark Chocolate liqueur, however, is vegan and it's gluten-free.
Kahlua is not vegan, so you would need to go with a vegan option. Tia Maria is easily accessible and is a great alternative. Or you can forgo the coffee liqueur and add an espresso shot to get those rich coffee notes into the cocktail.
Instead of half-and-half, you could easily swap it with cashew or another plant-based milk.
Also, you'll want to find vegan chocolate syrup if you want to add the chocolate swirls.
What to serve with a mocha martini?
You don't need much if you serve this dessert cocktail; it's sweet enough as it is.
If you want a small treat, serve something not overly sweet and something with a tart or fruity dessert. This Whole Orange Cake might be just right.
I usually make this Bliss Balls Recipe so I can offer a high-protein snack that tastes like a sweet for the season; it's easy to make and perfect to have on hand.
These Maple Walnuts are great for sitting around, sipping cocktails, and eating a couple of toasted candied nuts, and they're not overly sweet, but an excellent way to nibble after dinner.
Whatever you make, I wouldn't go with anything too rich.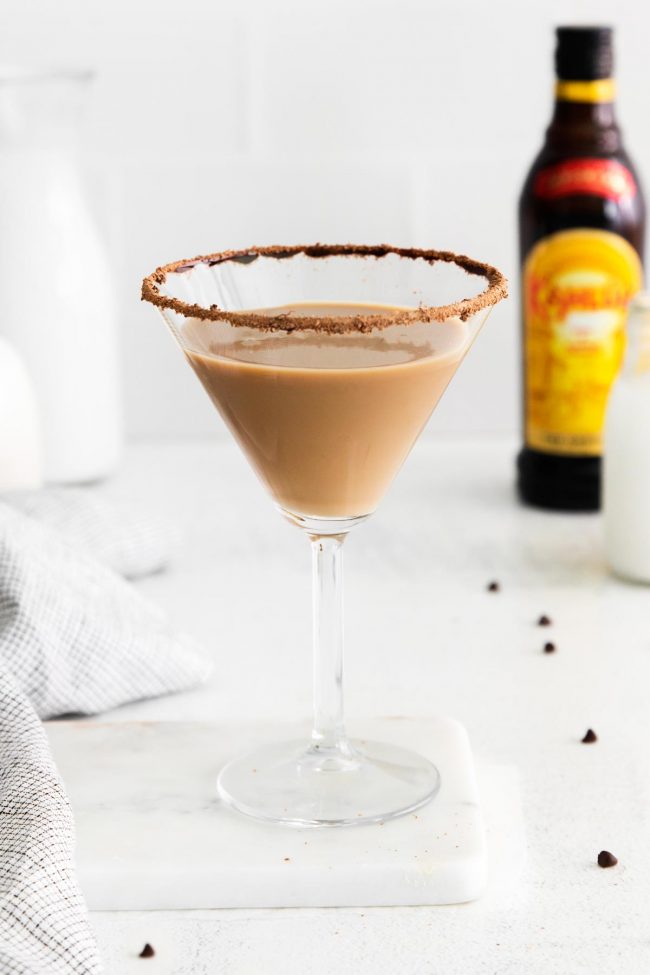 Variations
I love how elegantly sweet and chocolaty this cocktail is, but you may not be as in love with chocolate as I am.
If you think it's too much chocolate, instead of the chocolate drizzle, you could swirl in vanilla syrup or maybe even try a fruit-flavored vodka.
Raspberry or strawberry vodka could be great options, and cherry-flavored vodka could also be a nice touch. Whatever you think would go with chocolate would work, but I'd stay away from the cucumber and aromatic vodkas.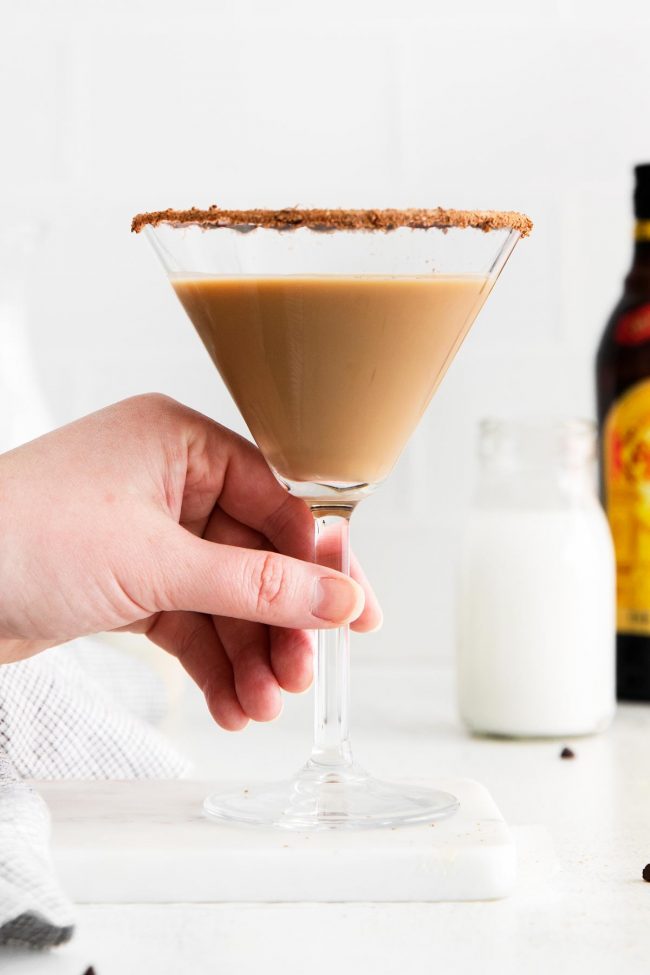 Garnish
One idea is to rim the glass in shaved chocolate or chocolate sprinkles.
You could add a candy cane, or if you wanted to wow the crowd, you could rim the glass with a little honey and roll the rim in crushed peppermint for an extra festive garnish.
Coffee beans would be an elegant touch, and you can even rim the glass with ground coffee (like I did) or sprinkle on cocoa for a more dramatic flare.
Cinnamon pairs well with coffee and chocolate, so adding a cinnamon stick would add a nutty sweetness and look appropriate for the season.
A cut strawberry on the rim brings in some color, or plop a raspberry or cherry on top.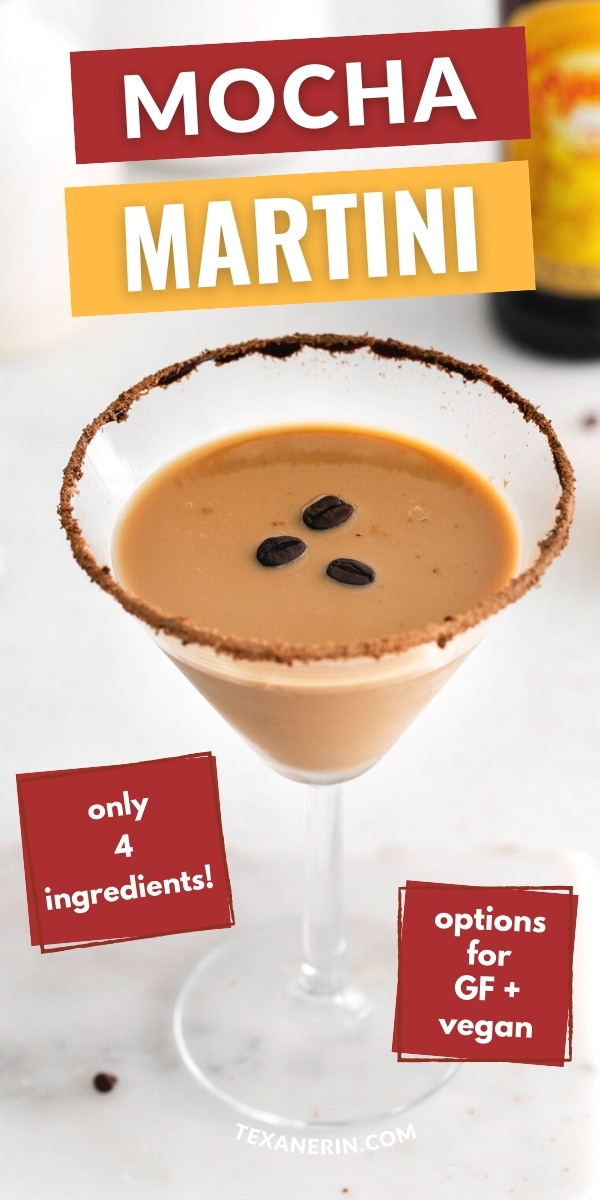 Other holiday drinks
And for another great cocktail that's great any time, try this Smoked Old Fashioned Recipe!
I hope you enjoy this mocha martini. If you make it, we really want to see it! Please leave a comment below or tag #texanerin on social media so I can be sure to find it. Cheers!
❀
Mocha Martini
Prep Time:
Cook Time:
Ready in:
Yield:

1
Ingredients
2 ounces (1/4 cup) Godiva or Mozart Dark or Cream Chocolate Liqueur (Mozart for gluten-free, Mozart Dark for vegan)
2 ounces (1/4 cup) Kahlua or Tia Maria for vegan/gluten-free
1 ounce (2 tablespoons) vodka
1/2 ounce (1 tablespoon) half-and-half or cashew milk for vegan
Directions
Fill a cocktail shaker with ice and add all of the ingredients. Stir until well combined – about 10 seconds.
Strain the martini into your prepared glass and enjoy.