This vegan fudge is super creamy, easy to make and stays solid at room temperature! It really tastes like traditional fudge and can also be made paleo.
There are a few 2-ingredient vegan fudge recipes out there and I've tried them. They're yummy but not what I would call fudge.
While this recipe has more than two ingredients, it's still incredibly easy. And definitely worth the extra 2 minutes it takes to prepare!
Just 5 basic ingredients
You probably even already have the ingredients in your pantry. You just need chocolate, coconut milk, nut or seed butter, a tiny bit of maple syrup, vanilla and salt.
So far I've made this recipe with hazelnut butter, almond butter, cashew butter and sunflower seed butter for a nut-free version. Peanut butter also works for non-paleo! Here's how to make homemade almond butter and how to make peanut butter should you want to make you own.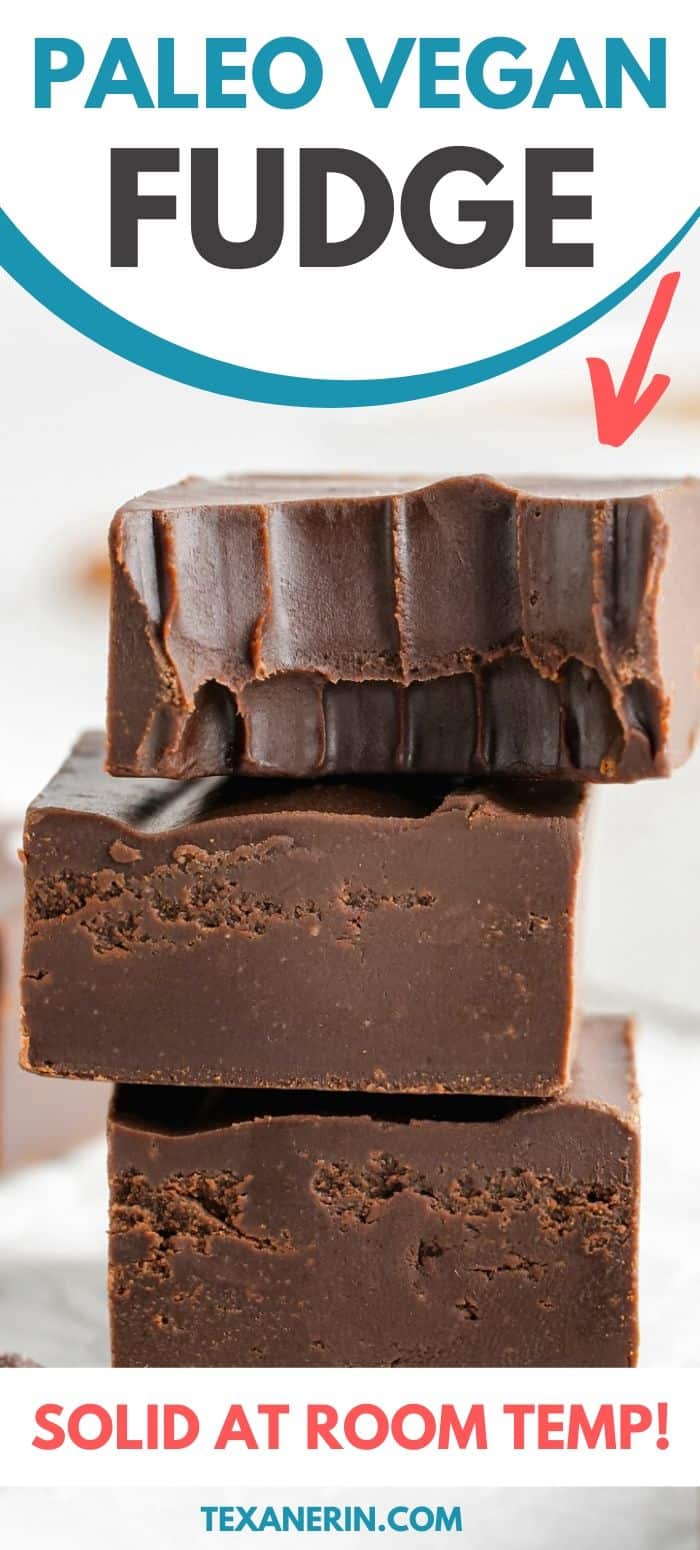 Solid at room temperature!
A lot of paleo and vegan candy recipes, like my peanut butter chocolate fudge or peanut butter and jelly fudge, melt at room temperature. It can be a little annoying if you want to bring them on-the-go with you. But today's recipe stays firm!
That's because this fudge recipe is coconut oil-free. It's firm just like traditional fudge is at room temperature.
And because it's coconut oil-free, there's no coconut taste. I usually recommend refined coconut oil in my coconut oil recipes (like in 180 out of 185 of them ;)) but I know a lot of people prefer to use unrefined.
So yay – no coconut flavor in this recipe! The small amount of coconut milk isn't enough to turn the fudge coconutty.
If you don't care about it being solid at room temp, check out my paleo fudge, which is also vegan and only uses a few ingredients. You don't even need to turn on the stove to melt anything and it's 100% maple-sweetened.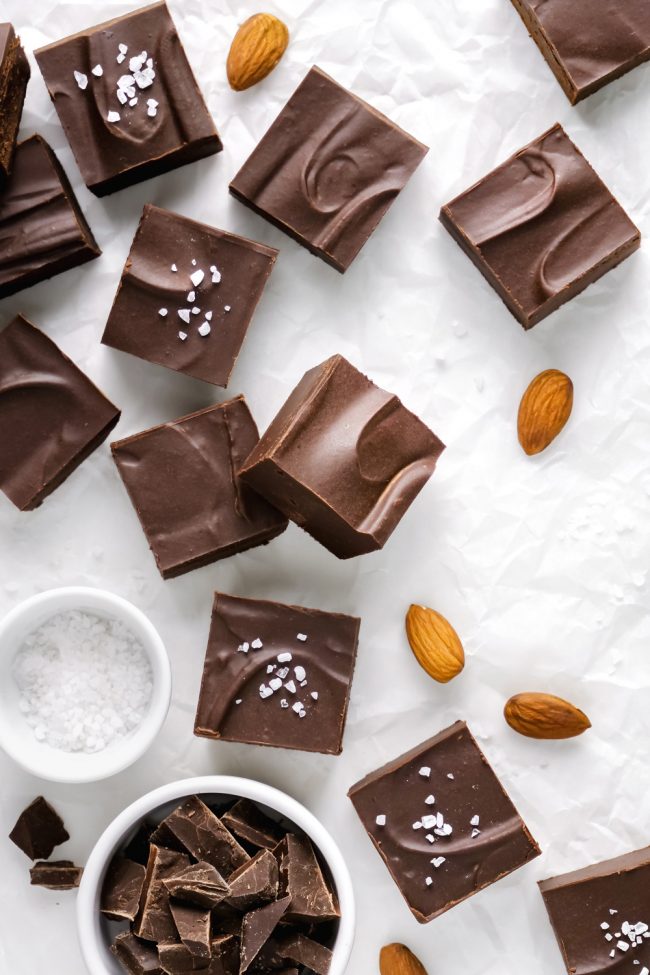 You should still keep it refrigerated because of the nut butter and coconut milk, though. It's totally fine to keep out at a party or bring on a road trip but it's safer to refrigerate after maybe no more than 12 hours.
If you try out this chocolate fudge, I'd love to hear how you like it!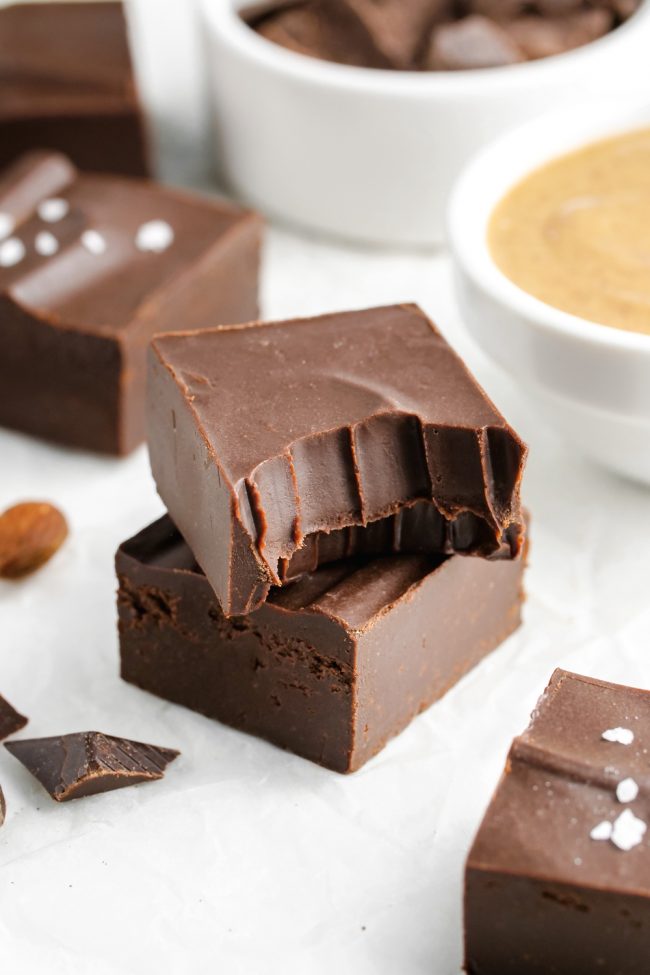 Substitution questions about this vegan fudge recipe?
Can I use a different type of chocolate?

Dark chocolate would work (if you prefer your chocolate fudge on the dark side). Milk chocolate would also be fine (if you have a sweet tooth and don't need it paleo / dairy-free). I haven't tried white chocolate but think it might taste odd with the nut butter. I might be wrong about that, though!

Can I use something instead of almond butter?

Any natural nut or seed butter should work! It just can't have any added fat or sugar.

Can I use something other than coconut milk?

I haven't tried it but I'm guessing so. The result might not be as creamy since coconut milk is so much thicker and has more fat than other types of milk.

Can I use something other than maple syrup?

Any liquid sweetener that you would use as a 1:1 sub for maple syrup or honey would probably work.

Can I omit the maple syrup?

I wouldn't recommend it. It's not super important to the taste (although for me, it wasn't sweet enough without it) but it won't be as fudgy without it. I originally tried it that way. I don't think you can use water in its place but if you want to booze it up, that would probably be amazing. ;)

Can I use a different extract?

You can use whatever extract you think goes well with your nut butter and chocolate! Peanut butter + chocolate + lemon extract? No. Almond butter + chocolate + peppermint or almond extract? Definitely!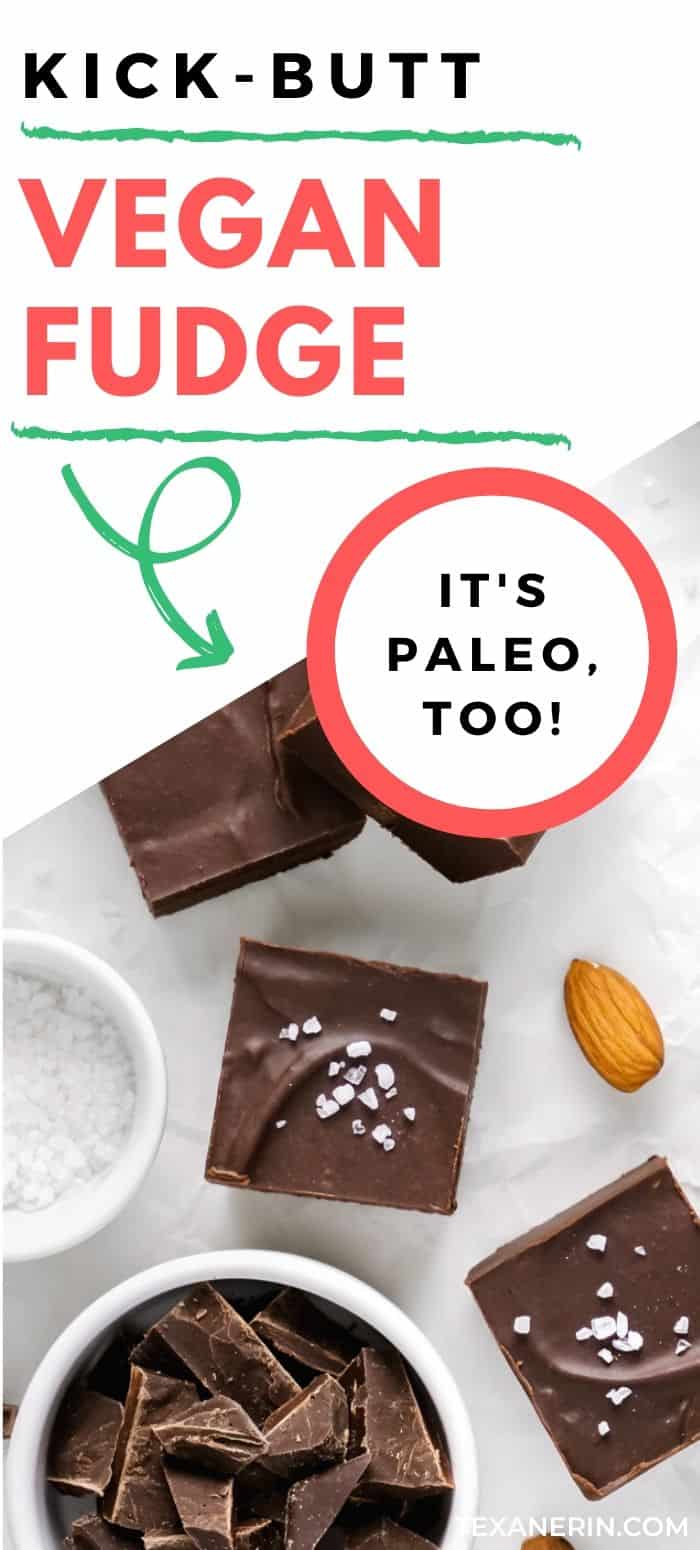 ❀
Paleo Vegan Fudge
Prep Time:
Cook Time:
Ready in:
Yield:

16 pieces
Ingredients
2 cups (340 grams) finely chopped semi-sweet chocolate or chocolate chips (make sure to use paleo / vegan chocolate)
1/3 cup (80 milliliters) full-fat canned coconut milk
1/4 cup (64 grams) natural almond butter (or another nut / seed butter with no added fat or sugar)
4 teaspoons maple syrup
pinch of salt
1/2 teaspoon vanilla extract
Directions
Add everything, except the extract, to a medium saucepan or pot. Melt over low heat while frequently stirring. Meanwhile, prepare a 9"x5" loaf pan with a piece of parchment paper.
Once the fudge is totally combined, remove from the heat and stir in the extract.
Pour the fudge into the prepared pan. Refrigerate for 2 hours or until set.
You can cut this when cold but it's easier when at room temperature. Store at room temperature for up to 12 hours and then refrigerate for up to 1 week.