These soft Swedish saffron buns are made a little healthier with 100% whole grains and come with a dairy-free option, too!
I'm teaming up with Red Star Yeast today to bring you another Swedish Christmas recipe. With St. Lucia, a Swedish holiday, coming up on Saturday, I thought it'd be the perfect time to share these saffron and cardamon spiced yeasted buns. The first few times I was offered one of these saffron buns in Sweden, I politely declined because I thought they sounded and looked weird. They are different, but in a good way.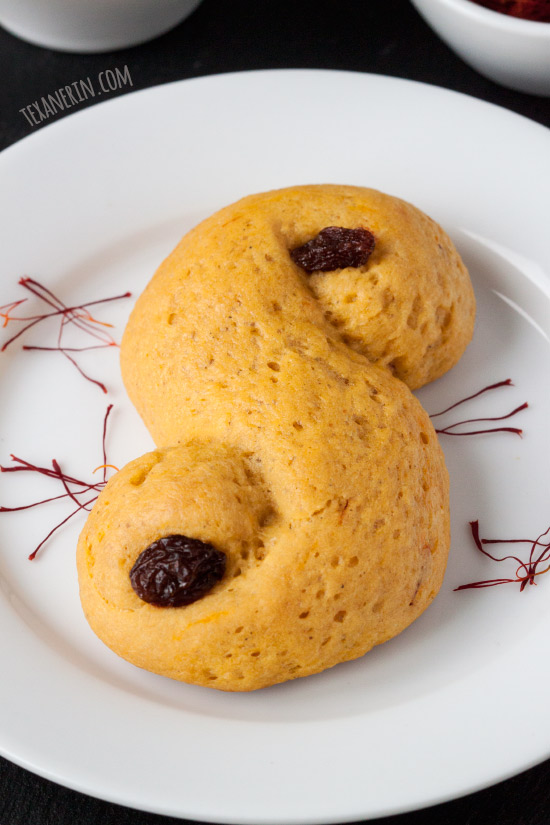 I was actually St. Lucia at my school's Lucia procession during my exchange year in high school. I had the white gown, red sash and a crown of candles that stole my oxygen. I felt like I was going to faint after the first 5 minutes and friends told me afterwards that I looked like a ghost. It wasn't a great experience but afterwards I ate these buns, also called lussekatter, and pepparkakor, which made me feel a little better.
A lot of the recipes I'd tried in the past were quite dense, even using all-purpose flour. I used all white whole wheat flour in these, added a little vital wheat gluten and potato flour and they didn't come out the least bit dense. But be warned – they're not fluffy. I've never had a fluffy Lucia bun, though, so if that's what you want, good luck on finding such a recipe. ;)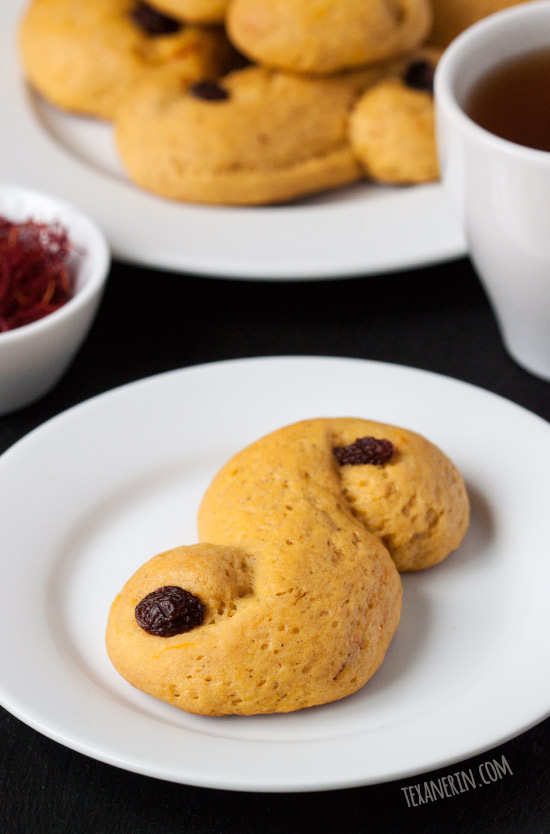 Ground saffron is generally sold in .5 gram sachets in Sweden for about $3.75. In Germany, .5 grams of saffron costs $20. There was no way I was going to pay that so I bought mine online. I've heard that World Market has it at a decent price, so you may want to check there!
I've also heard that cardamom is expensive in the US. I bought mine in Sweden years ago and everything seems expensive there, so I didn't notice anything unusual about the price. But I just did some research and it turns out that cardamom is the second most expensive spice in the world, only after saffron. If you don't have cardamom on hand, you can leave it out. It's not typically found in lussekatter but like I've said before, I toss cardamom into all my Swedish Christmas treats. It just belongs there.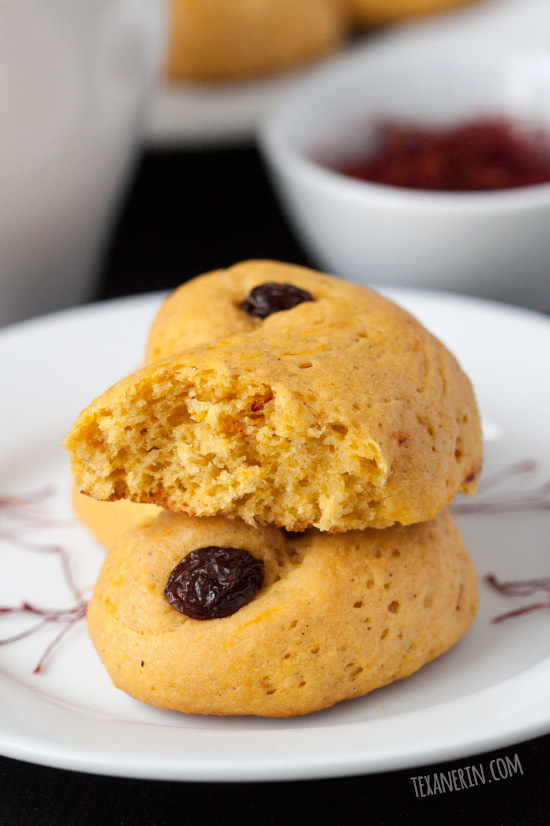 This recipe yields 24 buns but you can easily halve it if you don't need so many. They reheat well in the microwave so you can enjoy these for several days! You can also freeze the baked buns.
Have a happy St. Lucia and if you're not celebrating (which I'm guessing is 99.999% of you ;)) then just have a great Saturday!
❀
Whole Wheat St. Lucia Saffron Buns
Prep Time:
Cook Time:
Ready in:
Yield:

24 buns
Ingredients
3 - 3 3/4 cups (375 - 469 grams) white whole wheat flour
1/4 cup (40 grams) potato flour
2 tablespoons vital wheat gluten
1/2 cup (100 grams) granulated sugar
1 1/2 teaspoons ground cardamom
1 1/4 teaspoons salt
2 .25-ounce packages Red Star Platinum yeast (this is 4 1/2 teaspoons yeast)
2/3 cup (158 milliliters) milk of choice
1/2 cup (120 milliliters) water
3/4 teaspoon saffron threads
1/2 cup (113 grams) unsalted butter or room temperature coconut oil1
2 large eggs, room temperature
1 large egg white, mixed with 1 tablespoon water
48 raisins
Directions
In the bowl of a stand mixer, stir together 2 cups white whole wheat flour, potato flour, vital wheat gluten, sugar, ground cardamom, salt and yeast. Set aside.
Mix together the milk, water and saffron threads in a small saucepan over medium heat. Cook, stirring frequently, until the mixture is hot and steamy, but not yet simmering. The mixture should turn quite orangeish yellow. Remove from the heat and stir in the butter. Stir until completely melted. Let cool to between 120 °F and 130 °F (49 - 54 °C) and then add the milk mixture to the dry ingredients, along with the eggs. Use a silicone spatula to stir until well combined. It may be quite dry and crumbly at the beginning but should eventually become wet and smooth.
Using a stand mixer fitted with the dough hook, add 1 cup of the remaining white whole wheat flour, 1/4 cup at a time, while mixing at the lowest speed. Fully incorporate the flour before adding more. The dough should still be quite sticky and won't pull away from the sides of the bowl.
Knead on low for 5 minutes. The dough will still be a little sticky and won't completely pull away from the sides of the bowl. When you touch it, it should stick to your finger just a little bit. If it's still very sticky, add up to 1/2 cup more flour, a tablespoon at a time, until no longer very sticky. If adding more flour, knead for another 2 minutes on low.
Using a silicone spatula, scoop the dough into a lightly oiled mixing bowl and cover the bowl with plastic wrap or a thin tea towel.
Let the dough rise in a warm place until doubled, about one hour.
Punch the dough down. If the dough is still sticky, lightly flour a Silpat or piece of parchment paper.
Prepare 2 baking sheets with Silpats or parchment paper.
Divide the dough into 24 pieces (40 grams each) and roll each piece into a 7" rope. Form an S-shape and place on the prepared baking sheet. Repeat with the remaining dough, leaving about 3" between each bun as they spread quite a bit.
Cover the baking sheet with lightly oiled plastic wrap and place in a warm place to rise for 30 - 45 minutes or until doubled.
Once they've almost doubled, preheat the oven to 350 °F (175 °C).
Brush the egg white mixed with water over the buns and place 2 raisins on each end of the bun.
Bake the buns for 8 - 11 minutes or until lightly browned on top.
Serve immediately.
Cool completely before storing in an airtight container.
Can be kept at room temperature for up to 5 days. Reheat in the microwave at 50% power for 10 - 20 seconds or until soft.
Notes
I used refined coconut oil, which has no coconut taste. If you use unrefined coconut oil, these are likely to have a coconut taste to them.
Follow Red Star Yeast on Facebook and Pinterest for some more delicious yeasted recipes from your favorite bloggers! And if you ever have problems with your yeasted treats, check out their helpful troubleshooting guide! It's saved me more than once. :)
I was compensated by Red Star Yeast for the development of this recipe but as always, all opinions expressed in this post are my own.