The most gooey chocolate zucchini brownies ever! You'd never guess these are healthy and made with whole grains (but can also be made with all-purpose or gluten-free flour), zucchini and that applesauce takes the place of oil! With a video.
Some other bloggers and I are posting healthier dishes today and taking a minute to help spread awareness on childhood obesity. Now brownies don't exactly help with the issue but if you're going to have dessert, why not make it healthier if you really can't taste a difference? :)
These chocolate zucchini brownies have no added fat (except what's in the chocolate chips) and are full of zucchini and whole grains (but really do not taste like it!) so you can feel good about giving these to your children.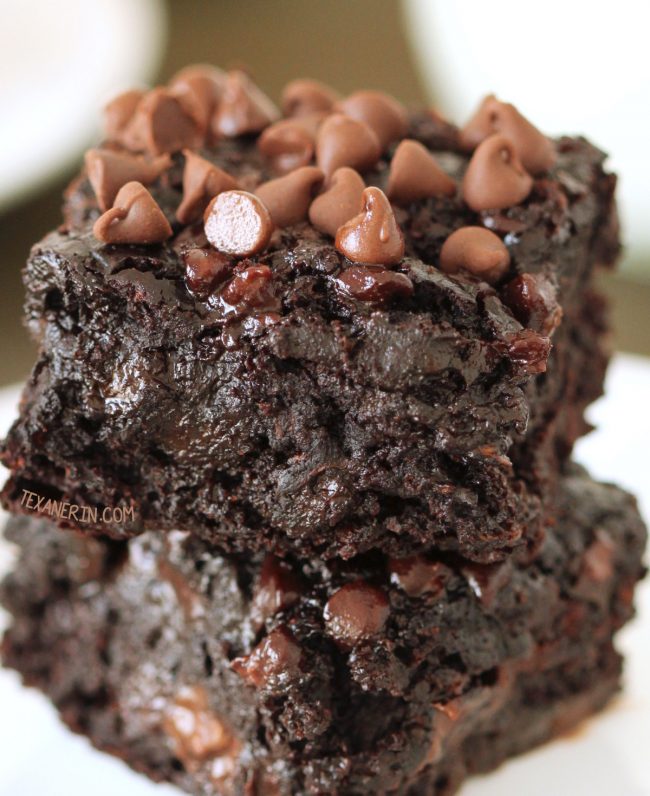 Really, unless your kids watch you make these, there's no way that they'll be able to tell that these chocolate brownies have zucchini in them. Or that they're whole wheat or whole spelt. The gluten-free version also doesn't taste gluten-free!
And if you have portion control issues, these halve beautifully! Use a 9″ x 5″ loaf pan and bake for only 14 minutes.
I highly recommend not decreasing the amount of chocolate chips in the batter. You can definitely skip the ones on top but these zucchini brownies rely on the sweetness and flavor from the chocolate chips!
Be sure to use Dutch-process cocoa powder in these zucchini brownies. If you use the regular natural kind (like Hershey's) these zucchini brownies will likely come out cakey instead of nice and fudgy like you see!
I'm not one to be afraid of a little coconut oil, olive oil or any of the "healthier" fats, but these do add calories to the final product. Calories which help contribute to weight gain.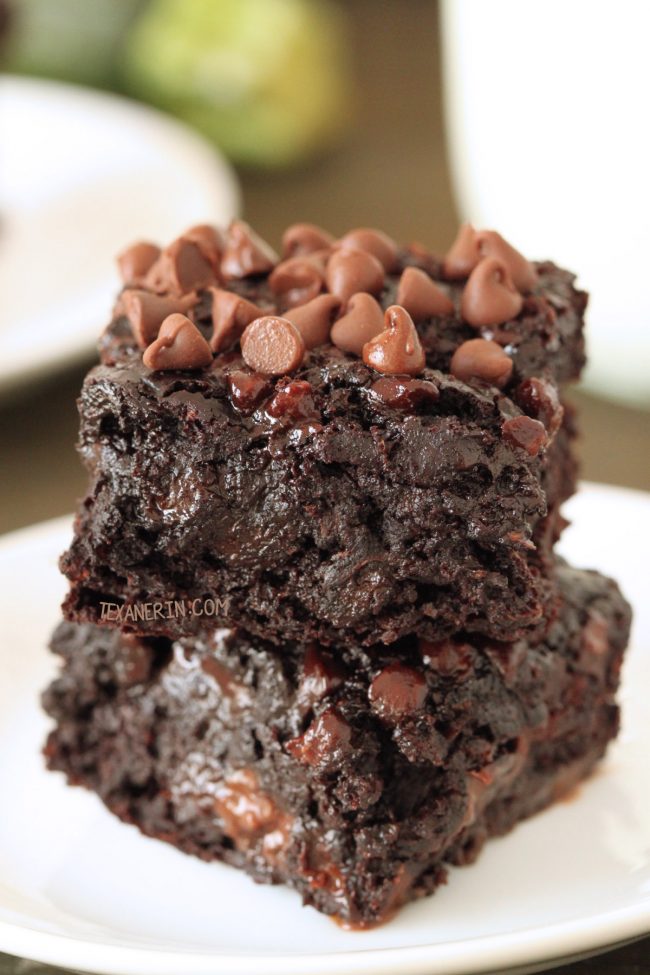 The obesity rate in elementary school children (ages 6-11) has quadrupled over the past four decades and a third of children and adolescents are overweight or obese. And these kids are more likely to be obese as adults.
That's why it's important to instill healthy eating habits in our kids from the very beginning. Why set them up for failure?
So what healthy change are you going to make this school year? I don't have kids yet but I'm going to do my best to keep bringing you healthier recipes! Less sugar, no processed junk, and whole grain or gluten / grain-free.
❀
Here are some of my other favorite vegan + whole grain treats!
Be sure to check out the video!
❀
Zucchini Chocolate Brownies (100% whole grain, gluten-free, dairy-free options)
Prep Time:
Cook Time:
Ready in:
Yield:

16 brownies
Ingredients
2 large eggs (50 grams each, out of shell)
1 tablespoon vanilla extract
3/4 cup coconut sugar or unrefined sugar or granulated sugar
1/4 cup (60 ml) unsweetened applesauce
1 cup (125 grams) whole wheat flour or whole spelt flour or all-purpose flour or Bob's Red Mill Gluten-Free 1-to-1 Baking Flour for the gluten-free version
1/2 cup (45 grams) Dutch-process cocoa powder (using regular cocoa powder may result in cakey brownies)
1 1/2 teaspoons baking soda
1/4 teaspoon salt
2 cups (about 300 – 320 grams) peeled and grated zucchini
1 cup semi-sweet chocolate chips + 1/2 cup mini chocolate chips to sprinkle on top (for dairy-free, use Enjoy Life Chocolate Chips)
Directions
Preheat the oven to 350 degrees F (176 degrees C) and line an 8"x8" pan with parchment paper or spray with baking spray.
In a large bowl, mix together the eggs, vanilla, coconut sugar, and apple sauce and let this sit for 5 minutes to let the coconut sugar dissolve.
In a separate medium bowl, mix together the flour, cocoa powder (sifted if lumpy!), baking soda and salt. Make sure there are no clumps before going on to the next step.
Add the dry mix to the wet, gently stir until combined. Be sure not to over mix!
Then fold in the zucchini and 1 cup chocolate chips.
Pour the batter into the pan and even the surface with a spatula.
Sprinkle 1/2 cup mini chocolate chips on top.
Bake for 30 - 35 minutes (14 minutes for the half batch) or until a toothpick inserted in the middle doesn't come out gooey. It might still be sticky - just not have raw batter on it.
Store in an airtight container for up to 2 days at room temperature or up to one week in the refrigerator. I recommend storing them in the refrigerator right from the beginning due to their high moisture content.