These healthier sauteed apples are lightly naturally sweetened with maple syrup and are quick and easy to prepare! They also happen to be gluten-free, vegan, paleo and dairy-free.
I don't really have any Thanksgiving recipes on the blog, which is kind of crazy, so I'll be bringing you healthier Thanksgiving side dishes and desserts for the rest of the month!
To start off, we have these super yummy healthier sauteed apples. They are quick, easy and the perfect side dish for Thanksgiving! When you have healthy side dishes like these around for Thanksgiving, you don't have to worry about eating too much. Because you know, all that fiber from the apples will fill you up! :D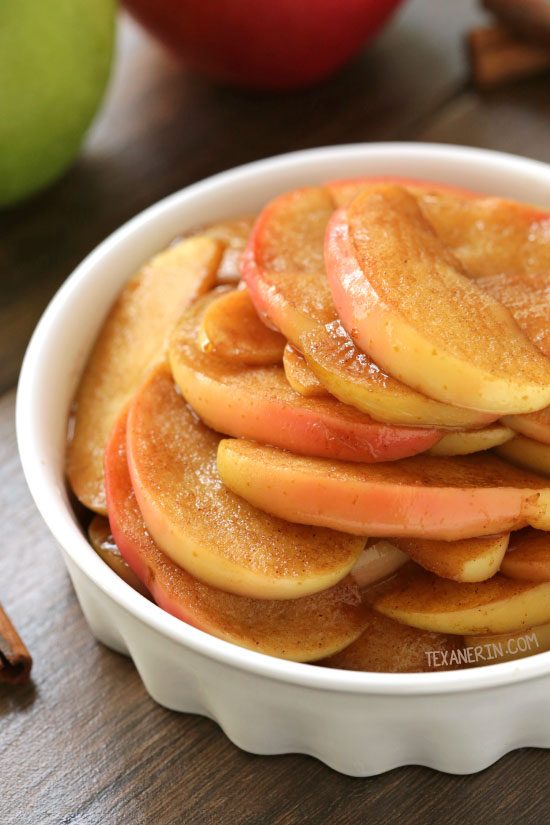 I absolutely love sauteed apples but I don't love how sugary and gloppy they are. Yuck. I want to taste the apples and not a bunch of sugar. I did want the slightly molasses-y taste that brown sugar adds, so I used just a teaspoon of molasses to the apples. It was just enough!
These sauteed apples only use 1 tablespoon of maple syrup per serving (which according to my love of sauteed apples, is a generous 1 apple per person!) But if we're being realistic, and this is being served at Thanksgiving, I bet this recipe would be enough for 8 people.
Seriously. These sauteed apples couldn't be any healthier! Or I guess eating a plain apple would be healthier but that's just boring. ;)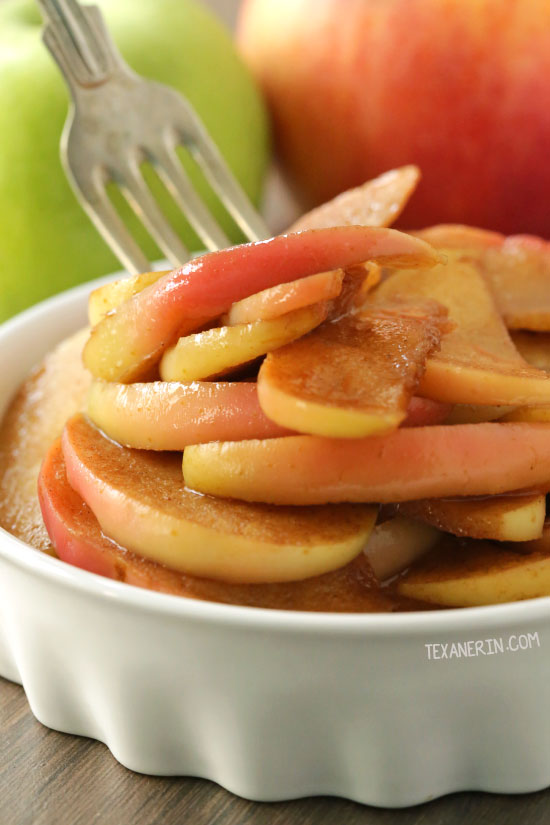 I used Elstar apples, which are really common over here, but I think any sweet apple would do. Except Red Delicious, because like I've said before in this apple butter post, those are just useless. ;) Do note that if you use a tart apple, your sauteed apples are going to be tart because there's not very much sweetener in this recipe.
You can also add more spices like nutmeg, allspice, and cloves – or just make it simple and add apple pie spice to taste. I didn't add any more spice because Mr. Texanerin is very picky when it comes to fall spices, but he's always down for cinnamon. I wanted some help eating these so I made them Mr. T friendly.
And these sauteed apples are also all kinds of diet restrictions friendly! They're naturally gluten-free, dairy-free, and vegan. I used coconut oil just because I like coconut oil, but you could also use regular butter if you prefer. So there. Bring these to Thanksgiving dinner and everyone will be able to enjoy them! :D
❀
Healthier Sauteed Apples (naturally vegan, gluten-free, dairy-free, paleo)
Prep Time:
Cook Time:
Ready in:
Yield:

4 – 8 servings
Ingredients
2 tablespoons coconut oil1
1/4 cup maple syrup
1 teaspoon molasses
2 teaspoons cinnamon
4 apples (810 grams), unpeeled, cored and sliced into 1/8" slices
2 teaspoons vanilla
Directions
In a large pan over medium heat, mix together the first four ingredients (coconut oil through cinnamon).
Once the oil is melted, add the apples and mix to cover the apples thoroughly in the liquid mixture.
Cover and simmer the apples for 7 – 10 minutes or until the apples are soft enough for your liking. I did mine for 10 minutes so that they were super soft.
Add in the vanilla and stir.
Remove the apples from the heat and let them sit for 10 minutes and then serve. They liquid will gel a little as it cools. Can also be served at room temperature.
Store the leftovers in an airtight container in the refrigerator for up to 5 days.
Notes
I only have access to refined coconut oil, which has no coconut oil taste. If you use unrefined coconut oil (which does have a coconut taste), these sauteed apples might have a slight coconut taste to them. If you're worried about that - use butter! It'd be delicious in this recipe.