This dirty chai is the tastiest pick-me-up for the season. It has all the fall flavors of chai with an extra dose of espresso to get you going. With the right choice of milk, it can easily be made paleo or vegan.
If you'd rather not have the added espresso, you can always have a plain but delicious Chai Tea Latte.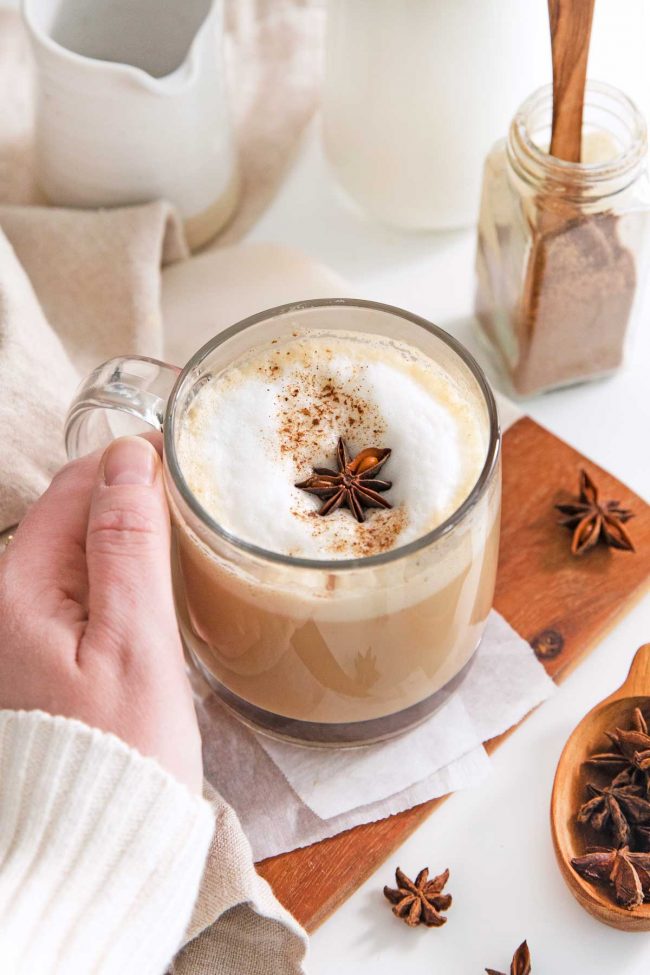 Ingredients
Here's an overview of what you'll need. I go into detail about most of the ingredients below!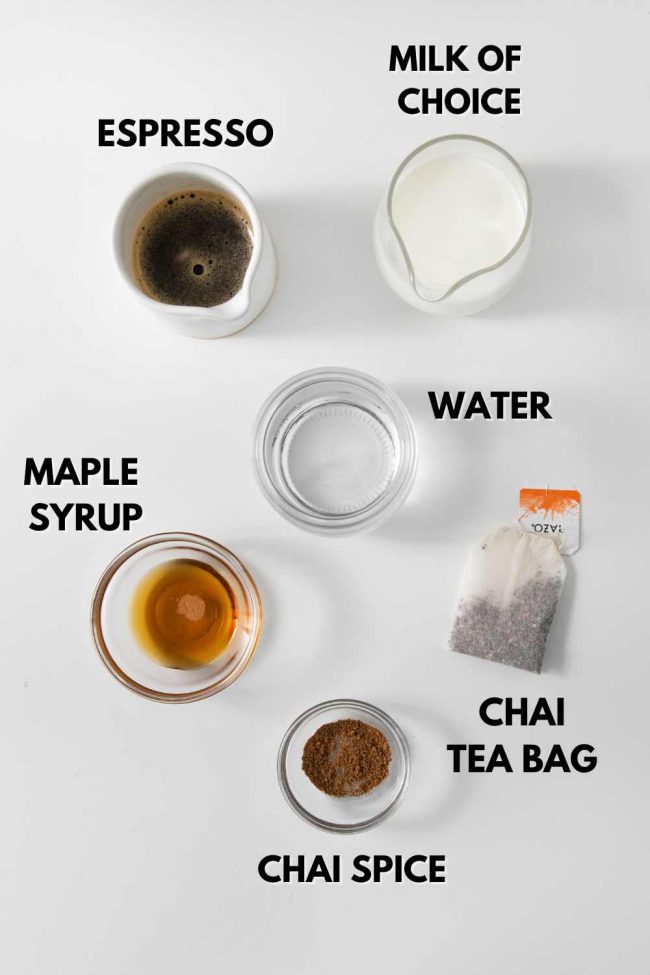 How to make it
Again, I'll let the photos do the talking. :)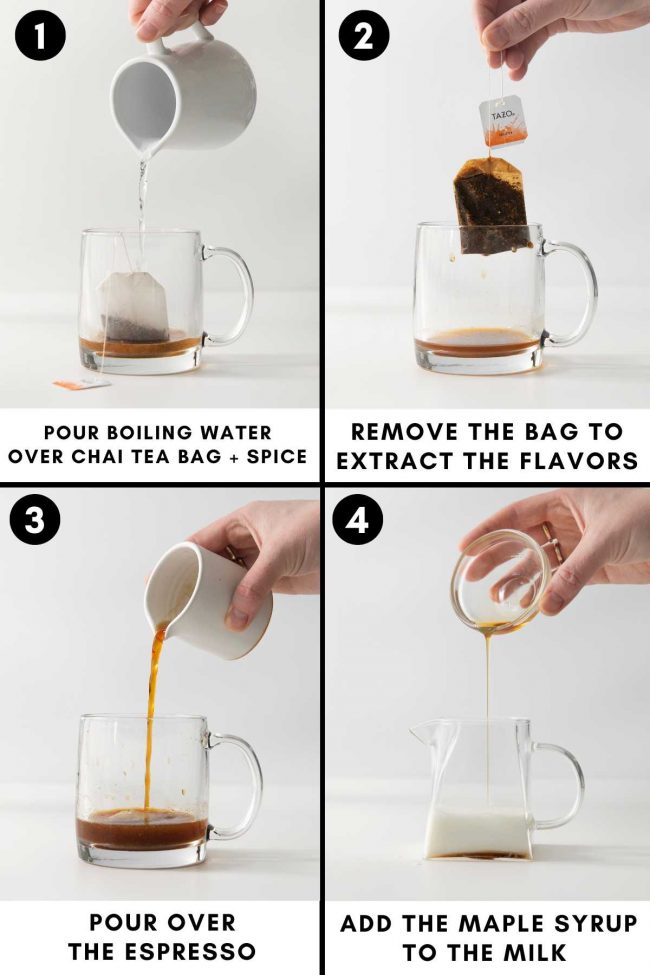 I should say milk of choice. I always use cashew milk, but you can use whatever you'd like.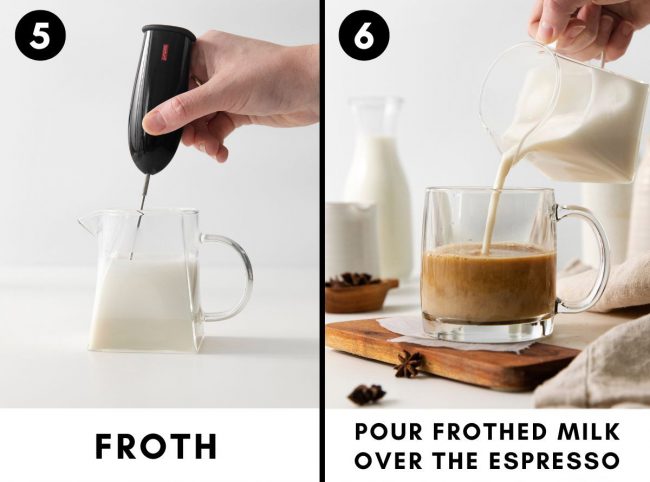 What is chai?
Chai is a Hindi word for tea, and it refers to a mix of spices like cinnamon, cardamom, ginger, cloves and black pepper. These spices are steeped like tea and considered healing.
Today, you can buy chai spice pretty easily, or you can make your own mix.
Morton and Basset is my favorite store-bought chai spice. I also like Spicewalla Masala Chai Spice, which contains ginger, cinnamon, green cardamom, black pepper, cloves and allspice. It's ground into a fine powder and perfect for this drink.
If you search for chai spice powder, you get spice mixes that aren't finely ground powders, but you definitely want a fine powder mix for this drink.
If you're vegan or can't eat dairy, check the ingredients list for milk powder. And whether you're vegan or not, check for sugar. Purchasing one with added sugar would be overkill in terms of sweetness.
What does chai taste like?
Chai is earthy and spicy with a kick of ginger balanced with cozy cinnamon. It's incredibly fragrant and has herbal notes of cardamon and cloves.
If you like it spicier, add more ground ginger and black pepper to the mix; if you prefer it less spicy, add more cinnamon.
It's a warming sensation that is robust and soothing.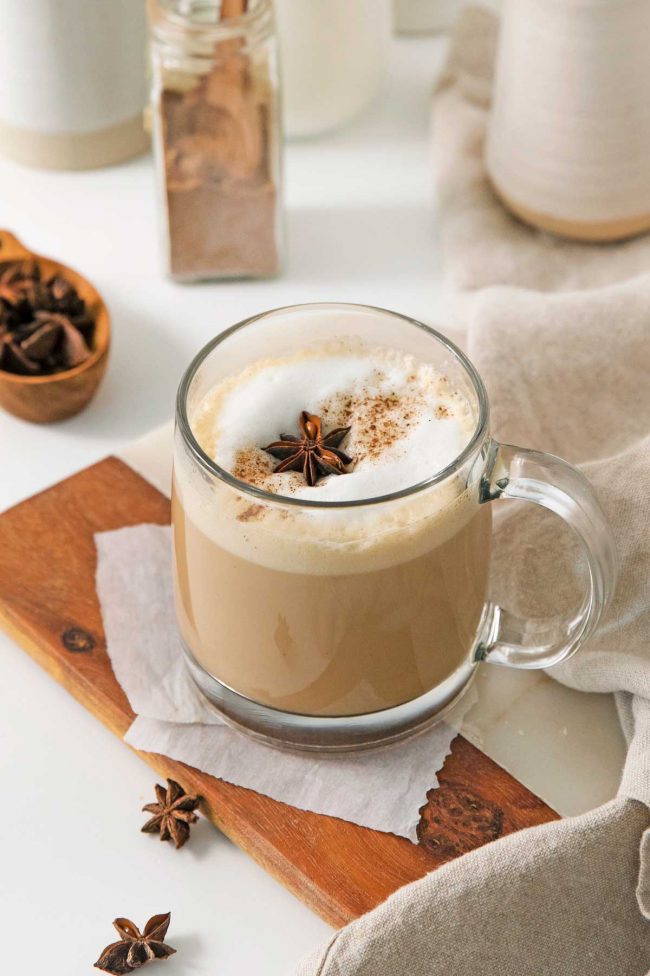 What is dirty chai?
Adding the espresso turns this typical chai latte into a dirty chai.
If you don't have an espresso machine, you can easily make French Press Espresso or use a moka pot to get highly concentrated espresso-like coffee.
And if you're wondering what kind of coffee beans to grind, check out Espresso Beans vs. Coffee Beans.
Frothing milk
The best frothing temperature for dairy milk is 140-155 °F (60-68 °C). Temperature does matter when it comes to getting the best foam.
For plant-based milk, the best temp is 150 °F (65 °C). And if you've wondered, "Can You Froth Almond Milk?" – the answer is yes, but for best practices, you might want to read the post.
Once the milk has come to the appropriate temperature, you can use a handheld frother, a wand, a blender or a French press to froth your milk of choice.
Like it cold?
You can make a dirty Iced Chai Latte by adding a shot of espresso.
If you do this, you can make Cold Brew Espresso that you can chill so you don't have a lukewarm iced dirty chai. But you need to make it in advance, so keep that in mind.
Chai latte caffeine
Is there caffeine in a chai latte? Yes, most chai tea bags are made with black tea, but you can find decaffeinated chai tea. And chai spice powders may or may not have caffeine.
The caffeine content also depends on the type of tea, the ratio of tea to water, how long you steep the tea and the proportions of spices.
Masala chai has about 11 to 24 mg. And a typical cup of black chai tea has about 60mg, while an espresso shot has about 75 mg. So, combined, a regular dirty chai will have about 160 mg or more.
It is possible to make a decaffeinated dirty chai latte using decaffeinated ingredients. This will give the chai drink an espresso taste without the bulk of caffeine. While green tea is decaffeinated, it will have trace amounts.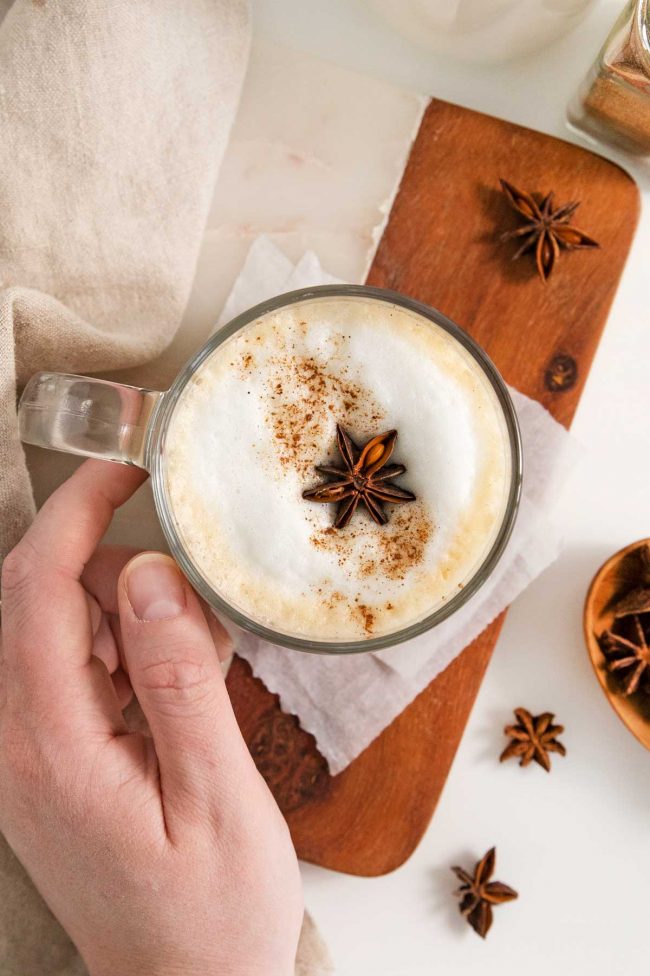 Can I use a different sweetener?
Yes, you can use whatever type of sweetener you'd like.
I use maple syrup because I think it complements the flavors, but it's up to you.
Vegan and paleo
This dirty chai recipe can be made both vegan and paleo. You just have to use an appropriate plant-based milk.
If you're paleo, use unsweetened cashew or almond milk that just consists of nuts, water and salt.
Always check the labels for any funky additives like artificial coloring, flavoring or sweeteners before you purchase chai spiced powder or tea bags.
More chai recipes
Thanks for being here. I hope you'll like this dirty chai. If you make it, we'd love to hear about it; just drop a comment below. Thank! :)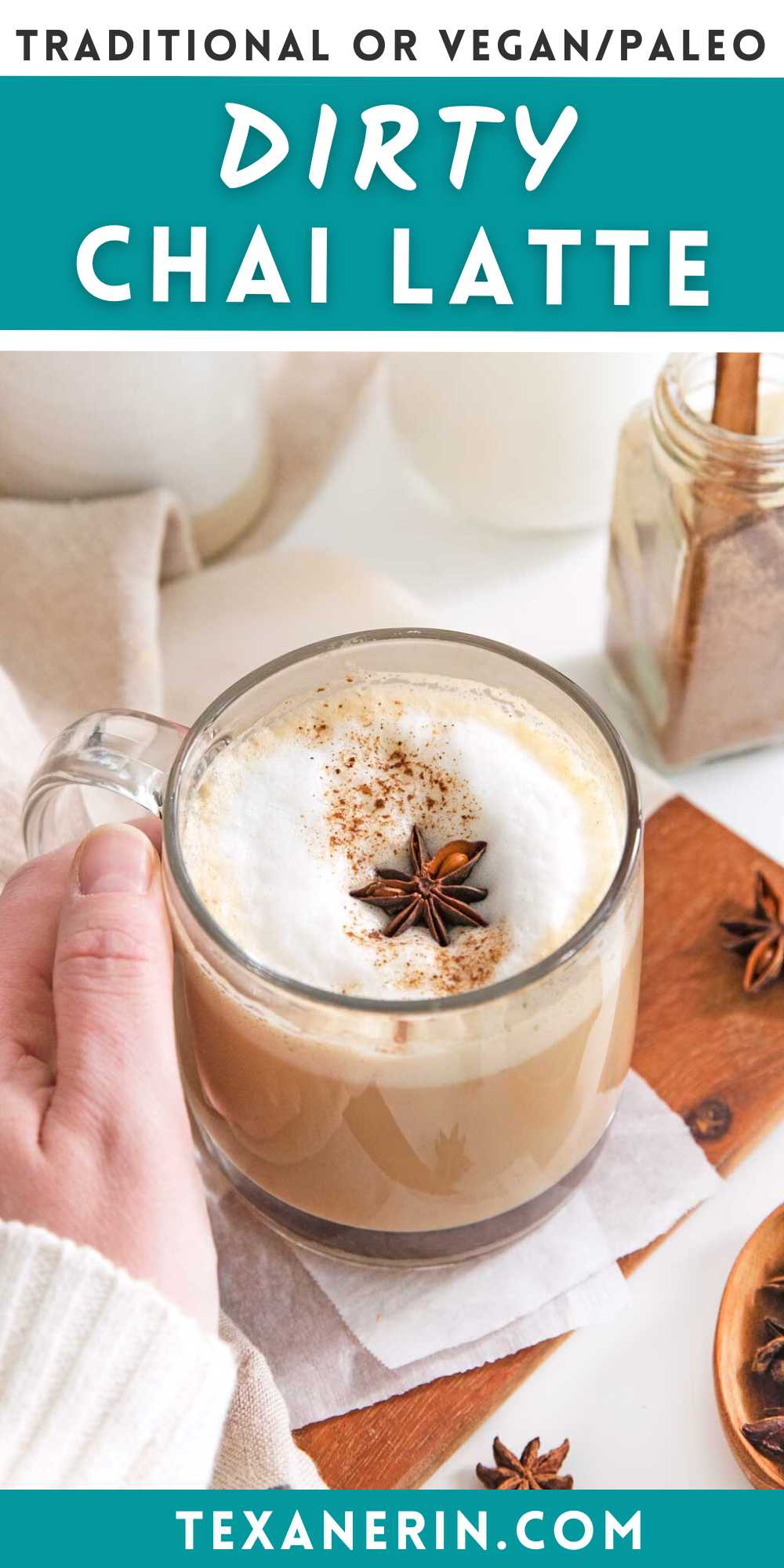 ❀
Dirty Chai Latte
Prep Time:
Cook Time:
Ready in:
Yield:

1
Ingredients
1 chai tea bag
1/4 teaspoon chai spice + more to top the drink with
1/4 cup (60 ml) cup boiling water
1 shot (1oz / 2 tbsp) brewed espresso
1/2 cup (120 ml) milk of choice (I used cashew)
1-2 tablespoons maple syrup, to taste
Star anise as garnish, optional
Directions
To a mug, add the chai tea bag and chai spice. Pour the boiling water over the top and allow the chai concentrate to steep for 10 minutes.
Carefully squeeze the tea bag (be careful as it'll be hot) to extract all of its flavors, and whisk the chai concentrate to ensure the spices are fully combined.
Pour the shot of espresso over the chai concentrate.
Warm the milk and maple syrup (either in the microwave or a small pot over medium heat on the stove) just until it begins to steam. For dairy milk, the best temperature for frothing is 140-155 °F (60-68 °C) and for plant-based milk, it's 150 °F (65 °C).
Froth the milk using your favorite method – a handheld frother, a wand, in the blender, etc.
Spoon the frothed milk over the drink. Garnish with a sprinkle of chai spice and star anise, if desired, and enjoy immediately.