This apple and blueberry crumble has the sweet aroma of cinnamon with a crispy crumble topping that's perfect with a scoop of vanilla ice cream! With gluten-free and vegan options.
I based this crumble recipe on my Gluten-free Apple Crumble. It's been a favorite for years, and I wanted to try it with regular flour instead of oat flour, and with some blueberries subbed in for a part of the apples.
We definitely prefer this version over the plain apple version, and hope you'll give it a try!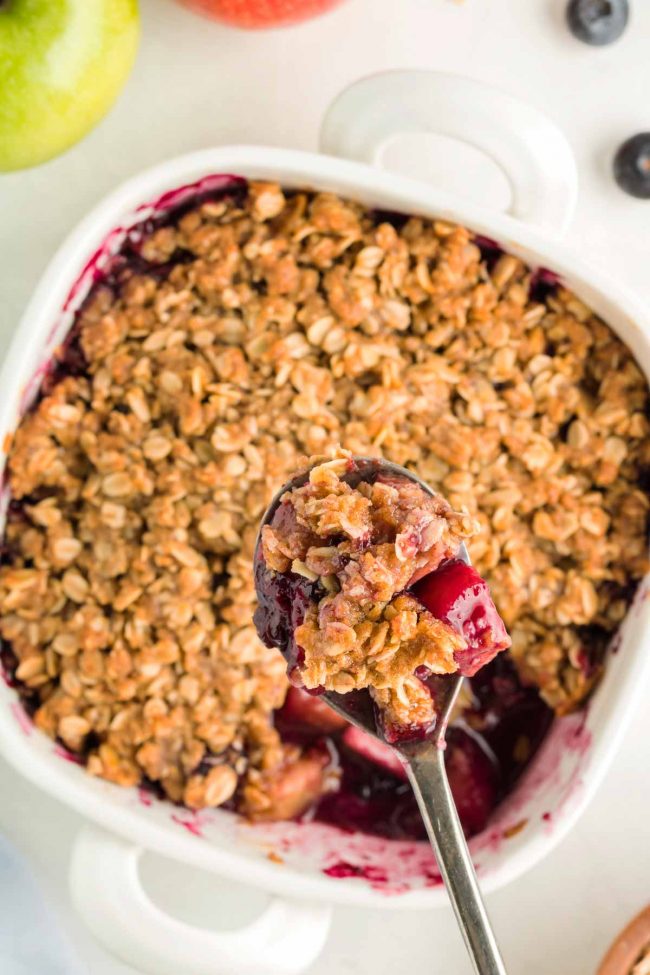 Ingredients
Just basic crumble ingredients here! You likely have what you need.
For the topping:
Flour – you can use regular all-purpose flour, white whole wheat flour, or for a gluten-free version, King Arthur Flour Gluten-free Measure for Measure Flour or Bob's Red Mill Gluten-free 1-to-1 Baking Flour.

I've made this recipe multiple times with both. The results taste like they were made with regular flour!


Rolled oats – you need to use rolled oats and not another type. More on that below!


Brown sugar or coconut sugar – brown sugar was used in the photos. The result is darker in color and also more crumbly if you use coconut sugar. I think it also tastes better with brown sugar, but it's up to you. :)


Butter or coconut oil for a dairy-free/vegan version – I love the taste with butter! If using coconut oil, I recommend refined coconut oil so you don't get any coconut flavor. You could also use vegan butter.


Ground cinnamon and salt
For the filling, other than what's listed above, you'll also need vanilla, lemon juice, blueberries and apples.
⚠️ The full recipe is found at the bottom of the post. ⚠️
Tips
You can make the crumble ahead of time. More on this below!


Be sure to measure ingredients correctly. If you have a digital scale, even better. Even though crumble toppings are easy to make, if you add too little butter or too much flour, it can turn out more like a dusty coating rather than a crumble.


Use fresh, crisp apples to get the best texture.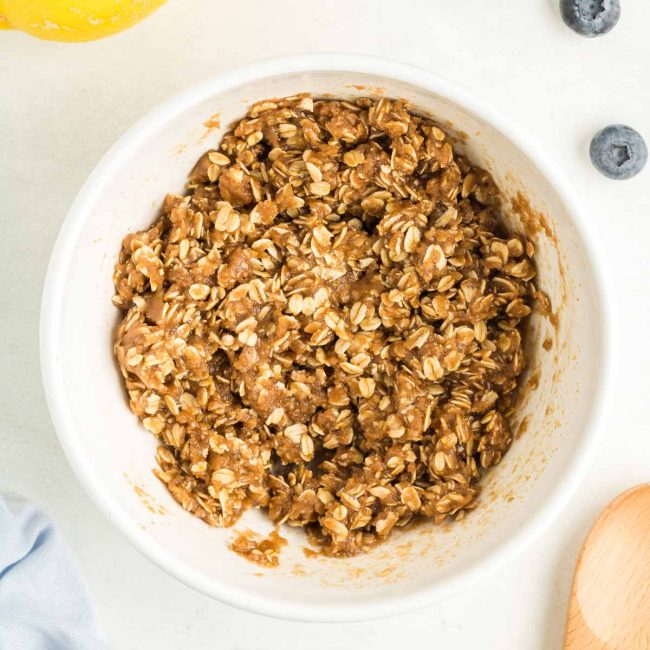 How to freeze
Freezing baked crumble:
If you'd like to freeze the remaining baked crumble for later, it can be stored for up to 3 months. You can place it in freezer-safe tupperware boxes or wrap it in plastic wrap, although that's a bit messy, and then place in a Ziploc.
Freezing unbaked crumble:
Should you prefer to freeze it unbaked to save for a rainy day, then prepare the crumble in a freezer-safe baking dish.
Wrap it up tightly, including the pan, and then place in a large Ziploc. Freeze for up to 3 months.
Thawing
Are you positive that your dish can go from the freezer to a hot oven without breaking? If not, then let it thaw before baking.
The day before baking, let it sit in the fridge overnight with some paper towels underneath it. If you forget, you can put it on the counter and let it thaw for a few hours.
If you're confident that your pan can handle going from the freezer to oven, then you don't need to let it thaw. Just place it straight into the oven, but bake it for an extra few minutes.
Don't have space in the freezer for a whole pan? You can freeze the fruit filling and topping separately in Ziplocs!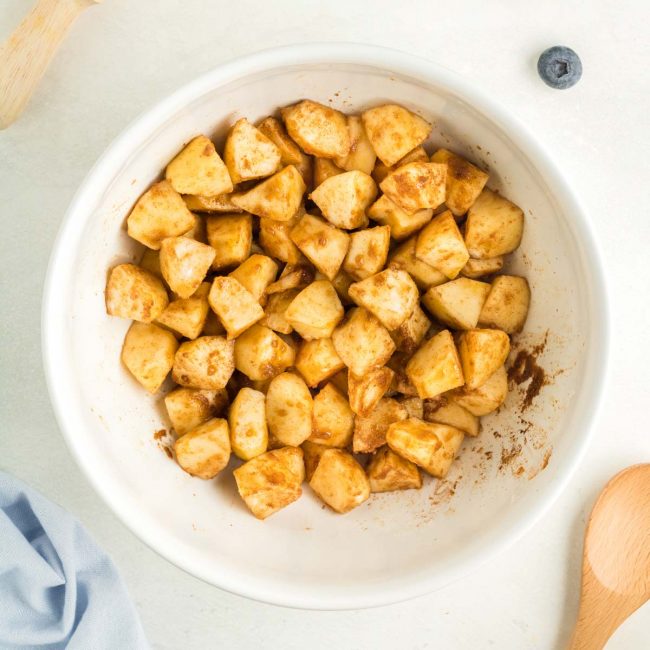 How to reheat
You can reheat the crumble in the microwave. It should only take a few seconds. Make sure you transfer it to a microwave-safe container.
Or pop it in the oven at 350°F (176 °C) for 15 minutes or until warmed through.
This crumble is also good to eat at room temperature.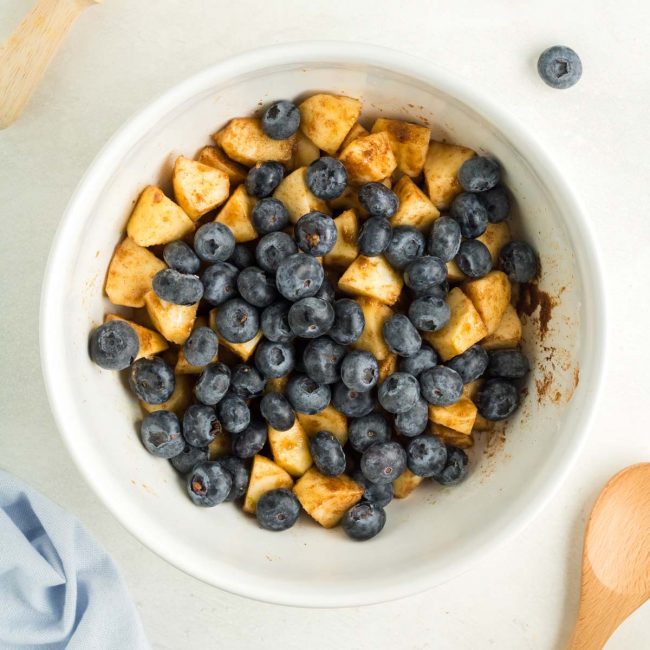 Crumble vs. crisp
Being from the south, I've always known cobblers were different from crisps and crumbles, but I didn't know that there's a difference between crisps and crumbles until I started this blog.
All three are fruity desserts that are pretty easy to whip up compared to pies.
Crumbles:

Crumbles are baked fruit topped with a streusel topping that's made up of oats, sugar, and fat.

Crisps:

Crisps are like crumbles, but are oat-free, which makes the topping more crumbly, like a crumbled-up pie crust.

Cobblers:

A cobbler is topped with biscuit dough. So instead of having a full pie-like topping, the biscuits are dropped in individually. Then you get bubbles of filling bursting between the biscuits when it cooks.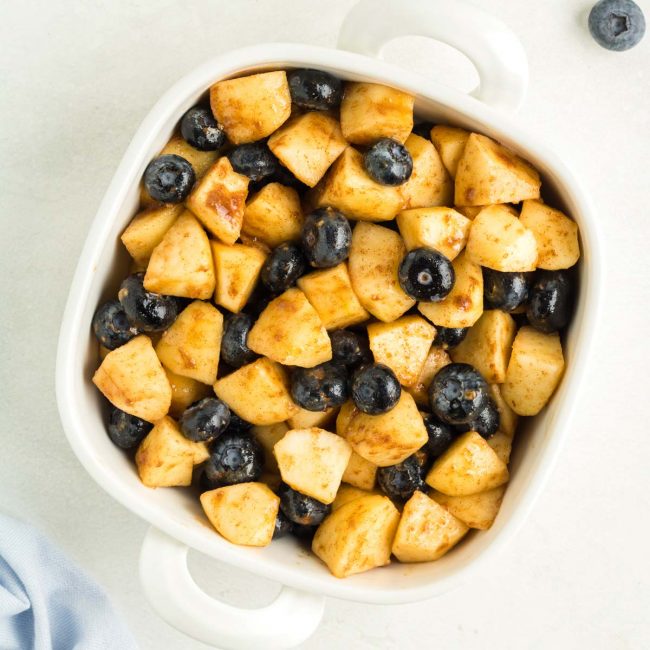 What kind of oats should I use?
You need to use rolled oats. The topping gets soggy with quick oats, and steel-cut and instant oats wouldn't work at all.
If you need to buy a bag just for this crumble and don't know what else to do with them, you can also make these amazing treats:
This Easy Apple Crisp is another great option!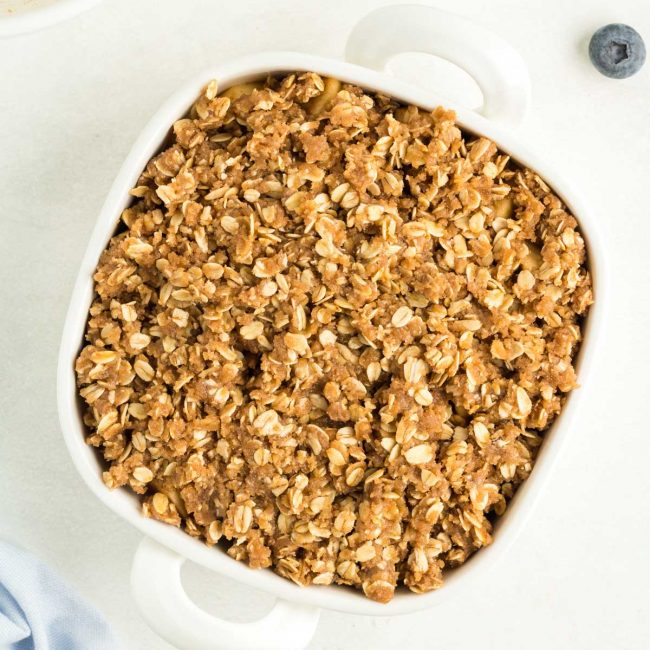 What kind of apples should I use?
Any apple you like to bake with will be fine. But if you are out to buy apples, here are some you can look for.
If you like sweet and tart, the Granny Smith apple is a popular baking apple. They will bring more contrast to the flavor, and they're easy to find.
I like to mix and match Granny Smiths or Gravenstein apples with Honeycrisp apples because they blend well with tart apples.
If you like a sweeter crumble, Pink Lady or Jazz apples are perfect.
Fuji apples are super sweet and are good baking apples. It really comes down to what you prefer.
It's best to go with what you have and like.
Can I use frozen blueberries?
Sure! This way you can make blueberry apple crumbles all year round.
I don't love using frozen blueberries in some recipes because the blueberries often get smushed and turn everything purple, but they're great in crisps and crumbles!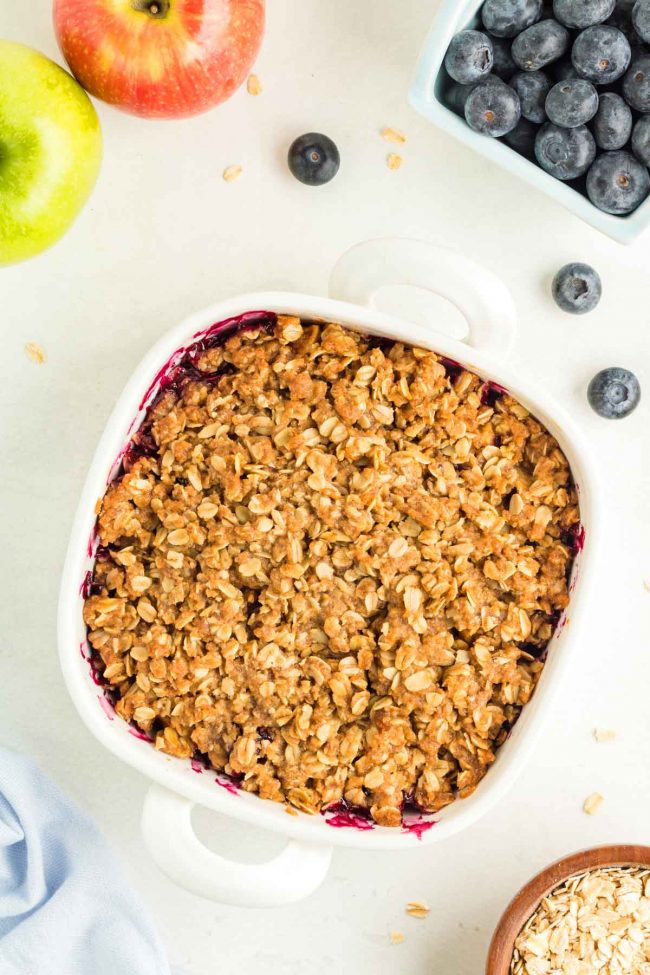 Gluten-free/vegan versions
To make this crumble recipe gluten-free, you just need to use gluten-free flour and oats. If you're wondering, Are Oats Gluten-free? – the short answer is yes, but if you are highly sensitive to gluten, be sure to read the article because there is important information for you.
Like I said above, King Arthur Flour Gluten-free Measure for Measure Flour or Bob's Red Mill Gluten-free 1-to-1 Baking Flour both work. The crumble doesn't taste at all gluten-free!
If the same is true when using other brands of gluten-free flour, I can't say. This Homemade Gluten-free Flour looks great and might work, but I haven't tried it.
But whatever brand you use, it should be a 1:1 replacement for all-purpose flour.
To make it vegan, you just have to use coconut oil or vegan butter in place of the butter.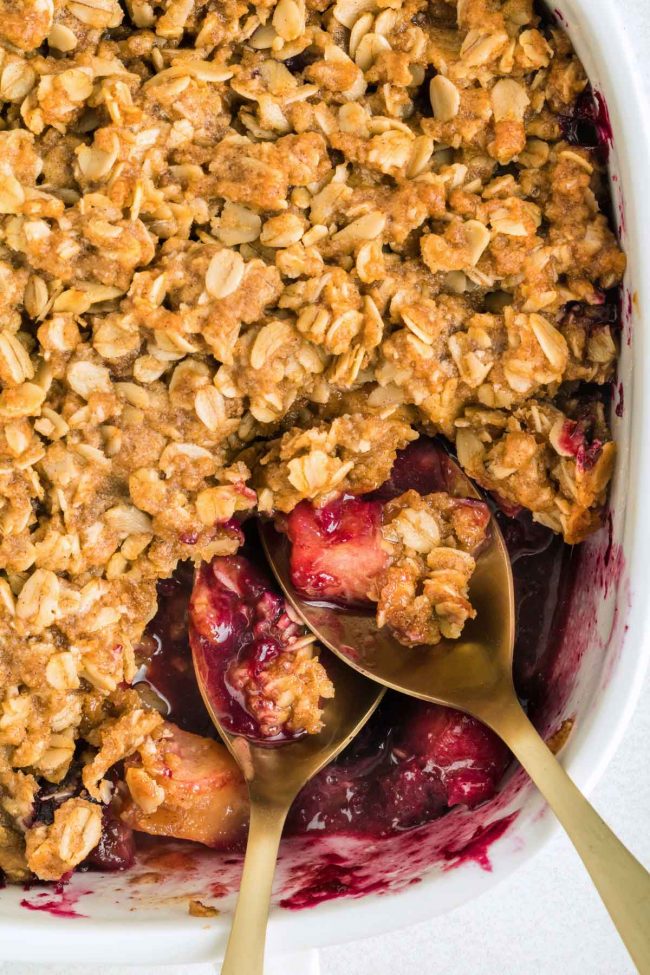 Toppings
I love vanilla ice cream on my crumbles, but you might also like: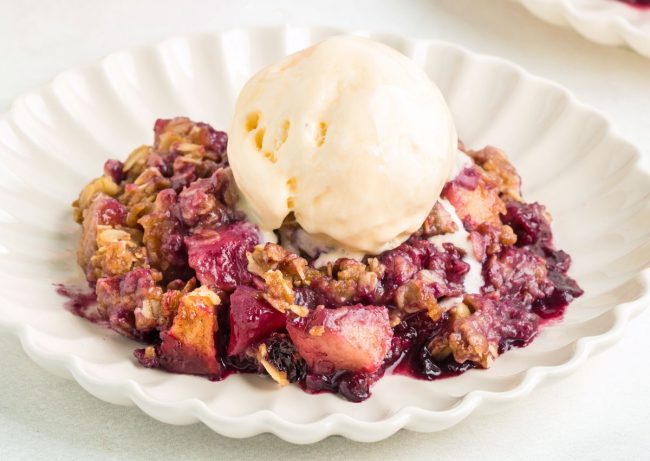 Variations
This recipe is versatile, so if you have other fruit around the house, you can use it up by making a crumble.
You could use raspberries or fresh cranberries instead of blueberries, for example.
And you can definitely bake the crumble in individual ramekins for individual desserts for a festive event.
More in the mood for pie? Try this fantastic looking Strawberry Pie!
Looking for something else?
I really love crisps and crumbles because they're easy to make, full of fruit, and they always taste amazing! I have this Apple Cheesecake Crisp that has a layer of cheesecake. And if you happen to have peaches that need to be used up quickly, this Blueberry Peach Crumble is a great choice.
I hope you enjoy this apple and blueberry crumble! Don't forget to snap some pics and tag #texanerin so I'll be sure to see it! Happy baking!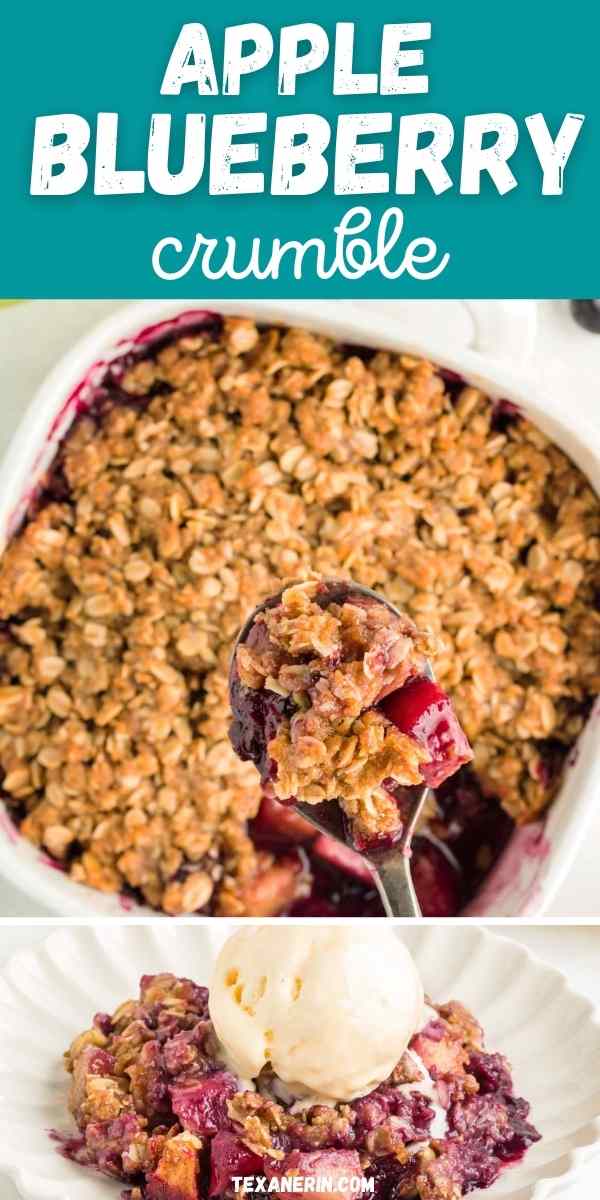 ❀
Apple and Blueberry Crumble
Prep Time:
Cook Time:
Ready in:
Yield:

6-8 servings
Ingredients
For the topping:

2/3 cup (83 grams) flour (see notes for options)1
1 1/4 cups (115 grams) rolled oats2
2 teaspoons ground cinnamon
2/3 cup (132 grams) brown sugar
2/3 cup (149 grams) unsalted butter or 1/2 cup + 1 tablespoon (126 grams) refined coconut oil, melted and cooled slightly
1/4 teaspoon salt

For the filling:

4 1/2 cups (495 grams) apple chunks (about 3/4-inch (2 cm) chunks, from about 4 medium peeled apples)
1 1/2 tablespoons (12 grams) all-purpose flour
1/4 cup (50 grams) brown sugar
2 teaspoons lemon juice
1 teaspoon ground cinnamon
1 teaspoon vanilla extract
1 1/2 cups (215 grams) fresh blueberries

For serving:

vanilla ice cream
Directions
Adjust oven rack to the lower third of the oven. Preheat the oven to 350 °F (175 °C) and get out a 1-quart (1-liter) casserole dish or an 8 × 8-inch (20 × 20 cm) baking dish.
In a medium mixing bowl, mix together all of the topping ingredients. It might be quite wet.
Prepare the fruit filling. In a large mixing bowl, add the apples and then the remaining ingredients - except for the blueberries. Stir until well combined, and then carefully stir in the blueberries.
Spoon the fruit mixture into the pan and distribute the topping evenly over the top. It'll be a thick layer of topping.
Place the crisp on a baking sheet to catch spills and bake for 35-45 minutes or until the topping is firm and the edges are bubbly. Let cool for 2-3 hours, which will give the juice some time to thicken a little, for the fruit to soften more and become more jammy.
Let cool completely before covering and refrigerating for up to 4 days.
Notes
You can use all-purpose flour or white whole wheat flour. If you're gluten-free, both King Arthur Measure for Measure Gluten-free Flour and Bob's Red Mill Gluten-free 1-to-1 Baking Flour both work great. If you want to use oat flour, make sure it's gluten-free, and use 3/4 cup + 1 tablespoon (75 grams) instead of 2/3 cup.
If you're gluten-free, make sure to use gluten-free rolled oats.
If you're dairy-free/vegan, make sure to use coconut oil instead of butter.