The best paleo blueberry muffins ever! They have a great texture, like angel food cake, and a delicious almond taste. Grain-free, gluten-free and dairy-free.
I wanted to hold off on posting these paleo blueberry muffins until it got a bit cooler but they're just so good I can't keep them to myself any longer. After making my paleo chocolate chip muffins, I knew I had to make a blueberry version.
And I'm so happy I did because these are my favorite blueberry muffins ever. Scratch that. Favorite muffins ever. They're light and have an awesome texture, almost like angel food cake!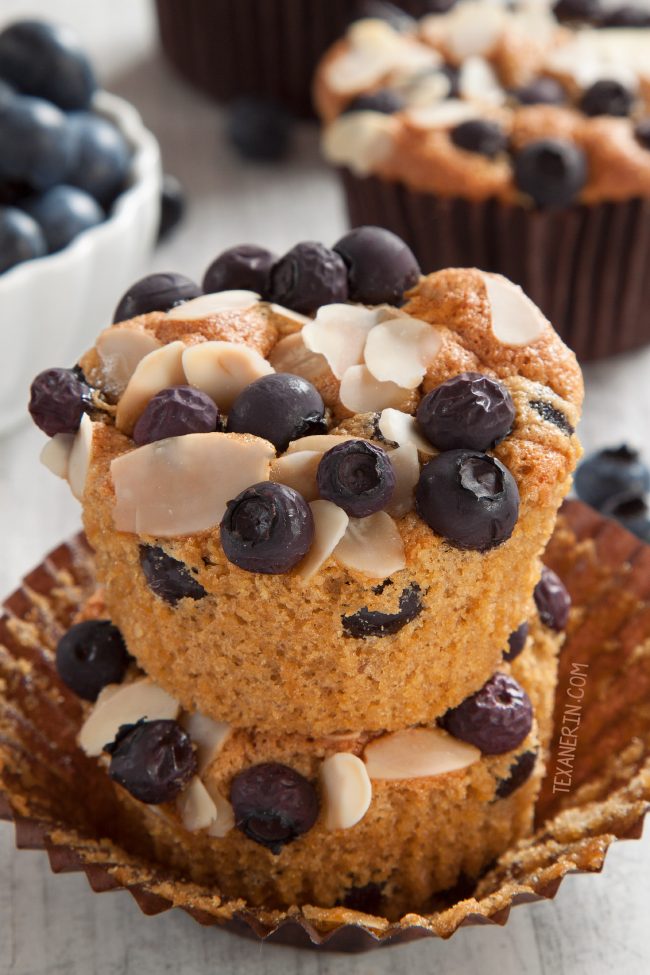 You know how some paleo muffins have this eggy, weird texture thing going on? Not these. Beating the egg whites and then folding them into the batter seems to make all the difference and creates the angel food-like texture (here's some actual gluten-free angel food cake!).
And the flavor?! I've probably mentioned it about 14 times, but I have something of an almond extract addiction. That + a whole bunch of blueberries and I can hardly contain myself.
I thought the coconut sugar would be a little strange in these or would conflict with the almond extract but nope. It was perfect.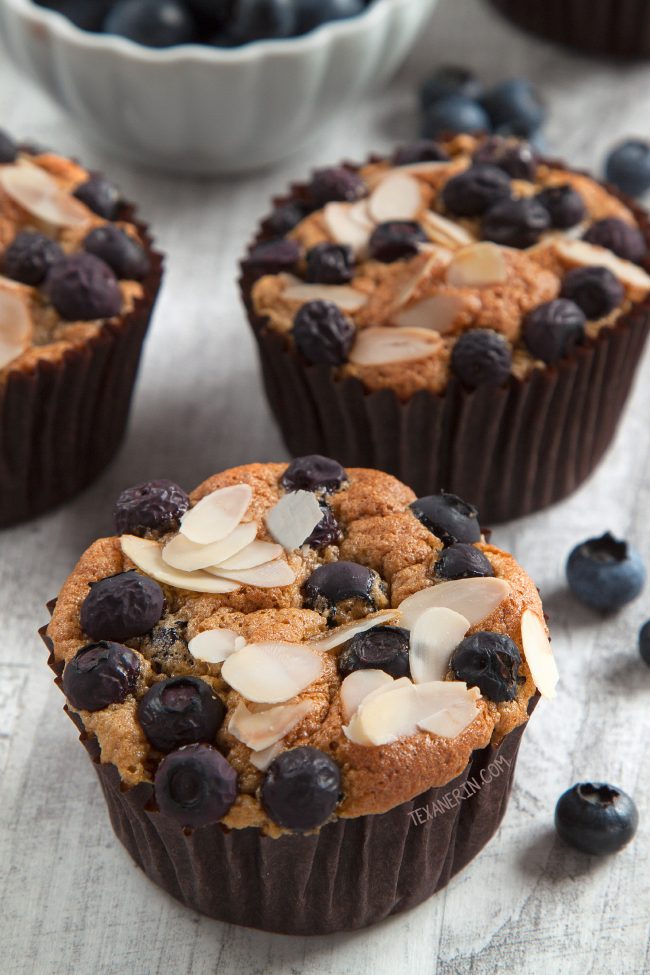 I have to say that I made the hazelnut version of these muffins (these paleo hazelnut muffins) seven times before posting them and they came out a little differently every time. Sometimes they had the angel food cake thing going on and sometimes they were more like normal muffins.
I've only made these three times and they've been angel food cake-ish every time so I have hope that that's just how they are.
Maybe the difference is unblanched hazelnut meal versus blanched almond flour? Or maybe it was just the weather.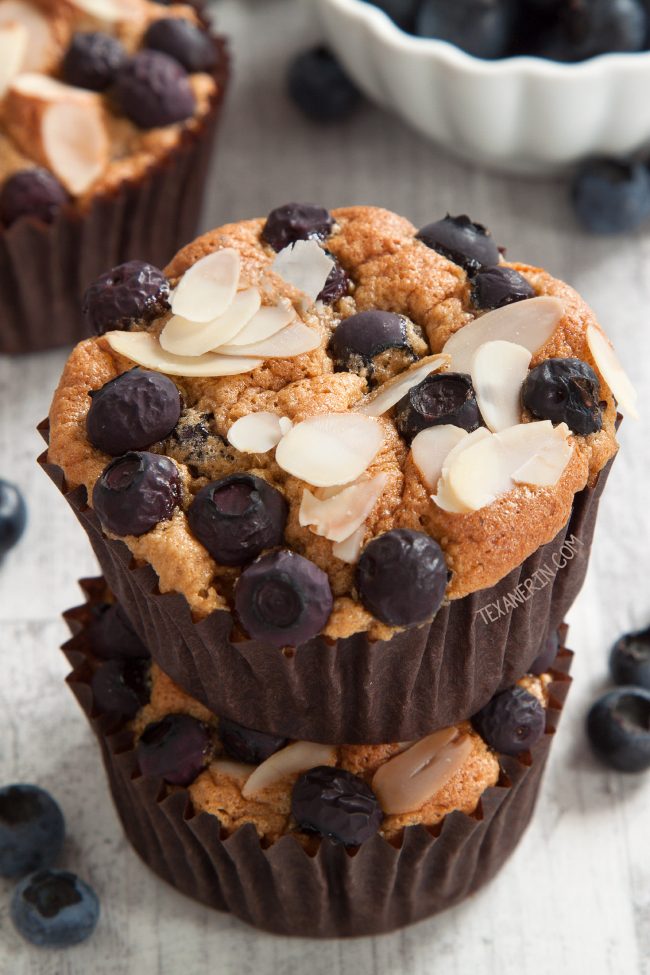 One thing I've learned is to use a glass or stainless steel bowl when beating the egg whites. Oil residue on some plastic bowls can prevent the egg whites from beating properly.
It worked in some of my plastic bowls, but in one, I couldn't even get them to soft peaks. It happened a few times so I'm sure it's not a coincidence. One time all I could get was soft peaks and I decided to bake them, anyway. They still came out perfectly!
If this egg beating business sounds too cumbersome, try these gluten-free mini blueberry muffins from What The Fork Blog!
If you're looking for the best paleo muffins, look no further. I'm super excited about this recipe if you can't tell. :D I'd love to hear how they come out for you!
Want more amazing paleo muffin recipes? I have you covered! Check out my paleo apple muffins if you're in more of an autumnal mood. These paleo carrot cake muffins are also ridiculously delicous! And for another paleo blueberry treat, check out this paleo blueberry crisp.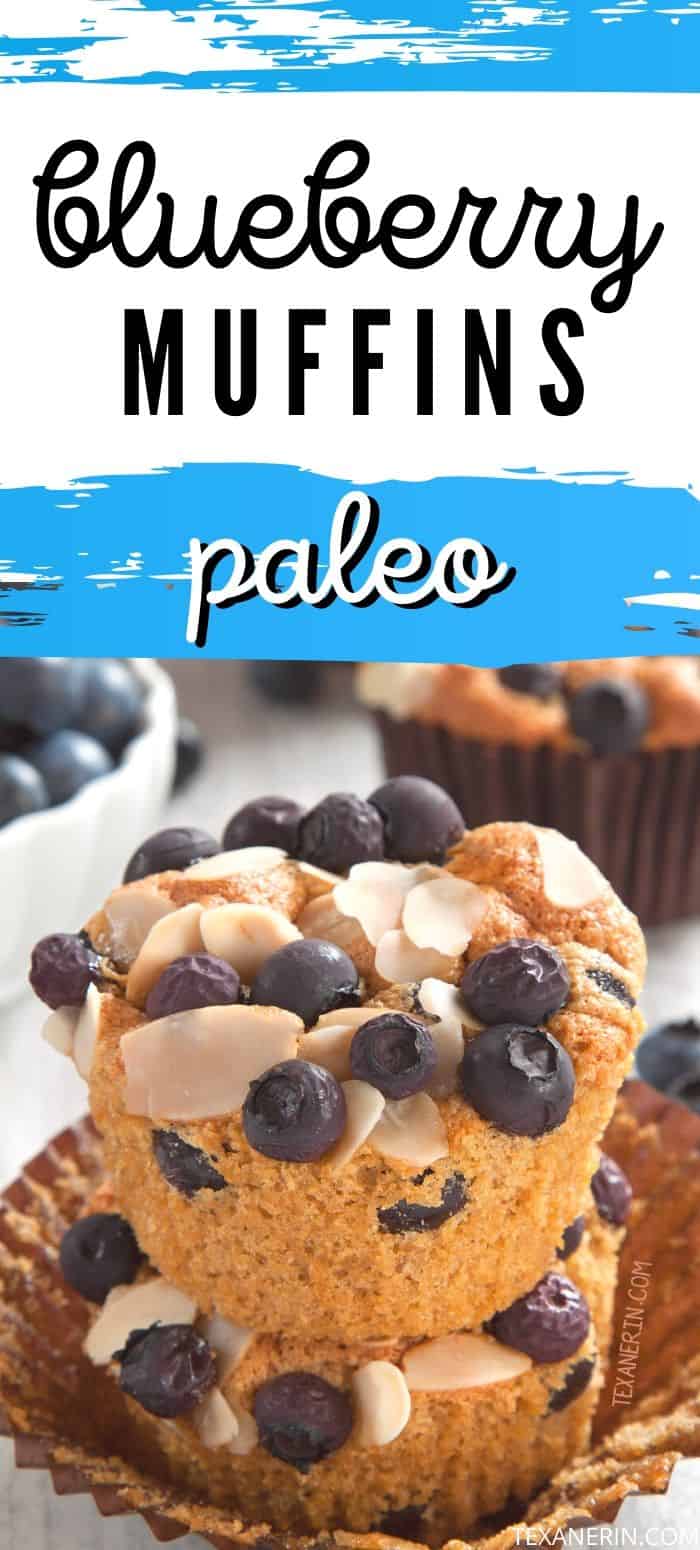 ❀
The Best Paleo Blueberry Muffins Ever (grain-free, gluten-free, dairy-free)
Prep Time:
Cook Time:
Ready in:
Yield:

12 muffins
Ingredients
4 large eggs, divided, room temperature
1/2 cup (100 grams) coconut sugar (please weigh this! If you don't have a scale, pack your cups super tight)
2 1/2 teaspoons water
1 1/4 teaspoons almond extract
1 teaspoon vanilla extract
160 grams (this is about 1 cup + 9 1/2 tablespoons) blanched almond flour
1/8 teaspoon salt
2 cups (280 grams) fresh blueberries, divided
about 1/4 cup (20 grams) sliced almonds, optional
Directions
Preheat the oven to 325 °F (167 °C) and line a muffin pan with 12 liners.
Place the egg whites in a medium glass or stainless steel mixing bowl and the egg yolks in a large mixing bowl (glass or plastic is fine). If you don't have a glass or stainless steel bowl for the egg whites, make sure your plastic mixing bowl is super clean and free of any oil residue as this can interfere with beating the egg whites.
Beat the egg whites and 2 1/2 tablespoons (31 grams) coconut sugar at high speed until stiff peaks form (about 30-90 seconds). Keep the beaters in the mixer.
In the bowl with the egg yolks, add the remaining 69 grams coconut sugar, water, vanilla extract and almond extract. Beat for about 30-60 seconds at high speed or until thickened and lighter in color. Mix in the salt and then use a silicone spatula to fold in the almond flour.
Fold in the egg white mixture to the egg yolk mixture just until combined. Do not over mix but make sure it's thoroughly combined.
Fold in 1 1/4 cups (175 grams) blueberries. Fill each liner almost all the way full. Sprinkle some sliced almonds on top, if desired, and then sprinkle a tablespoon of blueberries on top of the almonds.
Bake for 21-23 minutes or until a toothpick inserted in the center comes out clean and the tops of the muffins no longer appear wet. They should feel springy when touched. The muffins will rise quite a bit but will fall back down during cooling.
Let cool for 3 minutes in the pan and then carefully remove the muffins from the pan and cool completely on a wire rack.
Cover and store at room temperature for 24 hours or refrigerate for up to 3 days. These get quite moist on the second day! I prefer them straight from the oven or some hours after baking.