This blueberry avocado smoothie gets its creaminess from avocado and is a heart-healthy and delicious way to start your day! Easy to make paleo and vegan.
Almost every smoothie recipe of mine has avocado in it. I like my smoothies thick and luscious, and avocados always do the trick.
If you want an avocado-free smoothie, I do have this paleo blueberry smoothie that you could try.
Nor does this apple pie smoothie call for avocado. I figured apples + avocado would be pretty weird.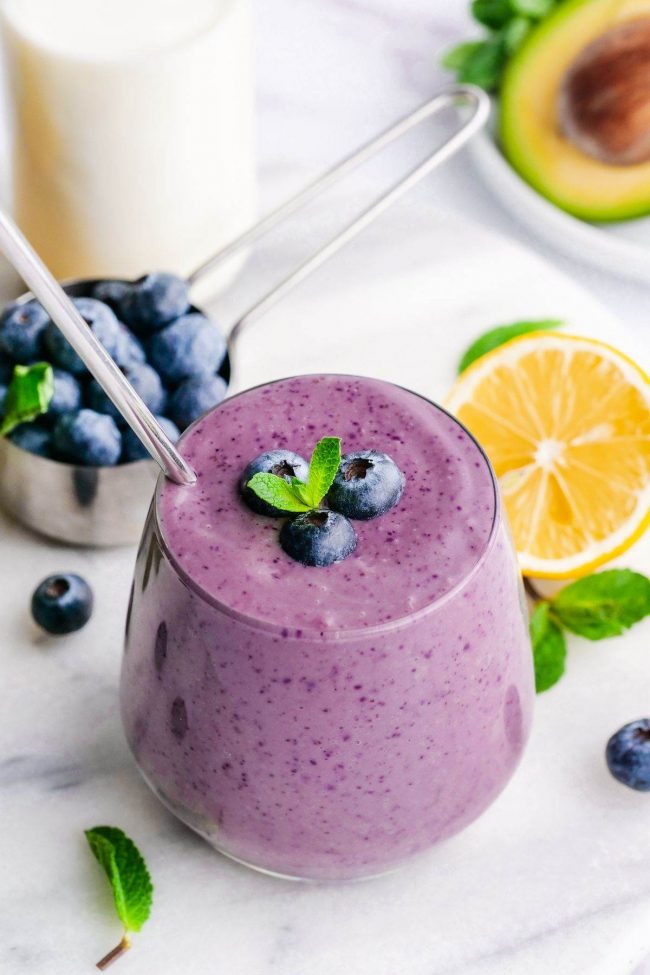 Ingredients
Just good-for-you ingredients in this smoothie! Nothing fancy or difficult to find.
Avocado – if you don't want to use avocado, you could use some Greek yogurt or coconut milk yogurt (for paleo/vegan) instead. I'd say 75 grams or about 1/3 cup. Frozen avocado would be great here!


Blueberries – I haven't tried it but I'm guessing strawberries or raspberries would work. If using raspberries, you might need to add a little bit of sweetener.


Banana – I always get asked if you can omit the banana in smoothie recipes. The banana here adds a lot of bulk to the recipe but also a lot of sweetener. If you omit it, you'll have a much thinner smoothie and you'll need to add sweetener. I'm seeing there are about 14 grams of sugar per large banana, so that means you'll need to add about a tablespoon of sugar or maple syrup.


Milk – use whatever kind you'd like! Even canned coconut milk is fine, as long as you don't mind some added coconut taste.


Vanilla – you don't have to add it but vanilla is always nice.


Lemon juice + zest – this can be omitted, but I like the zing that it adds.


Maple syrup – I only use this sometimes. It depends on the bananas and blueberries.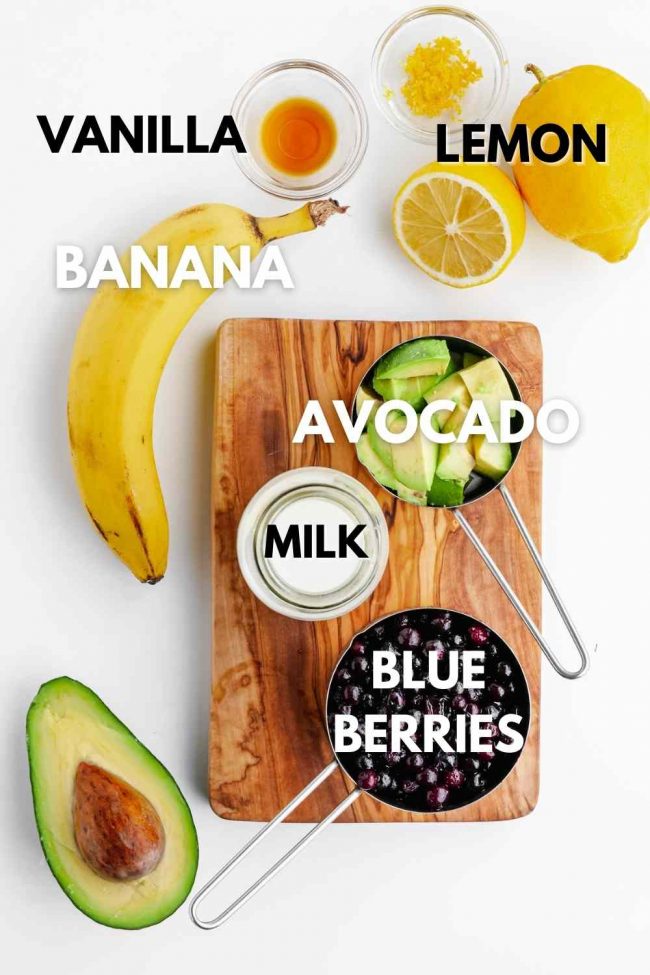 Maple syrup or not
Depending on the sweetness of your blueberries and banana, you may need to add a little maple syrup to sweeten the smoothie. I normally don't need it, but I've made it a few times when I absolutely couldn't eat it without the maple syrup. You could also add half of a banana.
You can, of course, use whatever sweetener you'd like. But blueberries + maple is really, really nice. If you love that combination, too, try this Blueberry Sauce, which is just blueberries, maple and vanilla simmered for 15 minutes to make a great pancake or cheesecake sauce.
This Blueberry Soup is also a delicious option, especially if you have too many blueberries on your hands!
Paleo and vegan options
All you have to do is to use paleo/vegan milk.
I like cashew milk, but you can use whatever type you like. If you use canned coconut milk, the smoothie will have a bit of coconut taste to it.
And for another great paleo vegan smoothie, check out this Detox Green Smoothie!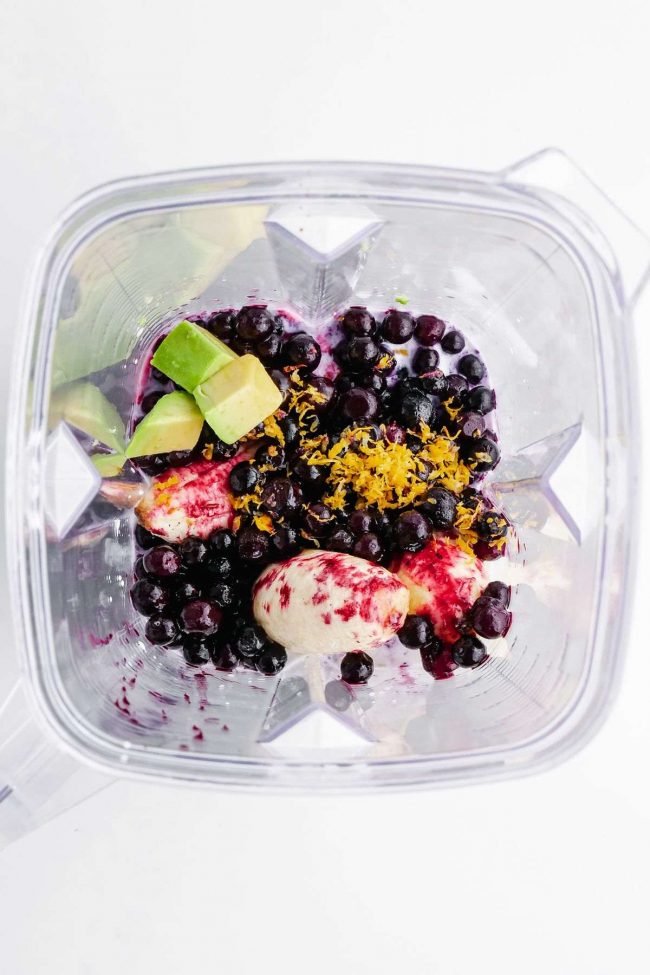 Health benefits of blueberries
Blueberries are little gems that pack a powerful punch of antioxidants and nutrients into your day. Just look at what they can do!
Strengthen and improve bone health and promote collagen production for healthy skin and joints.
Help to prevent wrinkles, age spots and skin damage caused by dust, pollution, smoke and UV rays.
Vitamin C – one cup of blueberries provides 24% of daily intake goals.
Vitamin K – one cup provides 34% of recommended daily intake.
Help to prevent heart attacks, strokes, and cancer, and has shown to improve brain functions.
Have anti-inflammatory qualities to protect against chronic inflammatory diseases like arthritis and Alzheimer's.
Help to dissolve LDL cholesterol and promote weight loss
Avocado is also super healthy, and you can read all about their health benefits in my Avocado Guide.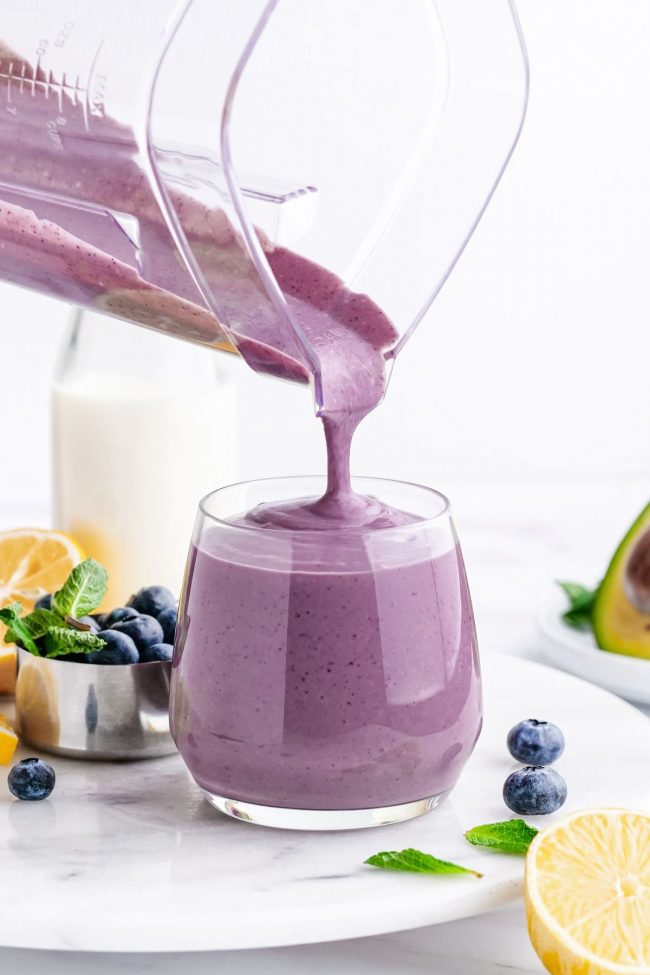 Frozen versus fresh blueberries
Blueberries are a powerhouse of antioxidants, whether they are eaten fresh or from the freezer.
Anthocyanins, a group of antioxidant compounds, are what gives the blueberries their rich color which mostly comes from the skin.
Research suggests that frozen blueberries actually improve the availability of antioxidants. Even after three months, the test results were the same and there was no diminishing value of anthocyanins in the frozen blueberries.
In other comparisons we see 1 cup serving for fresh berries contains 3.6 grams of fiber; whereas the same serving of frozen blueberries has 6.2 grams of fiber.
However, fresh blueberries contain 1.10 grams of protein per 1 cup serving, but frozen blueberries have no protein whatsoever.
It's important to note that blueberries tend to have a high pesticide residue compared to other fruits or vegetables, particularly with fresh blueberries. Frozen blueberries, in contrast, have less than half the pesticide residue.
So if you are buying fresh blueberries and you don't mind paying a little more, you might want to splurge on organic blueberries.
Or go with frozen blueberries and add them to your diet throughout the year.
Frozen or not, blueberries are one of the highest in antioxidants among all fruits and help to boost memory, are good for heart health, great for skin, and have loads of vitamin C.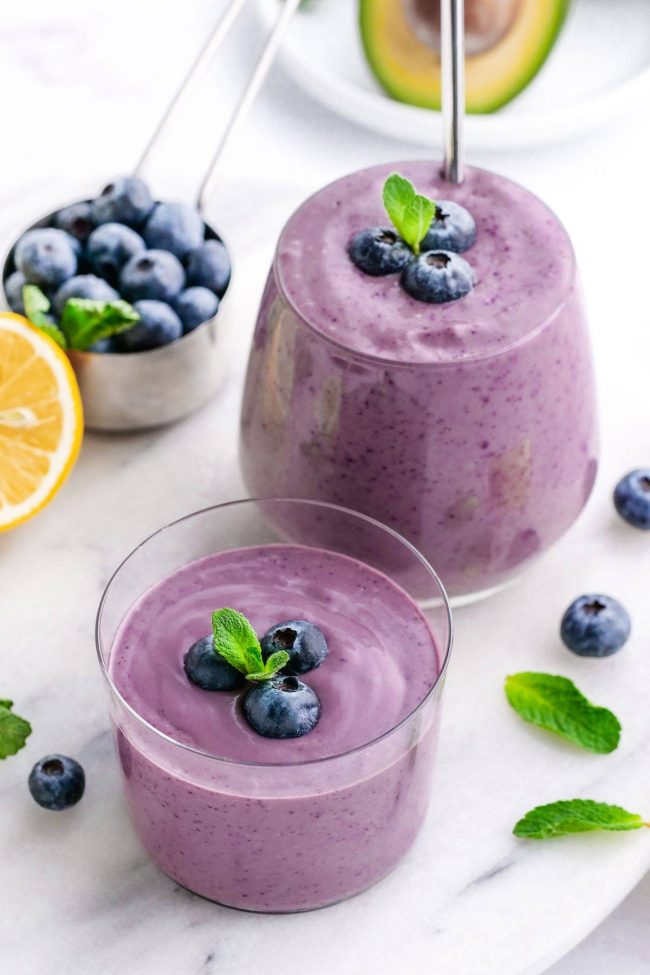 Wild versus cultivated blueberries
Blueberries are grown wild or cultivated. So what's the difference?
Cultivated blueberries are planted in fields and are designed for a unique taste, uniform size and color.
Wild blueberries are smaller and grow naturally in rocky fields in Maine and Eastern Canada.
Wild blueberries have grown naturally for thousands of years and first appeared after the glaciers retreated after the last ice age. They vary in size, color, and taste ranging from sweet to not-so-sweet.
Blueberries have some of the highest antioxidant values and it is said that raw wild blueberries contain double the amount of antioxidants than cultivated types; however, this may be solely due to their size.
If you take 1 cup of cultivated blueberries and 1 cup of wild blueberries, you will need twice the amount of wild berries to fill the cup, so you get twice the antioxidant value.
The antioxidants are in the skin so because wild berries are small, you need more wild berries to fill the cup resulting in twice the amount of antioxidants.
So whether you go fresh or cultivated, adding blueberries to your regular diet has many great health benefits.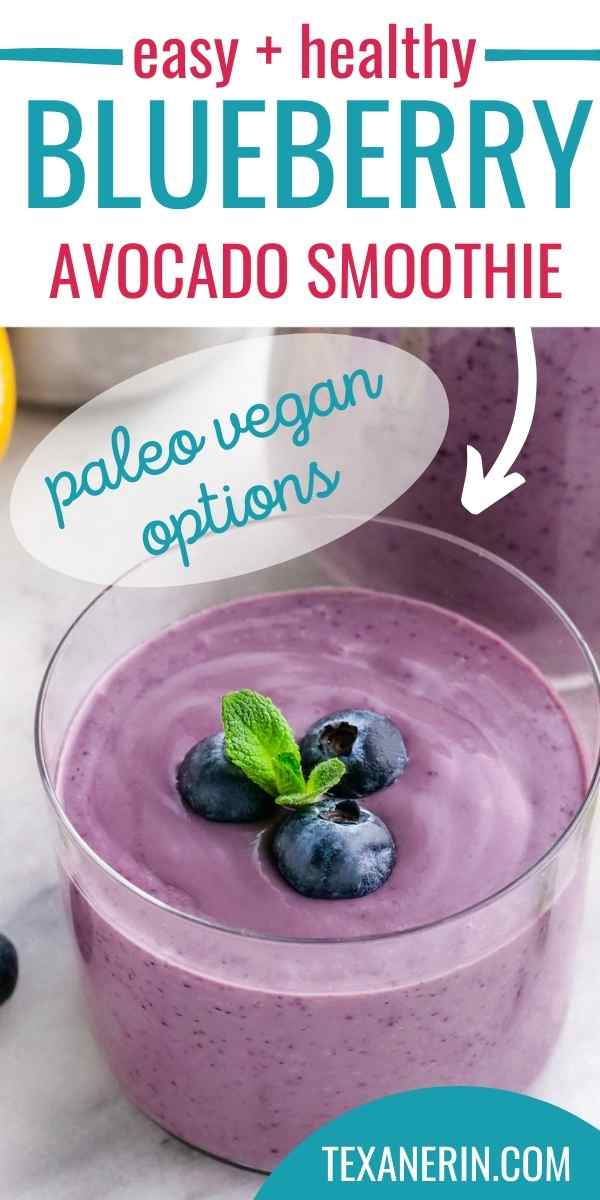 Taste
You're going to get a much stronger blueberry taste if you use wild blueberries.
Wild blueberries are said to be a little sweeter than fresh ones. When I tried this smoothie with fresh blueberries, I had to add a bit of maple syrup to get it sweet enough.
It was just too tart without it. I also thought, "Huh? Did I use the wrong amount? This tastes kind of bla."
Color
The color of this smoothie is much more vibrant with wild blueberries. Wild blueberries have dark blue/purple flesh and cultivated blueberries, the normal ones you get at the store, have green flesh.
If you use wild blueberries, then the top layer of the smoothie doesn't turn brown (if refrigerated for later) the way it does with cultivated blueberries.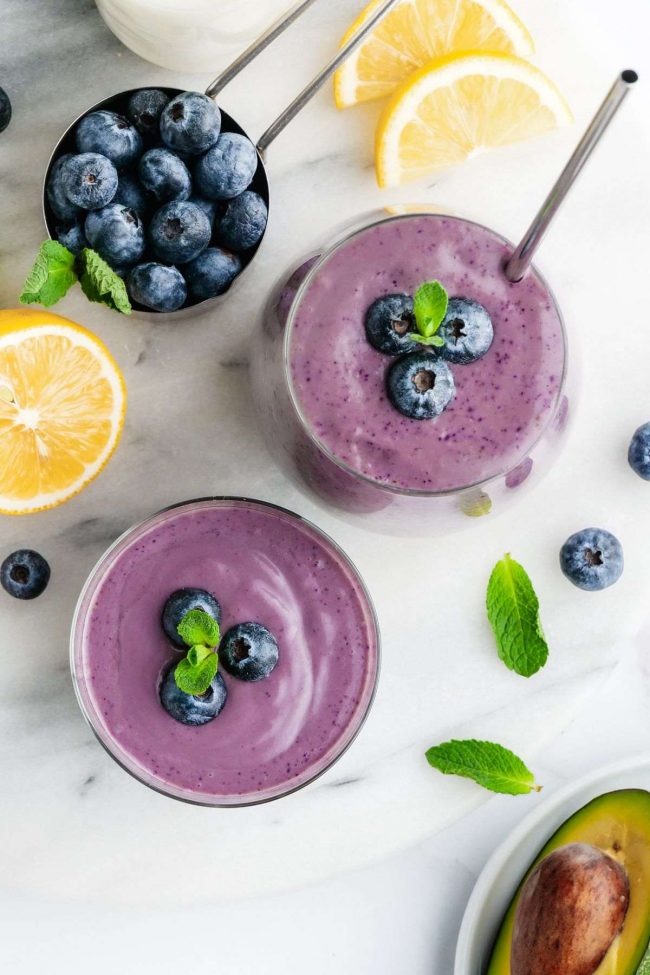 What is that white coating on blueberries?
Don't worry, it's natural! That white waxy coating is called bloom, and it's a natural preservative that protects the berries.
Bloom seals in moisture and acts as a barrier to stop bacteria and fungal spores from sticking to the fruit and spoiling the berries. In fact, all fruit has bloom, but the deep color of blueberries makes it easier to see.
When harvesting high-bush blueberries, it's important for pickers to have only one finger-print per berry to sell by the pint in the produce section. So it's best to tickle the berries off the bush to maintain the integrity of the berry and leave as much of the coating as possible. Having two finger-prints, berries are sent to make preserves or jams.
So if you're looking for the freshest blueberries at the market, get the ones with the most white coating, and don't wash them until you are ready to eat them. ;)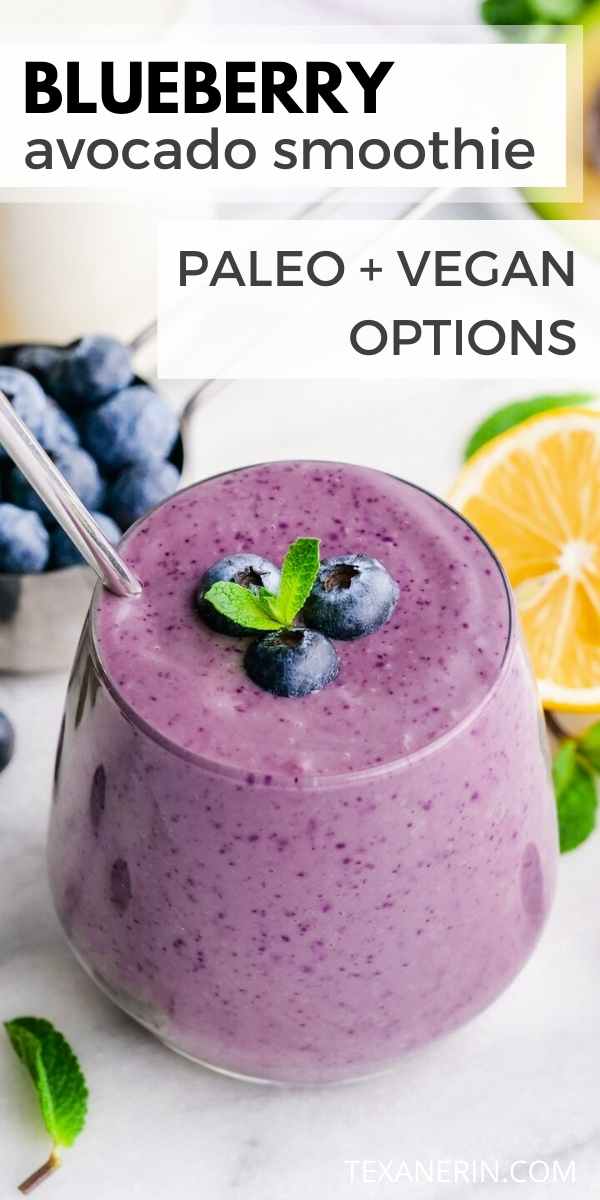 Other healthy smoothies
I hope you'll enjoy the smoothie! If you make this recipe, I'd love to see pictures of your creations on Instagram, Facebook and Twitter! Please hashtag them #texanerin so I can find them. :) Also be sure to follow me on Pinterest for more healthy recipes.
❀
Blueberry Avocado Smoothie (paleo, vegan options)
Prep Time:
Cook Time:
Ready in:
Yield:

2 small smoothies
Ingredients
flesh of 1/2 avocado (75 grams)
1 cup (140 grams) frozen, wild
1 large ripe banana (about 140 grams when peeled)
3/4 cup (180ml) milk of choice + more if needed (use paleo/vegan milk, if desired)
1/2 teaspoon vanilla extract
1 teaspoon lemon zest, optional
2 teaspoons lemon juice, optional
optional: 1-2 tablespoons maple syrup
Directions
Put all the ingredients, except the maple syrup, in a blender and blend until smooth. Taste and add maple syrup, if needed. It can be a bit gritty when the blueberries are still frozen. If it's gritty, continue blending.
Notes
If you used wild blueberries, your smoothie won't turn brown as it sits over time in the fridge. If you use regular cultivated blueberries and don't drink it all right away, cover the glass with a silicone stretch lid to prevent that the smoothie turns brown. If you don't use something like that, the top of the smoothie may turn brown but you can easily remove that part before giving it to your kids (if they're picky about color).


You will almost definitely need to add a sweetener if using cultivated blueberries.