Incredibly moist blueberry coffee cake that can be made vegan, gluten-free, whole wheat and with all-purpose flour. Thanks to Silk for making today's post possible!
I've had a lot of dry coffee cakes in my day. And I'm tired of them. So here we have the moistest coffee cake I've ever had!
This is really an almond blueberry coffee cake. The blueberries + almond extract… oh, man. We couldn't stop coming back for more of this cake! There's also a bit of almond flour in the cake and almond milk. But it's not overly almondy!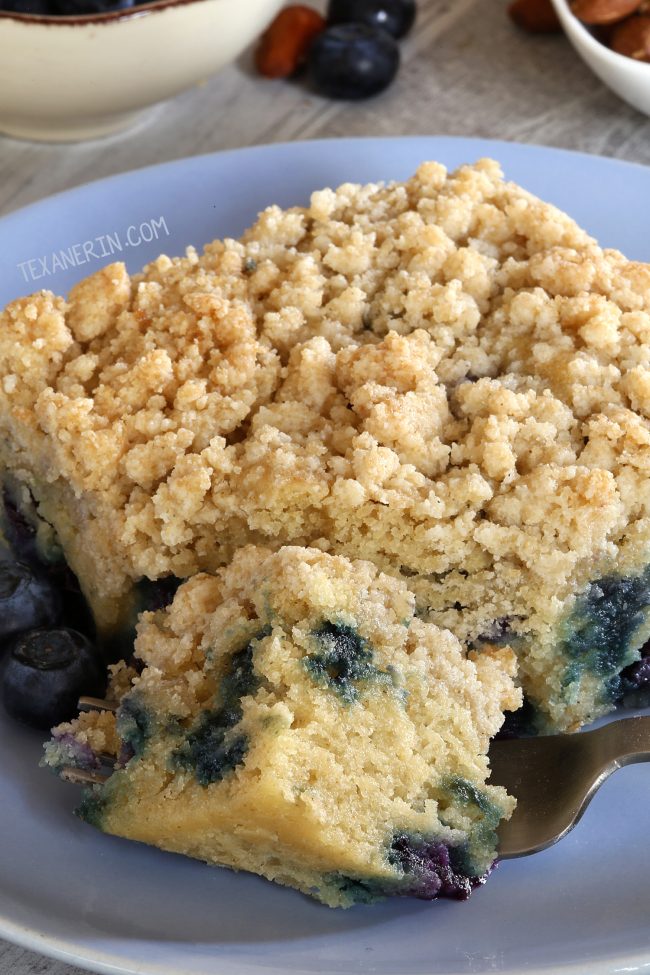 Make sure to use refined coconut oil, which has no coconut taste, unless you want to risk the coconut flavor of unrefined coconut oil inferring with the almond taste.
If you don't want to use almond extract, lemon zest + extract is a super delicious alternative! For the lemon version, I switched the amount of vanilla and almond extracts (and used lemon extract instead of almond) and added about 2 tablespoons of lemon zest.
I've tried this blueberry coffee cake with my favorite GF 1-to-1 baking flour, all-purpose flour and white whole wheat flour. And those are in order from most moist to least moist. I couldn't actually try the latter two myself (can't touch wheat for now), but Mr. T said that it was still moist. But I could tell just by cutting it that it wasn't as moist as the gluten-free blueberry cake (which is the one pictured).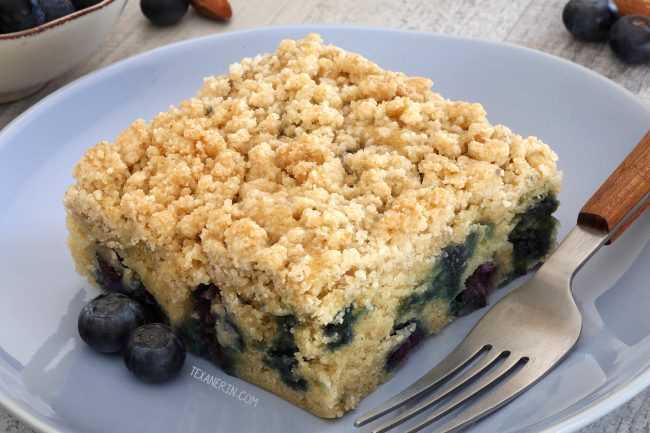 He also said that you could taste the whole wheat even through all the almond taste. So don't make this cake with whole wheat unless you actually like the taste of whole grains!
If you're not in the mood for blueberry cake, how about some blueberry cookies? They can also be made with gluten-free, whole wheat or all-purpose flours! They're almost like blueberry muffin tops with all the streusel on them!
This is one of those cakes that needs to sit for a few hours before serving. The flavor is better after sitting for a bit and it seemed a tad bit dry straight from the oven. The gluten-free version is also a bit grainy when hot from the oven.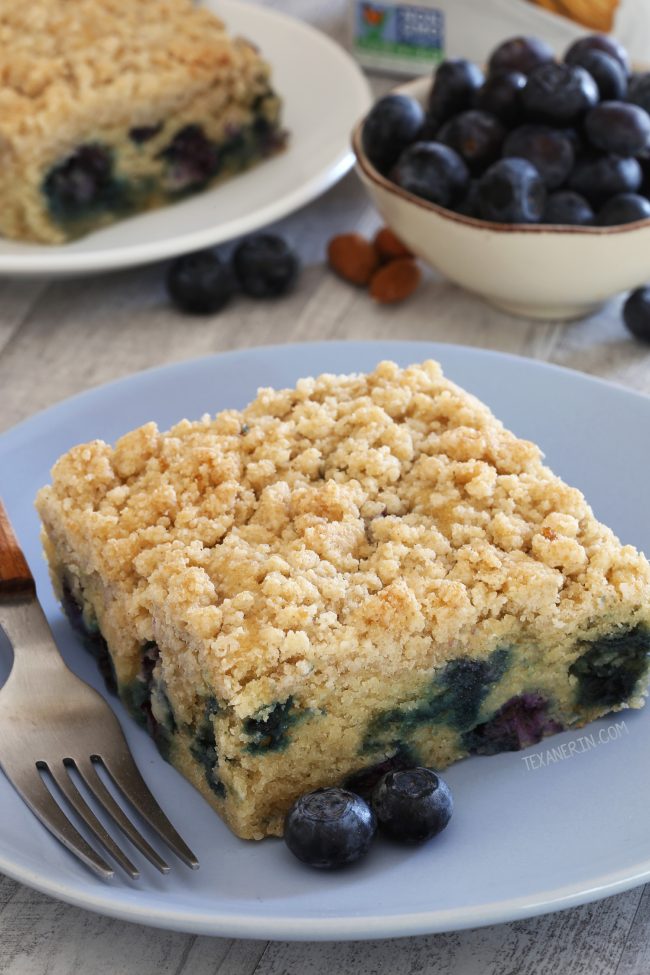 And it can be made several days in advance! This coffee cake definitely won't dry out. I'm pretty sure it'd go moldy before that could happen. ;) If you want to keep it for more than 3 days, you should probably refrigerate it to be on the safe side.
I've only tried it with fresh blueberries. I'm worried that frozen would just make the cake soggy. I think fresh strawberries might also make the cake too wet. If you want to use strawberries, try this great strawberry coffee cake!
I wanted to make this cake vegan so I tried it with an egg replacer and a chia egg. I definitely preferred the egg replacer – the chia version came out a bit more dense. A regular egg also works if you don't need the cake to be vegan!
And if you can eat eggs, you have to try my paleo blueberry muffins! They're almost angel food-like in their texture.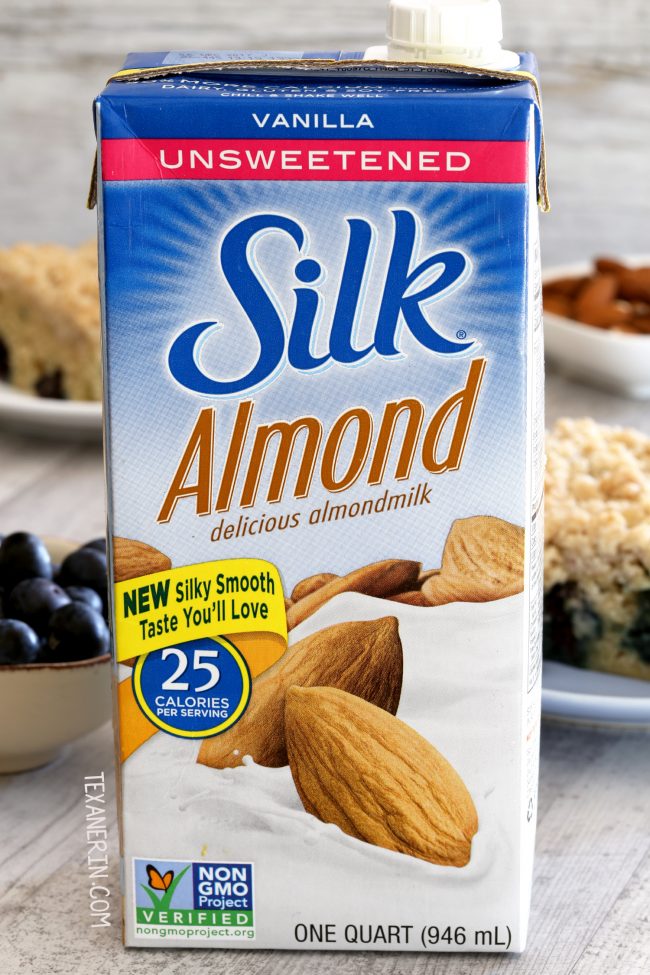 I'm excited to be partnering with Silk for a few posts over the summer for their #TastesLikeBetter campaign. I used their Unsweetened Vanilla Almondmilk in this blueberry coffee cake because it complemented the other flavors so well.
Silk's products are made with plants, not dairy, and are verified by the Non-GMO Project. And they have a huge product line with loads of variety! From unsweetened and sweetened milks to yogurt alternatives and creamers.
To get a coupon, sign up here for Silk's email list! Also be sure to follow along on Facebook, Twitter, Instagram, Pinterest and Youtube.
Hope you all enjoy the cake! :) If you find yourself with a lot of blueberries on your hands, try my paleo blueberry crisp! It's also vegan and super easy to throw together. This Keto Bulletproof Coffee Recipe would go great with either the cake or the crisp!
This is a sponsored conversation written by me on behalf of Silk. The opinions and text are all mine.
❀
Blueberry Coffee Cake (gluten-free, vegan, whole wheat, all-purpose flour options)
Prep Time:
Cook Time:
Ready in:
Yield:

12 pieces
Ingredients
For the streusel:

3/4 cup (101 grams) gluten-free 1-to-1 baking flour1 or 3/4 cup (94 grams) all-purpose flour or white whole wheat flour
1/4 cup (50 grams) brown sugar
1/8 teaspoon salt
1/4 cup (56 grams) refined2 coconut oil, chilled for a bit or at least firm (just shouldn't be liquid)

For the cake:

1 1/2 cups (201 grams) gluten-free 1-to-1 baking flour1 or 1 1/2 cups (188 grams) all-purpose flour or white whole wheat flour
1/2 cup (50 grams) blanched almond flour
1 teaspoon baking powder
1/2 teaspoon baking soda
1/2 teaspoon salt
3 1/2 tablespoons (49 grams) refined coconut oil, room temperature or slightly chilled so that it's like room temperature butter
1 cup (200 grams) granulated sugar or raw sugar
1 1/2 teaspoons vanilla extract
1 teaspoon water
1/2 teaspoon almond extract
1 egg made with egg replacer4 or 1 chia egg5 (you could use a regular large egg for a non-vegan version)
1 cup (240 milliliters) Silk Unsweetened Vanilla Almond Milk
1 3/4 cups (271 grams) rinsed and patted dry fresh blueberries
Directions
Preheat the oven to 350 °F (167 °C) and line an 8"x8" pan with a sheet of parchment paper.
Prepare the streusel. In a small bowl, mix together the flour, sugar and salt. Using a fork or your hands, add the coconut oil and mix until thoroughly combined with the dry mixture. Place in the refrigerator while you prepare the cake.
In a medium mixing bowl, stir together the flour, almond flour, baking powder, baking soda and salt. Set aside.
In a large mixing bowl using an electric hand mixer, beat together the coconut oil, sugar, vanilla extract, water, and almond extract until well combined. Stir in the egg replacer until well combined.
Fold in half of the dry mixture, then half of the almond milk. Fold in the remaining flour and then the remaining milk. Fold in the blueberries and pour the mixture into the prepared pan.
Remove the streusel from the fridge. It'll feel very dry. Use your hands to mix it a few times and then sprinkle the streusel evenly over the top of the batter.
Bake for 28-35 minutes or until a toothpick inserted in the middle comes out dry. The whole wheat and all-purpose version will take closer to 28 minutes and the GF version took me 33 minutes.
Let the cake cool for 2 hours before serving. Letting it sit improves taste and it also gets moister as it sits.
Cover and store at room temperature for up to 3 days or refrigerate for up to 5.
Notes
I used this gluten-free 1-to-1 baking flour. Make sure to use this for a GF version.
I didn't want any coconut taste so I used refined coconut oil. If you use unrefined coconut oil, this cake will likely have some coconut taste to it.
I used this gluten-free 1-to-1 baking flour. Make sure to use this for a GF version.
I used this egg replacer.
To make a chia egg, mix together 1 tablespoon of ground chia seeds with 3 tablespoons of water. Let sit for about 5 minutes. Note that the chia egg version comes out denser than the version made with egg replacer, which I highly recommend.