This bread pudding for two is made slightly healthier, has a simple bourbon sauce and has gluten-free, whole grain and dairy-free options!
With Mardi Gras culminating tomorrow on Fat Tuesday and Valentine's Day on Sunday, I thought I'd share a New Orleans recipe for two! When I first started looking at bread pudding recipes, I was sort of appalled by the amount of butter, sugar and cream in there.
I figured that'd be okay for a serving or two but so many of the recipes yield 8-12 servings (and you know when they say 8-12 it's really like 5-9 servings in reality). I was thinking bread pudding doesn't reheat so well so here we are with bread pudding for just two. You could probably even get three servings out of this recipe if you want them a little smaller. They are pretty big!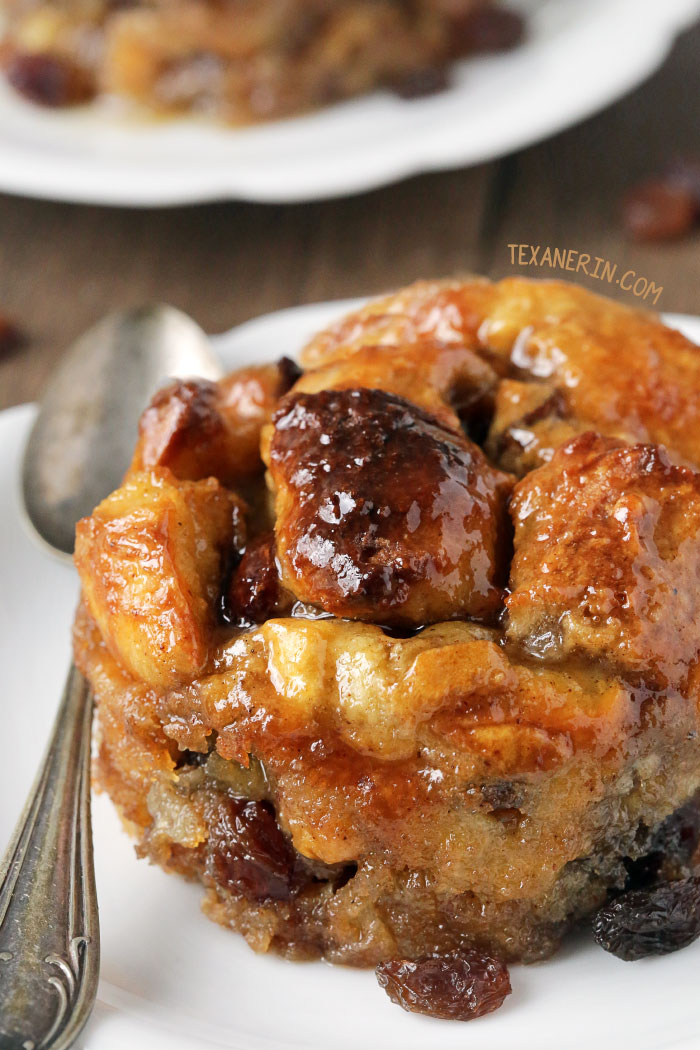 We had bread pudding every day we were in New Orleans. I wasn't sure if I'd even like it before I tried it. I thought of it as old, soggy, baked bread, which didn't sound all the appealing to me. But I was so wrong! This stuff is delicious.
This recipe is like my Bananas Foster French Toast recipe in that it's easy to make whole wheat or gluten-free. Here's a recipe for whole wheat brioche and one for gluten-free brioche. Challah and French bread work, too!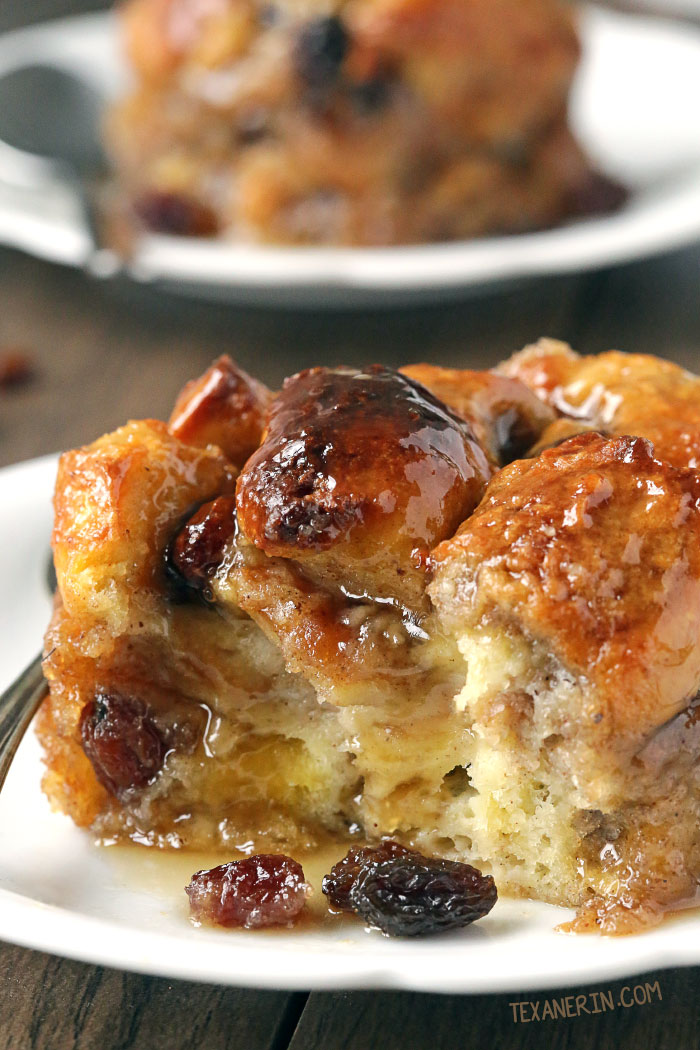 Unlike Bananas Foster, bread pudding didn't originate in New Orleans, but 11th century England. I guess the cooks in New Orleans just needed a use for all that leftover French bread. And added bourbon because… why not? ;)
I used canned coconut milk instead of cream or regular milk, meaning this bread pudding is also dairy-free (here's a nice dairy-free French bread). If you want to use something other than coconut milk, I have no idea how that'd work since coconut milk has quite a bit more fat than dairy milk, almond milk, etc.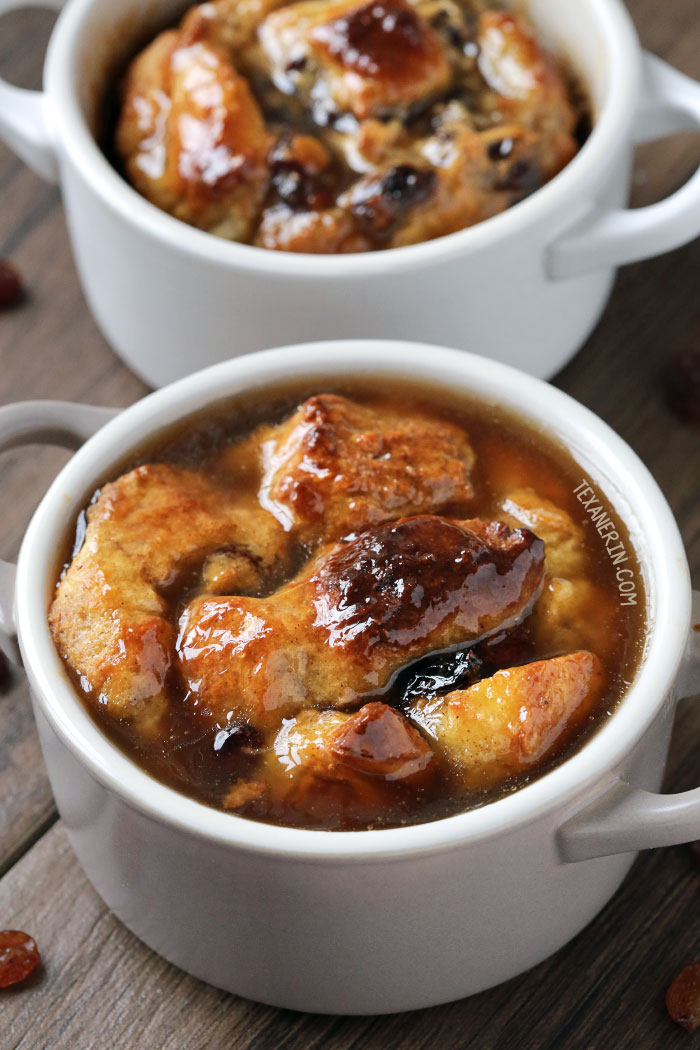 Without the bourbon sauce, the bread pudding itself is pretty boring and I wouldn't bother making it. The sauce is everything! If you don't want to use bourbon, then use some other kind of booze.
And don't omit the raisins! I'm not a big fan of raisins and thought I could do without but… nope. It's much better with raisins.
Want a fun variation? Try this Gluten Free Mango Bread Pudding!
❀
Bread Pudding for Two with Bourbon Sauce (gluten-free, dairy-free, whole grain options)
Prep Time:
Cook Time:
Ready in:
Yield:

2 large servings
Ingredients
For the bread pudding:

3/4 cup (177 milliliters) full-fat canned coconut milk
3 cups (7 deciliters) of 3/4" cubes of stale1 brioche, challah or French bread (use gluten-free, whole grain, regular or dairy-free bread, if desired)
3 tablespoons raisins
1 large egg, room temperature
3 tablespoons granulated sugar or raw sugar
1/2 teaspoon vanilla extract
1/4 teaspoon ground cinnamon
1/8 teaspoon ground nutmeg
pinch of salt

For the sauce:

1/4 cup (50 grams) brown sugar or raw sugar
1 tablespoon (14 grams) coconut oil or unsalted butter
1 tablespoon bourbon2
2 teaspoons full-fat canned coconut milk (I think water would also work)
1 teaspoon vanilla
pinch of salt
Directions
Preheat the oven to 350 °F (175 °C) and grease two 1-cup (8-ounce) ramekins. If you only have smaller ones, then you'll need to use 3 and adjust the baking time.
In a medium or large saucepan (one large enough for all the bread) over medium heat, heat the coconut milk until hot and steamy. Remove the pan from the heat and cool for 3 minutes. Meanwhile, in a medium mixing bowl, whisk together the remaining bread pudding ingredients. After the 3 minutes of cooling, add the bread and raisins to the warm coconut milk and gently stir until combined. Add the egg and sugar mixture to the bread mixture and stir until well combined.
Scoop the mixture into the prepared ramekins. Place the ramekins on a baking sheet to catch any spills (there shouldn't be any – this is just a precaution). The mixture will be well over the ramekins' rims but it will cook down.
Bake for 30-40 minutes or until the topping is firm and browned. It will puff up quite a bit in the oven but will gradually "deflate" after you remove it from the oven. When there are about 5 minutes left on the timer, start preparing the sauce.
In a small saucepan over medium heat, stir together all the sauce ingredients. Bring to a simmer, while stirring frequently, and then remove from the heat. The sugar should be dissolved.
When you remove the bread puddings from the oven, use a knife to run around the edge of the ramekins so that the sauce will be more easily absorbed. Pour the hot bourbon sauce over the bread puddings. The bread puddings do not reheat well but if you have leftover sauce, you can refrigerate that for a few days. If you wish to serve these on a plate instead of in the ramekin, I found it easier to remove them after pouring the sauce over them.
Notes
My bread wasn't stale so after I cut it into cubes, I spread them into an even layer on a baking sheet and toasted them while the oven was heating up until they felt dry. If you do this, be careful as you don't want them to brown! I haven't tried this recipe using fresh, untoasted bread so I don't know how that'd work.
There's some debate on whether or not whiskey and bourbon are gluten-free. Check with your doctor if you have questions!
For dairy-free: Use coconut oil instead of butter in the sauce.