These chocolate pecan pie bars have an easy shortbread crust and a corn syrup-free filling that's sweetened with maple syrup and brown sugar. You can make them traditionally, with white whole wheat or gluten-free flour.
Here's a great Thanksgiving dessert that feeds a crowd. From a 9″x13″ pan, you can get 24-32 servings of these chocolate pecan pie bars.
They're pretty sweet but not obnoxiously sweet like a lot of pecan pies. So you can cut them quite small.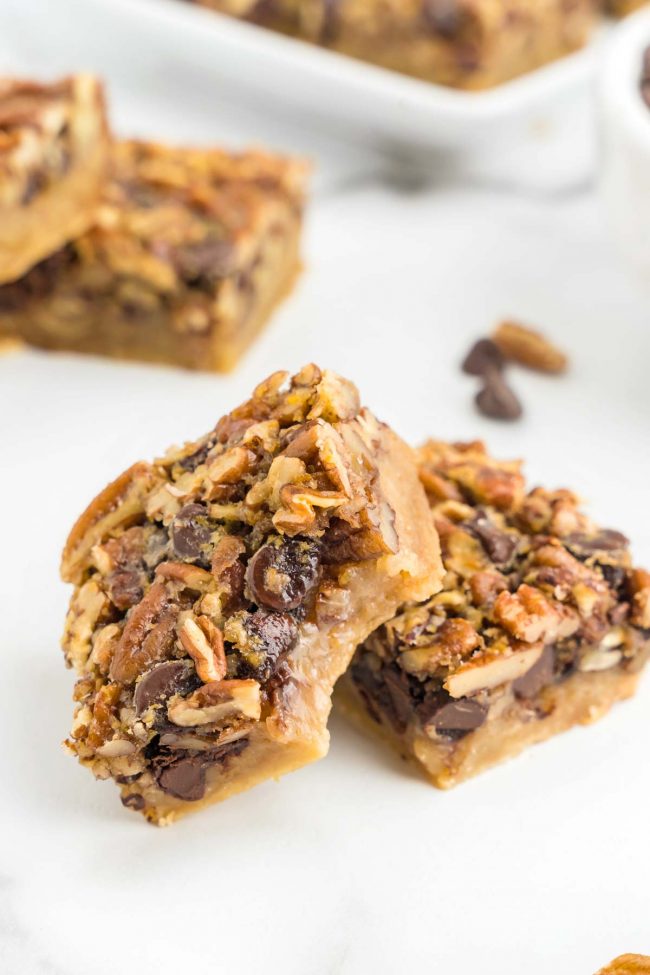 This is especially true for something like Thanksgiving, where there'll be lots of other desserts, and people want to sample several desserts.
I used the filling from my Gluten-free Pecan Pie, added a bunch of chocolate chips and poured that over a shortbread crust.
My photographer said that these bars may be her husband's new favorite. I can see why! They are indeed pretty addictive.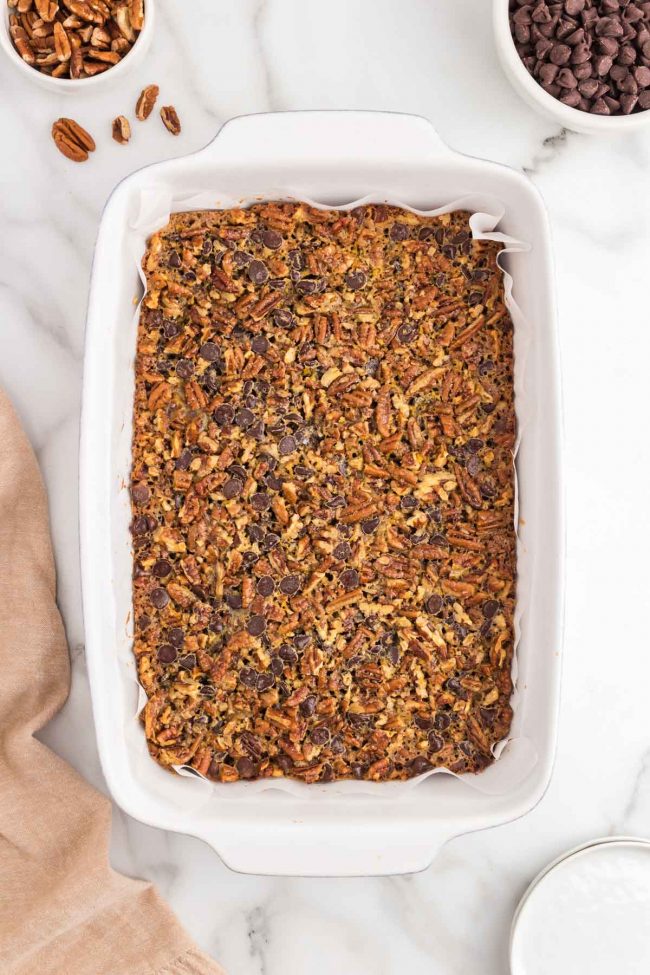 Ingredients
For the crust
Unsalted butter – I've only tried this with butter, and that's what I recommend sticking with. The butter flavor is essential!


Light brown sugar – dark brown sugar also works. I haven't tried it, but granulated sugar probably works if you don't mind a more crumbly crust.


Flour – all-purpose, white whole wheat and Bob's Red Mill 1:1 Gluten-free Baking Flour work here.
Vanilla extract and salt


For the filling
You'll need some of the ingredients above for the filling, plus:

Maple syrup – instead of corn syrup, this recipe calls for maple syrup. You'll need a whopping cup of it, which is unfortunate from a cost perspective, but it adds great flavor and makes these bars half naturally sweetened.


Eggs – no subs for these.


Cornstarch or tapioca/arrowroot starch – same as above.


Pecans – you could also use walnuts if you'd prefer walnut chocolate chip bars.


Chocolate – you can use dark or semi-sweet. Please don't use milk chocolate. I have quite a sweet tooth, and even I think these bars would be too sweet with milk chocolate.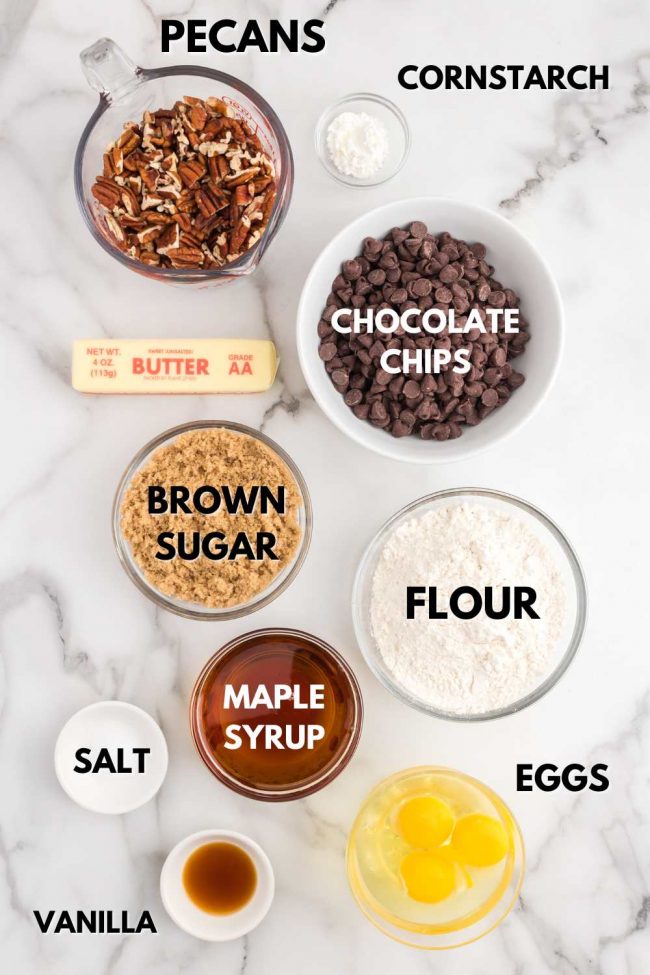 How to make the crust
You just beat together the butter and sugar, and then add in the rest of the ingredients.
Pat it onto the bottom of a parchment-lined pan (note that it'll be quite thin, but I promise – it's enough!), bake and cool.
Do I have to pre-bake the crust?
Yes, it needs to be baked and then cooled for at least 10 minutes. Otherwise, you'll have a soggy, messy crust.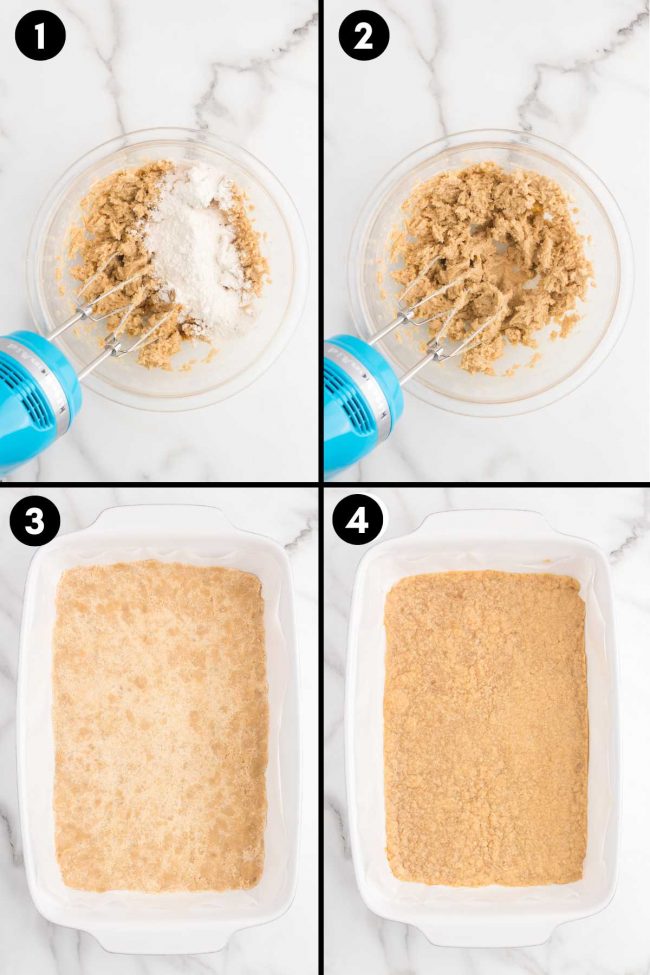 How to make the filling
You just stir everything together, except for the pecans and chocolate chips, and then stir in the pecans and chocolate chips.
Then you pour it over the pre-baked and cooled crust and bake.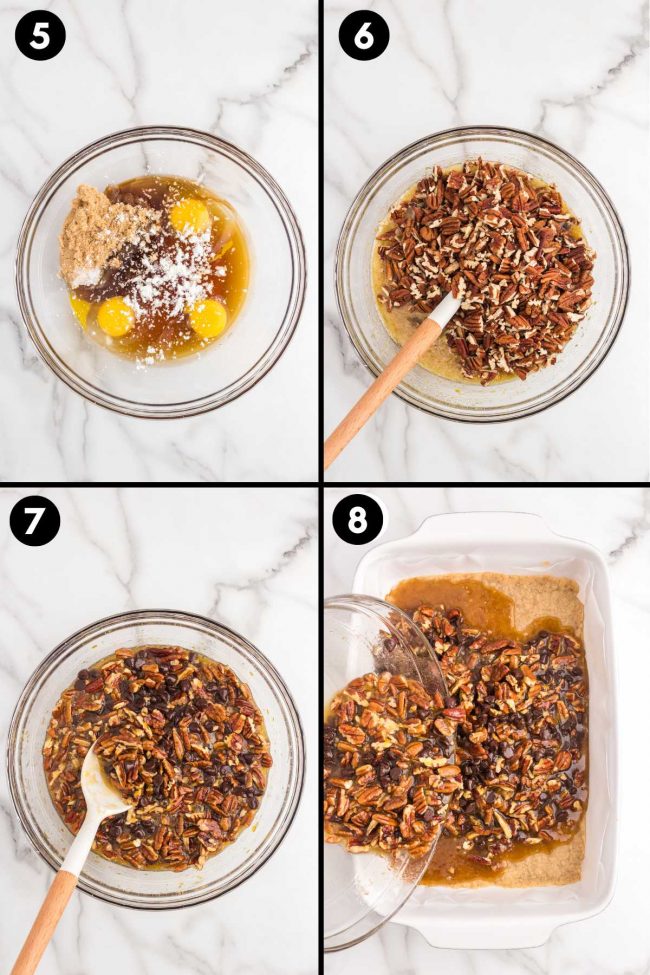 When they come out of the oven, they kind of jiggle a bit, but they should appear set.
If you dig into them after taking them out of the oven, they'll be a gooey mess. You won't see two distinct layers of crust and filling.
But once chilled, two layers form. You'll have a distinct crust and filling!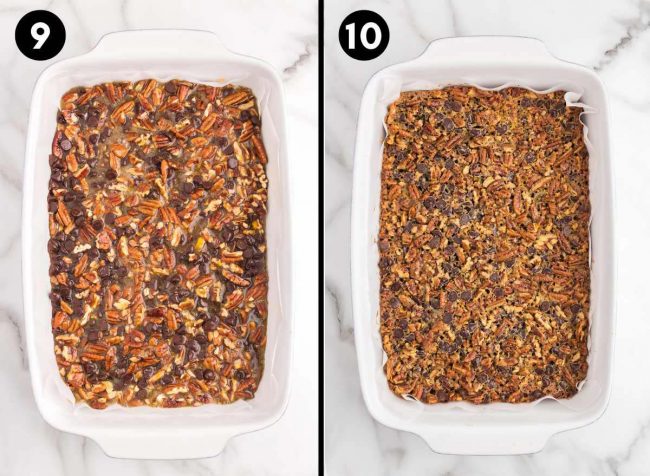 Maple sub?
Unfortunately not. Honey, corn syrup, more brown sugar, or anything else will not work the same as maple syrup.
Pies, especially pecan pies and pecan pie bars, are so finicky. I beg you not to experiment at all with this recipe. ;)
Can I omit the brown/coconut sugar?
Please see the above answer. :) You can not omit it. You need to use brown sugar or coconut sugar.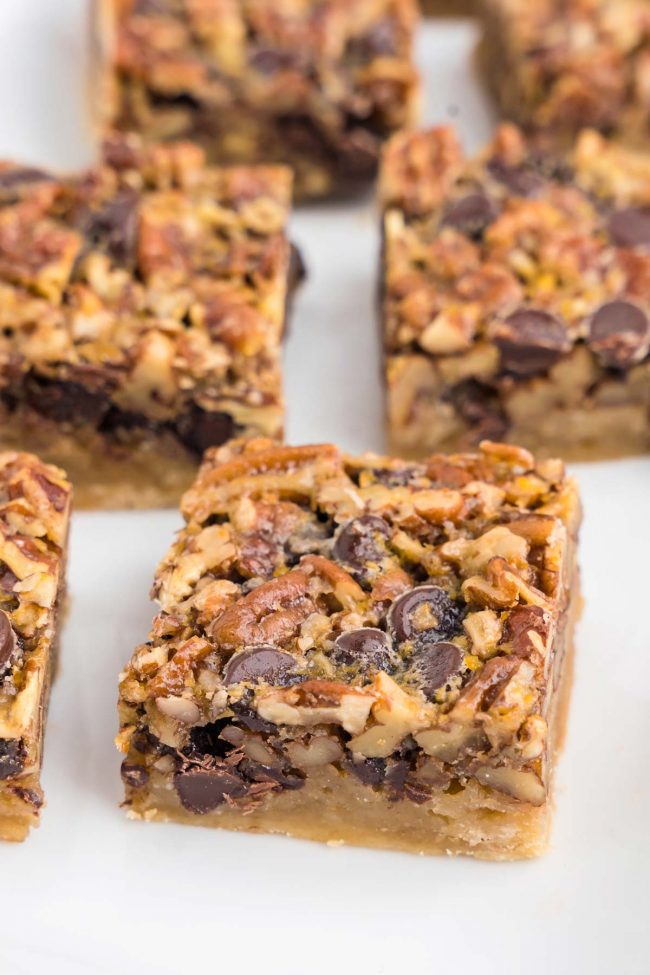 Can I reduce the sweetener amount?
I know this is annoying, but I would really, really not recommend that.
When you reduce the sweetener, it causes the fat to separate and float to the top, and then you have a nasty mess on your hands. And I don't think anyone wants to waste a cup of maple syrup (and all the other ingredients) and their time!
Do I have to use pecans?
You can use walnuts. I did once, and the bars were good, but we preferred them with pecans. But that's just a personal preference.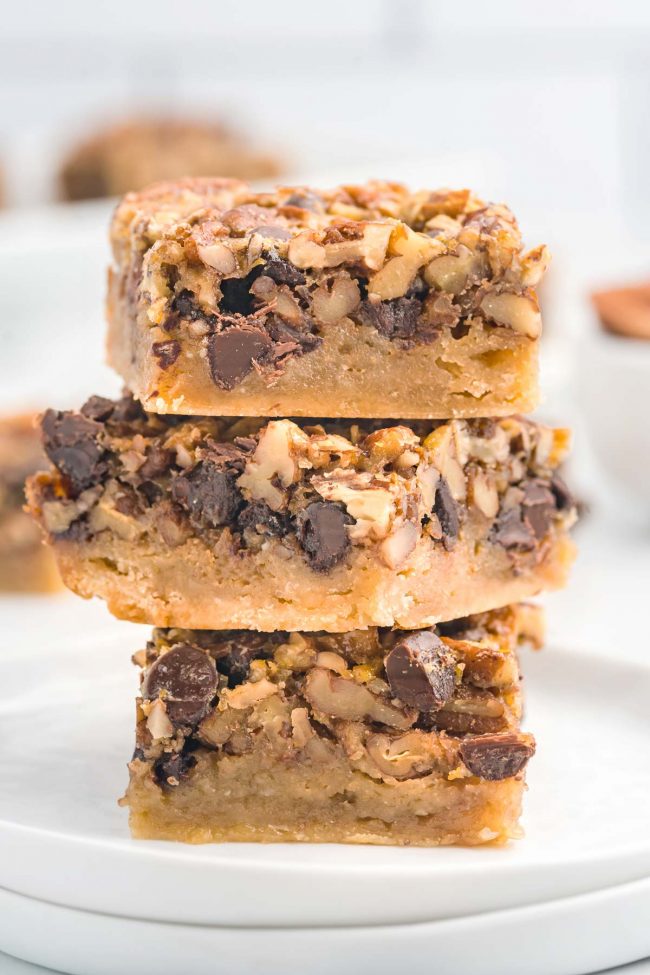 Can you freeze them?
Yes! They freeze perfectly. You can either cut them up and freeze or just freeze the bars as a whole.
They somehow don't freeze hard. You can immediately cut or eat them straight from the freezer.
The chocolate is hard straight from the freezer, though, which I don't love, so I recommend letting them sit for a few minutes.
How do I make them vegan?
There's no sub for the eggs in this recipe, so unfortunately, there's no way to make them vegan.
I do have some other tasty options for you, though! I've got this Vegan Caramel Pecan Cheesecake and this Vegan Pumpkin Cheesecake. You can make both now and defrost for Thanksgiving! Both are some of my all-time favorites on the blog.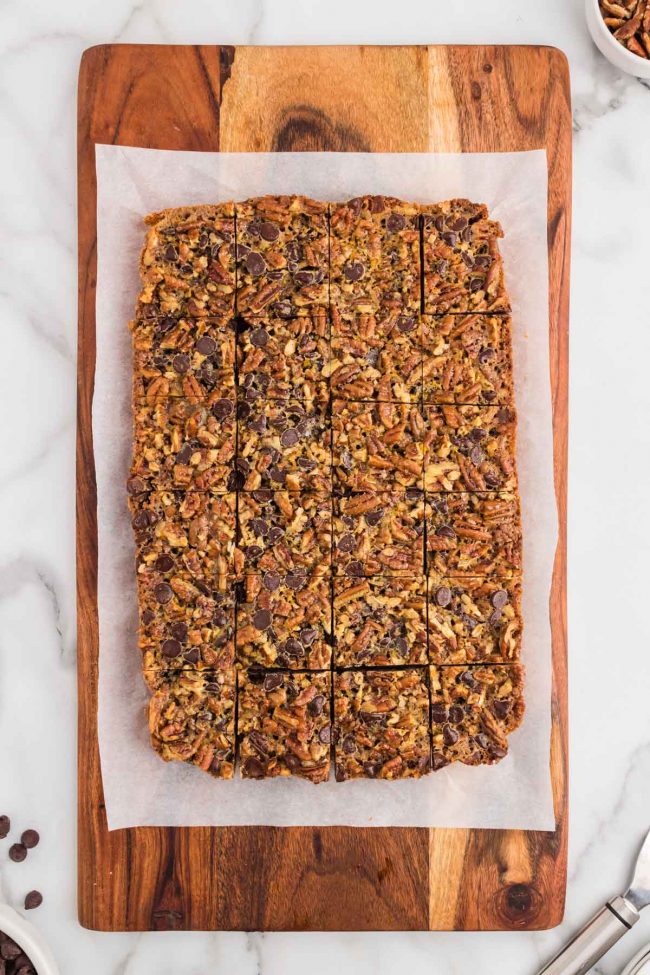 How do I make this paleo?
You would have to find a paleo pie crust. There's no way to make this shortbread crust paleo.
I don't recommend a nut flour-based crust. Maybe one with cassava flour and/or starches, along with some nut flour. But not 100% nut flour, as those always seem to get soggy.
And then you need to use coconut oil in the bar filling. Use 3 tablespoons + 2 teaspoons (51 grams) refined coconut oil in place of the 1/4 cup of butter. Also, use coconut sugar instead of brown sugar, arrowroot/tapioca starch instead of cornstarch, and paleo chocolate.
I've tried all these subs and it worked great.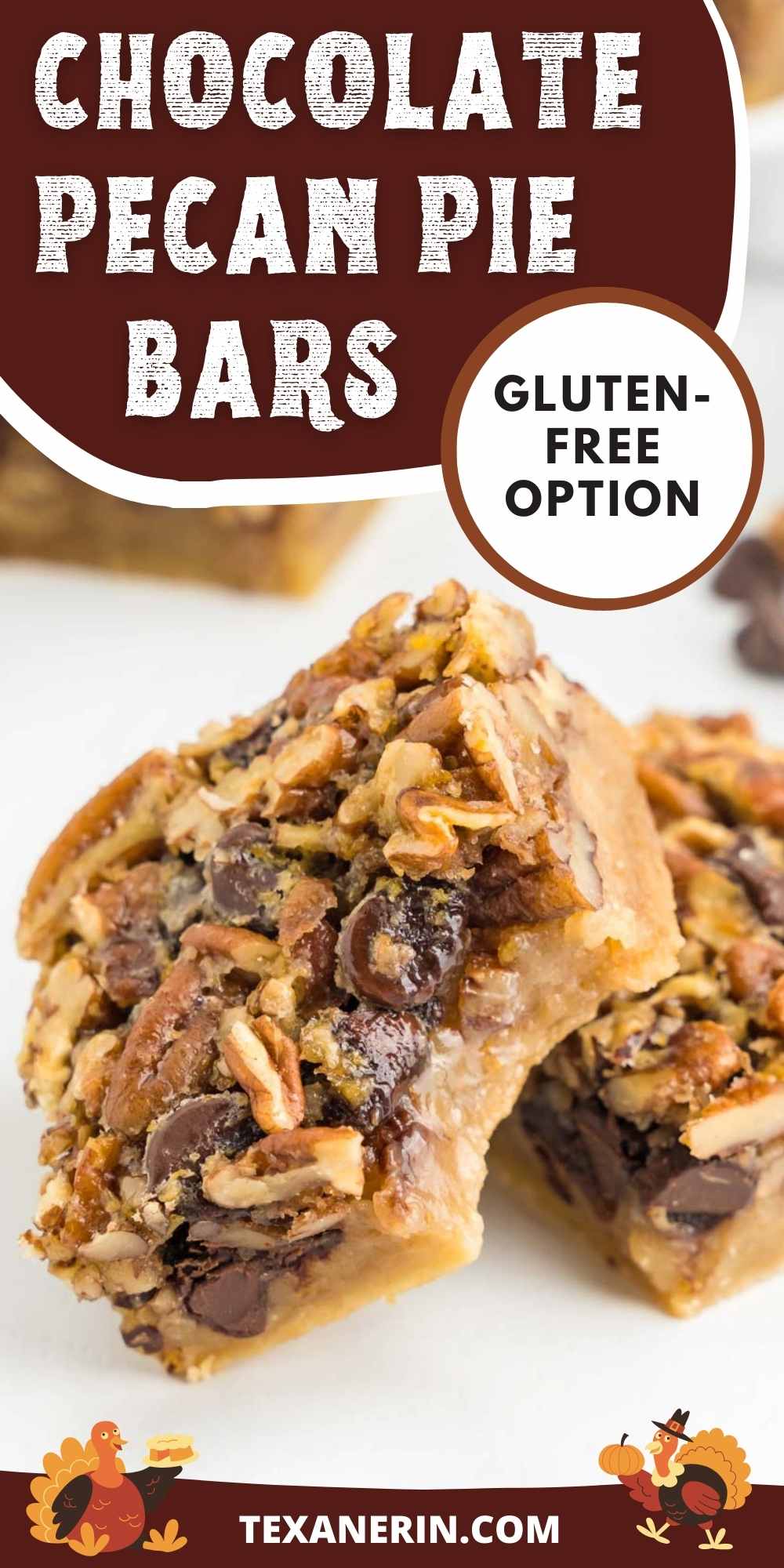 I hope you'll enjoy these chocolate pecan pie bars! Please let me know how they turn out if you try them. Thank you! :)
❀
Chocolate Pecan Pie Bars
Prep Time:
Cook Time:
Ready in:
Yield:

24 bars
Ingredients
Crust:

1/2 cup (113 grams) unsalted butter, room temp
1/4 cup (50 grams) light brown sugar
1/2 teaspoon vanilla extract
1/2 teaspoon salt
1 1/4 cups (156 grams) all-purpose flour, white whole wheat flour or for a GF version, use 1 1/4 cups (173 grams) Bob's Red Mill Gluten-free 1-to-1 Baking Flour

Filling:

3/4 cup (150 grams) light brown sugar
1 cup (320 grams) maple syrup
3 large (50 grams each, out of shell) eggs, room temperature
1/4 cup (56 grams) unsalted butter, melted and still warm
1 1/2 teaspoons cornstarch
1 teaspoon vanilla extract
1/2 teaspoon salt
2 1/2 cups (285 grams) chopped pecans
1 1/2 cups (225 grams) semi-sweet chocolate chips or chopped chocolate
Directions
Prepare the crust:

Line a 9" X 13" pan with a piece of baking paper and preheat the oven to 350 °F (175 °C).
In a medium mixing bowl, using an electric hand mixer, beat together the butter and brown sugar at medium speed until fluffy and well combined.
Beat in the vanilla and salt at medium speed until combined, and then beat in the flour at low speed. You'll have crumbs and not a ball of dough.
Evenly and gently put onto the bottom of the prepared pan. It'll be quite a thin crust. You don't need to press it down very firmly, but it shouldn't be loose crumbs.
Bake for 13-15 minutes or until lightly browned.
Place on a cooling rack to cool for at least 10 minutes while preparing the filling.

Make the filling:

In a large mixing bowl, stir together all filling ingredients except for the pecans, sprinkling on the cornstarch, rather than plopping it down a big clump. Do not overmix! If there are any eggy bits that aren't coming out when mixing, remove them or they'll bake up ugly.
Once combined, stir in the pecans and chocolate chips.
Pour the filling into the partially cooled crust and bake for 28-31 minutes. The filling should appear set and not liquidy, but the whole thing kind of jiggles when you remove it from the oven. If you were to cut into them right now, it'd just look like goo. But it separates into layers as it cools and chills.
Let cool completely, about 2 hours, and then refrigerate for at least 4 more.
Refrigerate in an airtight container for up to 5 days or freeze for up to 3 months.