These coconut flour cookies with chocolate chips have the perfect texture and taste just like traditional chocolate chip cookies! This recipe is paleo with a vegan option and can also be made keto.
Adapted from my Perfect Paleo Chocolate Chip Cookies
So it seems like people are loving the coconut flour brownies I posted a few weeks ago. All the reviews have been super positive so go check them out if you need convincing!
I've been asked for an all coconut flour version of my chocolate chip paleo cookies pretty much since I first posted them and I've always said there was no way to sub coconut flour for the almond flour. Which is true. Kind of!
But after trying off and on for about a year, I finally got it! What I did was use an additional 1/4 cup coconut flour in place of the 1 cup of almond flour and I added an egg yolk. For the vegan version of these coconut flour cookies, I used 1.5 chia eggs total.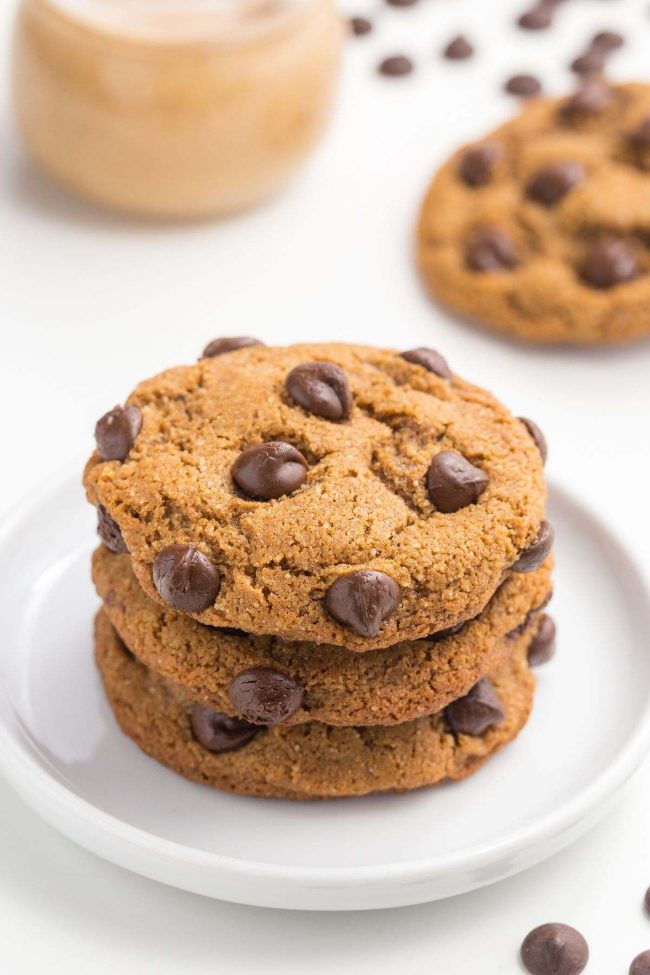 Even better than the original?! As good as regular (awesome) cookies?!
The texture is more like a traditional buttery chocolate chip cookie than the one with almond flour + coconut flour.
You know how recipes with all coconut flour usually use have AWFUL texture? Even if the recipe says, "This recipe doesn't taste eggy to me! It has a great texture!" I have been disappointed 100% of the time. These cookies will not disappoint.
They're super soft right out of the oven but they firm up as they cool. Then they're crisp on the outside and chewy on the inside. They're perfect.
The next day, they're soft – inside and outside. Like the most amazing soft batch chocolate chip cookies ever.
Coconut flour baked treats usually require a bunch of eggs that result in a weird (to me) texture. That isn't at all the case with these coconut flour cookies!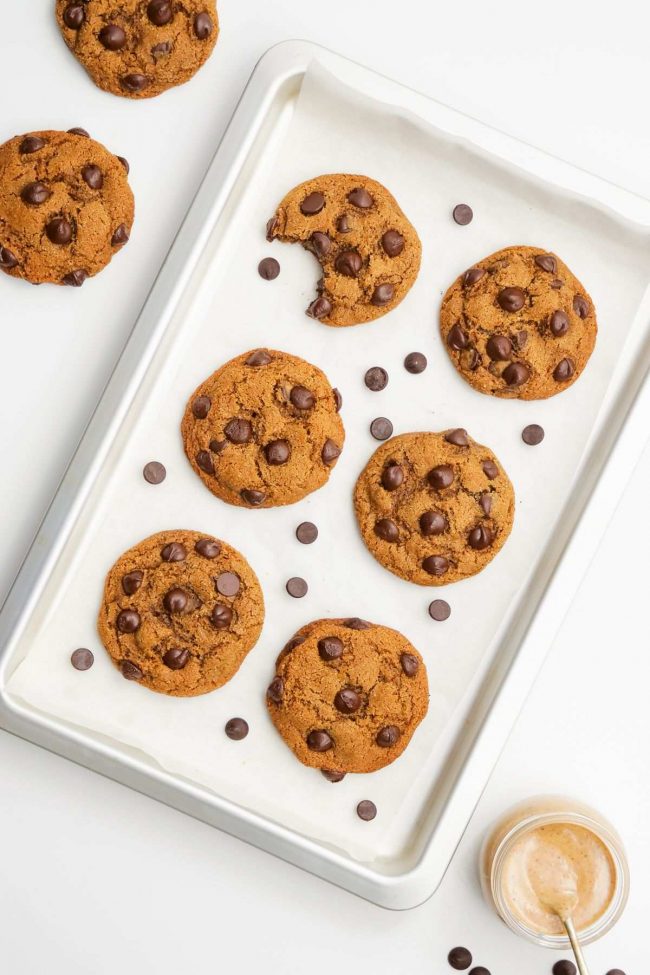 All you need is an extra egg yolk and it definitely doesn't do anything funky to the texture.
Vegan version
I think using egg replacers in all coconut flour goodies is usually not very easy. Because those recipes often call for an absurd number of eggs.
So I was thrilled when 1.5 chia eggs worked out so well. They're just as delicious and the texture is perfect.
I'm not vegan and think eggs are really healthy, but still usually use chia eggs in this recipe because I don't want to have a leftover egg white.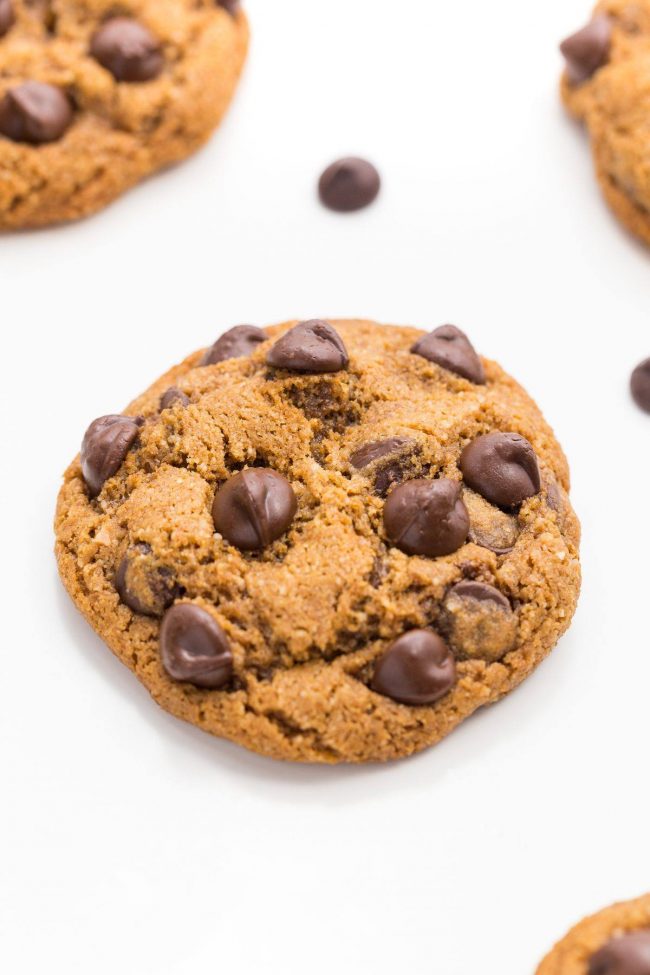 The key is… almond butter!
The almond butter is key to the texture and taste of these cookies. They don't taste almondy. They taste like regular chocolate chip cookies, but less sugary and more complex (thanks to the almond butter!).
At least they taste like regular cookies when you use refined coconut oil. Then you can't taste the coconut taste at all. If you want to taste the coconut, and quite strongly, you can use unrefined coconut oil.
Be sure to use almond butter that's free of added sugar and fat. I have no idea how or if these cookies would come out if almond butter with added ingredients.
I usually use homemade almond butter, but store-bought works, too. Here's how to make almond butter if you haven't tried making your own yet! you might be able to save a bit of money. :)
Nut-free version
Want a nut-free cookie? You can use sunflower seed butter in place of almond butter! But know that the cookies might turn green.
I have some tips on how to avoid that in my paleo peanut butter cookies post.
I prefer these coconut flour chocolate chip cookies over the original but I'd love to hear what you think! :)
I hope you'll enjoy the cookies! If you make this recipe, I'd love to see pictures of your creations on Instagram, Facebook and Twitter! Please hashtag them #texanerin so I can find them. :)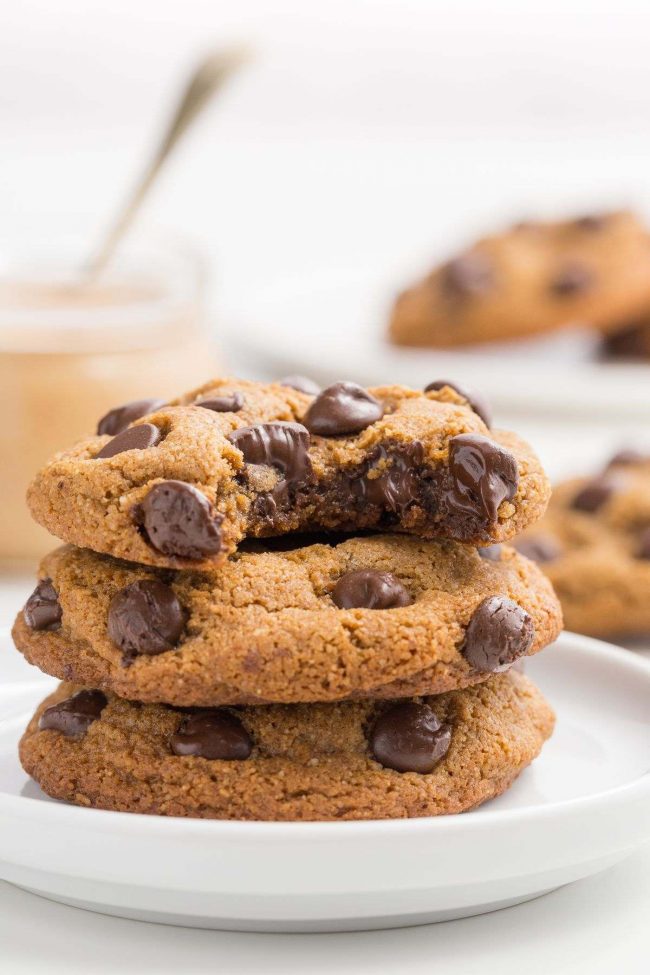 Questions about these chocolate chip coconut flour cookies?
Can I just add an egg instead of an egg yolk?

You could but the texture would be off. They were too cakey and couldn't really be held when I made them with 2 eggs rather than 1 egg + 1 yolk.

What can I use instead of the egg or chia egg?

I'm hesitant to recommend any other egg replacers in this recipe because I haven't tried them but I'm guessing a flax egg should work. One reviewer used Orgran No Egg Egg Replacer with success! Coconut flour recipes are more finicky than wheat-based ones where you can often use whatever egg replacer you'd like.

Can I use something instead of coconut sugar?

Brown sugar would work if you don't care about it being paleo. Subbing in a liquid sweetener won't work. Lakanto Monkfruit Sweetener works for a low-carb version. Some people would consider it paleo, some don't. It's up to you! Do note that your cookies won't be as chewy or spread as flat as the ones in the picture.

Can I use something instead of coconut flour? (Yes, someone will ask this at some point ;))

Nope! Even the original recipe I based this off of uses 1/4 cup coconut flour so there's no way around it.

Can I use butter / ghee in place of the coconut oil?

Butter will work. Ghee is super expensive so I've never baked with it so I can't say. Anyone want to chime in here? Does it work well most / all of the time / rarely in place of butter?

Can I use something instead of almond butter?

For a nut-free version, use sunflower seed butter. I haven't tried any other nut butters so I can't say for sure that these coconut flour chocolate chip cookies would come out as well as with almond butter. My guess is that they wouldn't. Whatever you use should be free of added fat and sugar.

Can I freeze the dough / baked cookies?

Yes! Let the dough thaw overnight in the fridge. The baked cookies only take about 10-20 minutes to thaw at room temperature.
❀
Chocolate Chip Coconut Flour Cookies (paleo, vegan option)
Prep Time:
Cook Time:
Ready in:
Yield:

12 cookies
Ingredients
1/2 cup (64 grams) coconut flour
1 teaspoon baking soda
1/4 teaspoon salt
6 tablespoons (84 grams) coconut oil (I used refined for no coconut taste – the oil must be solid, like room temp butter and not melted or the dough will be greasy)
3/4 cup (150 grams) coconut sugar, very tightly packed (it's best to weigh this) or Lakanto Monkfruit Golden for a keto version
6 tablespoons (98 grams) natural almond butter or sunflower seed butter for nut-free (the kind with just nuts and no added fat / sugar)
1 1/2 teaspoons vanilla extract
1 large egg + 1 large egg yolk or 1.5 chia eggs for vegan1
1 1/4 cups (213 grams) semi-sweet chocolate chips, divided2
Directions
In a medium mixing bowl, stir together the coconut flour, baking soda and salt. Set aside.
In a large mixing bowl with an electric hand mixer or using a stand mixer, beat together the coconut oil, sugar, almond butter and vanilla at medium speed until well combined, about 1 minute.
Beat in the egg and egg yolk on low and mix until well incorporated. Stir in the flour mixture until well combined. Then stir in 1 cup (170 grams) chocolate chips. Chill the dough for about 1-2 hours or until the dough is firm.
Preheat the oven to 350 °F (175 °C) and line a baking sheet with a piece of parchment paper.
Roll the dough into 12 (54-gram) balls and place the remaining 1/4 cup (43 grams) of chocolate chips on the top and on the sides of the dough balls. Place 4" apart on the prepared baking sheet.
Bake for 12-14 minutes or until the surface of the center of the cookies no longer appears wet. They'll be very soft but will continue to cook as they sit on the cookie sheet.
Let cool completely on the baking sheet. On the first day, they'll be crisp on the outside. On the second day, the outsides soften. Store in an airtight container for up to 3 days. If the cookies are too soft for your liking, chill in the refrigerator for a firmer cookie.
Notes
To make a chia egg, I mix together 1 tablespoon of ground chia seeds and 2.5 tablespoons water. Let sit 5-15 minutes or until goopy like an egg. So for this recipe with 1.5 chia eggs, you'd need 1.5 tablespoons of ground chia eggs and 3 tablespoons + 2 1/4 teaspoons water.
Make sure to use vegan / paleo / low-carb chocolate chips if needed!
As an Amazon Associate, I earn from qualifying purchases. For more info, see my disclosure.