This gluten-free carrot cake is perfectly spiced, fluffy and nobody will have a clue that it's missing the wheat! The best carrot cake I've ever had – and I can eat gluten. With a delicious, slightly less sugary cream cheese frosting. Scroll to the bottom for reviews if you need convincing!
First of all, if you prefer a grain-free recipe, try my paleo carrot cake muffins! They've always been a big hit and the reviewers love them. These paleo vegan lemon bars and vegan macaroons would also be an excellent choice for Easter!
When it comes to carrot cake, I'm normally all about the cream cheese frosting but this cake is delicious enough to eat on its own. I've never had a better carrot cake and it tastes like it was made with all-purpose flour (which you can actually use if you don't need it to be gluten-free!).
But a bit of cream cheese never hurt so of course I slathered it on! How could I not?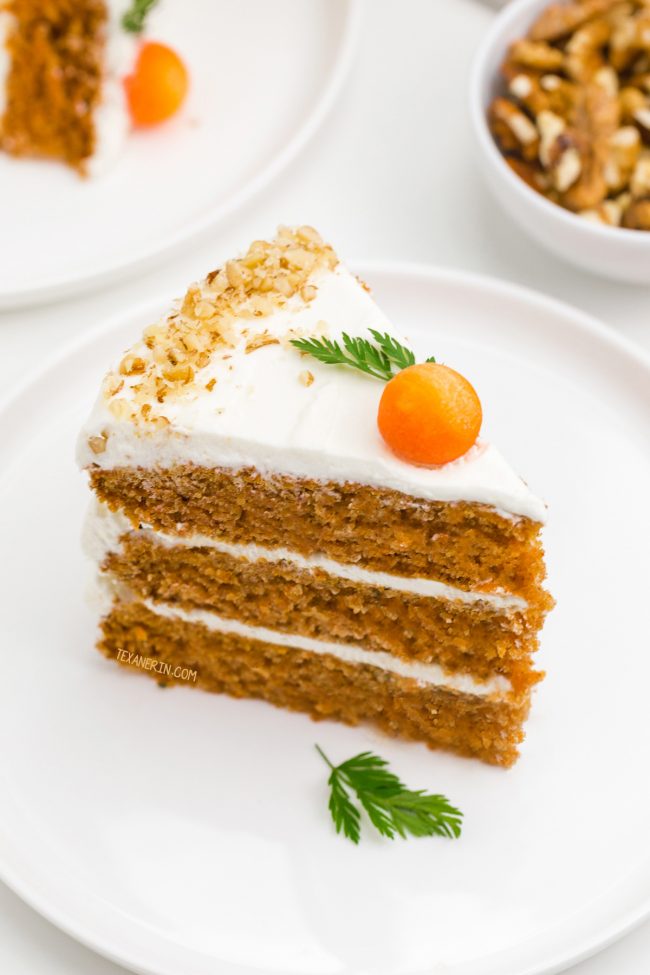 I don't just make this at Easter. I make this gluten-free carrot cake year-round to bring to get-togethers. German cakes, at least the ones I've had, aren't very moist, spicy, or fluffy [no offense to my lovely German readers ♥♥♥ To be fair, I should say that Germany does other stuff like bread WAY better than the US.].
This carrot cake is like the opposite of a German cake. And the Germans I've served it to have flipped for it. So have the Americans. Everyone can love this cake together!
I don't know why (maybe sleep deprivation?) but I'm not feeling very wordy today. It's one of my favorite recipes on the site – one that I've been making since before I even started the blog – and I really hope you'll try it out. The end. :D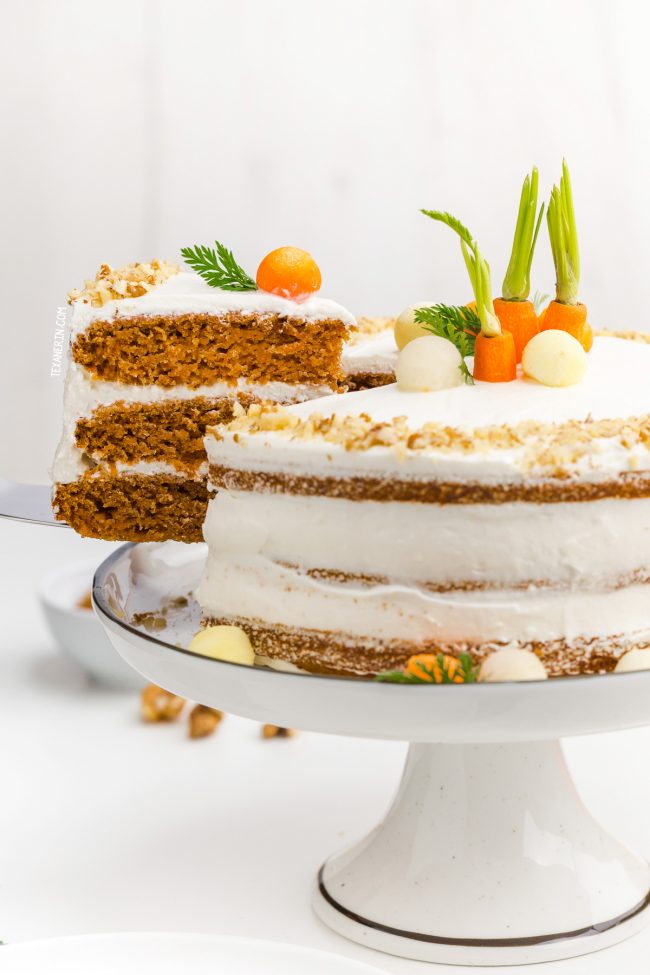 Questions about this gluten-free carrot cake?
Fat
Can you taste the olive oil? I used extra-virgin olive oil and you can taste it in the batter and while the baked cake is still hot. Once it cools, you can't taste it. If you're worried about it, use light olive oil (the light refers to the taste and not calories).

Can I use another oil other than olive? You can use canola oil, vegetable oil, grapeseed oil, etc. Anything neutral tasting. I haven't tried coconut oil but if you do, I'd recommend using refined coconut oil unless you want some coconut taste in your cake.

Can I use butter? I bet you could use butter in this cake but it wouldn't be as moist (butter is 80-82% fat and oil is 100% fat).

Flour

Can I use a different gluten-free flour mix? I used this 1-to-1 gluten-free baking flour. If you have another brand that works as a sub for all-purpose flour, then you could probably use it here. I can't say the texture would be as perfect as with the flour mix I used, though.

Does it taste gluten-free? This carrot cake honestly tastes like it was made with all-purpose flour. At least with the gluten-free flour mix I used and after it's cooled a bit.

Can I use almond / coconut / other flours? Nope. If you want a grain-free recipe, check out the beginning of the post for another gluten-free carrot cake recipe (it uses almond and coconut flours). If you want to use other flours like rice flour, buckwheat, whatever – you'll have to experiment. There's no direct sub for gluten-free flour mixes.

Sweeteners

Can I use a liquid sweetener? Unfortunately not without experimenting! Sorry I've already said this three times in this post but it's true.

You could use a little honey or maple syrup for part of the sugar, but you'd have to reduce the liquid in the cake. I don't recommend trying unless you're ready for failure. Does that sound too negative? Just trying to be honest and save your time, ingredients and money. :)

Can I reduce the sugar? This carrot cake recipe already calls for less sugar than a regular cake. Reducing sugar also reduces moist-ness so unless you want a dry cake, I wouldn't recommend reducing it even more.

Frosting

How can I make the frosting dairy-free? You could use dairy-free cream cheese and butter in the below recipe or you could make my vegan cream cheese frosting (it doesn't actually use cream cheese!).

Does the cream cheese frosting pipe well? You can pipe it if you double the amount of butter.

Random

Can I use a different sized pan?

Here's a super handy pan conversion chart that should be able to help. Looks like a 9″x13″ should work well, though I haven't tried it.

Can I make this recipe into cupcakes? Yes! This recipe will yield 24 cupcakes. Bake for 15-20 minutes. Use the smaller amount of frosting found in the recipe notes (the one that uses 12 ounces of cream cheese and not 16). This will yield about 2 cups so that means 4 teaspoons of frosting per cupcake.

Can I freeze the layers / frosted cake? Freezing the layers would definitely work. Freezing frosted layers, though? I'm not too sure about that. Does anyone know if freezing cream cheese frosting works well?

Can I add pineapple, walnuts, raisins, etc.? Walnuts or raisins wouldn't be a problem but I'm a little doubtful of crushed pineapple or anything liquid-y. The cake is already so moist that I'd be afraid that pineapple would make it soggy. I could be wrong, though! If you try it out, please let us know in the comments and I'll update this. :)
❀
Gluten-free Carrot Cake
Prep Time:
Cook Time:
Ready in:
Yield:

12 slices
Ingredients
For the cake:

2 cups (272 grams) Bob's Red Mill Gluten-Free 1-to-1 Baking Flour (you can use whole wheat or all-purpose flour for a non-gluten-free version)
2 teaspoons ground cinnamon
1 teaspoon ground ginger
1/2 teaspoon ground nutmeg
2 teaspoons baking soda
3/4 teaspoon salt
4 large eggs (50 grams each, out of shell), room temperature
1 1/2 cups (300 grams) granulated sugar or coconut sugar1
3/4 cup (183 grams) unsweetened applesauce
1/2 cup (118ml) olive oil (another vegetable oil like canola oil would work)
1 teaspoon vanilla extract
14.5 oz (410 grams – about 3 1/2 to 4 cups) grated and peeled carrots

For the frosting: (see note below)2

18 ounces (510 grams) cream cheese, room temperature3
4.5 tablespoons (63 grams) unsalted butter, room temperature
1 1/2 cups (180 grams) powdered sugar
pinch of salt
3/4 teaspoon vanilla extract
Directions
Preheat the oven to 350°F (175°C) and line the bottom of three 8″ pans with parchment paper and grease the sides.
In a medium bowl, combine the flour, cinnamon, ginger, nutmeg, baking soda, and salt. Set aside.
In a large bowl, whisk the eggs and then add the sugar, applesauce, oil and vanilla and mix until combined.
Add the dry ingredients to the wet and stir just until combined.
Then fold in the carrots, again only until combined.
Bake for 19-22 minutes or until a toothpick inserted in the middle comes out clean.
Let cool for 5 minutes in the pans, and then turn onto a wire rack to cool.
Frost when completely cooled.
Prepare the frosting.
In a medium mixing bowl, beat the cream cheese and butter together with an electric hand mixer at medium speed until well combined. It's okay if it looks a little crumbly.
Gradually beat in the powdered sugar until totally combined and then beat in the salt and vanilla. Frost the cake with about 1/2 cup to 2/3 cup per layer and the remaining frosting on the sides. If you bake the cake and prepare the frosting in advance and want to refrigerate the frosting, note that it gets quite firm, like a cream cheese tart filling. If that happens, just bring it to room temperature, stir and then frost. The frosting firms up once refrigerated so if you want the softer frosting texture (rather than a cream cheese tart filling kind of texture), let the cake come to room temperature before serving.
Store the iced cake in the refrigerator for up to 3 days or the un-iced layers wrapped in plastic wrap at room temperature for up to 3 days.
Notes
Note that it's best to weigh coconut sugar! Some brands are light and coarse and some brands (like the one I use) are very fine and dense.
This is enough to frost it like in the pictures, with about 2/3 cup on top of each layer and some frosting for the sides. If you just want to frost the top of each layer, use 12 ounces cream cheese, 3 tablespoons butter, 1 cup of powdered sugar, a pinch of salt and 1/2 teaspoon vanilla.
We have a different type of cream cheese in the US than the rest of the world (as far as I know) that's firmer and meant for baking, rather than for toast, like in Europe. For 8 ounces (225 grams) of cream cheese, buy a 300-gram package (the stuff at Aldi, Lidl, etc. works just as well as Philadelphia), put it in the center of a clean tea towel or cheesecloth, and squeeze out the liquid until you have 225 grams of cream cheese. You can now make cream cheese frosting without issue. So for this recipe, buy 675 grams of cream cheese and squeeze out the liquid until you have 510 grams.
As an Amazon Associate, I earn from qualifying purchases. For more info, see my disclosure.