This gluten-free soda bread has an amazing texture, requires basic ingredients (including a gluten-free flour blend), and is one of the easiest homemade bread recipes that you can make. With a dairy-free option.
So why is it so easy? This bread is yeast-free and doesn't require any rising. The baking soda takes care of that!
And no kneading is needed, either. You just stir everything together, form into a loaf shape and bake.
I was shocked that this soda bread recipe turned out so delicious. I almost didn't even try it because I figured there was no way that a gluten-free baking flour mix would work well.
Luckily, I was totally wrong. It came out perfectly. And definitely not gummy or gritty, the way a lot of gluten-free bread recipes are.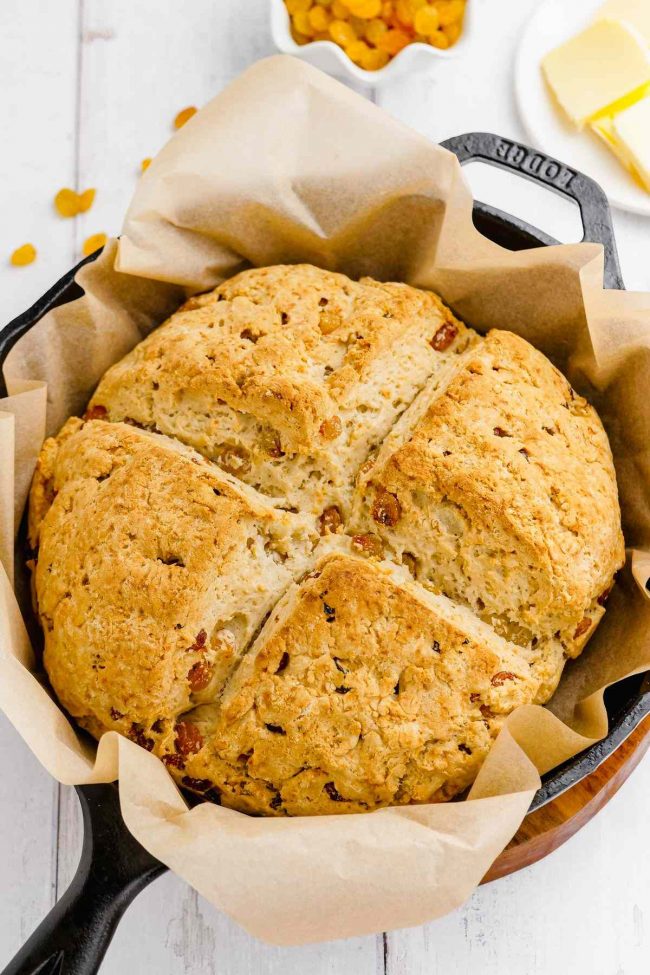 Soda bread with a bang!
A lot of soda bread recipes can be on the dry and tasteless side. I'm not really into dry and tasteless.
There's quite a bit of controversy around adding egg, sugar, and raisins to soda bread recipes. I've seen so many angry comments on other similar recipes saying, "This isn't soda bread!!! Soda bread doesn't have egg, sugar, or raisins!!!"
So let me save these people some time – I'm aware that my recipe isn't a traditional Irish soda bread recipe.
It's an Americanized version. From an Irish American who has been to Ireland and eaten real soda bread. ;)
It's definitely not authentic to use egg, sugar, and raisins, but is authenticity really important when this bread is so incredibly tasty?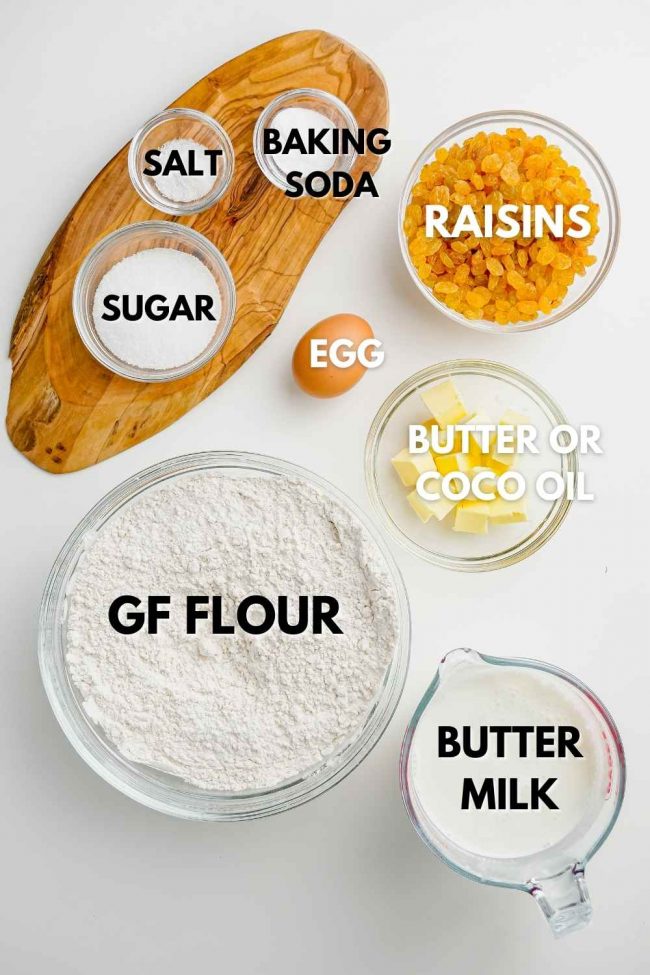 A little sugar goes a long way
Some Americanized recipes do call for a little sugar but if we're already adding raisins, I figured… why not go all in and make it a sweet bread, rather than a savory loaf with raisins? So I added another tablespoon of sugar to the recipe.
There are only 3 tablespoons of sugar total, but if you want to dial back on the sugar to 1 tablespoon, I think it'd be fine. But I don't recommend totally omitting it if you want a good texture.
Unfortunately, I also can't recommend using honey or another liquid sweetener in its place. You'd be messing with the wet to dry proportions and that's way too risky, at least to me, when it comes to bread. Especially in a recipe that calls for 4 cups of flour!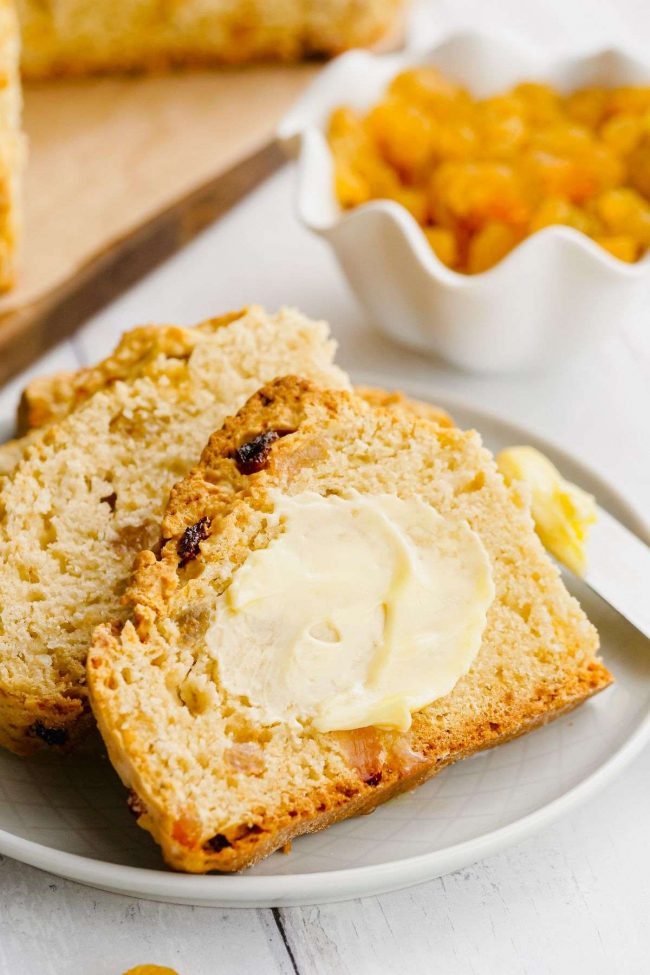 Gluten-free flour type
I used Bob's Red Mill 1-to-1 Gluten-free Baking Flour. It's my favorite gluten-free baking mix and the only one that I use.
Like I said earlier, I was really surprised that it worked! I really have no clue if other brands will work well or not without trying. If you try a different brand, please let me know how it worked, and I'll add that info to the post!
Whatever type of flour you use needs to be a 1-to-1 replacement for all-purpose flour. You can't use buckwheat flour, oat flour, almond flour, coconut flour or any other type of flour.
I'm sorry to say that there's no way to make this paleo, grain-free or keto. I can refer you to this great looking Paleo Soda Bread until I come up with my own version. :)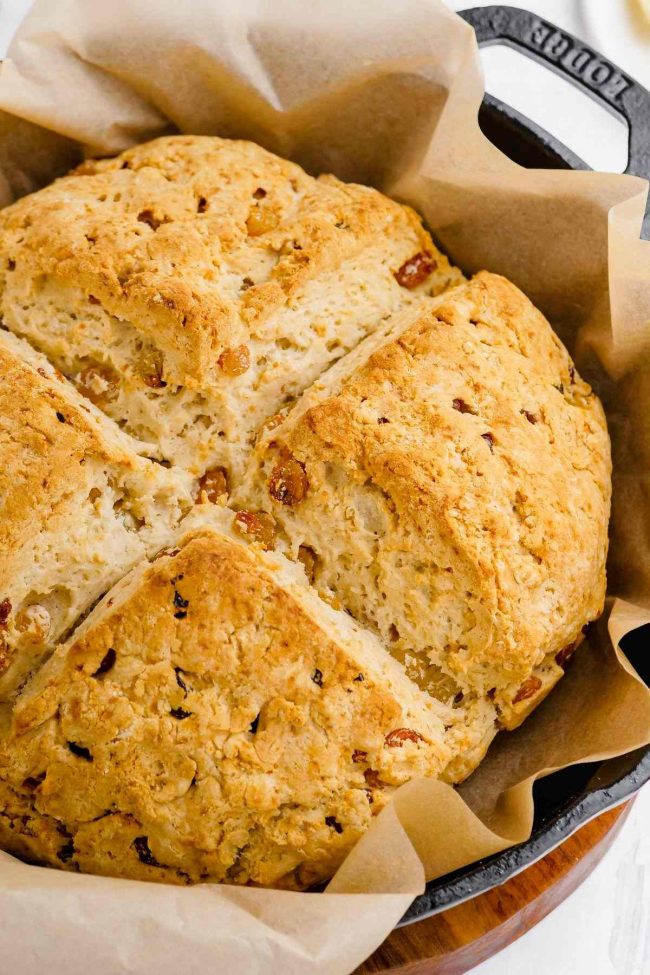 Raisins vs. currants
You could definitely omit the raisins if you want. Or use currants.
When I say currants, I'm talking about the tiny raisins that are referred to as currants in the US, UK, and Australia.
Raisins are sweet, soft, and juicy, while currants are sweet, tangy, and chewier than raisins. So if you don't like raisins, you may like currants!
Fresh currants are small berries with a sweet yet acidic taste that grow on shrubs and are sold on the stem, usually in the same section as other berries. They're very fragile and I wouldn't recommend them for this recipe.
Golden raisins vs. normal raisins
So I clearly used golden raisins for this recipe. If you don't like regular raisins, you may like these. Regular ones can sometimes be grainy, dry and overly sweet.
Golden raisins have a fruitier, lighter flavor, and a lot of people think that they just plain taste better. They're also softer, plumper and have a more nuanced flavor than regular raisins.
As you can see in the photos, the raisins at the top and bottom of the loaf that are exposed during baking brown quite a bit. I love how they crisp up!
When you bake with regular raisins, I find it hard to see which raisins have burned a little and which are just perfect. When using golden raisins, it's obvious.
By the way, if you follow the directions, and make sure that no little bits of raisins are poking out of the dough before baking, you shouldn't have any burned raisins. If you forget that step, which I've done many times, you will have burned raisins.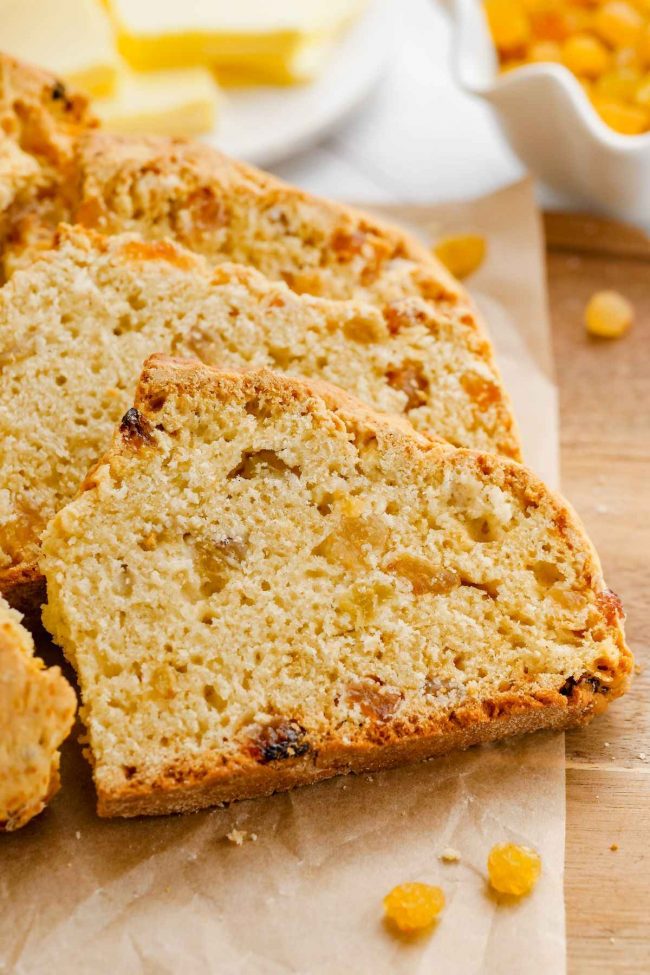 Dairy-free option
To make some dairy-free soda bread, it's easy. You only have two things you need to sub – the butter and buttermilk.
Fat
I normally reduce the amount of fat when using coconut oil instead of butter, but for this gluten-free soda bread, I used the same exact amount with great results.
If you use refined coconut oil, there's absolutely no coconut taste.
Plant-based butter products should work as well. I haven't tried it, but since both coconut oil with 100% fat and butter with 80% fat work, vegan butter, with their varying fat percentage amounts, should work, too.
Buttermilk
You need 2 cups of buttermilk for this recipe. For dairy-free buttermilk, pour 1 tablespoon of lemon juice, vinegar or apple cider vinegar into a 1-cup measuring cup. Fill with dairy-free milk.
I used cashew milk and recommend something somewhat neutral like that, rather than canned coconut milk. Its coconut taste is quite strong, and it's so much thicker than all the other dairy-free milk. If you want to use it anyway, do 50/50 coconut milk + water.
Dump that into a bowl. Do it again for a second cup of dairy-free buttermilk. You can, of course, also just use a 2-cup measuring cup if you have one and use 2 tablespoons of lemon juice or vinegar.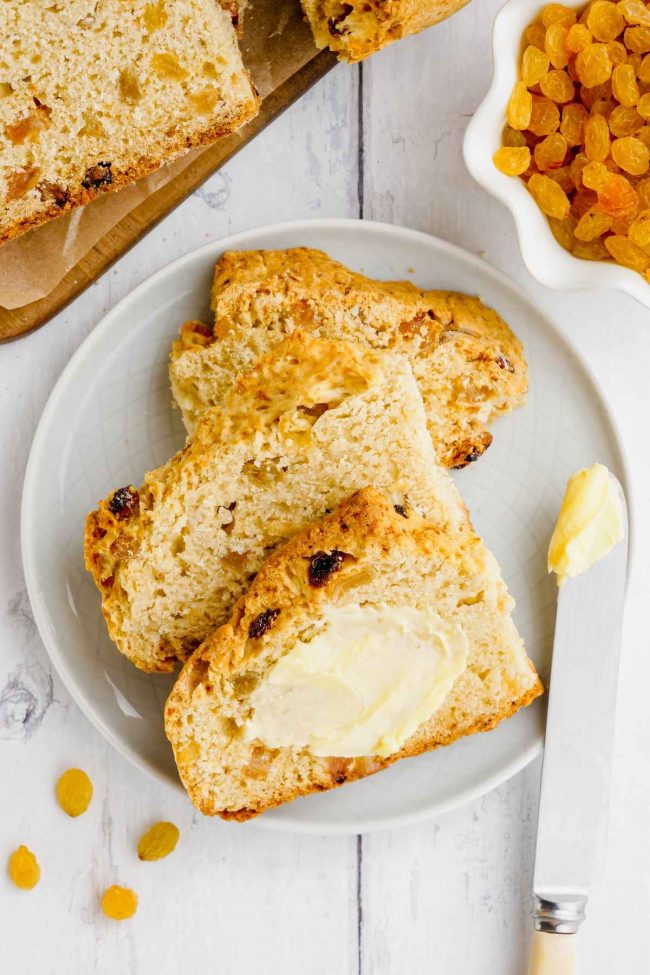 How to store soda bread
I thought that this bread would be awful on the second day, but it wasn't. It was a little drier, but not totally dry and stale like other Irish soda breads. This is thanks to the egg and sugar!
Freezes great
All soda bread is best on the day it's made. It was pretty good on the second day but nowhere as good as fresh. I can tell you that it was WAY better on the second day than the traditional recipes without egg and sugar.
To preserve the freshness, I recommend cutting up the whole loaf once it has cooled and freezing whatever you won't eat on that first day. The slices are fantastic toasted!
If you want to keep out a bit for the second day, then I recommend wrapping it in plastic wrap and then storing it in an airtight container so that it doesn't dry out.
Why no vegan version?
I tried making a vegan version and the result was gummy. I recommend finding a recipe that's already vegan.
It seems like the egg is key to the texture for gluten-free soda bread recipes. When you remove that or use an egg sub, the result is very, very different.
I, unfortunately, had to throw a few experimental loaves in the trash because they were totally inedible.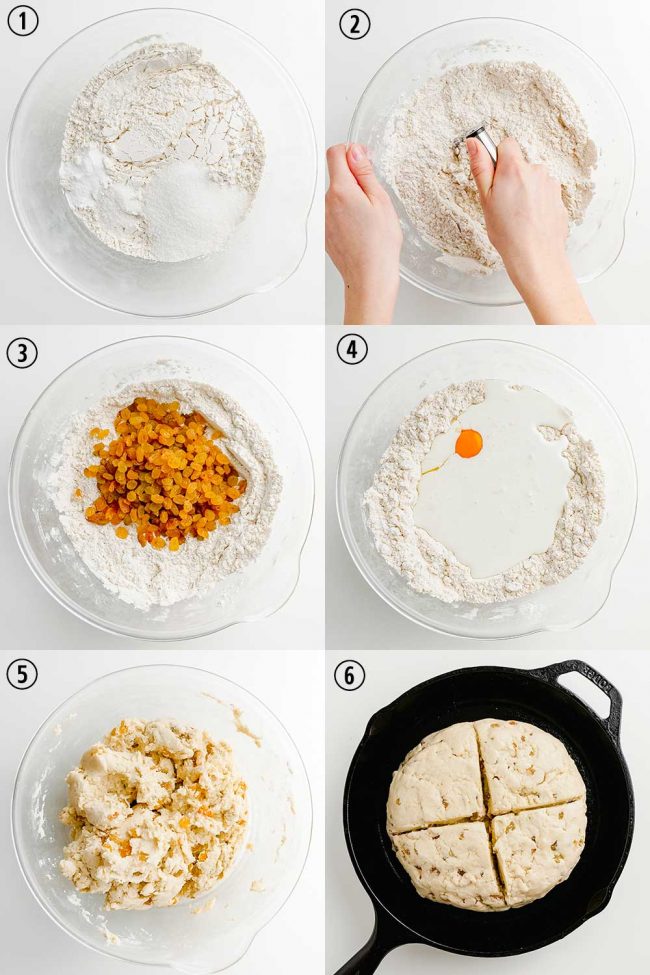 If you need a vegan recipe that's not gluten-free, you shouldn't have issues finding a good one because soda bread traditionally only calls for flour, baking soda, salt and buttermilk. Just use the dairy-free buttermilk sub above and you're set!
I haven't tried this recipe but it has fantastic reviews.
As always, I recommend finding a recipe that comes from a website from your own country. Using a bread recipe from BBC Food or any other UK site would likely be problematic, as flour is so different from country to country. And when flour is the main ingredient, I definitely wouldn't want to risk that.
Recipe source
My recipe was adapted from one in Saveur magazine.
I've seen the exact Saveur recipe on several blogs (often without credit) and it's for good reason… it's incredible! I very rarely post adapted recipes, but I'm not a bread expert. There's no way I'm going to come up with a totally original recipe better than the one from Saveur.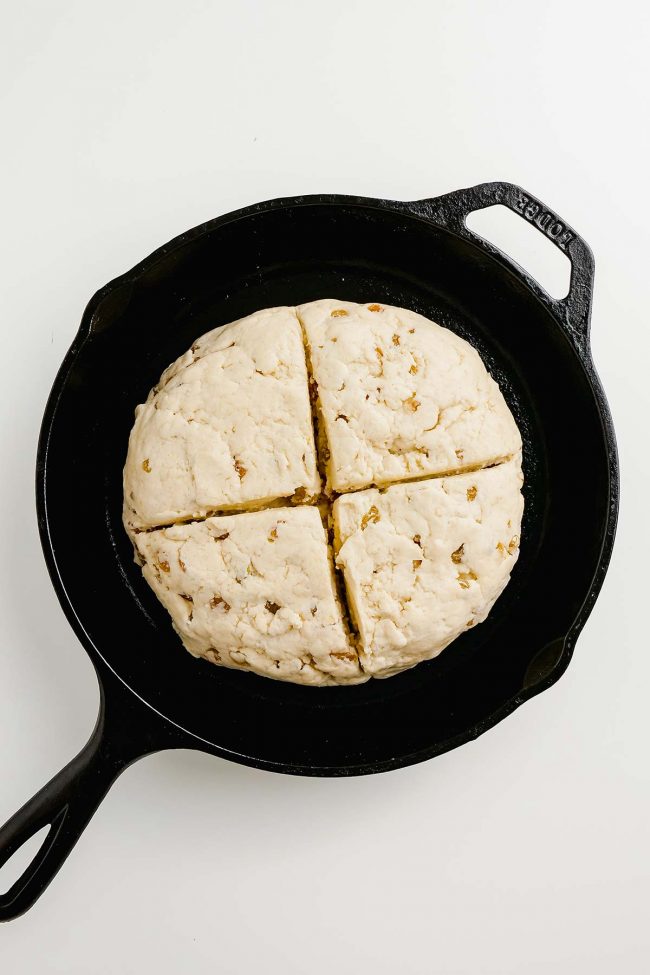 History of Irish soda bread
What is this simple bread that is characterized as a quintessential Irish tradition?
The answer might surprise you. Soda bread, although famously attributed to the Irish, was originally created by Native Americans.
They were the first to be documented using pearl ash or potash as a natural form of soda that is formed from the ashes of wood to leaven bread without yeast. The Irish later discovered and replicated the process.
While it seems like an ancient recipe, the first documented recipe for Irish soda bread was in 1830 when baking soda was first introduced into the country. At a time of widespread famine, bread had to be made out of the most basic and cheapest ingredients and might be the only thing to eat on the table.
The traditional ingredients are flour, salt, baking soda, buttermilk. So simple! By the way, this gluten free naan is also super simple!
With few ovens to use for baking, soda bread was cooked in iron pots or griddles over open fires. This unique method resulted in a crispy hard crust, a dense texture and a slightly sour taste.
The shape of the bread and a cross-cut at the top are different depending on the region in Ireland. A cross is cut at the top of the bread to ward off evil in the south. While the north divided the dough into triangular shapes and the bread was cooked on a flat griddle.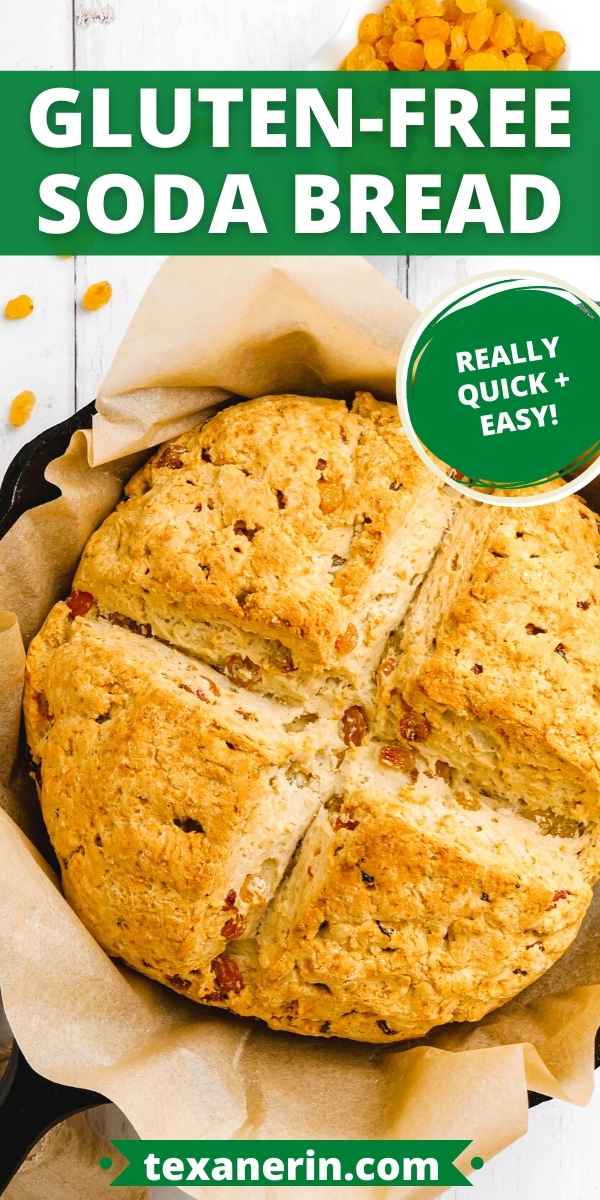 Other gluten-free St. Patrick's Day recipes
My lack of gluten-free St. Patrick's Day recipes is kind of sad. I can offer you the Baileys cheesecakes I posted recently and these Baileys Brownies, which have a whooping 3/4 cup of Baileys in the brownie batter and the frosting.
Over on Food Doodles, I posted these creamy Instant Pot Potatoes Colcannon. They're super easy. You sautee the cabbage and garlic, dump everything else in the pot, cook and then mash.
They're naturally gluten-free but can also be made vegan, paleo and whole30. I don't even like cabbage and I really enjoyed them! I also posted this Smoked Corned Beef Brisket today for another Irish American St. Patrick's Day recipe.
I hope you'll enjoy the bread! If you make this recipe, I'd love to see pictures of your creations on Instagram, Facebook and Twitter. Please hashtag them #texanerin so I can find them. Thanks. :)
❀
Gluten-free Soda Bread (dairy-free option)
Prep Time:
Cook Time:
Ready in:
Yield:

12 slices
Ingredients
4 cups (552 grams) Bob's Red Mill 1-to-1 Gluten-free Baking Flour
3 tablespoons granulated sugar
1 teaspoon baking soda
1 teaspoon salt
1/4 cup (56 grams) unsalted butter, cold and cut into pieces (use refined coconut oil for dairy-free)
1 1/4 cups (190 grams) raisins
1 large (50 grams, out of shell) egg
2 cups (473 ml) buttermilk1
Directions
Preheat oven to 425 ºF (218 ºC). Grease a 10" or 12" cast iron skillet that's safe to place in the oven. You can alternatively use a cookie sheet, Dutch oven (without the lid).
In a large mixing bowl, stir together the dry ingredients (flour through salt)
Mix in the butter using a pastry cutter or your fingers until you have something that looks like coarse crumbs.
Stir in the raisins and then the egg and buttermilk.
Use a wooden spoon to mix it together and once it becomes difficult, flour your hands and use your hands to form a ball. It'll be a bit sticky but should still be able to form into a rough ball.
Transfer the ball to the greased cast iron skillet (the loaf will flatten quite a bit, so don't try to make the loaf 10" wide - it's more like 7" or 8" wide) and using a greased serrated knife, cut a 1 and 1/2" cross over the top of the ball.
If any little bits of dough are sticking up, pat them down so that they don't burn. If any raisins are really uncovered, cover them with a little dough. If they're totally exposed, they'll burn.
Bake for 45-50 minutes or until golden and the bottom sounds hollow when you tap it.
Remove to a wire rack to cool. Cool for about an hour and then cut into it.
Once it's totally cooled, wrap in plastic wrap and place in an airtight container.
You can slice pieces and freeze them in a Ziploc. It freezes perfectly
Notes
You need 2 cups of buttermilk for this recipe. For dairy-free buttermilk, pour 1 tablespoon of lemon juice, vinegar or apple cider vinegar into a 1-cup measuring cup. Fill with dairy-free milk. I used cashew milk and recommend something somewhat neutral like that, rather than canned coconut milk. Its coconut taste is quite strong, and it's so much thicker than all the other dairy-free milks. If you want to use it anyway, use 50/50 coconut milk + water. Dump the homemade buttermilk into a bowl. Do it again for a second cup of dairy-free buttermilk. You can, of course, also just use a 2-cup measuring cup if you have one and use 2 tablespoons of lemon juice or vinegar. Let it sit 5 minutes before adding it to the other ingredients.