Lemony Greek potatoes that are crisp on the outside and with a creamy center! Naturally gluten-free with a vegan option.
I know y'all are here for the sweets but when it comes to carbs, I love 'em all. Especially in the form of potatoes and pasta! I rarely post savory food, but when I do, it's almost always one of the two.
One exception would be my paleo pecan-crusted salmon. It was just SO good that I had to post it!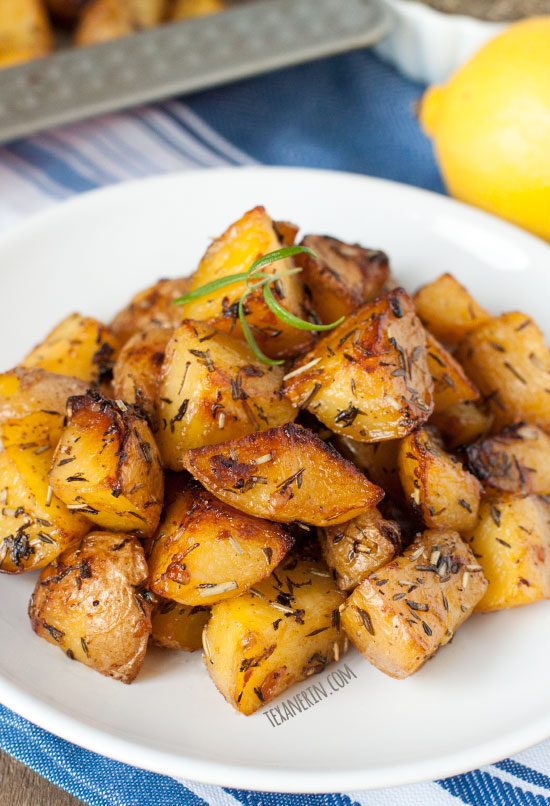 I found this Greek style roasted potatoes recipe a few years ago on AllRecipes and have been tweaking it since. In the original version, a lot of water is used and the potatoes don't brown at all. When we're talking about roasted potatoes, I want mine soft, creamy, and at least a tiny bit browned. These aren't as crispy as French fries or my spicy potato wedges, but they are a little crisp.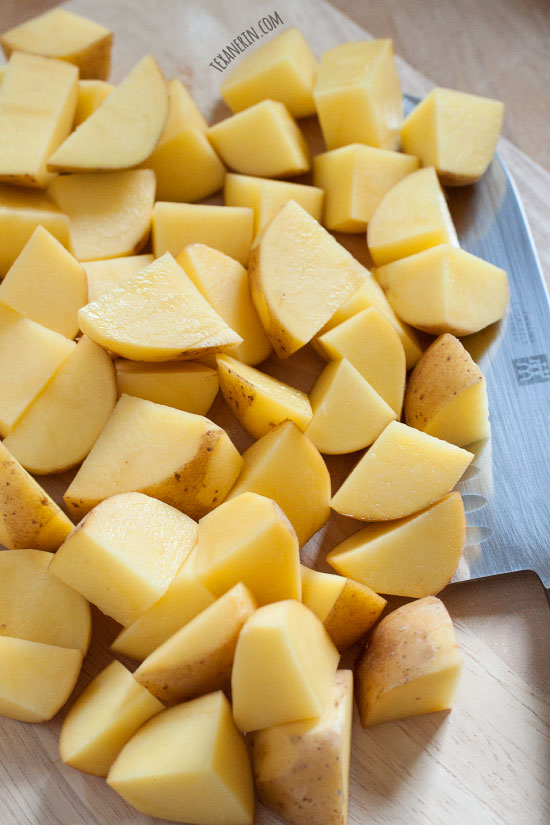 These Greek potatoes are lemony with rosemary, thyme, and garlic. My recipe really doesn't resemble the original very much, so perhaps these potatoes aren't authentic Greek, but that's cool. Because my version is perfect. At least for me. :)
My garlic always used to burn before the potatoes browned so I started adding the garlic and herbs towards the end of the baking time. No more burnt garlic! It's still very crisp and honestly, almost on its way to burning, so if you don't like your garlic crisp, throw it in during the last 15 minutes of baking.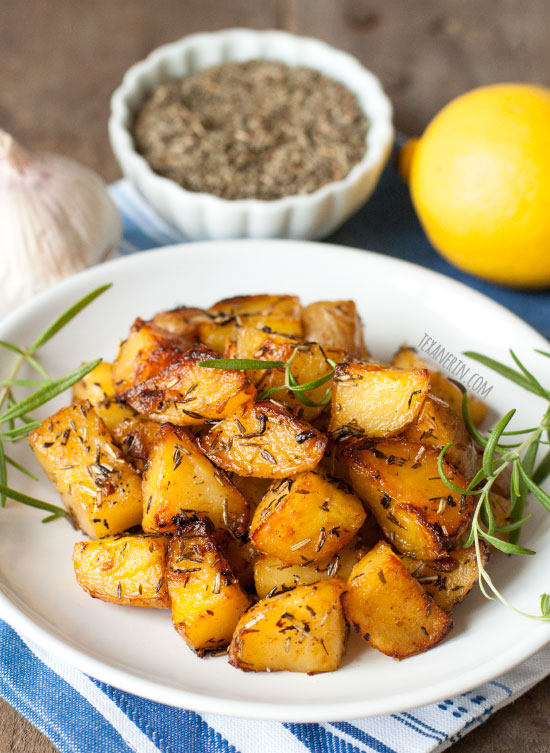 You know how roasted potatoes are usually just good straight from the oven? Not these! Sooo good at room temperature. Perfect for a party! These smashed potatoes with gremolata are also REALLY good.
Plus, if your husband decides not to eat his entire share in one sitting and is the lazy type who doesn't put his leftovers away for a few hours, you can eat up his portion. One at a time. Every single time you go to the kitchen. Until they're all gone. He'll complain but then you can explain why it's necessary to put away the leftovers. ;)
For some more delicious roasted potatoes, try these oven roasted potatoes with bacon and Parmesan from The Food Charlatan! And these potatoes would go great with this paprika chicken.
❀
Greek Style Roasted Potatoes (naturally gluten-free, vegan)
Prep Time:
Cook Time:
Ready in:
Yield:

3-4 servings
Ingredients
600 grams (1 pound 5 ounces) potatoes
1/4 cup (60 milliliters) water
1/4 cup (60 milliliters) lemon juice
2 1/2 tablespoons olive oil
2 teaspoons chicken bouillon (for a vegan version, use vegan vegetable bouillon)
1/2 teaspoons salt
2 cloves garlic, minced
2 teaspoons dried thyme (or 2 tablespoons fresh)
2 teaspoons dried rosemary (or 2 tablespoons fresh)
Directions
Preheat the oven to 400 °F (205 °C) and get out a rimmed non-stick baking sheet (mine was about 11"x7") or line a rimmed baking sheet with heavy duty foil. The potatoes tend to stick towards the end of the roasting process.
Wash, peel (if desired) and cut the potatoes into approximately 1"x3/4" chunks.
In the prepared pan, mix together the water, lemon juice, olive oil, chicken bouillon, and salt.
Add the potatoes and stir to coat in the liquid.
Cover the pan with foil and bake for 40 minutes.
Remove the pan from the oven, uncover, and add the minced garlic (you can add it during the last 15 minutes of baking if you're worried about it browning too much), thyme and rosemary. Stir to evenly distribute the garlic and herbs.
Bake for another 30-35 minutes, stirring every 10 minutes. Keep an eye on the potatoes towards the end. Depending on how large the potato chunks were, you may need more or less time.
Once they're crisp, remove from the oven and let sit for about 5 minutes. Salt to taste.
Serve. These are best warm or at room temperature.
Adapted from Greek style potatoes on AllRecipes