This green pea pasta is easy, healthy and perfect to brighten any meal in less than 20 minutes. It's made with fresh homemade basil pesto, green peas, your favorite pasta, and garnished with toasty pine nuts and Parmesan cheese! It can also easily be made gluten-free and vegan.
If you're a regular reader, you might know I love my carbs, and this pesto pasta with green peas is so delightful and refreshing. It's definitely a contender to become a seasonal favorite.
It's a great pasta recipe that can easily become the main dish served with a fresh Italian Tomato Salad or with this Tuscan-style Panzanella Salad. I think this Lemon Arugula Salad would also be great alongside the pasta!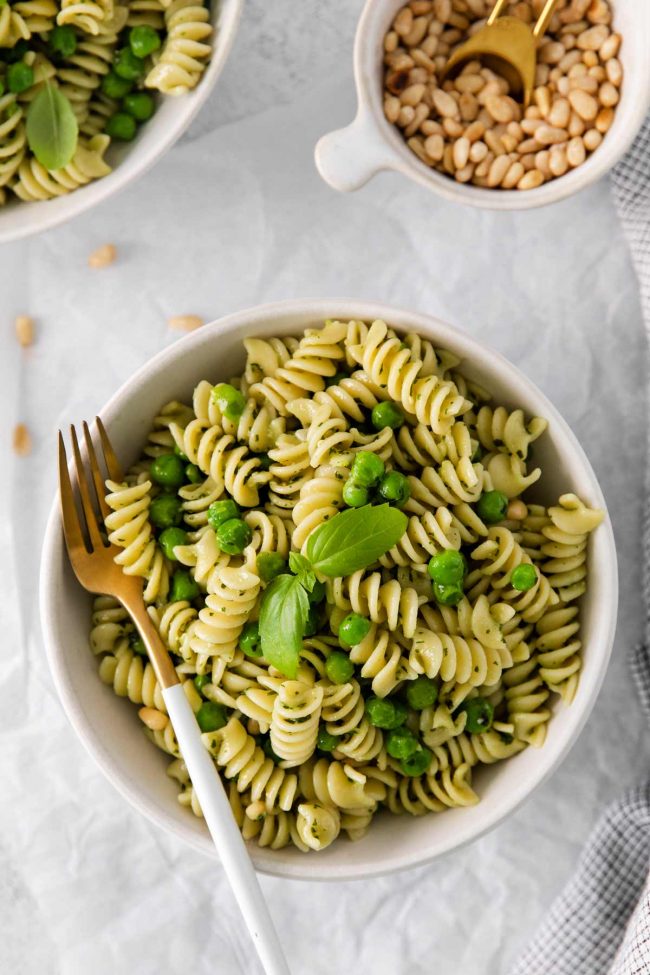 Ingredients
For the Pesto
Toasted pine nuts – if you can't find toasted pine nuts, you can buy the raw ones. Here's How to Toast Pine Nuts 4 different ways!


Garlic – I definitely recommend using fresh garlic here and not powdered or granulated (which is actually what I almost always use as I'm in a hurry).


Lemon – I've tried using bottled lemon juice in pesto, but it's just not good. Definitely go with fresh!


Fresh basil leaves – no sub for this. There's no way to make pesto with dried basil.


Parmesan or Pecorino Romano – I always use Pecorino Romano in any dish that usually calls for Parmesan, but Parmesan works just as well.


Extra virgin olive oil
For the Pasta
Rotini pasta – I used rotini, but you can go with whatever shape you'd like.


Frozen peas – I used frozen peas, and they worked great! I wouldn't use canned peas, though.


Pesto (from above) – of course you can use store-bought pesto, but when it comes to pesto, I always think homemade is best.


Toasted pine nuts – optional, as garnish, to add more crunch!


Salt
Instructions
For the Pesto
To the bowl of a food processor fitted with an S-blade, add the pine nuts, garlic and lemon juice. Pulse into small pieces.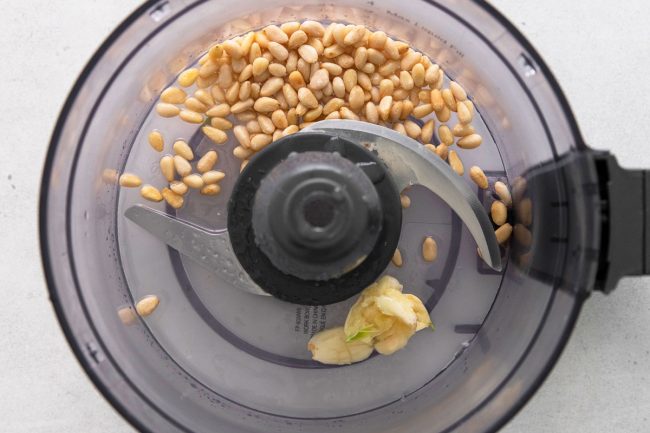 Then add the basil and Parmesan. Pulse until the basil's chopped up a bit.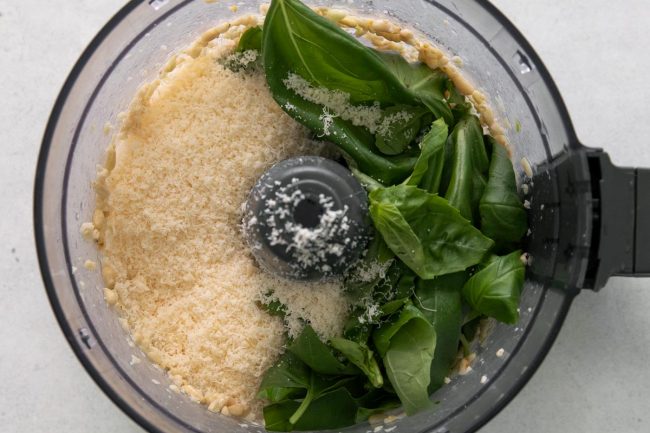 On low, slowly add olive oil and pulse until pesto is smooth and lump-free.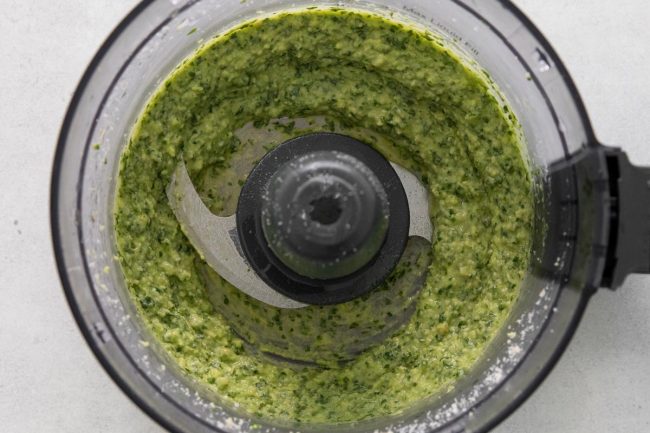 Salt and pepper to taste.
For the Pasta
Bring water to a boil, add salt and bring it back to a boil.
Cook the pasta according to package directions, subtracting 1 minute (you want to boil it for 1 minute less than you would for al dente).
Add peas and cook for 1 more minute.
Remove 1/2 cup of pasta water and drain pasta and peas.
Add the pesto and 1/4 cup of pasta water to a large bowl. Whisk to combine.
Add the pasta and peas to the bowl and toss to combine.
Salt and pepper to taste.
Garnish with toasted pine nuts, if desired, and enjoy!
You can enjoy this pasta warm, at room temperature or chilled.
Tips
I'm taking the lead from Italians on how to season pasta, so I always bring the water to boil, then throw in a large amount of salt. Once it comes back up to a boil, put the pasta in the water.


It's an old wives' tale that salt speeds up the boiling process, in fact, it takes longer for the water to come to a boil when you add salt straight away.


Don't rinse the pasta! If you're worried about the pasta sticking together just give it a light spritz of oil. Sticky pasta helps the pesto stick, so in this case, it's a good thing.


Adding pasta water helps to thin out the pesto. The starch in the water also helps the pesto stick to the pasta and to thicken the sauce.


If the pasta is too dry, add an additional 1/4 cup of starchy pasta water.


Don't forget to set some toasted pinenuts aside for a crunchy and nutty garnish.


If you don't have any pine nuts on hand, you can use almonds or walnuts instead.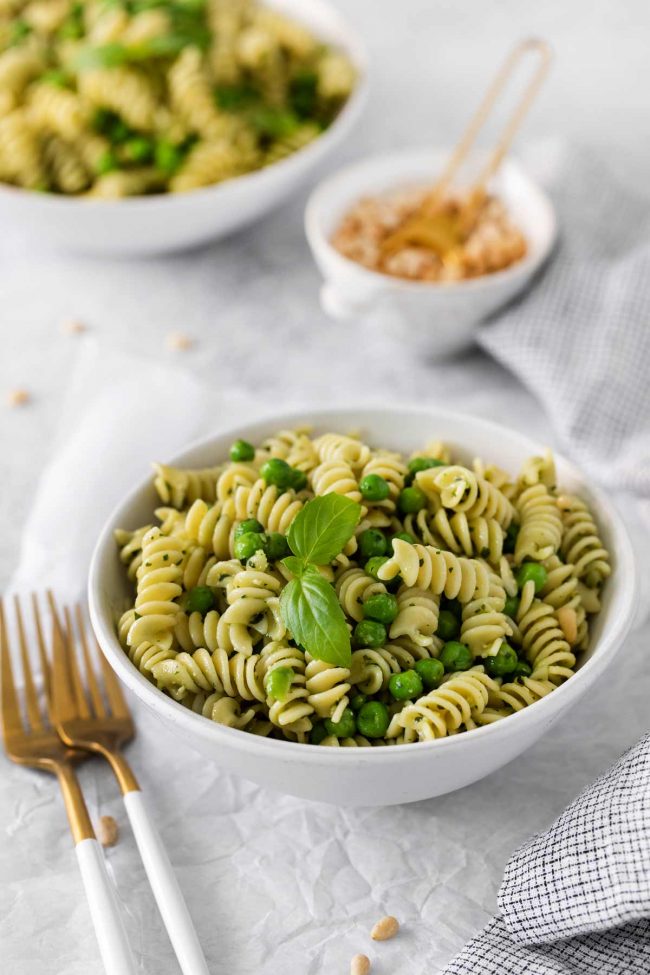 How to store
Leftovers can be refrigerated in an airtight container for up to three days. It makes a terrific lunch the next day! So does this Pasta with Broccoli.
Can you freeze pesto pasta?
I generally don't recommend freezing pasta. The texture isn't the same after you freeze and defrost it.
But if you're going to do it anyway, transfer the cooled pesto pasta into freezer-safe bags, remove the air, seal and freeze it flat.
When you're ready to enjoy, just place the bag in the refrigerator overnight to thaw. Transfer to a bowl, gently combine, and add some fresh Parmesan cheese or other toppings you like.
Is it gluten-free?
Yes, as long as you use gluten-free pasta.
Also, zucchini noodles are a great way of making it super nutritious!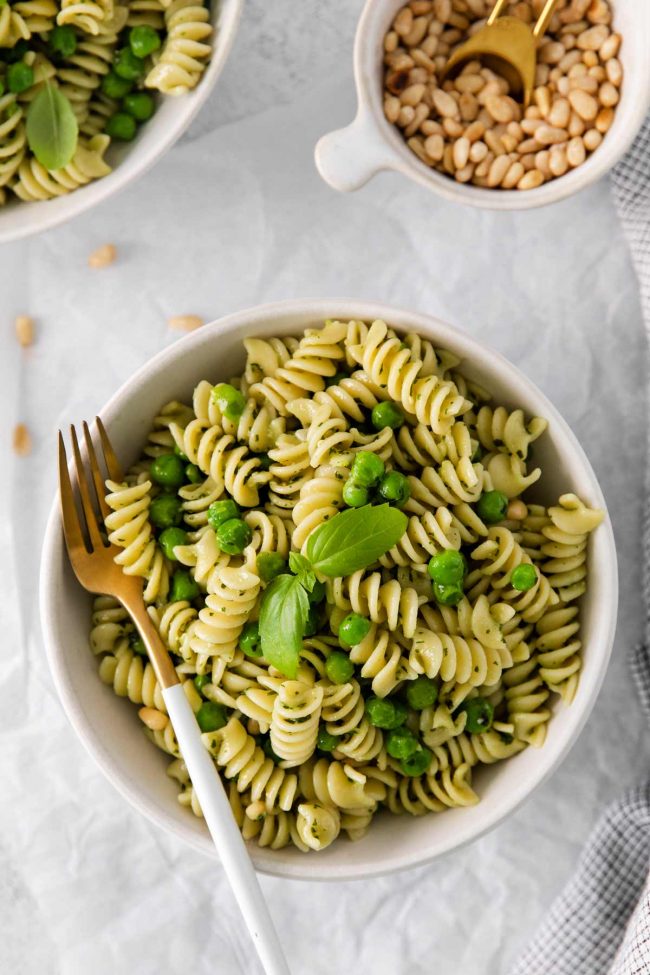 Vegan pea pesto
To make a vegan pea pesto, just leave off the Parmesan cheese or make your own vegan parmesan cheese with just cashews, nutritional yeast, garlic powder and sea salt.
Variations
I love how the green peas perk up this pasta, and you don't have to stop there!
You could add sundried tomatoes, halved fresh cherry tomatoes, kalamata olives, steamed asparagus or mozzarella bites.
You can change it up depending on the pasta you have on hand. Penne or bucatini, or bowtie pasta all work great. I think these Gluten Free Egg Noodles would also be great.
You can add even more vibrant green by adding fresh greens like spinach, kale or arugula. You'll want to add them last minute because hot pasta can make the greens wilt, but it's a great way to garnish and add nutrition.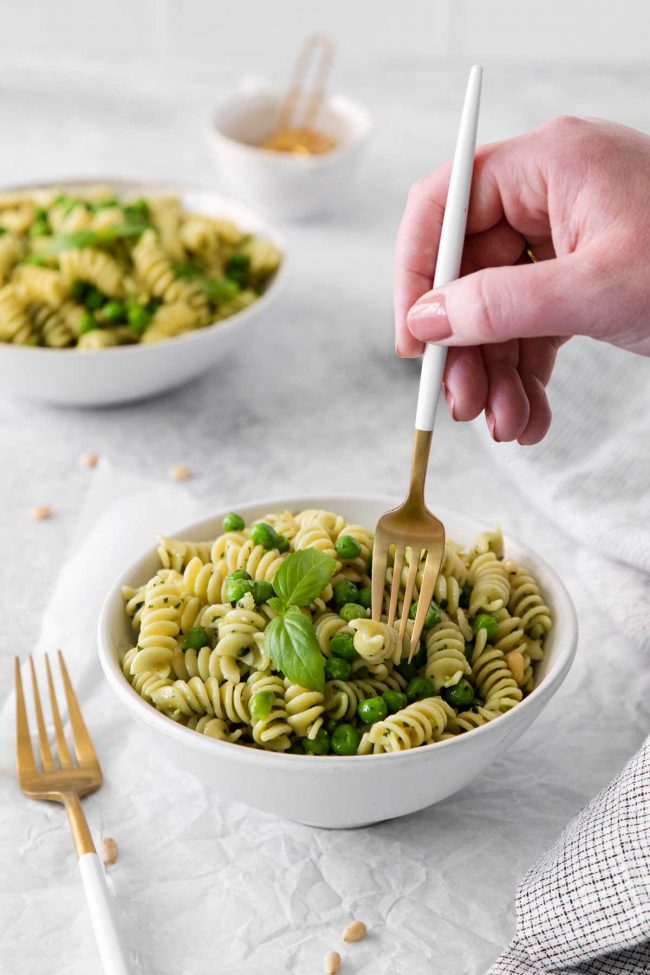 Quick and easy pasta recipes with few ingredients
That's it! I hope you'll enjoy this Green Pea Pasta. Be sure to leave a comment if you make it. I'd love to know how you liked it!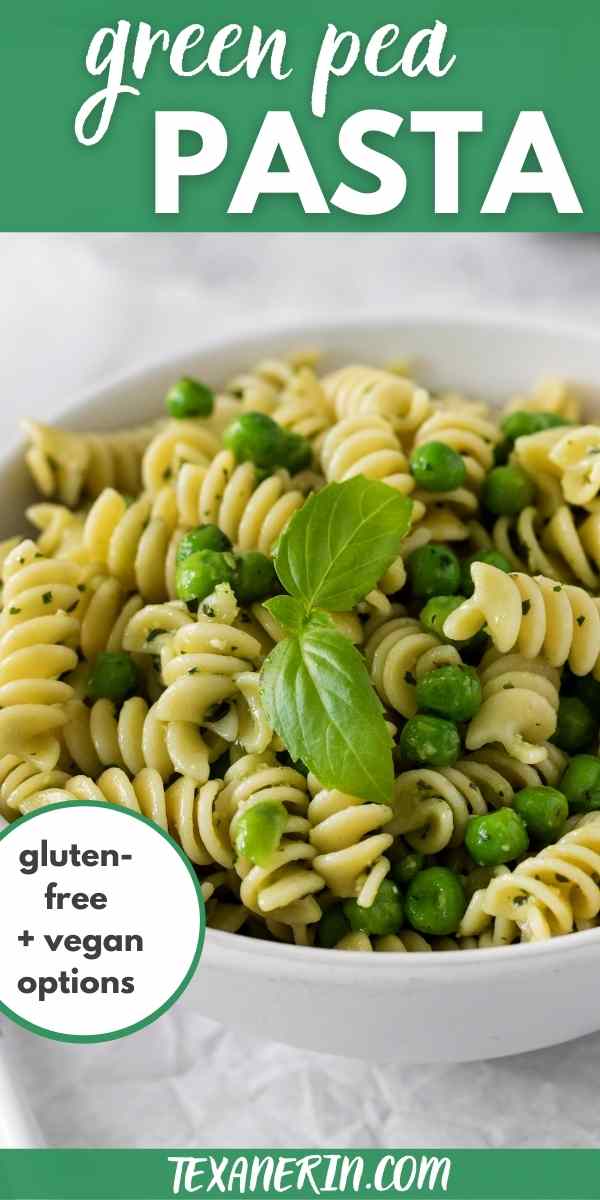 ❀
Green Pea Pasta
Prep Time:
Cook Time:
Ready in:
Yield:

4 servings
Ingredients
For the pesto:

1/4 cup (35 grams) toasted pine nuts
2 medium cloves (10 grams total) garlic
2 tablespoons lemon juice (from 1/2 lemon)
2 cups (44 grams) fresh basil leaves, tightly packed
1/2 cup (38 grams) Parmesan or Pecorino Romano, grated or shredded
1/4 teaspoon salt
1/3 cup (80ml) cup extra virgin olive oil

For the pasta:

1 box (16 ounces) rotini pasta (use GF pasta if you're gluten-free)
2 cups (290 grams) frozen peas
Pesto (from above)
1/4 cup (35 grams) toasted pine nuts
Directions
For the pesto:

To the bowl of a food processor fitted with an S-blade, add the pine nuts, garlic and lemon juice. Pulse into small pieces.
Then add the basil and cheese. Pulse until the basil's chopped up a bit.
On low, slowly add olive oil and pulse until pesto is smooth and lump-free.
Pulse until the pesto is smooth and free of any lumps. Taste and add more salt, if desired.
Set aside until ready to use.

For the pasta:

Bring water to a boil, add salt and bring it back to a boil.
Cook the pasta according to package directions, subtracting 1 minute (you want to boil it for 1 minute less than you would for al dente).
Once the pasta is done, add the peas to the pot of pasta and cook for another minute, or just until the pasta is al dente.
Remove 1/2 cup of pasta water. Then drain the pasta and peas.
Add the pesto and 1/4 cup of the pasta water to a large bowl. Whisk to combine.
Add pasta and peas to the bowl of pesto and toss to combine. If you think it's too dry, add another tablespoon or two of the pasta water.
Taste and add more salt if needed.
Garnish with toasted pine nuts, if desired, and enjoy.
It tastes great warm, room temperature or even cold.
Refrigerate in an airtight container for up to three days. If you want to make it advance