These paleo carrot cake muffins are super moist, lightly sweetened with honey and even a little fluffy! These grain-free and gluten-free healthier carrot cake muffins are the perfect Easter treat. The reviewers love them! With a dairy-free option.
First up, if you prefer a grain-containing healthier carrot cake recipe, I have you covered! This 100% whole grain carrot cake is the best carrot cake I've ever had. Hands down.
Or actually, it's tied with this gluten-free carrot cake, which is the same exact recipe as the healthy carrot cake, but with gluten-free flour.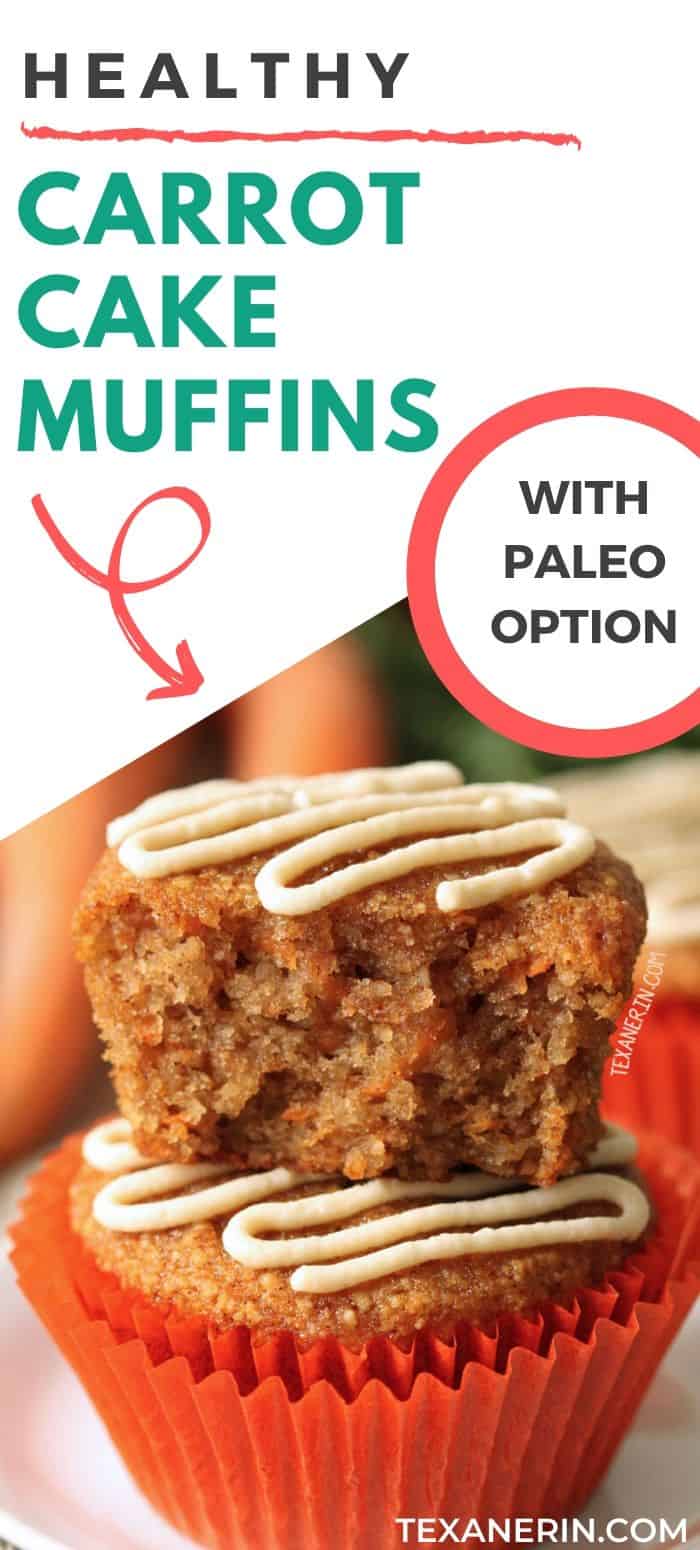 If grains aren't your thing, these healthier carrot cake muffins are awesome. I feel like a broken record, just because I say this all the time, but I used a combination of almond flour and coconut flour to achieve the perfect texture. I want my grain-free baked goods to taste as close to grain-containing ones as possible and these are pretty darn close!
People often ask if there's a substitute for coconut flour and there really isn't. And the only substitute for the almond flour would be almond meal (which is a lot cheaper than almond flour!) or another nut flour.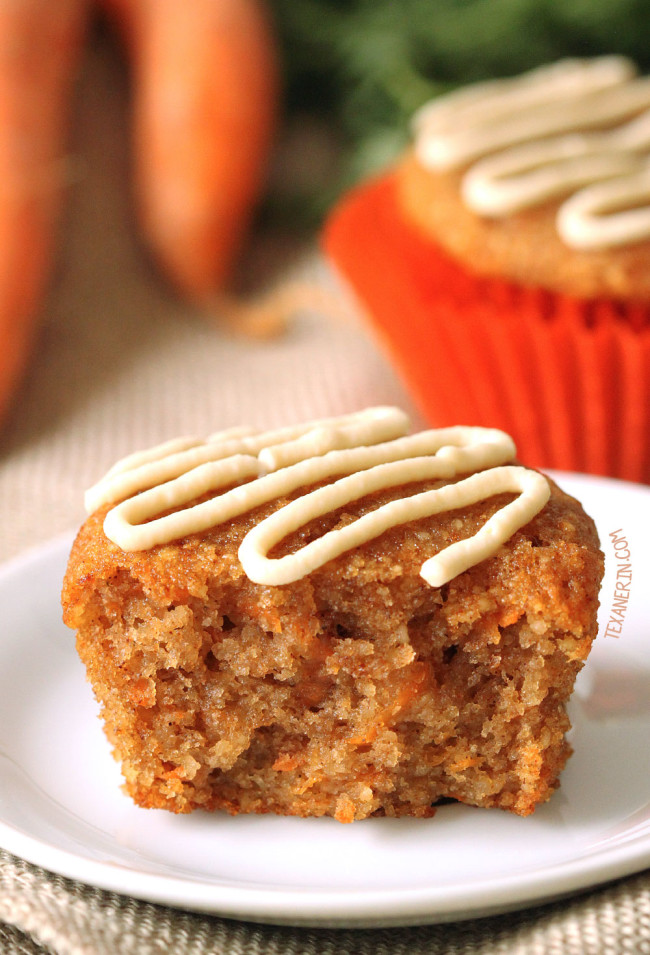 So now that we've got the carrot cake muffins out of the way, we need some healthier cream cheese frosting! This is the same cream cheese frosting recipe that I used in my last post on carrot cake scones.
It uses just a little maple syrup as sweetener. I really thought cream cheese frosting without powdered sugar was impossible but this maple syrup version was just as good! It's quite thick so if you want to thin it out, just add some milk.
I'm just guessing that if you're interested in grain-free baking, you're not into mounds of frosting on top of your muffins or cupcakes. The amount that this cream cheese frosting recipe yields is just enough for a thin slathering on each muffin. If you want to pipe it like I did, you can pipe about twice as much as you see in the pictures.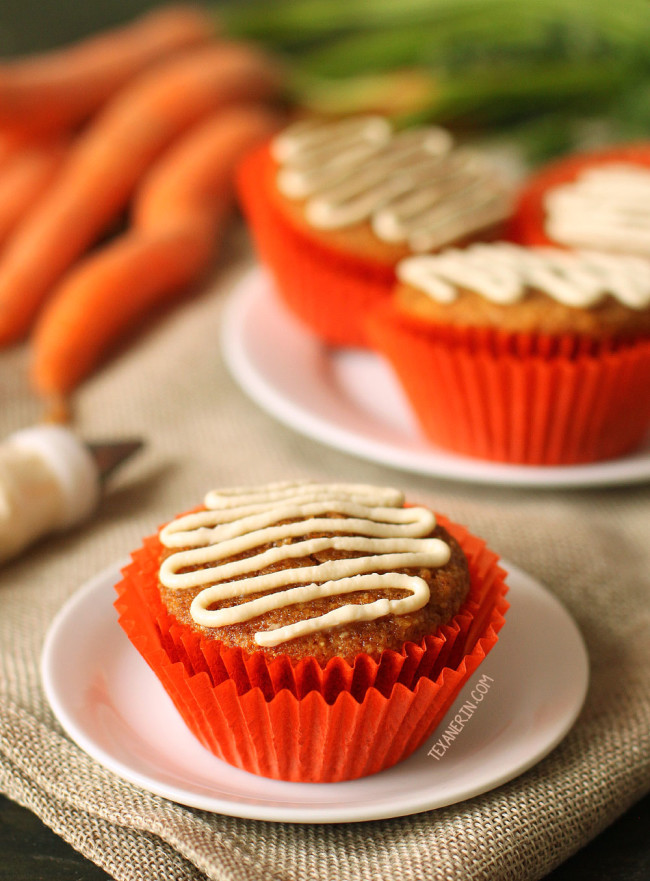 I recommend frosting the muffins right before serving because once you frost them, they need to be refrigerated. They can sit at room temperature for about 4 hours so if you want to frost them in preparation of a party – no problem!
They just taste better and fluffier if you keep them at room temperature and microwaving cream cheese frosting sounds like a bad idea.
Obviously cream cheese isn't dairy-free but there are dairy-free cream cheeses out there. If you don't like the thought of using that, just leave out the frosting or use my vegan cream cheese recipe.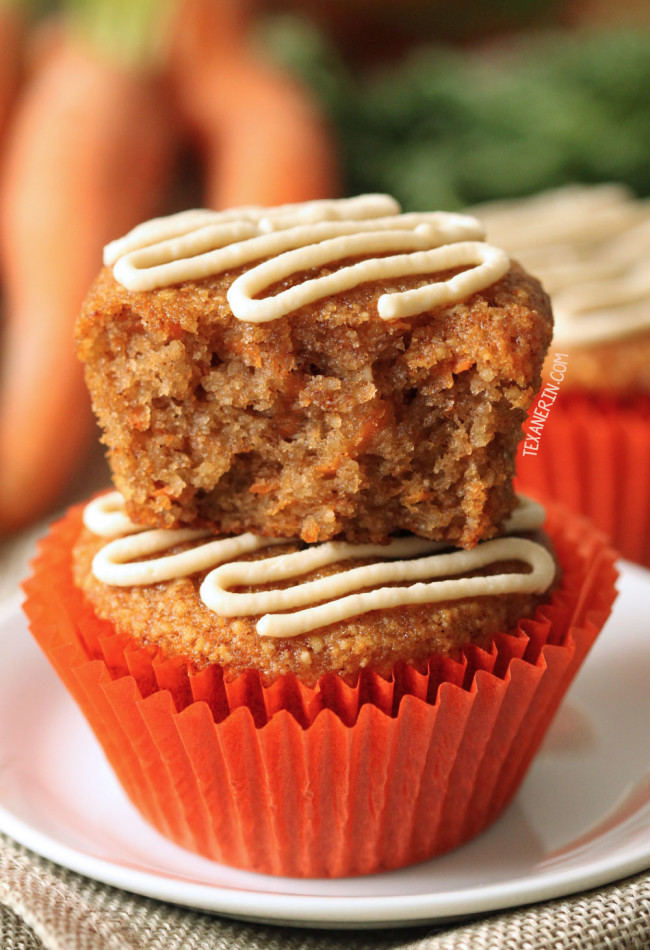 It's naturally sweetened, doesn't have any unusual ingredients and is also paleo-friendly! Half the recipe should yield enough for a nice slathering on top of each muffin. You can also find my directions for making these carrot cake cupcakes into an 8″ cake on that post.
Want an Easter dessert that's a little more unique than these paleo carrot cake muffins? Try these blueberry carrot cake bars with granola from Cotter Crunch! They're gluten-free and dairy-free and look amazing.
And for something with more of a cake texture (like angel food cake!) be sure to give my paleo blueberry muffins a try!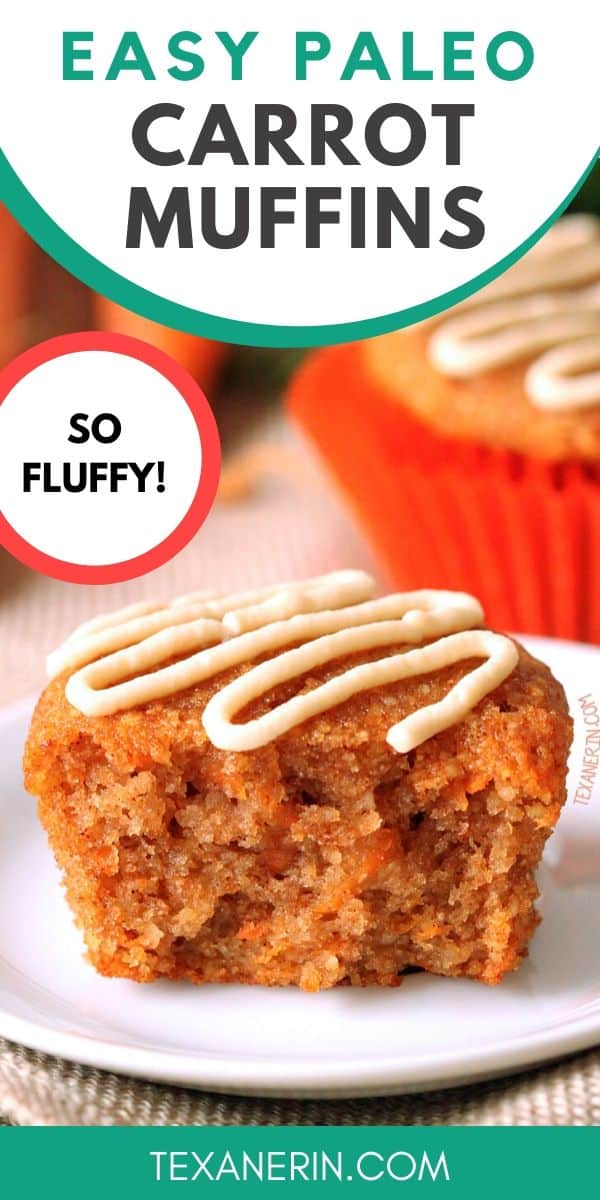 ❀
Healthier Carrot Cake Cupcakes (grain-free, gluten-free, paleo and dairy-free options)
Prep Time:
Cook Time:
Ready in:
Yield:

8 muffins
Ingredients
For the carrot muffins:

1 1/4 cups (125 grams) blanched almond flour
2 tablespoons (16 grams) coconut flour
1/2 teaspoon baking soda
1/8 teaspoon salt
1 1/2 teaspoons ground cinnamon
1/2 teaspoon ground ginger
1/4 teaspoon ground nutmeg
2 large eggs, room temperature
1/3 cup (75 grams) refined coconut oil, melted (if you use unrefined coconut oil there may be some coconut taste to the muffins)
1/3 cup (106 grams) honey
2 teaspoons vanilla
1/2 cup (50 grams) grated carrots

For the cream cheese frosting: (for paleo / dairy-free, use a half batch of this vegan "cream cheese" frosting)

2 ounces (56 grams) cream cheese
4 teaspoons maple syrup
1 1/2 teaspoons vanilla
a dash of salt
additional milk for thinning, if desired
Directions
Preheat the oven to 350°F (175°C). Line a muffin tin with 8 muffin liners.
In a medium bowl, mix together the dry ingredients (almond flour through nutmeg). Set this aside.
In a large bowl, mix together the eggs, oil, honey, and vanilla.
Add the dry mix to the wet mix just until combined and then gently fold in the grated carrots.
Divide the batter evenly among the liners and bake for 17-20 minutes or until a toothpick inserted in the middle comes out clean.
Let the muffins cool for 5 minutes in the pan and then remove to a wire rack to cool completely. Do not frost until completely cool!
For the cream cheese frosting, mix everything together until thoroughly combined. If it's too thick for your liking, add a teaspoon of milk at a time until it's your desired consistency.
Spread a thin layer on top of each cupcake or pipe it on. Do note that if you pipe it, you'll have some leftover if you pipe it as lightly as I did in the pictures.
As an Amazon Associate, I earn from qualifying purchases. For more info, see my disclosure.