This lemon garlic pasta is the perfect busy weeknight dish! It's great as a main or side dish along with some chicken or fish. Simply use gluten-free pasta to make it gluten-free.
Finding time to really do anything lately has been difficult. I'm all about easy dinner recipes right now.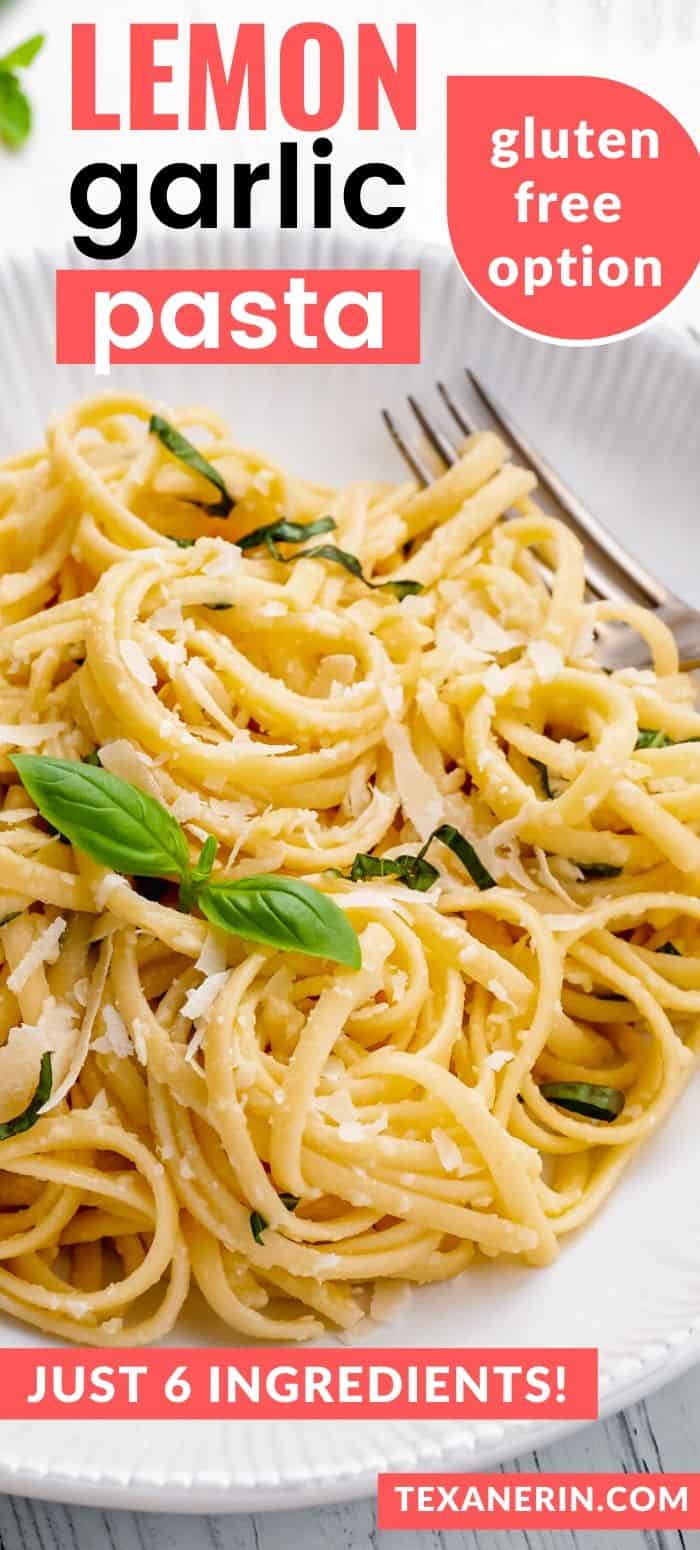 This lemon garlic pasta is pretty much the level of cooking I'm capable of right now. It's super easy and doesn't sound all that delicious but it really is!
First you make some garlic olive oil and then toss spaghetti (whole wheat, gluten-free, whatever you like) with Parmesan (or Pecorino Romano), basil and lemon.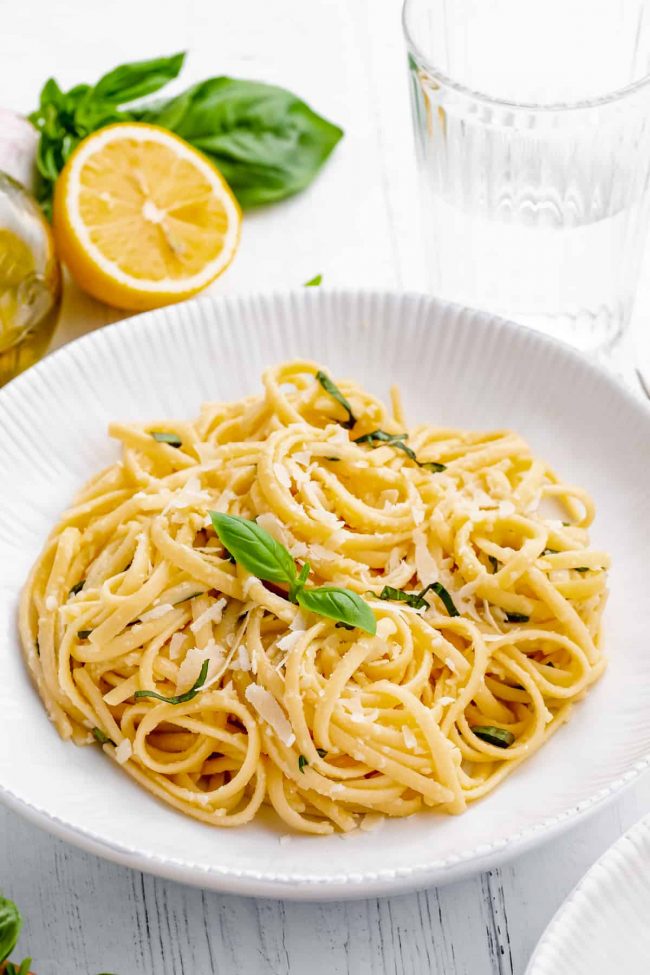 It's incredibly quick and tastes better than I think it should for the required effort.
To be on the healthier side, it's probably better to eat it alongside some protein or a big salad. I may or may not be a bit of a piggie, eat a big bowl of it with nothing else for lunch and then fall into a carb coma.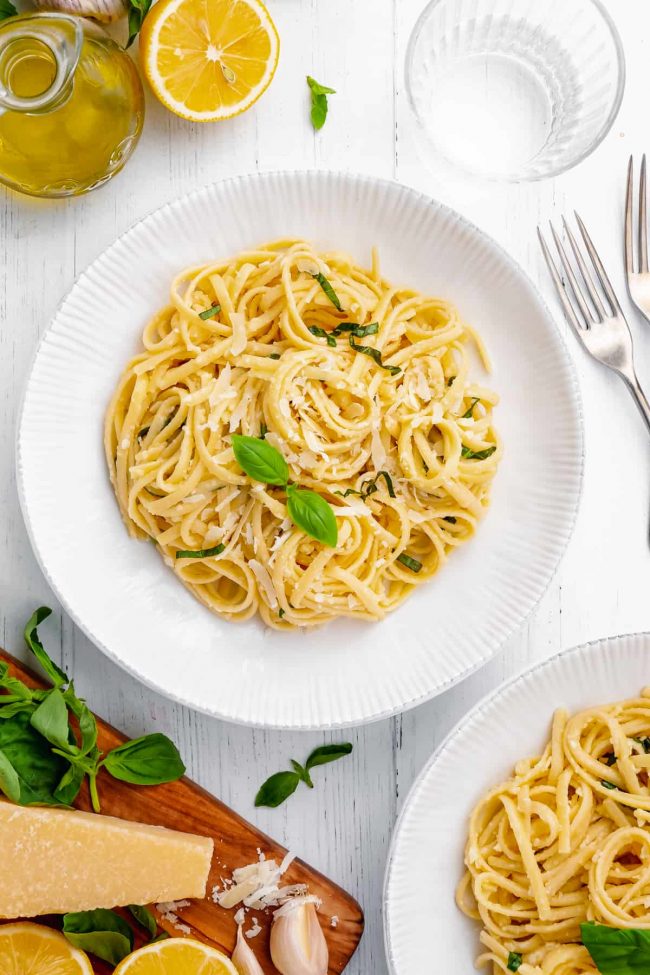 I'm going to make it again tomorrow with this pecan crusted salmon. That's another dish that only takes about 5 minutes to prepare but tastes like it took a lot longer.
I've been making this lemon garlic spaghetti for about 10 years and used to use Parmesan but since trying Pecorino Romano, I haven't gone back to Parmesan.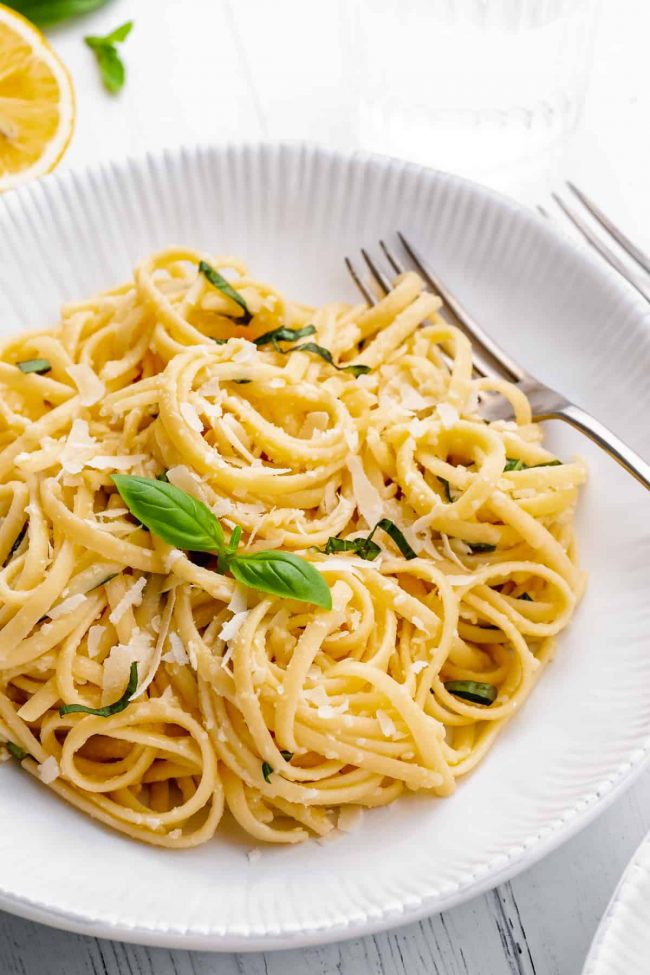 If you've never tried it, that needs to change! I also use it in my roasted smashed potatoes, spaghetti squash alfredo and classic homemade lasagna. This caprese bruschetta would also be great!
This lemon garlic pasta is one of my favorite quick and easy pasta dishes in the summer. When you don't feel like heating up the kitchen or eating heavy tomato or cream sauce, this is for you.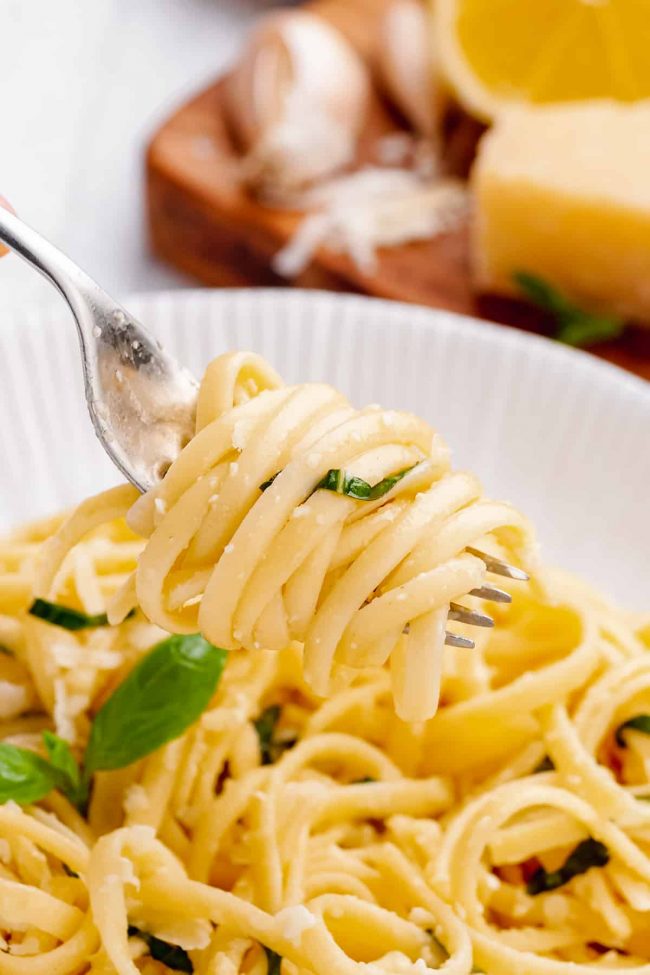 If you're in the mood for something more hearty, try this cavatappi pasta is a great option. My healthy alfredo sauce is also nice and filling!
Or if it's January and you just finished eating the 132nd cookie in the last two weeks… this is perfect.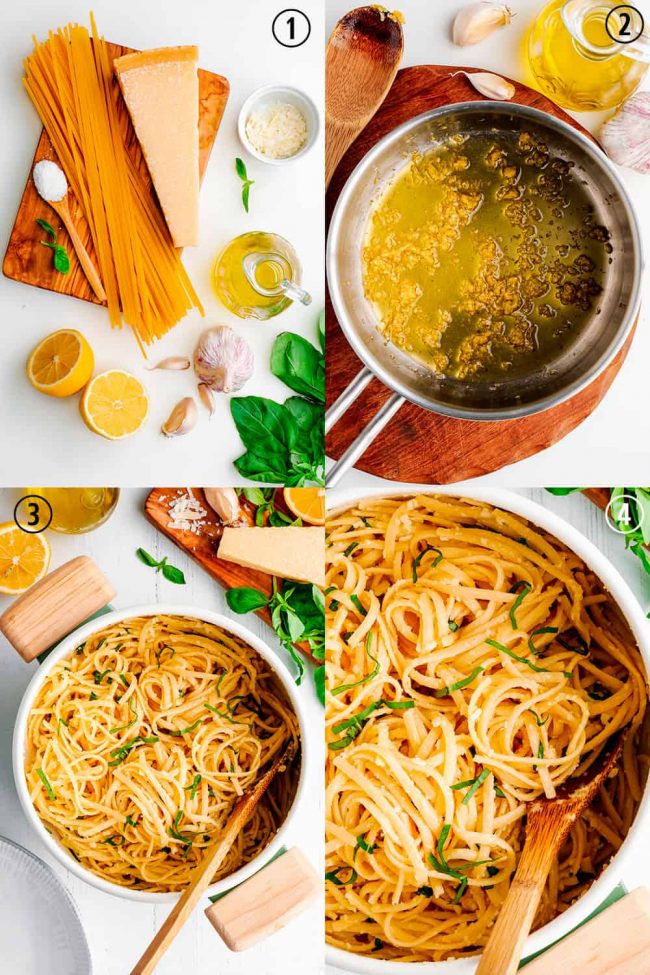 For the pasta, you can of course use whatever kind you want. Gluten-free, whole wheat or regular. There are also lots of grain-free pastas now available. This homemade grain-free pasta looks great, too!
If you try out this lemon garlic pasta, I'd love to hear what you think! And for another great spring pasta recipe, try this ham pasta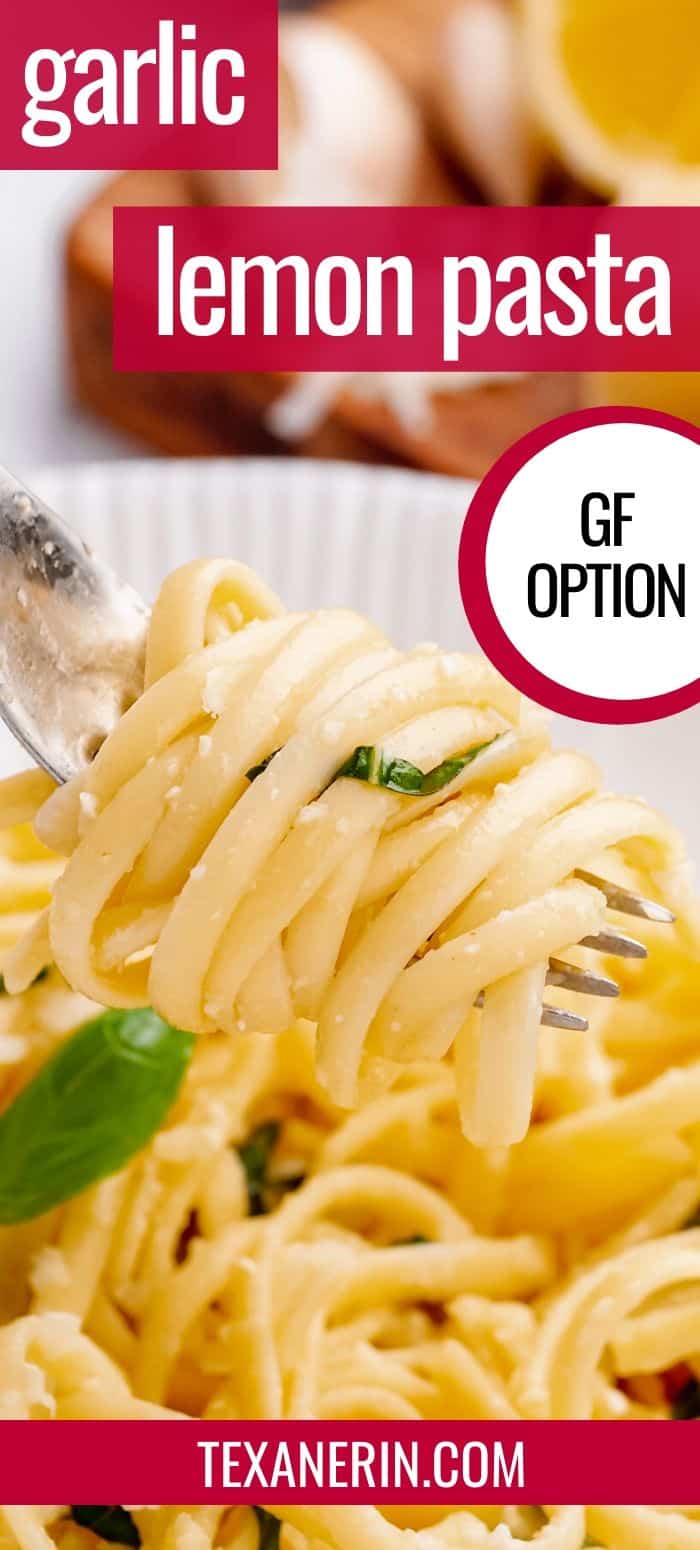 ❀
Lemon Garlic Pasta (gluten-free option)
Prep Time:
Cook Time:
Ready in:
Yield:

2 servings
Ingredients
6 ounces (170 grams) spaghetti (whole wheat, gluten-free, or regular)
1 tablespoon olive oil
4 garlic cloves, minced
a little less than 1/2 cup grated Parmesan or Pecorino Romano (35 grams)
15 small basil leaves (5 grams or 1 tablespoon chiffonaded [= cut into strips] and packed)
1 tablespoon lemon juice (for me, this was 1/2 a small lemon)
~1/4 tsp salt
Directions
Boil the spaghetti according to the directions on the package.
Meanwhile, in a small saucepan over medium heat, heat the olive oil and garlic. Mix around occasionally until the garlic starts to brown. Take off the heat and set aside.
When the pasta is done, drain it in a colander and let it sit there while doing the next step.
In the pot that you had the spaghetti in, add the Parmesan, basil, lemon juice and the garlic olive oil. Stir in the spaghetti and salt to taste. Stir thoroughly and be sure to get all the cheese that likes to stick to the bottom of the pot. Serve immediately.