This matcha cheesecake is super creamy with just the right amount of matcha flavor, and it pairs perfectly with a homemade shortbread cookie crust. It's a super easy press-in crust, and it can be made with regular flour or gluten-free flour.
I received a few requests for the matcha cheesecake recipe after posting the Gluten-free Cheesecake Crust Recipes, in which this green cheesecake filling is shown. So here it is!
I adapted it from my Keto Cheesecake. I used regular sugar instead of keto sweetener and added 3 tablespoons of matcha.
The crust tastes like a sugar cookie, but the texture is denser. And I added a bit of lemon zest, which I think goes great with the matcha filling.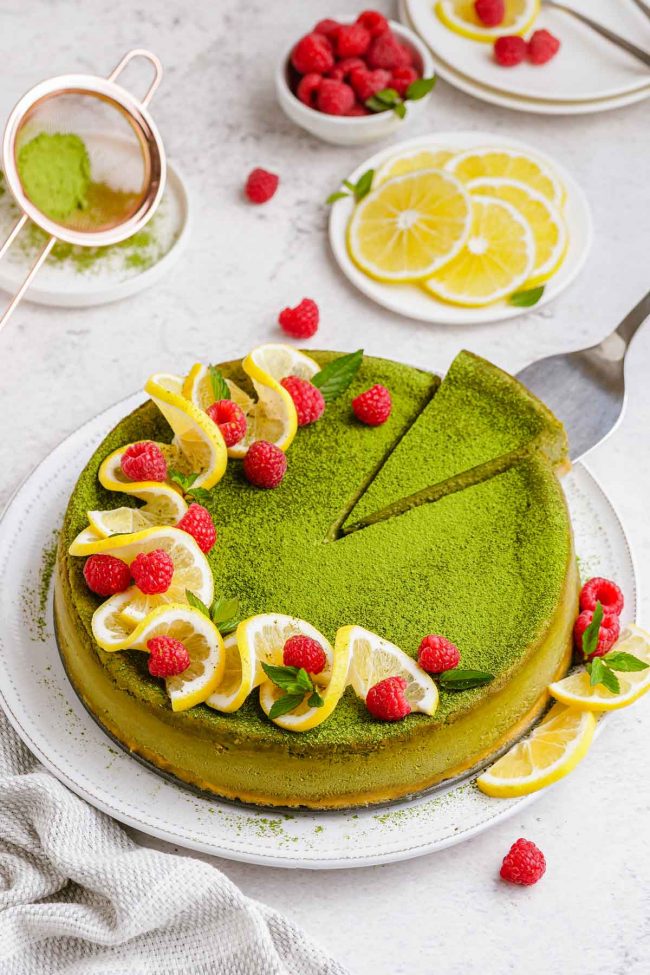 Ingredients
I go into detail about all the ingredients throughout the post, but here's an overview.
To view and print the full recipe, see the recipe box below the post.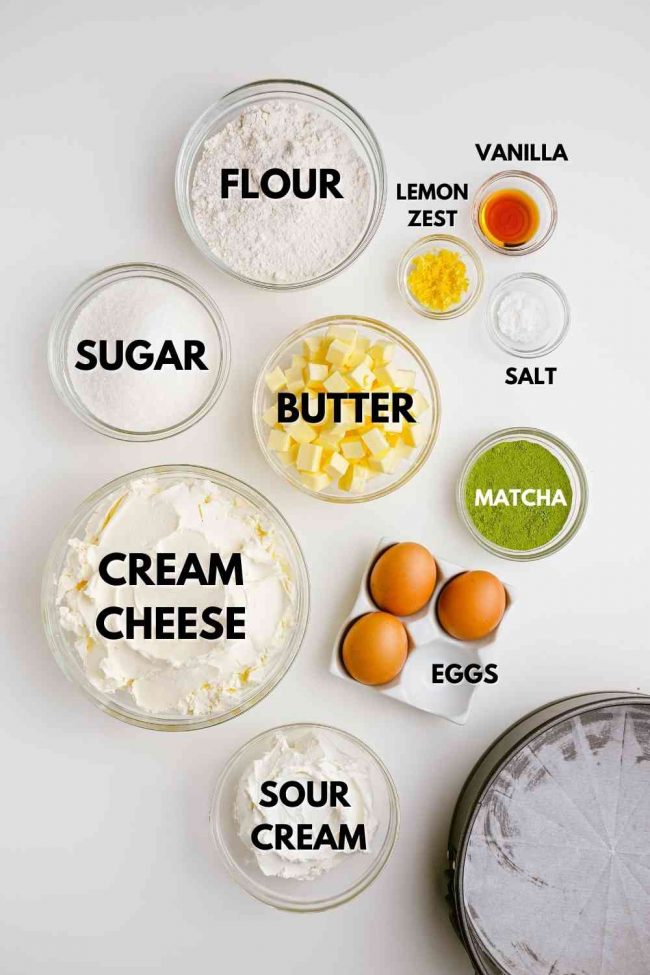 Can you taste the matcha?
Unlike the cookies I mentioned above, this cheesecake has a very, very clear matcha flavor. There's no chocolate or other flavors to distract from the matcha.
Never had matcha before? Check this out → What Does Matcha Taste Like? for more info!
So definitely don't make this if you don't want matcha flavor. And if you love matcha, take a peek at my Matcha Cake Recipe!
If you want to omit the matcha for a plain cheesecake, you can.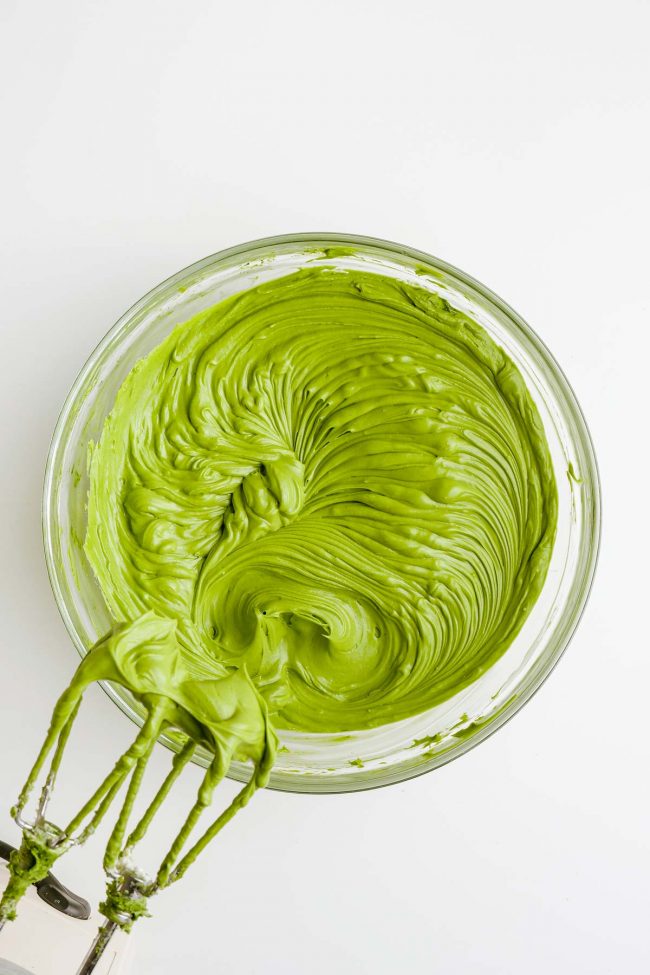 Matcha types
There are two main types of matcha.
Ceremonial: this type is at the top of the matcha quality hierarchy. It's more nuanced and subtle than the other type of matcha, called culinary grade.


Culinary: right under ceremonial comes culinary matcha, and there are 5 subtypes: premium, café, ingredient, kitchen and classic. Premium is considered the best and is slightly more bitter than ceremonial, but not by much. This is the type of culinary matcha you most often find.
When I make this Matcha Chai Latte or any other matcha drink (not just plain matcha with matcha + hot water), I use premium grade matcha. Ceremonial is simply too expensive to use on a regular basis.
For baking, I only use ceremonial grade matcha.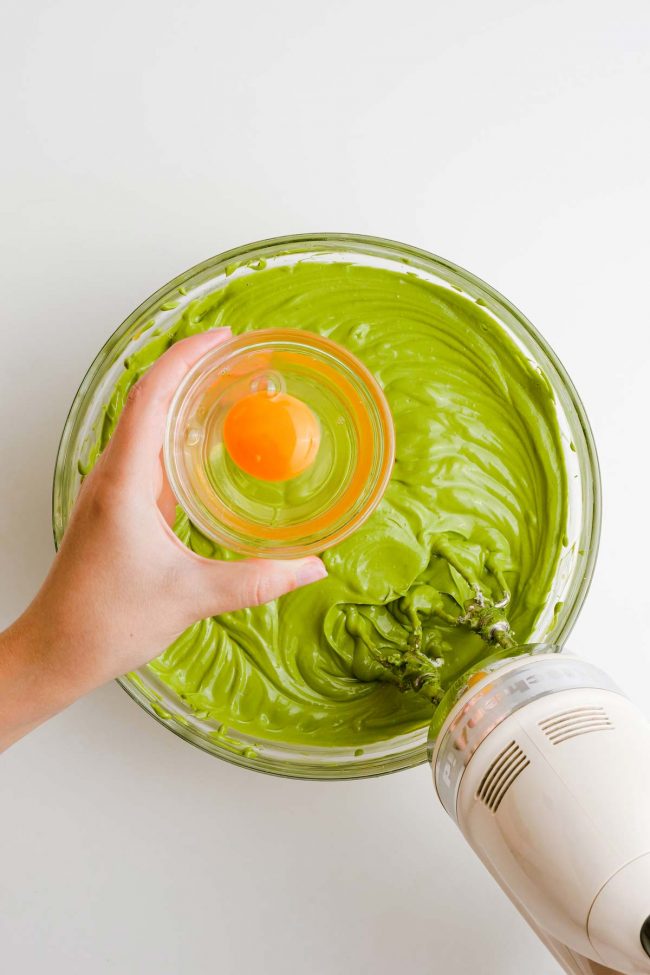 Best matcha grade for baking
When you google what type of matcha to use for baking, you'll find opinions vary depending on where you're looking.
Baking bloggers often recommend ceremonial. Matcha companies seem to always recommend culinary for baking.
Matcha companies also say that ceremonial grade matcha is too expensive and the flavor too delicate to bake with.
It IS expensive, but you can definitely taste the matcha. And ceremonial is less bitter than culinary, so I'm all for it.
The main problem with culinary matcha is that it's greenish brown. If you don't care about the color, then you can use culinary.
If you want the pretty green color you see in the photos here, you have to use ceremonial.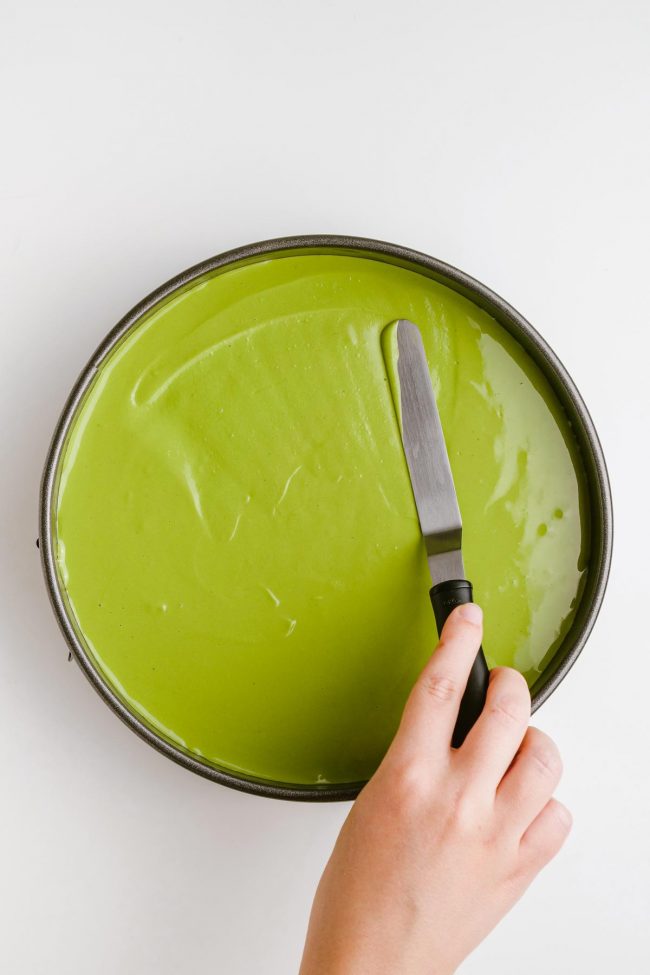 What matcha to use
I looked on Amazon to find the highest-reviewed ceremonial matcha that's, well… the cheapest.
And I found Midori Spring Ceremonial Matcha. The price and reviews were great.
It's the kind used in these photos and all my upcoming matcha dessert recipes.
I go into huge detail about different brands of matcha in my Vegan Matcha Cookies recipe. There you can see that Midori Spring is the winner because it's the cheapest (which is nice because matcha is insanely expensive), almost has the best color, and tastes just as good as all the other ceremonial grade matcha.
Here you can see my little experiment. :)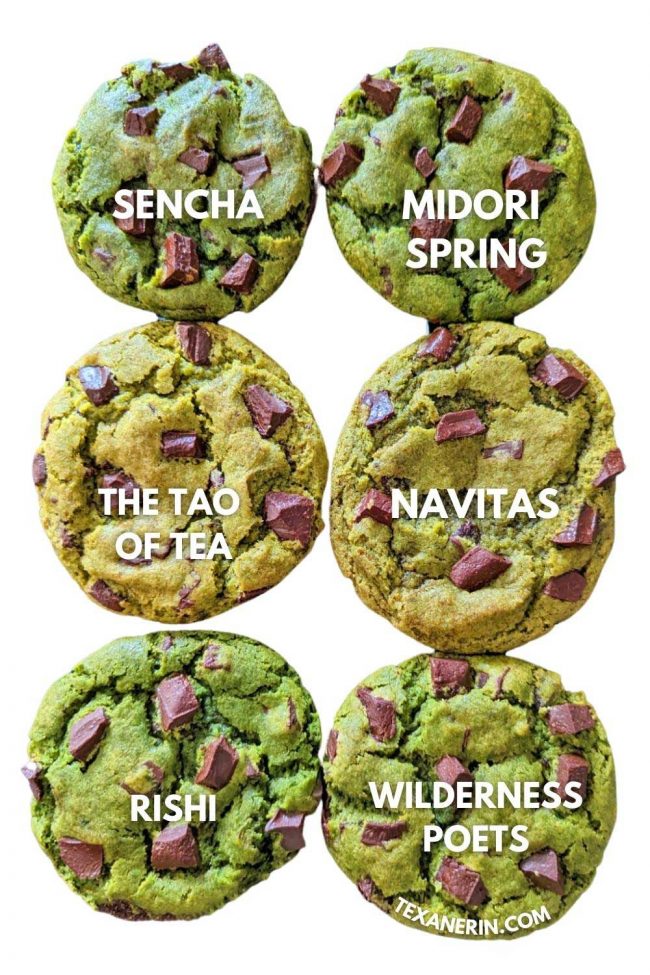 Do I need a water bath?
I said in my Gluten-free Pumpkin Cheesecake recipe that I'd be using water baths from now on after seeing what a difference they make.
I had already made this matcha cheesecake, didn't use a water bath, and it came out great. BUT… I might have just been lucky.
If you want to use one, then use the directions from the pumpkin cheesecake on how to prepare a water bath.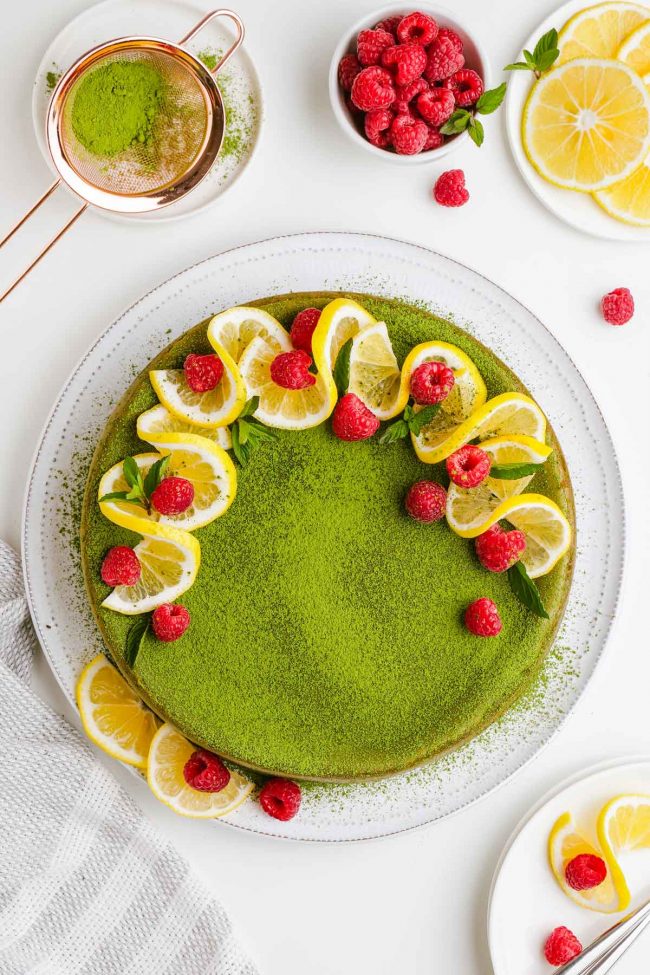 Live outside of the US?
You can skip this part if you live in the US or Canada!
Cream cheese
If you live outside of the US or Canada and have the type of cream cheese in little tubs that's meant to be spread on toast, this is what you have to do:
For 8 ounces (225 grams) of cream cheese, buy a 300-gram package of cream cheese. The stuff at Aldi, Lidl, etc. works just as well as Philadelphia brand. Put the cream cheese in the center of a clean tea towel or cheesecloth, and squeeze out the liquid until you have 225 grams of cream cheese.
So for this recipe, buy 900 grams of cream cheese and squeeze out the liquid until you have 680 grams of cream cheese.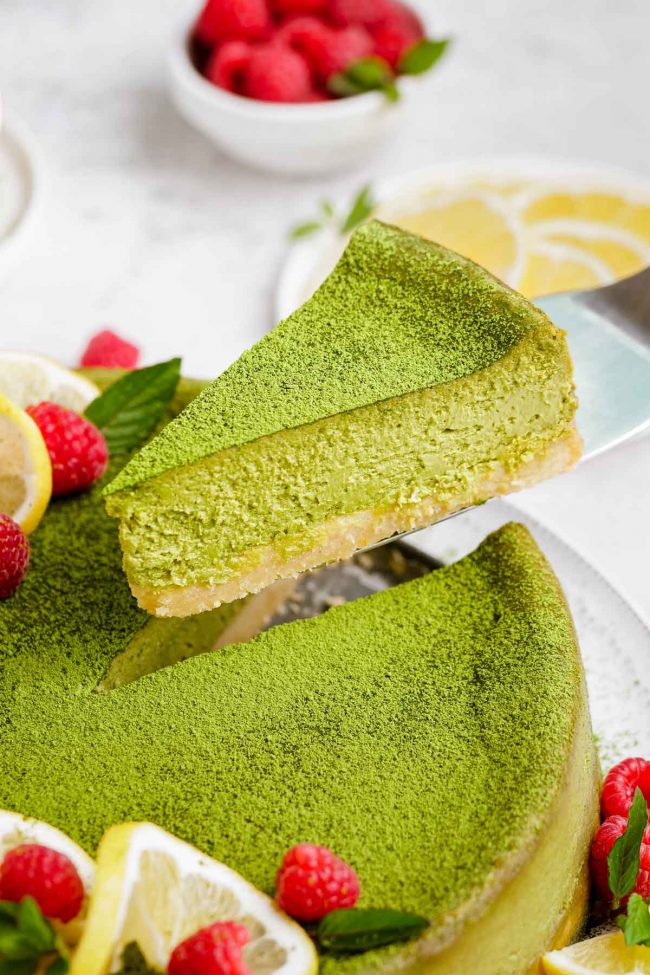 I know it's annoying. But if you want to skip this step, I wouldn't recommend this recipe. Or any US cheesecake recipe.
The baking time will probably be different, and you're likely to over or underbake your cheesecake. I know this because I have done this many, many times and want to save you the trouble and money.
Butter
I often find that using European butter with its 82% fat, instead of 80% like in the US, is a disaster in crust recipes. It's one of the main reasons why I rarely post pies recipes, cheesecakes and other things with baked butter-based crusts.
If your butter is 82% fat, then use 11 tablespoons (154 grams) of butter + 1 tablespoon of water instead of 12 tablespoons of butter.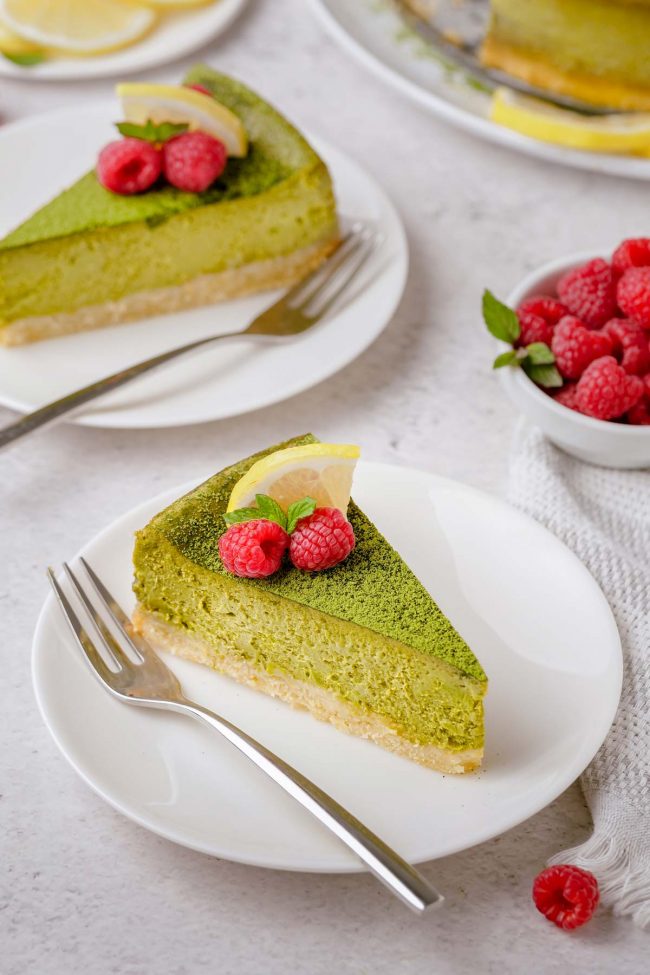 Gluten-free version
The cheesecake in the photos was made with King Arthur Flour Gluten-free Measure for Measure Flour. Bob's Red Mill Gluten-free 1-to-1 Baking Flour also works, but I preferred King Arthur.
The texture was smoother, but neither crust tasted gluten-free.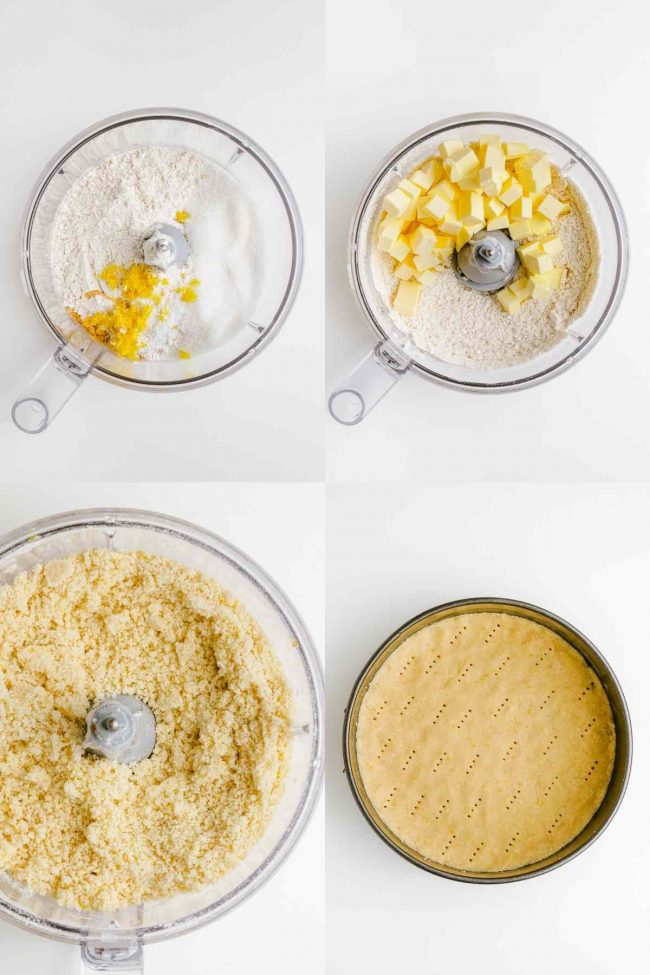 As always, I can't say for sure if other brands of gluten-free flour work as well without trying them.
Whatever brand you use should be a 1:1 replacement for all-purpose flour. So – not almond or coconut flour.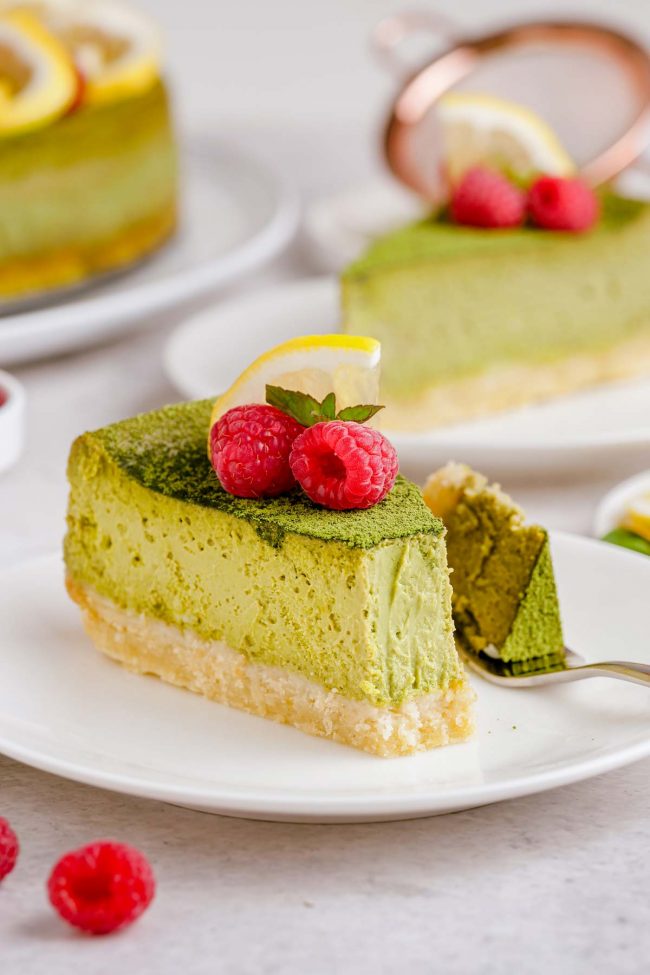 Questions about this matcha cheesecake?
Can I make this as a pie?

No, because the crust recipe isn't meant to be made in a pie pan. It would likely slump down during baking. To avoid that, we just cover the bottom of a springform pan with the crust dough.

Can I reduce the sugar?

There's a lot of butter and sugar in the crust, and that's why it tastes so good. Crusts (and cheesecakes) are finicky, so I really don't recommend changing anything. You could omit the lemon zest or decrease the salt, but I'd say that's about it.

Can I use something else instead of butter?

Since this matcha cheesecake is already full of dairy, and there aren't any subs for it, I haven't tried the crust recipe with coconut oil or anything else in place of the butter. I'm guessing you could probably use 11 tablespoons of coconut oil + 1 tablespoon of water in place of butter, but it's just a guess.

How do I make this keto?

You would need to make my Keto Cheesecake and add 2 tablespoons of matcha. I haven't actually tried it, but I'm assuming it'd work. I have no idea if matcha and keto sweeteners will do something crazy when combined. But I don't think they do.

Can I use low-fat cream cheese?

Nope, it needs to be full-fat cream cheese for the cheesecake to have the right texture. Reduced fat could work, but I'm not sure. I definitely recommend full-fat!

What can I use instead of sour cream?

Since I started using sour cream in my cheesecake recipes, I'm all for it. It adds extra moisture and tang.

But if you don't want to use sour cream, I can't guarantee anything else would work. I've seen lots of people say that you can use heavy cream or full-fat Greek yogurt in its place in cheesecakes.

If you feel like experimenting, you can try that. If it's important to you that this cheesecake not have cracks, then I wouldn't risk it.

How do I make an eggless version?

Egg subs, unfortunately, don't work in baked cheesecakes. I do have an Eggless Cheesecake Recipe, but I haven't tried adding matcha powder to it. Since it's egg-free, you can add about a tablespoon of matcha, taste, and add more if desired. Again, I haven't tried it, so it's just a guess.

How do I make this vegan?

There's the egg issue mentioned above and all of the cream cheese and butter to sub. I don't recommend wasting your time and ingredients trying to make this vegan.

You could make this Vegan Cheesecake Recipe and add matcha to taste. It's no-bake, so I really doubt that adding matcha would mess anything up. No-bake cheesecake filling is way less finicky than a baked cheesecake.
That's it! If you try this matcha cheesecake, I'd love to hear about it. Please leave a comment or snap a pic and tag #texanerin, so I can be sure to see it! Thank you. :)
❀
Matcha Cheesecake
Prep Time:
Cook Time:
Ready in:
Yield:

12 slices
Ingredients
Shortbread crust:

1 1/2 cups (188 grams) all-purpose flour, white whole wheat flour or for gluten-free, use 1 1/2 cups (188 grams) King Arthur Flour Gluten-free Measure for Measure Flour or 1 1/2 cups (207 grams) Bob's Red Mill Gluten-free 1-to-1 Baking Flour
1/2 cup (100 grams) granulated sugar
2 teaspoons lemon zest
1 teaspoon salt
3/4 teaspoon vanilla extract
3/4 cup (168 grams) cold unsalted butter

Filling:

24 ounces cream cheese (680 grams), at room temperature
1 cup (200 grams) granulated sugar
3 tablespoons (22 grams) matcha
2 teaspoons vanilla extract
1/8 teaspoon salt
3/4 cup (173 grams) sour cream, room temperature
3 large (50 grams each, out of shell) eggs, room temperature
Directions
For the shortbread crust:

Grease a 9" springform pan. Preheat the oven to 350 °F (176 °C).
If you don't want to use a food processor, add everything but the butter to a large bowl, and then use a pastry cutter to incorporate the butter until you have crumbs.
If you want to use a food processor, add all the crust ingredients except for the butter to the bowl. Pulse a few times to combine the dry ingredients, add the butter, and pulse until you have fine crumbs. It shouldn't form a dough - just crumbs!
Press into the prepared pan, making sure it goes all the way to the very edge of the pan, but it shouldn't go up the sides.
Poke holes, about every 1", with a fork over the crust.
Bake for 17-20 minutes or until lightly browned.
Place on a cooling rack to cool for 15 minutes. While it's cooling, prepare the filling.

Make the filling:

In a large mixing bowl using an electric hand mixer, beat together the cream cheese, sugar and matcha until fluffy.
Add the vanilla, salt and sour cream and beat on low until combined.
Add in the eggs, one by one, until combined. Be sure not to overmix.
Pour this into the crust which has cooled for 15 minutes.
Use an offset spatula to smooth it out.
Bake at 350 °F (175 °C) for 40-45 minutes (I did 40). When you tap the pan, it won't be totally set, will still be quite jiggly in the middle, but not super jiggly.
Open the oven door completely, let it cool in there for 30 minutes, and then remove to a wire rack to cool completely, about 3-4 hours.
Then chill 8 or more hours before cutting.
Refrigerate for up to 4 days or freeze for up to 3 months.