This chai matcha latte is warm, cozy and super easy to make at home with just 5 ingredients. It has sweet and spicy notes coupled with an extra boost of matcha powder. Paleo and vegan.
I recently posted this Iced Chai Latte Starbucks Copycat that is perfect for hot days when you're dreaming of fall flavors. I also posted this Iced Matcha Latte that has amazing benefits and is super tasty.
This chai latte is a combination of those two, but served warm. You get comforting flavors of cinnamon, ginger, cloves, and black pepper. And matcha gives you an extra boost of energy and tons of added nutrition.
The matcha flavor isn't very strong, but it's definitely there. It's like a chai latte, with an earthy aftertaste.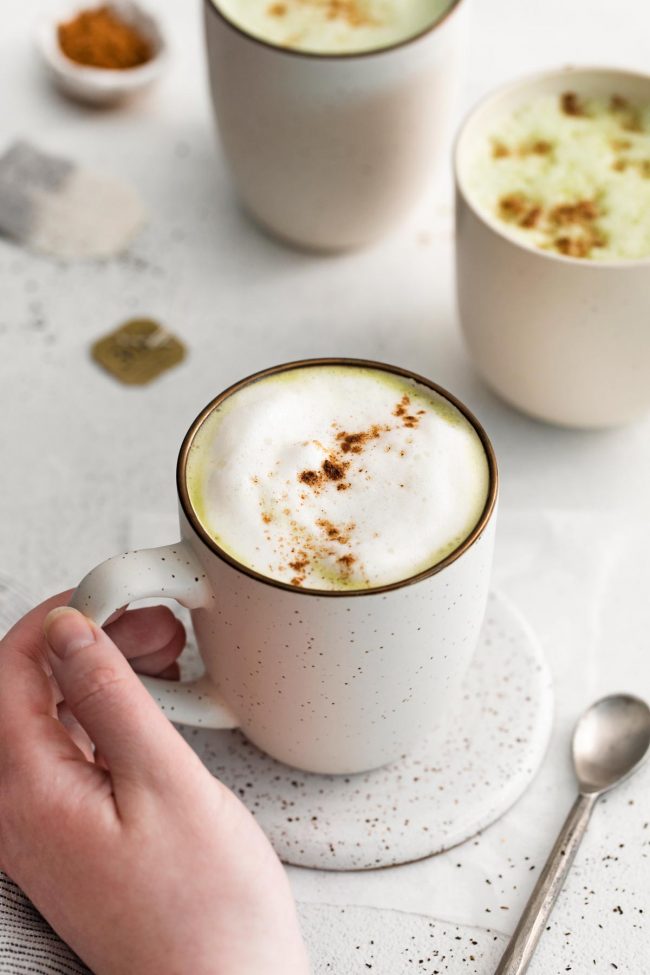 Ingredients
Boiling water – water is used to steep the tea bags to create our chai and matcha concentrate. Make sure it's very hot!



Chai spice – chai spice is a great way to add even more chai flavor to your drink. More on this below!


Cashew or almond milk – I used cashew milk, but you can use any kind of milk.


Maple syrup – I love the flavor of maple with chai + matcha, but you can use any sweetener you'd like.
Please scroll to the bottom of the post for the full recipe.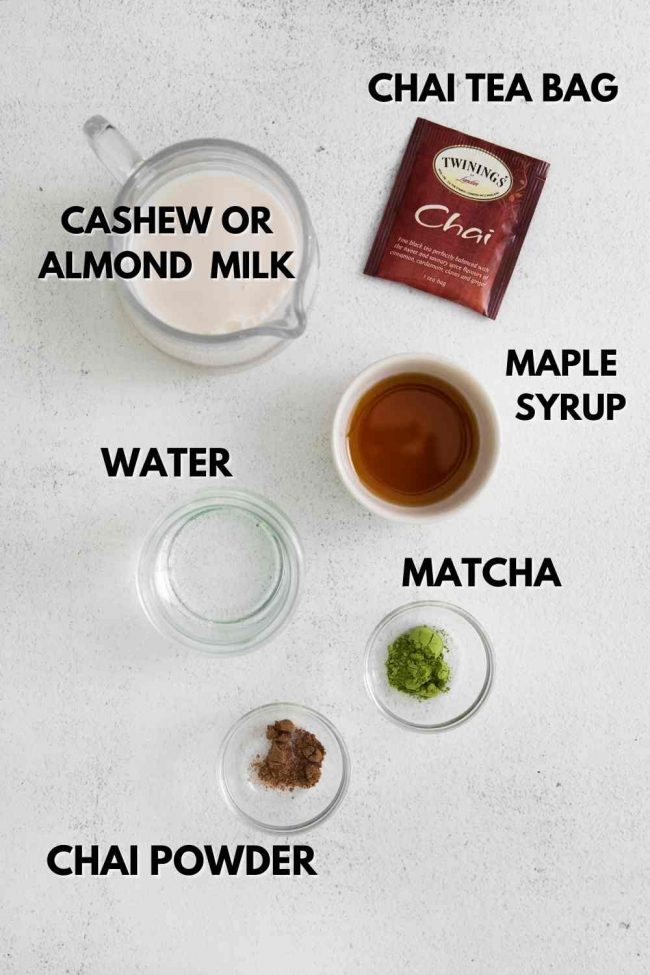 What is chai?
Chai is a Hindi word meaning 'tea.' It refers to a mix of spices steeped into a tea-like beverage.
There are different recipes for chai depending on the region, continent and culture.
The typical spices in chai are cinnamon, cardamom, ginger, cloves and black pepper. The spice mix is steeped with black tea and is considered a healing beverage.
Black pepper and ginger can help stimulate digestion, cloves have natural painkilling and antibacterial properties, cardamom is used as a mood elevator, and cinnamon can help support circulation and respiratory function.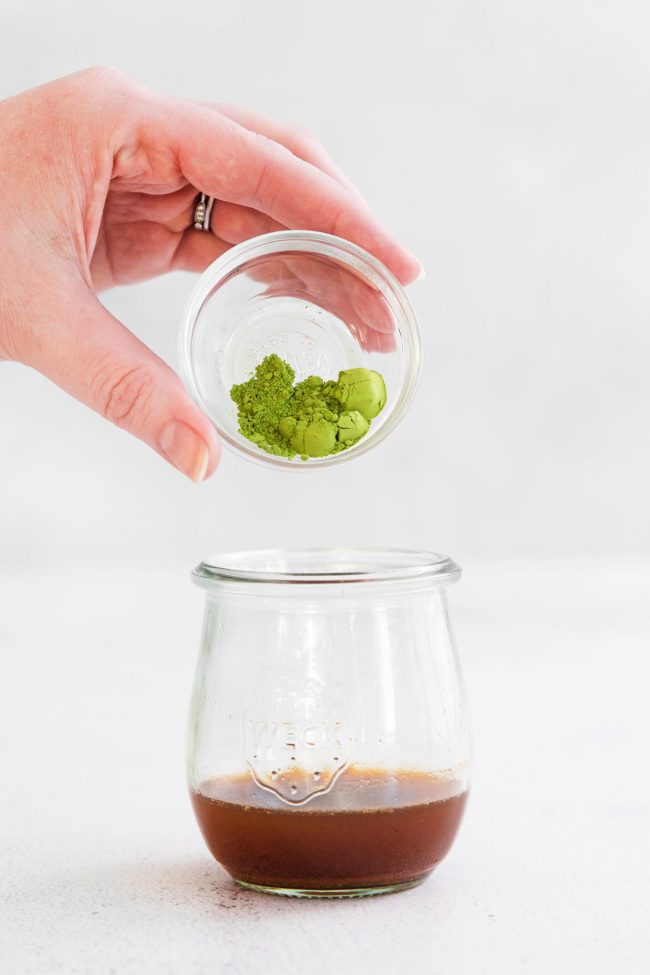 What is matcha?
Matcha is a type of Japanese green tea powder that's made from finely powdered dried tea leaves. The difference between matcha and regular leaf tea is that matcha is pulverized tea leaves, so you're actually ingesting the tea leaves. And while both are derived from the same plant, they're cultivated and processed differently.
It has a robust earthy flavor that can be somewhat bitter (read more here → What Does Matcha Taste Like?). Adding milk and maple syrup helps the taste if you are a newbie to matcha. I'd say it's definitely an acquired taste if drinking it straight.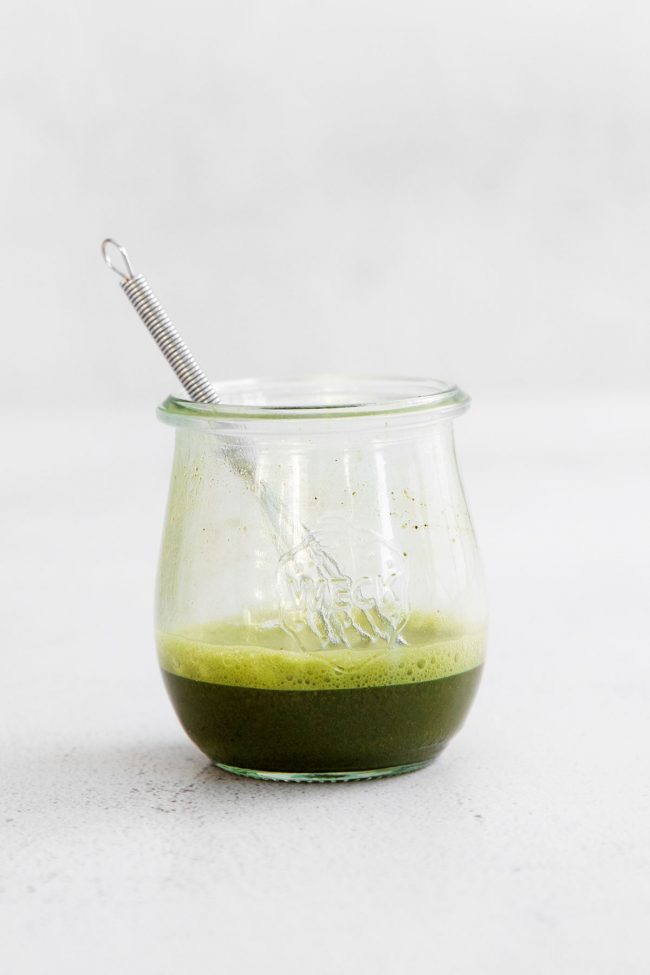 The other beneficial note about matcha, unlike coffee, is it doesn't have that crash and burn sensation. Energy is released slowly over time, leaving you more satiated throughout your day.
Because you're drinking pulverized tea leaves, it comes with potent nutrients. It's rich in antioxidants, amino acids, vitamins and minerals like vitamin C, selenium, magnesium, fiber and chromium.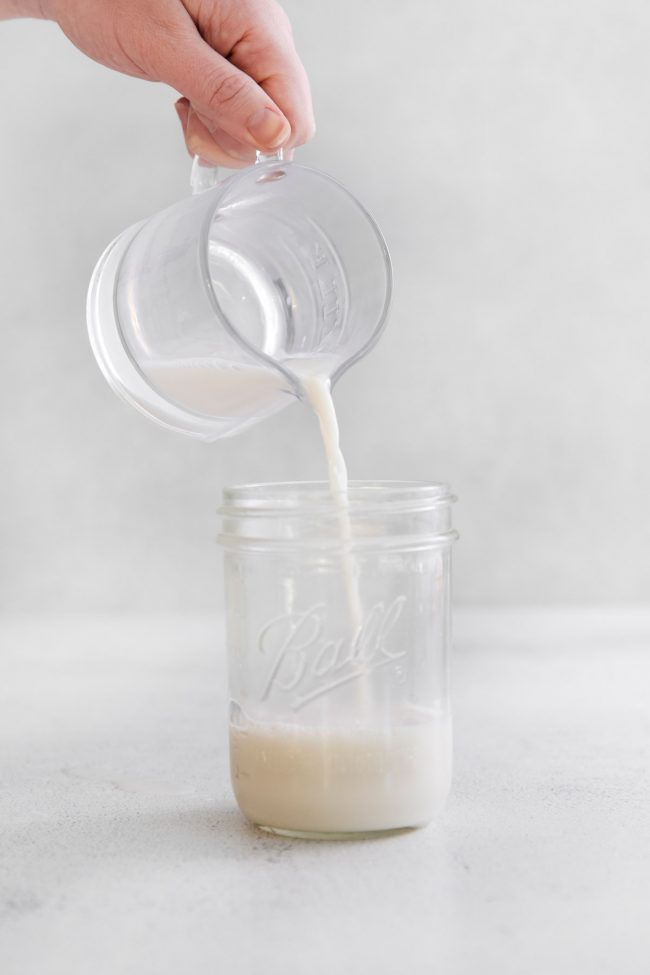 Grades of matcha
Basically, there are two grades of matcha: ceremonial and culinary, which has 5 subtypes. Each has its own price tag, with ceremonial matcha at the high end.
In today's market, you can find matcha just about everywhere. And what you will mostly find is culinary grade.
Ceremonial matcha is really only meant to be mixed with hot water – not with milk, chai spice, sweetener, etc. But I use ceremonial grade matcha for desserts where I want a vibrant color, like these Vegan Matcha Cookies.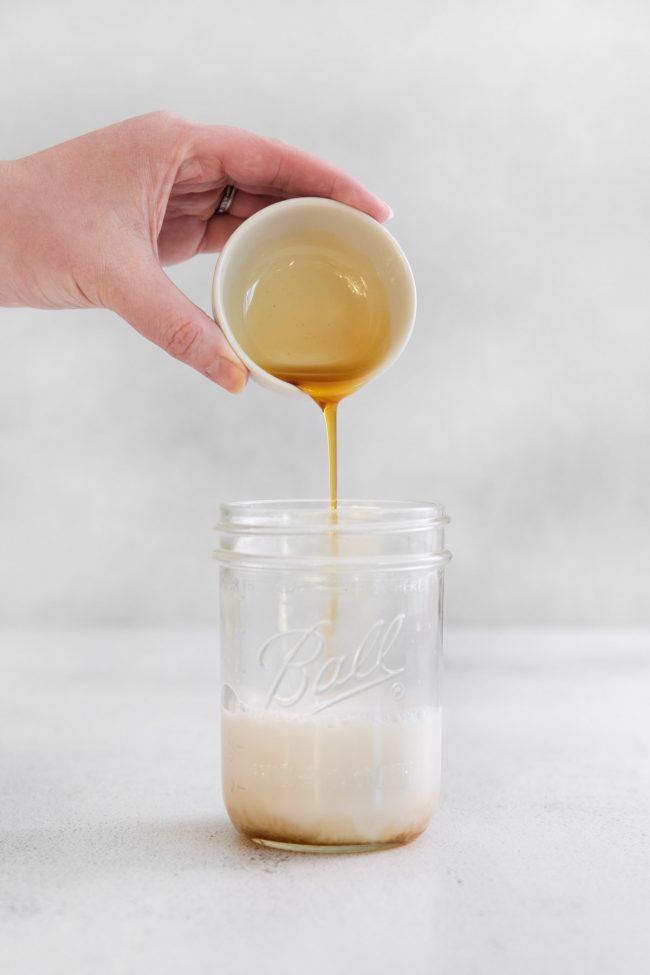 I talk a ton about different brands and even show you pictures of the cookies baked with 6 different matchas. So be sure to check that out if you want to do some baking. :)
The five subtypes of culinary matcha are premium, café, ingredient, kitchen and classic. Premium is the best and that's what I used for this drink and other drinks like this Matcha Protein Shake. I like it because it's less bitter than the other types of culinary matcha.
There are so many other flavors in this drink that I think you'd be safe with other types of culinary matcha.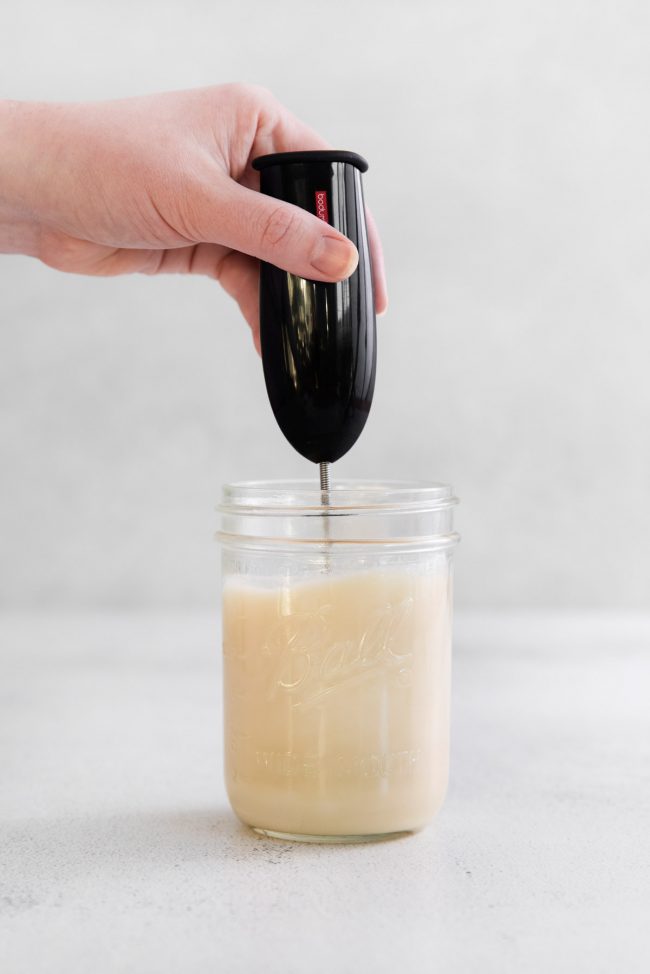 Chai spice powder
If you're into making your own spice mixes, you can easily make chai spice. This is the recipe I use → Chai Spice Mix.
If you want to buy one, this Spicewalla Masala Chai Spice is great and only contains ginger, cinnamon, green cardamom, black pepper, clove, and allspice.
And it's finely ground. Sometimes when you search for chai spice powder, products pop up that are spice mixes – but not finely ground powders. You need a powder for this drink.
And you're often shown products that contain milk powder and sugar. That's definitely not what you want!
When I look on German Amazon, I can't even find a product that doesn't contain sugar, maltodextrin, milk powder, etc. So definitely check those labels!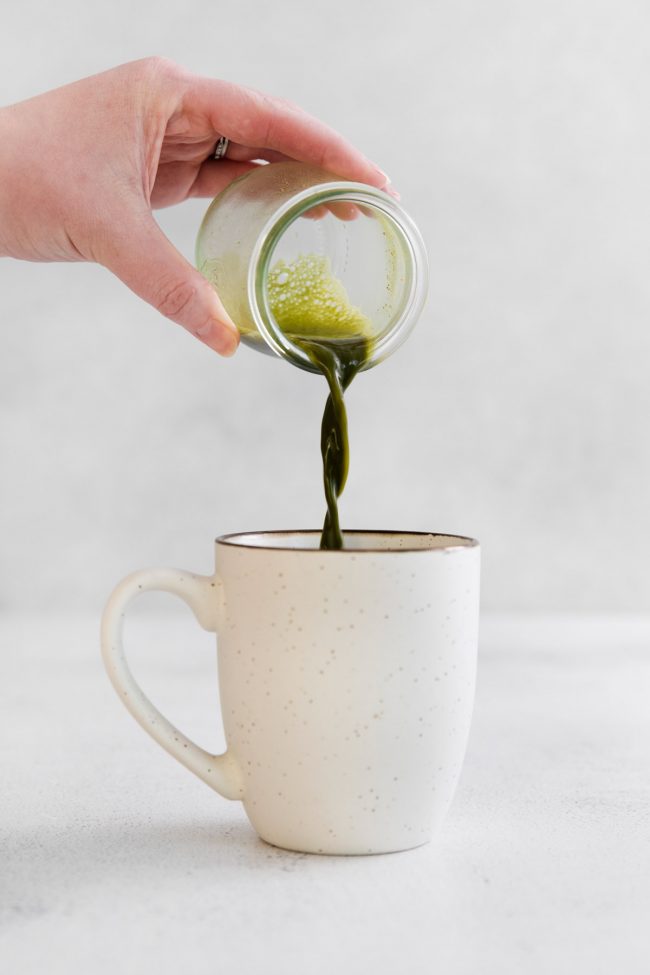 Paleo and vegan
This drink is both. But before buying chai spice powder and chai tea, make sure that there aren't any funky additives like artificial coloring, flavorings or sweeteners. And of course, make sure there aren't any surprise dairy ingredients.
Matcha shouldn't have anything in it other than matcha. You don't want a matcha "blend" or matcha "drink," which would likely contain some funky stuff. Just pure matcha.
For paleo, you should use unsweetened cashew or almond milk without any additives.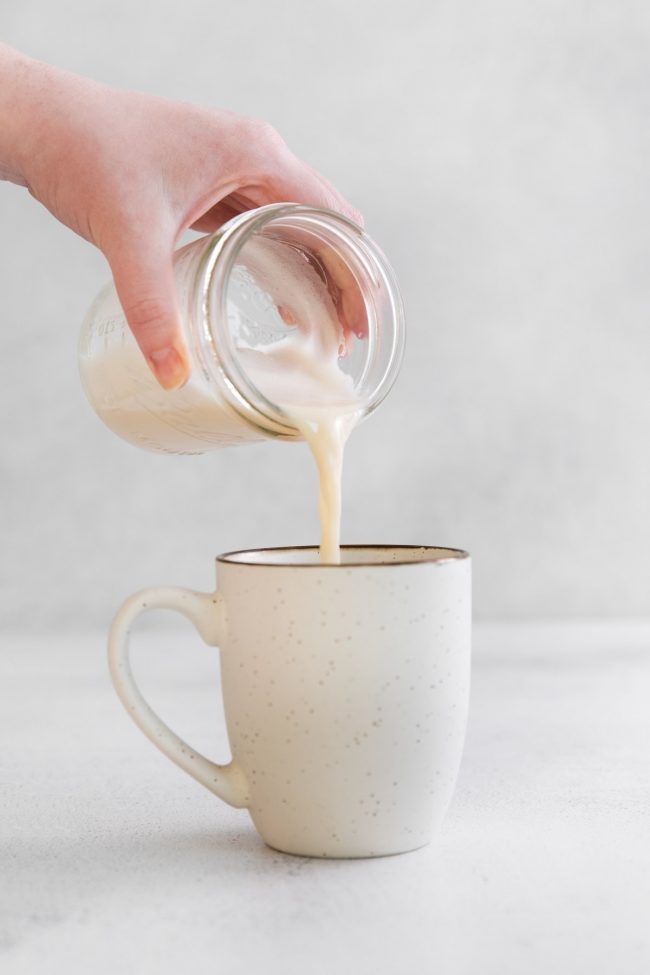 Do I have to use cashew or almond milk?
No, it's not mandatory. You can use whatever you like if you want to skip the frothing step.
Almond milk is the best paleo and vegan milk for frothing, but I much prefer the taste of cashew milk in my drinks, so that's what I used.
If you're not paleo, soy is said to be even better than almond milk when it comes to frothing. But then again, some say it's terrible for frothing. 🤷‍♀️ I do know that Oatly Barista Edition is also great for frothing.
Do I have to froth it?
Nope! It's totally optional. If you wonder why you can't froth plant-based milk as well as dairy milk, check out → Can You Froth Almond Milk?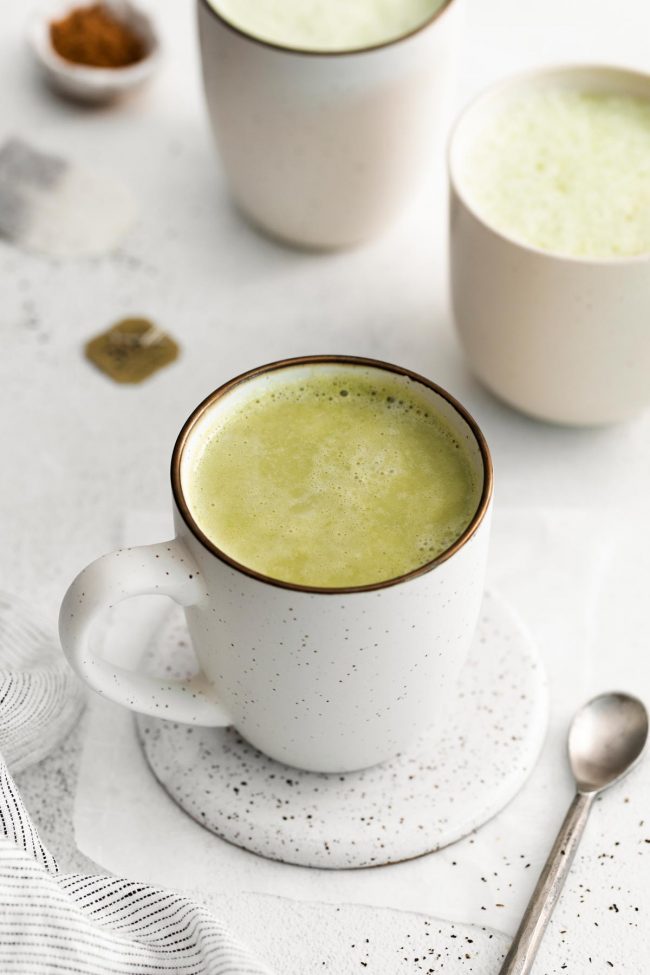 Can I use a different sweetener?
Yes! I prefer maple syrup, which complements the flavors in this drink perfectly, but you can use whatever sweetener you like best.
I think maple sugar would be nice, but wouldn't dissolve nearly as easily or nicely. Honey, for non-vegan, would also work, but I think the flavor of maple is better here.
Coconut sugar would have the same issue as maple sugar when dissolving, and I don't think it'd taste so great here. If you're not paleo, then quick dissolve sugar would work better.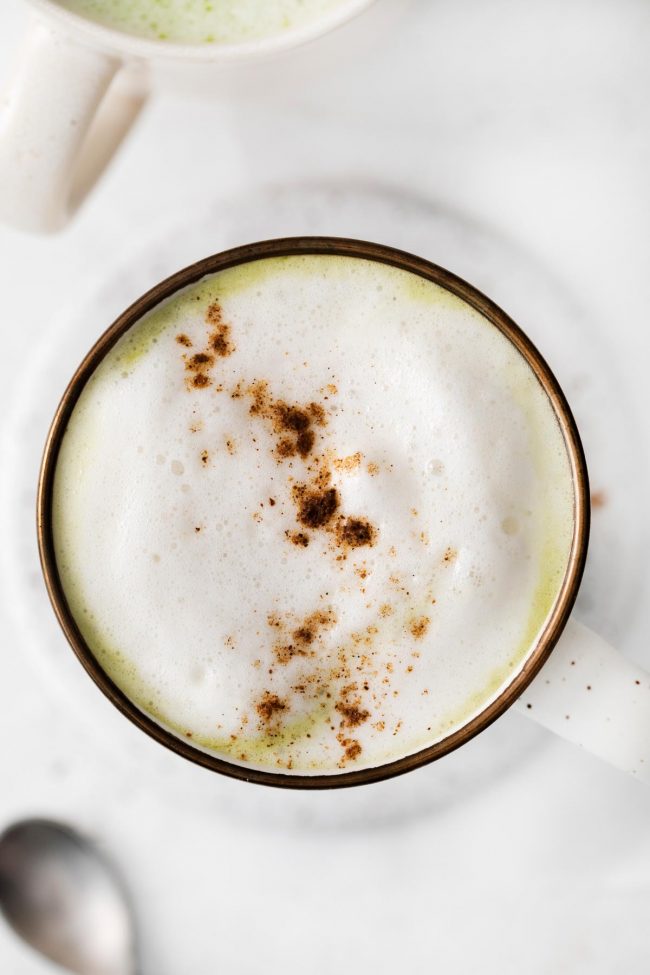 What to serve with a chai matcha latte
Here are some of my favorite pairings.
I hope you like this chai matcha latte as much as we do! If you try it, please leave a comment below and let us know what you think.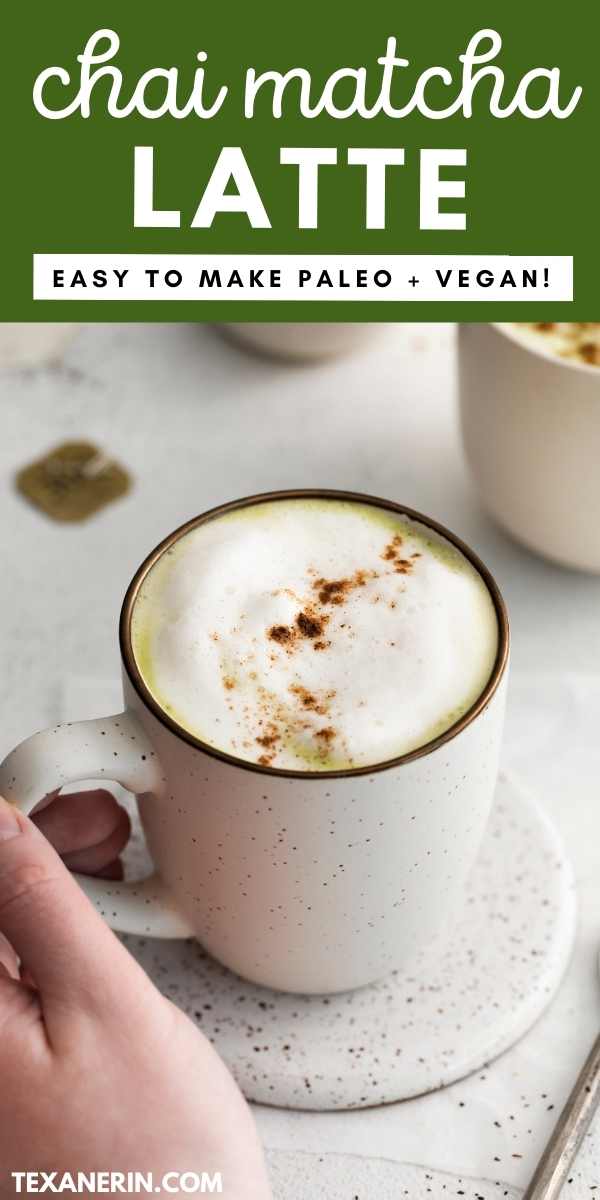 ❀
Chai Matcha Latte
Prep Time:
Cook Time:
Ready in:
Yield:

1
Ingredients
1/4 cup (60 ml) boiling water
1 chai tea bag
1/4 teaspoon chai spice
1/2 teaspoon matcha
1/2 cup (120 ml) cashew milk or almond milk
1 1/2 tablespoons maple syrup, to taste
Directions
Place the boiling water in a small bowl with the chai tea bag and chai spice. Allow the chai concentrate to steep for 10 minutes.
Carefully squeeze the tea bag (be careful – it will be hot) to extract all of its flavors, and whisk the chai concentrate to ensure the spices are fully combined. Then stir in the matcha powder until combined.
Warm the almond milk and maple syrup (either in the microwave or a small pot over medium heat on the stove) until it reaches 150 °F (65 °C). It's best to do this on the stovetop, using a thermometer. If you don't have one, heat it just until it begins to steam.
Froth the almond milk using your favorite method – a handheld frother, a wand, in the blender, etc. Or skip the frothing step, if desired.
Add the chai and matcha concentrate to your favorite mug and top with frothed almond milk. Garnish with a sprinkle of chai spice and enjoy immediately.