These pancakes without milk use water but you can't tell. They're super fluffy, flavorful and easy to make. You can make them traditionally or gluten-free and dairy-free.
A lot of pancake recipes without milk don't call for regular dairy milk, but dairy-free milk such as almond milk. I'm guessing if you're looking for pancakes without milk, you don't have any kind of milk on hand.
So these homemade pancakes without milk are truly without any kind of milk. It just uses water.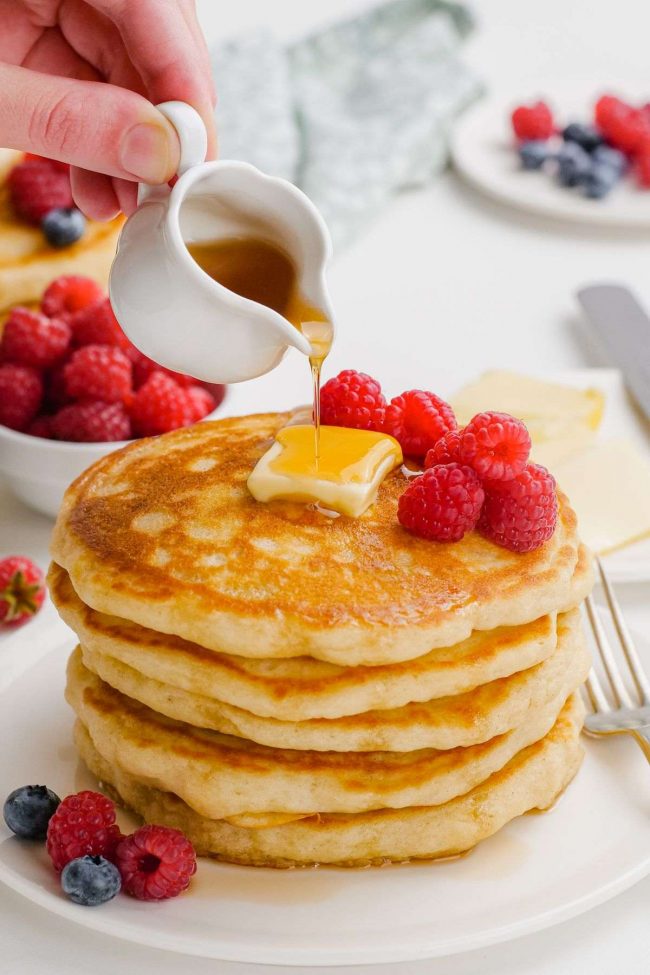 If you prefer to use dairy-free milk (or regular milk) in place of the water, go for it! But don't use buttermilk.
That adds acidity to the recipe, and you'd probably need to adjust the amount of baking powder and use some baking soda. It'd be easier just to find a buttermilk pancake recipe.
But these milk-free pancakes are really perfect with the water. I was surprised.
My old go-to recipe used to be Old-Fashioned Pancakes on Allrecipes. Now it's these!
I don't make them often because I have zero self-control and just end up in a carb coma. But for a special treat, I'll make them, and immediately freeze all but one so I don't go wild.
They are so perfectly fluffy, and the flavor is great. Even my taste testers who don't like pancakes loved these.
Ingredients for Milk-free Pancakes
You only need basic ingredients. Nothing fancy here!
Oil or butter – the flavor is better with butter, but you can use a neutral-tasting oil. If using coconut oil, be sure to melt it first. And I would recommend refined coconut oil unless you'd like some coconut taste to your pancakes. To make dairy-free pancakes, make sure to use oil or vegan butter.


Eggs – I tried chia eggs a few times, and while they work – the pancakes come out too dense. Any vegan option I offer has to be just as perfect as the non-vegan version, so, unfortunately, there's no vegan option for this recipe. I'm working on a fluffy vegan pancake recipe, though!


Vanilla extract – I find that a lot of pancake recipes are lacking flavor, which is probably due to them lacking vanilla. Be sure to add that!


Flour – you need to use all-purpose flour or a gluten-free baking mix that's meant as a sub for all-purpose flour. I can't recommend bread flour, pastry flour, whole wheat flour or any other flour than the two mentioned ones.


Sugar – I rarely add any sweetener to my pancakes, choosing to smother them in maple syrup instead, but… I really wanted these to be a treat and added 1/4 cup of granulated sugar. And again, that really helps with the taste!


Baking powder – 3 tablespoons is not a typo! I wrote it in the recipe, too, but I know someone is still going to ask if that's a typo. It makes these pancakes super fluffy!


Water and salt – I don't think these need any explanation. :)
Please use a scale!
Using a scale ensures that your pancakes come out properly. If your pancakes are too thick, it's almost definitely because you packed your cups when measuring.
If you don't have a scale, then here's how to measure flour: fluff up the flour in the bag or container using a spoon. Then use that spoon to scoop the flour into your measuring cup. Use a knife or anything with a straight edge to level the flour across the top of the measuring cup.
Gluten-free Option
These pancakes are fantastic with Bob's Red Mill Gluten-free 1-to-1 Gluten-free Baking Flour. We couldn't tell the difference between the two versions.
If you don't want to use that specific flour, then you need to use another one that's meant as a 1-to-1 sub for all-purpose flour.
But as always, I can't say the result would be as perfect as with the mix I used. All brands are different, and so are the final outcomes.
If you need a grain-free or paleo pancake recipe, see the Healthier Pancake Options section below!
There are some oat-based options in that section. Unfortunately, there's no way to use oats, oat flour, or other alternative flours (except for a gluten-free baking mix) in today's recipe.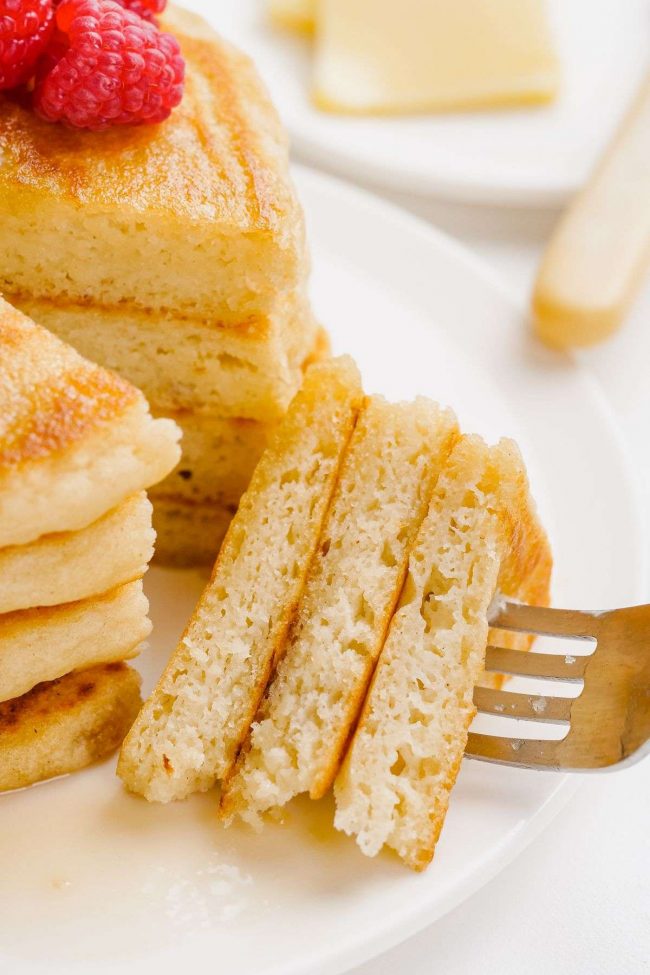 Healthier Pancake Options
These milk-free pancakes aren't healthy at all. If that's what you'd like, I have some better options for you!
Banana Pancakes – another pancake recipe without milk! These pancakes are bananna-sweetened and made with ground oats (oat flour), making them 100% whole grain. So they'll keep you fuller for longer.


Paleo Pancakes – a grain-free and paleo option! This one uses dairy-free milk + lemon juice or vinegar to create buttermilk. They're not as fluffy as today's recipe but like a cross between fluffy American pancakes and crepes.


Easy Swedish Pancakes – you can use regular or dairy-free milk in these pancakes. They also use oat flour like the banana pancakes above, and the results are just like the pancakes I used to enjoy when I lived in Sweden.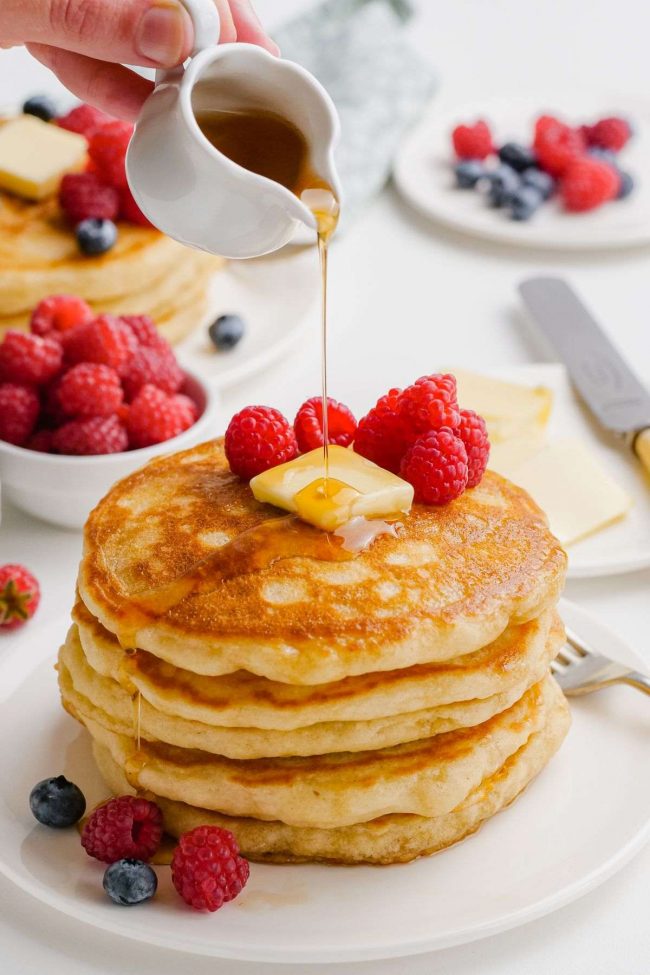 Topping Ideas
Pancakes that Freeze Well
I love a good recipe that I can double and freeze! These milk-free pancakes freeze great, so eat what you want, and freeze the rest for busy mornings.
Or just refrigerate them. They last for several days in the fridge.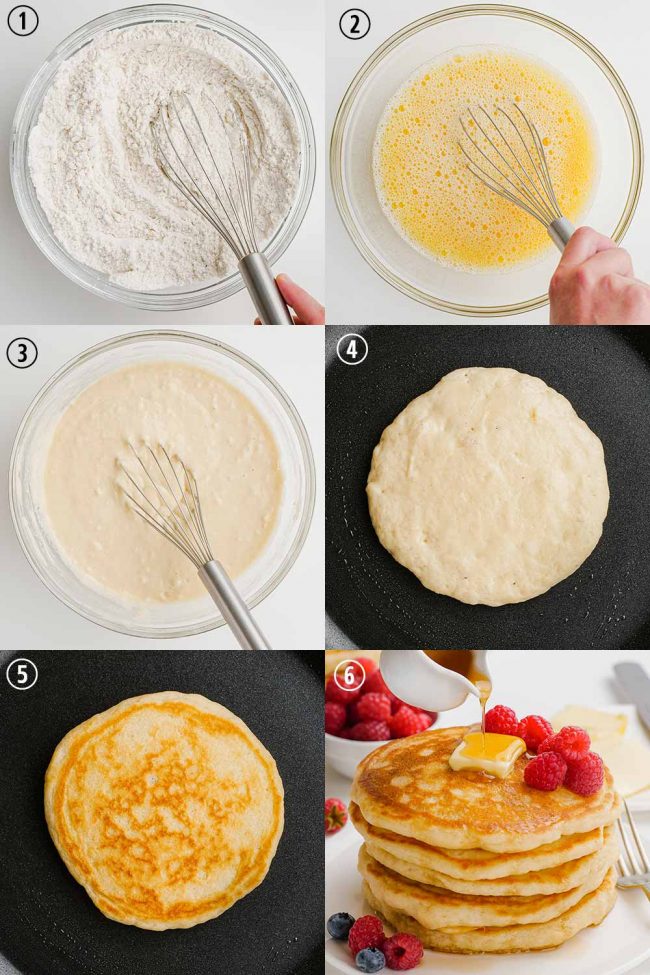 Live Outside of the US?
As I've mentioned in several of my posts, basic ingredients like flour and butter vary a lot from country to country. So I had my parents in the US test these, and with great results.
I also tested them with US all-purpose flour and German butter. So you can make these with confidence!
All-purpose flour is really different from country to country and usually, I wouldn't recommend using a recipe that was developed using flour from a different country.
But I've had really good experiences with pancake recipes. I think it's safe to try these no-milk pancakes, no matter where you are.
I'm pretty sure this would work perfectly with Swedish flour – just the normal vetemjöl. Edit: a reviewer has confirmed it works great! If using German flour, I'd recommend half Type 405 and half Type 550.
Commenters from Australia and New Zealand have also tried these and loved them. From the UK, one commenter, Carris, used ASDA Gluten-free Self Raising Flour + 2.5 tablespoons (instead of 3) of baking powder and said they tasted just like regular pancakes!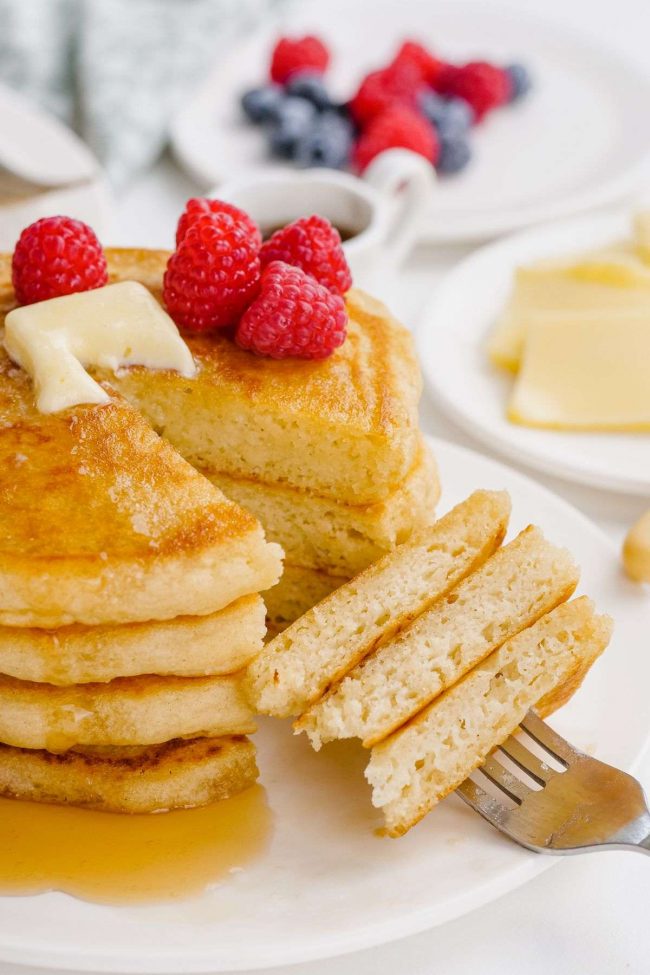 Pancake Day
I actually wanted to post these milk-free pancakes just in time for Valentine's Day, but it turns out that Pancake Day is in a few days!
Something I find really interesting is that in some countries, they eat jam-filled (or custard/Nutella/whatever-filled) donuts instead of pancakes for Pancake Day. In Germany, the word Pfannkuchen is a direct translation to pan cake. But they're what we would call filled donuts!
So what is pancake day, you ask? Well, amazingly it has a long history. First, let's start with who invented the pancake.
First known as Alita Dolcia or 'another sweet' in Latin was originally made by the Romans in the 1st century CE from milk, flour, egg and spices. It was sold hot on the corners of the squares and slathered in honey.
During the Middle Ages, Pancake Day became a traditional fest the day before Ash Wednesday as a way of getting rid of rich foods before the days of Lent known for a time of fasting and giving up sweet foods.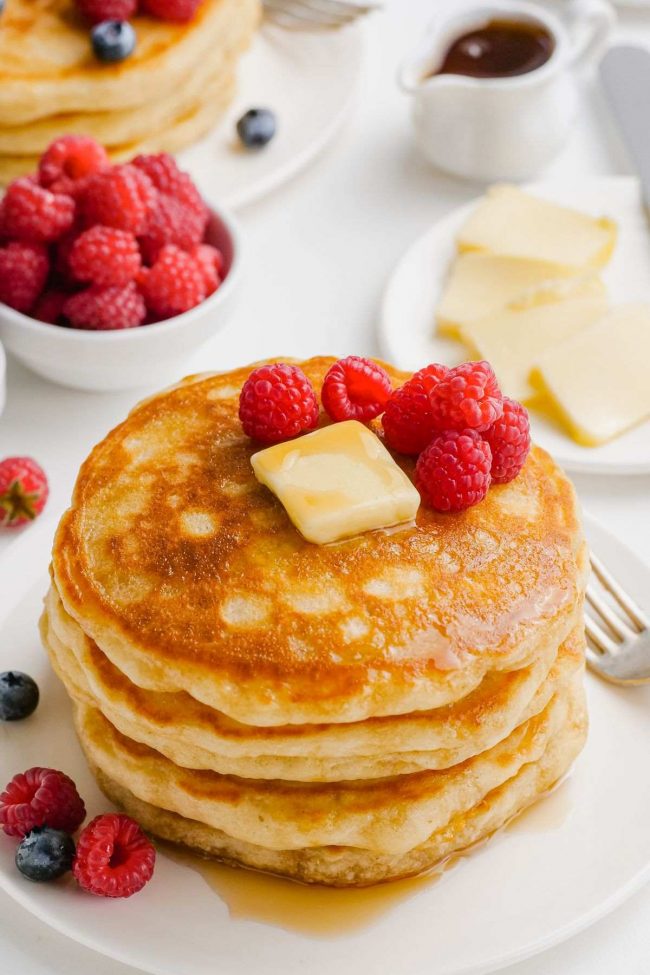 So Pancake Day or Pancake Tuesday is celebrated on Shrove Tuesday which you might know as Fat Tuesday.
By the 15th century, the pancake had made its rounds in Europe and diversified through the addition of spices like cloves and alcohol.
In 1445 an all-female pancake race began with the legend that a housewife who had lost track of time, arrived at church late on Shrove Tuesday still clutching her frying pan with, of course, a pancake. The race has been an international event since 1950.
So pancake day is a time for indulging before the beginning of Lent, and if you find yourself in Britain on Pancake Tuesday, as they say, "When in Rome", you'll be racing around with a frying pan and flipping pancakes.
I hope you'll enjoy the pancakes! If you make this recipe, I'd love to see pictures of your creations on Instagram, Facebook and Twitter! Please hashtag them #texanerin so I can find them. :)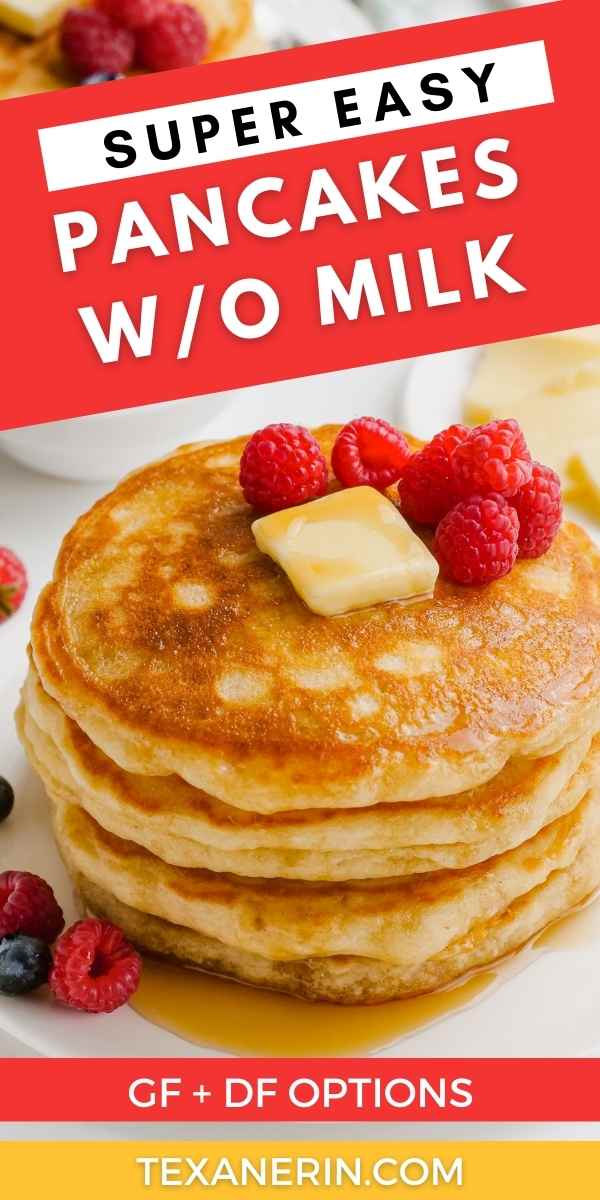 ❀
Pancakes Without Milk (of any kind!)
Prep Time:
Cook Time:
Ready in:
Yield:

eight 4.5" pancakes
Please read the notes below the recipe for important info!
Ingredients
1 1/2 cups (355 milliliters) water
1/2 cup (120 milliliters) neutral-tasting oil or 1/2 cup (113 grams) melted, warm butter (use oil or vegan butter for dairy-free)
2 large (50 grams each, out of shell) eggs
2 teaspoons vanilla extract
2 1/4 cups + 2 tablespoons (297 grams) all-purpose flour1 or for a GF version, use 2 1/4 cups + 2 tablespoons (328 grams) Bob's Red Mill 1-to-1 Gluten-free Baking Flour
1/4 cup (50 grams) granulated sugar
3 tablespoons (not a typo) aluminum-free baking POWDER2
1 teaspoon salt
Directions
Mix the water, oil, eggs and vanilla together in a large mixing bowl.
In a medium mixing bowl, stir together the flour (please read the notes on how to measure flour correctly), sugar, baking powder and salt. Add dry mix to the wet and stir until combined. Don't stir out all the lumps. You don't want gigantic lumps but some medium lumps are okay. If you overmix, your pancakes won't be fluffy!
Grease a pan with cooking spray or butter and place on medium-low heat (I used 3 out of 9 but stoves vary and you may need higher heat).
Pour 1/8 of the batter (120 grams) into the center of the pan. Use a spoon to form into a more circular shape, if desired.
Cook until you start to see some bubbling under the surface, rather than actual bubbles you see in some pancake recipes. Once the pan is really hot, this should only take about 2-3 minutes per side. Once you see the bubbling, check and if it's brown on the bottom, then flip.
Cook another 2-3 minutes.
Serve immediately. Let leftovers cool and refrigerate for up to 4 days or freeze for 3 months.
Notes
Please use a scale to measure the flour! If your pancakes are too thick, it's almost definitely because you packed your cups when measuring. If you don't have a scale, then here's how to measure flour: Fluff up the flour in the bag or container using a spoon. Then use that spoon to scoop the flour into your measuring cup. Use a knife or anything with a straight edge to level the flour across the top of the measuring cup.
Using aluminum-free baking powder is important! If you use regular baking powder, there might be some metallic taste. Some people have experienced it, while others haven't. If you're worried about using 3 tablespoons, one commenter has used 2 tablespoons and said they were still fluffy!