These pignoli cookies are incredibly quick and easy to make and are a typical Italian cookie with a crisp exterior and chewy interior. They can be made with or without almond paste and there's even a paleo option. Regardless of which version you make, there are only five ingredients!
I'm super excited about today's recipe! You can either make these cookies using store-bought or homemade almond paste, but you can also make them totally from scratch (without making almond paste first).
With or without almond paste
Even if you make these pignoli from scratch, they're super easy.
If you make the almond paste version, you use two full packets of the store-bought version or one full recipe of the homemade almond paste recipe.
To that, you add granulated sugar, egg whites and salt. Then you use a cookie scoop to make dough balls, and then you cover them in pine nuts.
If you make them totally from scratch, you just mix together all of the above stuff, in addition to almond flour, powdered sugar and almond extract.
There's also a paleo option! I used coconut sugar in them, reduced the sugar quite a bit, and they were still surprisingly almondy.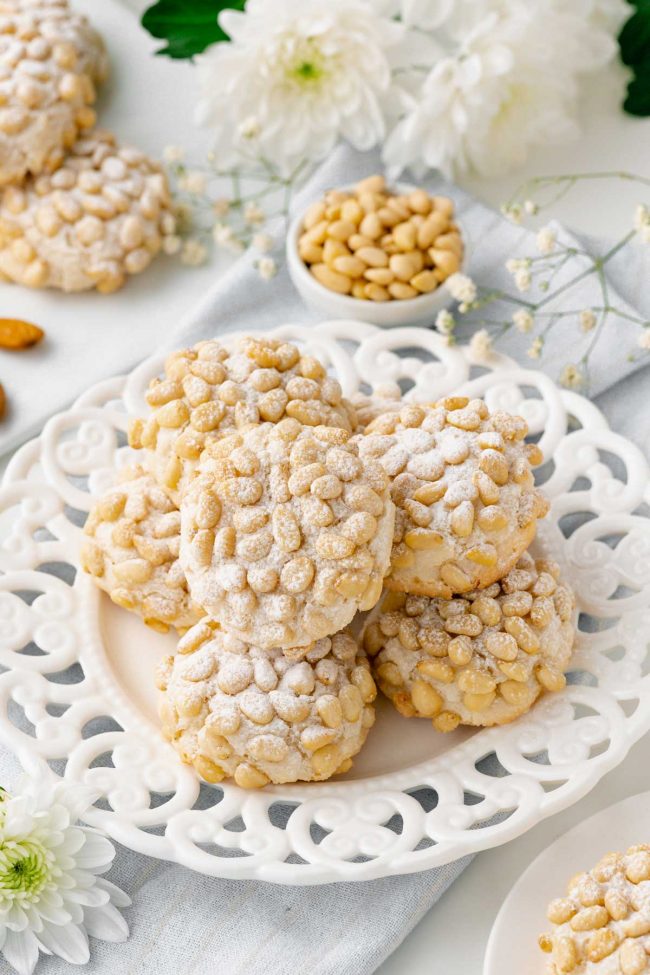 What are pignoli cookies?
Pignoli Cookies are the quintessential 'crown jewel' of Italian holiday treats that originated on the southern island of Sicily. It's a Sicilian type of almond macaroon with two main ingredients of almond paste and pine nuts.
Pignoli, which literally means pine nuts, is pronounced [peen-Yoh-lee] and can also refer to a fussy person, one who is excessively precise or meticulous. ;)
These cookies belong to a type known as "amaretti" which refers to a type of pastry made with almond paste, sugar and egg whites, characterized by a rough and cracked surface but not to be confused with amaretto – the almond-flavored liqueur.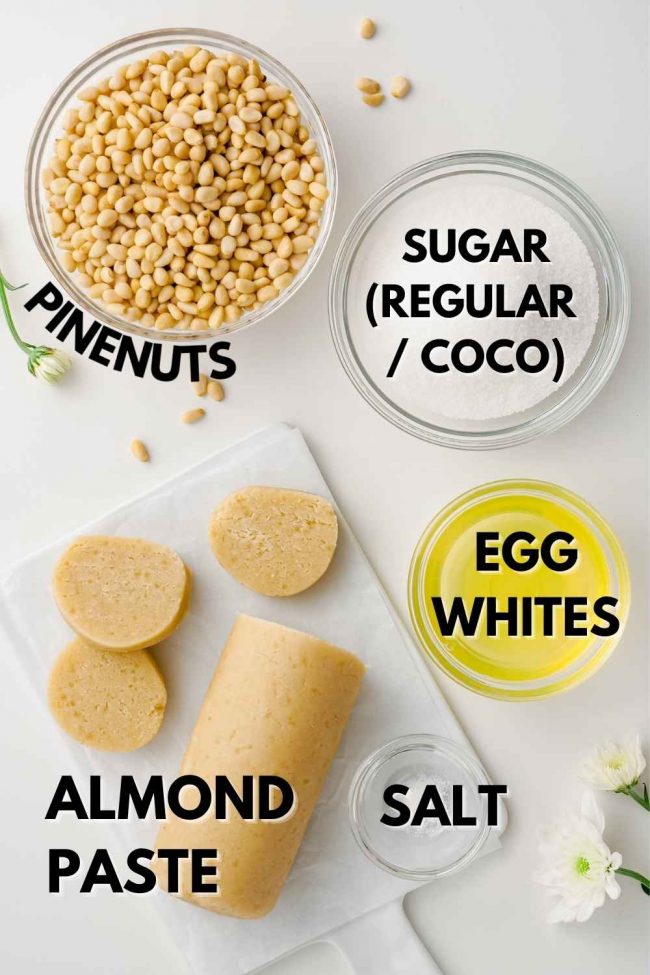 These cookies born in the middle ages can be found in bakeries throughout Italy and the world. These delectable nutty cookies are moist, soft, and chewy, and jeweled with golden pine nuts or slivered almonds. Traditionally, they can be found formed into a crescent; otherwise, they are round or disc-shaped.
They are a luxury treat due to the cost of ingredients, but when it's the holiday season, Italians are a bit extravagant in their holiday meals and treats.
Why are pine nuts so expensive?
Firstly, they are time-consuming to harvest from pine cones. You must first dry them for weeks, then crush them to extract the nuts. The seeds are separated by hand from the fragments of the cone and finally, the shells must be removed which results in the cream-colored gem you get in the stores.
But if there is ever a time to splurge, this is the year and the holidays only come once a year, so what better way to spread the wealth of flavor than with these delectable, toasty-nut cookies.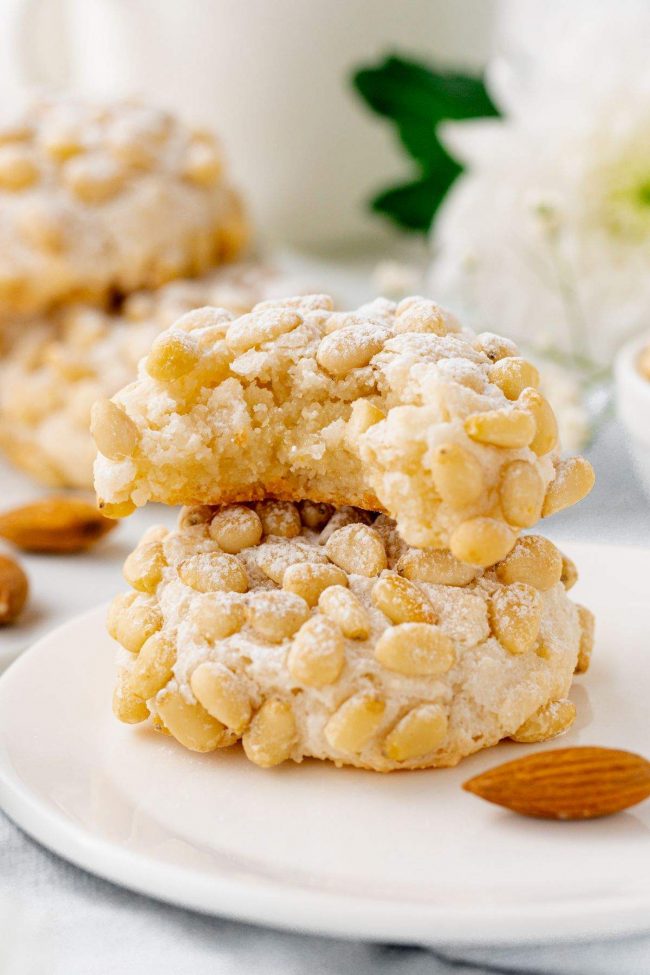 Pine nuts or no pine nuts
When I was testing these cookies, I used chopped cashews on my cookies. Pine nuts are too expensive to be messing around with.
But with all the almond flavor, you couldn't really taste the cashews. It was the same with the pine nuts.
So if you want to omit the pine nuts, go for it. But then these won't be pignoli cookies. Just some delicious almond cookies! Some sliced almonds might be nice on top.
And just for fun, here's how they put the pine nuts on the cookie dough balls at bakeries. You, too, can do that if you want to spend a fortune on pine nuts. ;)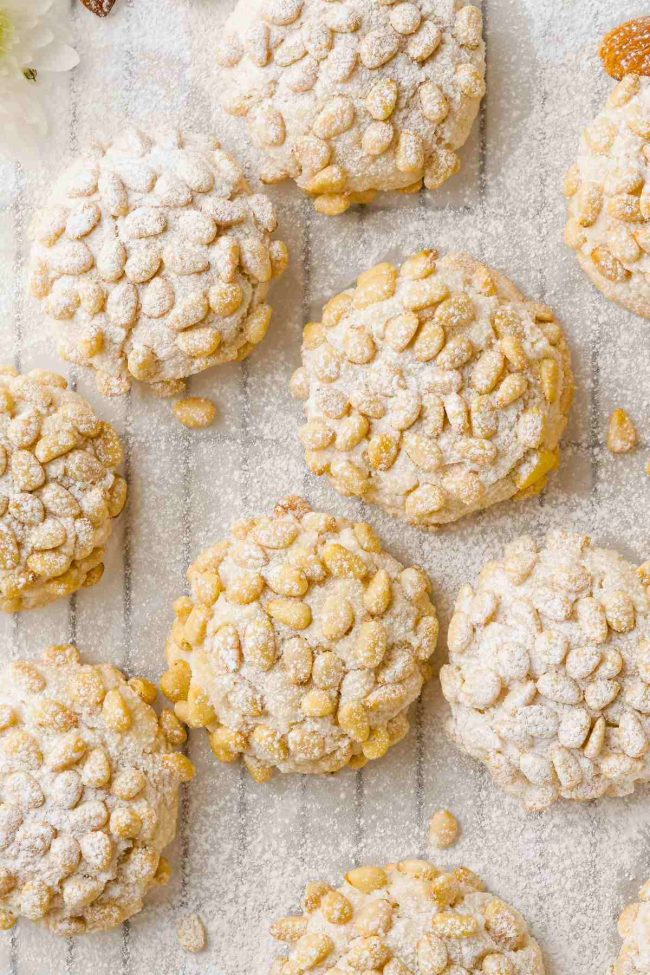 A few notes for pignoli success
If you make the version without almond paste, make sure to use finely ground blanched almond flour. If you don't, your dough will be sticky and hard to manage and the cookies will spread too much.


Measure your egg whites if you live outside of the US. 30-32 grams is the correct amount for 1 egg white. In Germany, I always use medium eggs in place of large eggs if the recipe comes from the US. In the US, a large egg = 50 grams and in Germany, a medium egg = 50 grams. So weigh those egg whites!


If you decide to experiment (although I advise against it ;)) then please bake a test cookie before you roll ALL the cookie dough balls in the pine nuts.


Read the questions section below if you're thinking of making any changes at all to the recipe. :)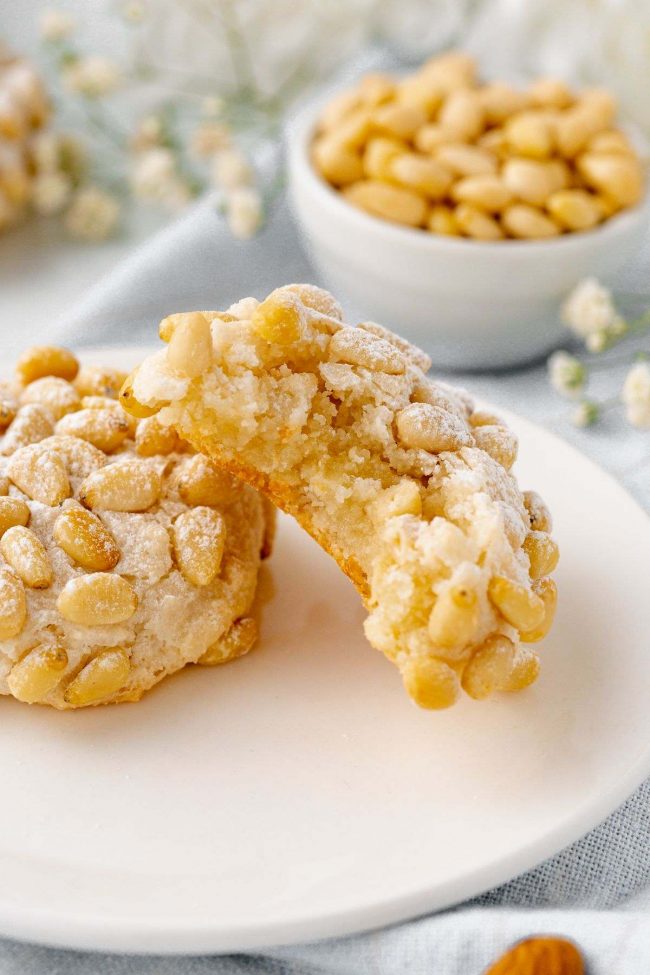 The paleo version
Oh boy, was this a headache. I thought that honey would be a great option because honey + almond extract sounds quite tasty. Plus it's been forever since I've posted any new honey recipes.
I do not recommend that. The texture was terrible and the taste was odd.
Then I spent the day baking different batches with coconut sugar, confused as to why they were SO cakey, and then figured out that they just have to sit several hours to turn from cakey into chewy.
But some of them were cakey because there wasn't enough sugar in them. If you make the non-paleo version, you've got two cups of sugar in the dough. 1 1/4 cups of that comes from the almond paste.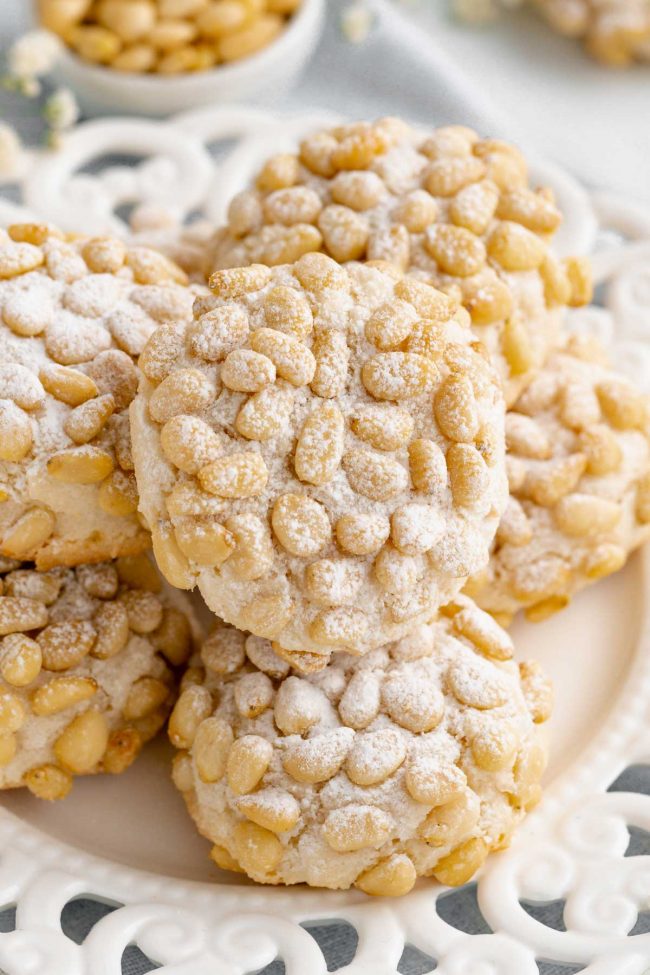 With the paleo version, there's only 1 cup of sugar. But it's 200 grams of coconut sugar versus 286 grams of powdered sugar + granulated sugar, so it's not really half the amount.
But I'm still happy with that reduction! The paleo version is less sweet but still sweet enough.
Probably due to the reduction and type of sugar, they don't have the chewy exteriors that the traditional version has.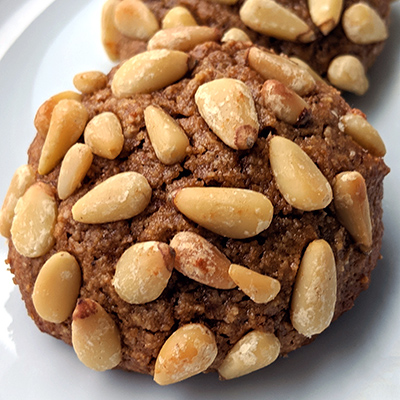 Also note that they're dark brown. Sorry I don't have proper photos. I just realized I didn't have photos of the paleo version so I remade them and took a quick shot with my phone so I could get this recipe up ASAP!
I never would have thought that coconut sugar would be good in an almond recipe, but I was so wrong. It doesn't taste odd at all!
Come to think of it, I used the two in these paleo blueberry muffins so it shouldn't have been too surprising.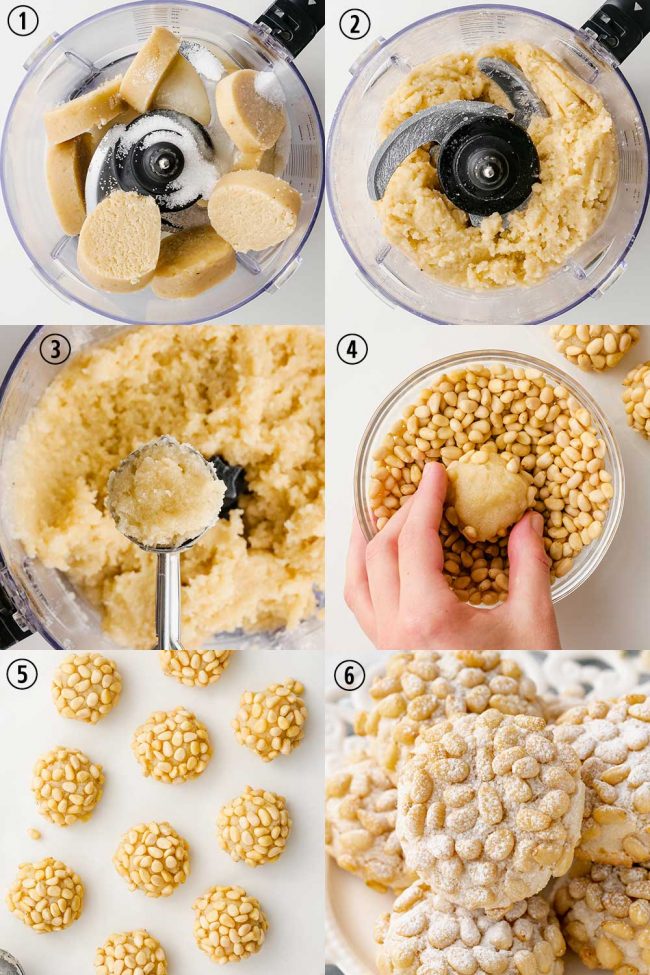 Substitution questions about these pignoli cookies?
Can I use marzipan instead of almond paste?

Nope. It's a different product. They are similar so it could possibly work but I wouldn't want anyone to waste their expensive specialty ingredients to find out!

I wrote quite a bit about the differences between marzipan and almond paste in my almond paste recipe so go check that out if you're interested.

Can I use something instead of granulated sugar?

If you want to use coconut sugar, make the paleo version. Liquid sweeteners won't work (I've tried). I haven't tried making a keto version but think that could possibly work if you have a good 1:1 sub for powdered and granulated sugars, like the one I used in my keto macaroons, keto peanut butter cups and almond flour chooclate chip cookies.

Can I reduce the granulated sugar?

These are traditional pignoli cookies. And that means that they're quite sweet, like a regular cookie.

You could probably reduce the granulated sugar by 1/4 cup. So use 1/2 cup instead of 3/4 cup. But your cookies would be less chewy and a little more cakey.

How can I replace the eggs?

You would need to replace 3 eggs for this recipe. One egg in the almond paste and two eggs in the pignoli cookie recipe.

I consider that too many to use an egg sub so I would not recommend trying that. Sorry about that!

For some vegan Chrismtas desserts, check out my chewy ginger cookies, paleo peppermint cookies or vegan turtle cheesecake.

Can I use something instead of pine nuts?

You can use whatever type of chopped nut you'd like. Or just totally omit them!
If you give them a try, let me know how they turn out for you!
❀
Pignoli Cookies - With or Without Almond Paste!
Prep Time:
Cook Time:
Ready in:
Yield:

20 cookies
See the notes below for how to make a totally from scratch version, without almond paste, and how to make the paleo version.
Ingredients
Dough:1

14 ounces almond paste (this is two 7-ounce packages or 1 batch of this almond paste recipe)
3/4 cup (150 grams) granulated sugar2
2 large (32 grams each - 64 grams total) egg whites
1/8 teaspoon salt

To decorate:

3/4 cup + 2 tablespoons pine nuts
powdered sugar
Directions
Preheat the oven to 350 °F (175 °C) and line a baking sheet with a piece of parchment paper.
Break up the almond paste into about 2" chunks and place in the bowl of a food processor.
Add the remaining dough ingredients and pulse until a dough forms.
Place the pine nuts in a bowl.
Use a 1.5 tablespoon cookie scoop to scoop a 28-gram ball (the grams may vary depending on the size of your scoop) and plop it into the pine nuts. The dough will be very sticky but you should be able to get it into the nuts and roll it around on one side without issue. You can also plop the dough balls on the cookie sheet and sprinkle 2 teaspoons of pine nuts over each cookie. If you find it too sticky, you can chill it for a few hours or wrap it in plastic wrap and place it in the freezer, but I've made these about 15 times without issue.
Place the cookie, nut side up, on the baking sheet and repeat with the rest of the cookies. Place them about 3" apart.
Bake for 13-15 minutes or until lightly browned.
Let cookies cool on the baking sheet for about 5 minutes and then transfer cookies to a cooling rack to cool completely.
Dust with powdered sugar before serving. Keep in an airtight container for up to a week. They can be frozen, but without the powdered sugar, for 3 months.
Notes
If making the version without almond paste, this is your dough recipe:
– 2 1/3 cups (231 grams) blanched almond flour
– 1 1/4 cups (136 grams) powdered sugar (sifted if lumpy and not using a food processor)
– 3/4 cup (150 grams) granulated sugar
– 3 large (32 grams each - 96 grams total) egg whites
– 1 1/2 teaspoons almond extract
– 3/8 teaspoon salt

Mix everything together in a food processor fitted with an S-blade or in a large mixing bowl with a large spoon until well combined. Continue to Step 4 above.


If making the paleo version: Use the recipe in point 1 above but use 1 very tightly packed cup (200 grams) coconut sugar in place of the powdered sugar and granulated sugar. Note that they'll be dark brown (photo in post) and very cakey after baking. They take 4-6 hours to get their chewy texture. Omit the powdered sugar for paleo.