This pineapple matcha Starbucks copycat recipe tastes really similar to the real thing. It's an energizing drink that's naturally sweetened with 100% pineapple juice with a kick of ginger and topped with creamy coconut milk. It's vegan and paleo and without all the preservatives, it's actually healthy!
It's slightly caffeinated, too, so it's energizing but won't cause you to crash like coffee can. Because you're actually drinking pulverized tea leaves, this drink is a superpower of healthy nutrients so it's a guilt-free treat.
I actually prefer this healthy version because I know exactly what is going into it (the same is true of my Starbucks Matcha Latte!), and I don't even have to leave my house. 😁 If you love Starbucks pineapple matcha, I'm confident you'll love this one just as much!
And another bonus, you can make it in the blender super quickly if you don't care if your drink is layered! Otherwise, you can whisk the matcha by hand to dissolve it.
Sorry to any readers who are tired of all the matcha recipes I've been posting lately. I'm late to the bandwagon and just can't get enough of it at the moment! I'll be back later in the week with something chocolaty for Valetine's Day. :)
What does it taste like?
Somewhat earthy and tropically sweet with a little spice of ginger. Matcha by itself is strong and can taste kind of grassy which is why I like it on the sweeter side with the added fruit juice.
It's perfectly and naturally sweetened with 100% pineapple juice so it definitely brings out the tropics without adding refined sugar.
Plus, the sweet, nutty creaminess of the coconut milk smoothes out the flavors nicely.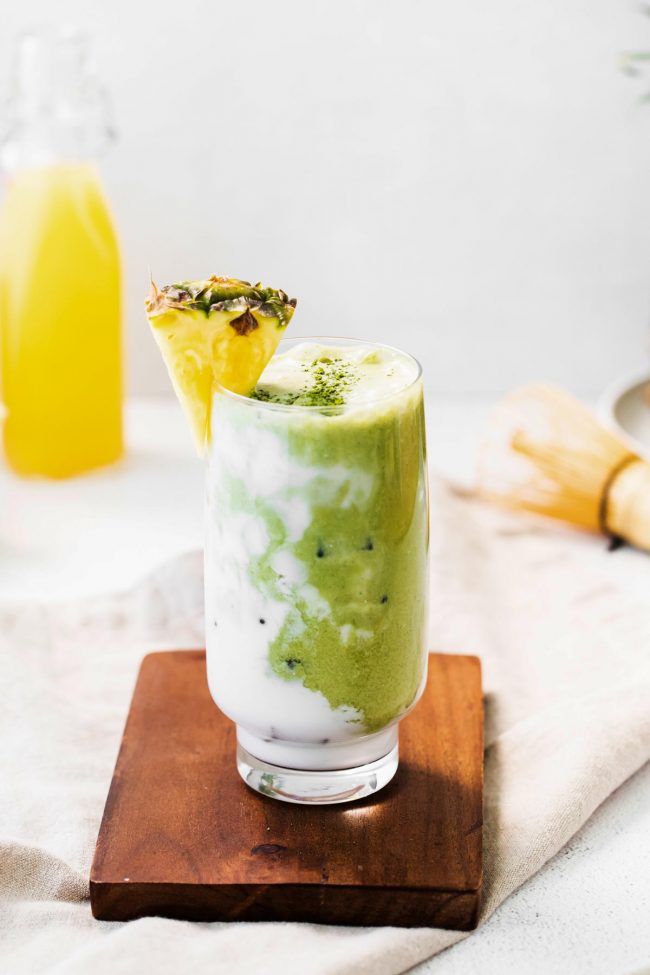 Ingredients:
Water
Matcha
Pineapple juice
Grated ginger
Canned coconut milk
Ice
When you look at the actual Starbucks ingredients you see that it has 3 ingredients and then a whole lot of preservatives and colorings. That's why I love this healthy recipe – it's simple, it's easy, and it doesn't have weird ingredients.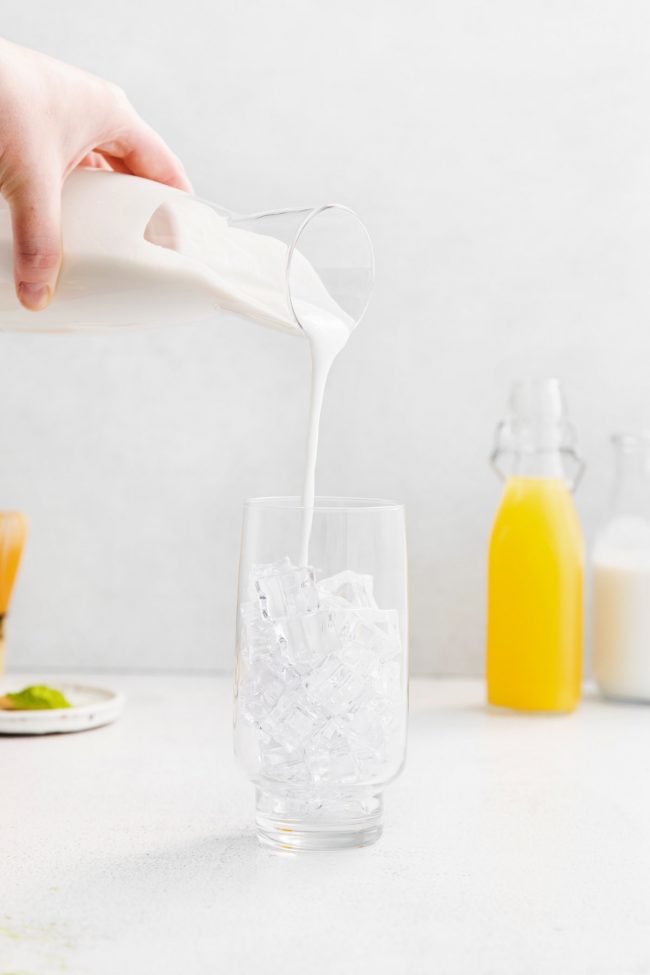 Grades of matcha:
There are two grades of matcha: ceremonial and cooking or culinary grade.
Each grade comes with different price tags and different applications.
Ceremonial grade is the highest quality and the most expensive. I like to use it in my baked matcha recipes, like my Matcha Cake Recipe, Matcha Cheesecake and Vegan Matcha Cookies because the resulting color is a nice, vivid green.
Cooking/culinary grade is the more economical version. It's suitable for cooking and smoothies, and is a little more bitter than ceremonial. But in recipes where there are several ingredients, like my Matcha Protein Shake and Chai Matcha Latte, you don't really notice.
Premium grade is the highest grade of culinary matcha. It's best for daily tea consumption and has a fresh flavor.
It's what you will most likely find in your local stores. Even Walmart has a premium grade of matcha and runs between $10 to $25 for 50 grams.
Costco has a big bag (of course) and it's certified vegan, gluten-free and non-GMO and will get you 225 servings. However, if not stored in an extremely airtight container and out of sunlight, it will turn off in about a month. It will lose its color and flavor.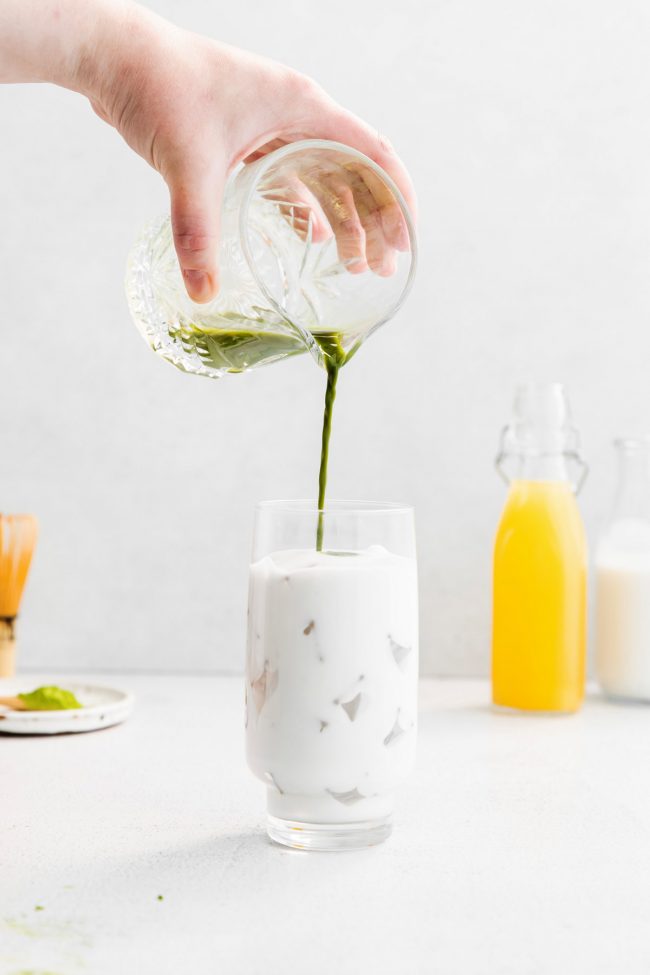 Is this drink healthy?
You bet! Let's break it down: matcha tea – superpower healthy; 100% pineapple juice – pretty healthy; ginger – super healthy; and finally, coconut milk – sure thing. So yes, it's a super healthy drink.
If you compare this one to the actual Starbucks drink, then hands down, this recipe wins.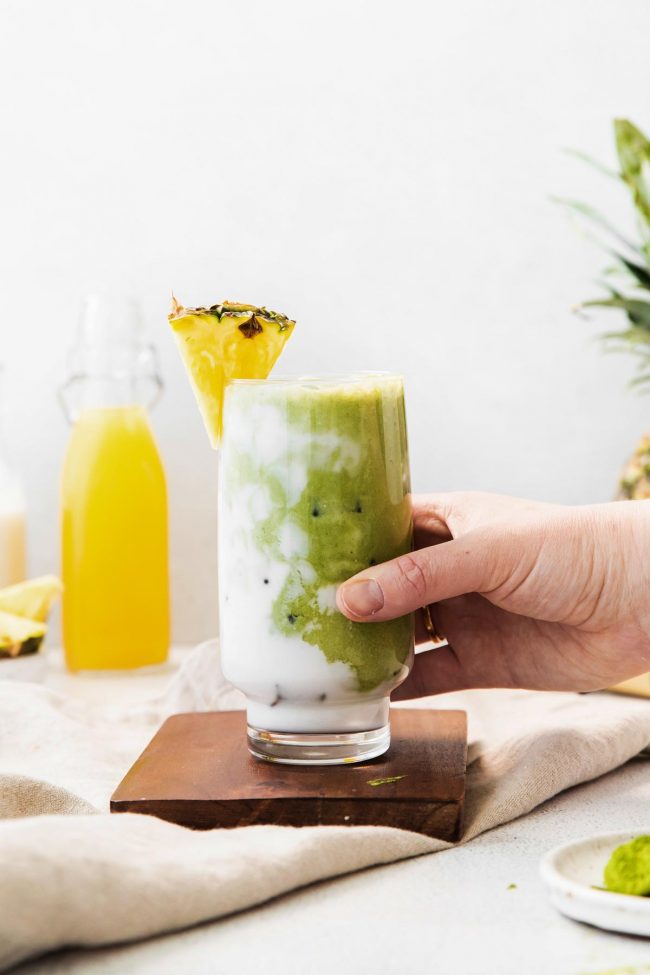 Benefits of matcha
Because you are drinking the actual pulverized tea leaves, matcha is a potent source of nutrients that you can't get with regular steeped green tea.
It's super-rich in antioxidants which protect against heart disease and cancer. It's got amino acids, potent vitamins and minerals like vitamin C, selenium, magnesium, fiber and chromium, which all point to amazing benefits.
It boosts metabolism and helps curb food cravings which in turn reinforces weight loss.
Theanine that is found in matcha improves memory, concentration and mental function and has also been used to reduce anxiety and stress.
Yes, it has caffeine, amounting to about the same as a brewed cup of coffee. But those that drink matcha a lot say the difference between matcha and your favorite brew is that matcha is calming and gives you steady energy without the crash.
This is due to theanine which is known to induce relaxation. So, mentally alert yet calmly relaxed. I like it!
Matcha has been shown to reduce cortisol which is a stress hormone that drives appetite and increases belly fat. So drinking matcha can lower inflammation, and reduce impulsive eating.
It contains polyphenols that help manage blood pressure and promote good circulation. They also can help reduce and control your blood sugar levels.
With all these amazing nutritional properties, matcha tea is a superfood with superpowers and it makes this amazing treat even better.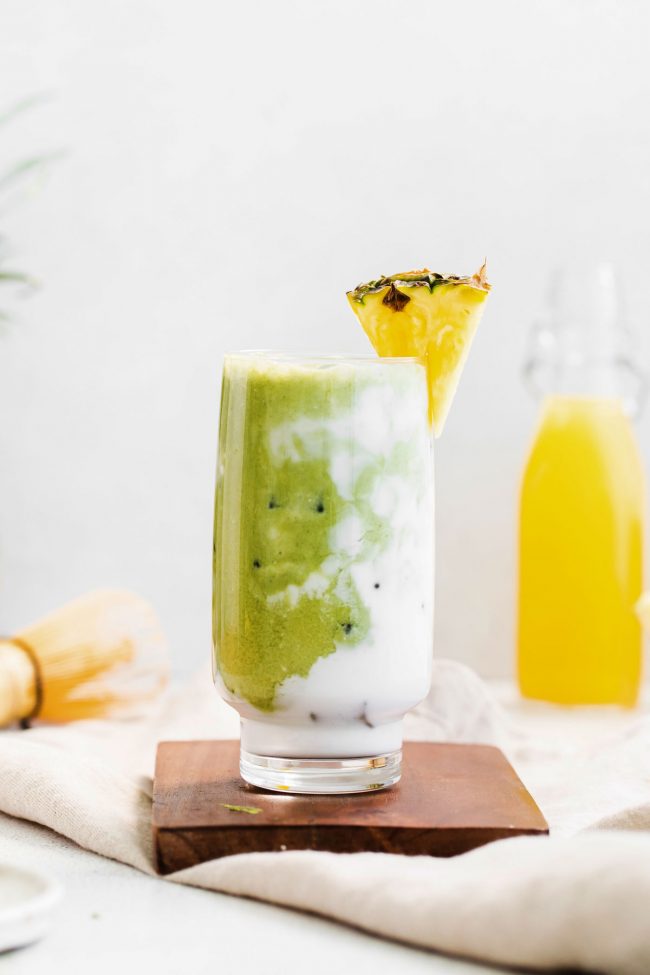 Allergy-friendly drink
It's both paleo and vegan! Using coconut milk is a great way to add creaminess to summer drinks without using dairy.
What to use instead of ginger?
You can just omit it if you like. If you're making the blender version, you can grate fresh ginger directly into the blender. Blend and there shouldn't be any unappetizing chunks of ginger in your drink.
If you're not using a blender and don't want bits of ginger root in your drink, make sure to strain it with the cocktail shaker.
Or use ground ginger. Use just a pinch and add more to taste.
If you want to buy pineapple ginger syrup, you can give it a try. It's what Starbucks actually uses and sells. But know that simple syrups are made with refined sugar and therefore not vegan, paleo or healthy. Because we're using pineapple juice to sweeten this drink, I don't see the need to add more sugar.
If you find that you like it super sweet, you can add more juice, some maple syrup, or whatever sweetened you'd like.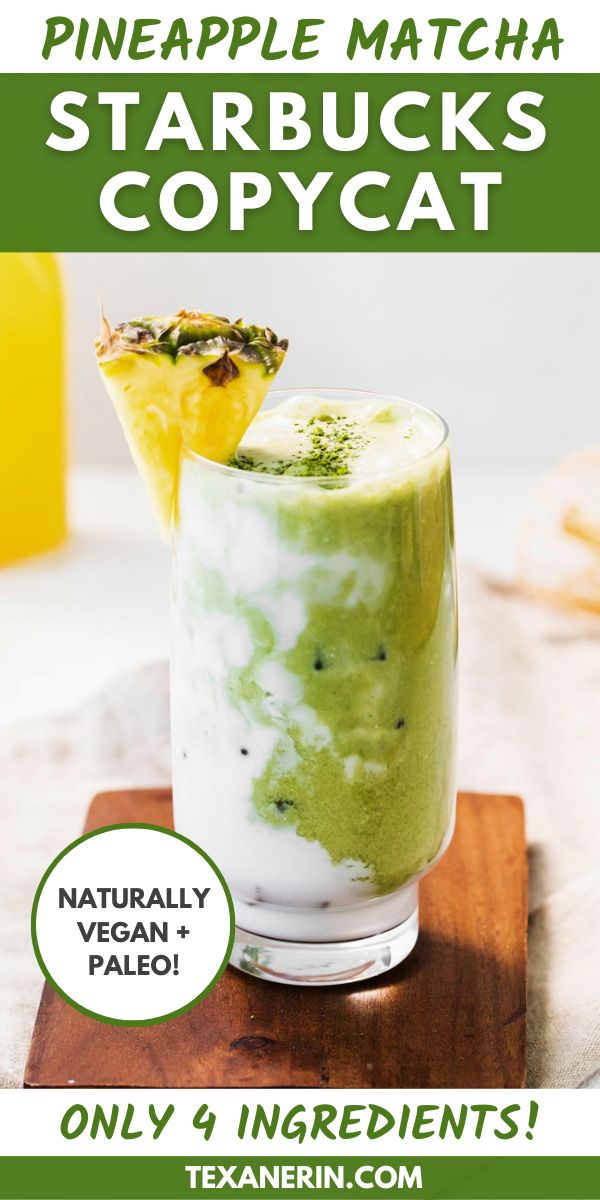 Tips:
If you're like me and don't have a fridge with an ice maker or have limited freezer space, you can freeze chunks of cubed pineapple and spruce up your drink with chunks of frozen pineapple chunks for an extra flare.


If you like a more creamy and mild drink, use a little more unsweetened coconut milk.


If you like a little sour with your sweet drinks, squeeze a little lime juice and garnish with a sliver.


If you have a frother, you can use it to dissolve the matcha in hot water.


If you try this pineapple matcha drink or any recipe you find on the site, I would love to see pics and hear about your experience. Just tag @texanerin. Thanks! :)
❀
Pineapple Matcha (Starbucks Copycat)
Prep Time:
Cook Time:
Ready in:
Yield:

2 drinks
Ingredients
1/2 cup (120 ml) water
2 teaspoons matcha
2/3 cup (160 ml) 100% pineapple juice
pinch of powdered ginger or freshly grated ginger
1 can (14oz / 1.75 cups / 415 ml) canned coconut milk1
ice
Directions
Blender method:

Blend everything but the ice in a blender until no lumps of matcha remain. Pour ice into the glass and pour the pineapple matcha drink over the top.

Blender-free method:

Heat the water to at least 110 °F (43 °C). In a small bowl, vigorously whisk together hot water and matcha until it's dissolved, and chill in the fridge for about 5 minutes.
Once it's chilled, add the matcha mixture, pineapple juice, ginger, and a couple of ice cubes to a cocktail shaker (or mason jar) and shake for 5-10 seconds.
Strain into a tall glass with ice and layer in the coconut milk.
Stir, garnish and enjoy!
Notes
You can use canned full-fat or light coconut milk