These pumpkin cream cheese muffins have a generous amount of filling and a streusel topping! Can be made with gluten-free, whole wheat or all-purpose flours. Thanks to Bob's Red Mill for making today's post possible!
These are some seriously moist pumpkin muffins. They're probably more cupcake than muffin. If you want them more hearty and muffin-like and less fluffy, you can use half applesauce / half oil in place of all the oil. I've tried it but much prefer the all oil version.
And the cream cheese filling makes them so ridiculously delicious! Unlike some cream cheese or cheesecake goodies that really need to firm up or chill before serving, these are awesome straight from the oven.
You could skip the streusel if you're short on time, but not the filling. ;) Unless you're dairy-free and just want a yummy pumpkin muffin or cupcake recipe! For dairy-free, you'd also need to omit the streusel.
My pumpkin cupcakes are also a delicious option! They're probably my favorite cupcake recipe ever. And for the streusel lovers, check out my pumpkin pie bars, which have a streusel crust and topping!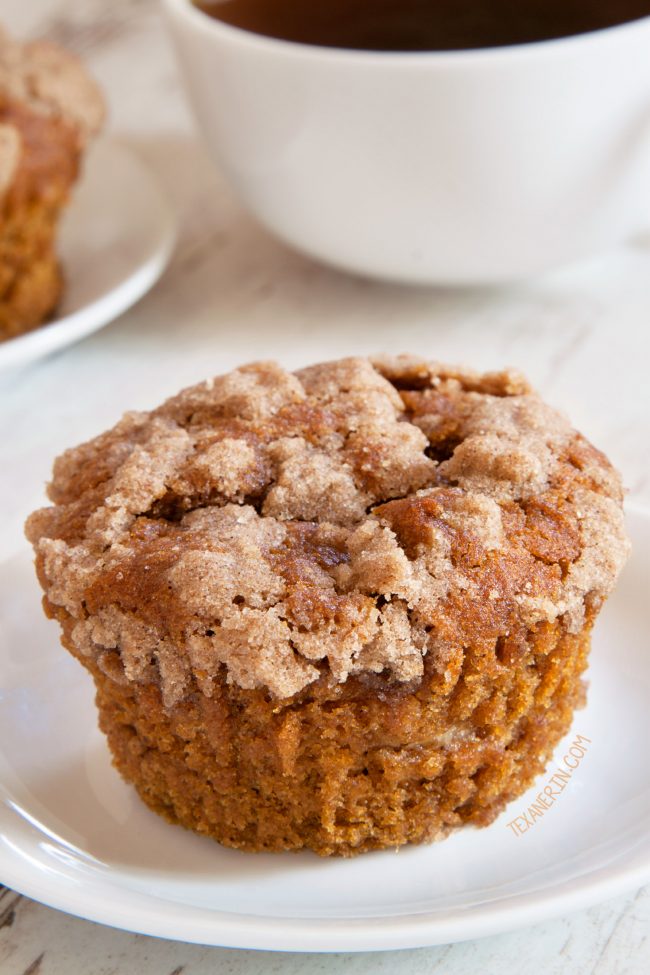 If you're grain-free, you can try using the batter I used in my paleo pumpkin donut holes but I haven't tried it in combination with the filling in these pumpkin cream cheese muffins. If you try it out, I'd love to hear how it goes! If you aren't grain-free, you've got three different flour options for this recipe.
Up until maybe 1 1/2 years ago, my recipes were either whole wheat or gluten-free. But not both. But then I got a lot of requests for gluten-free versions of the whole wheat recipes, which led me to Bob's Red Mill Gluten-free 1-to-1 Baking Flour, which you use cup for cup in place of all-purpose flour. You don't have to add a thing! It really couldn't be any easier.
I had tried some of the gluten-free flour blends here in Germany and thought they were pretty awful. Having flour shipped to Germany isn't cheap so I read loads of reviews before deciding on this one.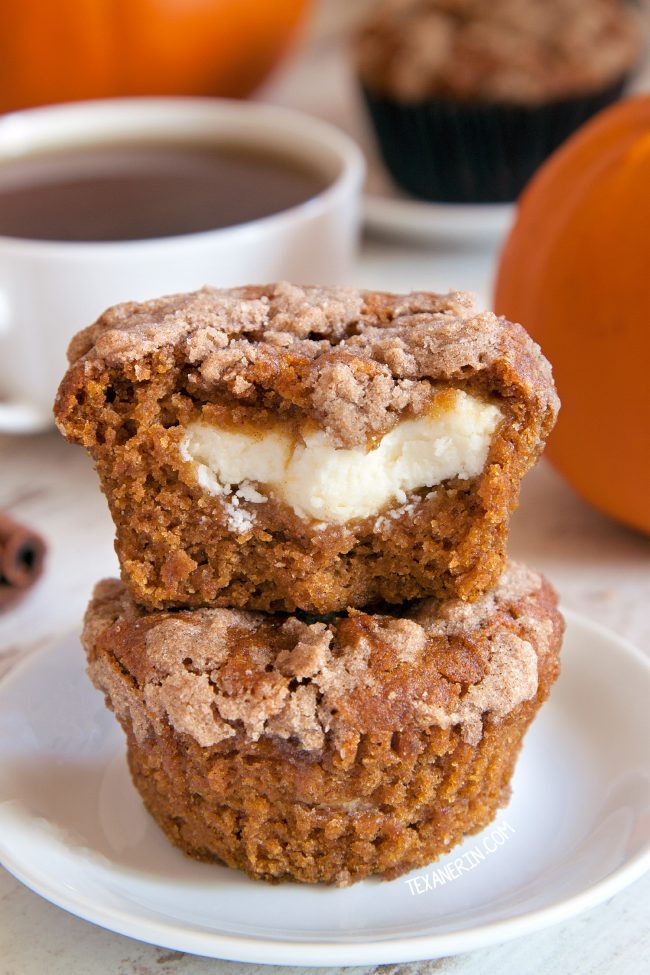 People wrote that this was the best gluten-free baking blend that they had ever used and some people even claimed that recipes sometimes come out better with this flour than with wheat flour. That was hard for me to believe so I had to give it a try.
And they were right. I think the gluten-free version of these pumpkin cream cheese muffins is actually a tiny bit better than the whole wheat version. They were moister. But that doesn't mean you shouldn't make the whole wheat version if you can have gluten! They're still amazingly moist and delicious. :) And to be honest, my taste testers didn't even notice a difference between the three types of muffins (all-purpose / gluten-free / whole wheat).
I've used this gluten-free 1-to-1 baking flour in so, so many recipes and only had it not work with a few. One was a yeasted donut recipe and they came out a little too dense. Another was a cookie recipe. That one still puzzles me but I couldn't get any gluten-free flours to work well in either of those recipes. I think some recipes are just impossible to convert to gluten-free without making other adjustments to the recipe (like with the amount of fat, liquid, etc.)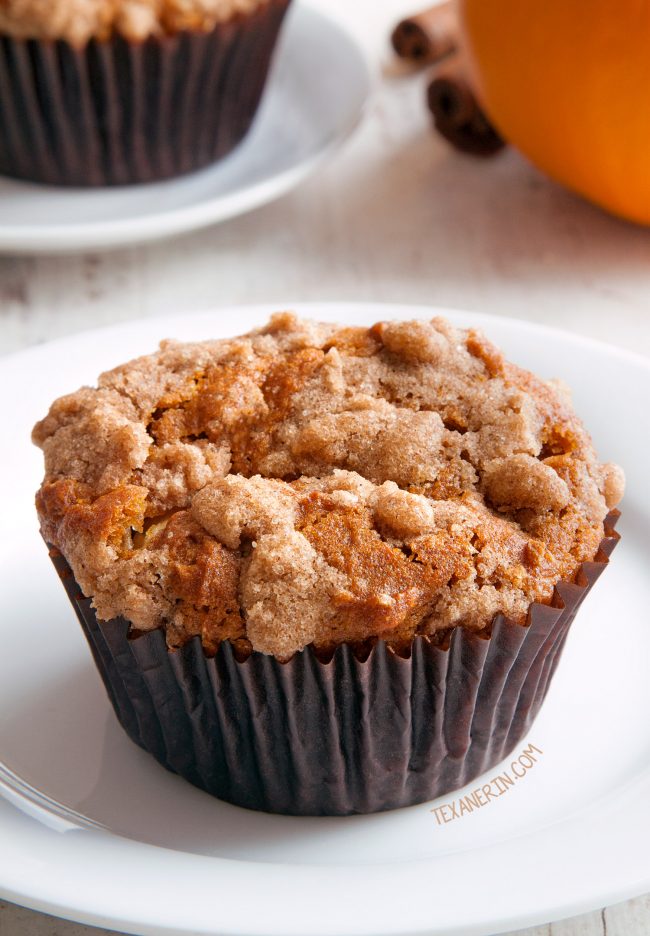 And I've used it in some tart crust recipes, where the crust came out a bit more fragile than the all-purpose flour version. But I think that's to be expected. If you want to make a gluten-free pie or tart crust, I recommend finding one that's already gluten-free. Same with yeasted donuts! Those items can be finicky.
By the way, Bob's Red Mill has a gluten-free pie crust mix and it's awesome. I'll be sharing a recipe with that soonish!
So it might not work 100% of the time in every recipe ever, but things usually come out just like they're made with all-purpose flour. Not gritty, starchy, chalky or rubbery like some other mixes I've tried. This post is sponsored by Bob's Red Mill but I had been using this flour long before we started working together. :) I hope you'll try it out!
If you prefer a loaf version, check out this healthy pumpkin bread! Or want a low-carb version? Try these low-carb pumpkin cream cheese muffins!
❀
Some other recipes I've made with it!
As always, all opinions expressed are my own. Head over to the Bob's Red Mill coupon section for some $1 and $3 coupons! They've also got a lot of recipes using the gluten-free 1-to-1 baking flour on the product page (you have to scroll down about half-way and click on "Recipes"). I know I'll definitely be trying these gingerbread cupcakes soon!
❀
Pumpkin Cream Cheese Muffins (gluten-free, whole grain, all-purpose options)
Prep Time:
Cook Time:
Ready in:
Yield:

20 muffins
Ingredients
For the cream cheese filling:

12 ounces (340 grams) cream cheese1
6 tablespoons raw sugar or granulated sugar
1 teaspoon vanilla extract
pinch of salt

For the streusel:

1/4 cup (50 grams) brown sugar or raw sugar
1/4 cup (50 grams) granulated sugar or raw sugar
1 teaspoon ground cinnamon
1/4 cup (34 grams) Bob's Red Mill Gluten-free 1-to-1 Baking Flour or 1/4 cup (31 grams) whole wheat flour, white whole wheat flour or all-purpose flour
1/8 teaspoon salt
3 tablespoons (42 grams) unsalted butter

For the batter:

2 cups (268 grams) Bob's Red Mill 1-to-1 gluten-free baking flour or 2 cups (250 grams) whole wheat flour, white whole wheat flour or all-purpose flour
1 1/2 teaspoons baking soda
3/4 teaspoon baking powder
1 1/2 teaspoons ground cinnamon
1 teaspoon ground ginger
1 teaspoon ground nutmeg
1/2 teaspoon ground cloves
1/2 teaspoon salt
2 large eggs (50 grams each, out of shell), room temperature
1 cup (200 grams) brown sugar or raw sugar
1/2 cup (100 grams) granulated sugar or raw sugar
1/4 cup (60 milliliters) maple syrup
3/4 cup (177 milliliters) olive oil2 (or another neutral-tasting oil that's liquid at room temp)
1 15-ounce (425-gram) can pumpkin puree
Directions
Preheat the oven to 325°F (163°C). Line two cupcake pans with 20 paper liners.
Prepare the filling. In a medium bowl using an electric hand mixer, beat all filling ingredients at medium speed until light and fluffy. Set aside.
Prepare the streusel. In a small mixing bowl, stir together the sugars, cinnamon, flour and salt until combined. Use your fingers to add in the butter until well combined. Set aside.
Prepare the batter. In a large mixing bowl, mix together the dry ingredients (flour through salt). In another large bowl , mix together the eggs, and then add the rest of the ingredients (sugars through pumpkin puree). Stir until combined. Add the dry mixture to the wet mixture and mix just until combined (do not over mix!).
Pour about 1 tablespoon of batter in each liner. Then add 4 teaspoons of filling (try to keep the filling in the middle of the muffin and not spread all over). Top with about 3 tablespoons of batter and 1 1/2 teaspoons (9 grams) of the streusel.
Bake for 21-23 minutes or until a toothpick inserted in the side comes out clean (being careful not to confuse raw batter with cream cheese filling). Remove from the oven and let the cupcakes cool in the pan for 10 minutes and then very carefully remove them to a wire rack to cool completely, about 1 hour. Store at room temperature in an airtight container for 1 day or refrigerate for up to 4 days.
Notes
If you live outside of North America and have the kind of cream cheese that's meant for toast (that comes in a little plastic tub) rather than American style brick cream cheese, then get a 450 grams of cream cheese, place it in the center of a cheesecloth, and wring out the liquid until you have 340 grams of cream cheese left.
If you use olive oil, the batter will taste like olive oil but the taste disappears after baking.