This iced chai latte is easy to make at home with just 5 ingredients. It's well-balanced with sweet and spicy notes of chai spice and creamy cashew milk. It's also paleo and vegan.
It's still warm out there, and I've been focusing on quenching my thirst with some healthier, refreshing iced drinks.
At the top of my list is this Iced Matcha Latte, Baileys Iced Coffee with a homemade Vegan Baileys Recipe, and this Starbucks Chocolate Cream Cold Brew.
I just can't get enough. So up today, I've got this iced chai tea latte that I think is perfect for the season. It's a cold drink that'll cool you down yet give you robust fall flavors and warming spices of cinnamon, ginger, and cloves.
I think it's a great iced drink for the approaching autumn.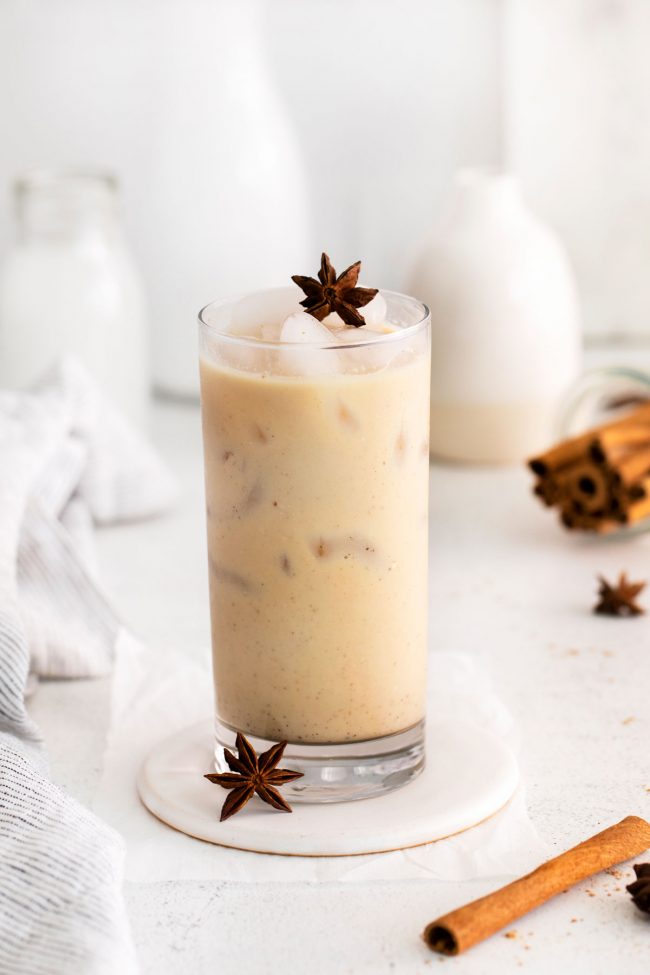 Ingredients
It's as easy as steeping the chai tea with extra chai spice, sweetening it, pouring it over ice and topping it off with your milk of choice. Then garnish and serve.
It's really no more effort than making tea.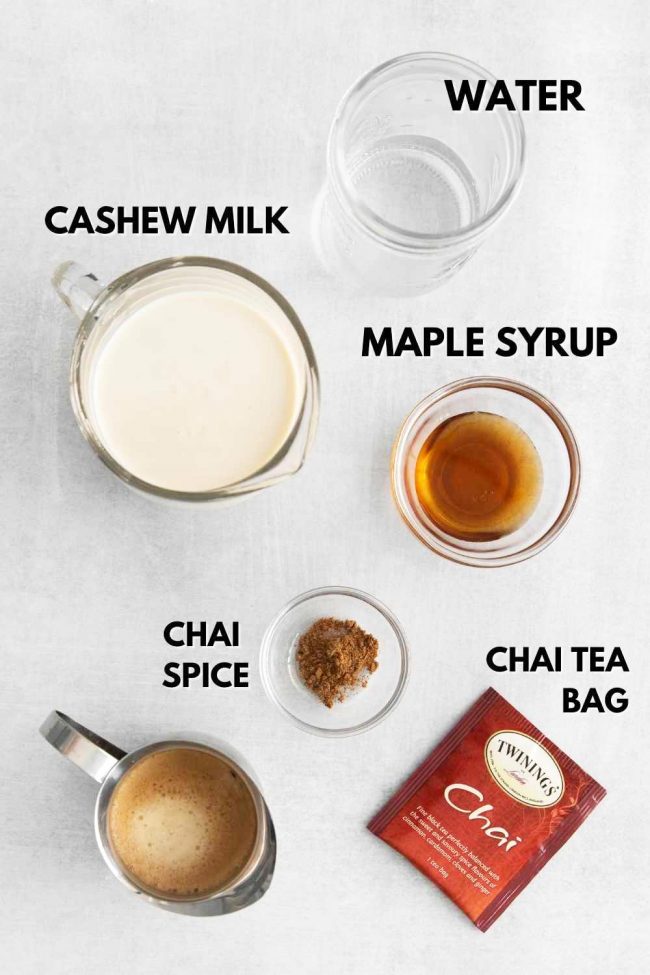 Can I make it ahead?
You can make a big batch of chai tea concentrate and keep it in the fridge so you have it ready to go for the week!
I use 1 cup of boiling water, 4 tea bags, and 1 teaspoon of chai spice for my big batches.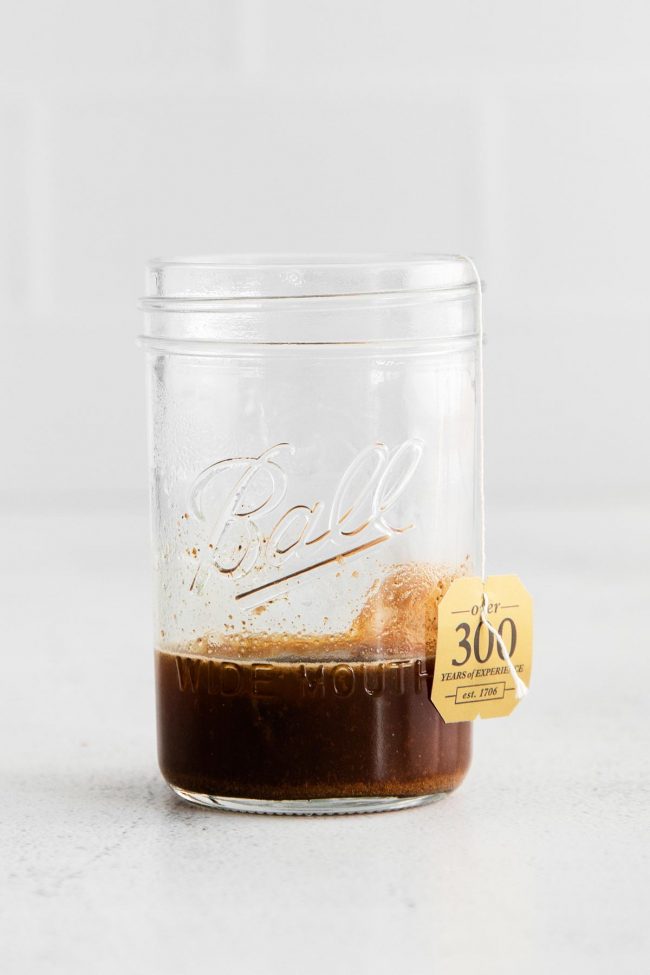 What is chai?
Chai is a Hindi word for 'tea' originally from the Chinese word for tea, 'cha.' But when using Hindi 'chai', we are actually talking about a mix of spices steeped into a tea-like beverage.
Recipes for chai can vary greatly depending on the continents, cultures and traditions making it.
So what is chai spice? We use the word chai or chai spice today to mean a beverage full of spices like cinnamon, cardamom, ginger, cloves and black pepper steeped with black tea.
Those spices might be different depending on the region where it's made. So if you're making your own spice mix and you don't like a particular ingredient, it's ok to omit it or replace it with another.
According to a legend created about 5,000 years ago, a king requested a healing beverage and chai was born.
As for the healing qualities, ginger and black pepper help stimulate digestion, cloves help relieve pain, cardamom is used as a mood elevator, and cinnamon supports circulation and respiratory function. Some nice health benefits, I'd say.
A modern chai is usually sweetened with maple syrup, honey or other sweeteners and topped with milk for a creamy but spicy beverage.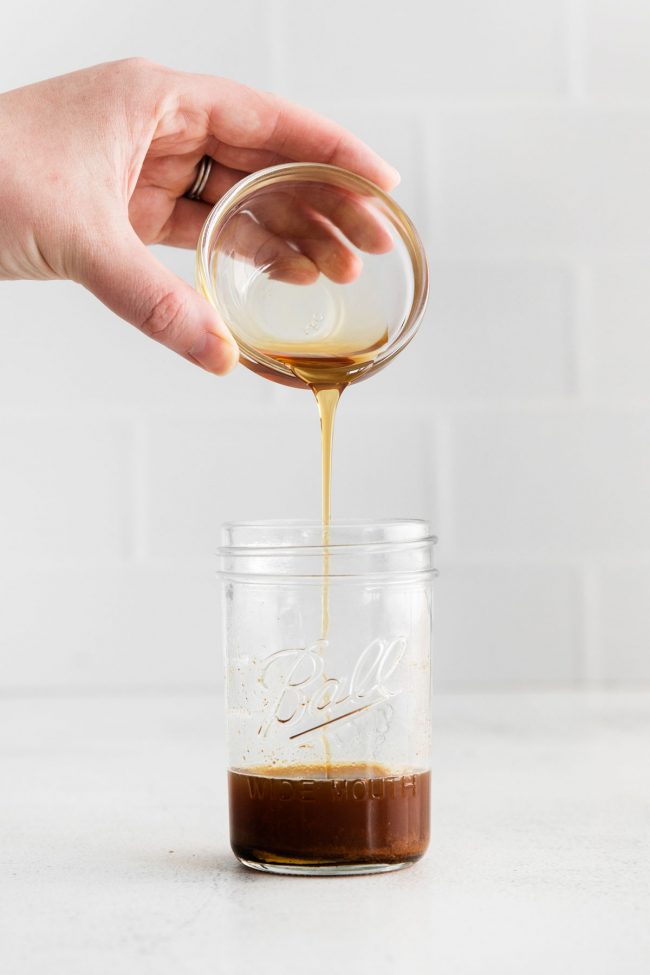 What does chai taste like?
It tastes like tea spiced with fiery ginger and black pepper, sweetened with cinnamon and maybe some nutmeg with fragrant herbal notes of cardamom. It can be spicer with more ginger and pepper or less spicy with more cinnamon and nutmeg.
Altogether, it's a robust and flavorful experience. It hits all the right notes and adds a warming sensation.
Best chai tea bags
There are a lot of pre-mixed chai teas on the market, so choosing one may seem difficult. This post was updated this month and lists the best chai teas.
I used a chai tea bag for this latte, but you could make a tea latte with any of your favorite teas – maybe try it with a winter spice or earl grey tea.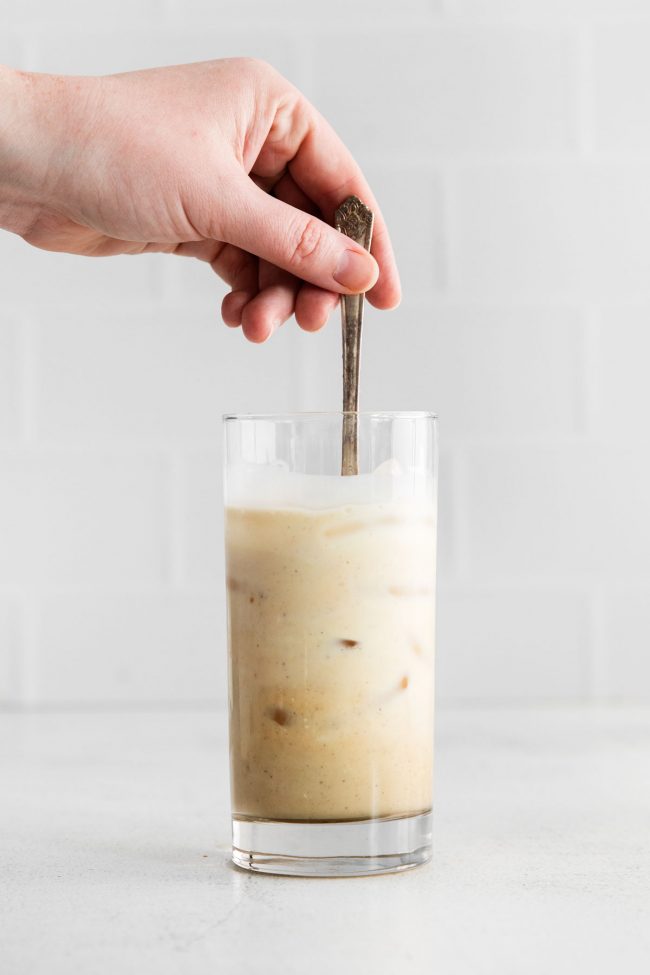 Chai spice powder
You can make your own chai spice mix to steep with tea, and this recipe has all the flavors we've mentioned; plus, it's simple to make.
If you want to buy a mix, this post has a good breakdown of 5 easy-to-find chai tea powders.
If you are on a special diet, make sure to read all the ingredients before purchasing. And like always, watch out for additives, natural flavorings and sweeteners. When in doubt, contact the manufacturer for more information.
What is a dirty chai?
Some mornings you just need an extra boost to get you started. A dirty chai is when you add an espresso shot to your chai tea latte.
If you want to make one, you can read these posts on how to make espresso without a machine or make an easy cold brew to add that extra boost.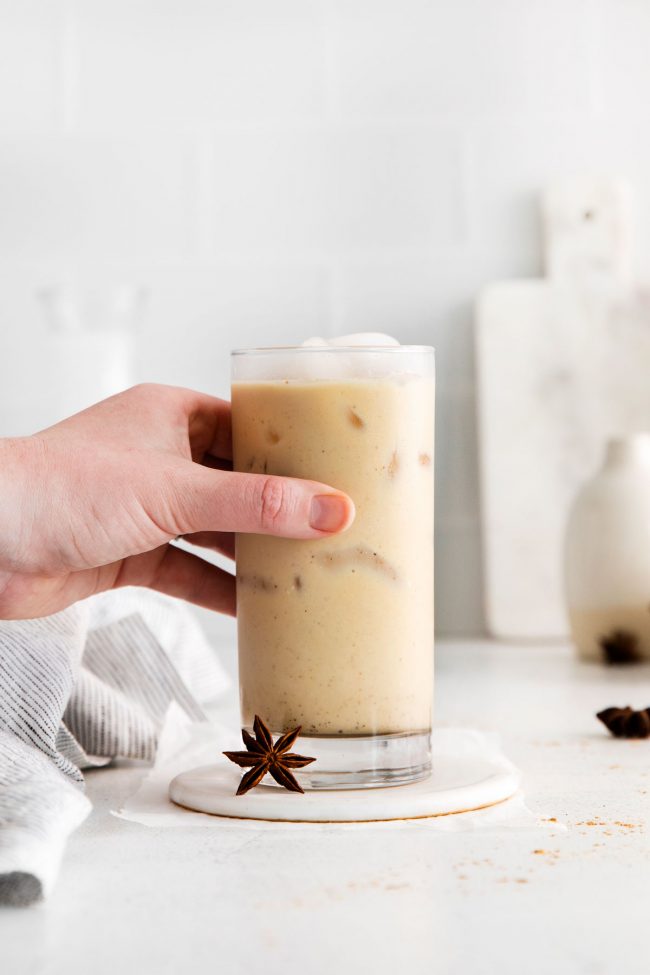 Do I have to use cashew milk?
No, not at all. It's my favorite plant-based milk because it's creamy and tastes the best to me. It also tastes more like the original chai latte made with dairy.
Almond milk will work and if you're an almond milk lover, then, by all means, use it. I don't like almond milk, which is why I mostly use cashew milk, especially in drinks.
Oat milk also works (if you're gluten-free, read here for more info → Is Oat Milk Gluten-free?), as does regular dairy milk, if you can have dairy. But the flavor of cashew milk is really tastier here than dairy milk. We tried it.
So use whatever you like that fits into your dietary needs.
Does chai have caffeine?
If you're using black tea, yes. If you prefer non-caffeinated chai, just dissolve the chai mix with hot water and sweetener and complete the directions, and you've got a perfectly spiced chai without the caffeine.
There are also chai tea bags that don't contain black or green tea. Those are non-caffeinated.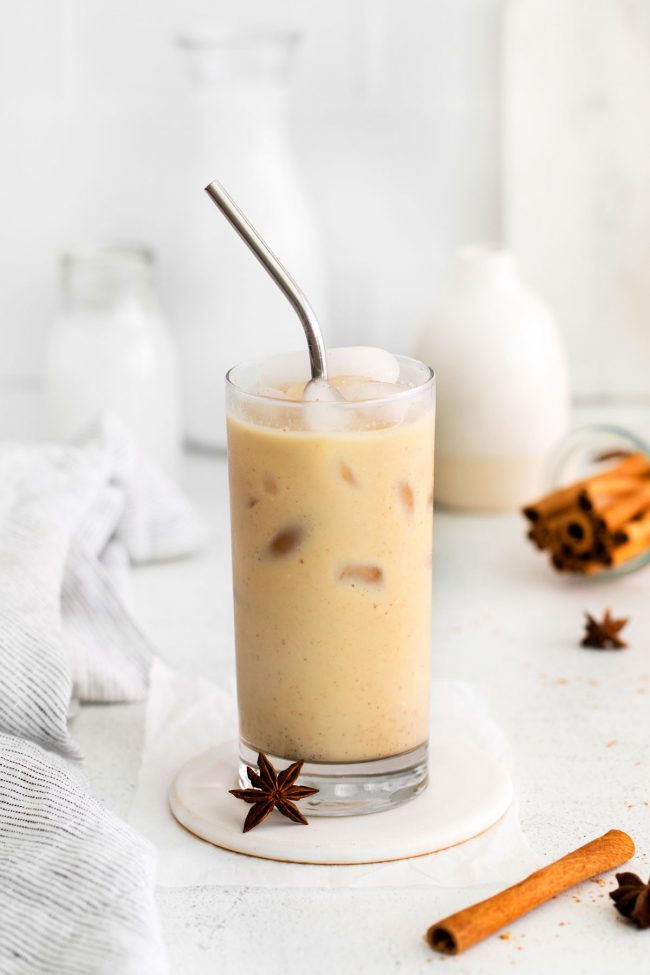 Can I use a different sweetener?
Sure! If you're not on a restricted diet, use whatever sweetener you like. I love maple syrup to sweeten both my drinks and baked goods, but that's just how I like it.
Also, if you're new to gluten-free and/or vegan eating, you might want to check this out: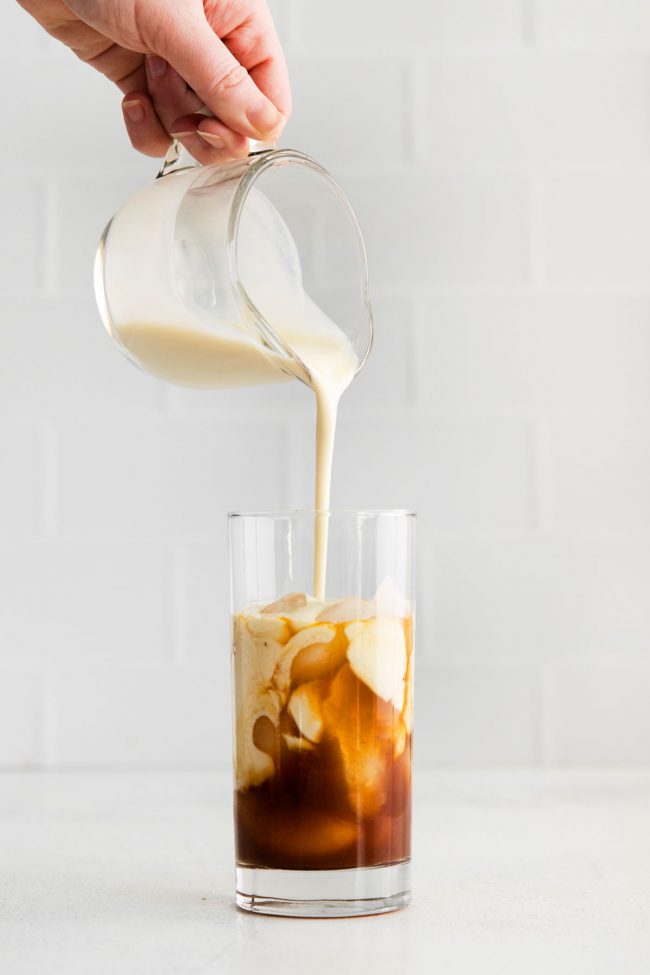 What to serve with this Starbucks chai latte
Whether you're drinking this latte to start your day or as an afternoon treat, you can treat yourself to something cozy to go along with it. Here are some of my favorites.
This Starbucks Chai Latte is perfect for those in-between seasons, and I hope you enjoy it as much as we have. If you make it, share it on social with a mention @texanerin or tag #texanerinbaking so I can see your creations. Enjoy!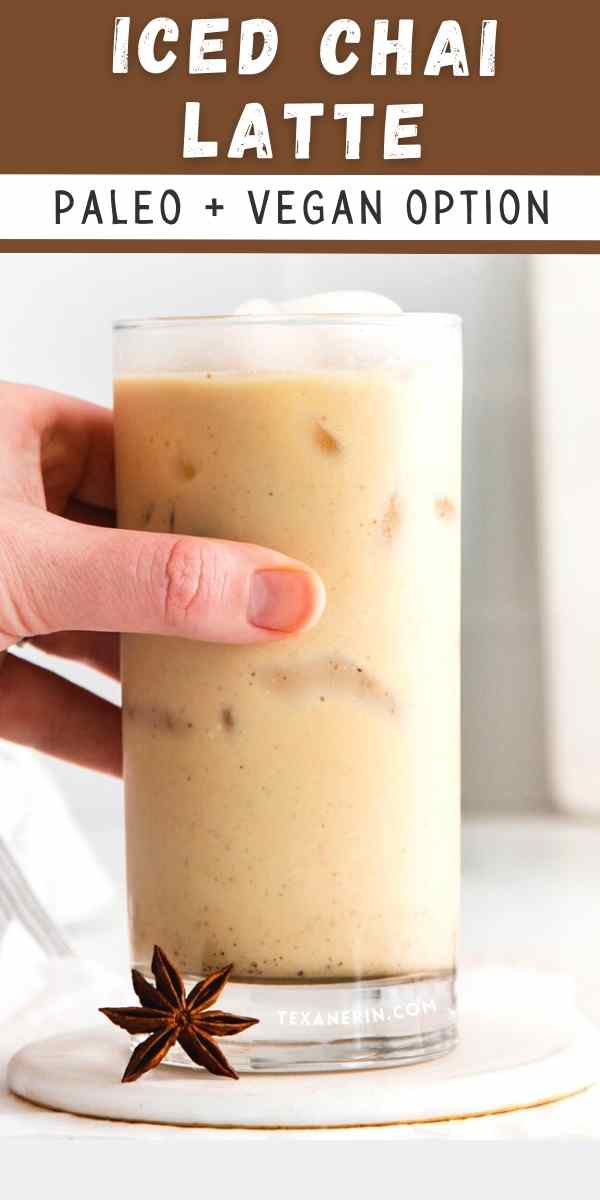 ❀
Iced Chai Latte (Starbucks Copycat)
Prep Time:
Cook Time:
Ready in:
Yield:

1
Ingredients
1/4 cup (60 ml) boiling water
1 chai tea bag
1/4 teaspoon chai spice
Ice
1/2 cup (120 ml) unsweetened cashew milk
1 to 1 1/2 tablespoons maple syrup
Directions
Place the boiling water in a small bowl with the chai tea bag and chai spice. Allow the chai concentrate to steep for 10 minutes.
Carefully squeeze the tea bag (be careful– it will be hot) to extract all of its flavors. Whisk the chai concentrate to ensure the spices are fully combined.
Add 1 tablespoon of maple syrup.
Add ice to your glass.
Add the chai concentrate and top with cashew milk. Stir, taste, and add more maple, if desired (I do).
Garnish with a sprinkle of chai spice and enjoy immediately.