This healthy lemon garlic spaghetti is super quick and easy to put together! The perfect busy weeknight dish. Easy to make gluten-free or whole wheat.
Happy 2013 everyone! Does anyone feel like eating sweets right now? I certainly don't and for this I apologize. I also don't feel like cooking anything. But that's just out of laziness.
And that's where this lemon garlic spaghetti comes in. First you make some garlic olive oil and then toss spaghetti (whole wheat, gluten-free, whatever you like) with Parmesan, basil and lemon.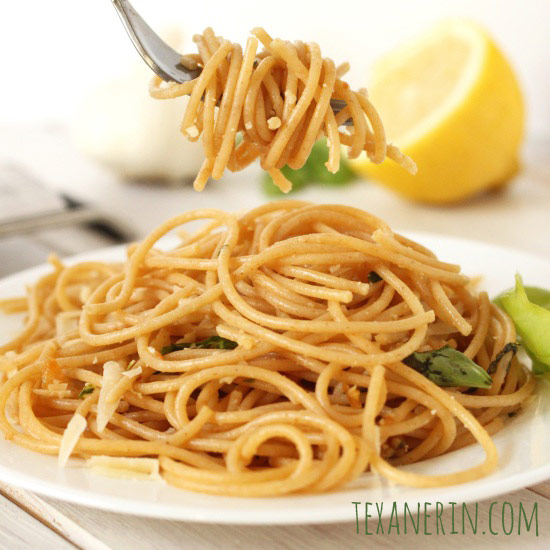 It's incredibly quick and somehow tastes better than I think it should for the required effort.
Looking at the pictures, it appears that this dish is just spaghetti with some cheese and two basil leaves on top. I might have accidentally doubled the amount of pasta, resulting in too much pasta and not enough good stuff.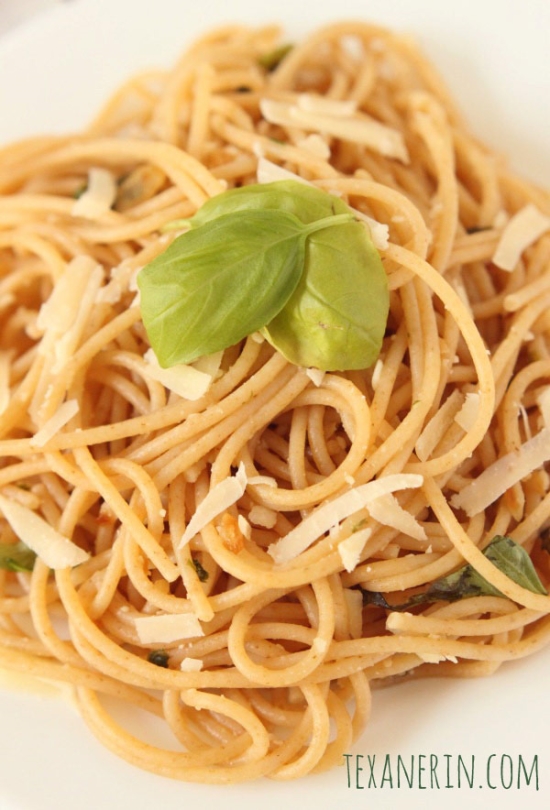 And then I left all the good stuff at the bottom of the pot. Why I only realize these things months after I take the pictures is beyond me. But I promise – this lemon garlic spaghetti is super flavorful!
This lemon garlic spaghetti is one of my favorite quick and easy dishes in the summer. When you don't feel like heating up the kitchen or eating heavy tomato or cream sauce, this is for you. Or if it's January and you just finished eating the 132nd cookie in the last two weeks… this is perfect.
This baked spaghetti casserole also looks amazing! Can't wait to try it.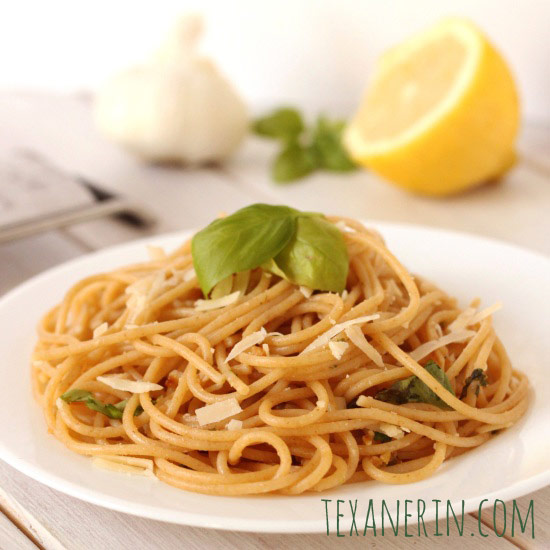 ❀
Whole Wheat Lemon Garlic Spaghetti
Prep Time:
Cook Time:
Ready in:
Yield:

2 servings
Ingredients
6 ounces (170 grams) spaghetti (whole wheat, gluten-free, or regular)
1 tablespoon olive oil
4 garlic cloves
a little less than 1/2 cup grated Parmesan (35 grams)
15 small basil leaves (5 grams or 1 tablespoon chiffonaded [= cut into strips] and packed)
1 tablespoon lemon juice (for me, this was 1/2 a small lemon)
~1/4 tsp salt
Directions
Boil the spaghetti according to the directions on the package.
Meanwhile, in a small saucepan over medium heat, heat the olive oil and garlic. Mix around occasionally until the garlic starts to brown. Take off the heat and set aside.
When the pasta is done, drain it in a colander and let it sit there while doing the next step.
In the pot that you had the spaghetti in, add the Parmesan, basil, lemon juice and the garlic olive oil. Stir in the spaghetti and salt to taste. Stir thoroughly and be sure to get all the cheese that likes to stick to the bottom of the pot. Serve immediately.