These whole wheat rolls are fluffy, stay soft for days, and make excellent sandwiches! A must-have for Thanksgiving, Christmas and Easter. With a dairy-free option. Check out the reviews if you need convincing!
Continuing on with healthier Easter recipes, I give you the gift of fluffy whole wheat dinner rolls! For me, no holiday meal is complete without dinner rolls.
I have to admit that I really love the frozen ones you can bake in the oven, but homemade and whole wheat is always better, right?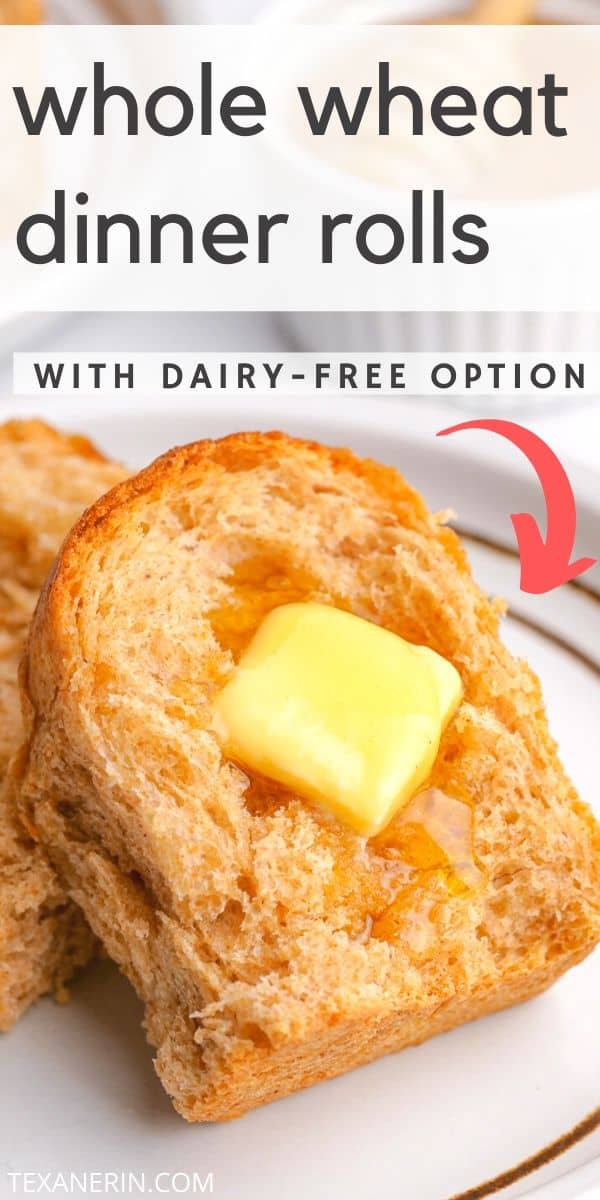 If you're like me and don't like your whole wheat recipes to actually taste of whole wheat, then try my whole wheat chocolate cupcakes! They're every bit as delicious as cupcakes made with all-purpose flour.
The same is true of this whole wheat healthy carrot cake. And this whole wheat banana bread!
Your whole wheat roll search is over!
But back to today's recipe. These whole wheat rolls could also be called Miracles of Fluff. Because they are. :D I'm so happy I found this recipe on An Oregon Cottage!
I can't tell you how many 100% whole wheat roll recipes I tried before finding a good one. I even tried 50% whole wheat and couldn't find a really amazing recipe. But these?! 100% and so ridiculously fluffy and tasty!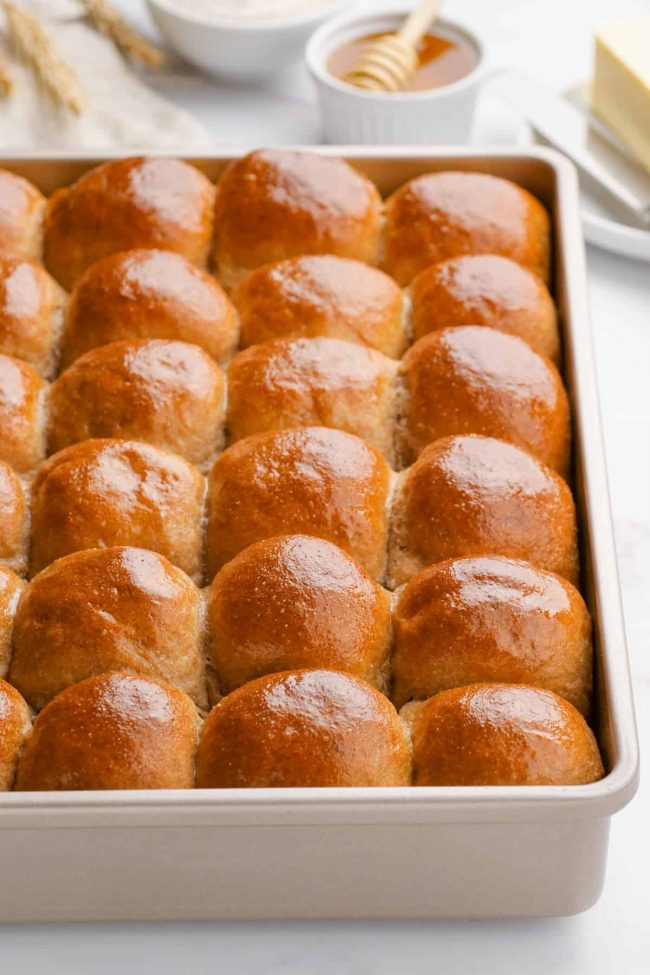 One of the best parts about this recipe is that the rolls stay soft for longer than just a few hours after baking. The rolls that other recipes I tried yield rolls that are good out of the oven, but later that night, they're crumbly and not that appetizing. Or they're just plain bad.
What to serve them with
Whenever I make brisket or pulled pork, I make these. I don't know what it is about this recipe, but these always stay soft for days after making them! These rolls would also be great alongside this Paleo Pot Roast from Noshtastic! And if you've got an Instant Pot, try this Instant Pot chuck roast. These pork chops with apples also look wonderful.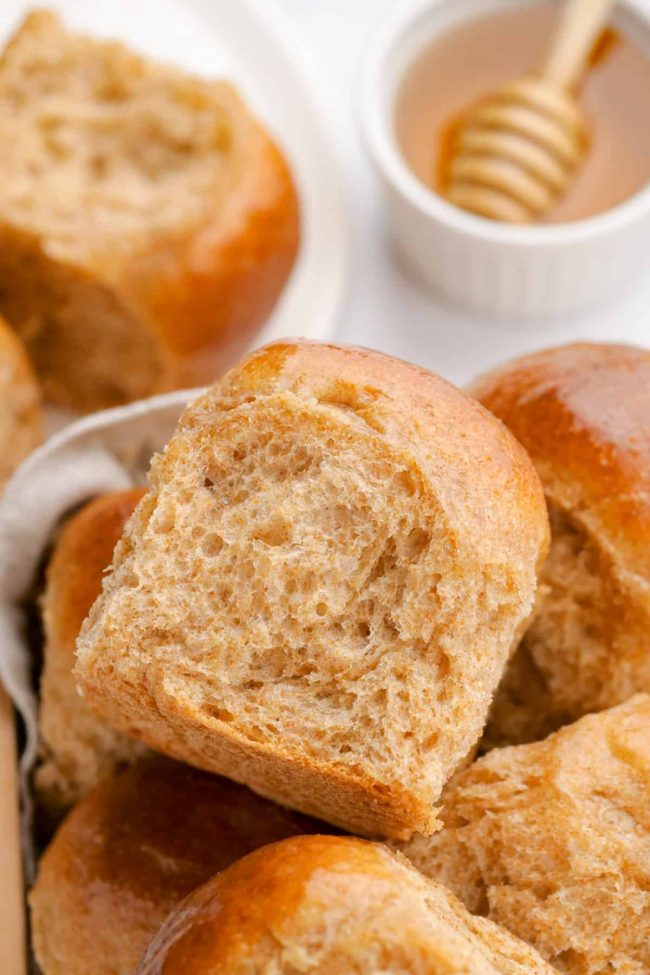 My favorite way of enjoying these whole wheat rolls is with honey. Just a little is enough. These rolls are already slightly sweetened with honey, but they're not that sweet. Totally acceptable for sandwiches!
Got leftover Turkey? Put it in here and rejoice. :D Turkey leftovers won't be that boring anymore! Or maybe that's just me who dislikes a huge amount of leftovers?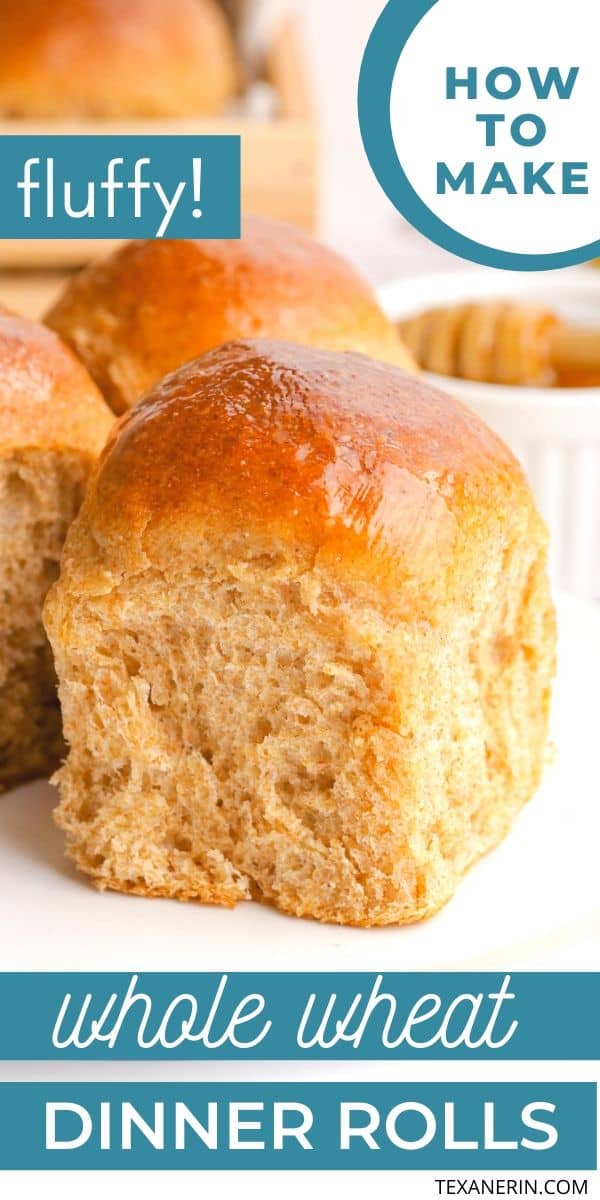 I've also made these into cinnamon buns. That recipe is hopefully coming soon! They're pretty naughty. But hey, at least they're still whole grain!
I've halved the recipe before but I always regret it. Since the wheat rolls stay good for so long, there's no need to halve the recipe. And you can always pop them in the fridge and reheat in the microwave if needed!
You could also freeze half of the dough and make them into cinnamon buns later, which I highly recommend doing. They'll no doubt be the fluffiest 100% whole grain cinnamon rolls you ever have.
And just like the dinner rolls, I've tried loads of whole wheat cinnamon bun recipes. This is the base you want to use!
Other flours?
I've tried these with whole spelt flour and that didn't work out. If you adjusted the liquid, it'd work, but none of the formulas for converting whole to spelt recipes have worked for me. Not yet, anyway!
I'm quite confident using a gluten-free 1-to-1 baking flour wouldn't work for this recipe. So for a gluten-free version, try these gluten-free dinner rolls.
Dairy-free whole wheat rolls
For a dairy-free version, use coconut oil instead of butter and homemade buttermilk. Use any dairy-free milk (except canned coconut milk) and 1 tablespoon of vinegar or lemon juice.
Pour the vinegar into a 1 cup measuring cup. Fill with milk. Give it a few stirs. Let sit for 5 minutes while preparing the dry ingredients. There you have dairy-free buttermilk!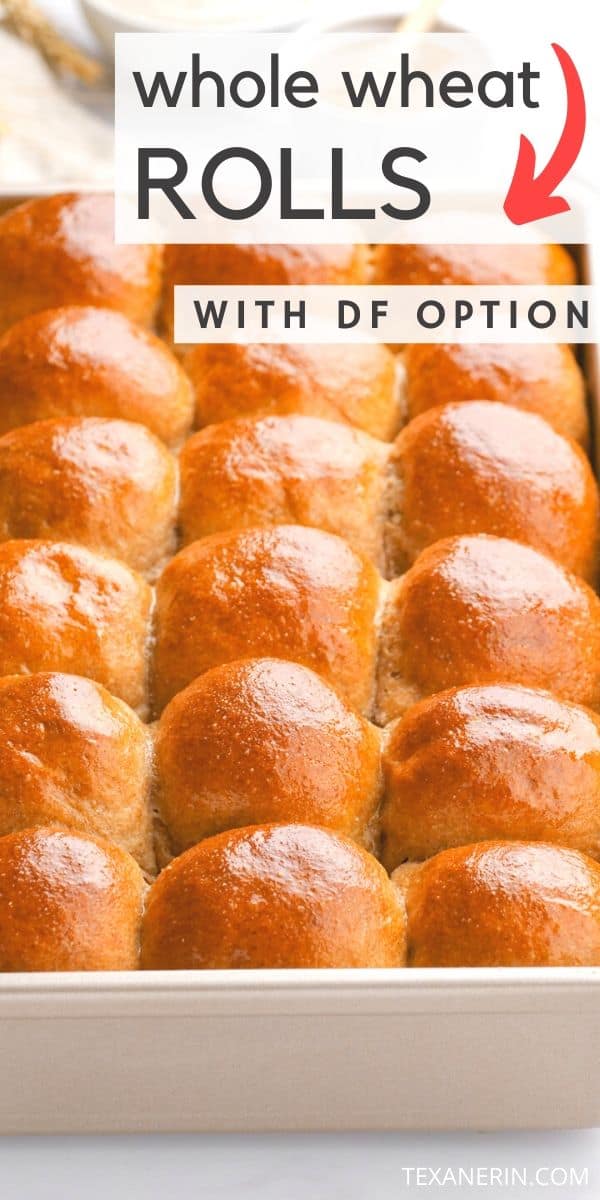 If you give these rolls a try, let me know how they come out. I love feedback. :)
Photos updated 3/2020. Here's an old one.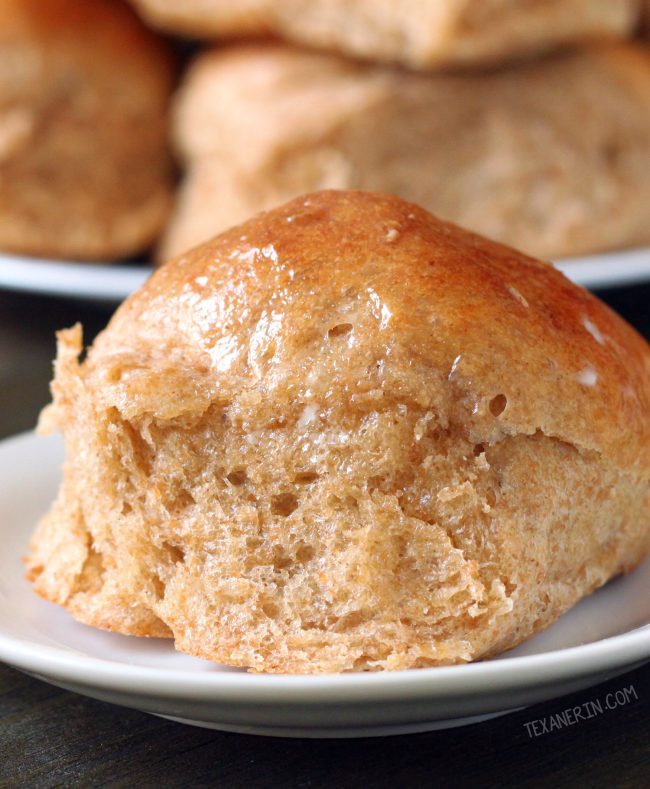 ❀
Whole Wheat Rolls - Soft and Fluffy Dinner Rolls!
Prep Time:
Cook Time:
Ready in:
Yield:

24 rolls
Ingredients
2 tablespoons active dry yeast
1/2 cup (120 milliliters) warm water
1/2 cup (113 grams) unsalted butter or coconut oil1, softened + additional butter for brushing on top, if desired
1/4 cup (80 grams) honey
3 large eggs (50 gram each, out of shell), room temperature
1 cup (240 milliliters) room temperature or slightly warm buttermilk or homemade dairy-free buttermilk2
1 tablespoon vital wheat gluten (optional)
1 1/2 teaspoons salt
4 1/2 to 5 cups (563-625 grams) whole wheat flour
Directions
In a small bowl, dissolve the yeast in the 1/2 cup of warm water. Set this aside.
In the bowl of a stand mixer fitted with the paddle attachment, beat the butter and honey until well combined.
Add the eggs, buttermilk, and yeasty water and beat until well combined.
Add in the vital wheat gluten and the salt and switch to the dough hook.
Add in 2 cups of the flour and mix.
Then add in enough of the remaining flour so that the dough just comes together. Depending on the day, you may need quite a bit.
Knead for only 2 minutes.
Once the dough is no longer tacky, cover the top of the bowl with plastic wrap and let the dough rise in a warm place for 1 hour. I like to turn the oven to the lowest setting for 1 minute, then turn it off and let the dough rise in there.
Turn the dough out onto a slightly floured surface and knead it a few times, then let the dough rest for 3 minutes.
Divide the dough into 24 balls and place these in a buttered 13" x 9" baking pan (the pieces will touch).
Let the rolls rise for 1 hour.
Preheat the oven to 350 degrees F (175 degrees C).
Bake the rolls for 13 – 25 minutes or until golden brown. It's very important not to overbake the rolls!
Remove from the oven, rub some butter over the top of the rolls, and serve immediately or let cool completely and then cover and store at room temperature for up to 3 days. Anything past that, I'd stick them in the fridge (to prevent mold).
Notes
For the dairy-free version, use coconut oil. It should about as firm as softened butter and not melted! If you don't want any coconut taste, use refined coconut oil instead of unrefined.
Use any dairy-free milk (except canned coconut milk) and 1 tablespoon of vinegar or lemon juice. Pour the vinegar into a 1 cup measuring cup. Fill with milk. Stir and ket sit for 5 minutes.
Adapted from Soft 100% Whole Wheat Dinner Rolls from An Oregon Cottage