This Aperol soda is light and refreshing with a very slightly bitter flavor balanced by club soda's clean and fresh taste. It's the perfect drink to enjoy on a hot day or as an aperitif before dinner. It's also a naturally gluten-free cocktail.
The heat has been too oppressive this summer to do much of anything, so our primary focus has been staying hydrated, relaxing, and sometimes, treating ourselves to cocktails.
We've had sweet, fruity drinks like this Strawberry Mule and this Mangorita, but this Aperol soda is for those that like a slight tartness and a less sweet drink.
So with just a bottle of Aperol, a bit of club soda, and a touch of lemon or orange juice, you've got a fantastic-looking drink that's tingly and unique.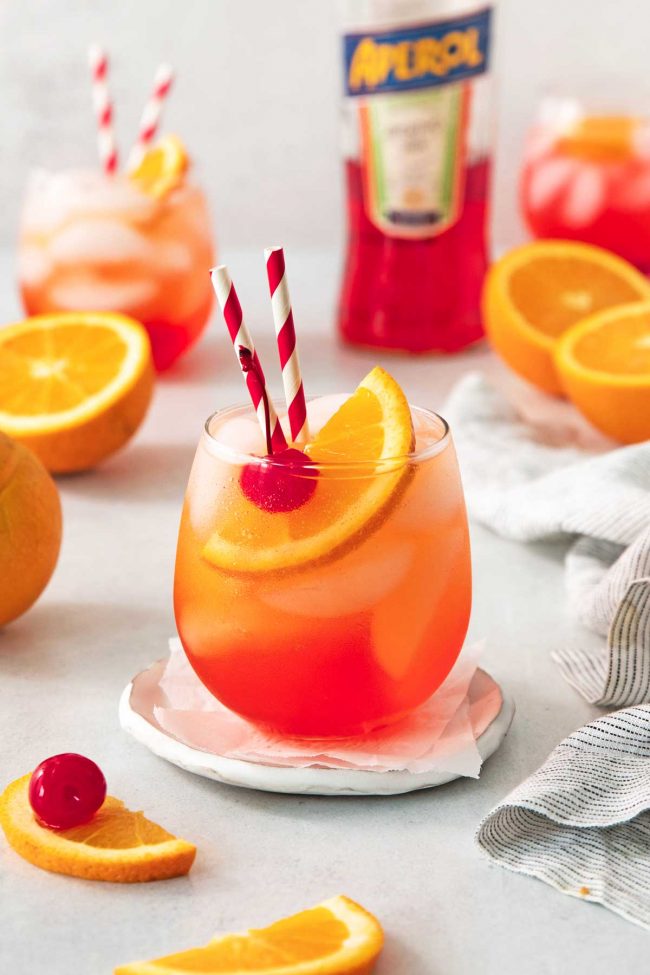 What is Aperol?
Aperol is a bright orange liqueur that's made from citrus oil, rhubarb, gentian root and cinchona bark. It's often used in cocktails like the Aperol Spritz and Negroni.
Aperol was created in 1919 by Luigi and Silvio Barbieri after many years of experimentation. It tastes and smells a lot like Campari but has less than 11% alcohol content, less than half that of Campari, and Aperol is less bitter.
Aperol comes from the French word "apèritif," which means "before-dinner drink." So initially, it was created as a light alcoholic drink to be served before dinner to stimulate the appetite.
Aperol and club soda is a delicious way to enjoy this Italian liqueur with less alcohol than other mixed drinks.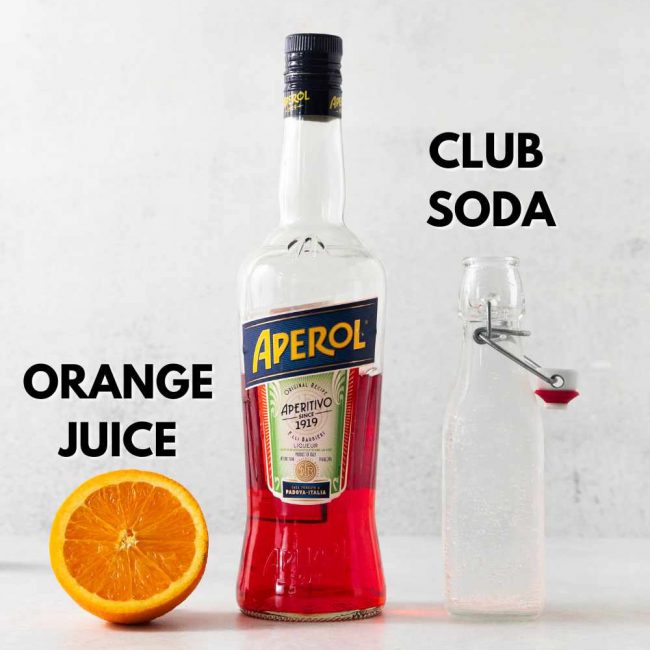 What is club soda, and how does it differ from sparkling and tonic water?
Club soda, sparkling water, and tonic water have different mineral contents, giving them distinct flavors. Club soda's unique flavor can be slightly salty or slightly sweet. It was created to imitate natural mineral water.
Club soda is artificially carbonated water infused with minerals like potassium or sodium, which lends to a slightly salty and bitter taste.
Much like club soda, seltzer water is similarly made but contains no added minerals and has a more neutral taste.
The mineral content of sparkling mineral water is determined by the spring or well from where it's extracted, so the amount of minerals and trace elements in each spring or well differ.
Tonic water is similar to club soda in terms of the types and amounts of minerals, but it also contains quinine and possibly sweeteners.
I prefer club soda in this Aperol drink, but you can use seltzer, tonic, or sparkling water instead. However, be aware that this will slightly alter the flavor.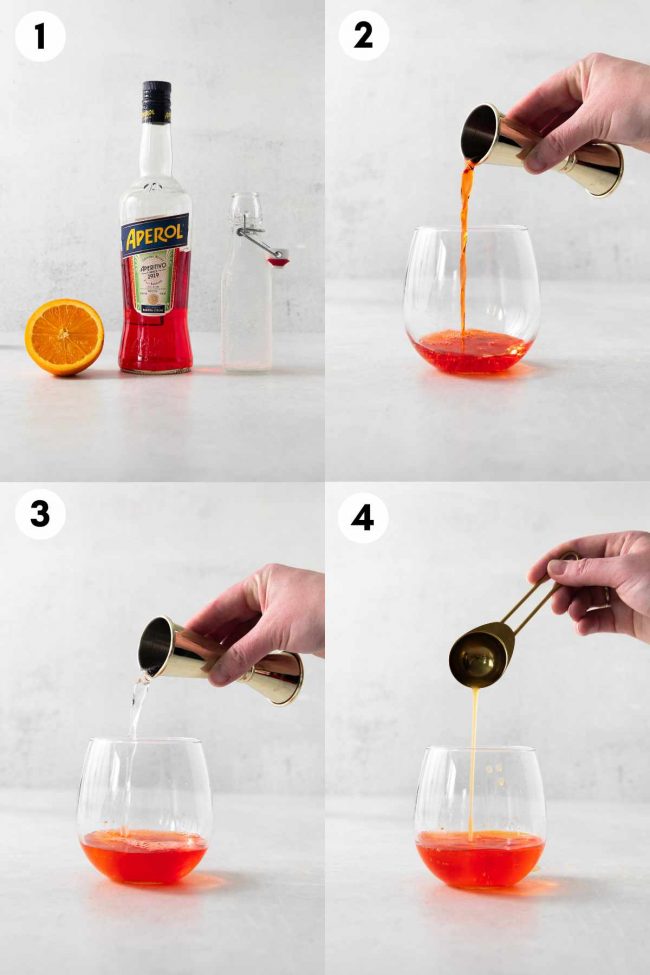 Tips
I suggest using chilled ingredients to keep the drink cold and refreshing.


Garnish adds elegance, fragrance and visual appeal, and a simple slice of orange will do.


For a sweeter drink, add a splash of simple syrup or honey to the glass to taste.
No matter how you make it, this Aperol soda is a refreshing and delicious way to enjoy hot summer days.
Is Aperol gluten-free?
Aperol is a gluten-free aperitif made from a blend of herbs, roots, and orange peels. It contains no gluten-containing grains, such as wheat, barley, or rye; therefore, it's safe for people with gluten sensitivities or celiac disease.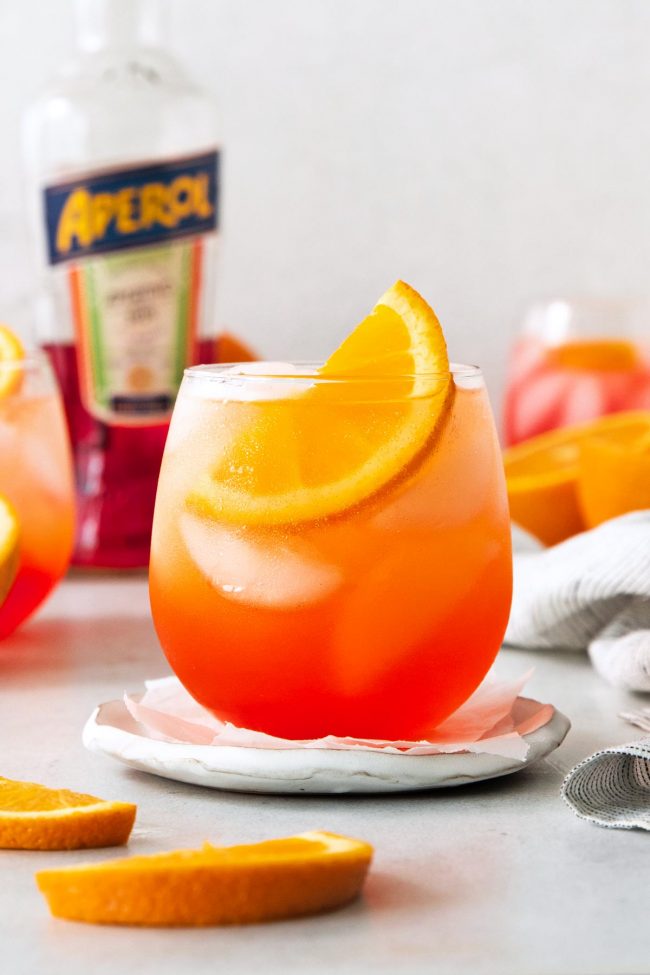 Is Aperol vegan?
Although Aperol soda doesn't contain any ingredients of animal origin, it may not be as vegan-friendly as one might think.
According to Barnivore, in March 2023, the company replied to this question stating that "… during the production process, a small quantity of animal gelatin is used as a technological coadjuvant in the purification process, which is eliminated in the final product."
That said, I'll leave it to you to decide if this cocktail fits your vegan lifestyle.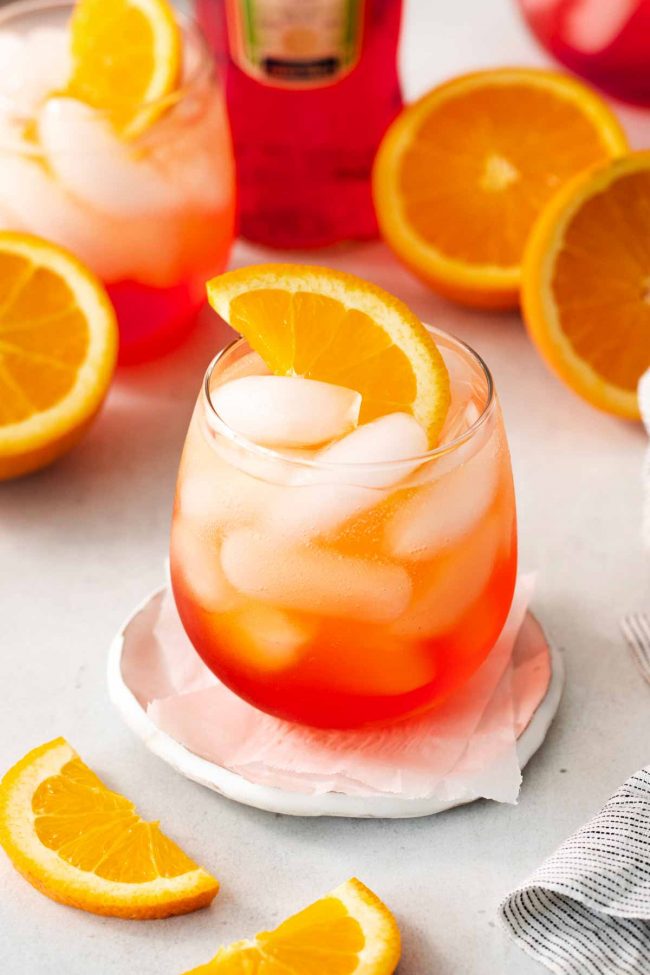 Other summer cocktails
If you try this Aperol Soda, please comment below and tell us your thoughts. If you share to social media, feel free to tag #texanerin so I can see your cocktail creations. Thanks!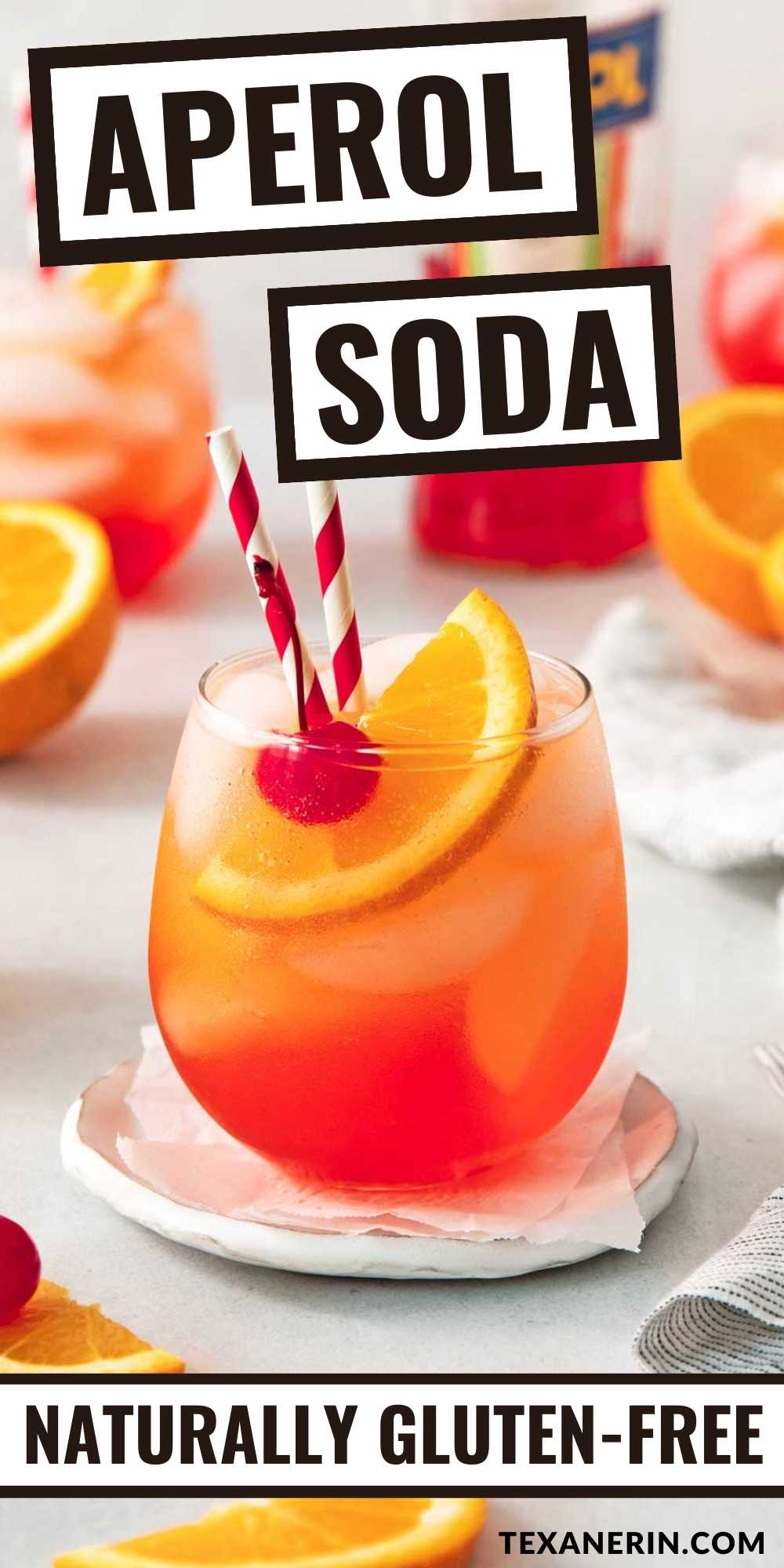 ❀
Aperol Soda
Prep Time:
Cook Time:
Ready in:
Yield:

1
Ingredients
Ice
3 oz (6 tbsp) Aperol
3 oz (6 tbsp) club soda
2 teaspoons orange juice
Orange slice
Directions
Fill a glass with ice.
Pour in the Aperol and then the club soda and 2 teaspoons orange juice. Give it a stir, taste and add more juice if desired, and add an orange slice.
Serve immediately.