This mango mule is tropical and refreshing with mango, lime juice, vodka, and ginger beer. You can sweeten it with simple syrup or maple syrup and it's naturally gluten-free and vegan.
I just posted these Mango Popsicles and had the idea of making a fruity mule! It's as easy as blending everything together, pouring over ice and topping it off with fizzy ginger beer.
So with this Mangorita and this mango mule, you've got some incredible adult options to cool down this summer.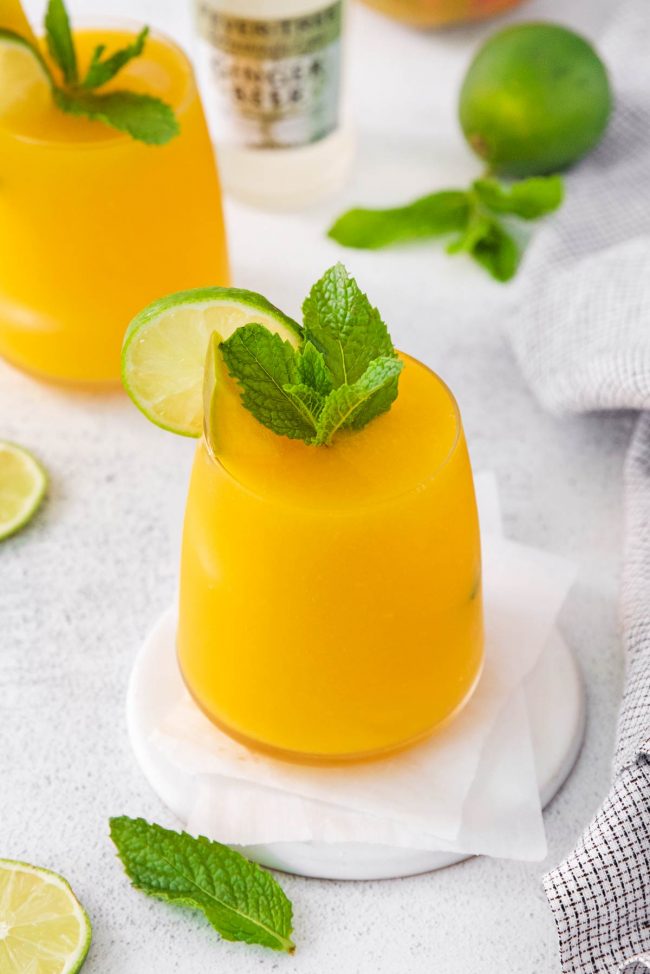 What is ginger beer?
Ginger beer originated in England in the mid-18th century. It's a sweetened, carbonated, non-alcoholic beverage produced by the natural fermentation of ginger spice, yeast and sugar.
You can find alcoholic ginger beer these days, but it's usually labeled "alcoholic ginger beer."
I'm uncertain how the alcoholic version would taste in this recipe. I assume it would be the same but with the added alcohol.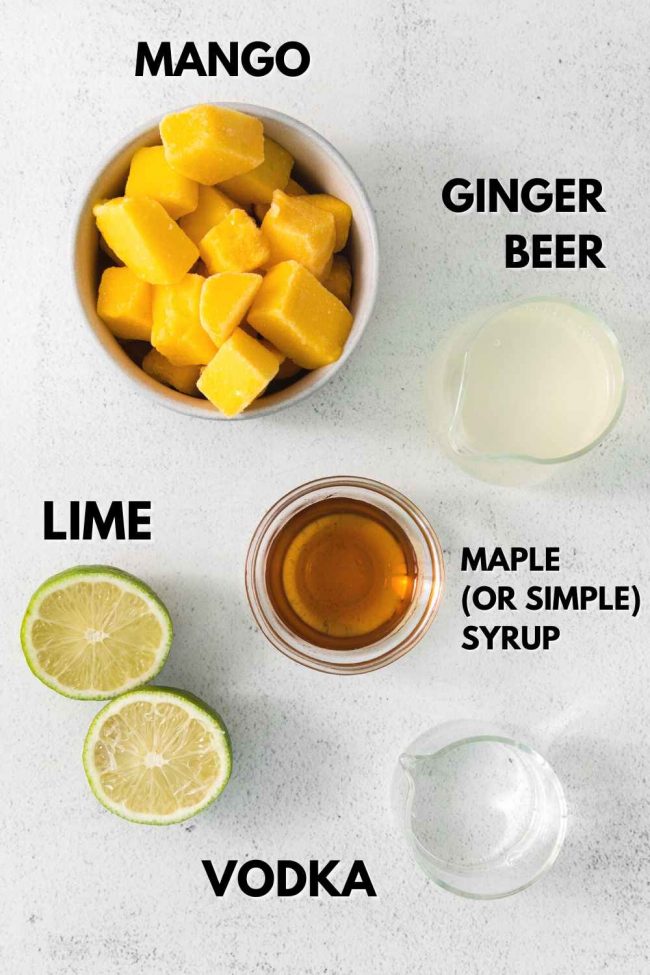 Can I use ginger ale instead?
Ginger beer has a spicy kick of ginger, unlike ginger ale, but it's also less carbonated.
I prefer the fiery ginger-forward essence for this cocktail, but you could use ginger ale instead.
If you use ginger ale, it'll definitely be sweeter, so you might want to scale back on the sweetener and add it to taste.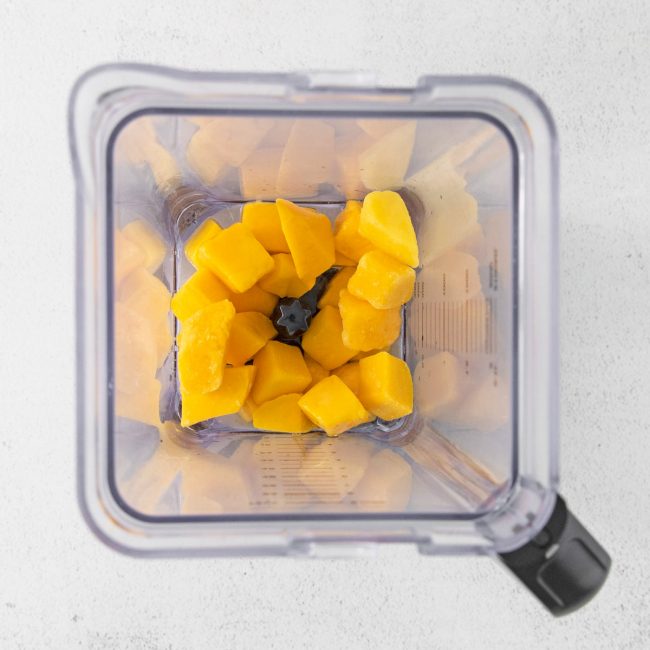 Fresh or frozen mango?
You can use either. If mango is in season and easy to find, then fresh is great.
Frozen mango is just as good! It's convenient, always easy to find, and makes this cocktail even cooler.
If your blender can't handle frozen chunks of mango, let the mango thaw a little before blending.
An essential step is blending the mixture as smoothly as possible. Feel free to add a touch of water if needed. You definitely don't want to blow out your blender!
If you have leftover mango, you might want to check out Mango Habanero Salsa from my other blog or try this Raspberry Smoothie and replace the banana with some mango.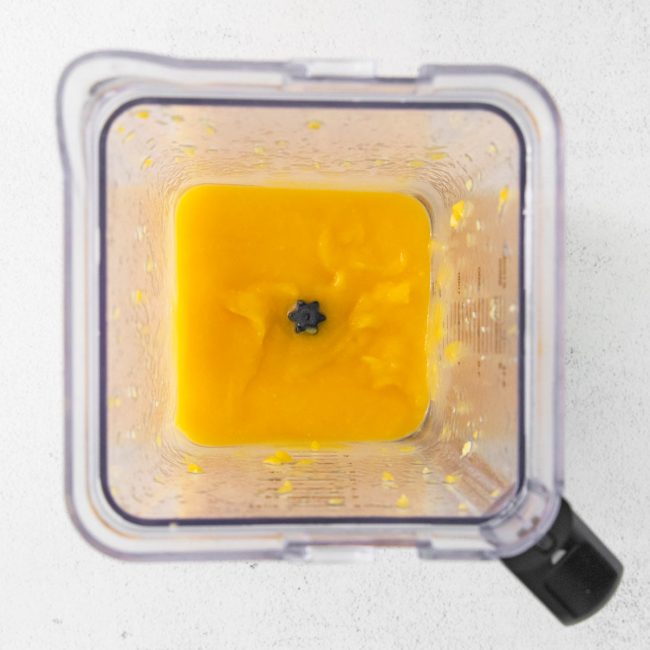 Copper mug
If you've ordered a Moscow mule or a Russian mule, you're probably familiar with the copper mug that it's normally served in. Highly conductive, the copper mug rapidly chills the drink over ice, creating a super refreshing experience.
You'll notice it's colder and frostier than other cocktails served in a typical glass. That being said, it doesn't show the essence of the cocktail very well, so I used a regular glass for this post.
If you have a copper mug, please use it!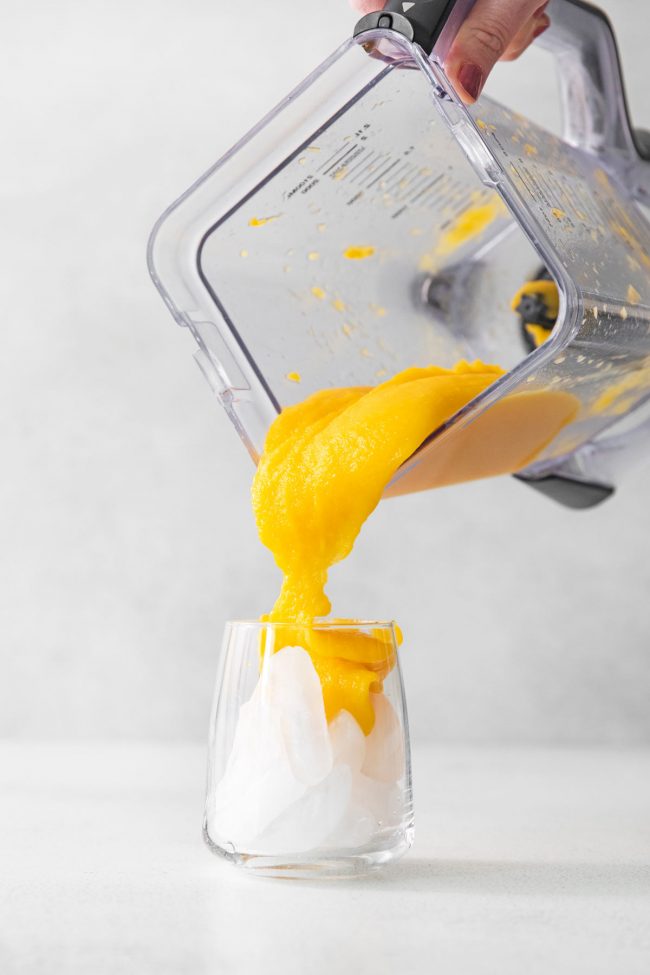 What kind of vodka?
I use mid-range vodka, which is not the cheapest, but certainly not the most expensive. The star of this mule is definitely the mango and ginger beer, so I wouldn't go all out on the vodka.
Sweetener
I sweeten a lot of cocktails with maple syrup. It's slightly sweet without being overwhelming. I use Grade A (the lightest kind), and there isn't any maple flavor in the cocktail.
Simple syrup works in place of maple syrup, and you can add an extra zing by making simple ginger syrup. You can use regular sugar, honey or maple syrup in this Ginger Syrup recipe.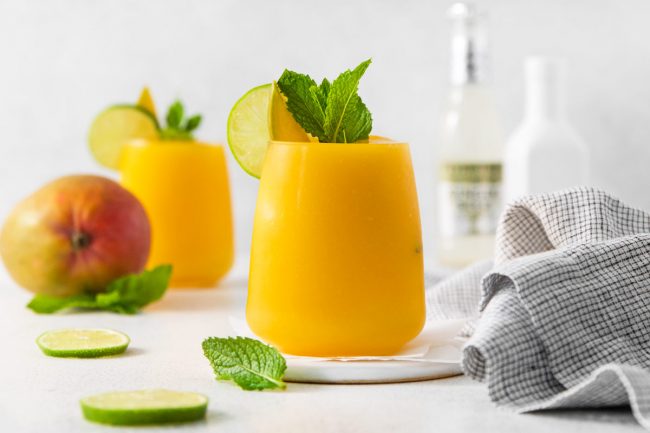 Other cocktails
I hope you'll enjoy this mango mule. Please comment and let us know how it turned out if you make it. :) We look forward to hearing from you!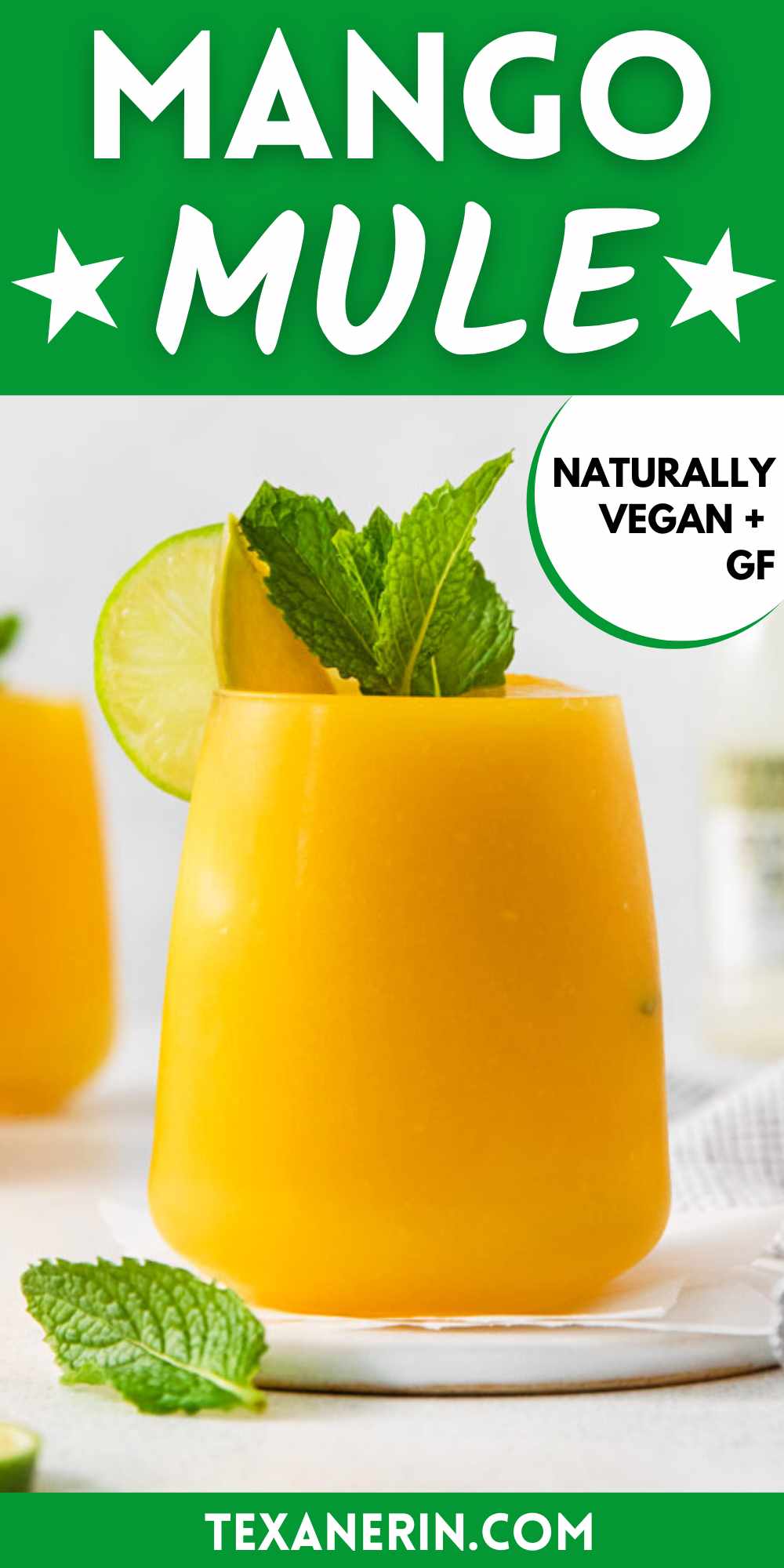 ❀
Mango Mule
Prep Time:
Cook Time:
Ready in:
Yield:

1
Ingredients
3 ounces (6 tbsp) vodka
4 ounces (113 gram) frozen mango
3 tablespoons lime juice
4 teaspoons maple syrup or simple syrup
Ice
6 ounces (3/4 cup / 177ml) ginger beer

Garnish, optional:

Mint
Mango slice or chunk
Directions
Place the vodka, mango chunks, lime juice and maple syrup in a blender and blend on high until no chunks of fruit remain.
Place ice in the glass.
Pour the mango mixture into the glass and top with the ginger beer. Give it a stir.
Garnish with mint and mango, if desired.