This Peachtree cocktail is light, summery, and has a sweet peachy flavor that's rounded out with a splash of orange and lime juice. It's also naturally gluten-free and vegan.
I love light drinks on hot days, and this Peachtree cocktail is perfect. I also have this Georgia Peach Cocktail using Peachtree liqueur, cranberry juice and rum.
Both are perfect for the record-breaking hot days we've been having lately! So let's take a look at what you need.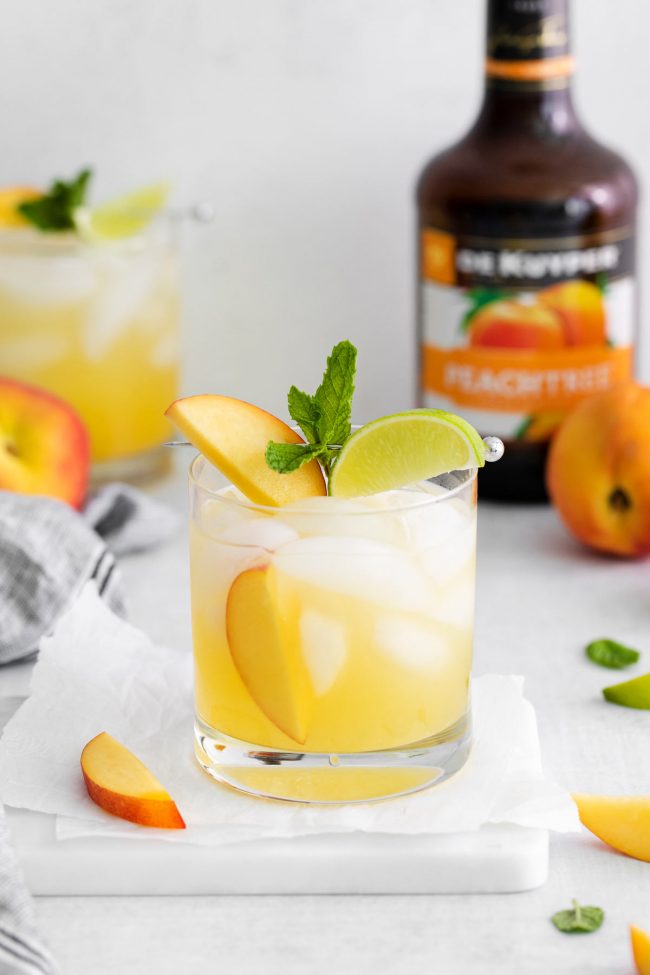 Ingredients
Peachtree liqueur – after trying cheaper brands of peach schnapps, I decided Peachtree was worth the extra money.


Vodka – I used 1941 vodka, but any unflavored mixable vodka will work.


Freshly squeezed lime juice – freshly squeezed juice makes all the difference, so don't skimp here; it adds just the right amount of tartness to this drink.


Orange juice – use 100% juice, no sugar added; otherwise, it'll be too sweet. The orange juice makes this drink sweet enough without any added sugar.


Ice – I prefer to use chilled ingredients without the ice, so there's no chance of diluting the drink as the ice melts, but you can use it if you like a really cold cocktail.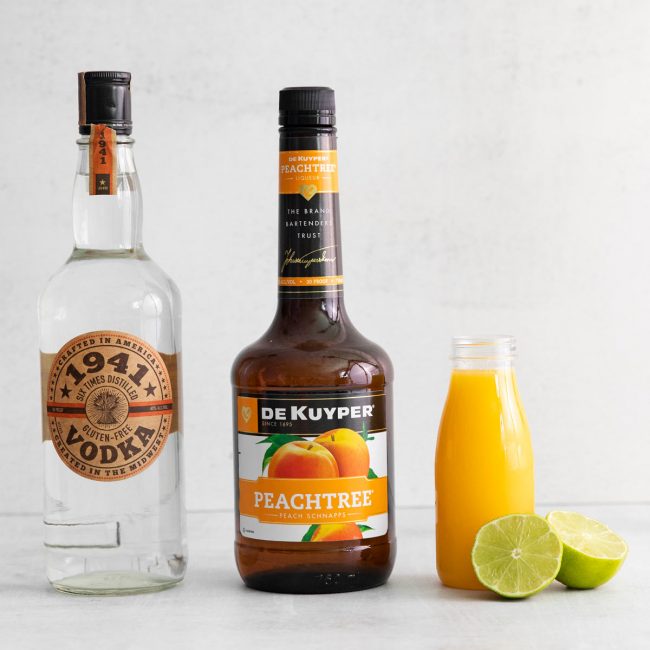 What is peachtree liqueur?
Peachtree is the first peach-flavored liqueur of its kind to produce a genuinely peach-flavored drink that embodies the essence of ripened, luscious peaches. It's delicately distilled and well-balanced.
I usually avoid peach-flavored drinks, but Peachtree liqueur tastes like peaches, not the powdery flavor some peach drinks can have.
Peachtree liqueur is a cordial that falls into the schnapps category, and it's made of clear grain alcohol and is peachy sweet.
Schnapps is an alcoholic beverage with fruity, herbal, and flavored blends using fruit syrups, spices and artificial flavorings.
You could use another brand of peach schnapps if you like its peach flavor, but if I had to buy a peach liqueur to make this drink, I would recommend Peachtree.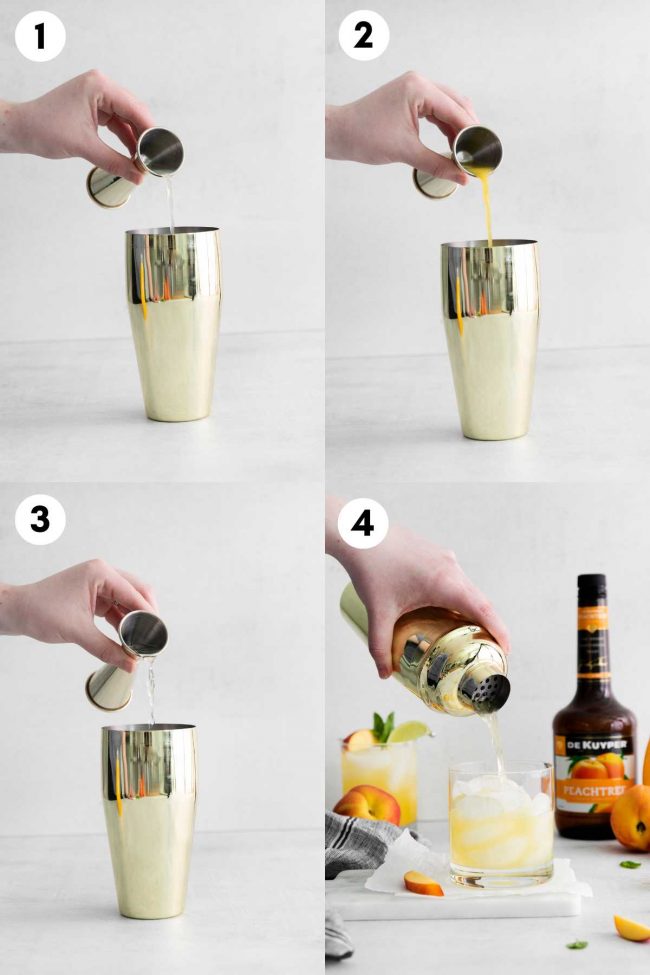 How strong is this cocktail?
When developing this recipe, I got it perfect almost right from the beginning. That rarely happens, so that was super exciting.
But then I put the recipe into a cocktail content calculator and realized there was no way I could post it. It was WAY too strong.
So I fiddled with the recipe to bring down the alcohol content. I found the right balance, but it's still a somewhat strong drink, at least to me.
It wasn't over-the-top when compared to other drinks, but because this cocktail is sweet, it might be easier to have more than you intend, so it comes with a small warning.
This calculator from the NIH says that this drink is equal to 1.5 US standard drinks, has 17.1% alcohol and is 5.25 total fluid ounces. If you click around on the other drinks like margarita, cosmopolitan, pina colada and so on, you can see that this drink is about the same as the others when it comes to its stats.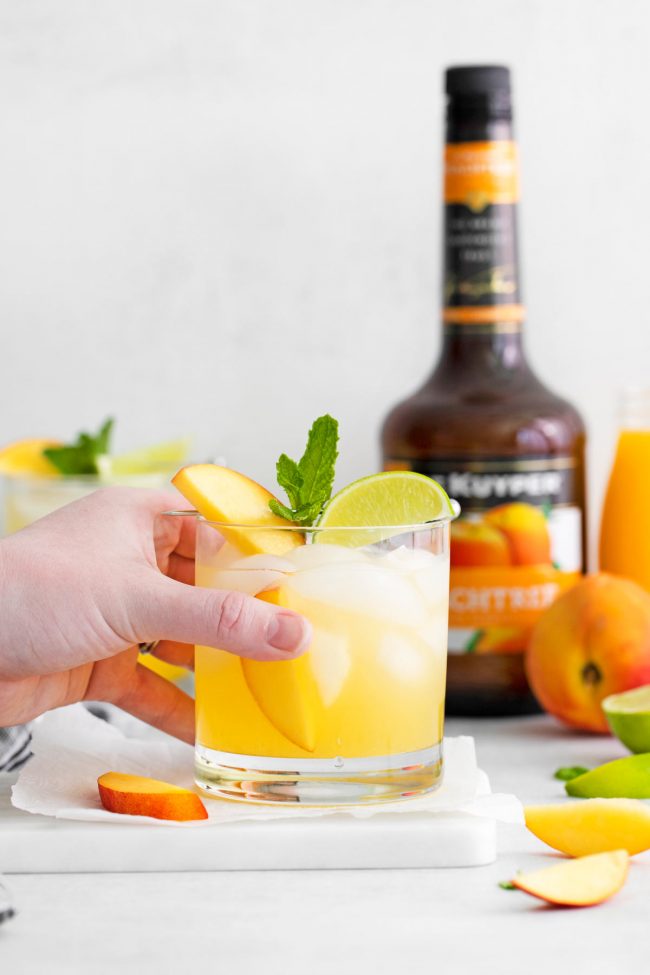 Garnish
A ripened slice of peach is my go-to garnish here. It gives a juicy fresh peach flavor and looks pretty.
You can also add a lime twist or wheel for a touch more acid to cut the sweetness.
Adding a sprig of mint gives it a pop of color and aroma. You can also use basil if you have some on hand.
What to use if you don't have a cocktail shaker
There are many household items to use if you don't have a cocktail shaker, like a travel coffee mug with a lid, a protein shaker or a blender bottle.
You could also use a mason jar with a tight lid but leave enough space to shake it up without it leaking. Any tempered glass jar will work fine.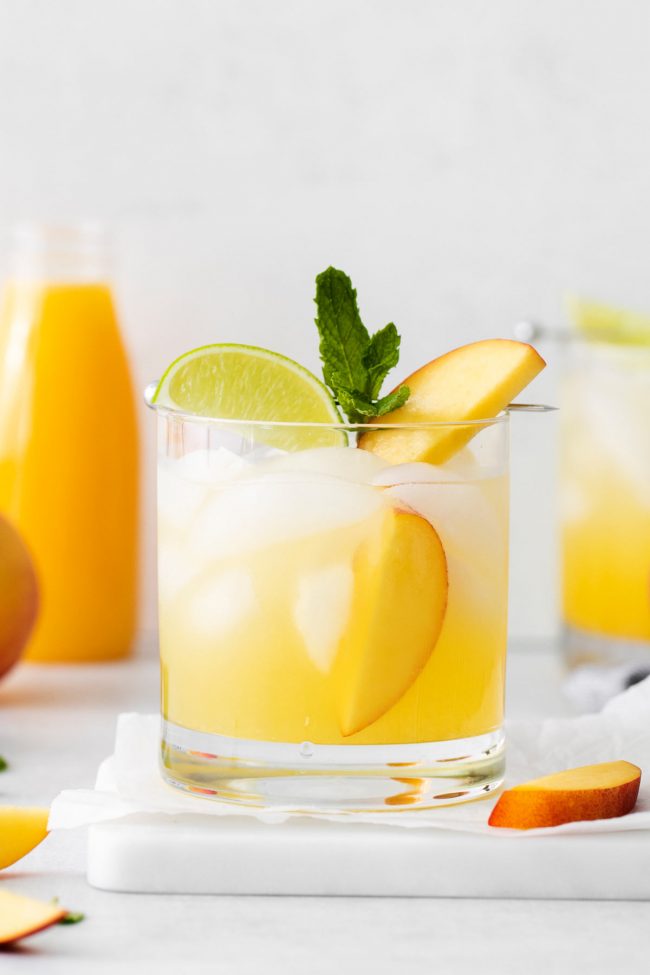 Other summery cocktails
I hope you'll enjoy this Peachtree cocktail. Please leave a comment if you make it. We'd love to hear about it. :) Thanks!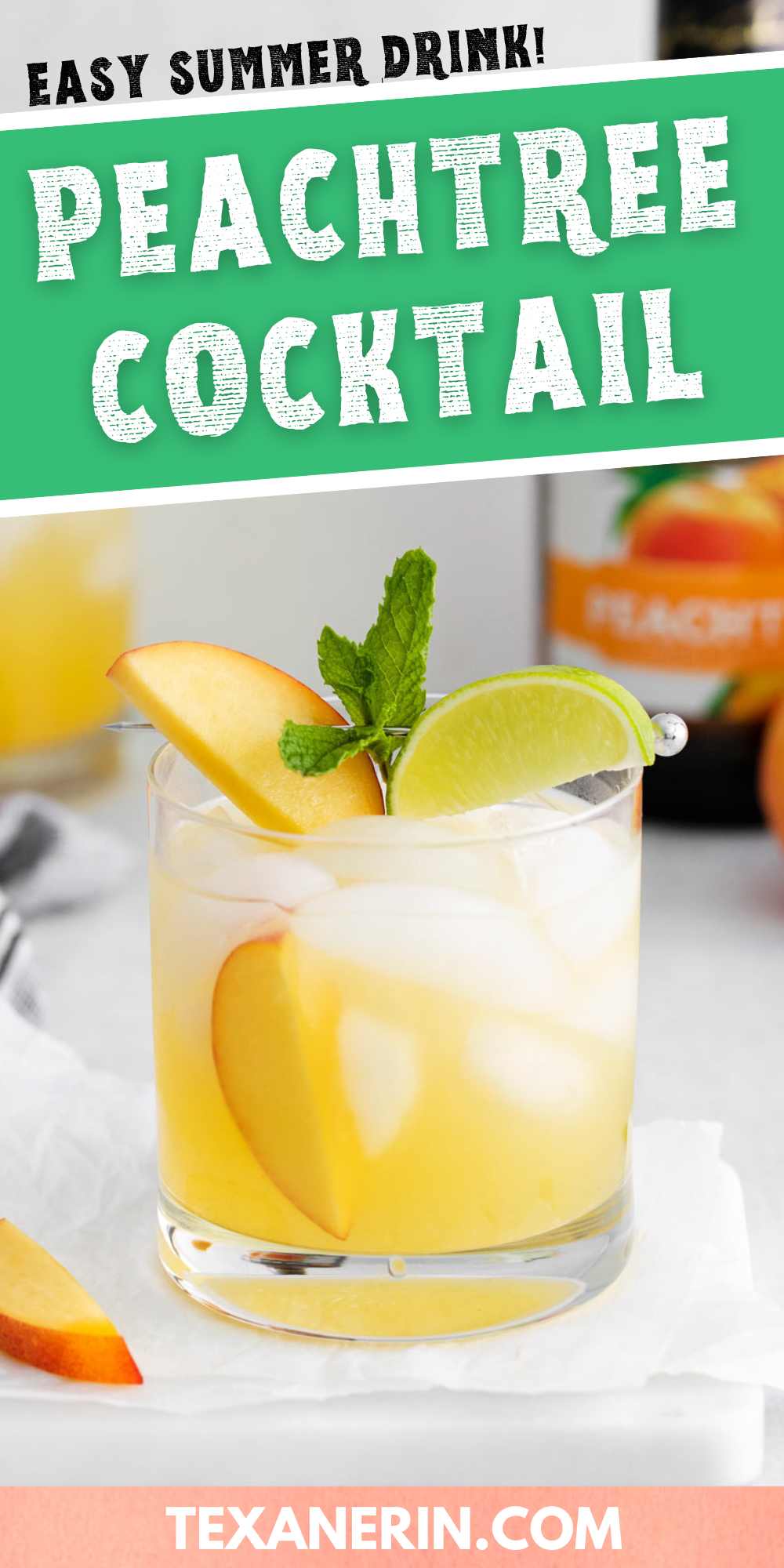 ❀
Peachtree Cocktail
Prep Time:
Cook Time:
Ready in:
Yield:

1
Ingredients
Ice
3 oz (6 tablespoons) Peachtree Schnapps
3/4 oz (1.5 tablespoons) vodka
3/4 oz (1.5 tablespoons) freshly squeezed lime juice
3/4 oz (1.5 tablespoons) orange juice (100% juice)
Garnish: peach slices, mint wedges, mint
Directions
Fill a cocktail shaker about half full with ice.
Add the Peachtree, vodka, lime juice and orange juice.
Shake well. Add a peach slice and few ice cubes, if using, to a lowball glass and strain the cocktail into the glass.
Garnish with a peach slice, mint and a slice of lime, if desired.