These turmeric ginger shots are energizing immune boosters! They're super easy to make with only five ingredients and are vegan and paleo with zero added sugar.
Note: if you're on any of these medications, undergoing chemotherapy or hormone replacement therapy, or have an iron deficiency, please consult with your doctor before making this or any turmeric recipe. Same goes if you're pregnant, as the amount of ginger and turmeric in these shots is too high.
blood thinners (including aspirin!)
diabetes medications that lower blood sugar
drugs which reduce stomach acid (antacids)
There are a few additional medications that turmeric can interfere with, which you can find on this site from the NHS.
Ginger can also interact with blood thinners, diabetes medication, and high blood pressure medications. Do not take ginger if you have a blood disorder, and if you have gallstones, talk to your doctor first.
I'm not a doctor, nor do I play one on the internet. Please consult with your doctor before making turmeric shots should you be taking any medication, are pregnant or breastfeeding!
Also, note that these should be served as shots – what you see in the photos is the whole batch and about 8 shots.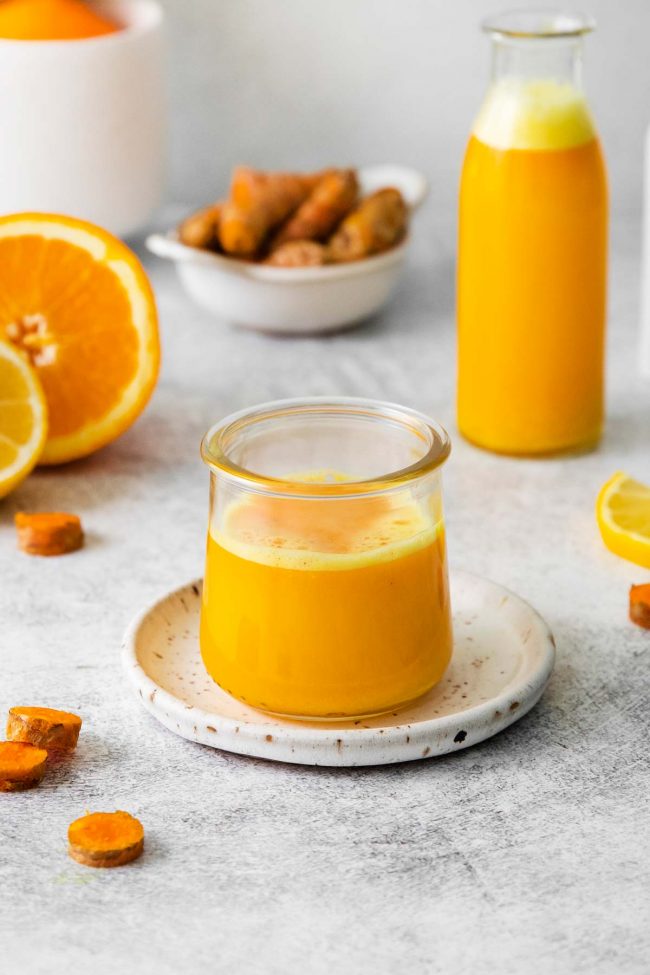 Healthy start to 2023!
Since many of us are trying to make the best of fresh starts in 2023, I thought I'd share a healthy shot recipe to boost the immune system and give you a burst of energy to start the year.
These shots have exceptional health-promoting benefits, from anti-inflammatory properties to aiding digestion and staving off colds. In each little shot, you get potent vitamins and nutrients, and antioxidants with additional antibacterial and antiviral effects.
This spicy ginger turmeric shot recipe is a fool-proof way to make your own immunity shots with the freshest ingredients. Best of all, these healthy shots take as little as 10 minutes using a blender.
Ingredients
This wellness shot recipe uses freshly squeezed ingredients and whole root ginger and turmeric to get the highest quality ingredients into your day.
Freshly squeezed lemon juice — adds vitamins and citrusy brightness.


Freshly squeezed orange juice — adds sweetness and a host of health benefits.


Fresh ginger — adds powerful health benefits, including immune support and flavor.


Fresh turmeric — adds even more benefits as a potent anti-inflammatory and is packed full of antioxidants.


Pinch of black pepper and/or fat — black pepper increases turmerics potential by 2000%, so don't skip it. A bit of fat has a similar effect.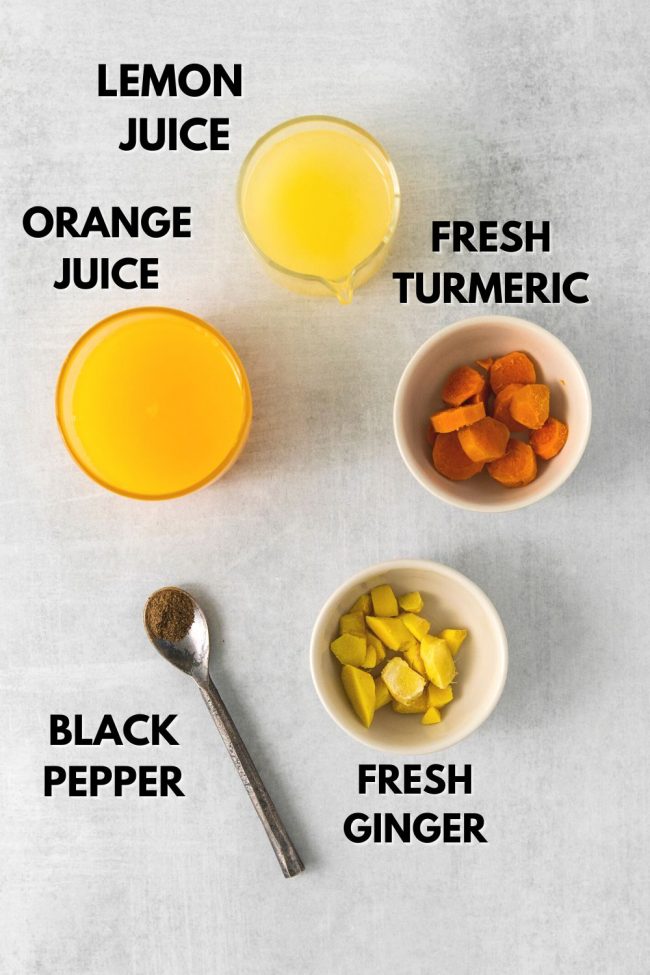 How do they taste?
They're not like juice and probably not something you'll want to sip on during your morning routine.
I think they're more lemony than anything, and I don't mind the taste at all. I generally quite dislike turmeric, so I was hopeful that my husband and son would like them, as well.
They didn't like them as written, without any extra orange juice or maple syrup. My husband's issue was that they were too lemony.
Both turmeric and ginger have intense flavors that some people can struggle with. If you feel the shots are too strong for you, consider adding a touch of sweetness with honey (if you're not vegan) or maple syrup or water it down with extra juice or water. It's a super easy fix.
Just a tiny bit of sweetener really does make them juice-like!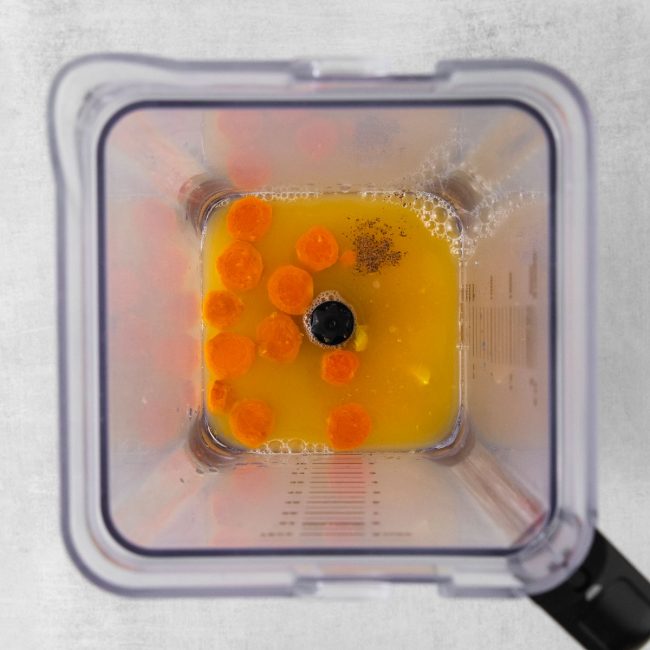 I use a Blendtec and don't chop my turmeric and ginger as my photographer did. If you don't think your blender can handle large pieces, then definitely chop it first!
Benefits
To understand all the benefits of these powerful shots, you must break it down by ingredient because each ingredient adds special nutrients to boost overall health.
Lemons are a great source of vitamin C and have some iron, which can help build immunity and support overall health.
The iron in lemons helps prevent anemia by improving iron absorption from plant foods. It can also support heart and digestive health.
Oranges are packed full of fiber, have high levels of vitamin C, are high in antioxidants and micronutrients, and have a superabundance of health benefits.
Oranges are a good source of minerals: calcium, magnesium and potassium, which can reduce blood pressure and protect against heart disease.
Oranges also have folate, which supports the brain and nervous system, and smaller amounts of calcium, magnesium, and vitamins A and B.
Turmeric is rich in vitamin C, B6, and manganese and has been used for centuries as an impressive anti-inflammatory and is known for its antioxidant properties.
Turmeric's active ingredient is curcumin, which gives turmeric its yellow color. It's also is high in iron, potassium and Omega-3 fatty acids.
Studies also show that turmeric's health benefits are enhanced by taking it together with black pepper, which leads us to the next ingredient.
Black pepper has an active ingredient, piperine, which increases the absorption of turmeric by 2000%! It, too, is high in antioxidants and has anti-inflammatory properties, and is good for digestion.
Fat added to the shot can also help increase curcumin's absorption. If you can't have black pepper, you should add one teaspoon of fat to help with absorption.
Black pepper really shouldn't be eliminated from this shot if you can help it, as it helps activate the powers of the turmeric. Besides, it's just a pinch, and up against the ginger, you won't notice the taste of the pepper.
Ginger helps support the immune system and is packed full of antioxidants, and it has anti-inflammatory, antibacterial and antiviral properties.
Ginger is known to be good for digestion, helps to relieve nausea, and helps support the immune system when you have a cold or flu. Moreover, through its anti-inflammatory properties, it also helps to relieve pain.
Should you be interested in learning more, check out my post on the Benefits of Ginger Shots.
You get all this in one little shot!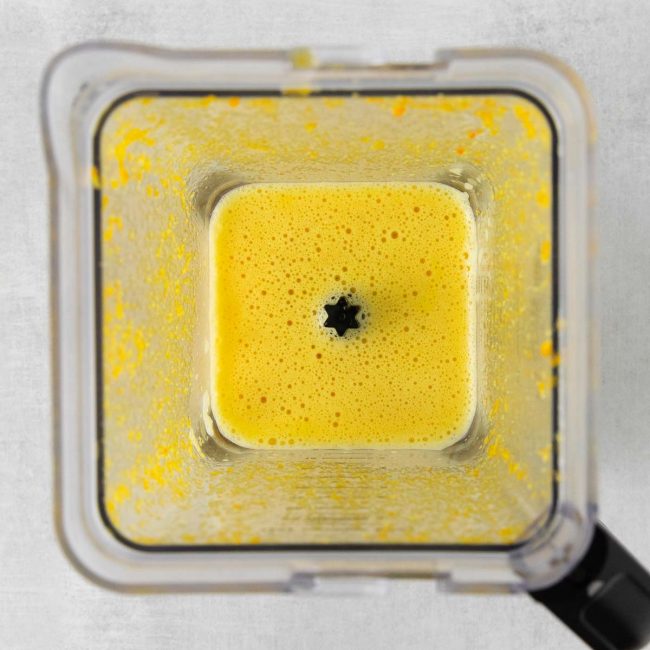 What is turmeric?
Turmeric is a tropical South Asia root from the same family as ginger, and it looks similar to ginger, but it's notably yellow or orange.
Turmeric is the spice that gives curry its yellow color, and has been celebrated for centuries as a food and medicine and has even been used to dye clothing and thread.
As we've seen, it has many benefits worth adding to your daily diet.
Can I use powdered turmeric and ginger?
I recommend using the freshest ingredients to get the most benefit from these shots. That said, powdered spices can be used if you can't find fresh ginger or turmeric.
Use 1 teaspoon of each if you use powder instead of the fresh roots.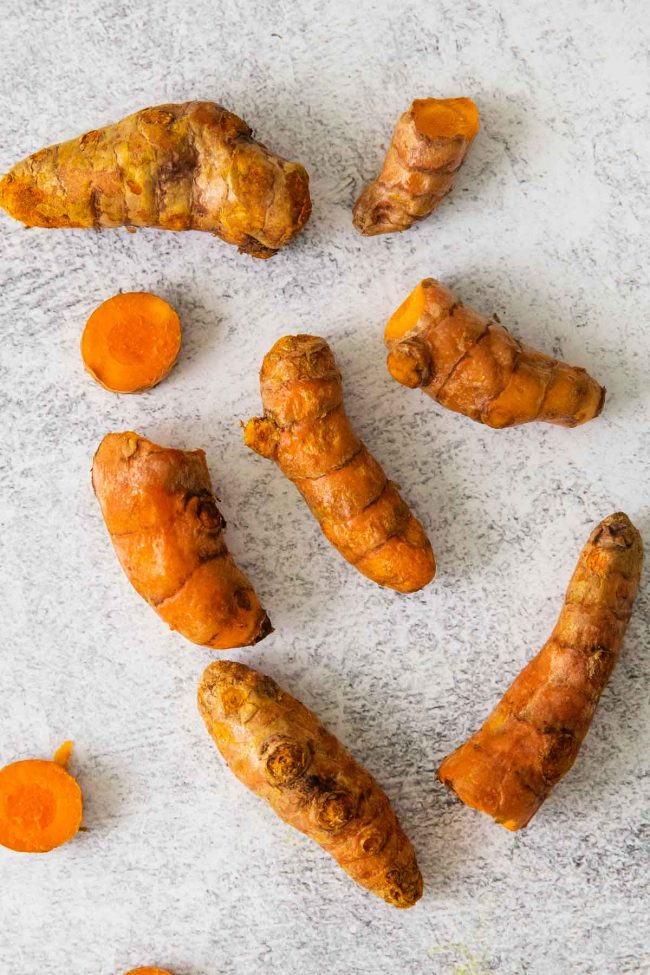 Turmeric ginger shots every day?
Yes! You can take this immune-boosting shot every day. But limit it to once per day because too much curcumin can make you nauseous. A little will go a long way. Or you could alternate the shots with this Gut Health Smoothie! Or this Turmeric Detox Tea.
With this recipe, you get 2.75 grams of turmeric and ginger per 2-tablespoon shot, which is within the recommended dose. For turmeric, the recommended dose is 2-3 grams per day, and for ginger, that's 3-4 grams max per day.
Do I have to peel fresh ginger and turmeric?
If you don't peel them and if you're not using a high-speed blender, you'll have flecks of skin in the drink. It's digestible but may not look as appetizing. If you're not a fan of the skin flecks, you can strain it or peel it before blending.
If you're in a rush, no problem; just toss it in, blend it up, and drink.
Equipment
A high-speed blender is best, but you can get away with a regular blender or immersion blender.
Make sure not to take the immersion blender out of the liquid while it's still spinning because it will go everywhere, and turmeric stains just about everything. So beware and use a large enough vessel to ensure you don't make a mess.
What kind of orange juice?
Freshly squeezed orange juice is best, but if you're purchasing it, it's better to buy 100% juice with no sugar added.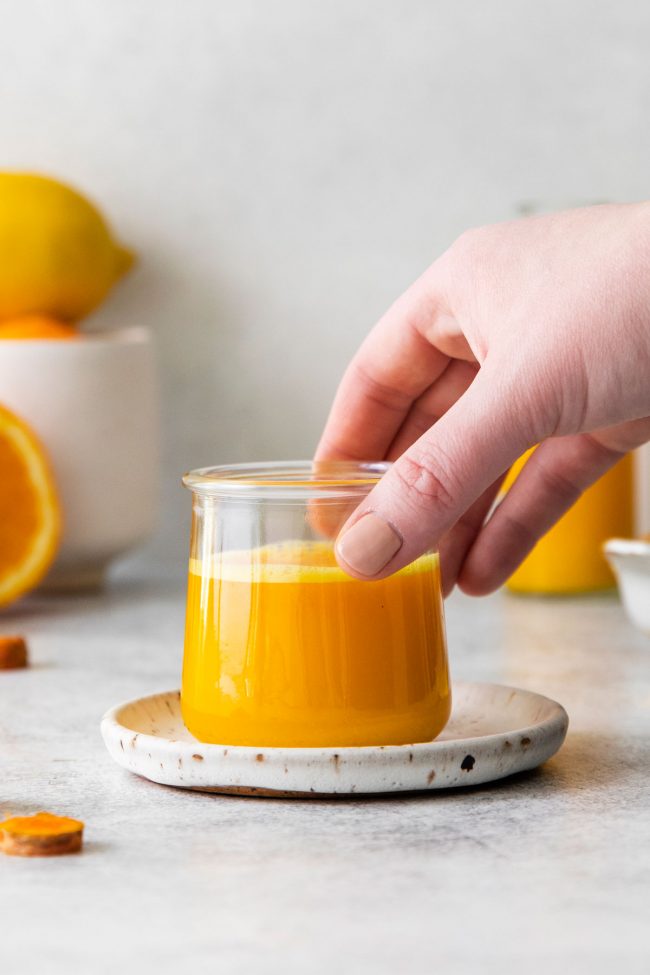 Adding a bit of fat
Adding a bit of fat helps with the absorption of curcumin.
You can use any kind of healthy fat you'd like. Some people like avocado oil or olive oil, which is convenient because it stays liquid once refrigerated.
If you add coconut oil to the blender and then refrigerate, the shot will harden and become quite unappetizing. You don't want to then reheat the turmeric shots as that would effect the benefits.
So if using coconut oil, you need to melt it (but not so long that it's hot) and then add it to your shot right before each serving. It's easy in the summer when room temperature coconut oil is liquid, but quite annoying in the winter.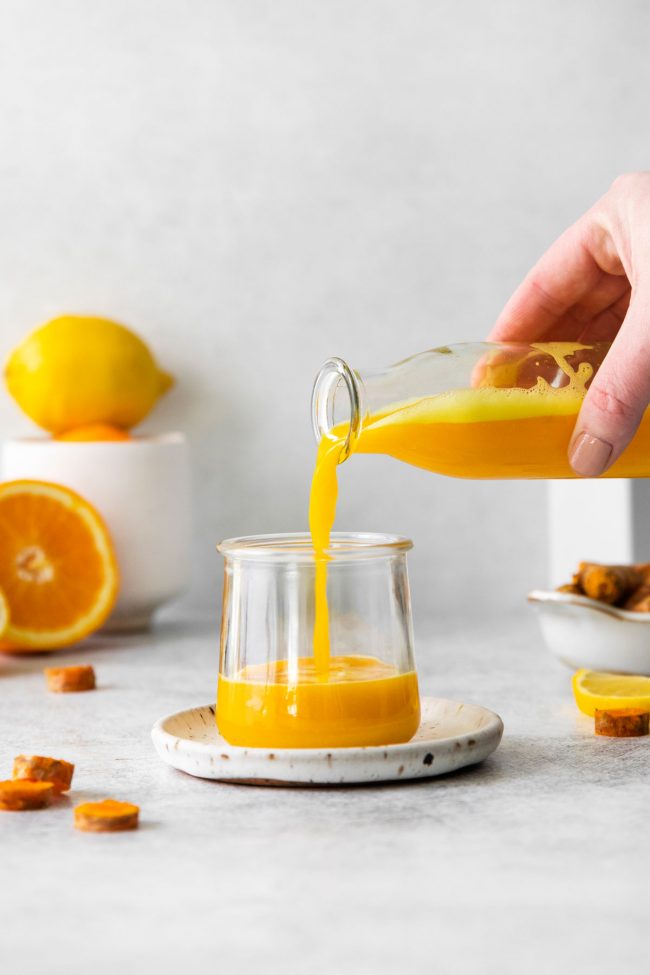 Tips
Fresher, plumper pieces of ginger and turmeric are easiest to blend.


Some say that the easiest way to peel ginger and turmeric is with the side of a spoon. I always have issues with the spoon method, so I use a peeler and find it easy enough.


I recommend serving these shots cold for the best taste. Just chill the ingredients or allow the shots to chill before drinking.


Turmeric stains clothes and pretty much everything else. So protect yourself and your equipment, if needed. I peel it with my bare hands and don't cut it, so it doesn't get on anything. The color wears away from hands and fingernails within a few hours, after several hand-washings. Here's an article about how to get rid of turmeric stains, should you be needing that.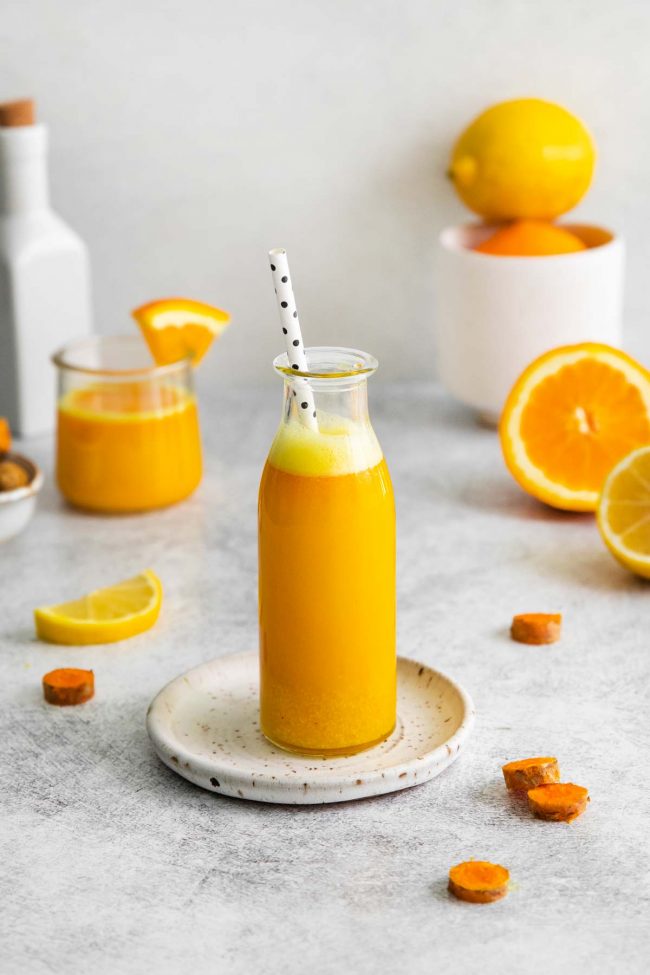 Storage
This recipe yields a little more than 1 cup or 8 shots. From a nutritional standpoint, they're best when enjoyed immediately. They longer the sit, the more nutrition they lose.
So even though they taste just as good on day 4 as they did on day 1, they won't have quite as high the nutritional value.
Juice tends to separate after sitting, so stir it before drinking.
Freezing
You can freeze these shots for up to 3 months. But note that turmeric stains!
It's said to stain everything except for stainless steel (although I've heard people saying it stained their "stainless" steel cookware) and some people say it doesn't stain ceramics. I think it's safest to assume it'll stain everything, and if it doesn't, it'll be a nice surprise.
I have a dedicated silicone mould that I use to freeze these shots. The mould is badly stained and smells of turmeric.
If using a silicone mould or ice cube tray, once the shots are frozen, remove from the tray and store in a freezer bag.
Nutritional effect from freezing
I know that some turmeric shot companies ship out their shots frozen, and they state that the nutritional value isn't affected. Other sources say the opposite. And a lot of sources say that there is an effect, but it's quite small.
I don't think it's very practical to make fresh shots every single day, or even every other day. So freezing is a great option.
I make shots twice a month and use them up within 2 weeks, so they're still quite fresh.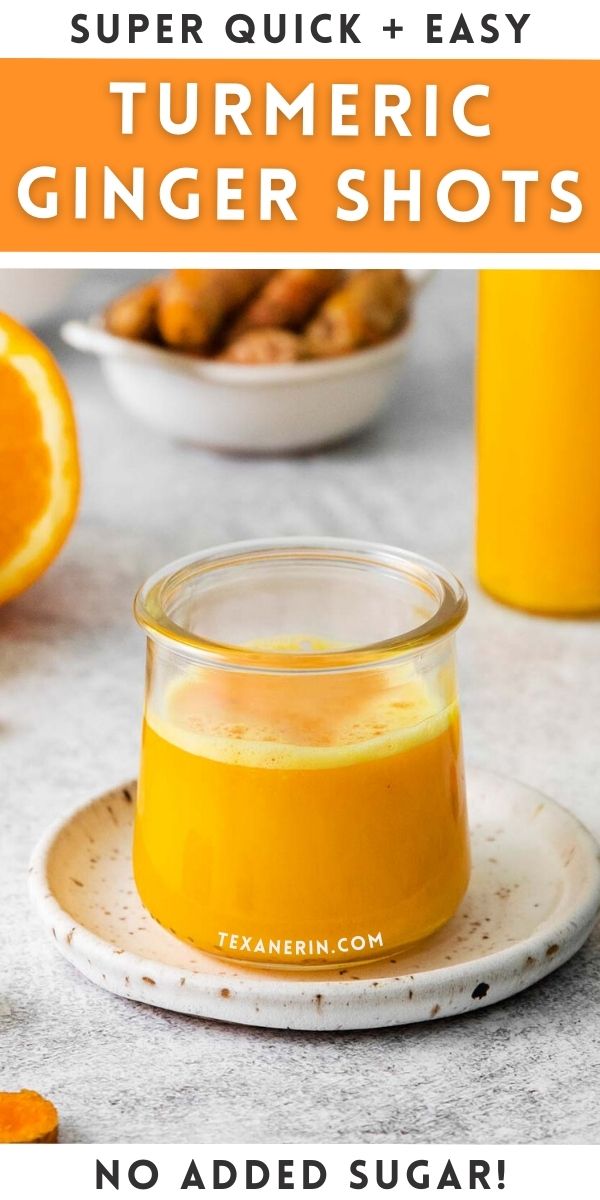 Other healthy drinks
If you make these turmeric ginger shots, please let us know what you think. Feel free to share on social media and tag #texanerin or @texanerin because I'd to see them. Thanks! :)
Sources:
https://www.ncbi.nlm.nih.gov/pmc/articles/PMC4106649/
https://www.dovepress.com/the-antimicrobial-efficacy-against-selective-oral-microbes-antioxidant-peer-reviewed-fulltext-article-IDR#
https://www.ncbi.nlm.nih.gov/pmc/articles/PMC3665023/
https://pubmed.ncbi.nlm.nih.gov/9619120/
https://www.health.harvard.edu/heart-health/key-minerals-to-help-control-blood-pressure
❀
Turmeric Ginger Shots
Prep Time:
Cook Time:
Ready in:
Yield:

1 cup + 1 tablespoon (8 shots)
Note: turmeric stains!
Ingredients
135 grams (1/2 cup + 1 tablespoon) freshly squeezed orange juice
90 grams (1/4 cup + 2 tablespoons) freshly squeezed lemon juice
22 grams (2 tablespoons) peeled ginger
22 grams (2 tablespoons) peeled turmeric
pinch of black pepper
optional: 1 teaspoon of olive oil or avocado oil for better absorption
Directions
Chop your ginger and turmeric if not using a high-speed blender.
If using a high-speed blender or regular blender, place all the ingredients into the jar and process on high until totally smooth. If you use old ginger, you might have a chunk that doesn't want to blend. If that happens, pour about half of the liquid into a glass (but not the ginger chunk) and blend again. Then add the rest of the liquid and blend a moment to combine.
If using an immersion blender, use a large enough vessel to ensure you don't make a mess. Blend, and don't take the immersion blender out of the liquid while it's still spinning because it will go everywhere.
I was able to get mine 100% smooth with a high-speed blender. If yours has chunks, you might want to strain it.
Each serving is 2 tablespoons.
They can be refrigerated for up to 4 days (they're best within 48 hours), but they start to lose their nutritional value the longer they sit. It separates after sitting, so stir it before drinking.
Freeze using an ice cube tray or baby food silicone mold but know that turmeric will stain them and take on the smell. You can freeze them for up to 3 months, but they lose a bit of nutritional value the longer they sit.