This Black Forest ice cream is no-churn and has an easy, egg-free whipped cream base with cherry sauce and chopped chocolate. You can make it with or without kirsch, and it doesn't contain sweetened condensed milk or any unusual ingredients.
I've seen some Black Forest ice cream recipes that are basically just chocolate ice cream with cherries. I'm sure they're delicious.
But to me, those recipes are missing the whipped cream portion of a Black Forest cake. German cakes are well-known for having lots and lots of cream.
So the base of this recipe is just whipped heavy cream, powdered sugar, vanilla and salt. The result is quite light and creamy.
I normally like my ice cream to be very, very rich and heavy, so I was surprised by how much I enjoyed this "whipped cream ice cream."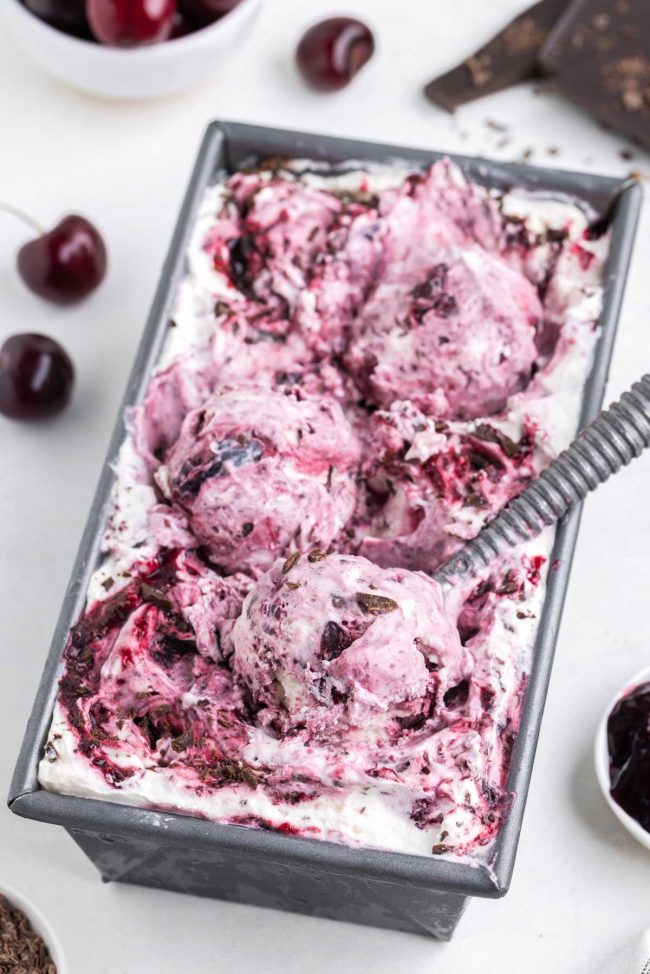 Ingredients
Here's what you need. Just basic stuff!
For the cherry sauce:
Cornstarch + water – this is to thicken the cherry sauce. You can use another starch, like tapioca or arrowroot starch, if you'd prefer.


Cherries – you can use fresh or frozen and sweet or tart. My favorite are frozen tart cherries. I love the tart flavor, and they're way cheaper than fresh and already pitted.


Granulated sugar – you can use whatever sweetener you'd like here. Maple syrup or honey would be tasty. Honey would add a taste that's not very Black Foresty, but would still be good. Coconut sugar wouldn't be a good choice due to its dark flavor.


Vanilla extract and kirsch (optional) – the kirsch can be replaced with more vanilla. More on this below!
For the ice cream base:
Heavy cream – I've seen some other people use half heavy cream and half half-and-half, or 75% heavy cream and 25% whole milk, which is equivalent to half heavy cream and half half-and-half. Feel free to use one of those combinations if you have milk or half-and-half on hand.


Powdered sugar – if you're sugar-free, you could probably use powdered Lakanto, but then you'd also have to use keto sweetener in the cherry sauce. And also use keto chocolate. And remember that cherries are high in carbs so maybe cut down on the amount of cherry sauce.


Finely chopped semi-sweet chocolate – this isn't in the base, but something you put between the layers of ice cream. You can use milk or dark chocolate, but I don't recommend chips or chunks. When you finely chop the chocolate, it melts in your mouth when eating the ice cream, which I think is a nicer experience than cold, hard, chunks of chocolate.


Vanilla extract and salt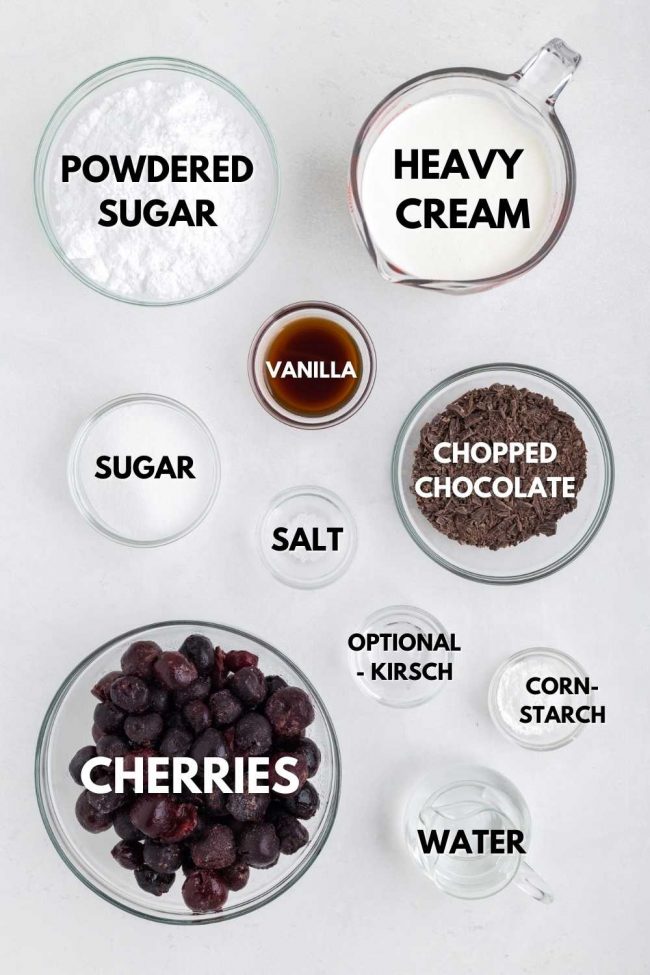 How to make it
First, you make a simple cherry sauce. You mix the cornstarch and water together in a saucepan.
Add the rest of the ingredients and then cook for a few minutes. This thickens the sauce.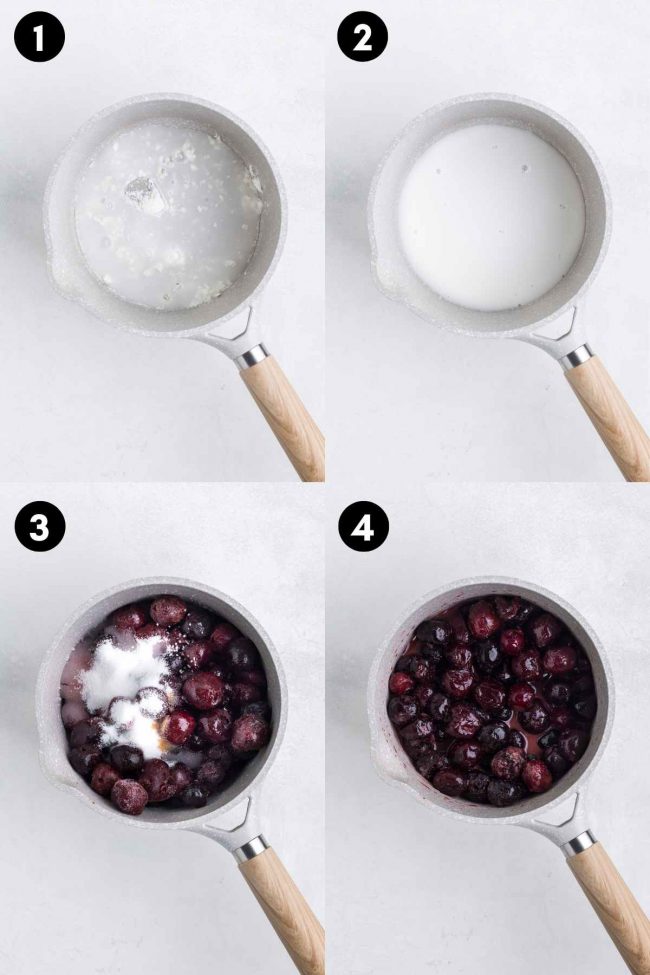 Then you let it cool while preparing the base of the ice cream. You can refrigerate the sauce for up to a few days. If you're in a hurry, you can spread it out and pop it in the fridge or freezer.
Let it cool for a few minutes at room temp before placing it in the fridge or freezer as it'll be quite hot.
Now whip the heavy cream until you have stiff peaks. Fold in the powdered sugar, vanilla and salt. That's the base!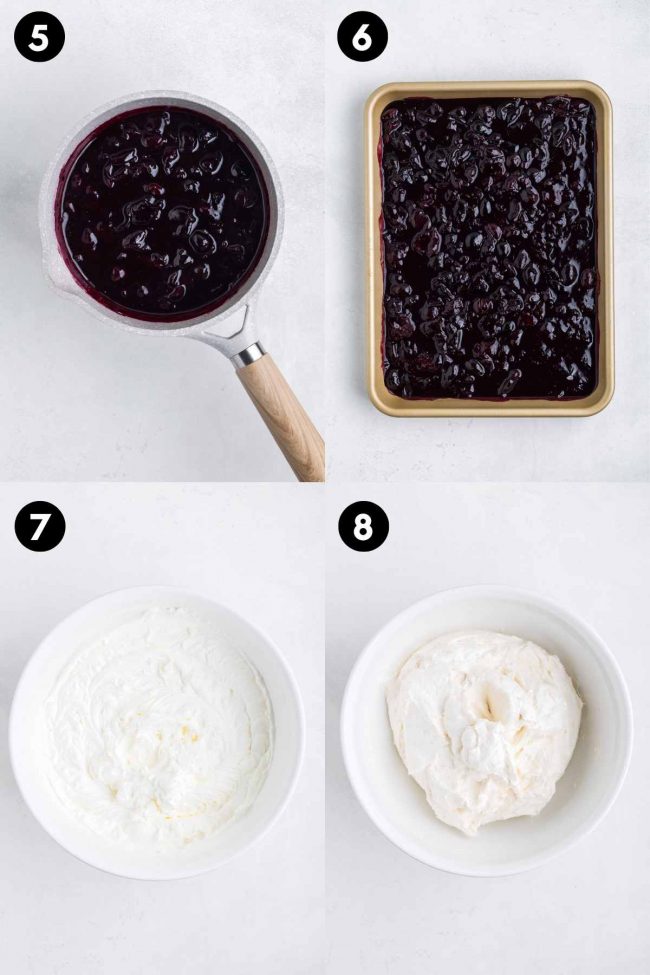 I know it sounds weird, and I wasn't sure if freezing whipped heavy cream would work, but it did. I recommend giving this recipe a try should you need some no-churn ice cream!
Spread a third of the whipped cream mixture over the bottom of a loaf pan or whatever container you're using. Then add a third of the cherry sauce on top and a third of the chocolate on top of that.
Repeat this for another two layers.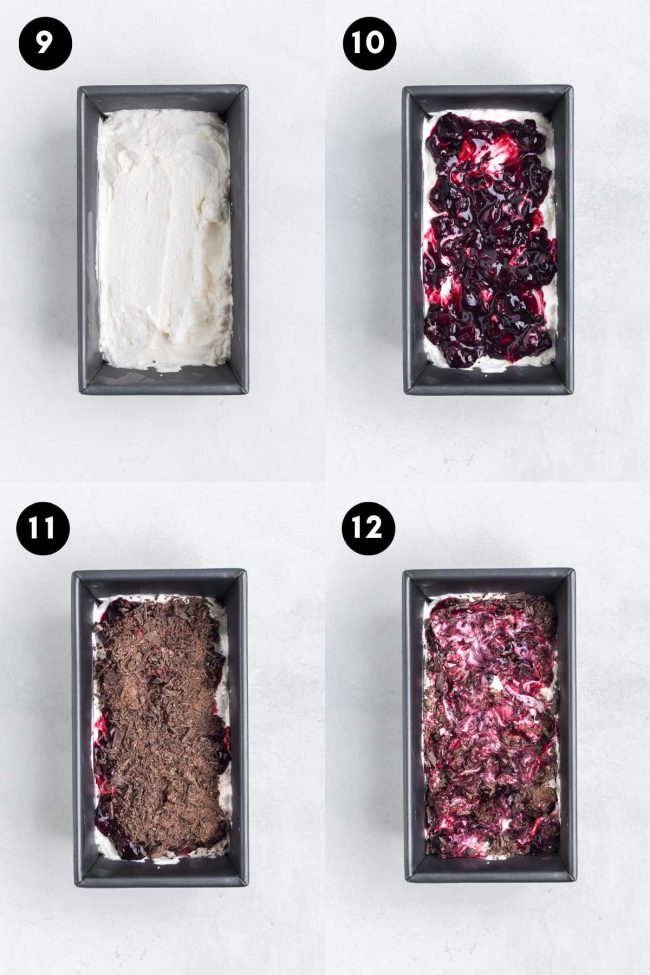 Now freeze it overnight. Mine was still scoopable from the freezer, which is nice because a lot of homemade ice cream is rock-hard after freezing overnight.
What you see in the photos was also frozen overnight. You can see in the photos where it's still in the loaf pan that it's already quite soft.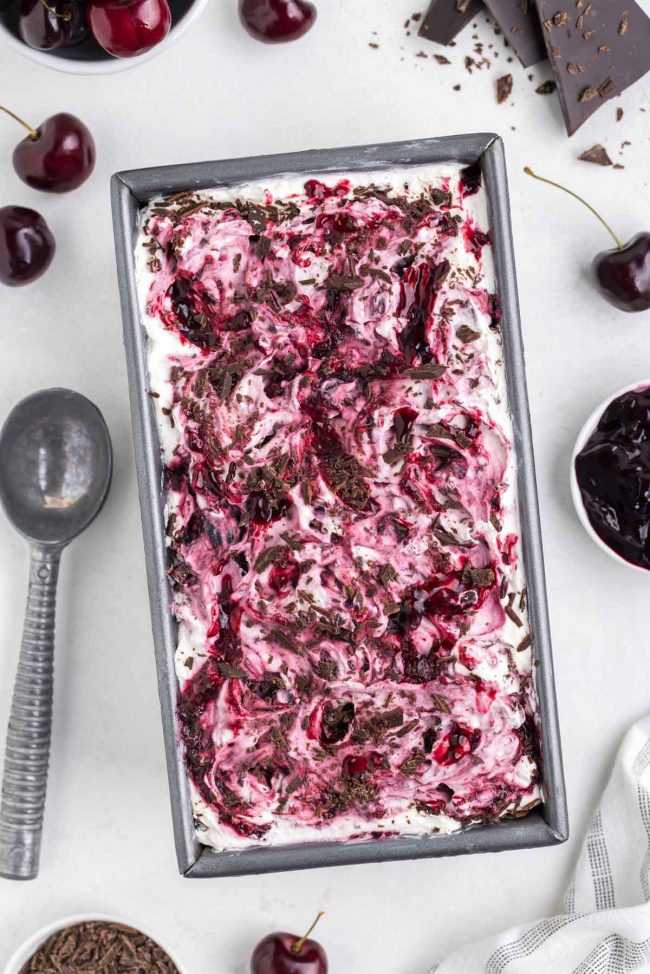 What is Black Forest cake, anyway?
A typical Black Forest cake is a decadent, layered chocolate sponge cake sandwiched with whipped cream and a rich cherry filling.
It's named after the Black Forest region of Germany, known for its dark forests and abundant cherry trees. The first recorded recipe was published in 1930, but it's thought to have originated in the early 19th century.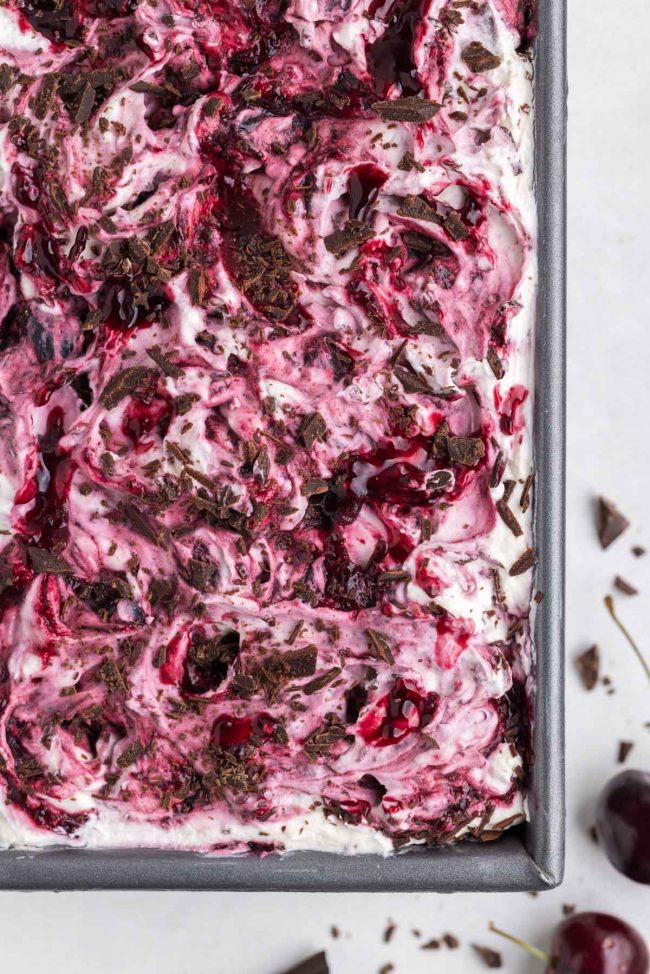 It's a popular dessert in Germany and worldwide, known for its delectable chocolate flavor, tart cherries and creamy whipped cream.
By the way, I've been to the Black Forest (it's only about four hours away), had Black Forest cake there, and much prefer this ice cream. But maybe that's just me. ;)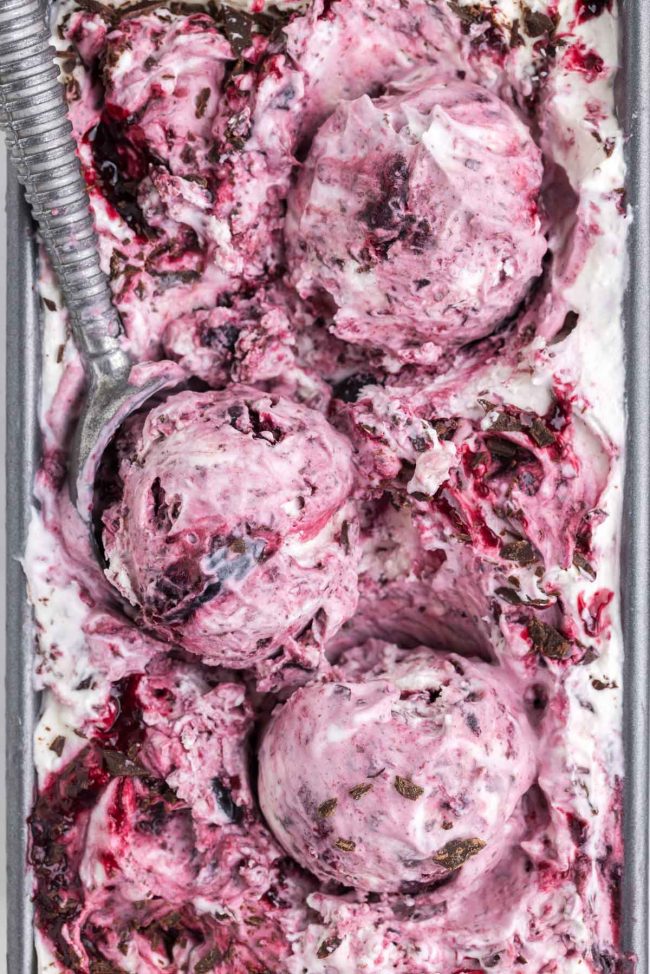 What is kirsch?
Kirsch is a clear, colorless brandy traditionally made from double-distilled morello cherries, which are dark and sour. Because Kirsch is made from sour cherries, it has a naturally tart flavor.
These cherries are fermented completely with their stones, which lends to a slight bitterness. Unlike cherry liqueurs and brandies, kirsch is not sweet but relatively dry and tart.
It's delicate yet complex and has a high alcohol content. Using kirsch is a great way to give desserts a tangy cherry flavor with a subtle hint of alcohol.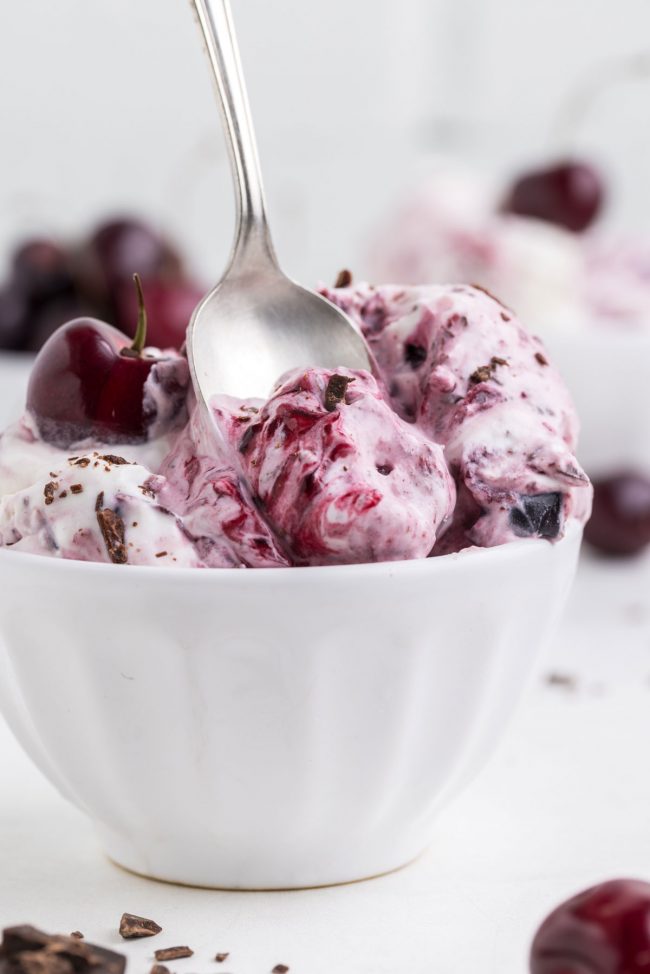 Can I omit the kirsch?
Yes, just use vanilla in its place. The ice cream is still just as delicious!
I wouldn't buy it if you don't already have it.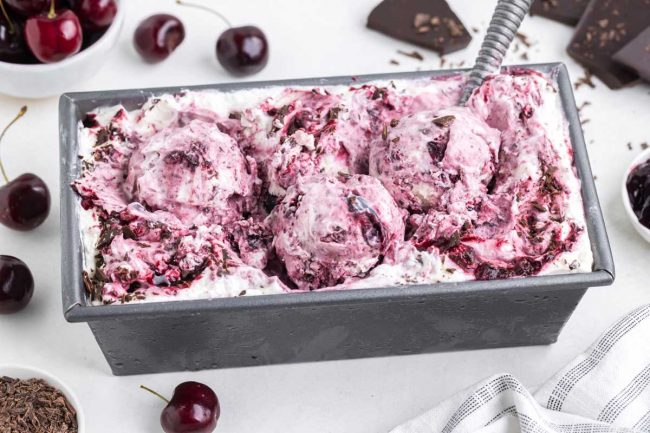 What's the texture like?
It's light and creamy. It's perfect for hot summer days when you already feel icky and don't want something rich and heavy.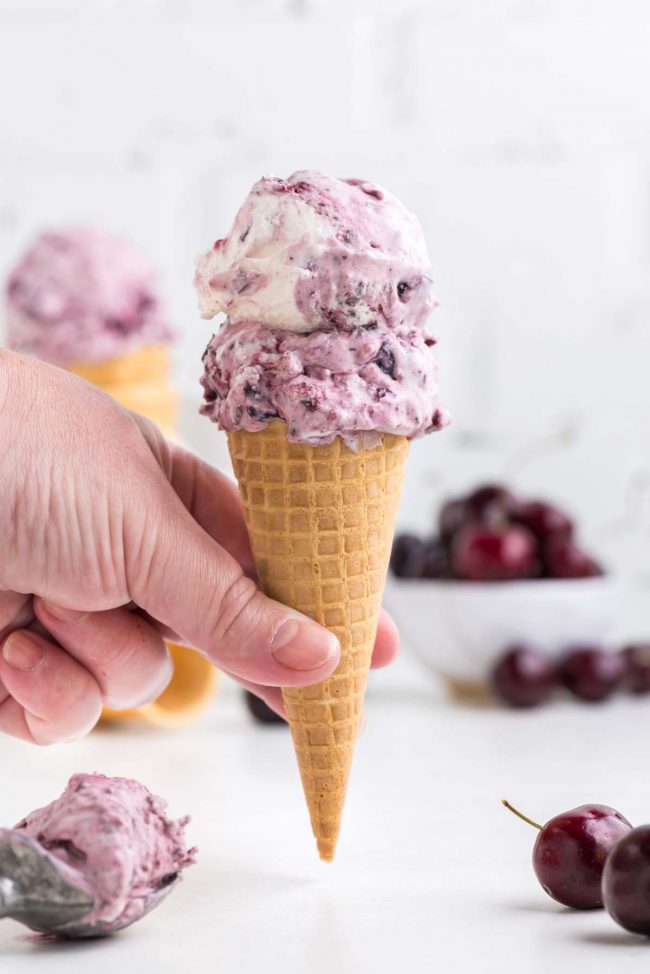 Can I make it vegan?
I've never been able to get much volume when making whipped coconut cream, so I didn't even bother trying out a vegan version. If there's another type of vegan cream that you can whip with great results, it might work here. But I can't say for sure without trying it.
I do have this Vegan Gelato that is nice and chocolaty if you'd rather give it a try.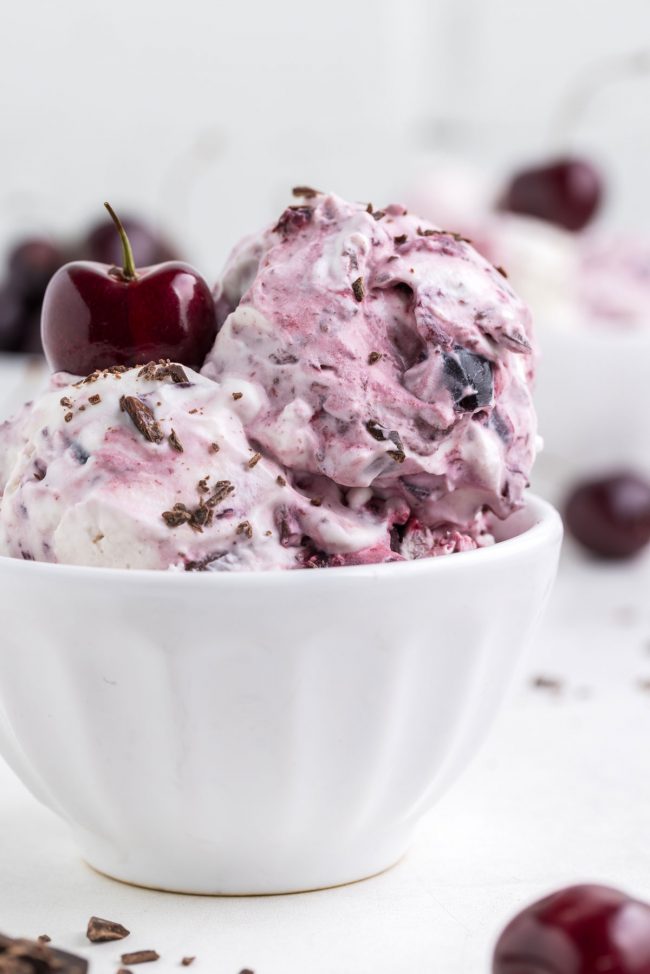 How do I make this without refined sugar?
Maple sugar might work if it's not very coarse. Ideally, you'd use powdered maple sugar.
I think honey or maple syrup would weigh down the whipped cream, making it much too runny. I'm not positive about that, though. It'd also change the flavor of the ice cream.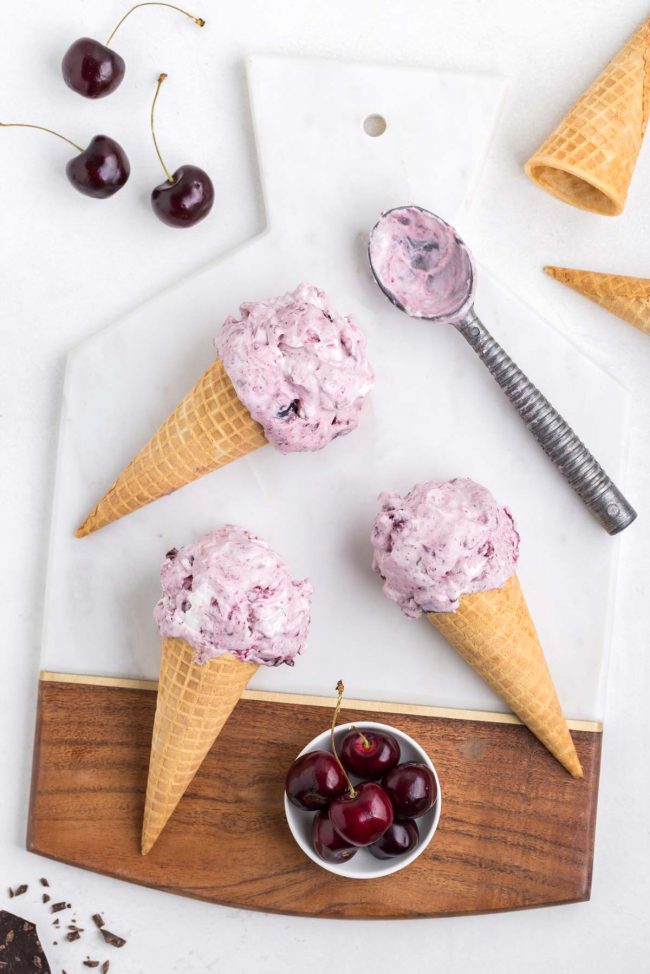 Other frozen treats
I hope you'll enjoy this Black Forest ice cream! If you try it, I'd love for you to leave a comment below with your feedback. Thank you! :)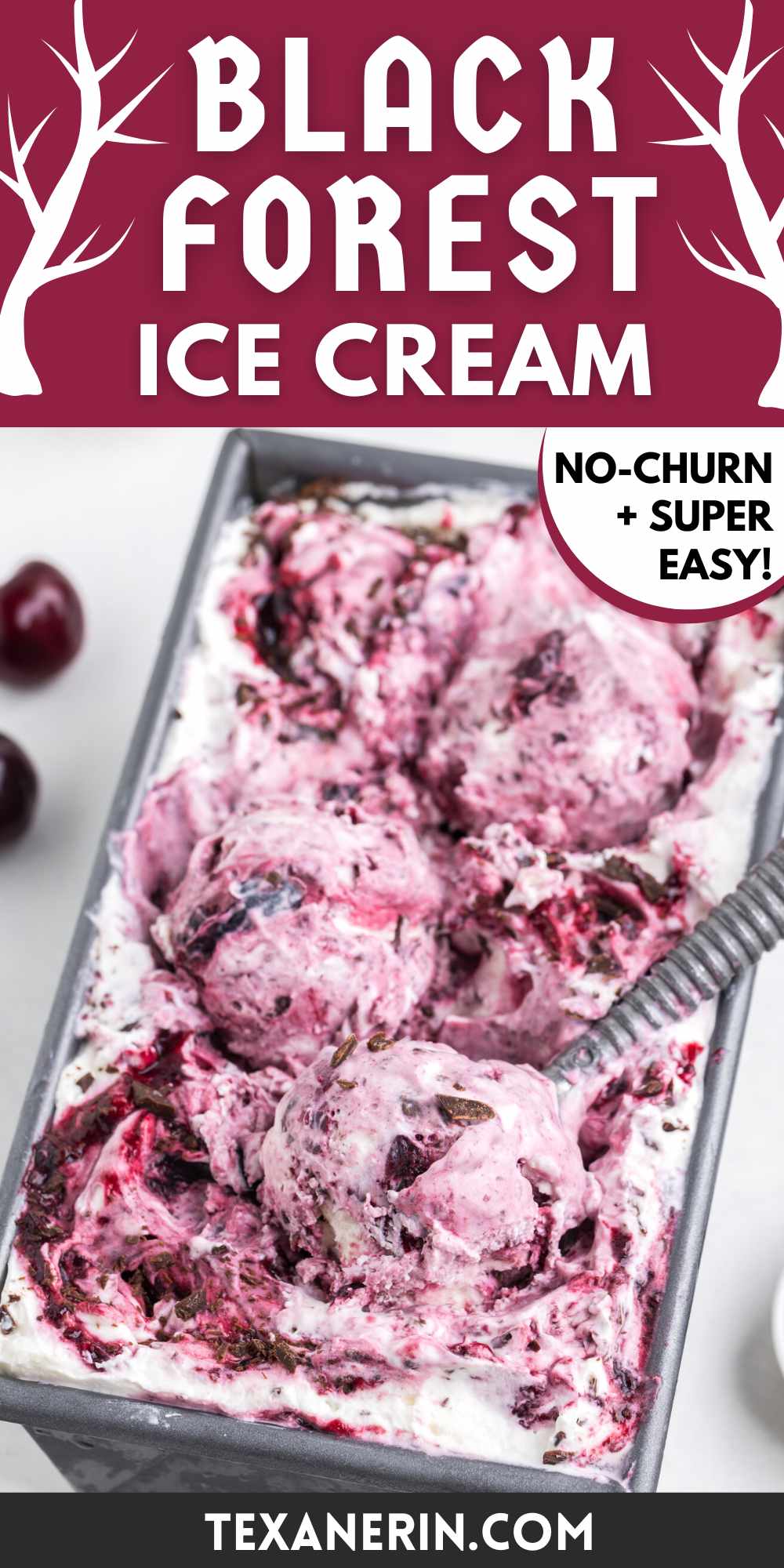 ❀
Black Forest Ice Cream
Prep Time:
Cook Time:
Ready in:
Yield:

8-12 scoops
Place a large mixing bowl and the beaters of a hand mixer in the fridge an hour ahead of time if you can.
Ingredients
For the cherry sauce:

1 tablespoon cornstarch, tapioca or arrowroot starch1
1/4 cup (60 ml) water
16oz (453 grams) pitted cherries, fresh or frozen
1/3 cup + 1 tablespoon (80 grams) granulated sugar
1 teaspoon vanilla extract
1 teaspoon kirsch or more vanilla
pinch of salt

For the ice cream:

3 cups (709 ml) heavy cream, very cold
1 1/2 cups (180 grams) powdered sugar, sifted if lumpy
4 teaspoons vanilla extract
1/4 teaspoon salt

For the chocolate:

3/4 cup (140 grams) finely chopped semi-sweet chocolate
Directions
For the cherry sauce:

In a medium saucepan, mix together the cornstarch and water until no lumps remain.
Add the cherries, sugar, vanilla, kirsch (if using - or another teaspoon vanilla), and salt.
Stir until combined, turn the heat to medium, and bring to a simmer over medium heat while stirring frequently. While it's cooking, break up the cherries with the back of a spoon.
It should have thickened quite a bit by the time it starts bubbling, but if it hasn't, let it simmer a bit more, but not too long, or the cornstarch will break down and make the sauce thin.
You can let it cool completely and then cover and refrigerate for up to 3 days. If you're in a hurry, pour the sauce into a shallow bowl, a pan, or something with a large surface area. Let cool for at least 10 minutes and then place in the fridge or freezer to chill while you prepare the ice cream. It should be totally cool before adding to the ice cream.

For the ice cream:

In a large mixing bowl, using an electric hand mixer, beat the heavy cream at low or medium speed (to prevent splattering) until it starts to thicken a bit. Then you can turn it up to high speed. Continue beating until you have stiff peaks.
Fold in the powdered sugar, vanilla and salt.
Spoon about 1/3 of the cream mixture over the bottom of the loaf pan (or whatever vessel you're putting the ice cream in).
Spoon about 1/3 of the cherry sauce on top (it doesn't need to be an even layer - it all gets mixed up anyway) and then sprinkle over 1/4 cup of very finely chopped chocolate. Use a skewer or knife to swirl it in a bit.
Do this for another 2 layers, ending with chocolate on top.
Cover, place in the freezer and freeze overnight. Can be frozen for up to 3 months. It can be frozen for longer but will start to form ice crystals the longer it sits.
Notes
If you're grain-free, use tapioca or arrowroot starch in place of cornstarch.