This apple crisp oat milk macchiato is a soothing coffee drink that combines the flavors of an apple crisp with the creamy sweetness of oat milk and a shot of espresso. It's vegan and can be gluten-free with the right oat milk.
It's the time of year when recipes are pumpkin spice everything, but not today. Here, we have fall flavors with a cozy apple crisp-flavored macchiato.
I have my share of pumpkin spice recipes, like this Pumpkin Chai Latte Recipe, but today's macchiato is perfect for the season.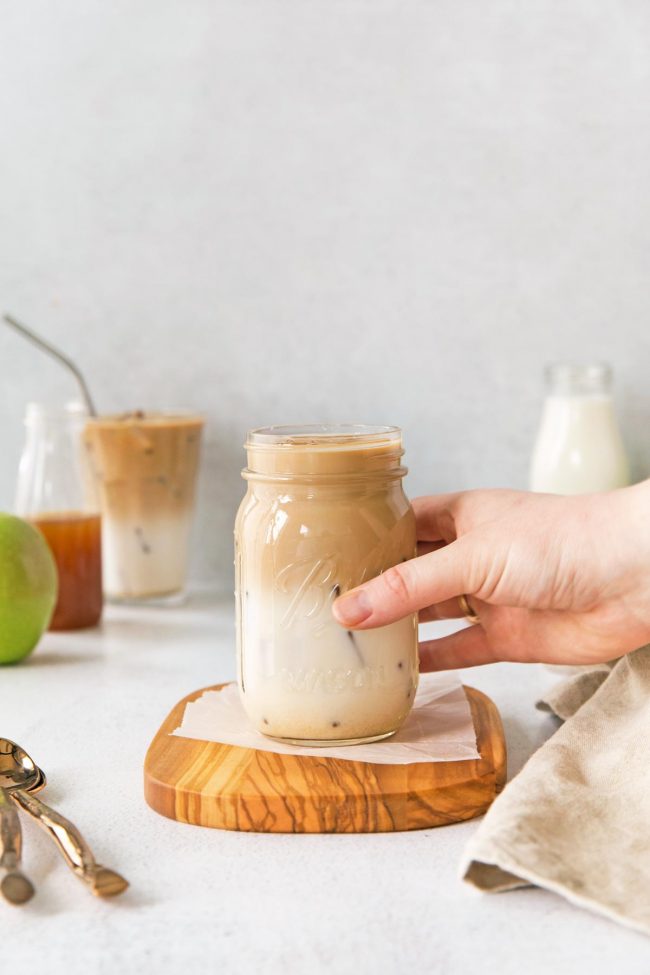 Ingredients
Here's an overview of what you'll need for this drink.
I recommend using a Granny Smith apple, but you can use any flavorful apple you'd like. Here are some great baking apples.
Honeycrisp
Braeburn
Pink Lady (or Cripps Pink)
Jonagold
Winesap
Mutsu
Also note that using coconut sugar instead of brown sugar will diminish the apple flavor a bit as coconut sugar has a darker flavor than brown sugar. But the result is still tasty!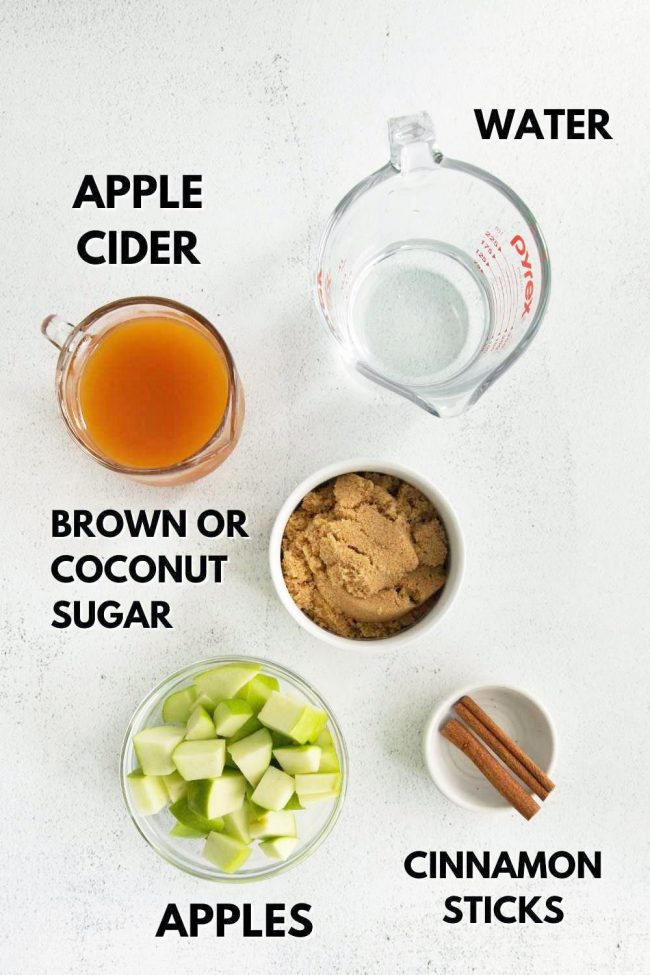 Apple crisp syrup
The syrup sweetens this coffee drink and fills your house with the smells of apple and cinnamon. If you've tried Starbucks apple brown sugar syrup, you'll recognize its unique taste in this homemade version.
You can buy Starbucks syrup for this macchiato, but unfortunately, it's only seasonally available. By making your own syrup, you can have it year-round and without the preservatives.
This syrup is easy to make with a Granny Smith apple, apple cider, light brown sugar or coconut sugar and cinnamon sticks. The recipe makes 10 to 12 servings, depending on how sweet you like your coffee.
It will last in the fridge for up to 2 weeks, so you've got time to enjoy it.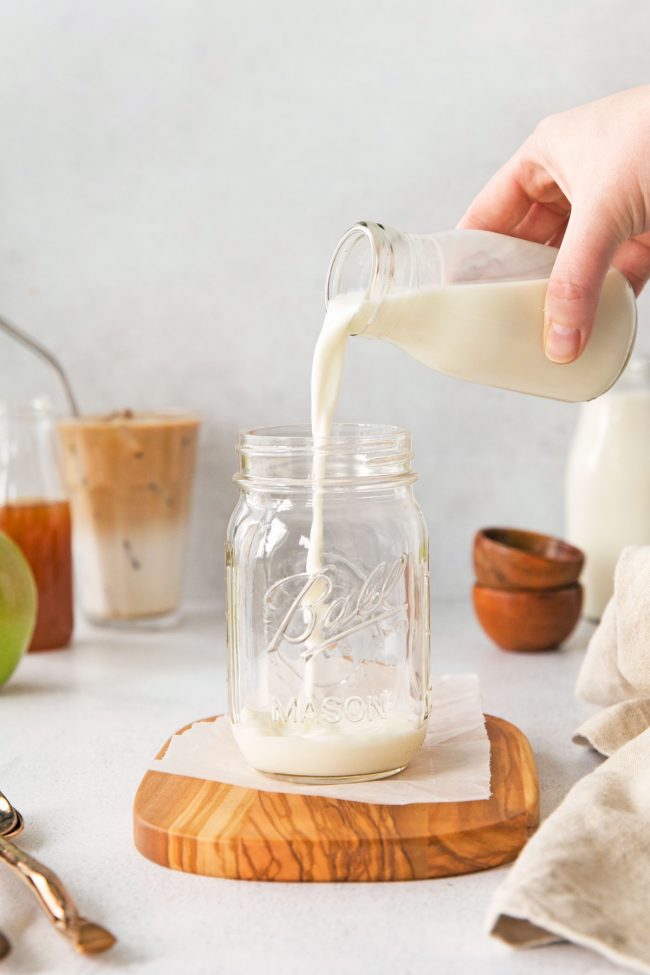 Apple cider
If you have access to apple cider, then that's what you should use in this recipe. If you don't have access to it, then 100% apple juice will also work.
And we're talking about non-alcoholic apple cider here! Please don't use the fizzy stuff.
Apple cider is neither filtered nor pasteurized like apple juice, and apple cider will give you a darker, golden brown color and more apple flavor.
You can also make your own Homemade Apple Cider.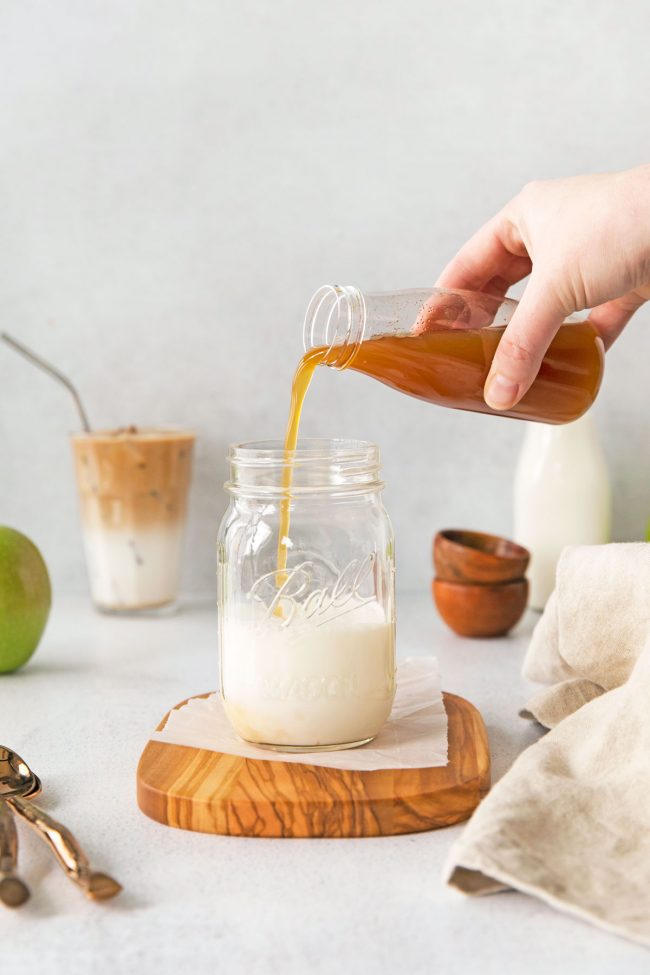 What's a macchiato?
A traditional macchiato is an espresso-based coffee drink with a small amount of foamed milk.
The name comes from the Italian word "macchiare" meaning "to stain." And it's the espresso that literally stains the milk.
Macchiatos are for those who enjoy a strong espresso flavor but prefer to make it less bitter with a small amount of milk.
You can have a double macchiato with two espresso shots if you like a more robust coffee flavor.
This oat milk macchiato is served over ice and sweetened with apple syrup, making it a refreshing twist on a classic recipe.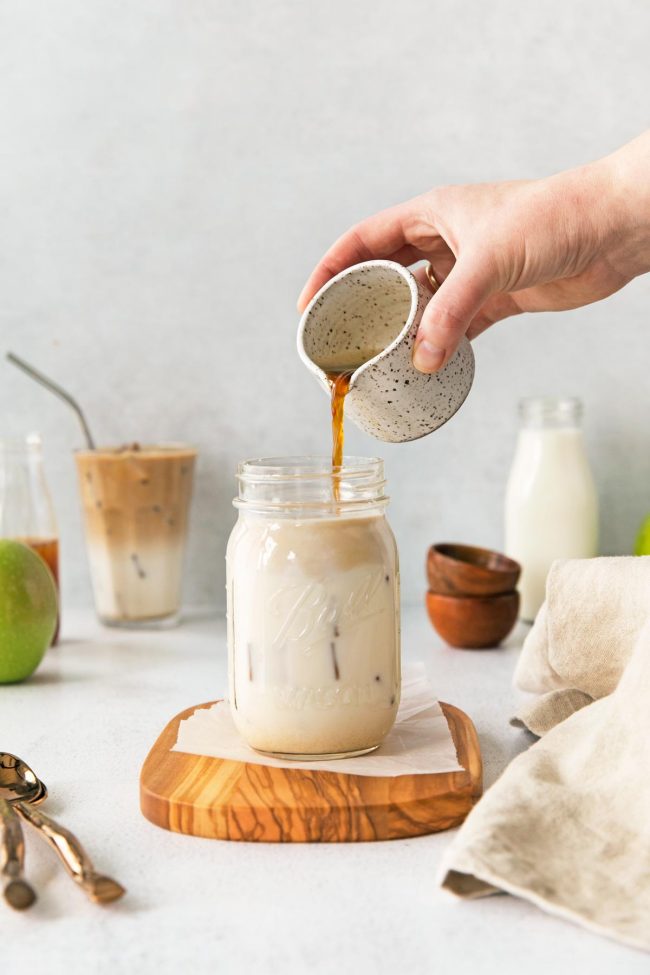 How to make espresso without a machine
It's easy to make French Press Espresso, or you can make Cold Brew Espresso, but you have to plan ahead.
If you don't have a French press, you can make Mason Jar Cold Brew, but you'll need at least 8 hours to brew it.
Why oat milk?
Oat milk is a lactose-free, low-fat, high-fiber, sustainable alternative to cow's milk and an excellent choice for those who follow a vegan or plant-based diet.
It's creamy and smooth and has a slightly sweet flavor that perfectly emulates the crisp part of this apple crisp oat milk macchiato.
Just to be clear, drinking this apple macchiato doesn't actually taste like eating an apple crisp. It's just reminiscent of an apple crisp. :)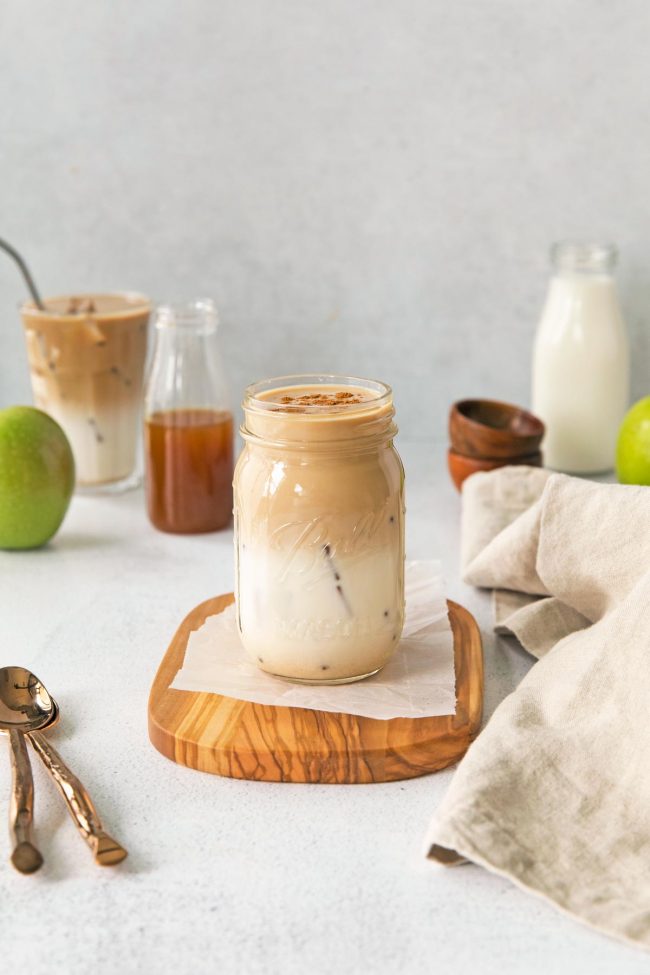 Gluten-free
If you're following a gluten-free diet, you might ask, Is Oat Milk Gluten-free? The answer is yes and no, and in that post, you'll find what brands are safe to buy.
Basically, if you're gluten-free, you need to make sure your oat milk is labelled as gluten-free.
Substitutes
If you're concerned about using oat milk, you can use a different milk alternative in this drink. It will have a slightly different flavor profile but tastes good all the same.
I usually use cashew milk in my coffee drinks, but almond milk would also be a good choice.
Really, anything you usually use in your coffee will be fine, but the drink will have a slightly different taste than intended.
What to serve with this macchiato
This Cranberry Apple Crisp or this Healthier Vegan Blueberry Crisp would add a little tartness served with this drink or if that is all too much "crisp," then these Gluten-free Apple Muffins would also be great. These Salted Caramel Pumpkin Muffins would also be a great choice!
More fall coffee drinks
I hope you'll enjoy this apple crisp oat milk macchiato! If you make it, we'd love to hear about it. Thanks! :)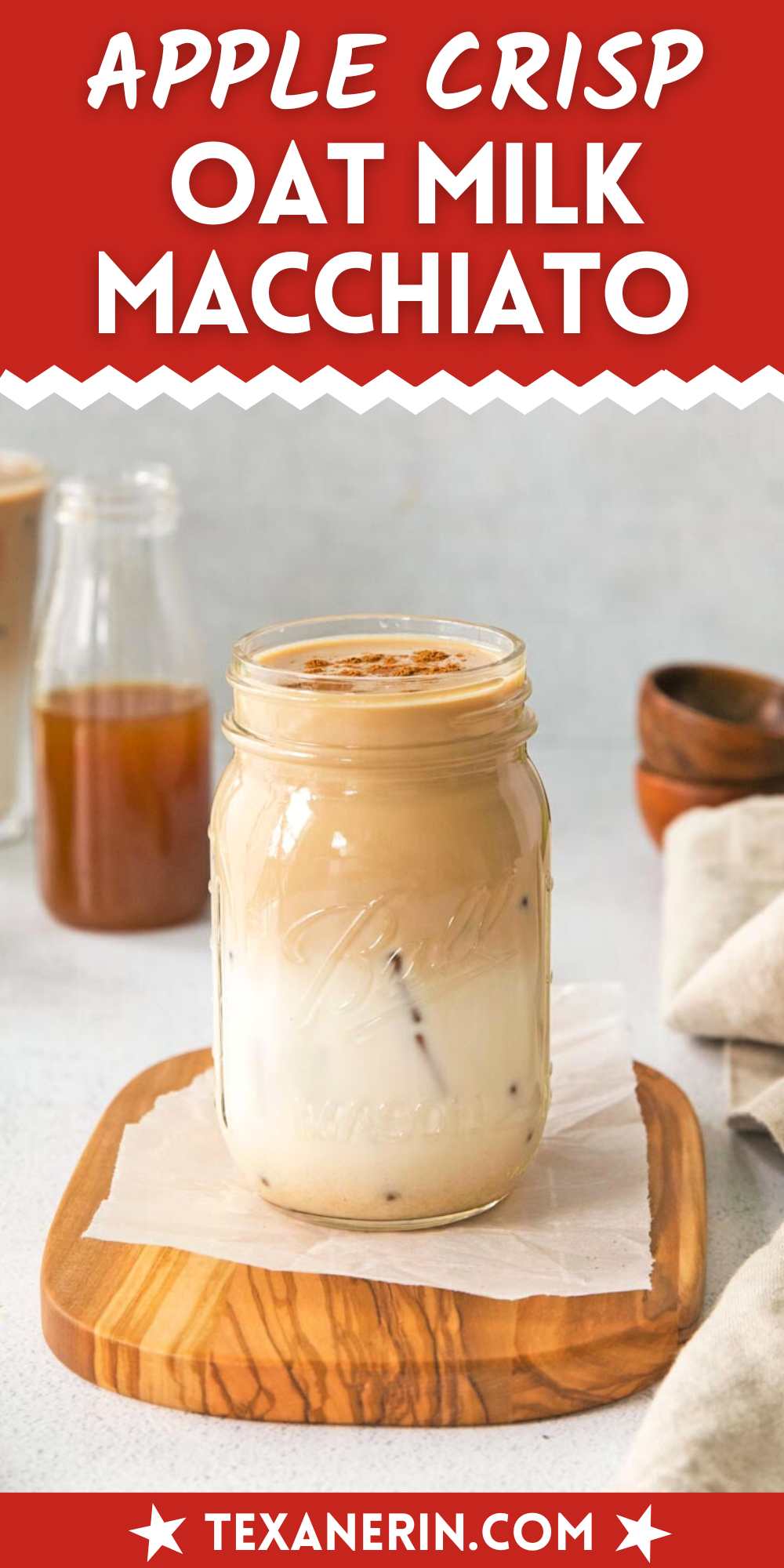 ❀
Apple Crisp Oat Milk Macchiato
Prep Time:
Cook Time:
Ready in:
Yield:

1
Ingredients
For the apple syrup:

1 large (200 grams) Granny Smith apple, chopped into 1/4" chunks
1 cup (240 ml) apple cider (non-alcoholic) or 100% apple juice
1/2 cup (120ml) water
1/2 cup (100 grams) light brown sugar or coconut sugar
2 cinnamon sticks
1 teaspoon vanilla extract
pinch of salt

For the macchiato:

1/2 cup (120ml) cup oat milk (use gluten-free oat milk if you're GF)
2-4 teaspoons apple syrup
1 oz (2 tablespoons) espresso
Directions
For the syrup:

To a small saucepan over medium heat, add all the apple syrup ingredients.
Stir and bring to a boil while stirring frequently.
Reduce the heat to medium-low and cook for another 10 minutes or until the sugar has dissolved and the apples are tender, but not soggy.
Remove the pan from the heat and let the apples steep for 20 minutes.
Strain the syrup using a fine-mesh sieve, pressing down on the apples to extract all the flavor.
Let cool and then pour into an airtight container and chill.

For the macchiato:

Mix the oat milk and apple syrup in a glass.
Add ice and then top with espresso.
Drizzle with extra syrup.
Serve!