These black cookies get their black color and Oreo-flavor from black cocoa – not food coloring! They don't have eggs or egg subs, making them vegan and dairy-free, and you can use all-purpose, whole wheat or gluten-free flour.
These cookies are seriously better than Oreo wafers. I generally don't like crisp cookies, and since these cookies are perfectly chewy with crisp edges, they're the clear winner to me.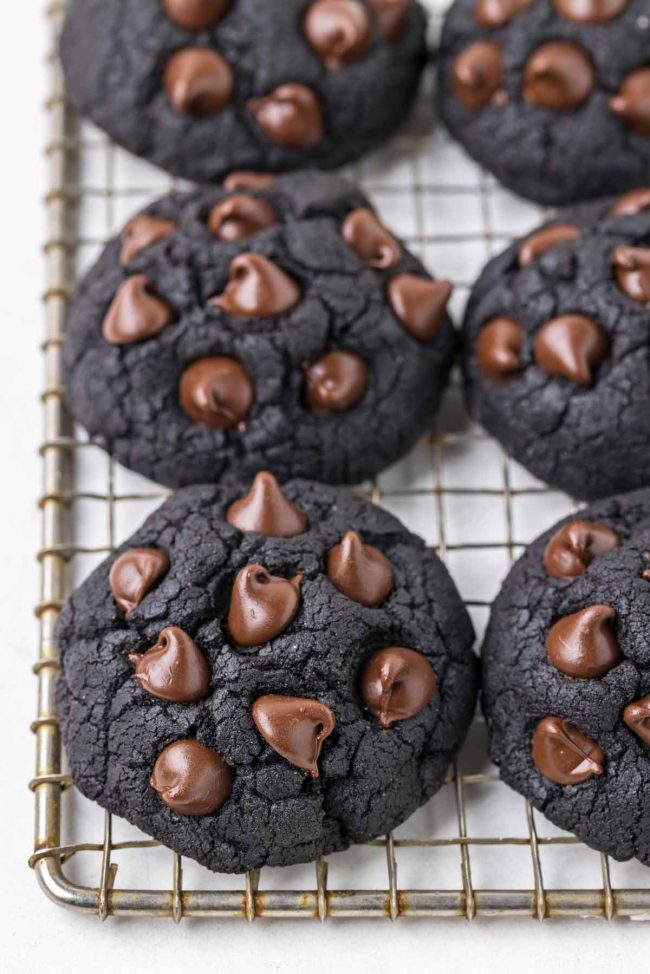 Ingredients
Flour – I've tested this recipe with all-purpose, white whole wheat, whole wheat and 2 types of gluten-free flour. More on that below!


Black cocoa powder – I go super deep into detail about this below.


Coconut oil – I always use refined coconut oil because I don't want any coconut flavor. You can use unrefined if you don't mind coconut flavor. I think it would be strange in these cookies, but you can certainly experiment. You can also use butter if you'd like!


Granulated sugar – keto and liquid sweeteners don't work here, by the way.


Brown sugar – you can replace this and the granulated with coconut sugar if you'd like, but it does detract from the Oreo flavor. More on this below.


Semi-sweet chocolate chips or chunks – if you're vegan/dairy-free, make sure to use vegan/dairy-free chocolate.


Baking powder, vanilla, salt and water
How to make them
It's a basic cookie recipe. No fancy techniques here. You don't even need to chill the dough.
If you do chill the dough, it gets weirdly hard and crumbly in the fridge. Just let it sit at room temperature until it's soft. It'll bake up normally.
To make these black cookies, you just mix together the dry ingredients in one bowl.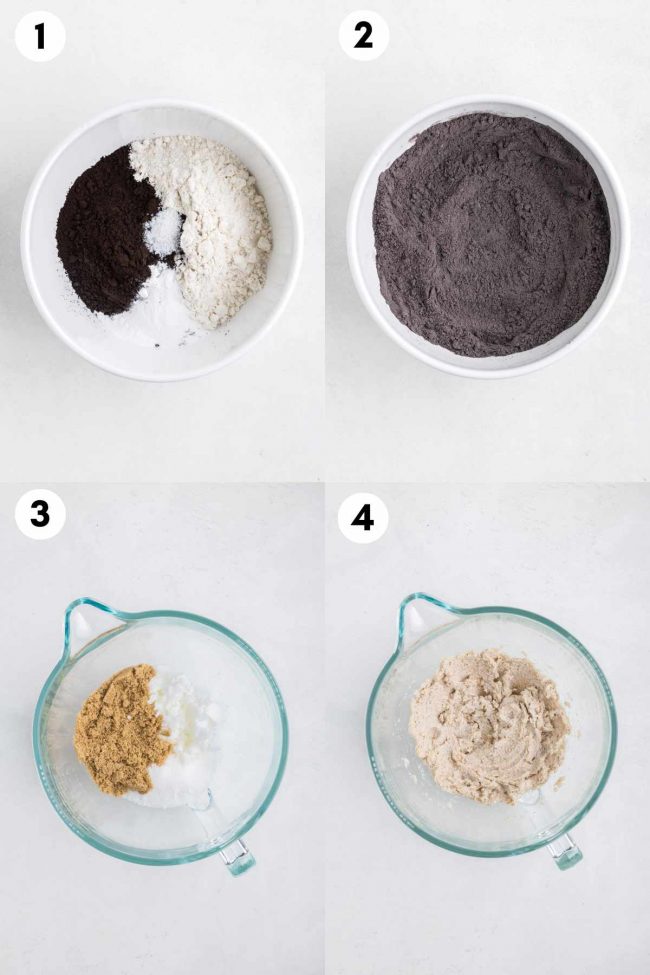 Beat together the wet stuff in another bowl, and then stir in the dry mixture.
Roll into balls, add the chocolate chips on top, and bake!
You can definitely just toss the chocolate chips in the cookie dough rather than placing them on top. I did it this way because I'm vain about my cookies and wanted them to look irresistible.
In real life, I don't individually place chocolate chips on the tops of cookies. Unless they're a gift!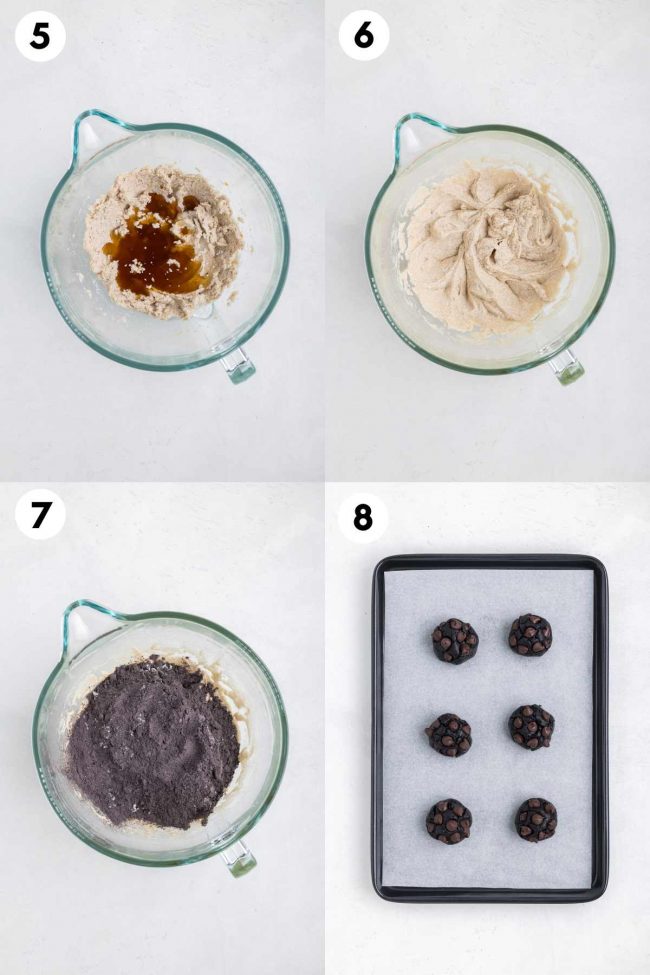 Black cocoa powder brands
If you read my black ice cream post, you can skip over all this talk about black cocoa powder.
For new readers, I've been living in Germany for the past 14 years, but I test my recipes with US brands to ensure we (because most of you are from the US) get the same results.
The problem with black cocoa powder is that there isn't any black powder in the US that I can have shipped to Germany, and none of the brands we have here can be bought in the US.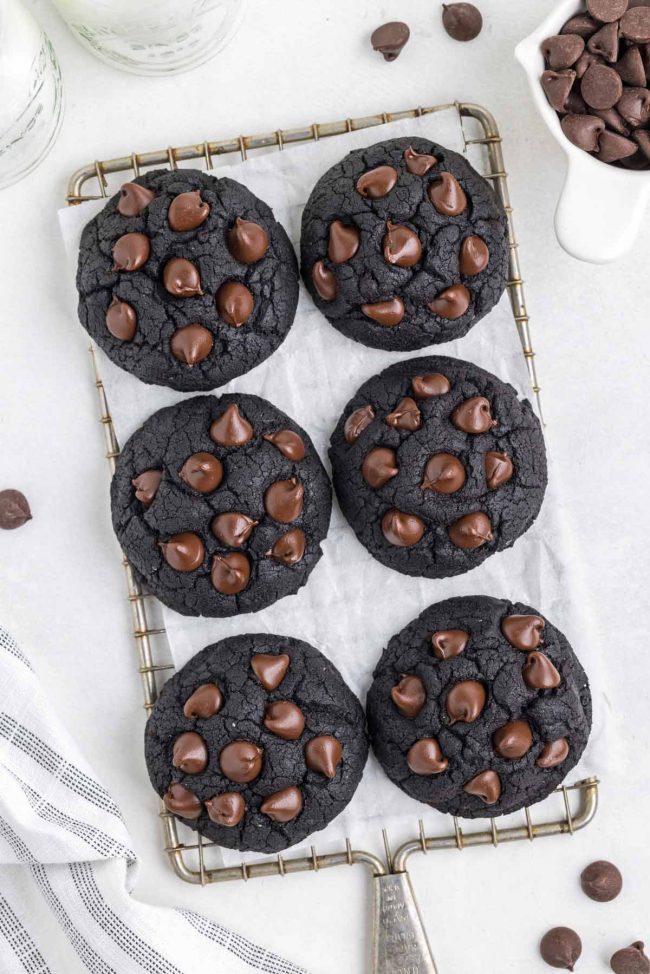 For the European readers, I tested my black cocoa recipes with Van Houten Intense Deep Black Cocoa. Everything I've made has come out perfectly with it.
A helpful reader, J, made my black ice cream and left a comment to say that it was a hit and also that the previously mentioned cocoa powder is now called Noir Intense and is sold under the brand Cacao Barry. I read that it's the same exact black cocoa. It just has a new brand, name, and packaging.
My photographer is in the US, so for her, I just read a ton of reviews on Amazon and picked the one with the best reviews and price. Most of them were tied when it came to the ratings, so I chose the cheapest (at the time).
She used black cocoa powder from Modern Mountain in the cookies you see here in the photos, and her cookies came out looking exactly like mine. Yay! Right?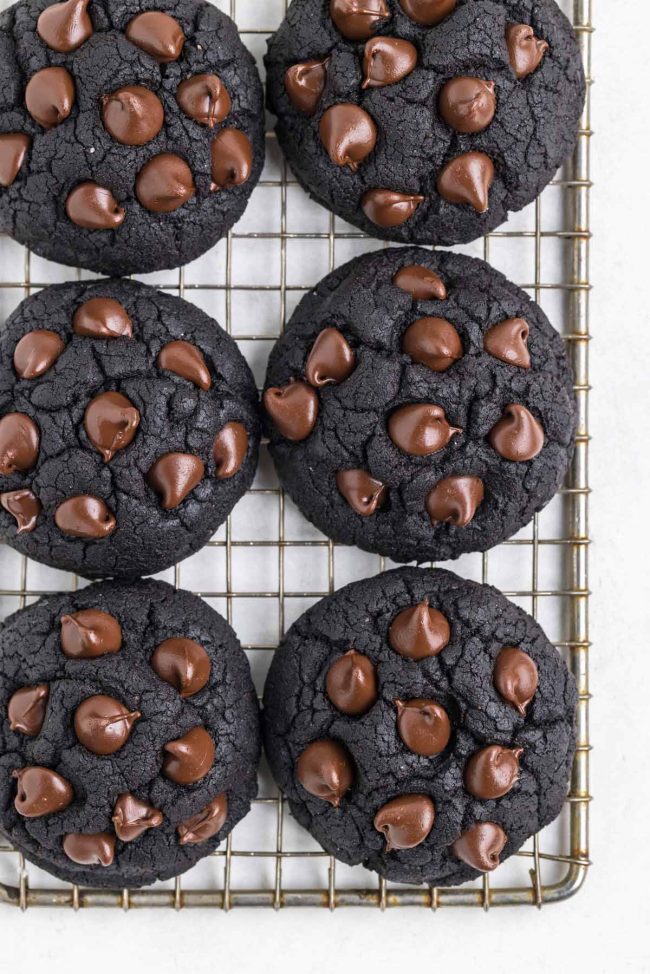 Then she sent me a picture of my Black Ice Cream, asking if it was supposed to be brown. I panicked. And died a little inside.
It's supposed to be black! She then used black cocoa from The Cocoa Trader, and the ice cream came out black.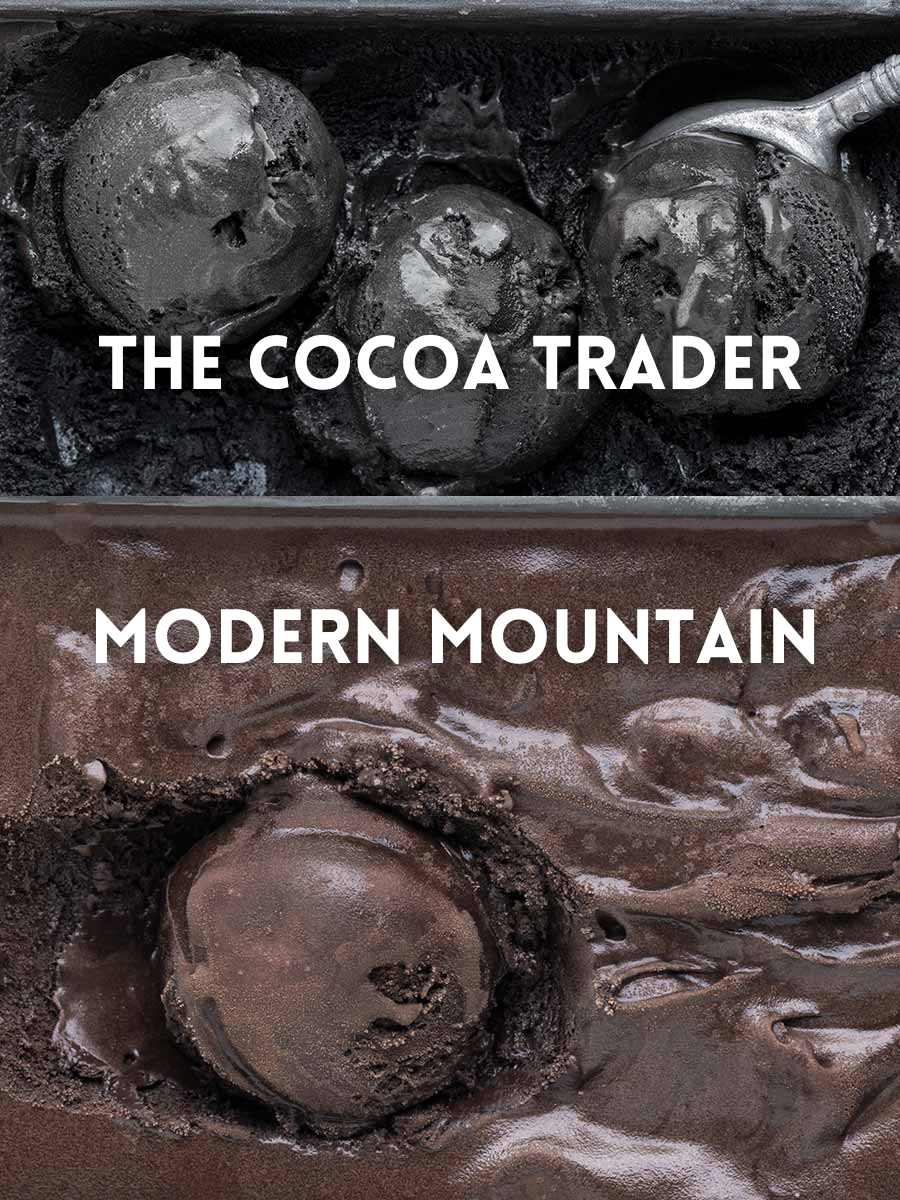 So if you want to use your black cocoa in some other recipes, I would recommend buying The Cocoa Trader black cocoa to guarantee that your results in future recipes will come out black and not brown.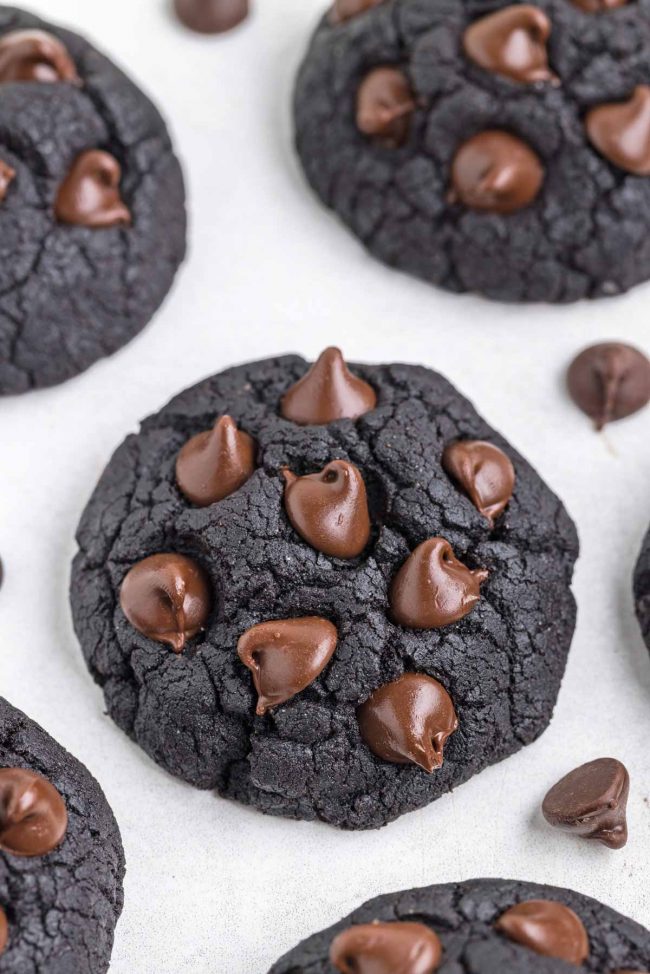 Warning! 
Black cocoa powder keeps its black color ALL the way through your digestive system.
Have you heard of the beet test? If you don't want to eat beets, these cookies also work for testing purposes. ;)
If you're wondering why I'm telling you this, it's because I don't want anyone to panic and to think they have internal bleeding. Because that's what comes up when you google the issue.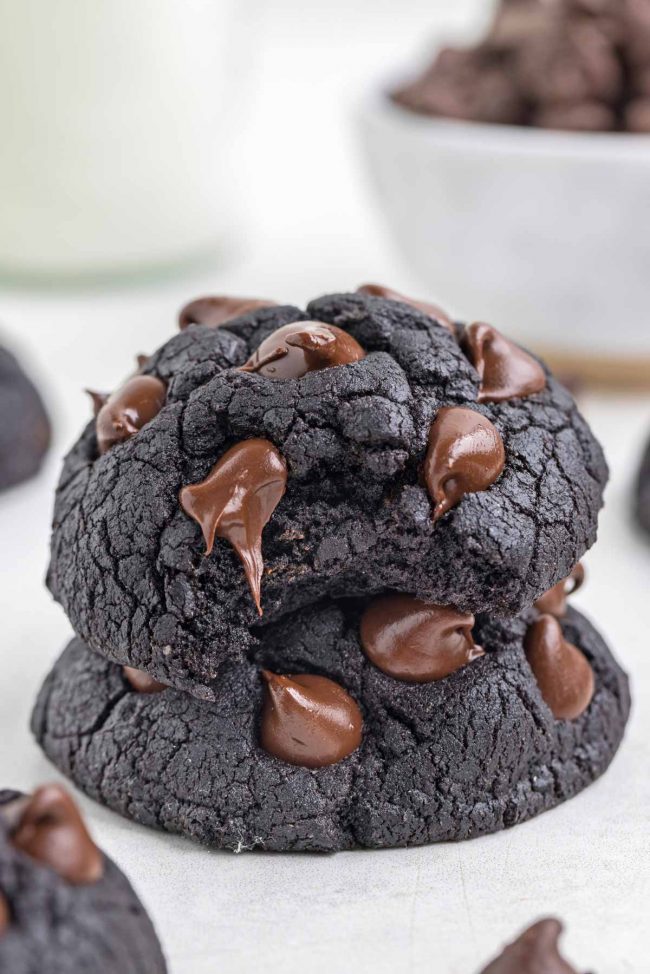 Gluten-free version
You can use a 1:1 gluten-free baking blend that's meant as a direct sub for all-purpose flour. Not oat flour, almond flour, coconut flour, etc.
King Arthur Flour Gluten-free Measure for Measure Flour was my favorite in these cookies. Bob's Red Mill Gluten-free 1:1 Baking Flour also works, but the texture is better with KAF.
As always, I have no idea if other brands will work as I haven't tried them.
Vegan?
They're vegan, as written! There's no egg or egg sub, and the cookies already use coconut oil. If you want to deveganify them, you can use butter in place of the coconut oil.
Can I use coconut sugar or another sweetener?
Yes, but the flavor of the coconut sugar takes away from the Oreo flavor.
I preferred them with brown + granulated sugar, but if you have to use coconut sugar, I think you'll still be quite happy.
A liquid sweetener won't work as there aren't any liquids to reduce in the recipe to make up for the added liquid from maple syrup, honey, etc.
Since this recipe uses regular flour, I didn't test any keto sweeteners here. But if you do, please let me know how it goes!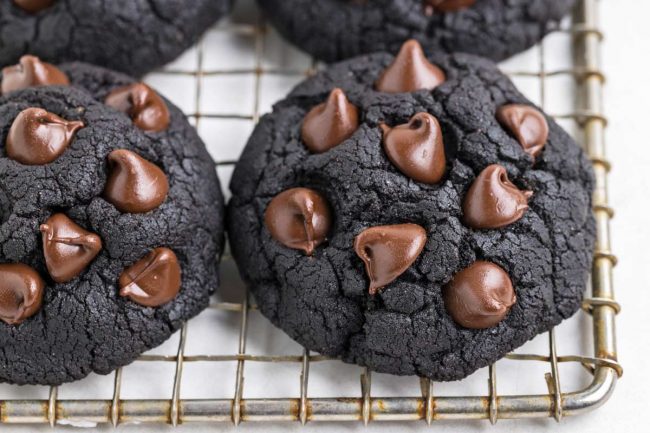 Need flatter cookies?
I spent half a day experimenting with how to get perfectly-shaped cookies with this recipe. It was kind of ridiculous.
I have another recipe coming up with this base (a very Halloweeny version!), so I needed them to be perfect and flat on top.
If you want to put on chocolate chips like I did, you won't get perfectly-shaped cookies. They're kind of mound-shaped. Unless you're trying to win a beauty contest, I don't think anyone at all will care.
They are really incredible.
If you don't want to put chocolate chips on top, then you can form balls, and bake, and when they come out of the oven, use the bottom of a flat glass to flatten them. Then they look perfect!
Other chocolate cookies
I hope you'll enjoy these black cookies! Please let me know what you think if you try them out. :) Thank you!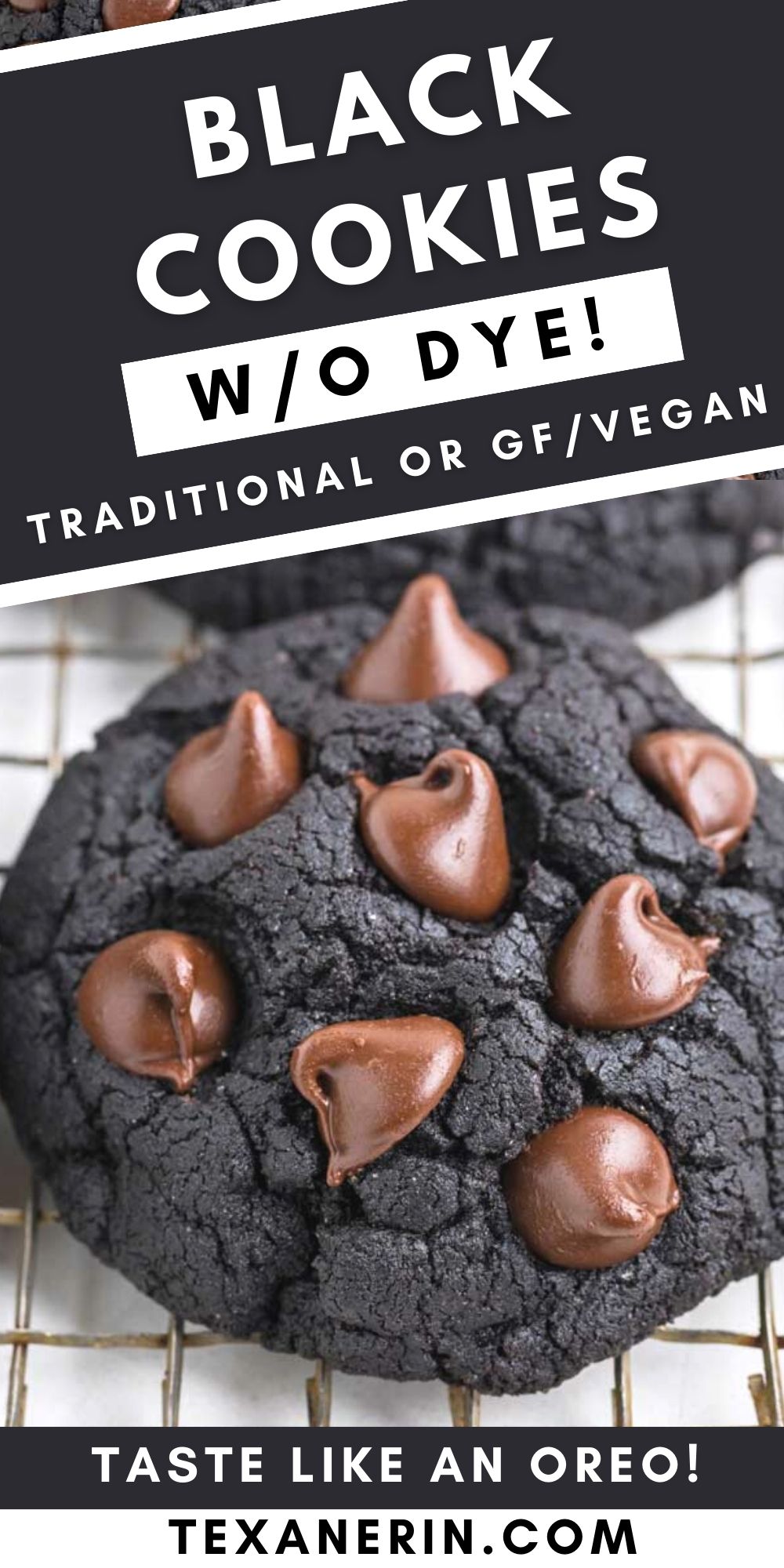 ❀
Black Cookies
Prep Time:
Cook Time:
Ready in:
Yield:

12
Ingredients
1 1/2 cups (188 grams) flour (see notes)1
1/2 cup (58 grams) black cocoa powder
1 tablespoon baking powder (I recommend aluminum-free for taste reasons)
1/2 teaspoon salt
7 1/2 tablespoons (105 grams) coconut oil, slightly softened but NOT at all melty2
1/2 cup (100 grams) granulated sugar
1/2 cup (100 grams) light brown sugar, packed
1/4 cup (60 ml) water
4 teaspoons vanilla extract
1/3 cup (56 grams) semi-sweet chocolate chips (use dairy-free/vegan chocolate, if needed)
Directions
In a medium mixing bowl, stir together the dry ingredients (flour, black cocoa, baking powder, and salt). Set aside.
In a large mixing bowl with a stand mixer or electric hand mixer, beat together the coconut oil, sugar and brown sugar until light and fluffy.
Beat in water and vanilla until well combined.
Beat the flour mixture in on low until totally combined. If you prefer to mix the chocolate chips into the dough rather than placing them on top, like I did in the photos, do that now.
Let the dough sit for about 10 minutes to allow the flour time to absorb the moisture. Meanwhile, preheat the oven to 350 °F (176 °C) and line a cookie sheet with a piece of parchment paper.
Roll into twelve 52-gram balls. They usually feel a little greasy, but not very. Sometimes, they're more greasy than just a tiny bit, but they still bake up fine and didn't come out greasy.
Place the balls about 3" apart on the parchment-line baking baking sheet.
If you didn't stir the chocolate chips into the dough, place the chocolate chips on top of the dough balls. Reform them into nice balls if they get misshapen while pushing in the chips.
Bake for 10 minutes. They'll have puffed up a bit and might look a bit crackled. Let them cool completely on the baking sheet.
Store in an airtight container for up to 5 days. They can also be frozen (dough or baked cookies) for up to 3 months.
Notes
For the flour you can use all-purpose, whole wheat, or white whole wheat flour. If you're gluten-free, I recommend using King Arthur Flour Gluten-free Measure for Measure Flour. Bob's Red Mill Gluten-free 1:1 Baking Flour also works, but the texture was better with KAF. Other brands that are meant as a 1:1 sub for all-purpose flour should work, but I haven't tried them.
The coconut oil shouldn't be rock hard – but also not melty – or the cookies will be greasy, and there's no way to fix it.