This blanched almond butter is super easy to make with a high-speed blender or food processor. Using only blanched almonds, you can have creamy smooth almond butter at a fraction of the cost of store-bought. And because it consists of nothing but almonds, it's naturally keto, paleo and vegan.
I've had this How to Make Almond Butter post up for many years, but with this recipe, you use blanched almonds instead of almonds with the skin.
This recipe, like the other, uses one ingredient and takes 1-10 minutes to make with roasted almonds – and without adding oil. Because blanched almonds are skinless, the color is different from regular almond butter.
It also tastes different. It's more neutral, which is great for certain recipes.
I already have quite a few nut butter recipes. They're tasty on bread, on a spoon and for making treats like Vegan No-Bake Cookies.
Buying store-bought almond butter for my recipe development would break the bank, so I've grown accustomed to making my own. Luckily, it's super simple.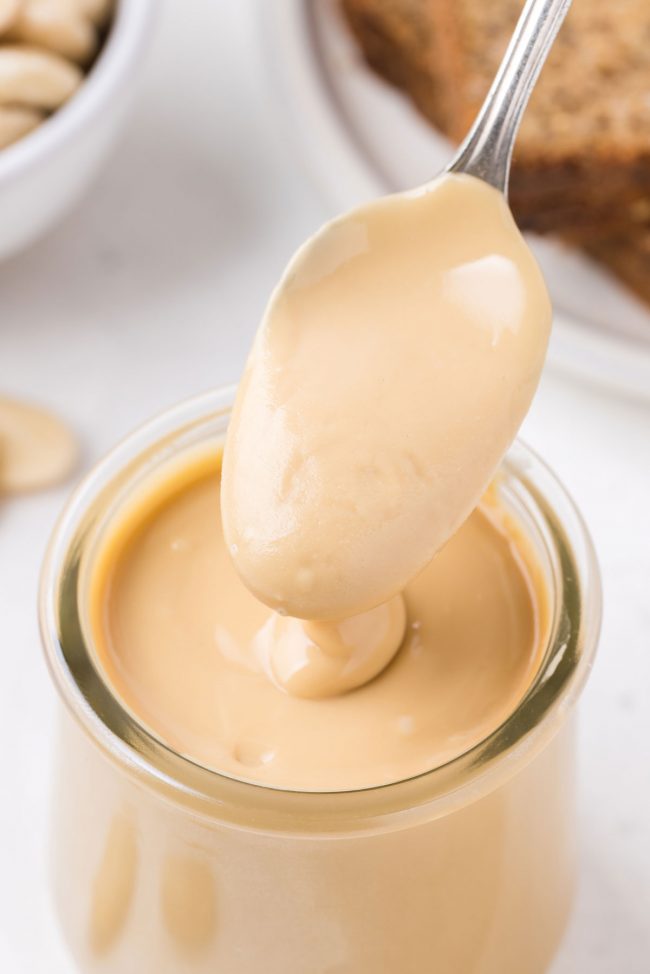 Much cheaper than store-bought
Blanched almond butter is super easy to find where I live (in Germany). I have my pick of several brands.
Even store brands offer their own blanched almond butter, and it's not that much more expensive than regular almond butter.
I have an overnight oat recipe coming up next week in which I use blanched almond butter. When I looked up what kind of blanched almond butter one could get in the US (that's where my photographer lives), I was surprised to see that it pretty much doesn't exist. I only found two brands.
One costs $20.95 for 12 ounces and has a rating of 3.7 on Amazon. The other is $14.99 for 12 ounces and has a rating of 4.1
No way did I buy either one of those. And I bet you won't either once you see how easy this recipe is!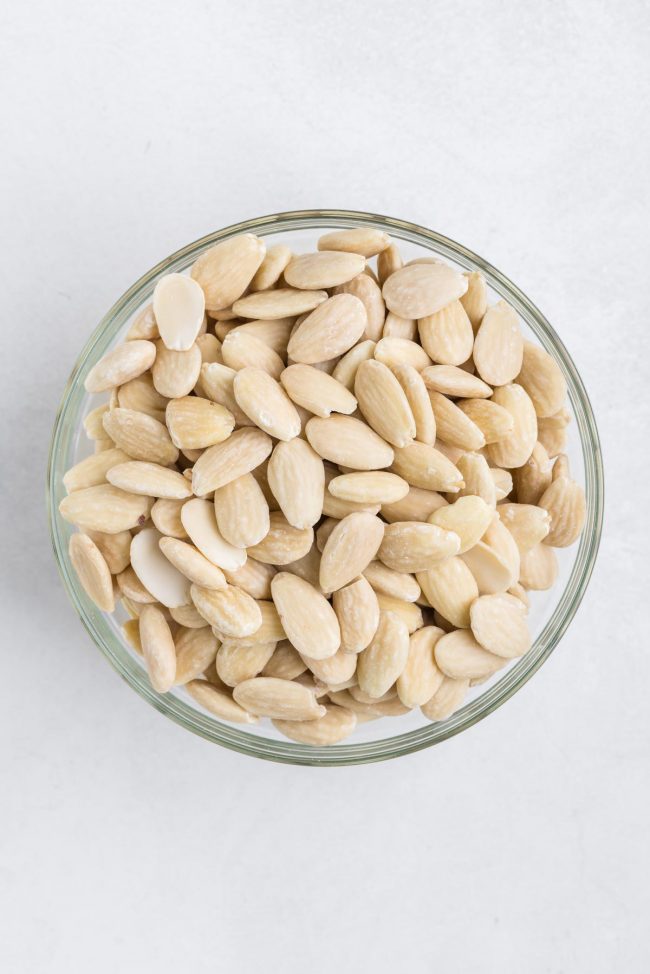 Blanched almonds
Blanched almonds are the ones without the skin. You can buy blanched almonds or blanch the almonds yourself, which is the cheaper option.
It's not hard to blanch almonds, but it is kind of annoying and time-consuming. You place the whole, shelled almonds into boiling water for exactly 1 minute, drain and rinse with cold water, dry the nuts with a paper towel, and then the skins easily come off.
Then let them dry and start with the recipe as written.
Where to get the cheapest blanched almonds
The cheapest blanched almonds I could find online were Mandelin Blanched Almonds. They're $9.99 per pound or 62¢/oz.
You can get a 5-pound bag of almonds with the skin from Costco for $17.99. 5 pounds of the blanched almonds would cost $49.95.
I'm usually super economical, but I just hate blanching and peeling off the skins, so I buy blanched.
I've seen some people recommending slivered blanched almonds. Walmart has Great Value blanched and slivered almonds for 61.2¢/oz. The whole blanched almonds are 62 cents. Definitely go for the whole, blanched almonds!
The pointy bits on slivered almonds brown quickly, leaving you with unevenly browned almonds. Whole almonds are much easier to roast.
You can also order a 5-pound bag of sliced blanched almonds that's only 49¢/oz. Those roast more evenly than slivered, but you'd need to spread them out in a flat layer and probably do several batches.
How to make it
The full instructions are in the recipe, but I wanted to point out a few things.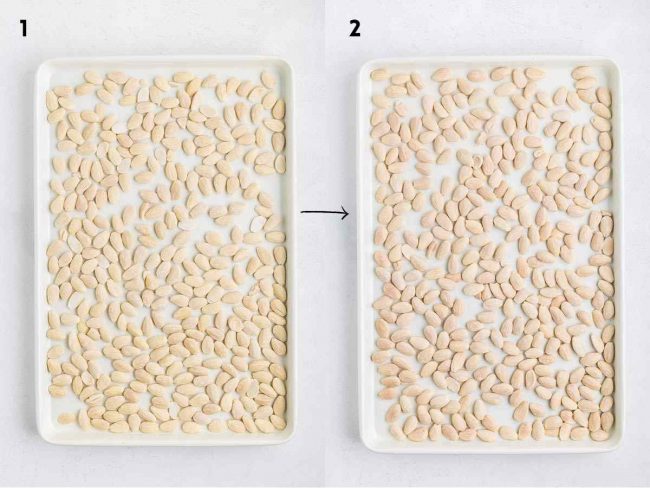 Above you see raw almonds and then the roasted almonds. You don't want them to brown a lot. Just a bit.
I also recently learned that coating blanched almonds in a bit of oil and salt before roasting makes a fantastic snack! Worlds more delicious, in my opinion, than almonds with the skin. The three of us went through almost six pounds (2.5kg) of these almonds in three months.
Below, you see the stages of almond butter making. (3) Whole almonds, (4) chopped almonds, (5) dry powder, like almond flour (6) a paste-like, thick mass.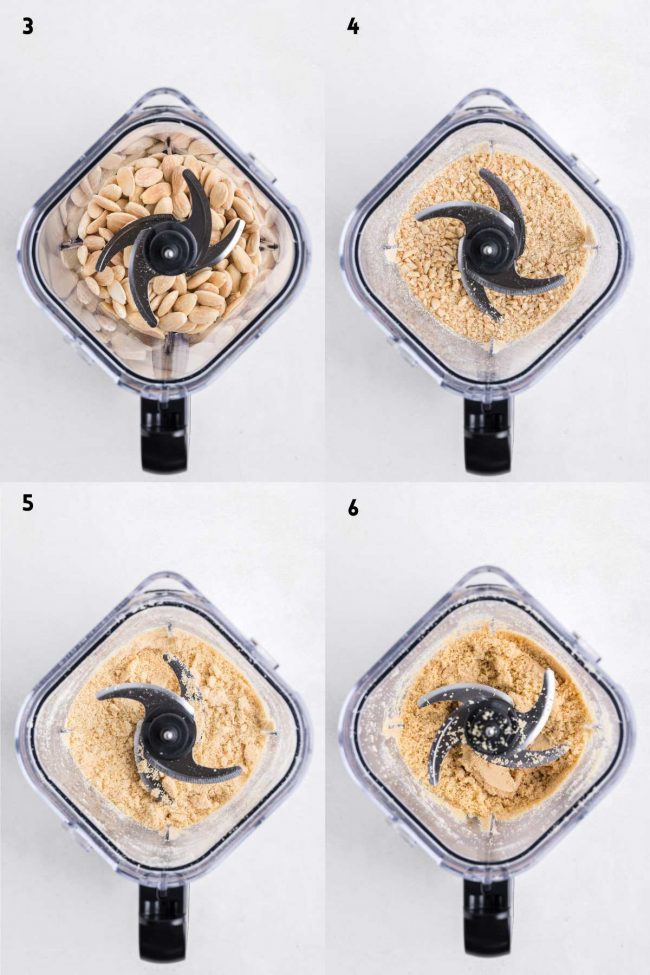 If you prefer your almond butter thicker, then stop processing when it looks like step 7. If you want it runny like most store-bought almond butter, keep going until it's thin and pourable.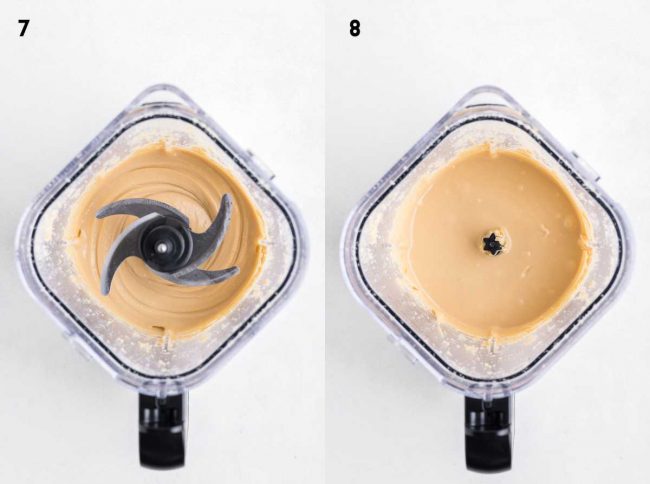 Why use blanched almonds?
Blanched almonds are easier to digest because you don't have that tough skin. Also because most phytic acid is found in the skin.
Phytic acid naturally occurs in many plant-based foods like grains, legumes and nuts. It's referred to as an anti-nutrient because it binds to minerals in the digestive tract, making them less available for absorption (source).
Phytic acid inhibits the absorption of iron, zinc, calcium, magnesium and copper. If you're concerned about phytic acid, then this blanched almond butter recipe is a great option.
And be sure to check out my post about Almond Butter Benefits to learn more about the nutritional value.
How to use blanched almond butter
It's great in recipes where you don't want the darker flavor of regular almond butter to clash with whatever flavor you're going for. An example would be this Lemon Fudge. I used cashew butter for that recipe, but blanched almond butter would also be great.
I'll be sharing a raspberry recipe that uses blanched almond butter next week. I didn't want anything to take away from the raspberry flavor! Blanched almond butter is much more neutral and was, therefore, the better choice.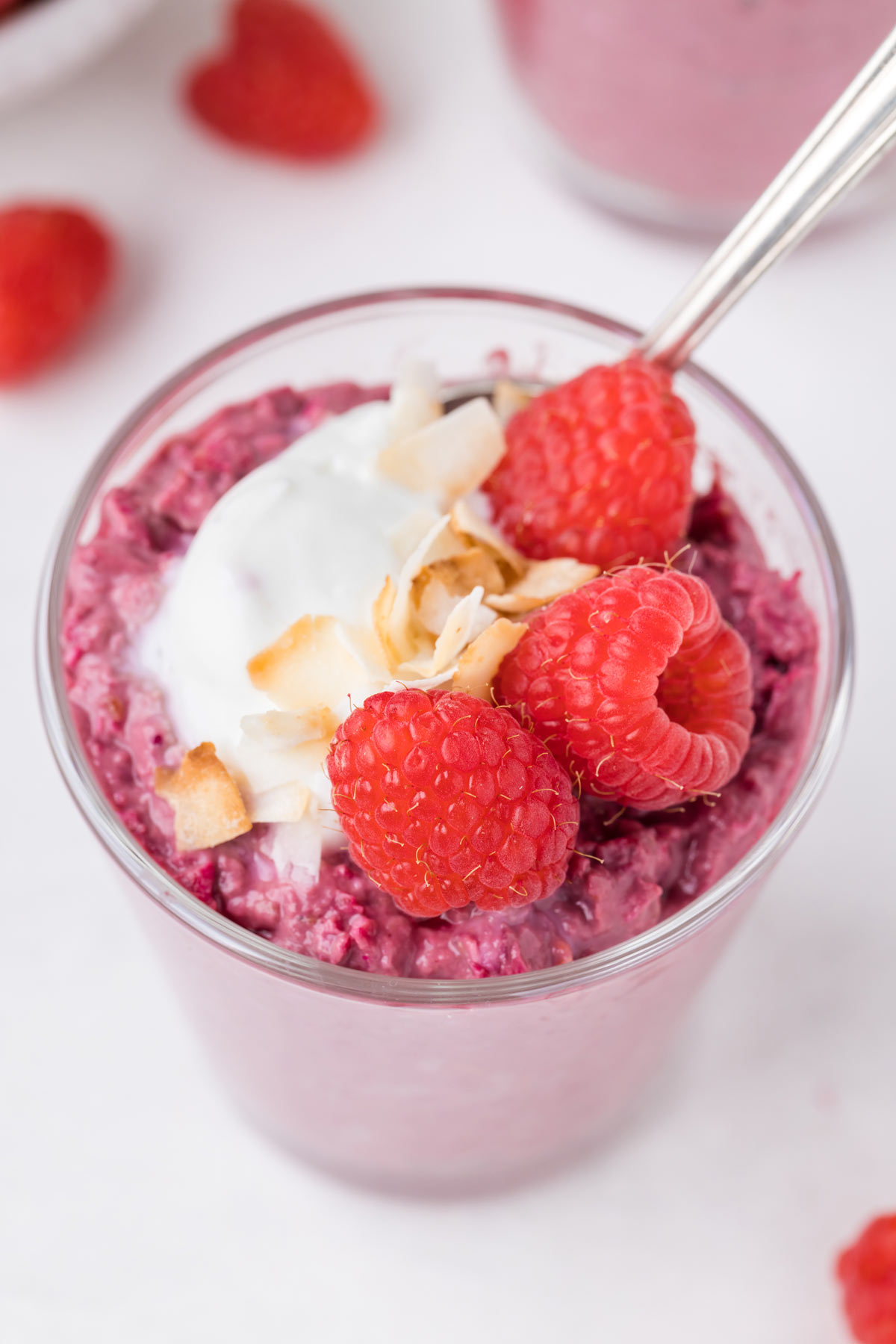 Equipment
You need a high-speed blender or a food processor.
Blender — please don't try a regular blender. It won't work, and you'll destroy your blender. You need something like a Blendtex or Vitamix.
Food processor — a 1,000-watt processor will do a great job. Before buying one, I recommend reading the reviews and searching for comments about making nut butter. You can also search the questions section on an Amazon product page for "butter." Usually, someone has asked if nut butter can be made successfully with the food processor.
I wanted my photographer to do this almond butter recipe (since I refused to buy either of the previously mentioned blanched almond butter brands), and I knew her current food processor couldn't handle it.
A few years ago, when I looked at food processors, most people recommended this Cuisinart for making nut butter.
That one came out in 2015 and is currently $289. I wanted to find a cheaper and newer one.
Now when you search for something like "best food processors for nut butter," you mostly find AI-written articles. On websites full of nothing but AI-written articles.
So I recently spent a whole day trying to find the best affordable food processor for nut butter. So that excludes Vitamix and Blendtec.
I found this test where they (real actual people!) have tested loads of blenders and tested many different aspects, including almond butter making performance (for which it got a 9.5!).
There are a few small personal blenders that have single serving-sized jars that are slightly better (I can't imagine how that's possible) at making almond butter, but the Ninja Foodi Power Pitcher System [CO351B, SS351] is your best choice if you want a full-sized blender jar in addition to the smaller one meant for making nut butter. Right now, it's $159.99 but it was as low as $119 in April.
If you're in Europe, I believe this is the EU version.
You can see how the Ninja blender fared in their other tests here
I bought one for my photographer and one for me to replace my current food processor that's starting to fall apart. But it's actually not useful as a food processor replacement if you mainly use your food processor for slicing potatoes and grating carrots, as it doesn't have those blade attachments.
You can see her results in the photos! It only took about 5 minutes to blend. She used the large jar because it's not really possible to get proper photos using the small jar.
In the small jar with the turning blade, which is what you're "supposed to" use for making nut butter, 1 1/2 cups of almonds fit perfectly. It only took 2 minutes!
<
I was pretty amazed. The result was just as creamy as the nut butter I make with my Blendtec!
If you use the large pitcher that you see in the photos, you need to use 3 cups of almonds or else it'll take a long time, with lots of breaks to push the almonds down the sides of the pitcher.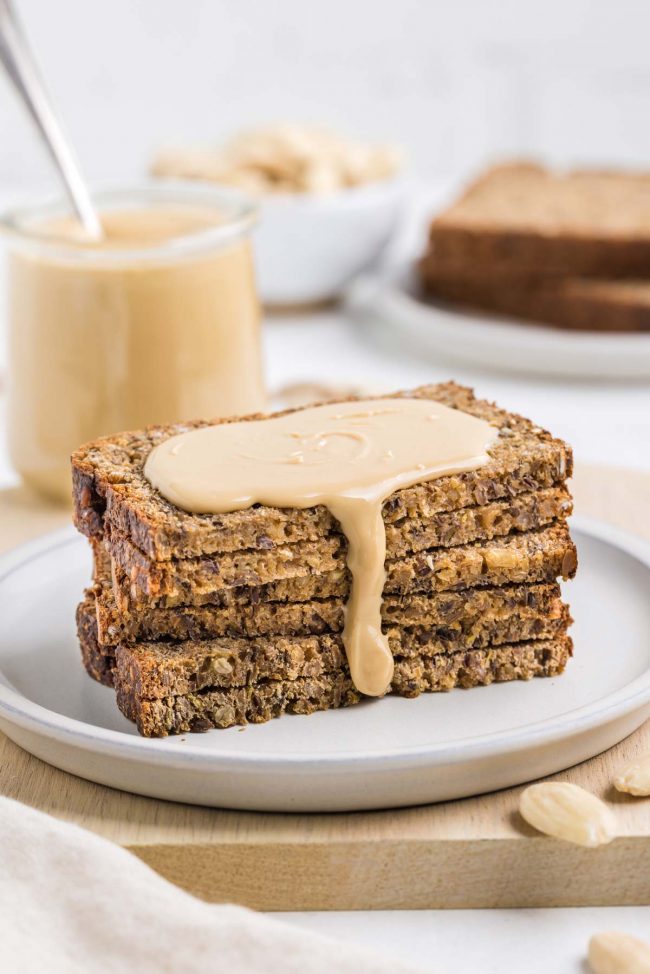 How long does it take to make?
It really depends on your food processor or blender. If you follow directions and roast the almonds first, don't let them cool completely, and use enough almonds to cover the blades, it really shouldn't take longer than 10 minutes. If you using the small pitcher of a Vitamix, Blendtec or the Ninja I mentioned above, it'll take about 2 minutes.
How many cups of almond butter do you get?
1 1/2 cups (186 grams) of blanched almonds yields 2/3 cup + 1 tablespoon (186 grams) almond butter. That's a 2:1 ratio of almonds to almond butter.
So if you need 1 cup of almond butter, you should use 2 cups of almonds.
But this ratio is only by volume! If you need 300 grams of almond butter, use 300 grams of almonds.
How full should I fill the processor?
Only filling the food processor a little won't get you anywhere. You need enough nuts to fully cover the blade and then throw in some more.
Unless you're using a mini food processor, you likely need to use 3 cups of almonds (or even more to get the blades covered if you have a large one).
If you only want a small amount, make a large batch and freeze or refrigerate it for later use.
If you're using the small jar of a blender meant for making nut butter, there's a max line on the jar. You can fill nuts up to that line.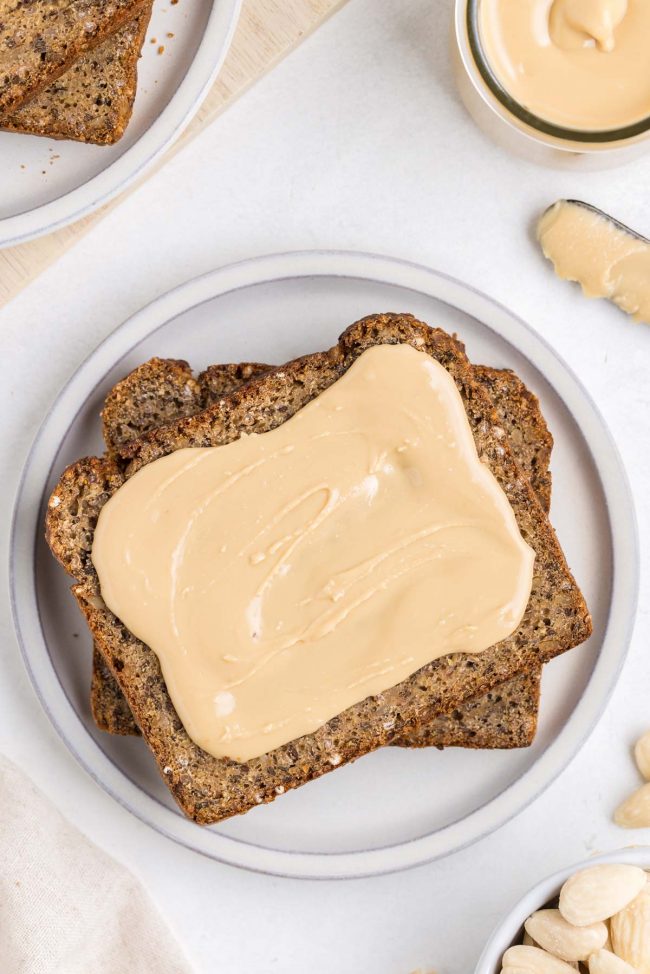 How to store
You definitely want to store homemade almond butter in the fridge. The oil can go rancid because homemade almond butter doesn't have preservatives.
I wouldn't store it at room temperature for more than a week, and to be safe, I'd just keep it in the fridge.
It should keep in an airtight container for up to 3 months. I've stored it longer, but again to be safe, 3 months is a reasonable amount of time.
Use a clean spoon when dishing it out. For instance, if you dip a knife in strawberry jam and then in the almond butter, it will mold quickly.
And don't use outdated almonds before processing them into butter because it will go bad quickly.
Freeze
If you can't finish the almond butter in the safest time allotted, then you can freeze it for 4 to 6 months. Just make sure you use a freezer-safe, airtight container.
How do I know if it's gone bad?
You can smell it! It will smell like old paint or paint thinner, and you'll definitely notice, so throw it out.
If you overlook an off-odor, but it tastes bitter, then throw it out.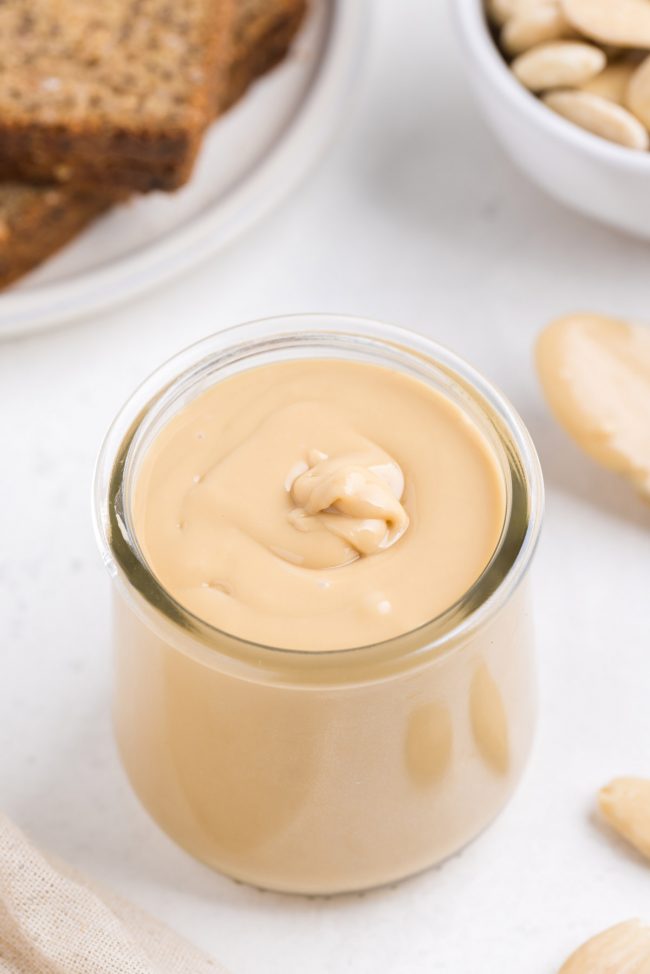 Does it separate like other natural nut butter?
Occasionally. Sometimes when it gets lost in the back of the fridge, and it's been there for 6 months, it separates. Always remember to stir it even if it hasn't separated to distribute the oil evenly.
Can I add a liquid like honey or vanilla?
If you add any liquid other than oil, which you do not need, then yes, it will seize and be clumpy and weird, so don't do that.
In this Maple Almond Butter with Cinnamon, I roasted the nuts in maple syrup with cinnamon before processing to make it candied. Then I processed them, and it's delicious, but with blanched almond slivers, I think that wouldn't be ideal, so make the other recipe instead.
You can add a little salt to enhance the flavor and use seeds of vanilla bean instead of extract with a bit of cinnamon to give it a spiced taste.
If you make this blanched almond butter, I recommend adding a little of whatever you like on top once it's to your desired runniness. If it tastes great, super! If not, at least you didn't ruin a whole batch.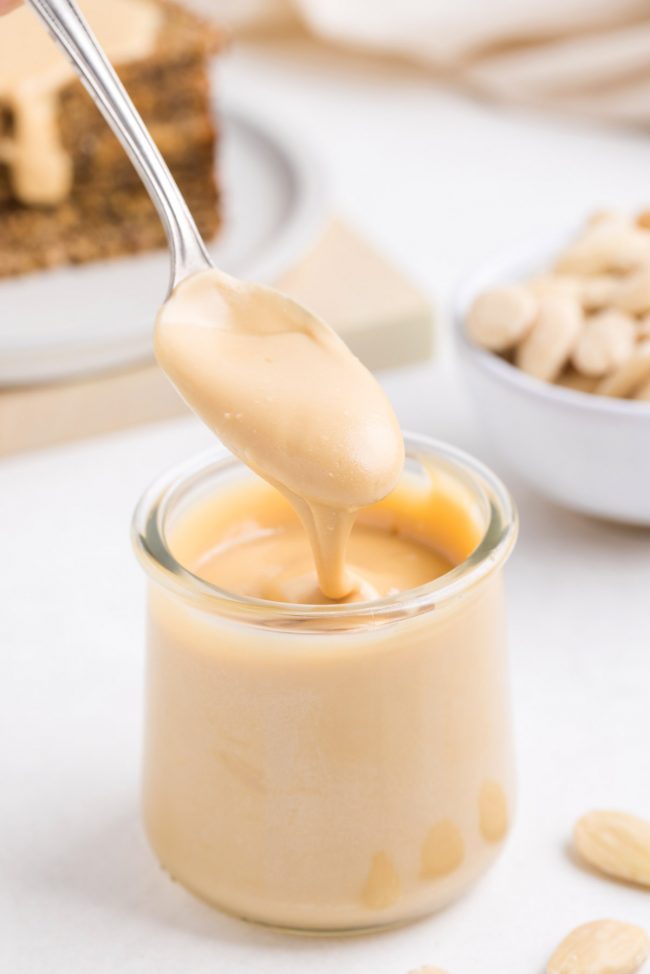 Do I need to add oil?
Many recipes call for added oil, but in reality, you don't need it. I've been making homemade nut butter for 13 years with every type of nut and have never needed to add oil.
The key is that I always use roasted and slightly cooled nuts. The exception to that is peanuts. Room temp roasted and salted peanuts work great every time.
What did I do wrong?
Are you sure your food processor can make nut butters? If so, have patience. Some processors take longer than others.
If your processor gets hot, take a break and let it sit for 10 to 20 minutes; remove it from the base with the lid off. It needs to cool down. Please don't kill your food processor.
Using room-temperature almonds takes a lot longer than using warm almonds. It might not even get totally smooth.
I do not recommend it at all. If you want to make raw almond butter, I suggest finding a recipe for raw blanched almond butter. Perhaps they have tips and tricks to make it easier. I'm guessing you'd need to add oil.
I understand if you only eat raw food, then you'll only eat raw almond butter. But for the rest of you, roasted almonds taste SO, so, SO much better than raw almonds. And the same is true of nut butter. Make sure you add enough salt to make the almond flavor pop!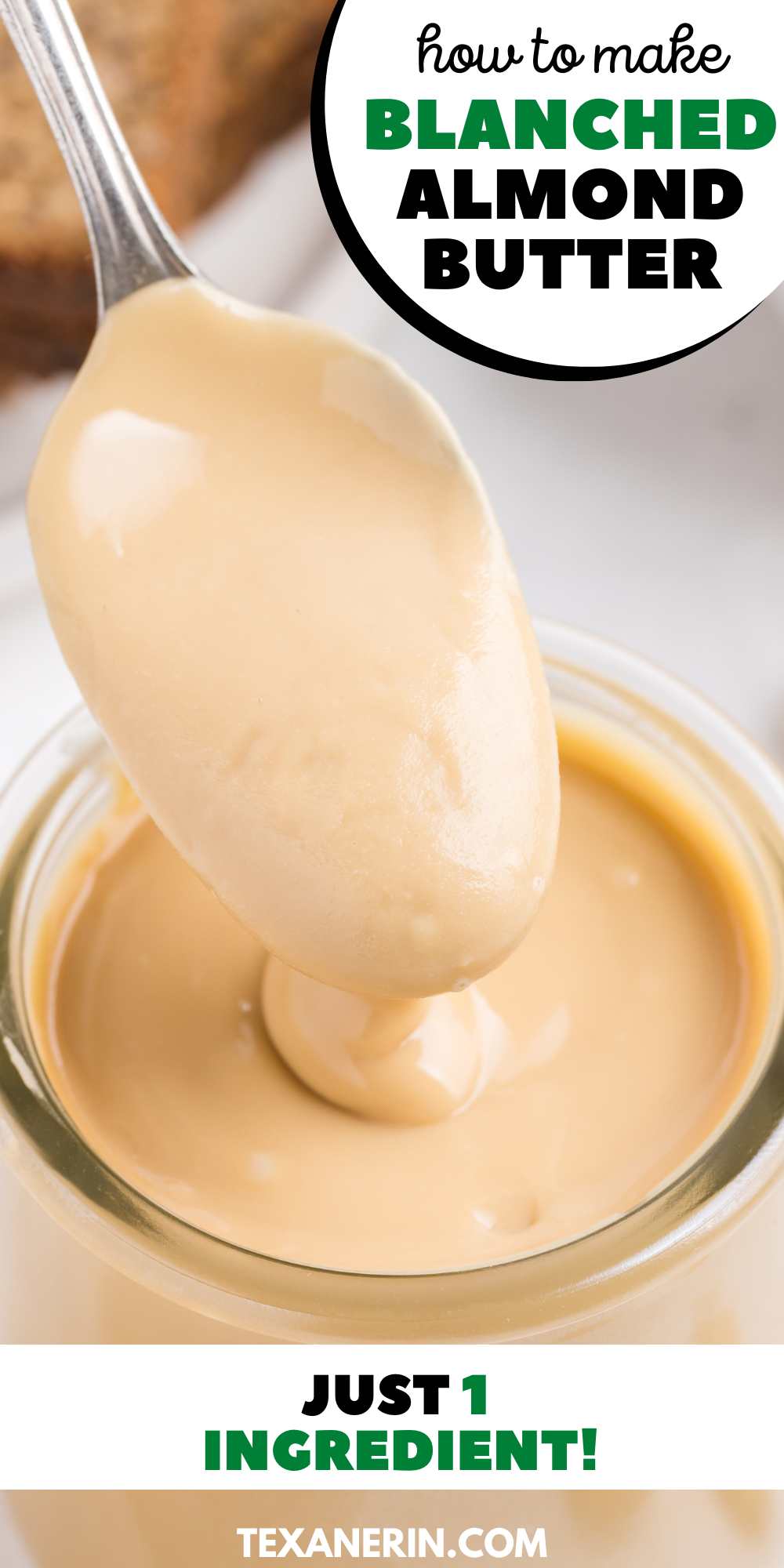 More nut butter recipes
I hope you'll enjoy this blanched almond butter! I'd love to hear from you if you make it. Please leave a comment below or tag #texanerin on social media so I can see it. Thanks! :)
❀
Blanched Almond Butter
Prep Time:
Cook Time:
Ready in:
Yield:

1 1/2 cups if using 3 cups of almonds
See recipe post for info on how many almonds to use!
Ingredients
1 1/2 cups (186 grams) blanched almonds if using a high-speed blender
3 cups (372 grams) blanched almonds if using a food processor1
1/4 to 1/2 teaspoon salt
Directions
Preheat the oven to 325 °F (162 °C) and roast the almonds on a rimmed baking sheet for 5 minutes. Stir and roast for another 5-8 minutes, checking after about every 2-3 minutes, until they're lightly browned and fragrant. They go from all white to burned pretty quickly!
Let the almonds cool for 7-15 minutes. The almonds will be soft coming out of the oven but will harden as they cool. Before you blend them, they should be crisp and not soft. But you don't want to let them cool too long, as that'll make blending more difficult.

For the food processor:

Transfer the nuts and salt (using 1/4 teaspoon) to the food processor and process until creamy, scraping the sides of the bowl as needed, about 6 to 10 minutes. Do not overheat your food processor! Take breaks if your food processor starts to warm up too much. In the first stage, you'll have something that looks like almond meal. Then it'll form a thick mass. Then it'll break down into a liquid. After that, blend for another minute so it's easily pourable. Taste and add more salt, it desired.

If using a high-speed blender like a Blendtec or Vitamix:

Use the small jar with a turnable blade and process the almonds and salt (using 1/4 teaspoon) at medium-high speed for 1-3 minutes. If your blender gets too hot, take breaks. Let the blender cool a bit, then blend again. Do not overheat your blender! Taste and add more salt, it desired.

Storage:

Refrigerate in an airtight jar for up to 3 months or freeze for 4-6 months.
Notes
If using a food processor, make sure that the blades are covered by almonds by about 1" or 2.5cm.