These eggless pancakes are fluffy, light and soft, and taste amazing! If you run out of eggs, don't eat eggs, or don't have any egg subs, then these pancakes are for you. With gluten-free, vegan and dairy-free options.
My Pancakes Without Milk have been such a hit that I decided to make some egg-free pancakes to help out the folks craving pancakes that don't have eggs on hand and don't have any egg subs sitting around.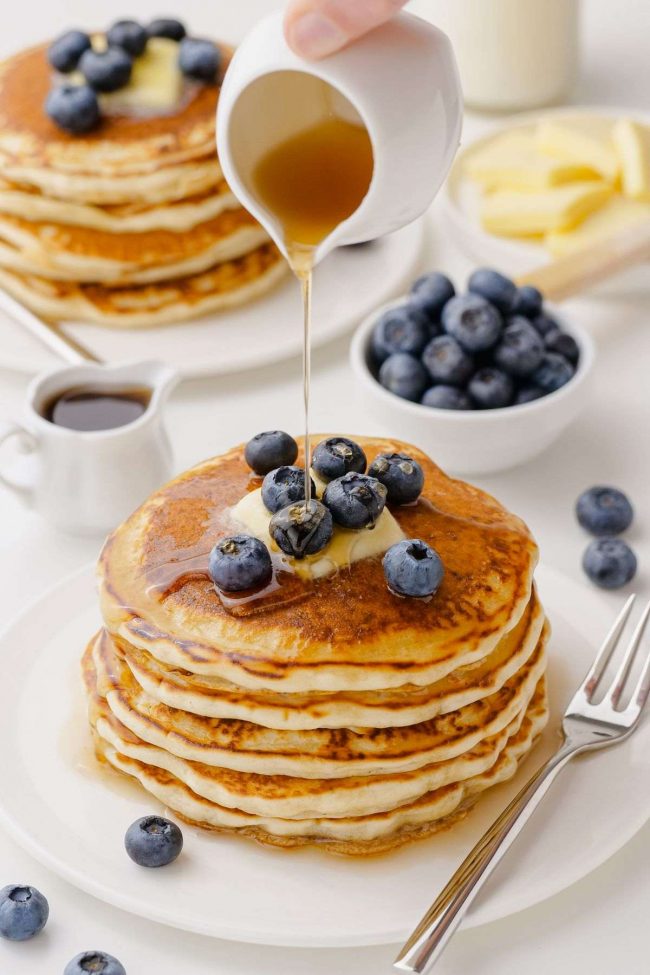 I wrote in the milk-free recipe that the pancakes were too dense and heavy when using chia eggs, and therefore eggs were needed. I also said to hold on as I was working on an eggless pancake recipe. And here it is!
They're just as fluffy and delicious, but not at all healthy (sorry to my regular readers who follow me for healthier recipes).
Also, if you're looking for more eggless recipes, be sure to check out my Eggless Cheesecake and Eggless Brownie Recipe.
Ingredients for eggless pancakes
Just normal pancake ingredients here, with the addition of lemon juice or vinegar, which helps make the pancakes fluffy and which you can not taste.
All-purpose flour or gluten-free baking mix – I've tested both and they work equally well.

I used Bob's Red Mill 1-to-1 Gluten-free Baking Flour. If you use another brand, I wouldn't be surprised if the results were dense and gummy.


Baking powder – this is not interchangeable with baking soda! These pancakes will not come out properly with baking soda. Please do not try!


Granulated sugar – I usually don't add any sweetener to my pancakes, choosing to smother them in maple syrup instead, but I so wanted these to be a treat and added 1/4 cup of granulated sugar. It really helps with the taste!


Melted butter or oil – the flavor is better with butter, but you can use a neutral-tasting oil. If using coconut oil, be sure to melt it first.

And I would recommend using refined coconut oil unless you'd like some coconut taste to your pancakes. To make vegan or dairy-free pancakes, make sure to use oil or vegan butter.


Apple cider vinegar, white vinegar or lemon juice – like I said, you can't taste this, but it helps makes these egg-free pancakes fluffy. So you really need to use it.


Milk – any kind works. And you can definitely use plant-based milk to make these dairy-free or vegan.

If you want to use canned coconut milk, I'd recommend using half coconut milk + half water, as canned coconut milk is so much thicker than regular milk.


Vanilla and salt – don't omit either of these! They add a lot of flavor.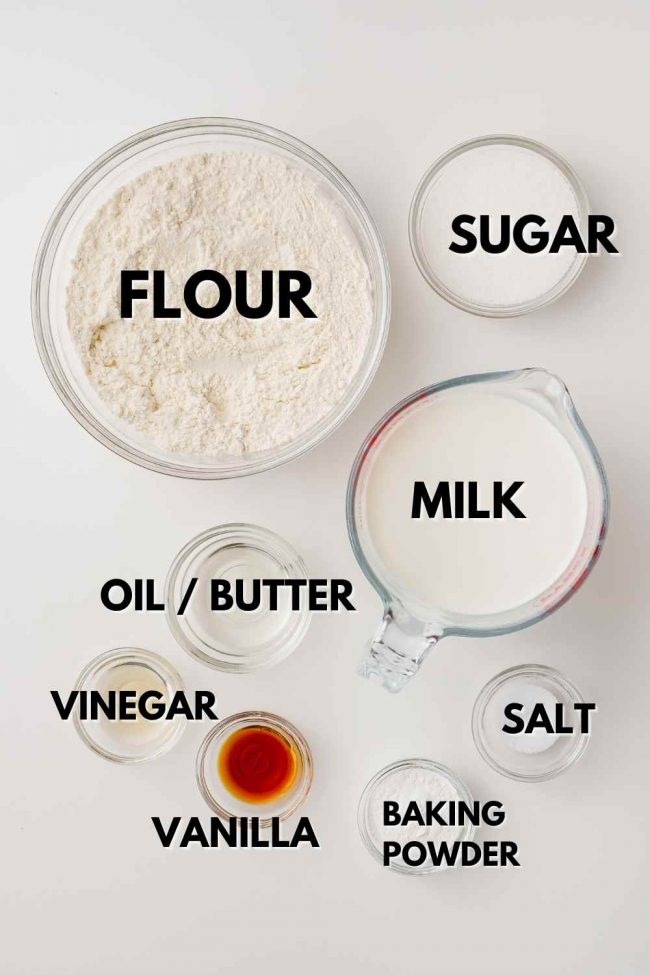 Toppings:
I love the flavor of these pancakes, so I like to keep things simple. Fresh blueberries, maple syrup and a dab of butter are always a treat.
If you're looking for a little more flair, try this Blueberry Sauce. It's healthy and won't over-sweeten these pancakes.
Or try this Strawberry Sauce, which is naturally sweetened with honey and is perfect on top of these pancakes. This Strawberry Coulis also looks great!
Tips for success
Don't overmix the pancakes! Pancakes are made of mostly flour, so when you overmix the batter it becomes gummy and flat.

It's best to fold the ingredients of the batter to ensure lighter and fluffier pancakes. But if you like dense, flatter pancakes, then whisk away. ;)


If you are worried about lumps, don't be! It's ok to have some small clumps. It's best to mix just until combined leaving you with a thicker consistency which is best for fluffiness.


Let the batter rest a little before you pour it on a hot griddle. Just cover it and let it sit on a counter at room temperature for a bit. And don't put the batter in the fridge. It's unnecessary and will produce pitiful pancakes.


Cook over medium heat. If you have an iron skillet or griddle, perfect! Cast iron helps distribute the heat evenly and will produce amazing pancakes. If you don't have an iron skillet, no worries, you can still have these pancakes.


Don't overcrowd the pan. You'll run the risk of the batter running together and cooking them unevenly.


Don't mess with them too much. Pour the batter and watch the magic. When you see the bubbles appear, you can flip them and cook them throughout. You can gently lift one side to check to see if it's golden brown.



No need to flip them more than once! One flip does the trick.
I think that covers just about everything there is to know about pancakes. If you have other tricks, definitely let me in on your secrets.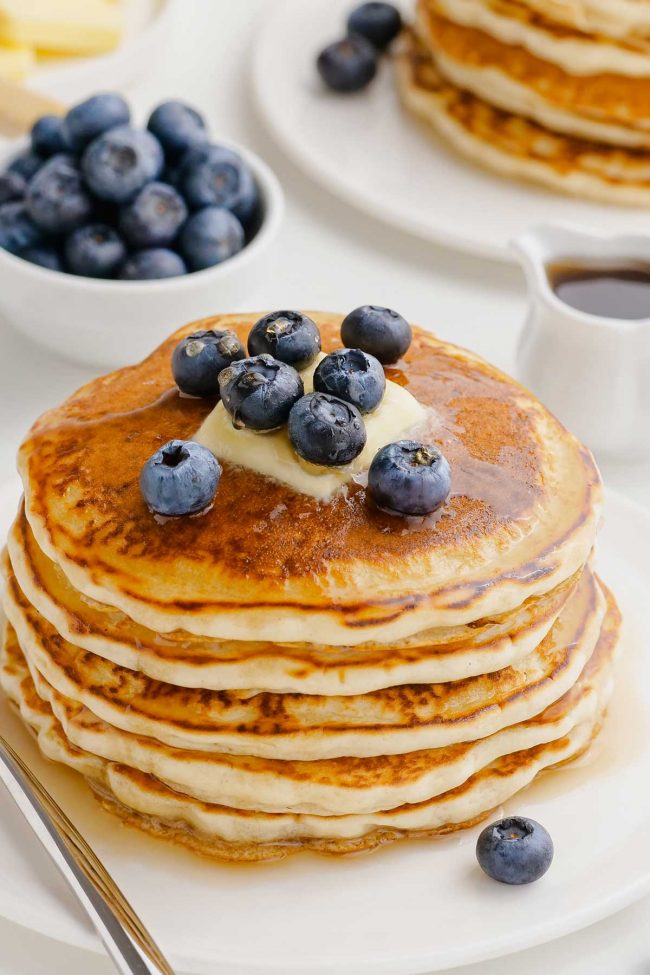 Lemon juice or vinegar
If you haven't used lemon juice or vinegar in baking before – don't worry. It doesn't add a funny taste to the pancakes. It's used to make the pancakes fluffier.
Apple cider vinegar, white vinegar or lemon juice work equally well. I usually use apple cider vinegar unless I have an open lemon that needs to be used up.
I don't have baking powder
Then you, unfortunately, need to find a different recipe. Baking powder and soda aren't interchangeable, and there's not really a perfect sub.
I've tried the subs I've seen listed online in various recipes. They work okay, but I want you to have perfect pancakes and not just "okay"!
⚠️ Please, please, please – don't just use baking soda in place of the baking powder. It won't work.
And if you make these pancakes and leave a nasty comment about how soapy they are – it's because you accidentally used baking soda instead of powder. ;)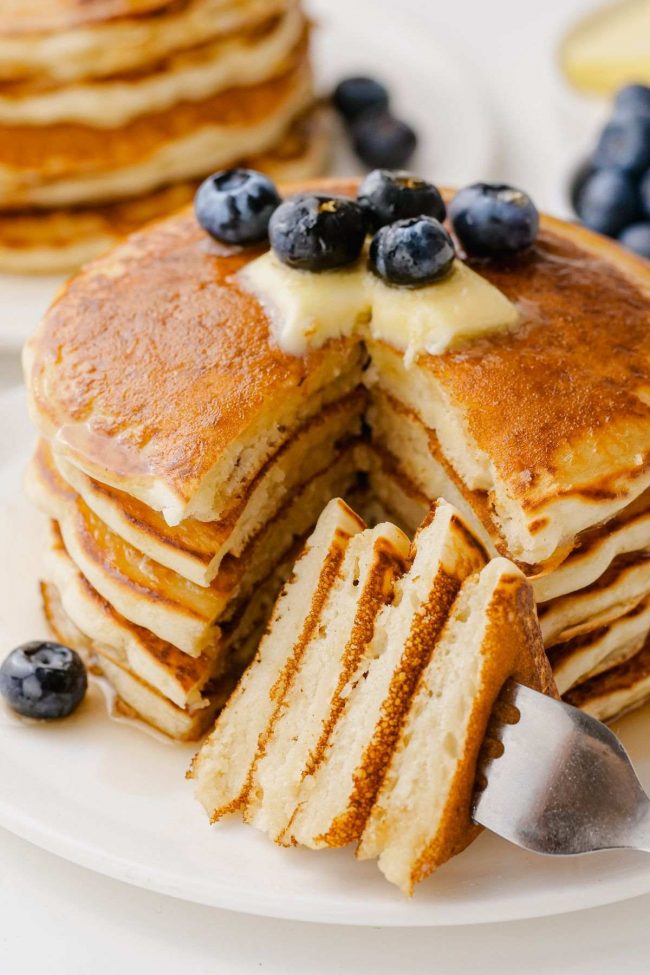 That's a lot of sugar!
Indeed, it is! And that's why these pancakes taste so good.
Another granulated sugar like coconut sugar might work, but I think it'd give these pancakes a bit of a funky taste. But I haven't tried it, so maybe I'm wrong.
A liquid sweetener would not work. If you add any extra liquid to the recipe, the proportions would be off.
Note that the recipe calls for 1.5 tablespoons of butter or fat. That's because I thought they were too gummy with 2 tablespoons and not rich enough with 1 tablespoon.
So, yeah. Just that little difference is enough to really change a recipe! So don't go adding 1/4 cup of liquid in place of granulated sugar. It won't work!
Why all the salt?
Again – so that they taste good! I feel like a decent amount of salt and sugar are needed for pancakes to be truly delicious. If you need to watch your sodium intake, you can decrease it to ¼ teaspoon.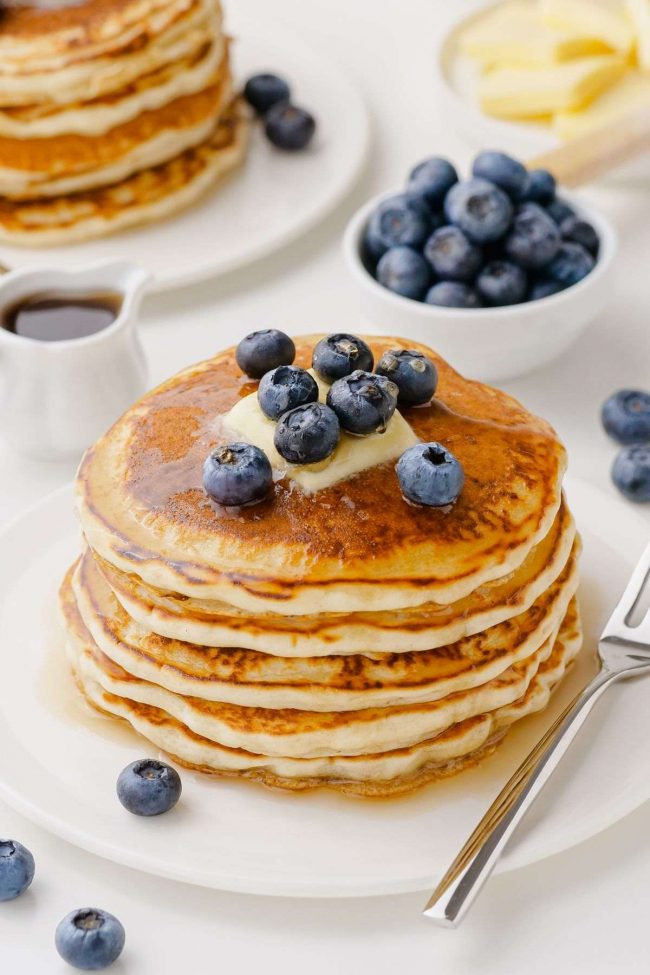 Type of fat
You can use any type you'd like. I've tested these eggless pancakes with both butter and oil, and they both work great.
As you might expect, the taste is better with butter, because… it's butter. ;) If you're vegan or dairy-free and use plant-based butter, you might want to use that here.
Live Outside of the US?
As I've mentioned before, basic ingredients like flour and butter vary tremendously from one country to another. So my parents in the US tested these, and they were great.
I also tested these with US all-purpose flour and German butter. So now you know you can make these with confidence!
Because all-purpose flour is really different from country to country I normally wouldn't recommend using a recipe that was developed using flour from a different country.
However, I've had really good experiences with pancake recipes. I think it's safe enough to try these eggless pancakes, no matter where you live.
I'm pretty confident this would work perfectly with Swedish flour – just use the normal vetemjöl. If you are using German flour, I'd recommend half Type 405 and a half Type 550.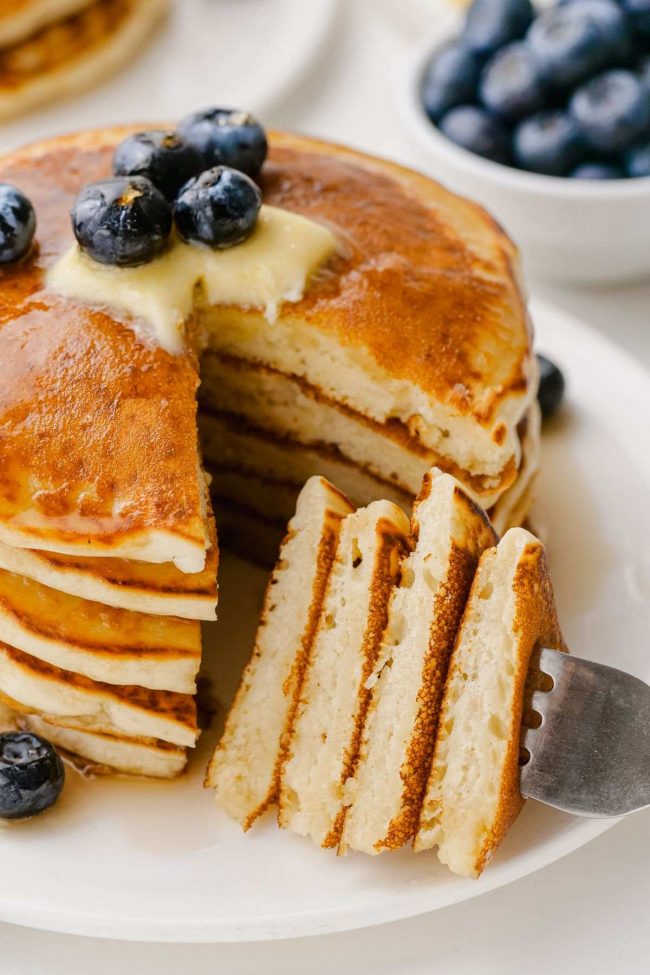 Dairy-free
This is an easy sub – just use dairy-free milk in place of dairy milk. I used cashew milk, but any other plant-based milk should work fine.
If you want to use canned coconut, I'd recommend using 50% of that and 50% water, to water it down so that it's about as thick and fatty as regular milk. Also, be prepared for some coconut taste! But I don't think it'd be very strong.
And of course, make sure to use oil or vegan butter instead of dairy butter.
Gluten-free version
For a gluten-free version, I used Bob's Red Mill 1-to-1 Gluten-free Baking Flour. I don't know if you'd have good results with other baking blends, as every one is slightly different.
I'm guessing a lot of blends would result in heavy, dense and gummy pancakes, but that's just a guess.
If you try out a different brand, please let us know in the comments how it worked out!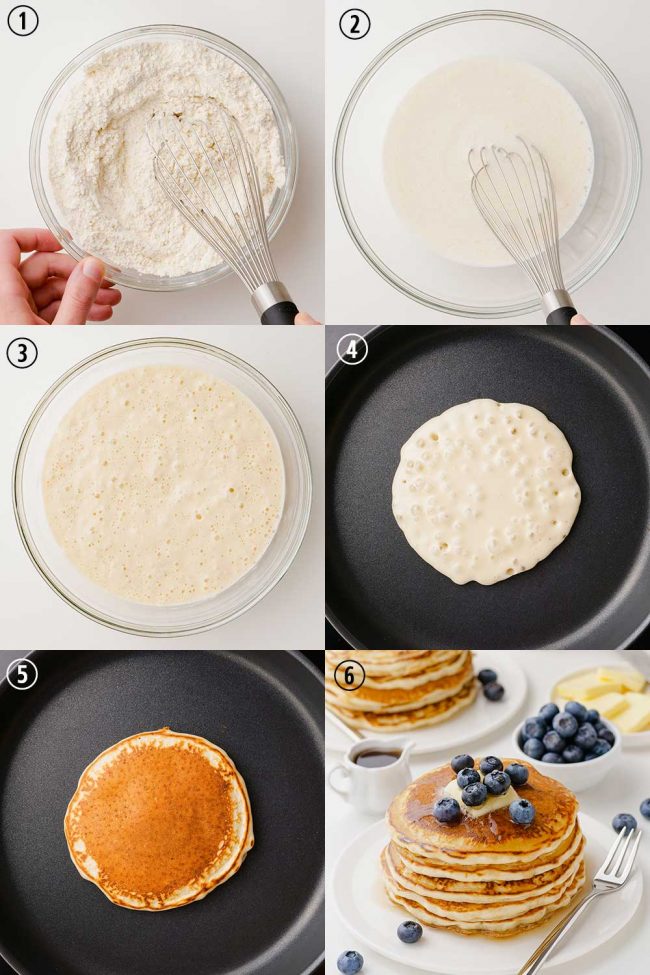 Can you freeze them?
I love a good recipe that can be doubled and frozen! These egg-free pancakes freeze terrific, so eat what you can, and freeze the rest for busy mornings.
Or you can just refrigerate them. They'll last for several days in the fridge.
More pancakes to start your day
For a healthier pancake, these Gluten-free Banana Pancakes are totally banana-sweetened with a terrific texture. 100% whole grain & dairy-free with a vegan option.
These Paleo Pancakes are a cross between crepes and a fluffy American pancake. Grain-free, gluten-free and dairy-free.
This 100% Whole Grain Pancake Mix doesn't have that typical whole grain taste and the pancakes taste great.
Or for a fantastic twist, try these Cornbread Pancakes with a dairy-free option. All of these would be great for Breakfast Charcuterie Board!
Well, that's it for today. Do you think you'll try these eggless pancakes? If you do, you know I want to hear about it. Just shoot a pic and tag
#texanerin
on
Instagram
,
Facebook
, and
Twitter
and
Pinterest
so I can easily find them. Enjoy!
❀
Eggless Pancakes
Prep Time:
Cook Time:
Ready in:
Yield:

six 5" pancakes
Ingredients
2 cups (250 grams) all-purpose flour or for a gluten-free version, use 2 cups (276 grams) Bob's Red Mill 1-to-1 Gluten-free Baking Flour
1 tablespoon + 1 teaspoon baking powder (not soda!)
1/4 cup (50 grams) granulated sugar
3/4 teaspoon salt
2 cups (473ml) milk (use plant-based milk for dairy-free/vegan)
1 1/2 tablespoons (21 grams) melted butter or oil (use vegan butter/oil for dairy-free/vegan)
2 teaspoons apple cider vinegar, white vinegar or lemon juice
2 teaspoons vanilla extract
butter/oil for the pan
Directions
Mix together the dry ingredients in a medium mixing bowl. Set aside.
In a large mixing bowl, stir together the remaining ingredients.
Add the dry mix to the wet and stir just until no more flour streaks remain - there will be lumps and that is okay. Do not over mix!
Let the batter sit for 5 minutes. In the meantime, preheat a pan to medium heat. Sprinkle a drop of water on the pan - if it sizzles right away, the pan is hot enough and you can go to the next step.
Add some butter to the pan and pour in enough batter to form about a 4 or 5" pancake. If the batter seems very thin and spreads a lot, then pour in some batter so that it's about 4 or 5" wide, wait about 5 seconds, and pour more batter into the center of the pancake. If the pan is hot enough, the batter that you poured down first shouldn't spread so much and by pouring more batter on top, you're creating a taller pancake.
Once bubbles form and pop, check if the bottom is golden and if so, flip over.
Cook the second side for about another minute (or maybe a little less). This yields about six 5" pancakes.
Cool leftovers and refrigerate in an airtight container for up to 5 days.