These healthy peanut butter balls come together so easily and are perfect for holiday parties! They're gluten-free, grain-free and vegan.
I can't believe it's taken me so long to get up a peanut butter balls recipe! I just had to post them before Christmas for the folks looking for something easy and last-minute to make.
These little things are addictive. I love regular unhealthy peanut butter balls but these are even more delicious.
Naturally sweetened
I have quite a sweet tooth but I think the traditional powdered sugar kind are too sweet. These healthy peanut butter balls are maple-sweetened and aren't too sweet at all.
I haven't tried any other sweeteners but I'm guessing another sweetener that works as a maple sub would work out well. Honey might have too strong of a flavor, though.
I can tell you that Lakanto Maple Flavored Syrup does not work. The texture is fine but we hated the taste with it. I'm working on a keto version, though!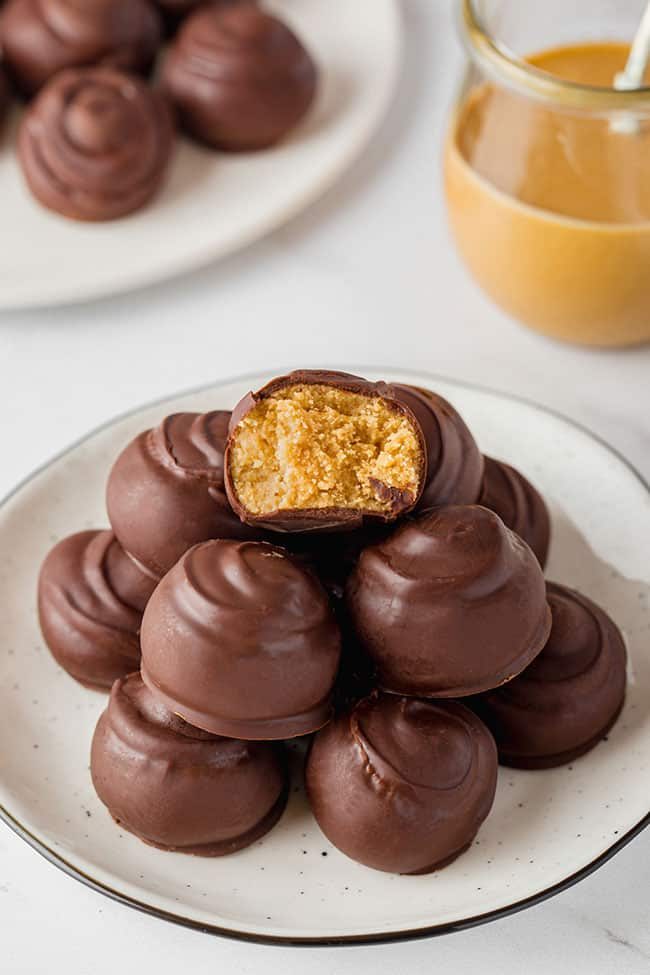 The flour
Regular peanut butter balls often call for crushed graham cracker crumbs. I know how delicious that is but there's an unprocessed, gluten-free, grain-free and equally as delicious option for these balls – coconut flour!
It actually detracts from the peanut butter flavor less than graham cracker crumbs. That means these have a more peanut buttery flavor!
These peanut butter balls melt in your mouth – as long as you follow the recipe and don't add too much coconut flour.
An easy Christmas candy recipe
One thing I really love about these healthy peanut butter balls is how quick and easy they are. They just call for peanut butter, maple syrup, coconut flour, vanilla and salt.
You simply mix it all together, freeze and roll into balls. They might be a bit messy and can potentially look ugly if you rush, like I usually do, but I find that true of most similar candy recipes.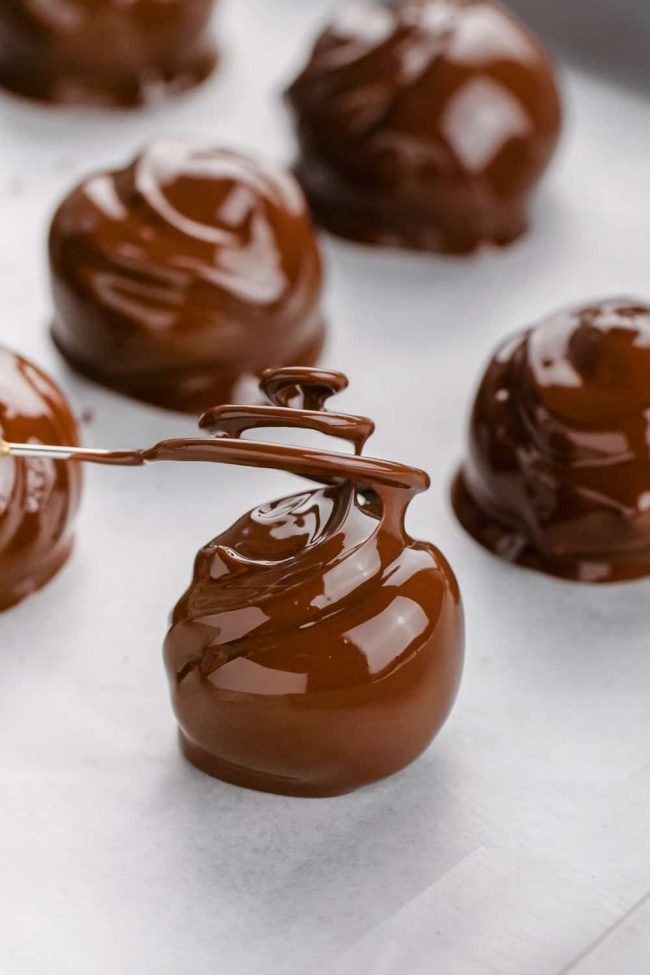 The chocolate coating
And of course, there's chocolate + coconut oil for the coating! That tool above, by the way, is called a chocolate dipping tool, in case you're wondering. :)
I thought about making a homemade chocolate coating (using cocoa powder and natural sweetener instead of chocolate) but that version would have melted at room temperature, which is no good for holiday parties. And to be honest, it wouldn't have been as tasty.
For more peanut butter Christmas recipes, try this peanut butter fudge, these gluten-free peanut butter cookies or vegan peanut butter cookies (which are also gluten-free!).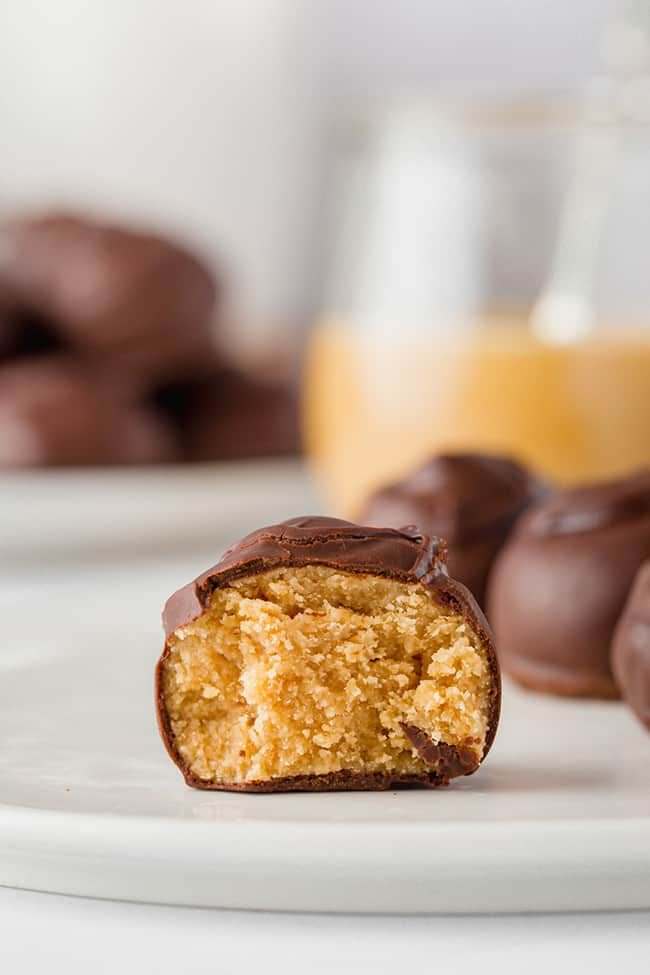 Substitution questions for these healthy peanut butter balls?
Can I use something instead of peanut butter?

I've tried making these with sunflower seed butter for a paleo version but they need a LOT more coconut flour. I'm not sure on the exact amount yet so I'm not listing it in the recipe. But I'll be posting it at some point!

Because of the huge difference between the two nut / seed butters, I can safely say that every nut butter will require a different amount of coconut flour.

So while you can use whatever type of nut butter you'd like (as long as there's no added fat or sugar), you're going to have to experiment with the amount of flour.

Start off with the amount of coconut flour listed below and if it's still liquidy, like the sunflower seed version was using that much flour, add tablespoon by tablespoon until it's not. Keep in mind that you'll put the mixture in the freezer a bit to help roll them into balls so the mixture won't be rollable at this point.

Can I use something instead of maple syrup?

Honey would probably work if you don't mind a bit of honey taste. It might make them stickier, though. Agave syrup would probably work, too.

Can I use something instead of coconut flour?

Unfortunately not. There's not a good sub for coconut flour as it absorbs so much more liquid than other flours. I've heard of people using oat flour (if you can have grains) but I have absolutely no idea how much you'd need to use or if it'd be as tasty.

Can I use something instead of coconut oil in the chocolate coating?

I think butter (for a dairy-containing version) would work.
If you try this healthy peanut butter ball recipe, I'd love to hear how they come out!
Also, here are some resources if you're new to the vegan or gluten-free diet: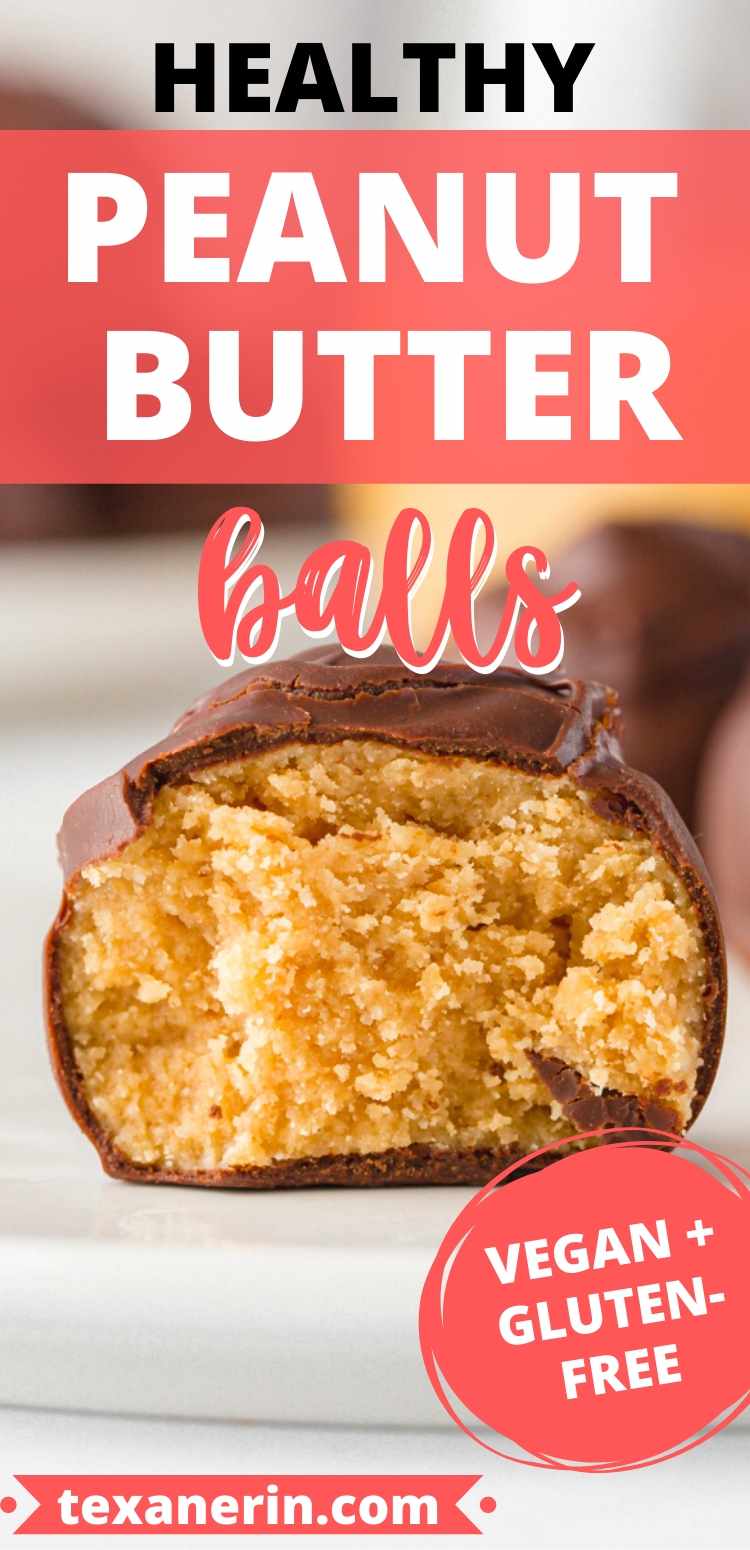 ❀
Healthy Peanut Butter Balls (vegan, gluten-free)
Prep Time:
Cook Time:
Ready in:
Yield:

28
These healthy peanut butter balls come together so easily and are perfect for holiday parties! They're gluten-free, grain-free and vegan.
Ingredients
1 1/4 cups (320 grams) natural peanut butter (no added fat or sugar)
1/2 cup (120 milliliters) maple syrup
1 teaspoon vanilla extract
1/4 teaspoon salt
1/4 cup (32 grams) coconut flour
1 1/2 cups (255 grams) semi-sweet chocolate chips or chopped chocolate (use vegan chocolate, if needed)
1 tablespoon (14 grams) coconut oil – I used refined for no coconut taste
Directions
In a medium mixing bowl, stir together the peanut butter, maple syrup, vanilla and salt until combined. Stir in the coconut flour. Place in the freezer for about 30 minutes. The dough won't get very hard in the freezer - it'll just make it easier to roll into balls. The balls won't be totally firm when you form them but that's okay. They don't need to be totally perfect.
Prepare the coating. Mix together chopped chocolate and coconut oil in a small bowl or pot that can be used to melt the chocolate and dip the balls in.
Shape into about 28 20-gram balls and place on a tray small enough to fit in your freezer. Place them in the freezer to let them firm up more (since rolling with warm hands heats them up quickly).
Dip the balls one at a time into melted chocolate, allowing excess to drip off. Place on a waxed paper-lined baking sheet, cover and refrigerate until ready to serve.
Refrigerate for up to a week or freeze for a few months. Can also be kept at room temperature for a few days (if it's not too warm).