This Baileys iced coffee is made with cold brew coffee, Irish cream liquor, Kahlua and topped with Baileys whipped cream. It's a cold, boozy coffee that turns an ordinary cup of joe into a tasty indulgence. With a vegan and dairy-free option.
If you like iced coffee, then this tipsy treat is for you! It's simple, quick and easy to make. Like this Espresso Martini with Baileys, it's a great pick-me-up cocktail and perfect for special occasions.
I also have a few treats like these Mini Irish Cream Cheesecakes and these Irish Cream Brownies. The sweet taste of Baileys pairs well with so many scrumptious treats, it makes it hard to resist.
I like how rich and smooth this coffee cocktail is, yet cool and refreshing at the same time! It's so good it can double as an after-dinner refreshment.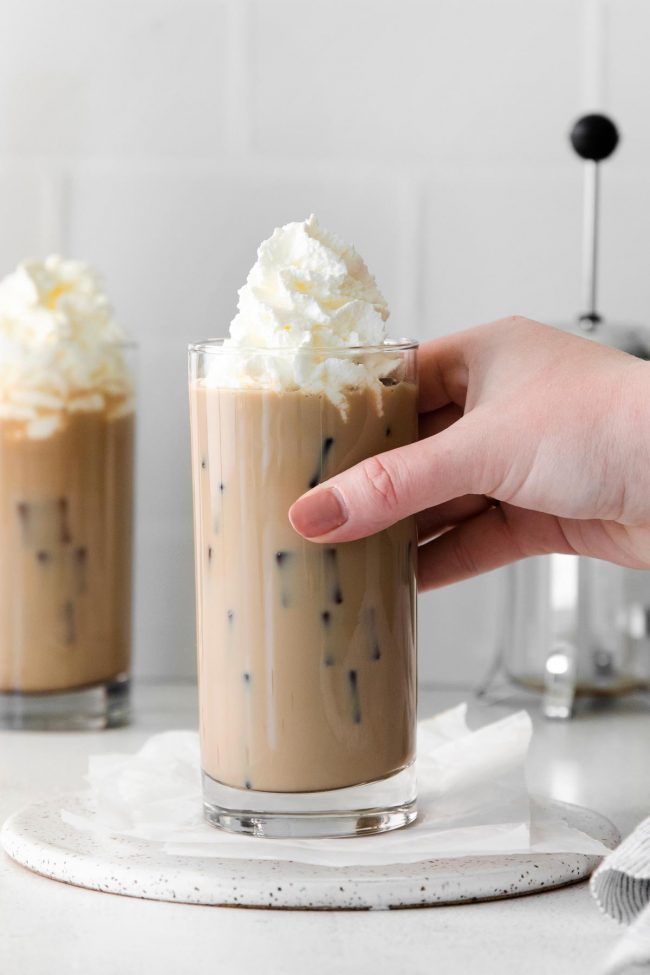 Ingredients
Cold-brew coffee – I love cold brew coffee in this cocktail because it is usually smoother and more flavorful than hot-brewed coffee that has been chilled. Here's how to make → French Press Cold Brew. Or you can make this → Mason Jar Cold Brew.

But you can use whatever you have on hand. Chilled leftover coffee would also work!


Irish Cream – this adds richness, creaminess, and that classic Baileys flavor.


Kahlua or Tia Maria – this adds even more great coffee flavor (and alcohol) to the drink. If you're trying to keep the alcohol level down, feel free to leave it out.
Optional Baileys whipped cream
The whipped cream recipe has a subtle Baileys flavor and is not extremely sweet. If you prefer sweeter whipped cream, add 1/4 cup of powdered sugar in step 3.
Heavy cream must be used to make the whipped cream. Whipping cream, half-and-half, etc. will not work as the cream wouldn't thicken enough while whipping.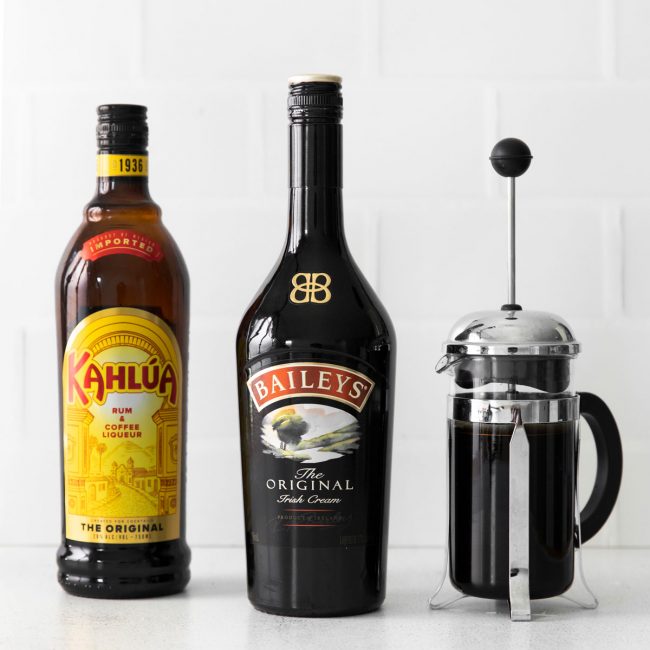 Variations
If you prefer an even creamier cocktail, add 1 ounce of half-and-half (but not if you're dairy-free – more on that below).
This drink is easy to modify. If you aren't a fan of Kahlua, then leave it out.
This cocktail is the perfect base for seasonal variations so you might consider adding 1/2 shot of peppermint schnapps, Frangelico or rumchata for extra flavor and sweetness.
You might also consider one of the flavored Baileys varieties like vanilla, cinnamon or espresso creme.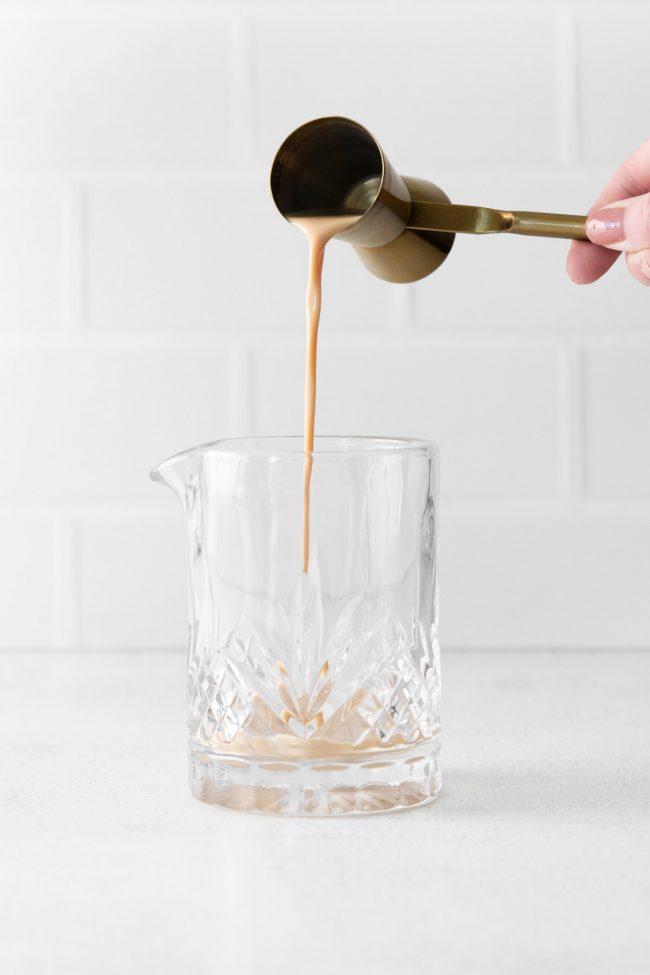 Dairy-free + vegan option
Baileys sub
If you can't have dairy, you can't have Baileys. Or maybe you just don't like the refined sugar in Baileys.
So I came up with a vegan Baileys copycat! Just for this recipe, but it was so delicious that I posted it as its own post here → Vegan Baileys.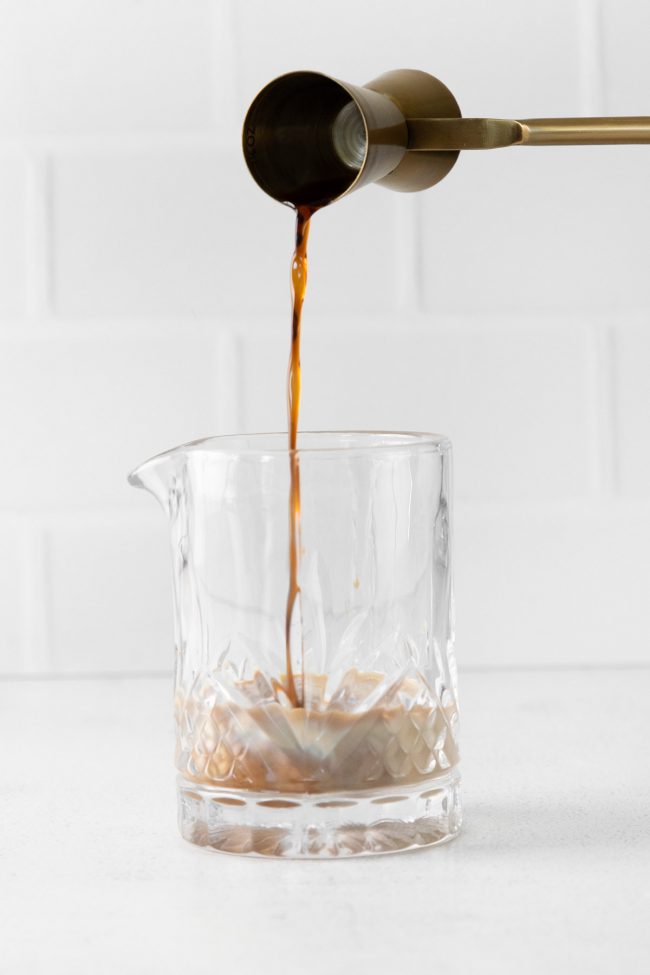 It's date- and maple-sweetened and tastes very close to the real thing. And it's perfect in this Baileys iced coffee!
If you don't want to make your own Baileys sub, you could use Baileys Almande, which is dairy-free and vegan.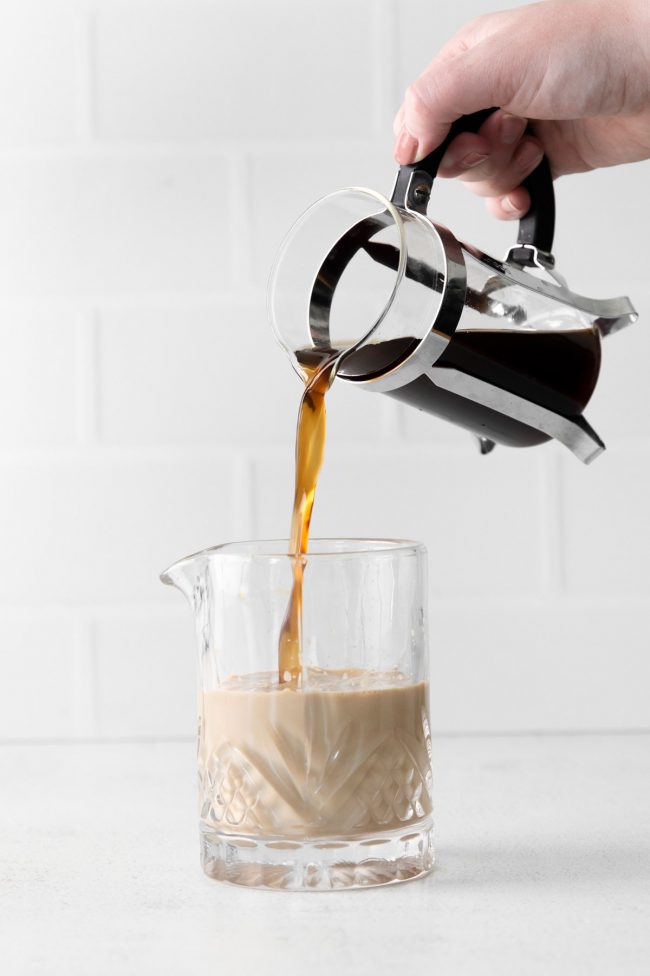 Kahlua subs
Tia Maria
If you're vegan, you also can't have Kahlua because one of their sugar suppliers uses a non-vegan-friendly process. It is dairy-free, though. But Tia Maria is vegan!
The ingredients are: sugar, water, Jamaican rum, coffee extract, coffee flavour, vanillin, citric acid, and caramel. Sometimes sugar can be produced with the help of bone char, but Tia Maria has confirmed they're "100% vegan" – and that means that they don't use bone char.
I had never had Tia Mia before so I bought some for this recipe.
Kahlua is much more syrupy and sweet, but in a cocktail, you can't really tell the difference.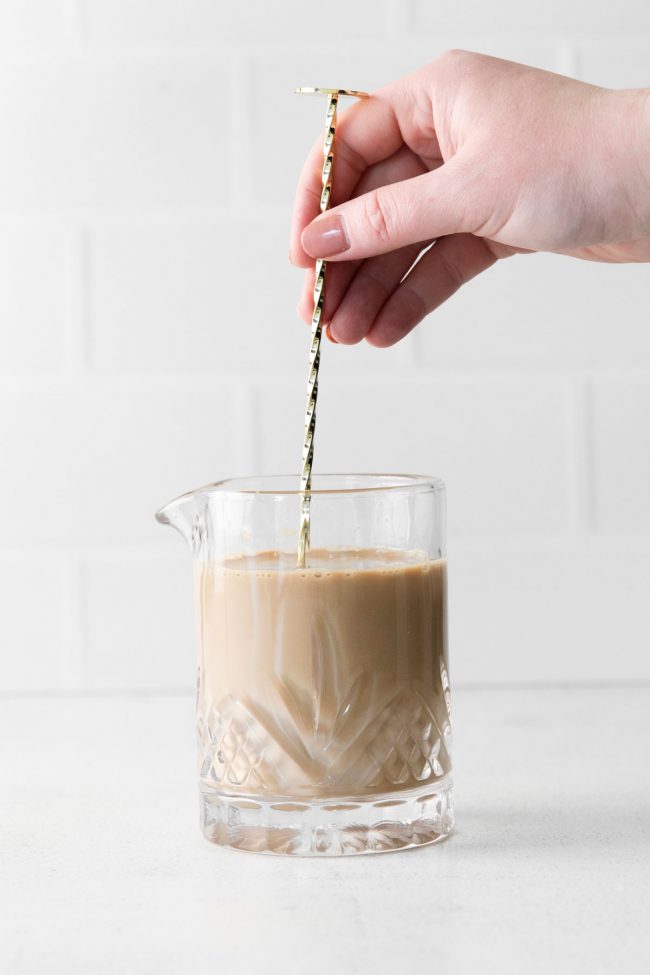 It has a stronger coffee flavor, is more complex and smoother than Kahlua, and it's also sweeter. It's also thinner than Kahlua, but you can't really tell when it's in a cocktail.
No homemade Kahlua sub?
I used a vodka + espresso powder Kahlua sub in my Eggnog White Russian and it was great, but in this Baileys iced coffee, the whole drink just seemed flat.
I would highly recommend getting Tia Maria for this drink!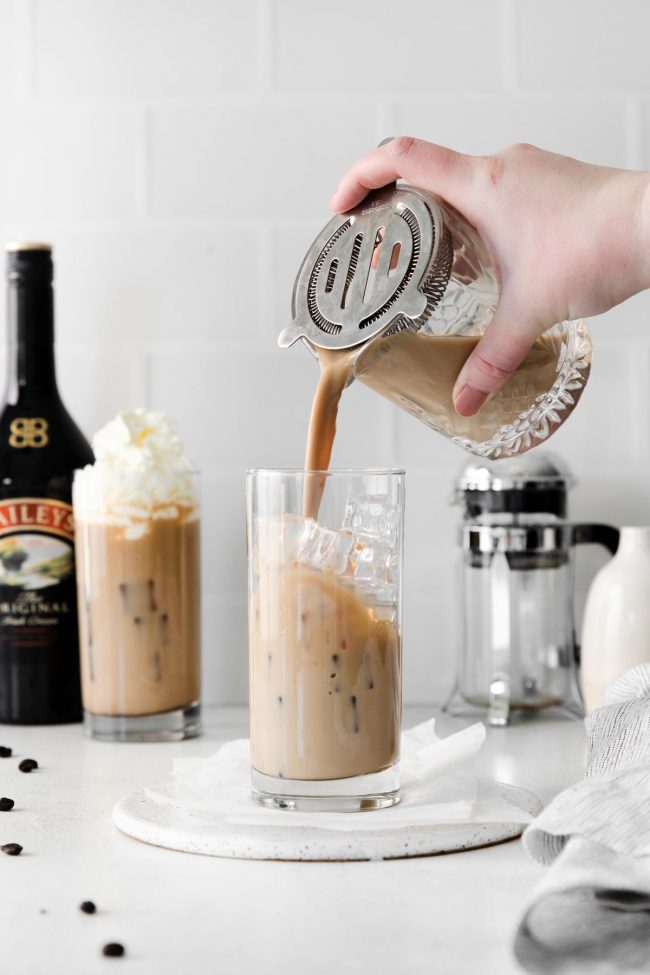 Cold brew
Cold brew coffee is the base of this iced coffee drink, and it's super simple to make. It's smooth, full-flavored and less acidic than regular hot coffee.
I posted this French Press Cold Brew recipe so you can find out all the types of grinds and the best coffee to use when making cold brew.
There are a couple of ways to make cold brew, but using the French press is the easiest for me. It's got everything you need in one apparatus. No need for a fine-mesh sieve because it comes with its own.
By the way, if you're a pumpkin spice lover, try this Pumpkin Cold Brew with Sweet Cream.
Can I just use normal coffee or espresso?
Yes to normal coffee! I normally use cold brew instead of regular coffee because it's less acidic and smoother. But with all the Baileys and Kahlua in there, it doesn't really make a big difference (I tried it).
But you need to use cold or at least room temperature coffee.
Espresso would be, in my opinion, way too strong. I don't think you'd be able to taste the Baileys through so much coffee flavor.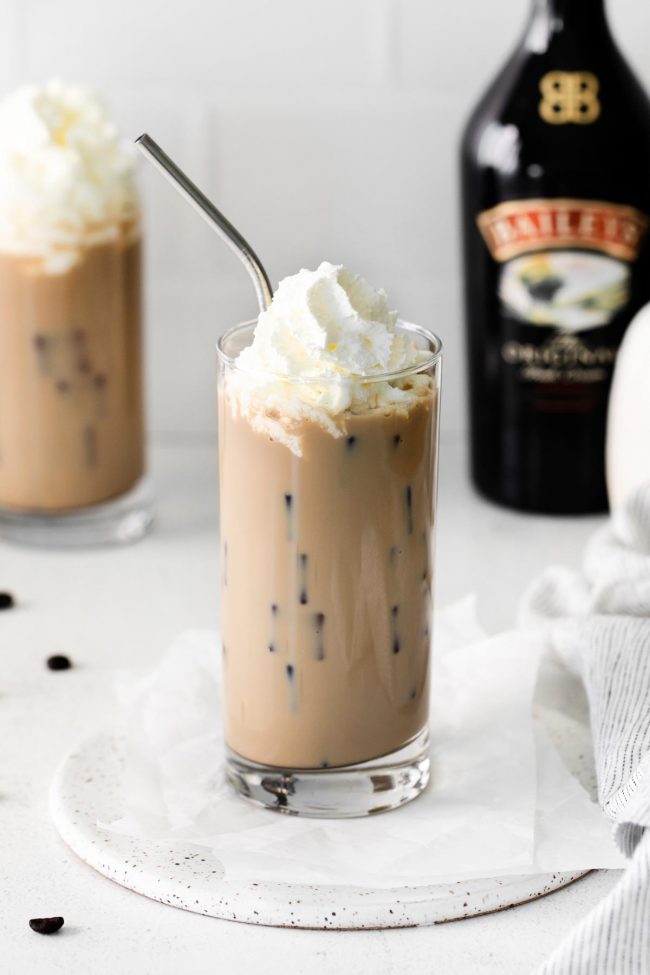 More cold drinks
If you're looking for other amazing cocktails, I've got a few more options.
If you try out this drink, I'd love to hear what you think! Enjoy. :)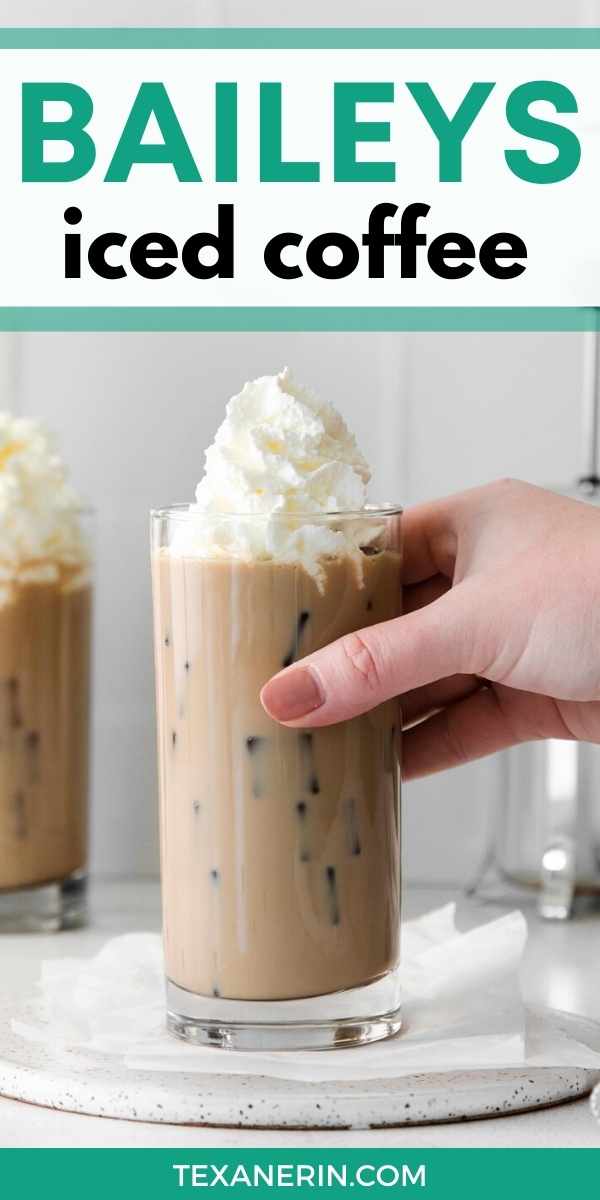 ❀
Baileys Iced Coffee
Prep Time:
Cook Time:
Ready in:
Yield:

2 cocktails
Ingredients
For the cocktail:

1 cup (240 ml) cold brew coffee
3 ounces (6 tablespoons) Baileys
1.5 ounces (3 tablespoons) Kahlua or Tia Maria

For the Baileys whipped cream:

1/2 cup cold heavy cream
1.5 ounces (3 tablespoons) Baileys
Directions
For the cocktail:

Fill a cocktail shaker with ice and add the cold brew coffee. Add the Baileys and Kahlua. Stir until chilled and well combined – about 15 seconds.
Fill two glasses with ice and divide the cocktail between them. Top with whipped cream (below) and enjoy immediately.

For the whipped cream:

Add the cold heavy cream to the bowl of a stand mixer fitted with the whisk attachment (or a large bowl if using a hand mixer).
Beat on medium speed until soft peaks form – about 2 minutes.
Add the Baileys and continue to beat on medium speed until stiff peaks form – another 1-2 minutes.
Serve immediately or store in an airtight container in the fridge for up to three days.
Notes
For a vegan/dairy-free version, use my Vegan Baileys recipe and Tia Maria instead of Kahlua. Omit the whipped cream topping.