These vegan lemon bars are super creamy, cashew-based, and are no-bake! They're full of lemon flavor, are maple-sweetened and are also paleo.
The pictures and the video don't do these bars justice. At all. They're really so much better than they look!
Super creamy!
This recipe is based on my paleo vegan key lime pie. The filling of that recipe really tastes just like regular key lime pie filling.
For today's recipe, imagine key lime pie – but with lemon. There's no maple or cashew taste. Just lemon flavor.
One difference between the lemon bars and the lime pie recipe is that I needed a little more sweetener for the lemon bars, which I find really odd. Is lemon sourer than lime?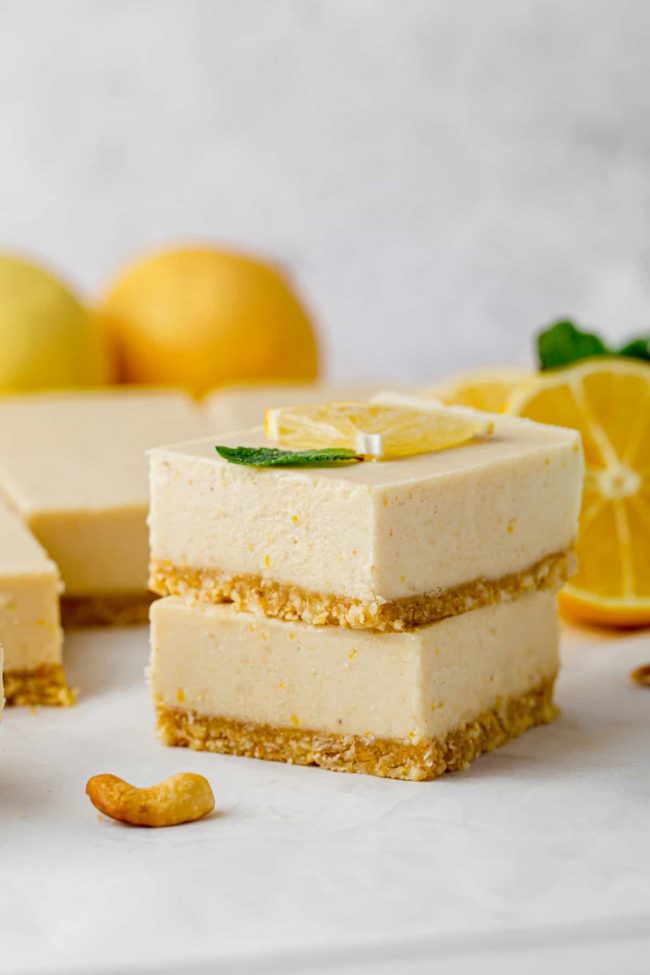 Not too sweet
Lemon bars can sometimes be sickeningly sweet. I love lemon curd but regular lemon bars are just too much for me.
These lemon bars are definitely different! For another not-so-sweet treat, try my paleo vegan lemon cookies.
A note on the sweetener – be sure to use light maple syrup! While my bars didn't taste anything like maple syrup, I'm guessing yours will if you use a darker grade maple syrup.
If you're vegan, also check out my post on Is Maple Syrup Vegan? Some manufacturers use an animal product during production, that's not required to be on the label, that you may or not be okay with.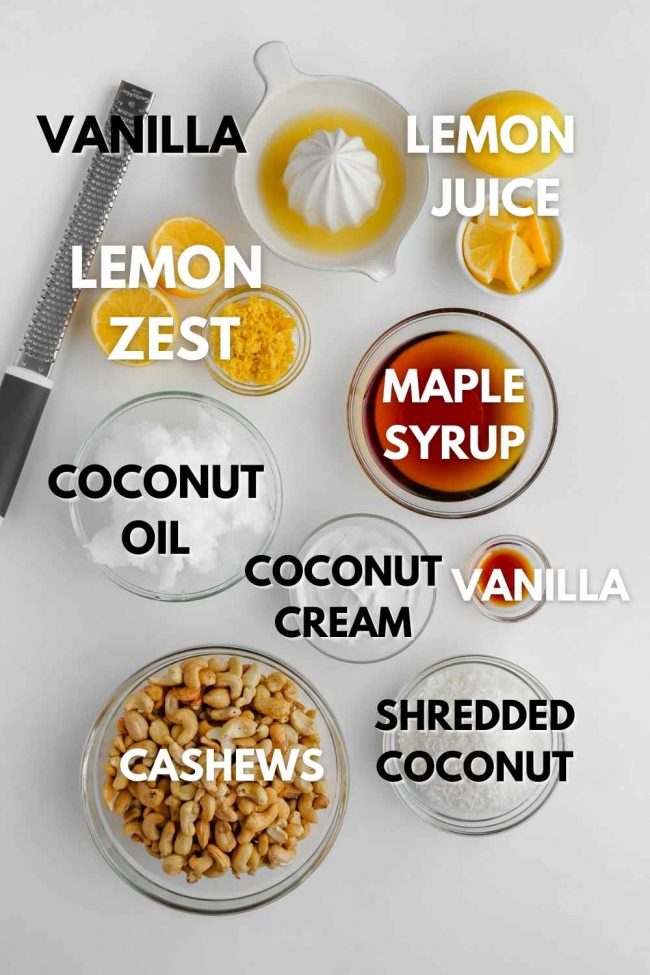 The cashews
I first made these paleo lemon bars with raw unsalted cashews. If you want to make raw lemon bars, go ahead and use raw cashews and untoasted coconut.
If you don't care about them being raw, definitely go with roasted cashews and coconut! It adds so much flavor.
The other thing to remember is salt. Don't be skimpy with the salt, especially in the filling.
If your filling tastes flat or boring, you're missing salt. My cashews were super salty and I know every brand is different, so I can't give you an exact amount of salt.
I also tested these vegan lemon bars with partly bottled lemon juice and less zest, but I don't recommend futzing around with that. It's just like in my paleo lemon curd – you want to use freshly squeezed juice!
The crust
If you've ever tried no-bake vegan or paleo crusts, you're probably familiar with how wet or even soggy they can be.
Not this one! It's not crisp like a baked wheat-based crust, but it's definitely not soggy. At least it's not as long as you don't over-process the crust mixture in the blender.
If you prefer a whole wheat crust, use the coconut sugar cookie crust I used in my gluten-free key lime pie bars. It'd go great with this filling!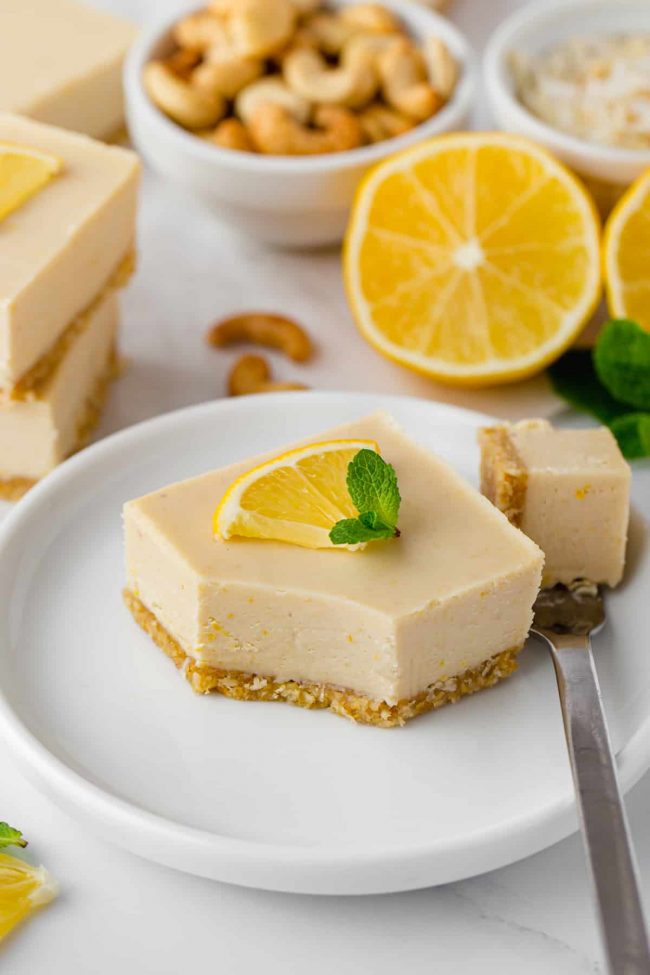 The color
I tried to make them a pretty, bright yellow color like regular lemon bars so I added some turmeric but I could definitely taste it. I had the same problem when making vegan custard.
The turmeric taste wasn't strong, but I didn't want anything messing with the lemon taste. So you won't find it listed in the recipe (and it's not used in the pictured bars). I doubt anyone will care about the drab color once they've had their first bite of these delectable vegan lemon bars!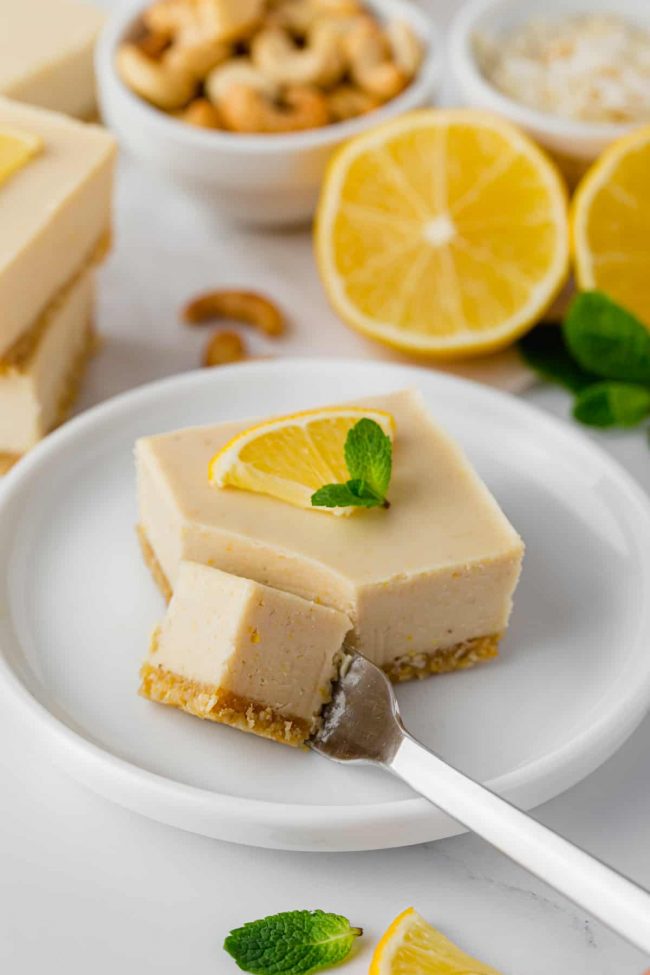 The yield
This recipe "only" yields an 8″x8″ pan, but you can cut the bars pretty small. I made 1.5x the original lime pie recipe so that the bars would be super thick.
They'd be great for Easter like these carrot cake paleo magic cookie bars. Both would make great Easter desserts!
Once they're baked
They last for several hours at room temp. They're best when still a bit cold, though.
These bars freeze great, too. They take about 1-2 hours to defrost at room temperature. You can also let them defrost overnight in the fridge.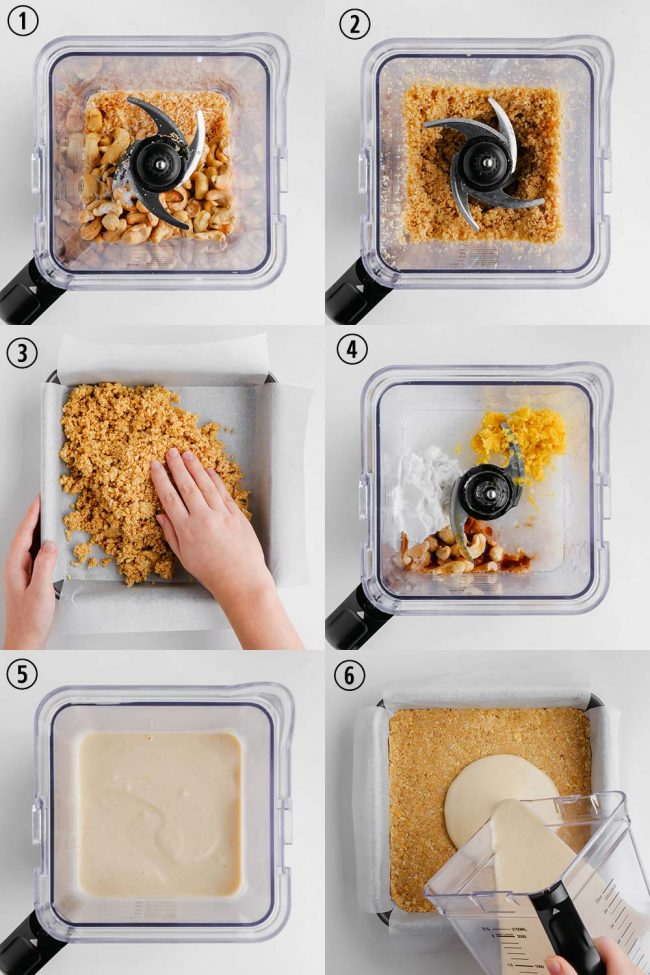 Do I need a food processor?
Whether or not the filling for these bars works in a food processor, I don't know. One of the commenters in the key lime pie recipe did it with success, but I just can't imagine them coming out 100% creamy with no chunks of cashews. I'd love for someone to prove me wrong, though. :)
I hope you'll enjoy them! If you make this recipe, I'd love to see pictures of your creations on Instagram, Facebook and Twitter. Please hashtag them #texanerin so I can find them. :)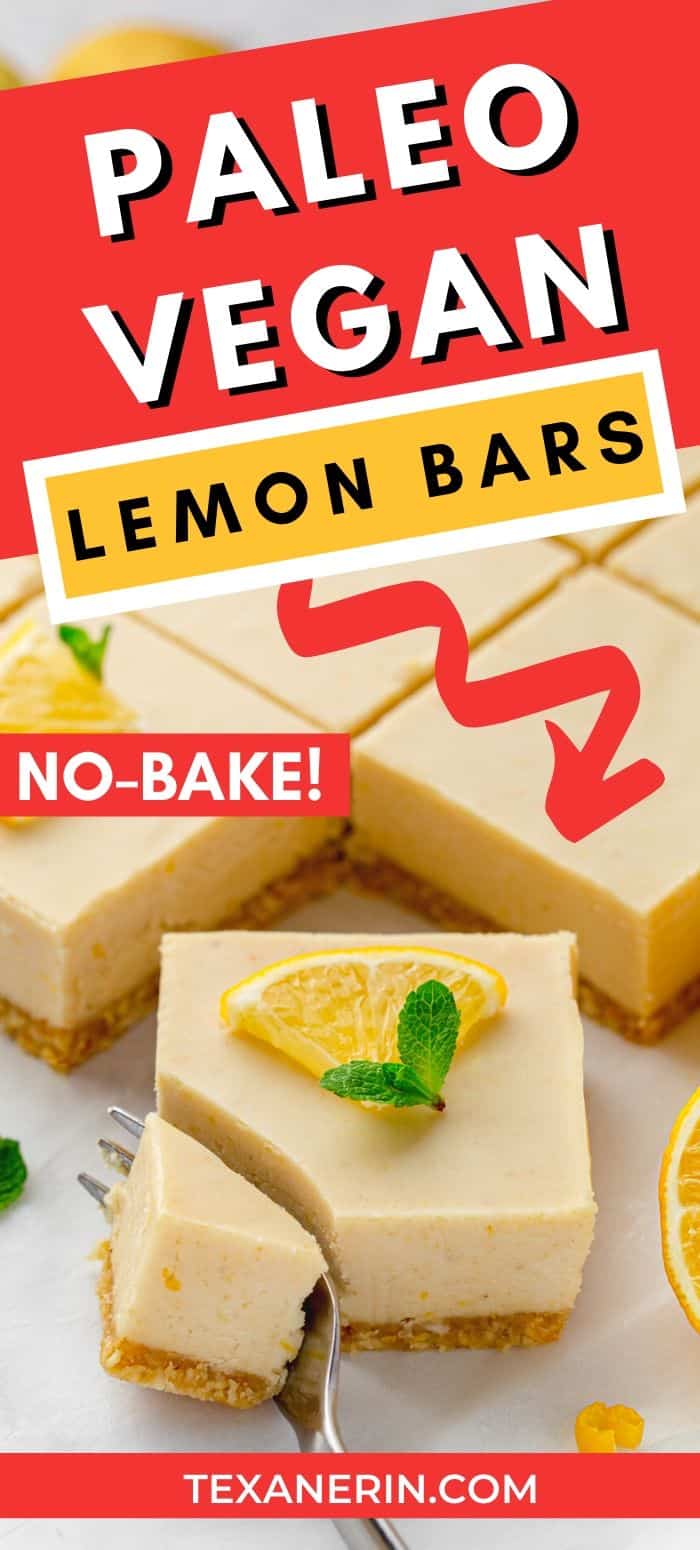 ❀
Paleo Vegan Lemon Bars (no-bake)
Prep Time:
Cook Time:
Ready in:
Yield:

16-20 bars
Ingredients
For the crust:

3/4 cup (65 grams) unsweetened shredded coconut
1 1/2 cups (218 grams) roasted cashews
2 tablespoons + 3/4 teaspoon maple syrup
1 1/2 teaspoons vanilla extract
pinch of salt

For the filling:

1 1/2 cups (218 grams) roasted cashews, soaked for 1 hour1 (there's no sub for the cashews)
1 cup + 2 tablespoons (252 grams) unrefined coconut oil, very soft or melted (do not use cold coconut oil!)
6 tablespoons (90 grams) coconut cream (the top, solid part from a can of full-fat coconut milk that's been refrigerated overnight)
3/4 cup (180 milliliters) freshly squeezed lemon juice
2/3 cup (158 milliliters) maple syrup (I recommend the lightest kind, Grade A)
3 tablespoons (12 grams) lemon zest
1 1/2 teaspoons vanilla extract
pinch of salt, or more to taste
Directions
Line an 8"x8" pan with a piece of parchment paper.
Prepare the crust. Heat a pan over medium-high heat and add the coconut. Stir frequently until nicely toasted. Do not walk away from the pan as the coconut starts to burn very quickly! Pour the coconut into a small bowl and let cool for about 5 minutes. You can skip the toasting step but I think it adds so much flavor to the crust!
Place all the crust ingredients in a high-powered blender and process at low speed until the mixture starts to clump together. Don't process so long that it becomes pasty. When you pinch some of the mixture between your fingers, it should easily clump together. If it doesn't, add a tiny bit of water and process again until it does.
Press onto the bottom of the prepared pan. Make sure there aren't any holes and really press down to compact it.
Place the pan in the freezer while you prepare the filling. The fridge will also do if you don't have space in the freezer. It should be firm before putting the filling in.
Wipe out the blender jar using a paper towel and place all the filling ingredients in there. Blend for about 30-60 seconds at high speed until totally smooth.
Pour the filling over each crust.
Refrigerate for about 4 hours or until firm. If you're in a hurry, place the pan in the freezer.
Refrigerate bars in an airtight container for up to 3 days. If you freeze them for a while, they'll need about 70-80 minutes at room temperature to defrost or about 1 1/2 - 2 hours in the refrigerator. Once properly defrosted, they should be totally creamy.
Notes
Place the cashews in a small pot, pan or mug and cover with boiling water. Let sit for 1 hour. Drain the water.
While I'm sure the crust can be made in a food processor, I'm not sure about the filling. It definitely wouldn't be as smooth (using a high-power blender, it's totally smooth) and it may not work at all. If you try it anyway, let us know how it goes!