This French vanilla cappuccino is rich and creamy with a hint of earthy coffee, sweet vanilla, foamy milk and warm nutmeg. Can be made traditionally or paleo, dairy-free and vegan.
What's special about this French vanilla cappuccino is that it's sweet with a little spice, made with warm steamed milk and lots of foam, and can quickly and easily be made at home. No more standing in long lines waiting for your cup of brew.
I've posted a lot of lattes lately like this Dolce Latte, but this is my first cappuccino. It's perfect for lazy mornings or a tasty pick-me-up in the afternoon.
This recipe is based on the classic recipe for cappuccino using the same espresso-to-milk ratio: 1/3 espresso, 1/3 steamed milk and topped with 1/3 milk foam.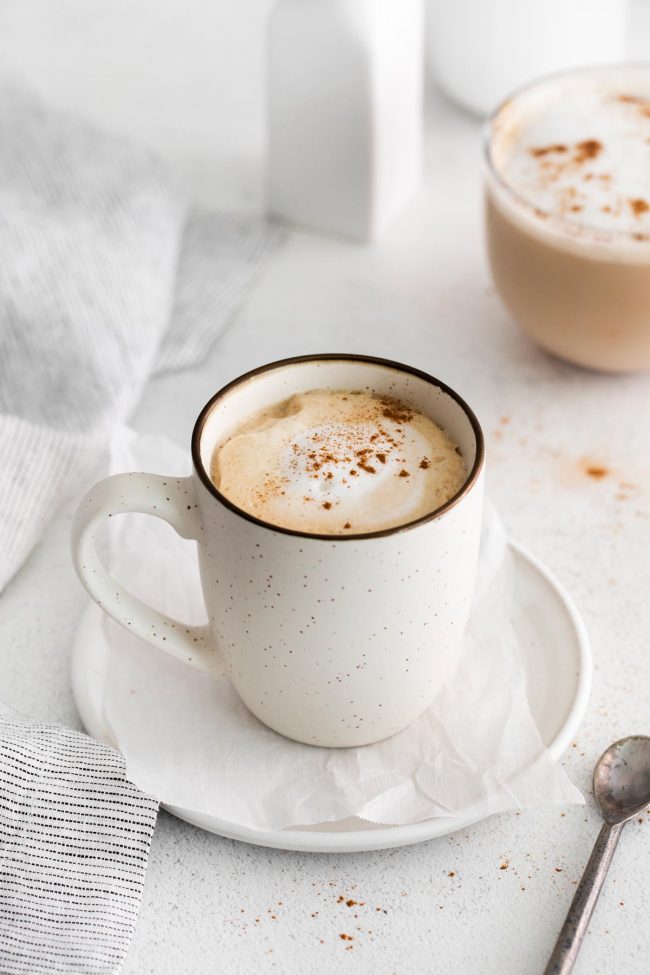 Ingredients
Espresso – is the base of our latte; feel free to use any kind of espresso or strong coffee you like.


Light brown sugar – sweetens the cappuccino. You could also use simple syrup, maple syrup, agave – anything will work!


Vanilla extract – make sure to use pure vanilla extract, not imitation vanilla flavor.


Nutmeg – adds a bit of warm earthy spice to the cappuccino to really enhance the "French vanilla" flavor.


Milk of choice – you can use regular milk or plant-based milk.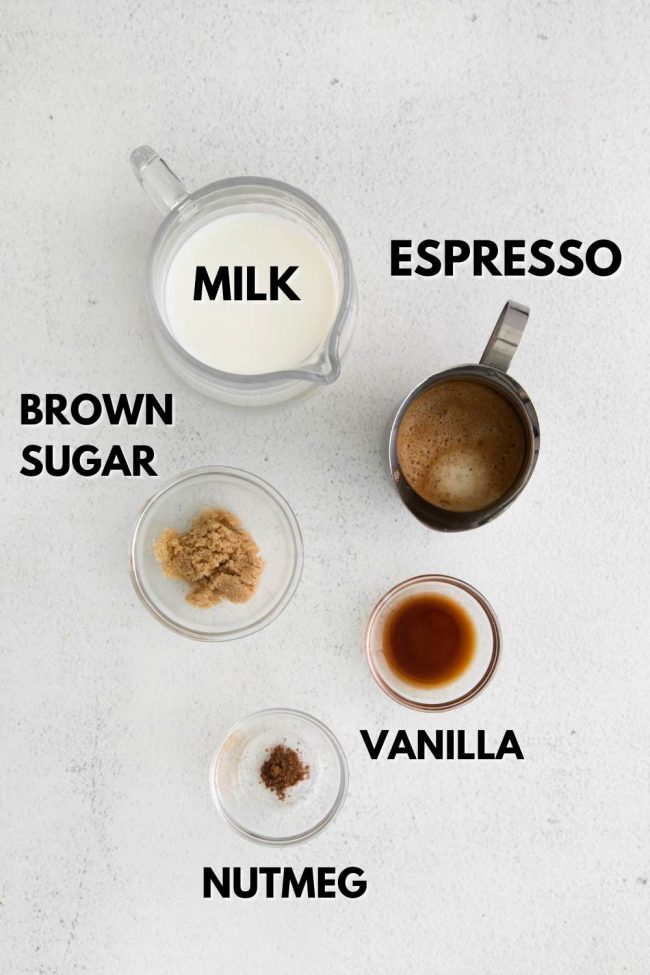 Vegan, dairy-free & paleo options
To make a vegan French vanilla cappuccino, you need to use plant-based milk.
Frothing plant-based milk is doable but a little more complicated. Be sure to check out this post → Can You Froth Almond Milk – to get all the details for frothing plant-based milk.
If you're paleo, you need to use paleo sweetener and paleo milk, such as unsweetened cashew milk or almond milk. You also want to make sure it doesn't have any additives.
I like to use maple syrup because it's delicately sweet and pairs nicely with vanilla.
What is cappuccino?
The cappuccino is an Italian coffee drink named after Capuchin friars and has been around for centuries.
It's distinguished by its warm, frothy milk that conjures up cozy sensations and is more satisfying than your regular mug of coffee and cream.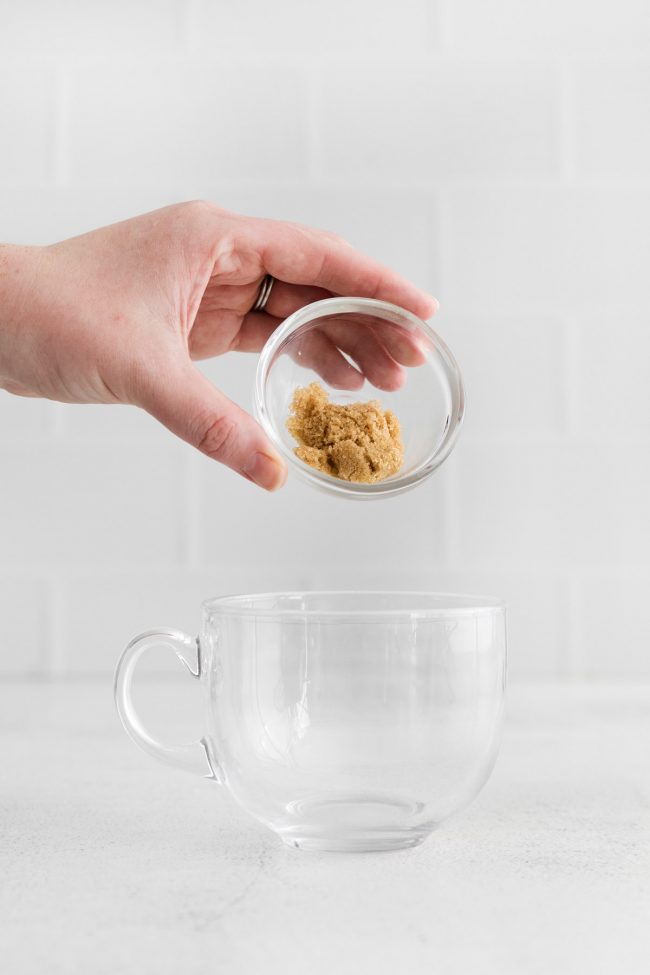 What is French vanilla?
French vanilla is not a type of vanilla bean, but a particular way that French ice cream is made with vanilla, cream and egg yolks. French vanilla ice cream is more of a custard-based cream and is slightly yellow.
That being said, not all French vanilla ice cream is made with egg yolks, but it refers to more of a vanilla-custard flavor.
So, French vanilla most often refers to a robust vanilla-custard flavor.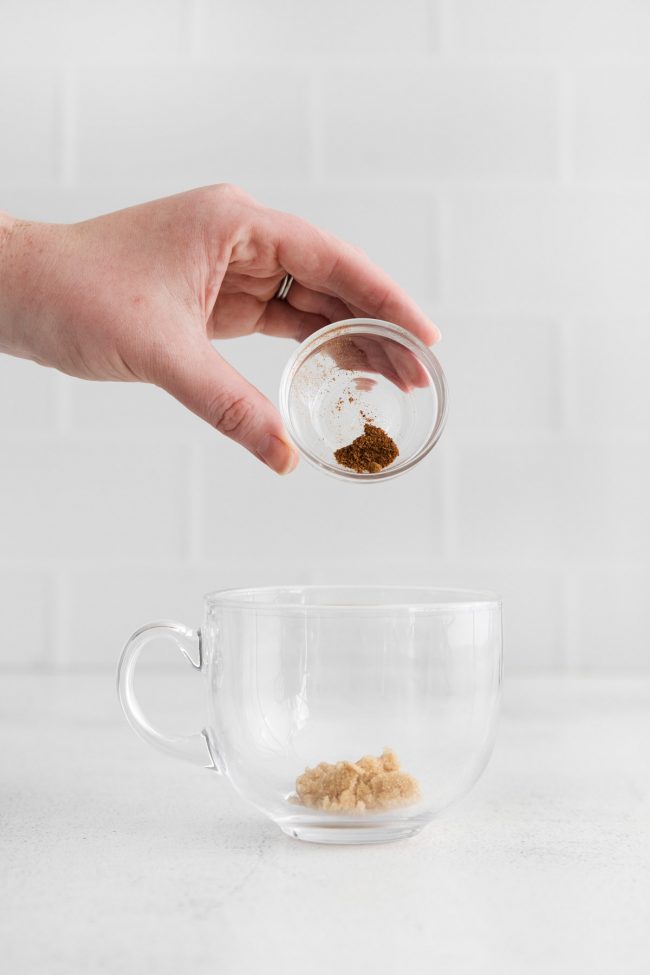 How to froth milk at home
The signature ingredient in any cappuccino is steamed milk with fluffy foam. With any method you use, using dairy milk, you'll want to start by warming the milk and bringing it to a temperature of 139-149 °F (55-65 °C) to achieve the best foam for any cappuccino.
When heating the milk on the stovetop, frequently stirring ensures that it doesn't burn when coming to a slow simmer.
If using the microwave, pour the milk into a microwave-safe container on medium-high (70%) power, heat in 15 seconds increments, and stir in between until the steam rises. Then the milk is ready to be frothed.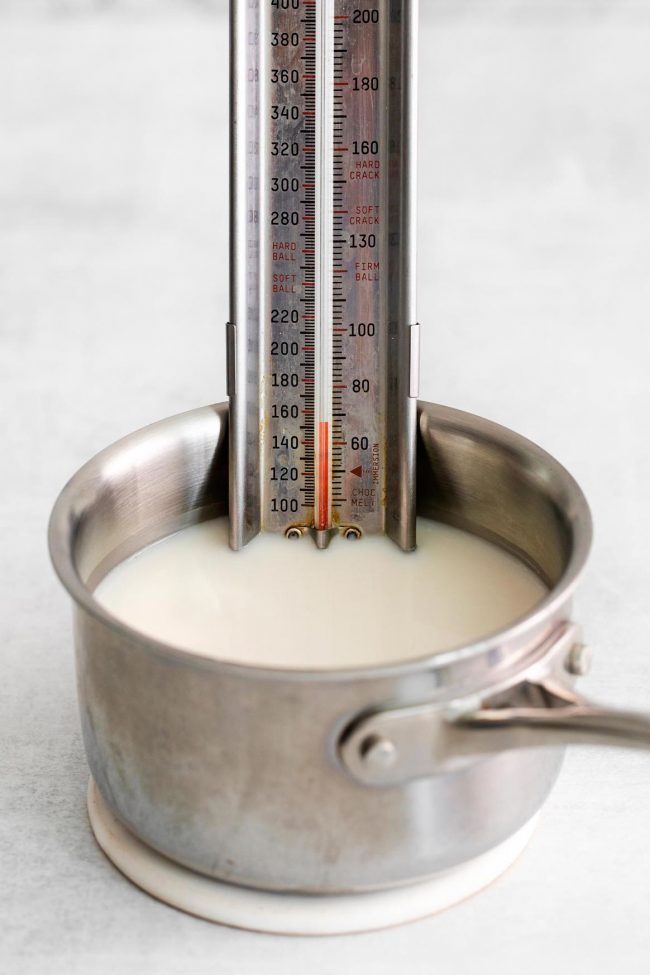 Using a handheld frother
One of the best ways to froth milk nowadays is to use a handheld frothing wand. It's a battery-operated or electric device with a small whisk that you can put directly in a cup of warm milk and whisk up and down quickly until you get the amount of foam you like.
They're easy to find online or at IKEA and are inexpensive.
Of course, you'll want the milk at the correct temperature before you start to froth. The milk fats have to melt into liquid, which builds up the foam. The surface air bubbles will stabilize, which is ideal for obtaining perfectly foamy milk.
If you've ever been in a hurry and not brought the milk to an ideal temperature, you'll notice larger airy bubbles and very little foam. To avoid this, I suggest using a thermometer when heating the milk.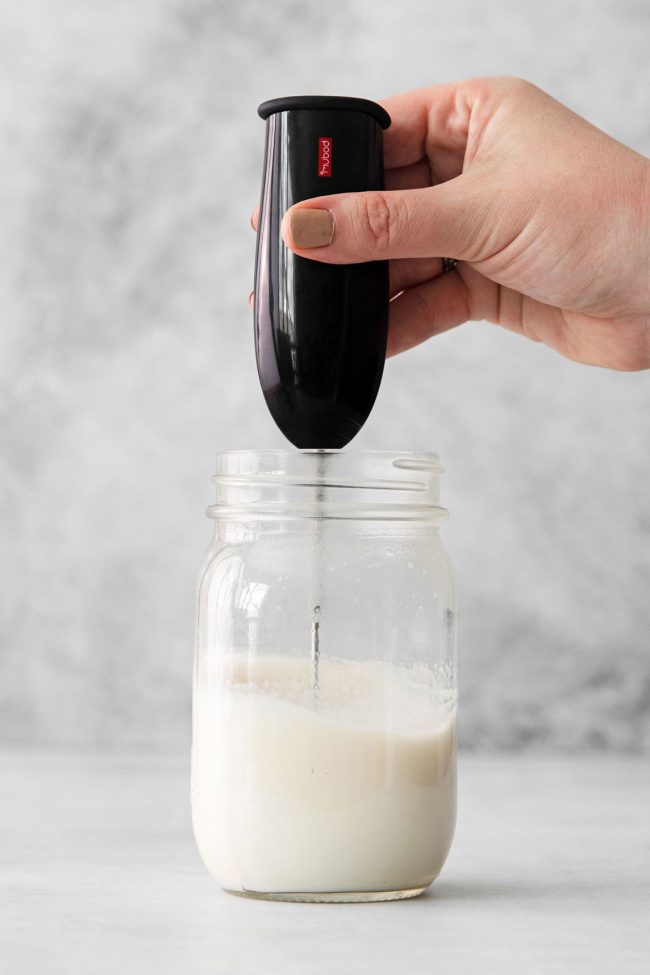 Using an espresso machine
If you have an espresso machine with a steaming wand, you can place it into the milk and begin heating it. You should hear a light hissing sound.
Once the milk reaches the correct temperature, turn the steamer off, wipe the wand with a damp cloth and let it rest for a minute while you prepare the flavoring. This allows the foam and milk to separate. Then, pour the steamed milk on top of the espresso and spoon out the foam.
How to froth milk without a milk frother
If you don't have a handheld frother or a steaming wand, no worries, you can froth milk using any of the methods below.
Using a jar
The jar method is a quick trick that works quite well, but only using non-fat or skim milk (source). Use a big microwave-safe jar with a tight lid like a mason jar. The milk will almost double in size once you vigorously shake the cold milk, so make sure you have enough space.
Then heat in the microwave to set the foam. The foam will actually grow even more once heated, so again get a large enough jar to start. Also, you'll want to take the lid off before placing it in the microwave, especially if it is made of metal.
You will get less foam if you heat the milk first and shake it.
Using a whisk by hand
First, warm the milk and then vigorously whisk by hand. The whisk will create a slightly better foam quality than the jar method.
You can also use an electric hand mixer. Just heat the milk in a saucepan and whisk until you get the froth you desire.
Using a blender
Just pour the warm milk into the blender and blend on medium speed until it's nice and foamy.
The bubbles in the foam using this method will be small and uniform.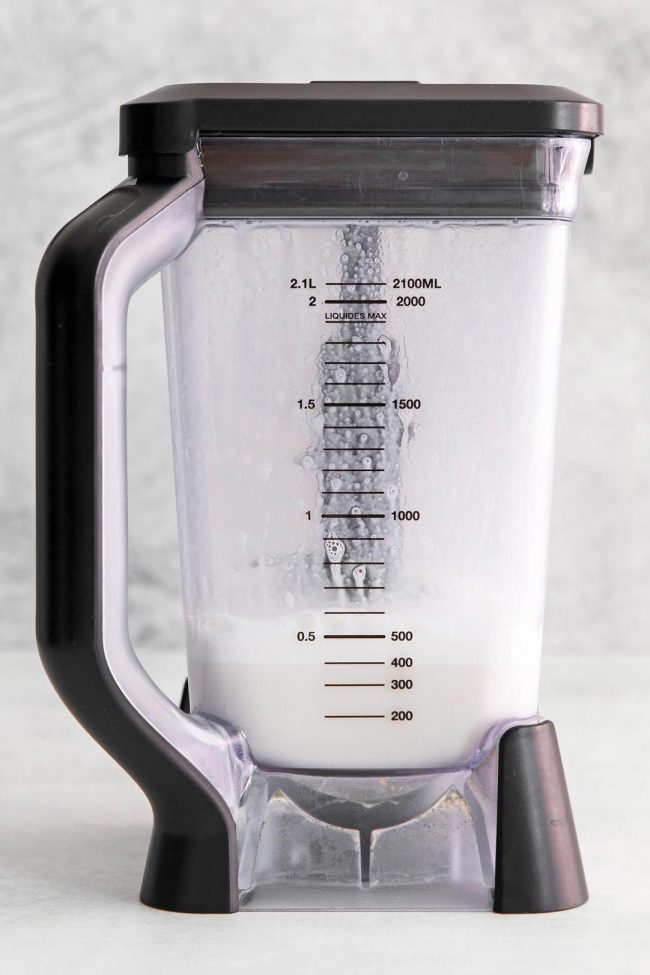 Using an immersion blender
This method creates a nice foam but can also make a huge mess. It's my least favorite method.
But again, if it's all you have, then by all means. Be sure to use a deep pot or tall vessel to froth the milk with the immersion blender.
Just heat the milk and place the immersion blender in the milk, covering the blades. Turn the blender on low until the milk is frothy.
Using a French press
The French press is great! Not only does it steep and filter tea leaves and make coffee, but it can also be used to froth milk.
Warm milk on the stovetop or microwave. Once heated to temperature, pour it in the French press and actively pump up and down with the plunger, making sure to hold the lid with your other hand. Once frothed, let it rest for 1 minute before pouring.
If you're using plant-based milk, there is a post link on how to froth almond milk in the vegan/paleo section above, so be sure to check it out.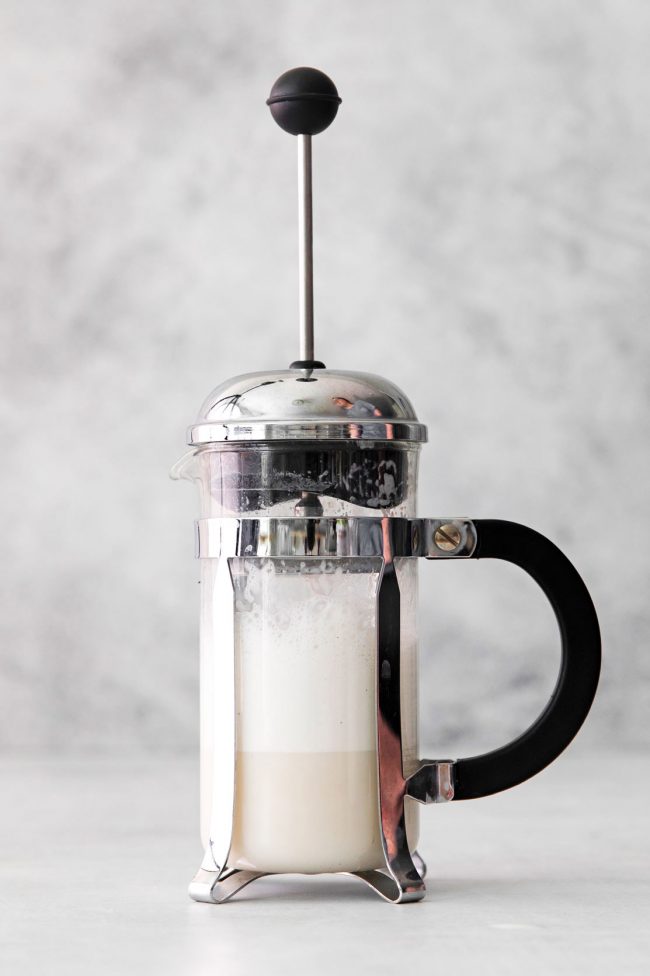 How to make espresso without a machine
There are a few different ways to make espresso without a machine in the comforts of home.
You can use a mocha maker, French press or make cold brew with a jar.
The mocha pot is cheaper than an espresso machine and gives you thick, robust espresso-like coffee because the water in the bottom of the pot boils and pressurizes through the coffee grounds.
You can also get espresso-strength coffee and make French press espresso. In short, you add medium-grind coffee grounds to the French press and pour over hot water, rest, then plunge the grounds to the bottom and pour.
Check out the post – French Press Espresso for more information on the grind size and measurements.
If you don't have a French press, check out my Cold Brew Espresso.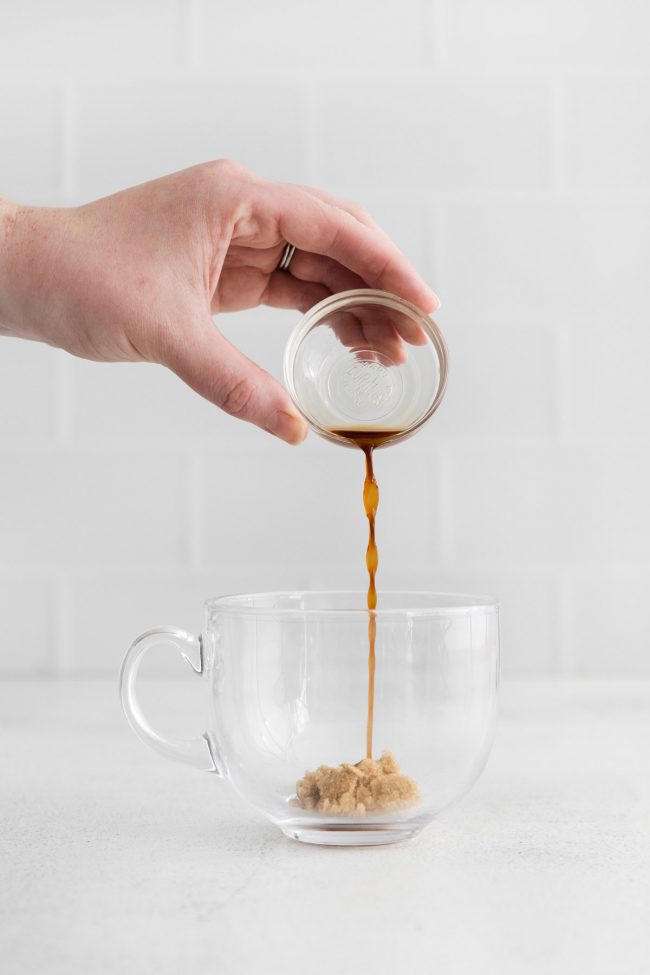 French vanilla coffee
If all you have is a drip coffee maker and milk, you can have the same great taste by making French vanilla coffee! Just use strong coffee (or coffee the way you like it) and follow the sweetener and frothing milk directions.
If you're looking for something tasty to go with your coffee, I suggest these Coffee Cookies!
Do cappuccinos have caffeine?
The answer is yes, but if you're reducing your caffeine intake, use decaf instead.
Generally speaking, a French vanilla cappuccino contains about 68mg of caffeine, but that depends on the brand and the blend.
For example, an espresso made with blonde roasted coffee beans has more caffeine than a dark roast.
But what's the difference between Espresso Beans vs Coffee Beans? In short, it's all coffee beans but roasted to brew espresso. Be sure to read the post for more.
Do I have to use nutmeg?
It's not mandatory, but it does pair nicely with vanilla and sweetener to give you that French vanilla flavor. But if you're not a nutmeg fan, you can leave it out altogether or look for a substitute that you would prefer more.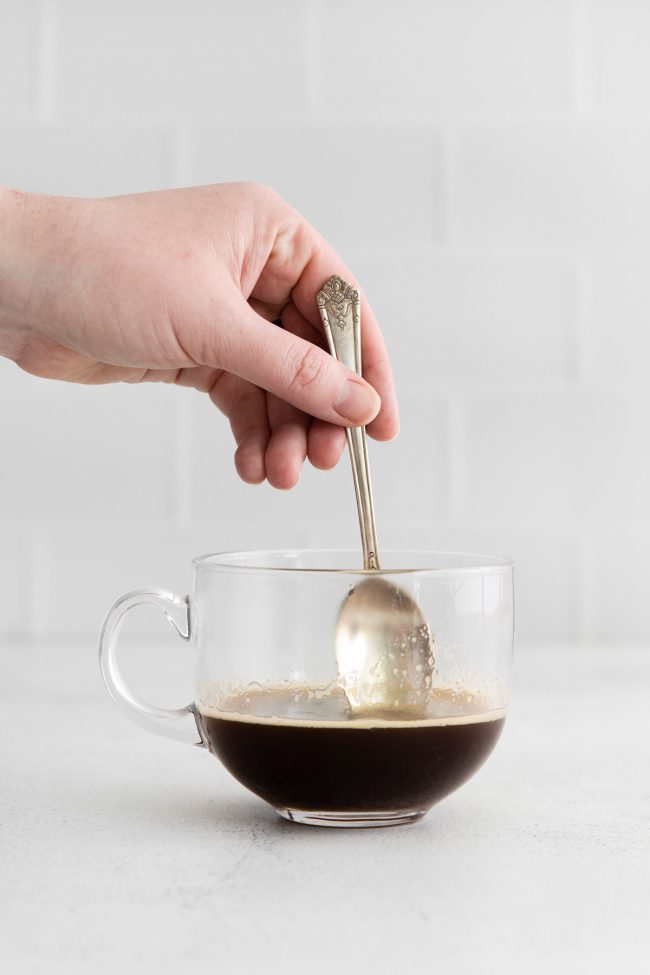 Variations
If you want the cappuccino to be even creamier and extra rich, replace some of the milk with half-and-half or heavy cream using the same parts of liquid.
Cinnamon is also a great alternative, especially if you're not a fan of nutmeg.
A cocoa powder dusting adds a touch of chocolaty taste.
And if you're serving this for the holidays, don't forget about dolce sprinkles that can be found in the Dolce Latte recipe linked at the top in the introduction.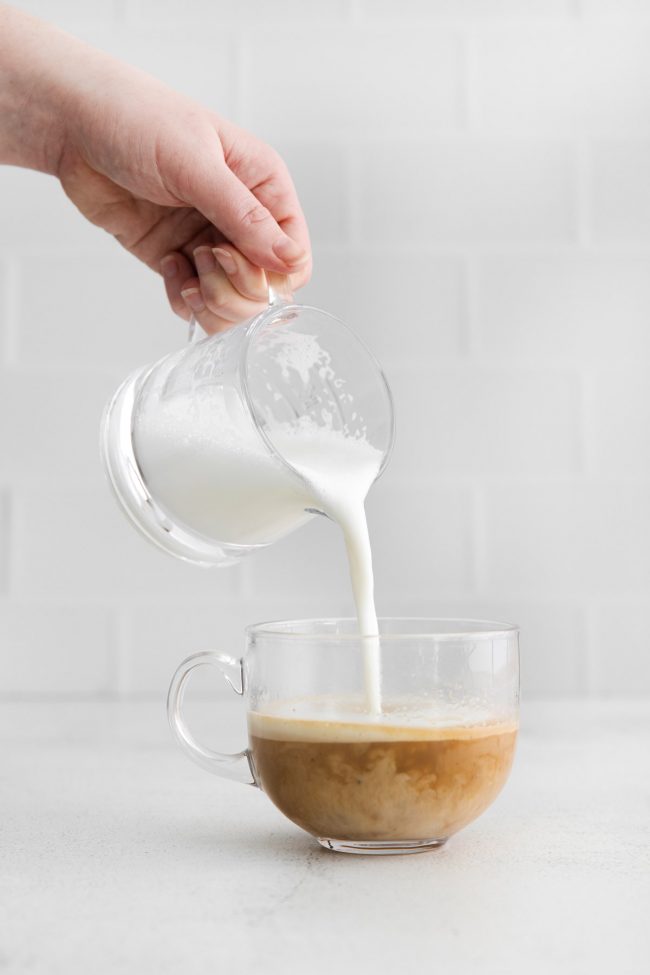 What to serve with this cappuccino
Here are some recipes that pair nicely with this cappuccino.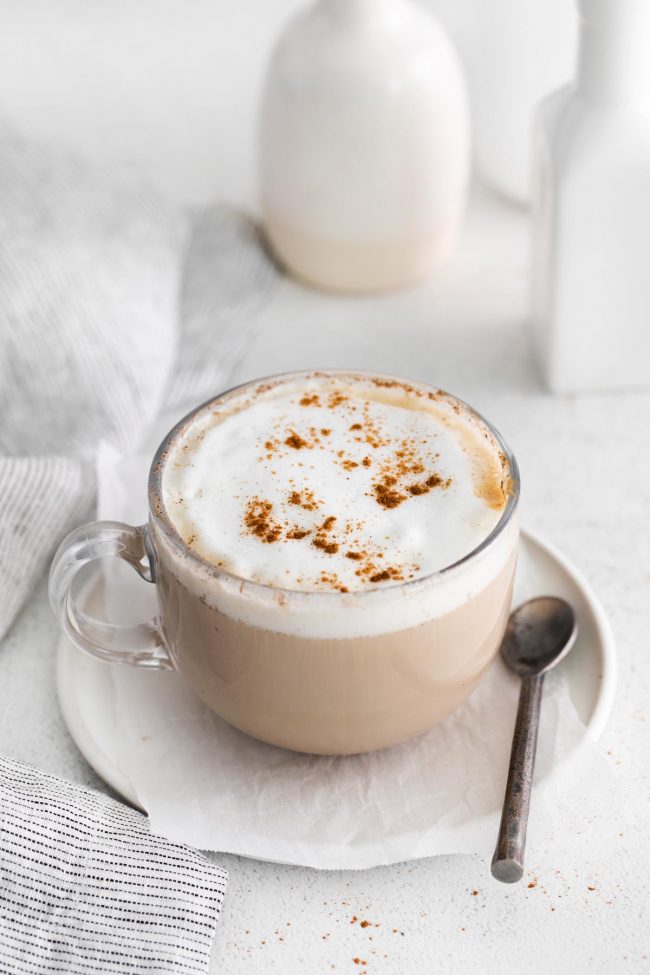 Other seasonal drinks
Besides coffee drinks, I've also been posting lattes, matcha and chai drinks. Here's a look at other specialty drinks you can easily make at home.
I hope you like this French vanilla cappuccino as much as we do. If you make it, please comment below and tell us about it! If you love it and share it on social media, please tag #texanerin or mention @texanerin so I can see it. Thank you!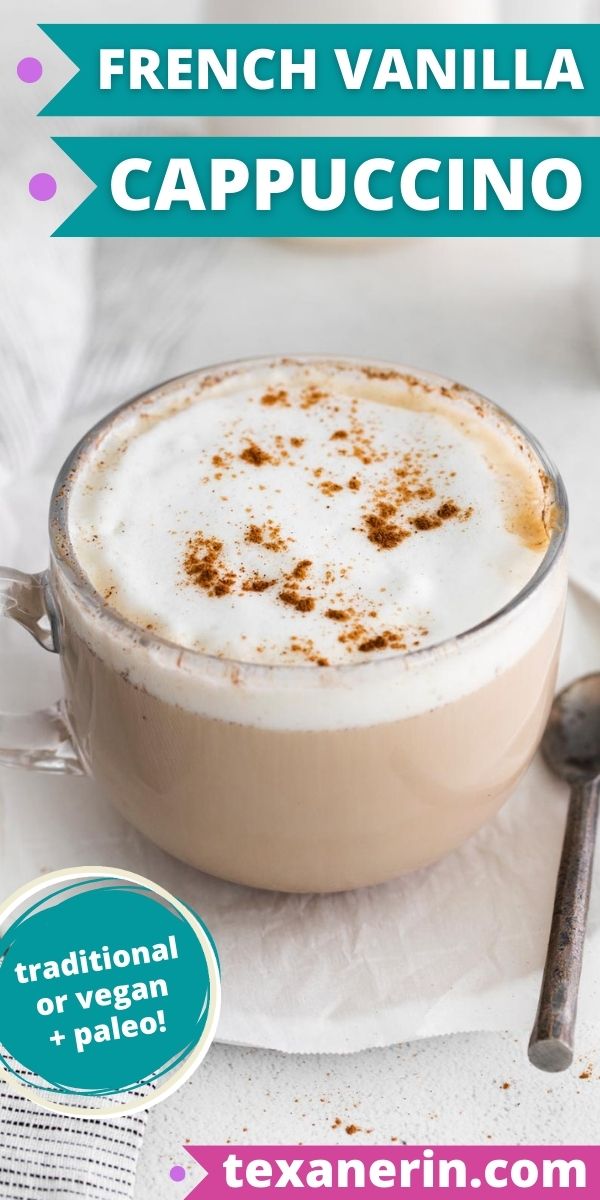 ❀
French Vanilla Cappuccino
Prep Time:
Cook Time:
Ready in:
Yield:

1
Ingredients
2 ounces (1/4 cup) freshly brewed espresso
1 teaspoon light brown sugar or sweetener of choice
1 teaspoon pure vanilla extract
pinch of fresh ground nutmeg (about 1/16th teaspoon)
1/2 cup milk (dairy or non-dairy)
Directions
Combine the espresso, brown sugar, vanilla, and nutmeg in a large mug. Stir until the brown sugar is dissolved.
Heat the milk in the microwave or a small pot on the stove until it begins to steam. For dairy milk, heat to 139-149 °F (55-65 °C). For plant-based milk, heat to 150 °F (65 °C). Then froth the milk until it has a thick foam layer and has doubled in size.
Pour the steamed milk and foam over the espresso and enjoy. Garnish with a sprinkle of cinnamon or nutmeg if desired.
Notes
For vegan, use plant-based milk.
For paleo, use plant-based milk and maple syrup or another paleo sweetener.