This paleo vegan vanilla sauce is cashew-based, maple-sweetened and only takes 5 minutes to make!
I've been making a lot of paleo + vegan fall treats lately that'd go great with vanilla ice cream. I don't know about you, but I've never had dairy-free ice cream that's just as delicious as the regular stuff. So here's my solution – healthier vegan vanilla sauce that's just as yummy as the traditional kind!
I love using vanilla sauce on crisps, crumbles and pies but I rarely make it because I'm a little lazy. This recipe, though, is SO easy. Now I don't have any excuse not to make it! (just ignore that double negative :))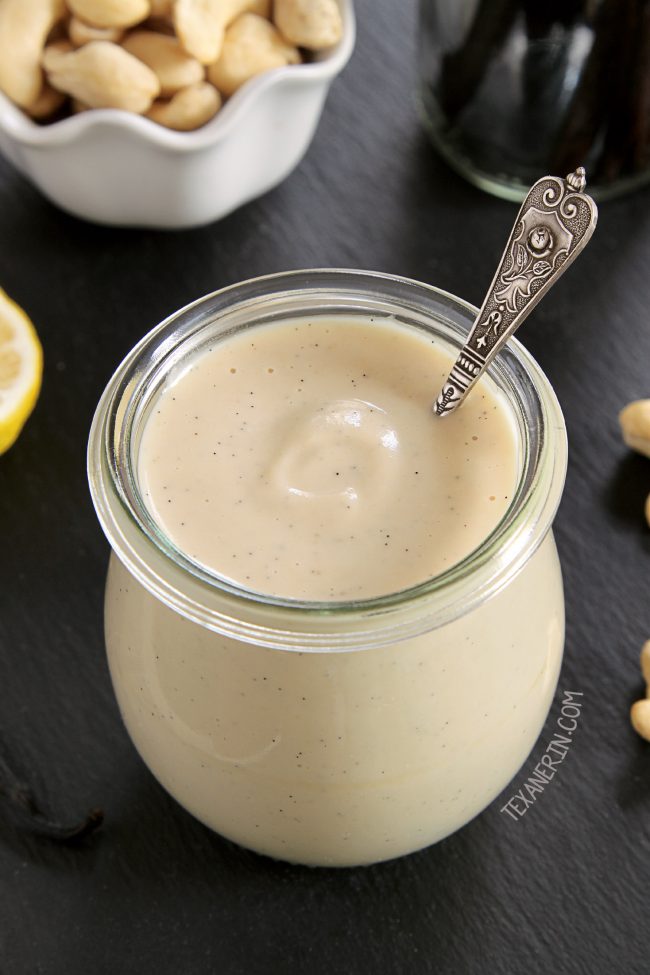 All you do is pour some boiling water over cashews, let them sit for 1 1/2 hours, and then blend those and all the other ingredients in a blender. Then you're left with a totally smooth and creamy sauce.
Make sure to use raw cashews! I first tried with roasted and salted cashews and the cashew taste was much too strong. And the next day the vanilla sauce tasted like peanut butter sauce.
At least I think it did – Mr. T didn't agree, but he did agree that the version using raw cashews is way better! He was actually bummed about me using this sauce on some desserts. He thought it was best enjoyed straight from the jar with a spoon!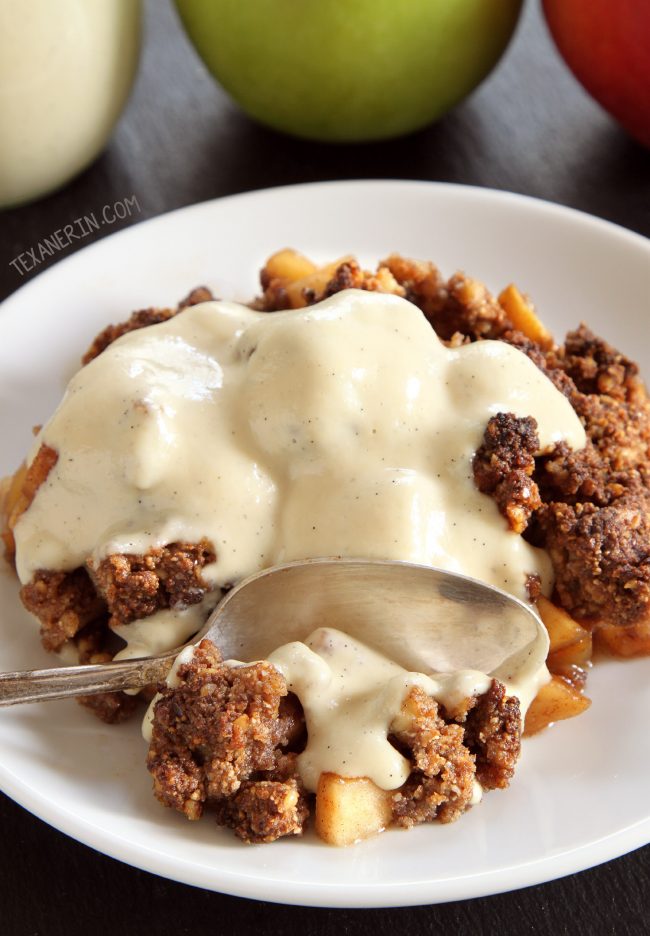 The lemon juice in the recipe doesn't make it taste lemony at all. It's needed to perk up the sauce, if that makes sense. Without it, it tastes kind of flat.
I used the seeds from half a vanilla bean and vanilla extract. If you want to use all extract, just add more to taste! I first tried using more vanilla bean seeds and no vanilla extract but thought the bean + extract way seemed much more balanced.
Maple syrup is used to sweeten this vanilla sauce, but if you want to use agave, I'm pretty sure it'd work. If you're not vegan and want to use honey, I think that'd work, too, but I think it'd taste quite a bit like honey. If you use a lighter maple syrup here, like Grade A Medium Amber, the maple taste isn't strong at all.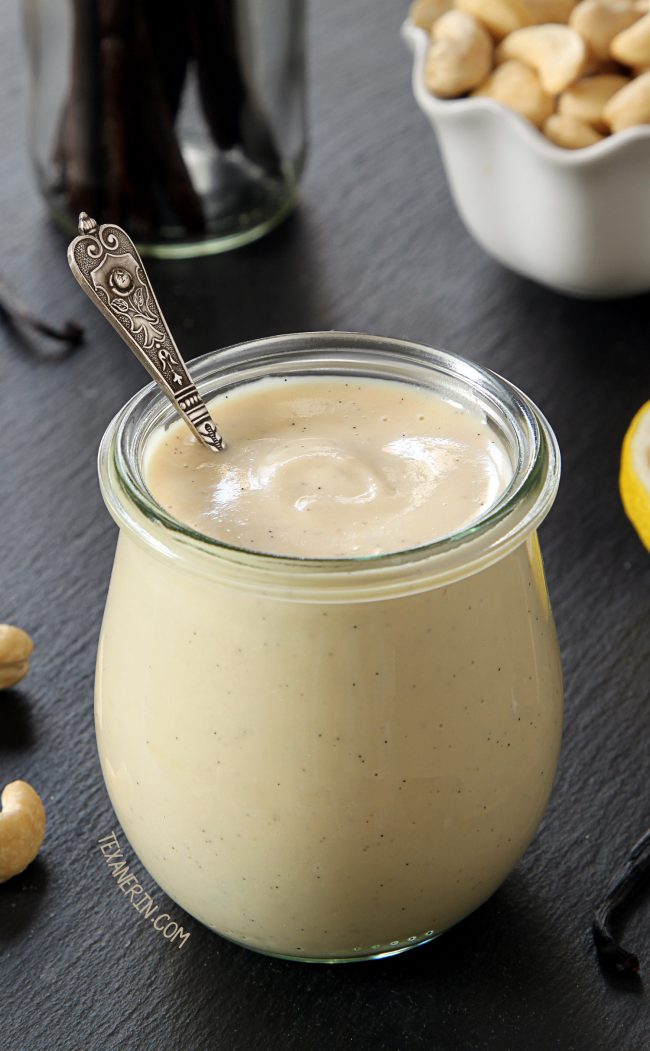 One thing to note is that if you use the sauce on something heavily spiced, you can't taste it super well unless you use quite a bit.
See how I drowned my crumble in that second picture? That's what you're going to need to do. But that paleo vegan apple crisp has a ton going on in it – it's made out of almond flour, walnuts and lots of spice.
Unlike other cashew-based vegan treats, this one doesn't really firm up much in the fridge. What you see if pretty much what you get. So you can make it and immediately enjoy!
❀
Wondering what to do with it? Here are some vegan + gluten-free ideas!
❀
Paleo Vegan Vanilla Sauce
Prep Time:
Cook Time:
Ready in:
Yield:

just under 1 1/2 cups
Ingredients
1 cup (145 grams) raw unsalted cashews, soaked1
1/2 cup (120 milliliters) water
5 tablespoons maple syrup
seeds from 1/2 vanilla bean
1/2 teaspoon vanilla extract
2 teaspoons lemon juice (plus an additional 1/2 teaspoon or more, if desired)
salt to taste (I used a little less than 1/4 teaspoon but like things salty)
Directions
Drain the cashews and place all the ingredients in a high speed blender jar.
Process on high speed for about 40 seconds or until totally smooth and no chunks remain.
Add more lemon juice, vanilla and salt, if desired. This doesn't thicken much so it can be served immediately.
Refrigerate in an airtight container for up to 3-4 days.
Notes
To soak the cashews, place them in a large mug, small pot, or some kind of container that's safe to pour boiling water into. Pour enough boiling water over the cashews to cover them. Let them sit 1 1/2 to 2 hours.
Please use a high-speed blender like called for in the recipe. I don't believe a food processor will grind the cashews finely enough.