This Protein Chia Pudding is a great way to add more protein to your mornings. It's slightly sweet and chocolaty with a boost of protein to keep you satisfied for longer. It's also vegan with a paleo option.
Like I said in my Protein Brownies and PB2 Overnight Oats posts, I'm trying to get in more protein. This chia chocolate protein pudding is a good breakfast treat to help with that!
You could also have it for dessert, but it's more suited for breakfast, I think. It's very lightly sweetened.
I wouldn't serve this to company as dessert unless they are very health-conscious. Then there wouldn't be any disappointment. ;)
If you'd like a chia pudding that's more of a dessert and/or don't like the lumps that chia seeds add, then try my Chocolate Chia Pudding.
That one is made in a blender and results in a texture that's exactly like regular pudding! It even tastes like regular pudding.
Today's recipe can also be blended in a high-speed blender to get a totally smooth texture, but the texture is more goopy than the other recipe.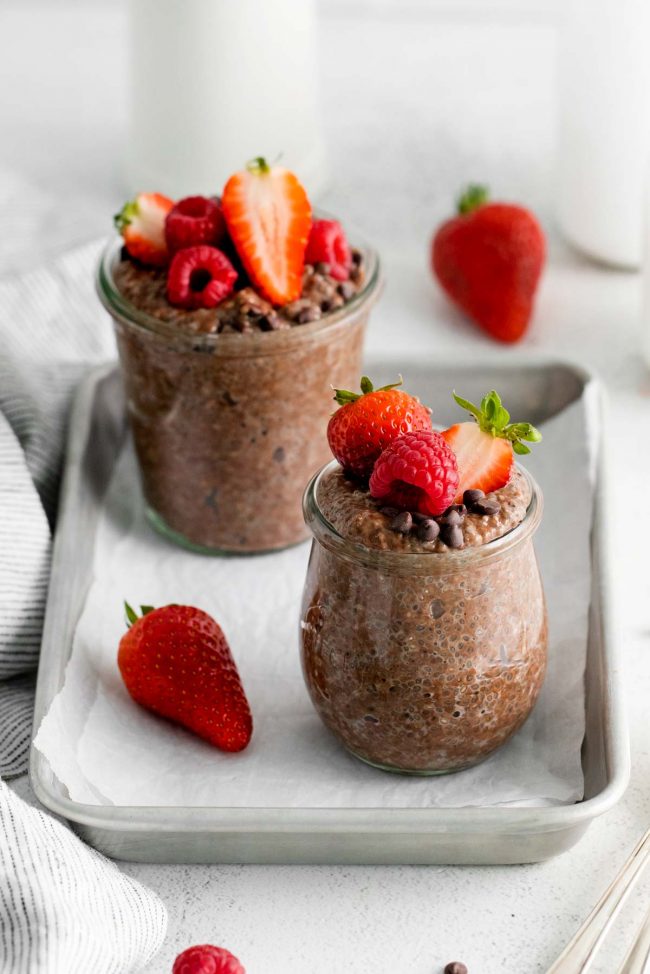 Chocolate protein powder
In today's recipe, I used this vegan protein powder – Dr. Murray Super Foods Chocolate Flavored Protein Powder.
I use the vanilla-flavored one in my
Cinnamon Overnight Oats
almost every week and love it.
I also have a fantastic cookie recipe coming up that uses it! I've tried it with two different brands of protein powder, and when you make cookies, you can see a huge difference in just how much different brands absorb.
The Dr. Murray brand produced perfectly shaped cookies, but the other cookies – also made with a brand I love – kind of just melted into a puddle.
The absorption rate isn't super important for this chia pudding, though. If you find it too dry once it's ready, just add more milk.
If you're not vegan, but are paleo, it works great with Julian Bakery Paleo Chocolate Protein Powder.
Does the pudding taste weird?
If you use a protein powder that tastes weird, then your pudding will likely taste weird. A little bit of cocoa powder and maple syrup isn't going to cover up any weirdness going on with your protein powder.
If you use a protein powder that tastes good and doesn't have a strange aftertaste, then your pudding should taste like normal chia pudding.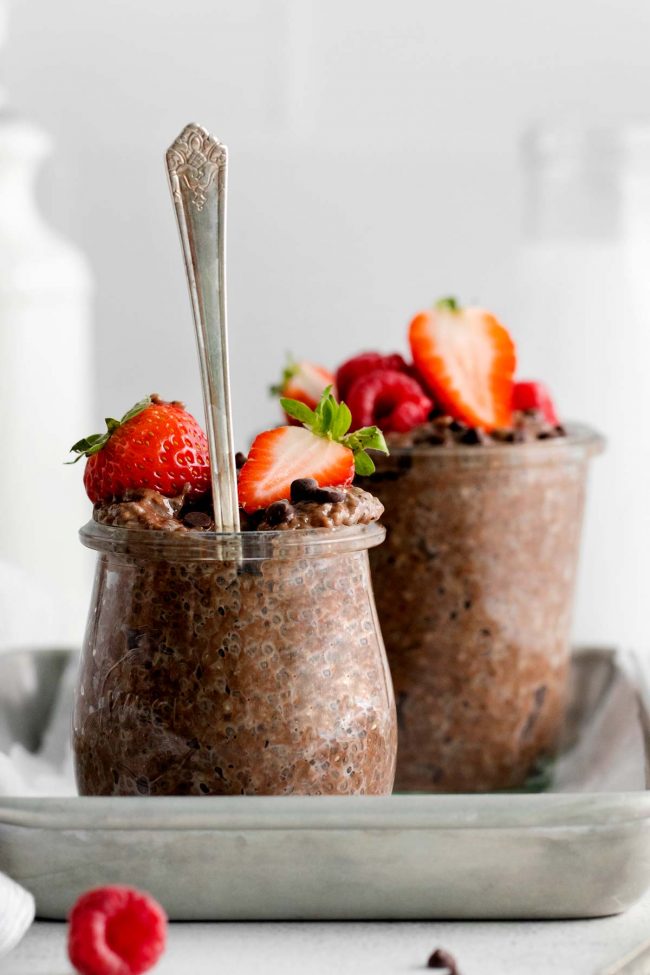 Can I just omit the protein powder?
I tried a protein powder-free version for the people who don't want to use it.
You need at least 2 tablespoons of maple syrup (instead of 1 1/2 to 2 tablespoons) and 2 tablespoons of cocoa powder (instead of 1 1/2 tablespoons).
Can I omit the chia seeds?
No. Without it, you'd have chocolate milk. Seriously! It'd just be milk, cocoa powder, maple syrup, chocolate protein powder and vanilla.
What about using flax in its place?
Nope! There's really no sub for it in this recipe.
Can I use a different sweetener?
Any other liquid sweetener should work fine. I think maple tastes better than honey in this recipe, but you can use it if you don't mind the difference in taste.
I haven't tried any granulated sweeneters in this, but I'm guessing they wouldn't dissolve properly. I could be wrong, though. You'd also need to add a little bit of extra liquid.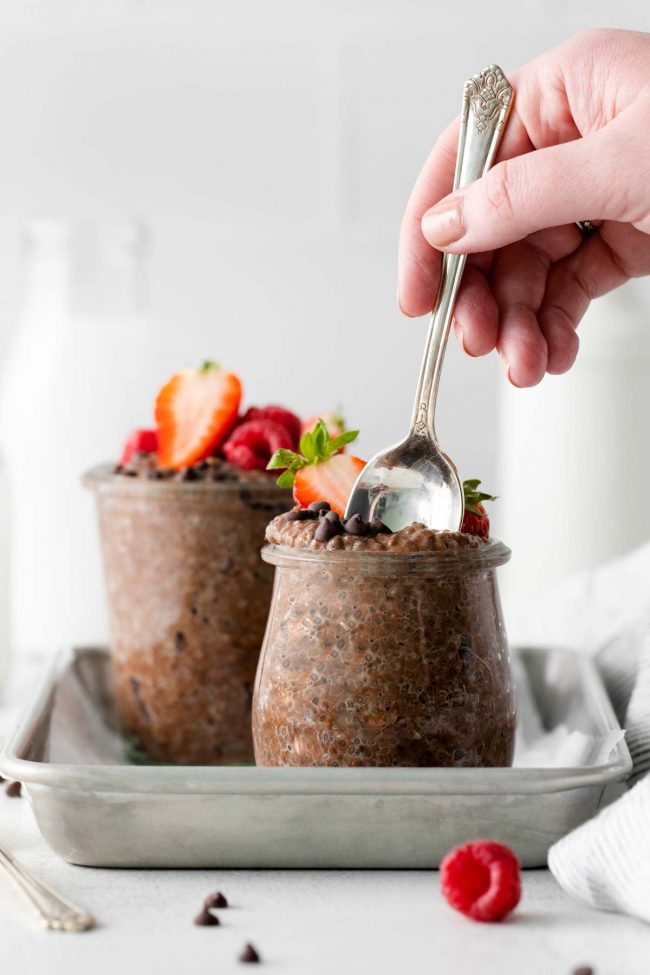 Can I use X type of cocoa/cacao powder?
I used Dutch-process cocoa powder. Any other type should work here, but the result won't be as chocolaty.
If you use cacao powder, then you should be prepared for a major differnce in taste. You can read more about that here → Cacao vs Cocoa.
Other pudding recipes
I hope you'll enjoy the pudding if you try it! Please hashtag #texanerin on social media in case you share so I can check it out. :)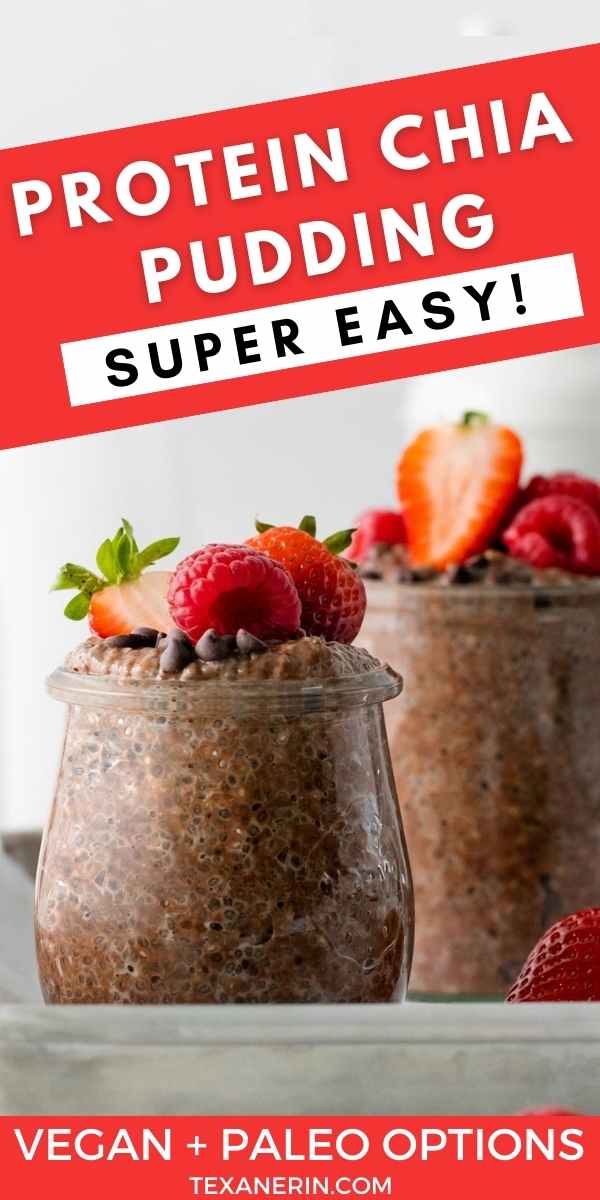 ❀
Protein Chia Pudding
Prep Time:
Cook Time:
Ready in:
Yield:

1 2/3 cups
Ingredients
1/4 cup (42 grams) whole chia seeds
1 1/2 tablespoons (12 grams) Dutch-process cocoa powder
2 tablespoons chocolate protein powder
1 cup (240 ml) cashew milk (or whatever type you like)
1 1/2 to 2 tablespoons maple syrup
1 teaspoon vanilla extract
pinch of salt
Directions
In a small mixing bowl, stir together the chia seeds, cocoa powder and protein powder.
Then stir in the milk, maple syrup (using 1 1/2 tablespoons), vanilla and salt until no lumps of cocoa remain. Taste and add up to another 1/2 tablespoon of maple syrup.
Cover and refrigerate for at least 4 hours, stirring after about 30-60 minutes (the seeds sometimes float to the top and create a weird layer if you don't stir them after 30-60 minutes).
Can be refrigerated for up to 2 days. If topping with berries, only do so right before serving.
Notes
For vegan: use plant-based milk and vegan protein powder.
For paleo: use cashew milk and paleo protein powder.