These chocolate gingerbread cookies are unbelievably soft and chewy! Can be made with all-purpose or whole wheat flour and are naturally dairy-free.
I made these chocolate gingerbread cookies back in October when all the internet was buzzing with pumpkin everything. I was experiencing a canned pumpkin shortage, which is as sad as it sounds but thankfully had a happy ending – I eventually found it for "only" $3.75 a can!
I so wanted something that would ooze chocolate and take my mind off of the situation. These cookies did the job.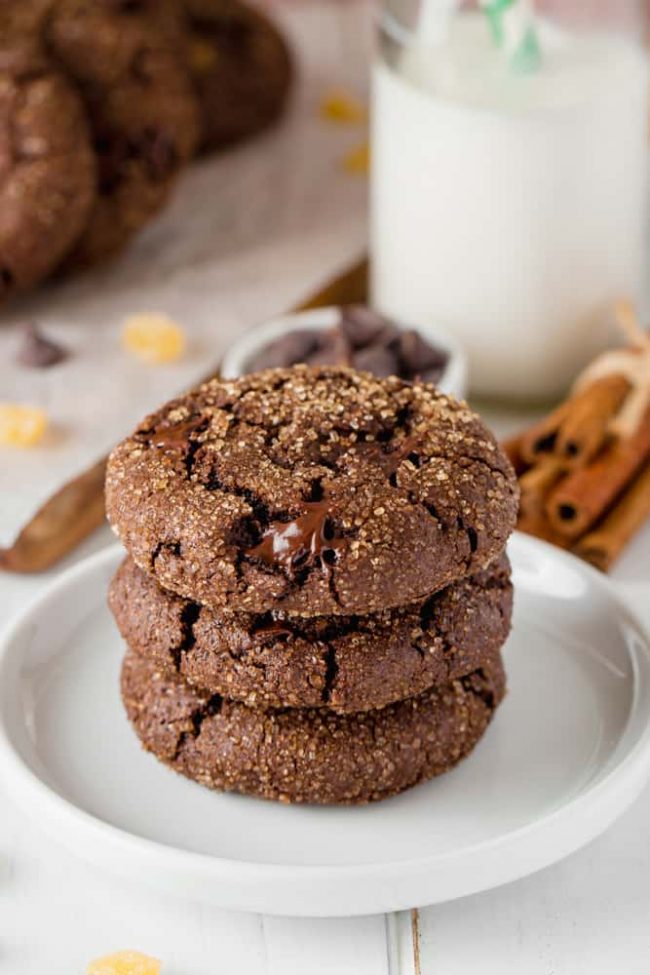 I adapted this recipe from my 100% whole grain ginger cookies, which were adapted from an Ina Garten recipe. In that version, I used less sugar, made them whole grain, and used olive oil instead of canola oil.
They really are all you could want in a ginger cookie! In this chocolate version, I used coconut oil (but you can use olive oil if you prefer), added cocoa powder for part of the flour and added chocolate chunks.
I still love the original ginger cookies but these are obviously better because… chocolate. Lots of gooey, melty chocolate. Even at room temperature, these are amazing. I tried to limit myself to two of these cookies a day and I chose to start my day with them. It was futile to even try waiting until after lunch because they were all I could think about.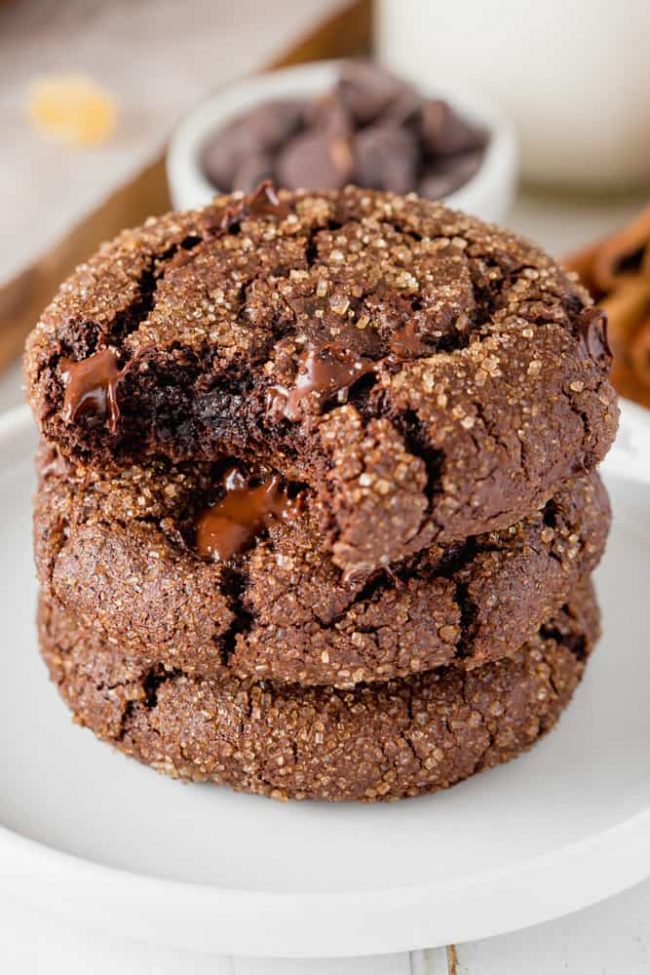 I used crystallized ginger and chocolate chunks in these chocolate gingerbread cookies but you could leave out the ginger, if you want. They're sweet enough without the added sugar but I love the kick the ginger adds.
I tried using this same concept (using some cocoa powder in place of some of the flour) for my grain-free chewy ginger cookies, but those came out inedible.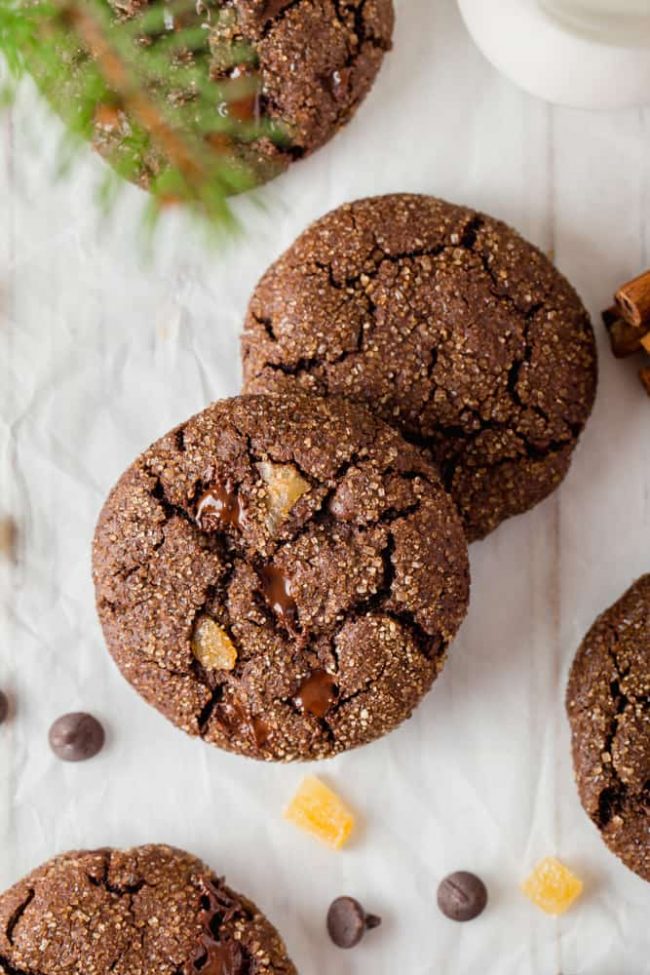 These grain-free chewy ginger molasses cookies from Gourmande in the Kitchen are amazing. They don't have cocoa powder in the batter but I've added chocolate chips to the batter before and they came out as some of the best grain-free cookies I've even eaten. :)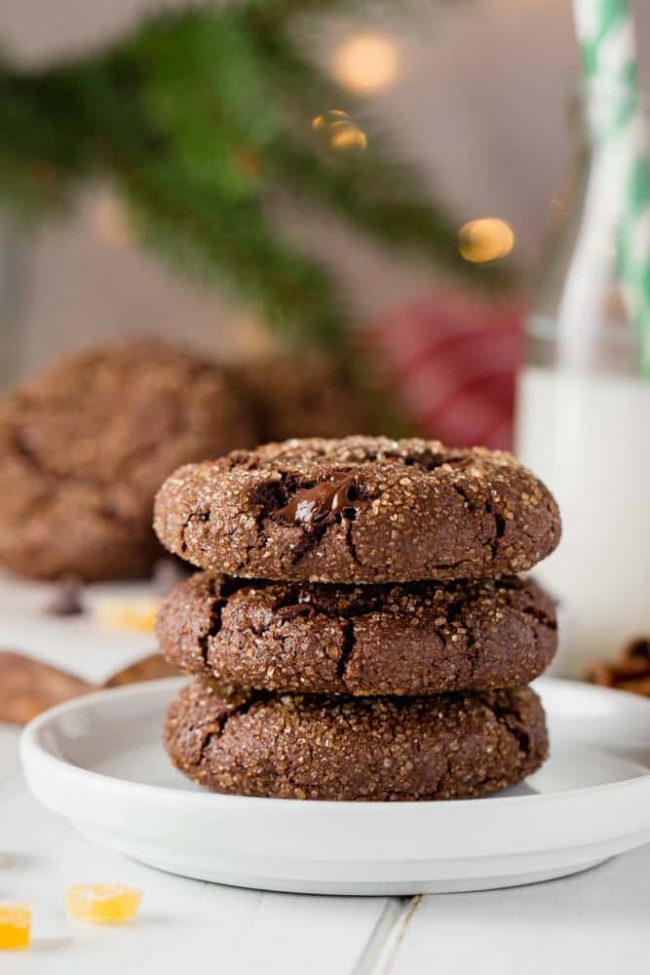 ❀
Soft and Chewy Chocolate Gingerbread Cookies (all-purpose, whole wheat and dairy-free options)
Prep Time:
Cook Time:
Ready in:
Yield:

20 cookies
Ingredients
1 2/3 cups (208 grams) whole wheat flour, whole spelt flour or all-purpose flour
2/3 cup (77 grams) Dutch-process cocoa powder
1 teaspoon baking soda
1 1/2 teaspoons ground cinnamon
1 1/4 teaspoons ground cloves
1/2 teaspoon ground nutmeg
1/2 teaspoon ground ginger
1/2 teaspoon salt
2/3 cup (133 grams) brown sugar, raw sugar, or coconut sugar
1/4 cup (56 grams) coconut oil, melted1 or olive oil or canola oil
1/3 cup (117 grams) molasses (blackstrap is fine)
1 large (50 grams, out of shell) egg, room temperature or 1 chia egg for vegan2
3/4 cup (136 grams) chopped crystallized ginger
3/4 cup (128 grams) semi-sweet chocolate chips (use dairy-free chocolate chips), if necessary
1/4 - 1/2 cup (50 - 100 grams) granulated or raw sugar for rolling, optional
Directions
Preheat the oven to 350 °F (175 °C). In a large bowl, mix together the flour, cocoa powder, baking soda, cinnamon, cloves, nutmeg, ginger, and salt.
With an electric mixer or stand mixer, beat the sugar, oil, and molasses on medium until well combined. Add the egg, and beat for 1 minute on low. Scrape the sides of the bowl and then beat for another minute. Slowly add the dry ingredients and mix on medium until combined. Fold in the crystallized ginger and chocolate chips.
Roll the balls in sugar, if using, place on the prepared baking sheet, and flatten the balls slightly with your palm.
Bake for 10 minutes or until crackly. Cool the cookies on the sheets for 1 to 2 minutes, then transfer to wire racks to cool completely.
Store in an airtight container at room temperature for up to 5 days.
Notes
I used refined coconut oil, which has no coconut taste. If you use unrefined coconut oil, these will likely have a slight coconut taste.
To make a chia egg, mix together 1 tablespoon ground chia seeds + 3 tablespoons water until goopy like an egg.
Recipe adapted from my 100% Whole Grain Soft and Chewy Ginger Cookies, which were adapted from Ina Garten's Ultimate Ginger Cookies