These gluten-free chocolate gingerbread cookies are unbelievably soft and chewy! They're made of warm, cozy gingerbread spices and molasses with rich chocolate flavor. They're also naturally dairy-free and can easily be made vegan.
I adapted this recipe from my adaptation of Ina Garten's Ginger Cookies. In that version, I used less sugar, made them whole grain, and used olive oil instead of canola oil.
They really are all you could want in a ginger cookie! In the chocolate version, I added cocoa powder for part of the flour and added chocolate chunks.
I still love the original ginger cookies, but these are better because… chocolate. Lots of gooey, melty chocolate.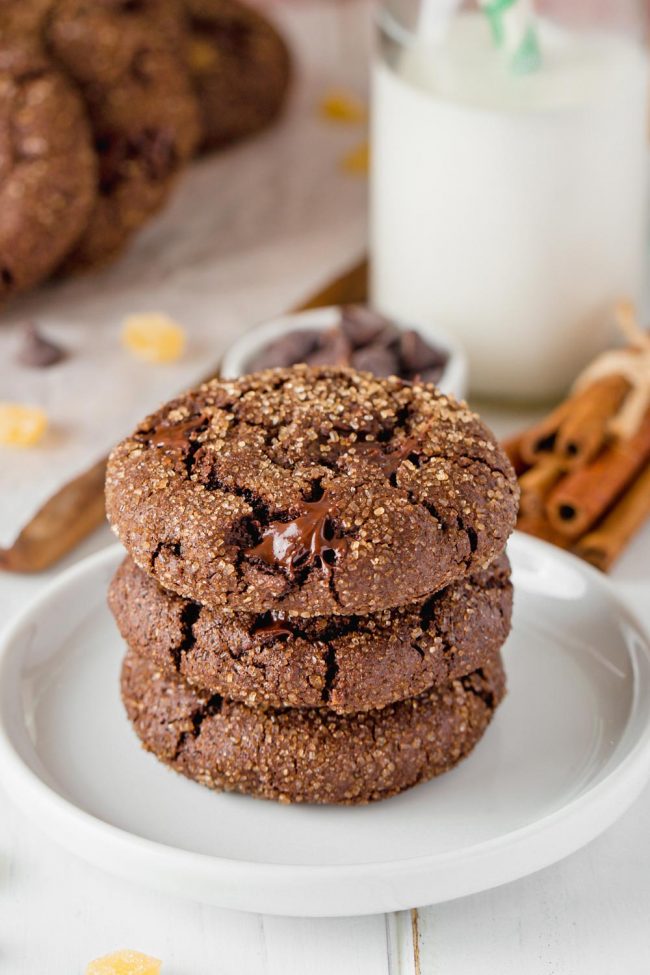 Even at room temperature, they're amazing. They hold up well, too, making them perfect to give away during the holiday season.
If you want to use whole wheat flour or all-purpose flour for the chocolate gingerbread cookies, you can view that version on my other blog → Chocolate Gingerbread Cookies. The photos are the same a
It's too confusing to have both versions (gluten-free and not) in one recipe because the measurements and other details of the recipe are too different.
Ingredients
Here's an overview of what you'll need. I talk about most of the ingredients below.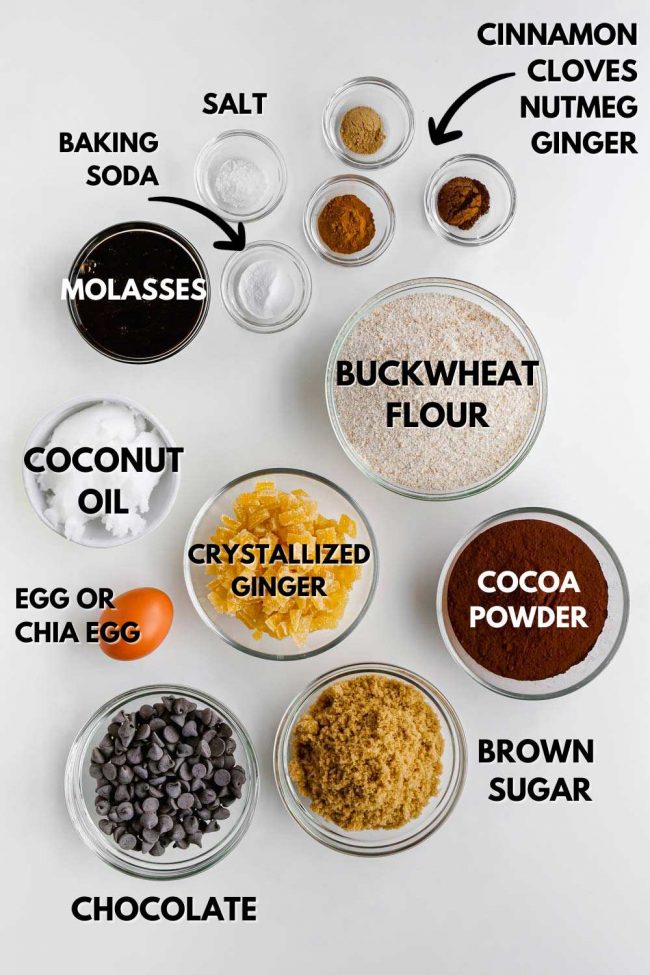 How to make them
It's a basic cookie recipe. Mix together the dry ingredients. Mix together the wet ingredients.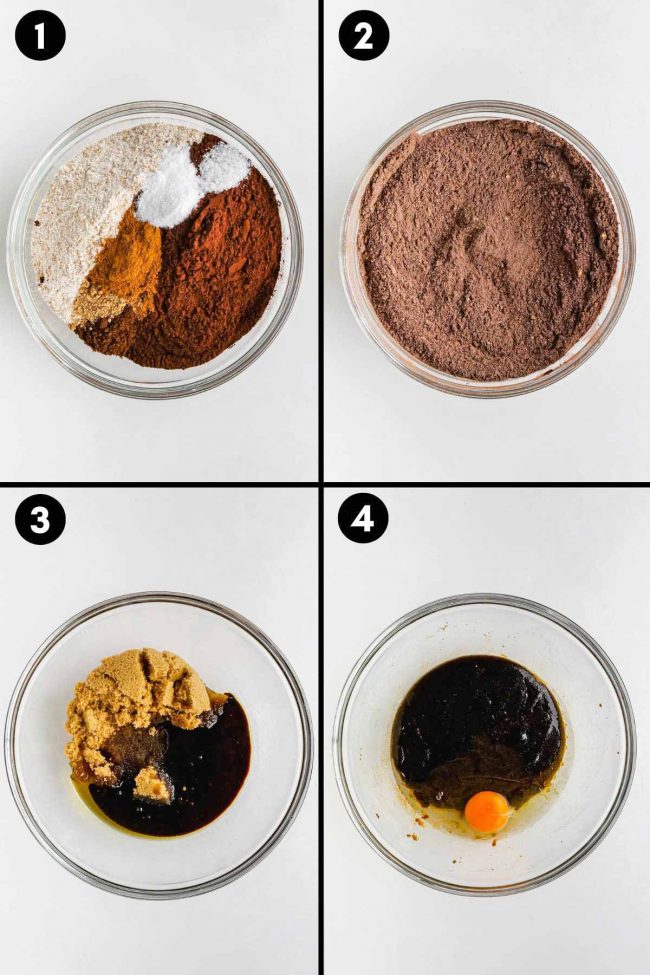 Then you mix them together, stir in your add-ins, and chill.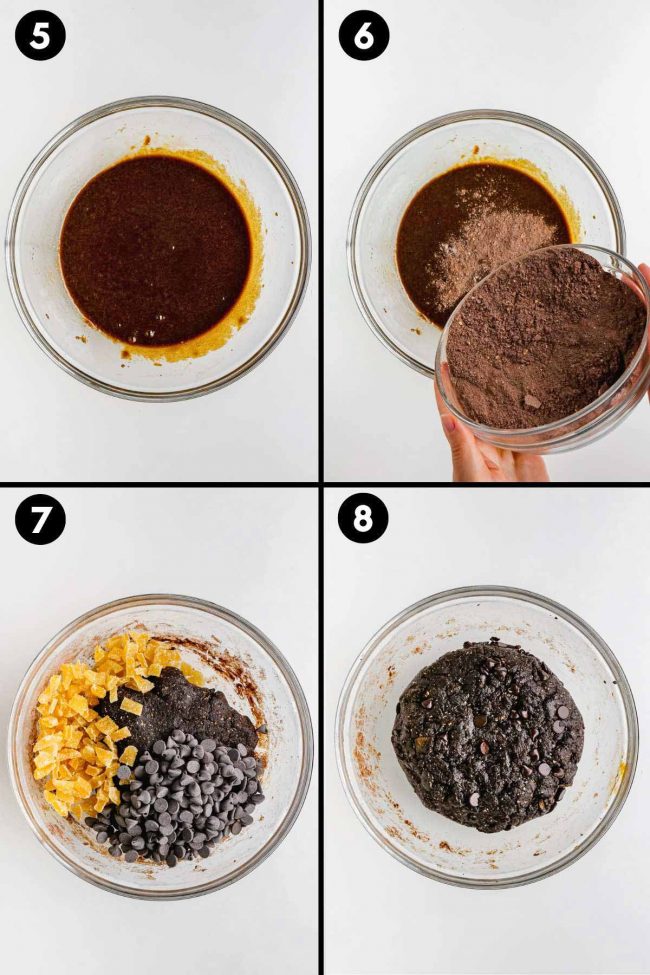 Roll into sugar for extra pretty and sturdy cookies. Bake!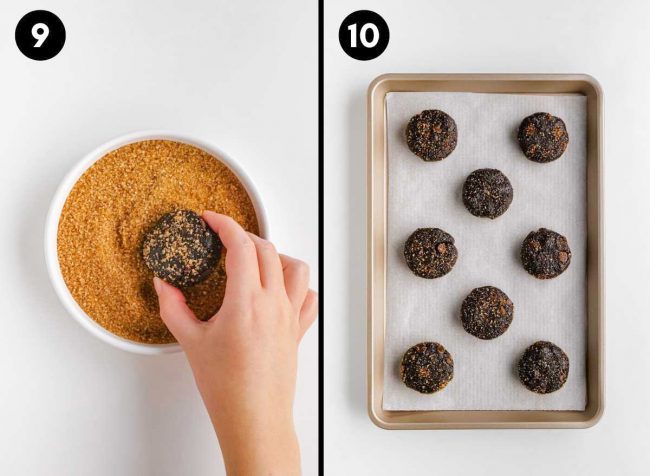 Buckwheat flour
As an Amazon Associate, I earn from qualifying purchases. For more info, see my disclosure.
When a commenter asked if she could use buckwheat flour in the old version of this recipe, which called for wheat flour, I didn't expect to have to experiment so much. I'm flabbergasted by the huge reduction of flour needed.
I've subbed buckwheat for regular or whole wheat flour in several other sweets recipes, like this Kladdkaka and never had such a drastic difference.
But for these cookies, instead of 1 2/3 cups of regular or whole wheat flour, or even 1 1/2 cups like in the paleo version, you need 1 cup.
I first tested them with Bob's Red Mill Organic Whole Grain Buckwheat. This is known as dark buckwheat. Note! If you're gluten-free, this product isn't labeled as gluten-free.
If that's important to you, then find a brand that's labeled as gluten-free. See my post on Is Buckwheat Gluten-free? for more info on what brands are safe.
I also tested them with light buckwheat. This one has always seemed less absorbent than dark buckwheat, but I still just needed 1 cup. Even 1 cup + 2 tablespoons was too much flour.
Another issue is that you could taste the olive oil, which is what I used in the old version. Not a lot, but I didn't like it inferring with the gingerbread spices.
But the biggest problem was that the dough was super sticky. It's normal for cookie dough with molasses to be sticky, but this was over-the-top.
So I used refined coconut oil, knowing that using coconut oil in the dough would firm up the dough in the fridge, and it worked great. The dough is still a little sticky but totally manageable. Because the dough was too sticky with olive oil, I've nixed that option in this gluten-free version.
The buckwheat version is just as delicious as the wheat version, so if you're new to baking with buckwheat flour, this is a great place to start. No unpleasant surprises here. :)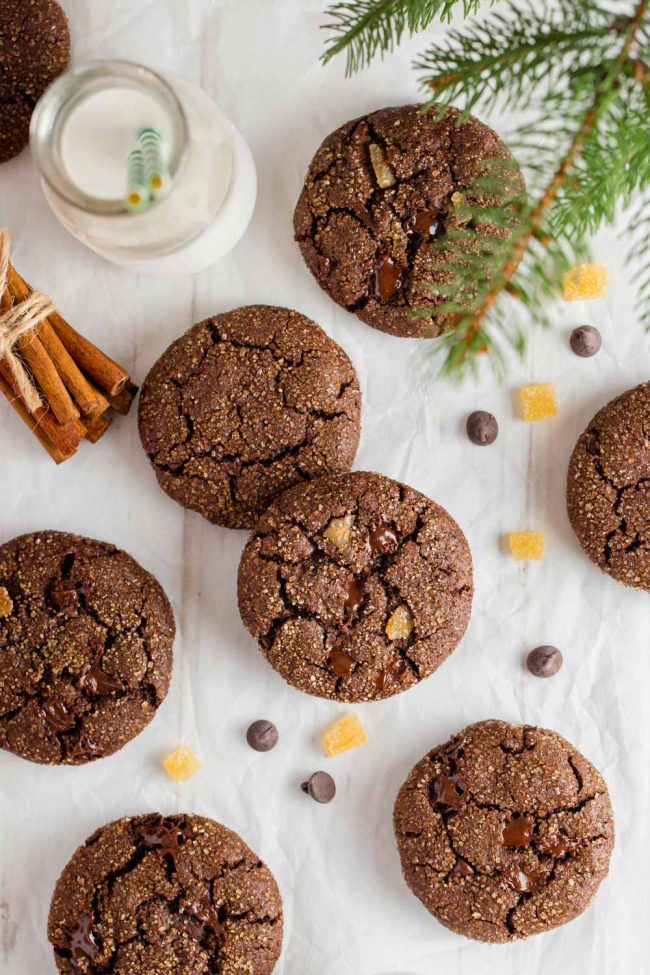 Can I use a different flour?
I first posted this recipe in 2014 with whole wheat. I also tried them with Bob's Red Mill 1-to-1 Gluten-free Baking Flour and had terrible results. Now that I figured out how to make them with buckwheat, I think I know how to make the Bob's version work.
If anyone is interested, let me know in the comments, and I'll try it out. I also have King Arthur Flour Gluten-free Measure for Measure Flour I could try. I wanted to do that before posting, but my resupply of molasses isn't arriving until… who knows.
Perhaps you've heard of the massive snowfall overnight in Bavaria over the weekend. My packages are all delayed.
I live in Germany, and molasses isn't a commonly found ingredient here. I would say cookies like these Almond Paste Cookies are much more popular.
Germany also has its version of gingerbread, Lebkuchen, but of the 10 recipes I just looked at, they all use honey, lots of gingerbread spice, and no molasses. That could explain why I'm not a fan! They're missing molasses, in my opinion.
Paleo version
If you're paleo, today's recipe isn't for you. I do have these Paleo Chocolate Gingerbread Cookies, which call for Bob's Red Mill Paleo Baking Flour.
I used 1 1/2 cups of flour instead of the 1 2/3 cups of regular flour called for. It was an easy sub.
Can you use almond flour, coconut flour, cassava flour, etc.? Unfortunately not. But I have these Paleo Gingerbread Cookies! They use almond and coconut flours and are adapted from my Paleo Chocolate Chip Cookies.
Figuring out how much cocoa powder to add and how much flour to reduce would require a lot of experimentation. I recommend just adding chocolate chips. Then you get the same chocolate gingerbread combination, and you're sure to succeed. :)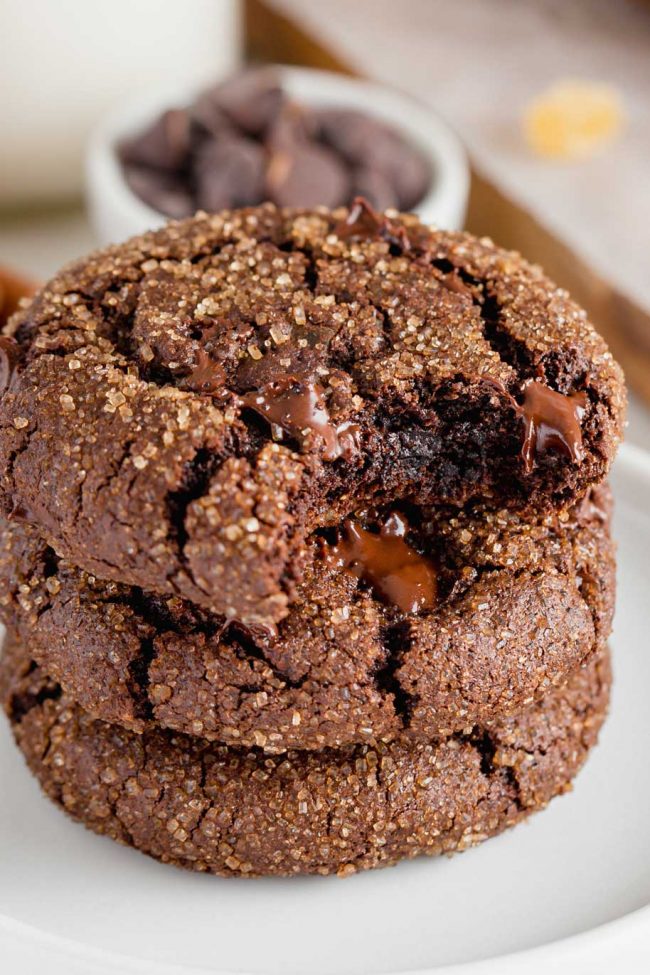 Blackstrap vs. regular molasses
I've made these cookies with great results with blackstrap molasses. It was definitely labeled as blackstrap. Then I tried another brand of blackstrap molasses, and they were horrible.
So I'm no longer recommending blackstrap molasses. Just use the regular stuff like Grandma's Original. If you decide to use blackstrap molasses and hate the cookies, you don't need to yell at me. 😄 But if you try it, please let us know in the comments how they turn out with your specific brand. Then, the people who only want to use blackstrap will know which brand is good or awful in these cookies.
Can I just omit the molasses?
Absolutely not. The recipe wouldn't work at all.
Do I have to roll them in sugar?
No, but it makes them nicer-looking and sturdier. If you're going to be packing these in a little bag or box to give them away, definitely roll them in sugar.
I gave some test cookies to my son's teachers and didn't think to roll them into sugar. The chocolate got a little messy in the bags. I'm so embarrassed now thinking about how much nicer they look rolled into coarse sugar!
The sugar forms a nice kind of shell and prevents them from getting smushed.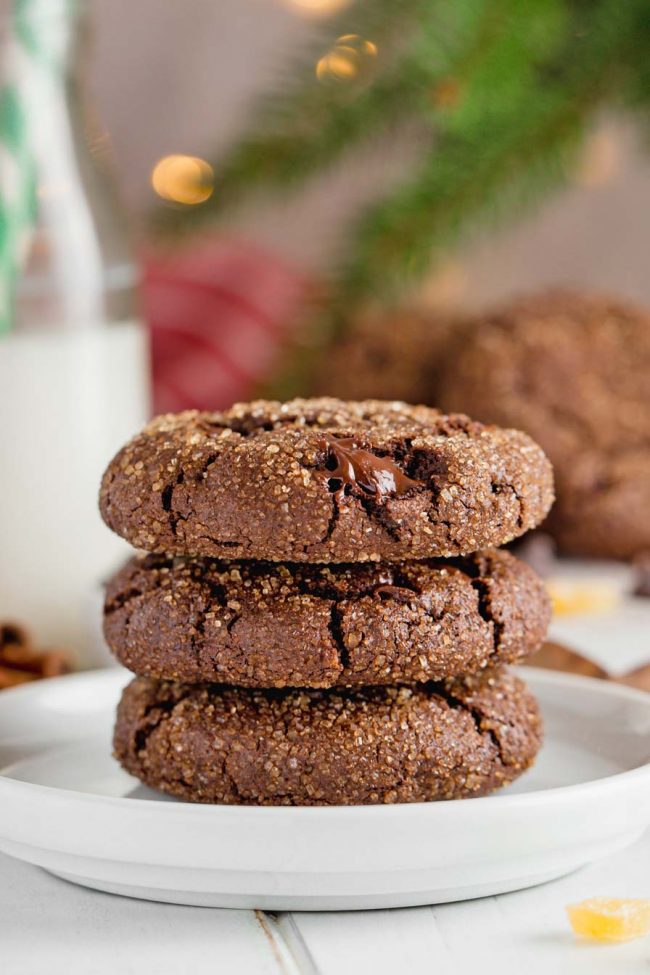 Do I have to use crystallized ginger?
These cookies are sweet enough without the added sugar, but I love the kick the ginger adds. You can absolutely omit it, though.
I normally do because I'm in a hurry and just want the cookies in the oven ASAP. ;)
Vegan version
I tested these with a chia egg. They were perfect! I haven't tested any other egg subs, so I can't say for sure they'd work here.
But I'm pretty confident they'd work well. You only need one.
Other gluten-free Christmas desserts
I hope you'll enjoy these gluten-free chocolate gingerbread cookies! If you try them out, I'd love to hear about it. Thanks! :)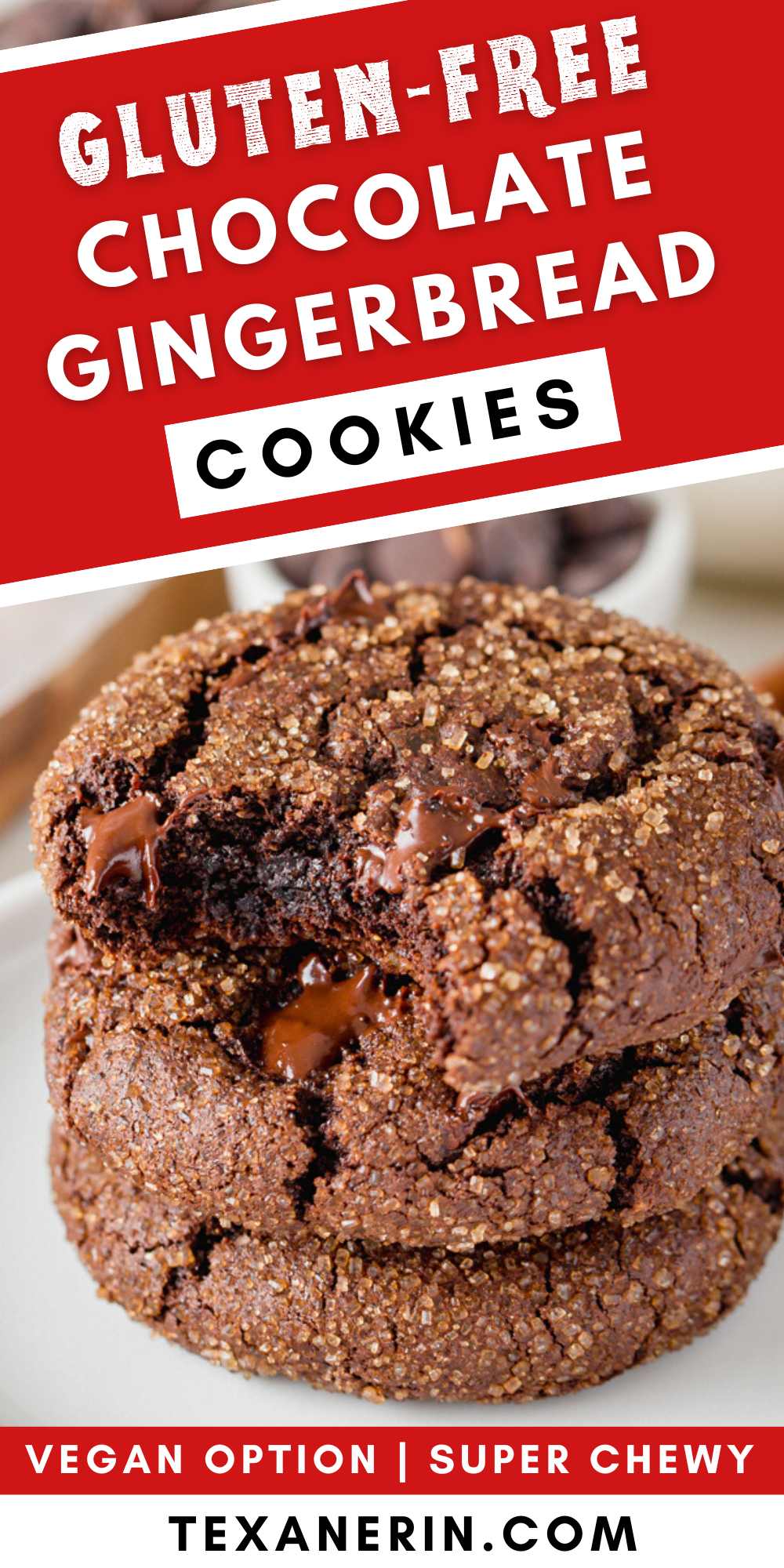 ❀
Gluten-free Chocolate Gingerbread Cookies (vegan option)
Prep Time:
Cook Time:
Ready in:
Yield:

20 cookies
Ingredients
1 cup (134 grams) gluten-free1 dark buckwheat flour or 1 cup (144 grams) gluten-free light buckwheat flour
2/3 cup (77 grams) Dutch-process cocoa powder
1 teaspoon baking soda
1 1/2 teaspoons ground cinnamon
1 1/4 teaspoons ground cloves
1/2 teaspoon ground nutmeg
1/2 teaspoon ground ginger
1/2 teaspoon salt
2/3 cup (133 grams) brown sugar or coconut sugar
1/4 cup (56 grams) refined coconut oil, melted and still warm
1/3 cup (117 grams) molasses (not blackstrap)
1 large (50 grams, out of shell) egg, room temperature or 1 chia egg for vegan2
3/4 cup (136 grams) chopped crystallized ginger
3/4 cup (128 grams) semi-sweet chocolate chips (use Enjoy Life for vegan/dairy-free)
3-4 tablespoons coarse sugar for rolling the dough balls
Directions
Preheat the oven to 350 °F (175 °C).
In a large bowl, mix together the flour, cocoa powder, baking soda, cinnamon, cloves, nutmeg, ginger, and salt.
With an electric mixer or stand mixer, beat the sugar, oil, and molasses on medium until well combined. Add the egg, and beat for 1 minute on low. Scrape the sides of the bowl and then beat for another minute. Slowly add the dry ingredients and mix on medium until combined. Mix in the crystallized ginger and chocolate chips.
Place the bowl of dough in the fridge for 30-60 minutes. This will make the dough less sticky and easier to handle.
Roll the dough into twelve 71-gram balls, roll in sugar and place 3" apart on the prepared baking sheet.
Flatten the balls slightly with your palm.
Bake for 10-12 minutes or until crackly. Let the cookies cool for 2 minutes on the baking sheet and then remove to a wire rack to cool completely.
Store in an airtight container at room temperature for up to 5 days. They can also be frozen (dough and baked cookies) for up to 3 months.
Notes
If you're gluten-free, make sure your flour is marked as gluten-free. Bob's Red Mill Organic Whole Grain Buckwheat (which is the dark kind) is not.
To make a chia egg, mix together 1 tablespoon ground chia seeds + 3 tablespoons water until goopy like an egg.
Recipe adapted from my Ina Garten Ginger Cookies recipe, which was adapted from Ina Garten's Ultimate Ginger Cookies