Easy to make spider cupcakes with a pumpkin cupcake base and cream cheese frosting! With grain-free, gluten-free, whole grain, all-purpose flour options. Can also be made vegan. Perfect for Halloween! Scroll down for a how-to recipe video.
This year, I've seen a lot of those super cute peanut butter cup spider cookies (like these from What the Fork Blog!). I wanted to make something similar, but I wanted the base to be pumpkin.
I couldn't come up with a seriously delicious + chewy pumpkin cookie, so I turned to my favorite pumpkin cupcake recipe, which I posted on Monday.
I'm terrible at all things decorating but these spider cupcakes were really so easy to put together! I was sick when I made these and had been sick for a while and had a deadline (this recipe was a contribution to another blog).
So I used some ingredients I wouldn't normally use, just to get them done. But fear not – there are homemade + allergy-friendly options for everything!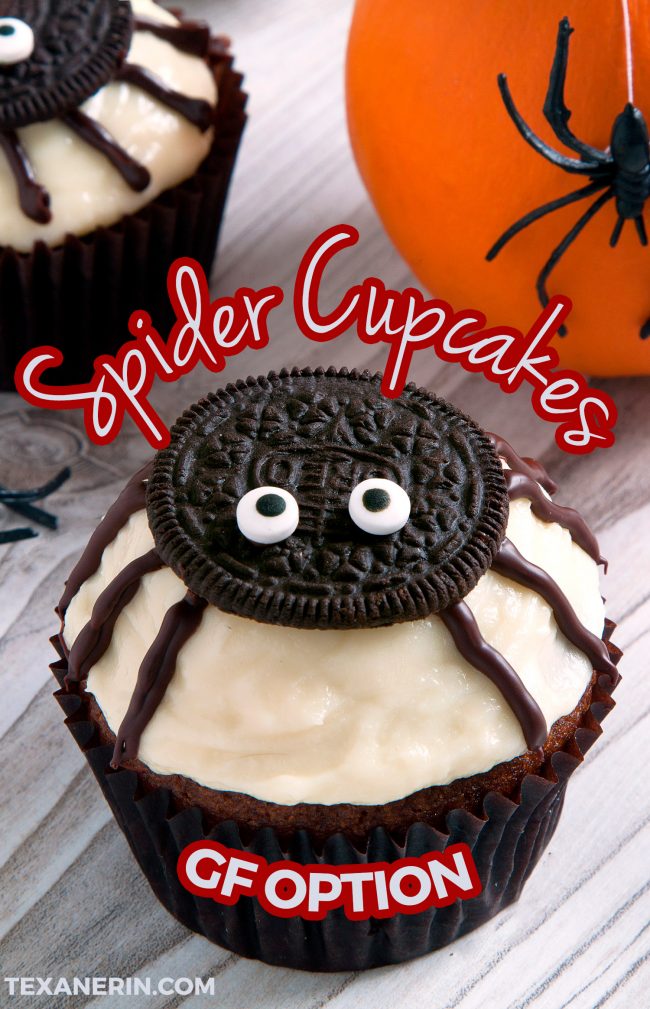 So yeah. The candy eyeballs I used on these cupcakes are pretty nasty ingredient-wise. There's even a warning on the back of the package about how some of the ingredients may have an adverse effect on activity and attention of children. We picked them off before we ate the cupcakes.
If you don't want to use store-bought candy eyes, use the homemade chocolate eyes in my monster mouth post for a much less processed version. Or actually, it may just be easier to pipe the white chocolate right onto the cookie, let it harden, and then pipe the semi-sweet chocolate pupil over that.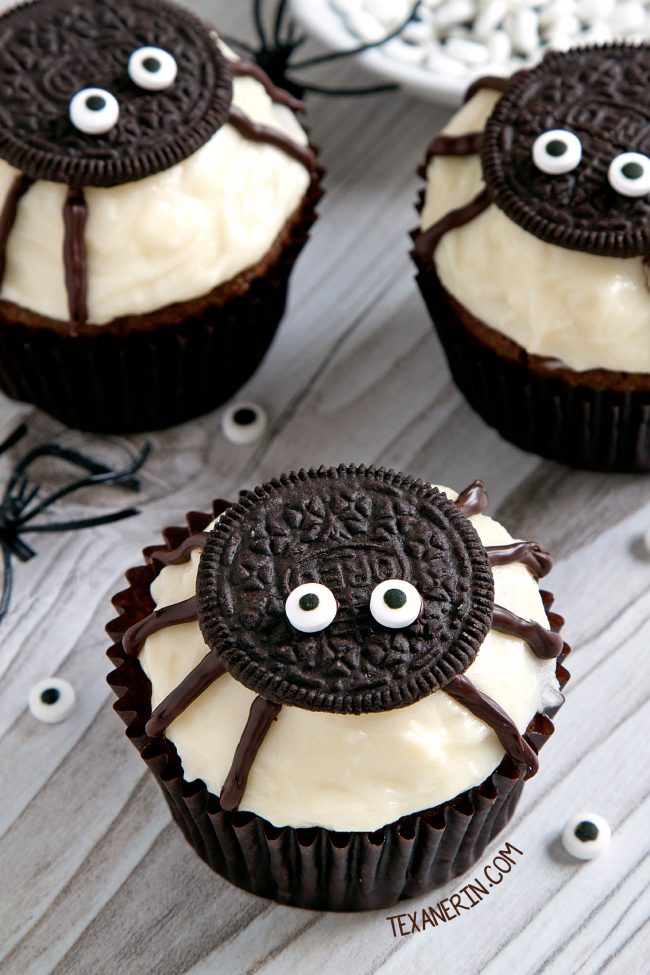 I also used Oreos, another ingredient I never use on the blog. But at least they're delicious and don't come with a warning. ;) But here are some dietary-friendly + homemade options!
For a grain-free version, use Paleo Oreo Cookies from Gluten-free on a Shoestring.
For a gluten-free version, you can buy these or make these homemade gluten-free Oreos, which is a gluten-free adaptation of Smitten Kitchen's recipe.
For a whole wheat version, use these Faux-reos.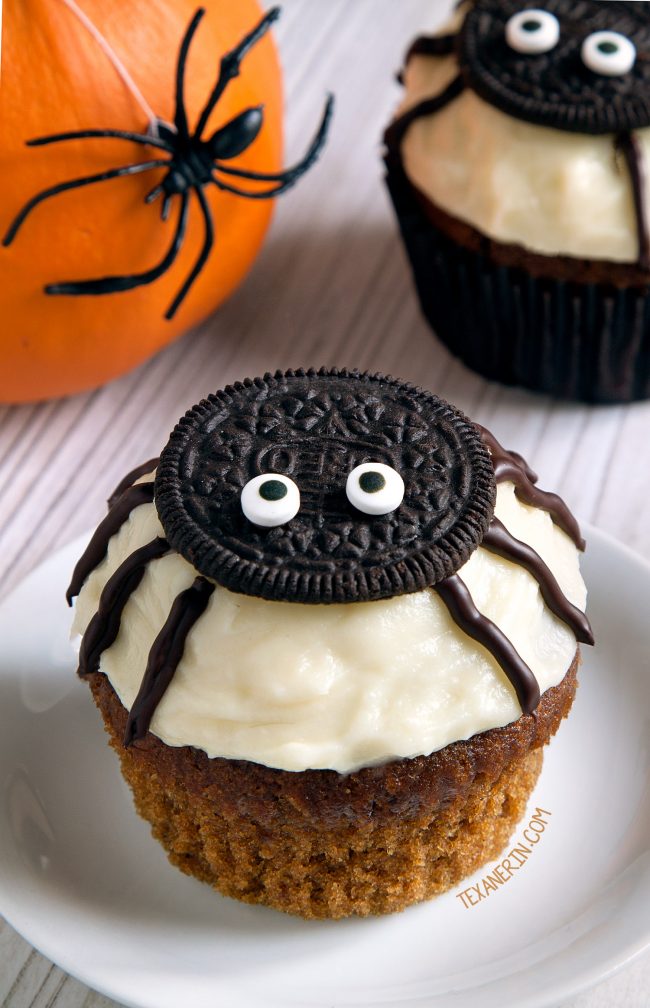 The pumpkin cupcakes have gluten-free, whole grain and all-purpose flour options, but for a grain-free option, use 1 batch of these pumpkin spice latte muffins instead of the below recipe.
Omit the espresso powder and the Nutella topping. It only makes 16 so you won't need as many cookies, eyes or chocolate for piping the legs.
Don't want a pumpkin cupcake base? These paleo chocolate cupcakes would also be great here! I also have an amazing chocolate cupcake recipe with gluten-free, whole wheat and all-purpose flour options.
No matter what ingredients you use, I really think these spider cupcakes are sure to be a hit. Enjoy! :D
❀
Spider Cupcakes for Halloween (gluten-free, whole grain, all-purpose flour options)
Prep Time:
Cook Time:
Ready in:
Yield:

20 cupcakes
For a vegan version, use these gluten-free vegan chocolate cupcakes and use vegan cream cheese and butter for the frosting recipe below. For a grain-free version, use 1 batch of these pumpkin spice latte muffins instead of the below recipe. Omit the espresso powder and the Nutella topping.
Ingredients
Cupcakes:

2 cups (250 grams) whole wheat flour, whole spelt flour, all-purpose flour or 1 cup (134 grams) 1-to-1 gluten-free baking flour for a GF version
2 teaspoons baking powder
1 teaspoon baking soda
1/2 teaspoon salt
2 teaspoons ground cinnamon
1 teaspoon ground ginger
1 teaspoon ground nutmeg
4 large eggs (50 grams each, out of shell), room temperature
2 cups (480 grams) canned pumpkin puree
2 cups (400 grams) brown sugar, raw sugar or coconut sugar
1 cup (240 milliliters) olive oil1 (or another neutral-tasting oil that's liquid at room temperature like canola oil)

Cream Cheese Frosting:

1/2 cup (113 grams) unsalted butter, softened
12 ounces (340 grams) cream cheese, softened2
1/8 teaspoon salt
1/2 teaspoon vanilla extract
1 1/2 cups (195 grams) powdered sugar

Decoration:

20 Oreos (use these for a gluten-free version or these homemade Paleo Oreo Cookies for a grain-free version - see the post for other homemade options)
1 cup (170 grams) semi-sweet chocolate chips or chopped chocolate
40 candy eyes (use the homemade chocolate eyes in my monster mouth post for a much less processed version)
Directions
Preheat the oven to 350 °F (175 °C). Line two muffin pans with 20 paper liners.
In a medium bowl, mix together the flour, baking powder, baking soda, salt, cinnamon, ginger, and nutmeg.
In a larger bowl, whisk the eggs, pumpkin puree, sugar, and oil.
Add the dry mix to the wet and stir just until combined. Do not over mix!
Divide the batter among the liners, filling each one almost full, and bake for about 20 – 24 minutes, or until a toothpick inserted in the center comes out clean. Let cool for 3 minutes in the pan and then remove to a wire rack to cool completely, about 1 hour.
Once the cupcakes have cooled, prepare the frosting. Beat the butter and cream cheese until soft and smooth. Add the salt and vanilla and beat until combined. Add in the powdered sugar, 1/2 cup at a time, and beat until fluffy.
Spread about 1 ½ tablespoons of frosting over each cooled cupcake.
Twist the Oreos apart and place the side without frosting face up on the cupcake. You can also use whole Oreos if you prefer.
Melt the chocolate in a small saucepan over low heat, stirring constantly until melted. Pour into a piping bag.
Pipe 4 legs on both sides of the Oreo. Pipe a tiny bit of chocolate on the bottom of two eyes and place on the Oreo.
Keep decorated cupcakes refrigerated for one day until ready to serve. Keep undecorated cupcakes at room temperature for up to 3 days. The Oreos get slightly soft over time so decorate just a few hours before serving, if possible.
Notes
If you use olive oil, the batter will taste like olive oil but the taste disappears after baking.
If you live outside of North America and have the kind of cream cheese that's meant for toast (that comes in a little plastic tub) rather than American style brick cream cheese, then get a 300 grams of cream cheese, place it in the center of a cheesecloth, and wring out the liquid until you have 225 grams of cream cheese left.
As an Amazon Associate, I earn from qualifying purchases. For more info, see my disclosure.