This strawberry matcha latte is layered with a maple-sweetened strawberry puree, earthy matcha green tea, and your milk of choice. It's naturally gluten-free and refined sugar-free and can easily be made vegan and paleo with the right kind of milk.
Today's recipe isn't your typical latte! It's juicy and sweet, yet grassy and creamy. Plus, the layered look gives it pizzazz, and it's perfectly refreshing and super healthy.
I posted this Strawberry Latte not too long ago, which is similar to today's recipe but with coffee in place of the matcha.
Matcha is great for giving you sustained energy without the crash like regular coffee drinks, and it pairs well with fruity flavors like in this Pineapple Matcha drink.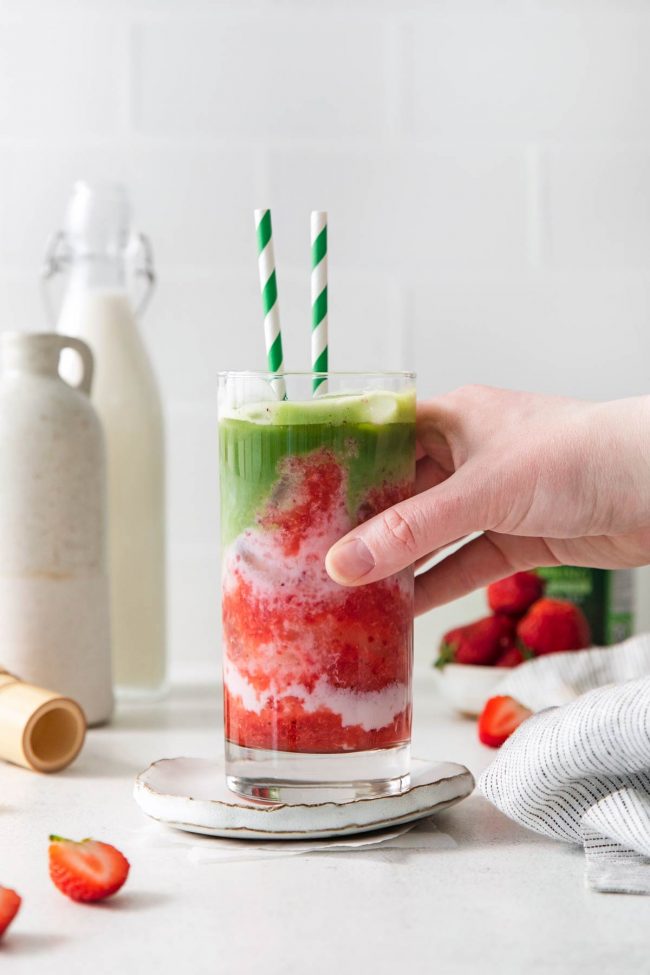 Ingredients
Nothing too fancy here. If you don't know what kind of matcha to buy, be sure to read below.
And if you don't want to use maple syrup, use whatever sweetener you'd like, as long as it goes well with strawberries. Coconut sugar, for example, doesn't pair well with strawberries.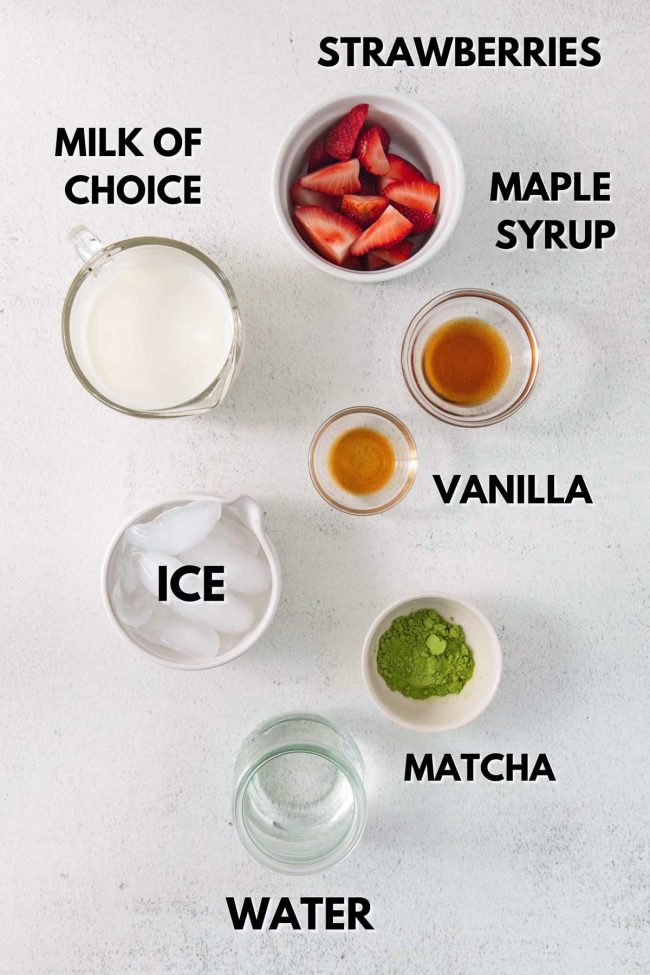 How to layer drinks
Each liquid has its own weight. To layer drinks, start with the heaviest liquid, usually the one with the highest sugar content, and pour it into the glass.
Then, place a spoon upside down near the first layer, but not touching it. Using the back of the spoon disperses liquid over a wide surface, allowing the liquid to float on top of the other rather than sink to the bottom.
To create the second layer, slowly pour the liquid over the back of the spoon. Don't rush it, or it will come out muddy. Then use the same method for the final layer.
Paleo & vegan
To make this latte paleo or vegan, simply use the right kind of milk.
Use any plant-based milk you'd like for a vegan version.
For a paleo version, use an unsweetened nut milk that doesn't have any funky ingredients. I always go with cashew.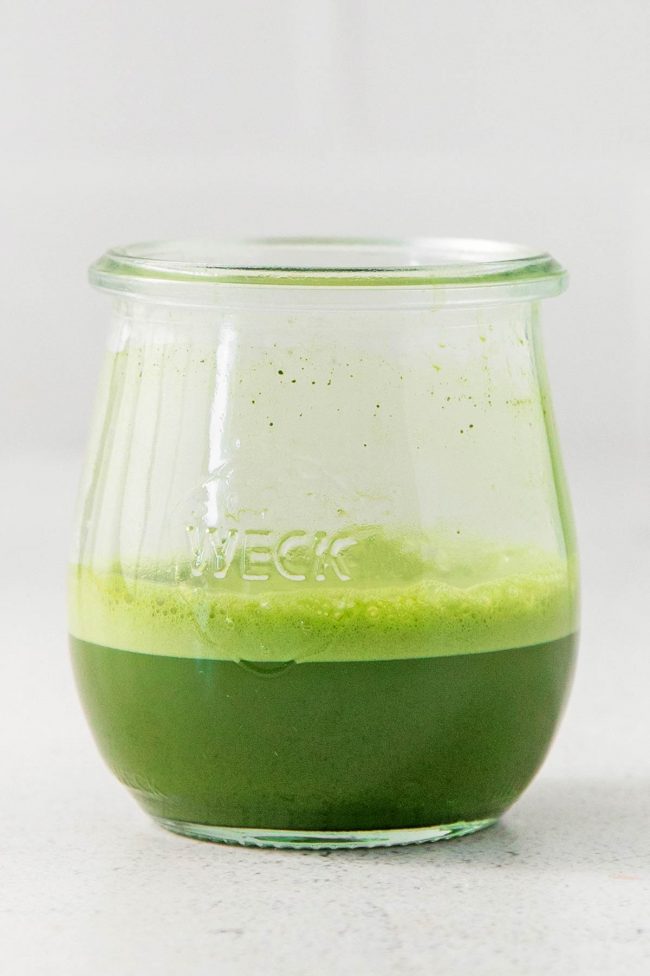 Fresh or frozen strawberries?
You can use either. To get the best consistency when using frozen strawberries, thaw them before blending.
I always use frozen strawberries as they're cheaper. They're not super flavorful or sweet, but with the maple syrup in this recipe, they work perfectly. As they do in this Dairy Free Strawberry Ice Cream!
I also use frozen because I prefer to keep fresh strawberries for eating plain, topping desserts with, or for fresh Strawberry Mint Lemonade.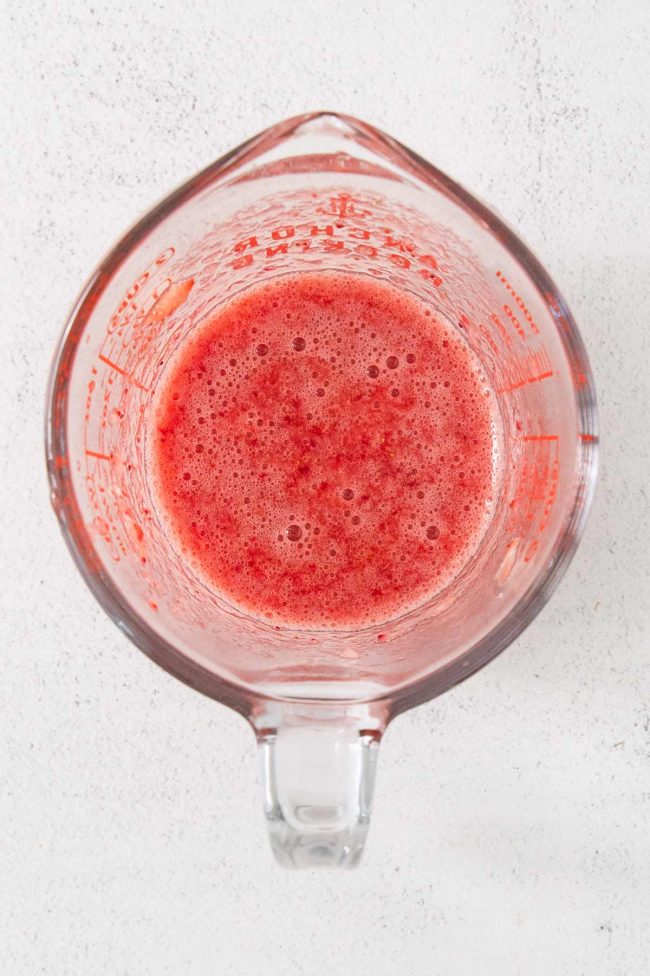 What is matcha?
Matcha is a vibrant green tea powder from pulverized tea leaves. The tea is shade-grown, which lends to more chlorophyll, which gives it that terrific green color.
Unlike regular loose tea leaves, with matcha, you're ingesting the whole leaf, which is one of the reasons that it's a powerhouse of nutrition with a more pungent taste.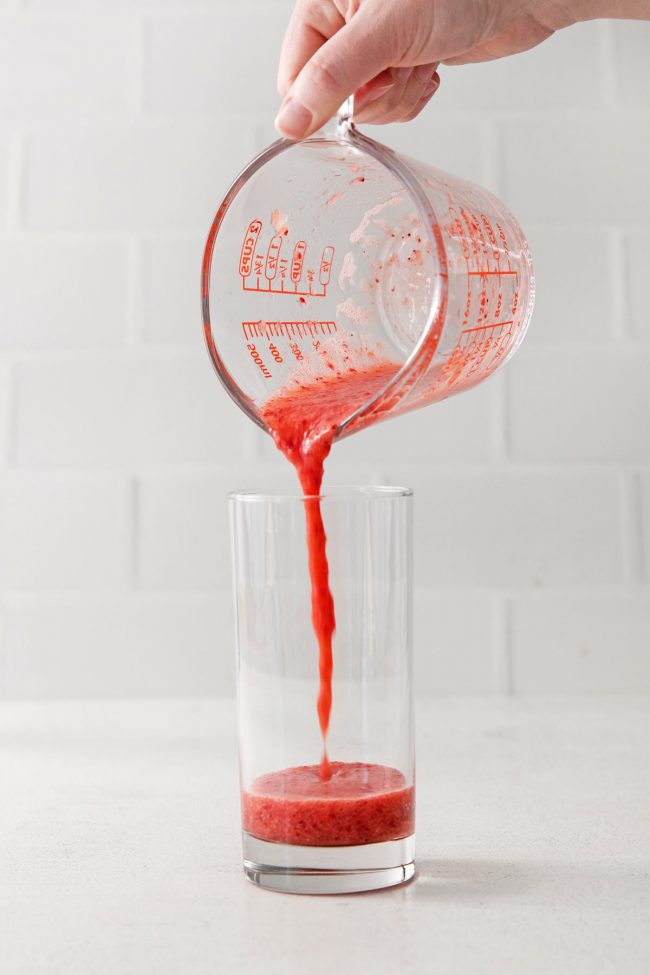 What matcha to use
I like Midori Spring Organic Ceremonial Matcha because it has the most vibrant green color and smooth taste.
If you don't need the best color possible, culinary premium grade is great. It's what I usually use for drinks.
So what matcha does matcha taste like? It's a little bit earthy and a little bit umami, but it all depends on the matcha you use and whether you're baking with it or adding it to drinks like this Matcha Protein Shake.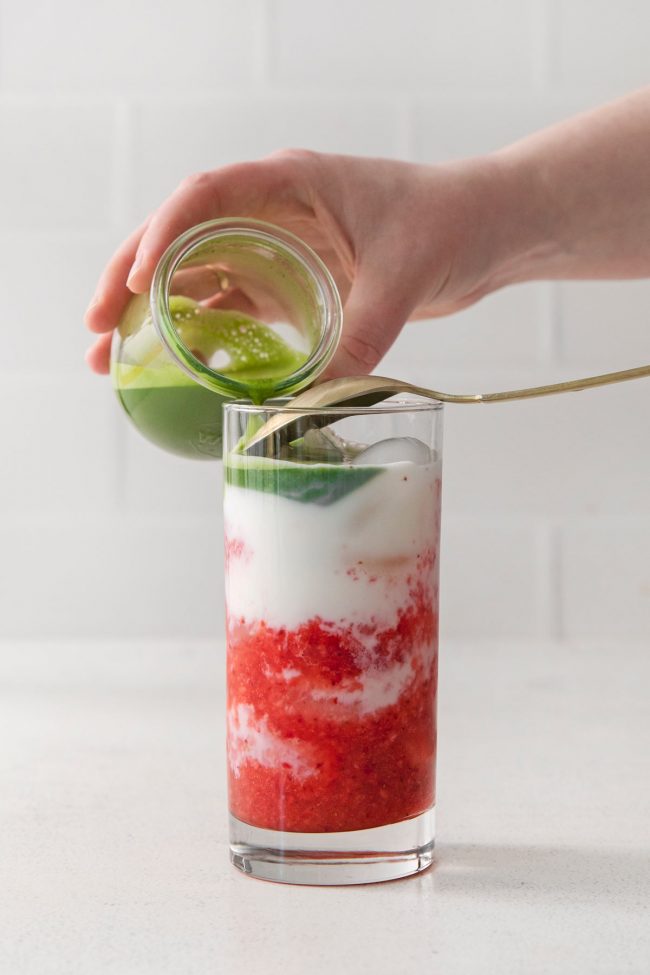 So take a look at the post if you've never bought matcha because with each grade there are differences in taste and price tags.
As for the different grades, look at this Vegan Matcha Cookies recipe post. I made the same cookies with 6 different types of matcha and shared pictures to show the differences.
If you don't know what else to do with it, I've got more recipes for you to try.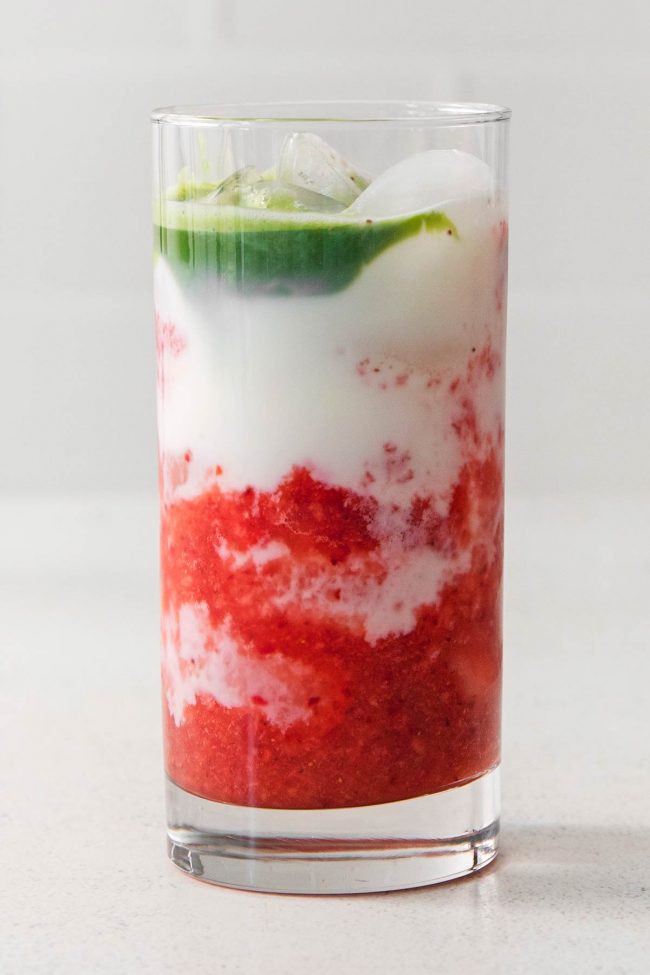 More matcha recipes
I hope you'll enjoy this strawberry matcha latte. If you try it, we'd love to hear about it. Please comment below or share on social media and tag #texanerin so we can see those layers! Thanks. :)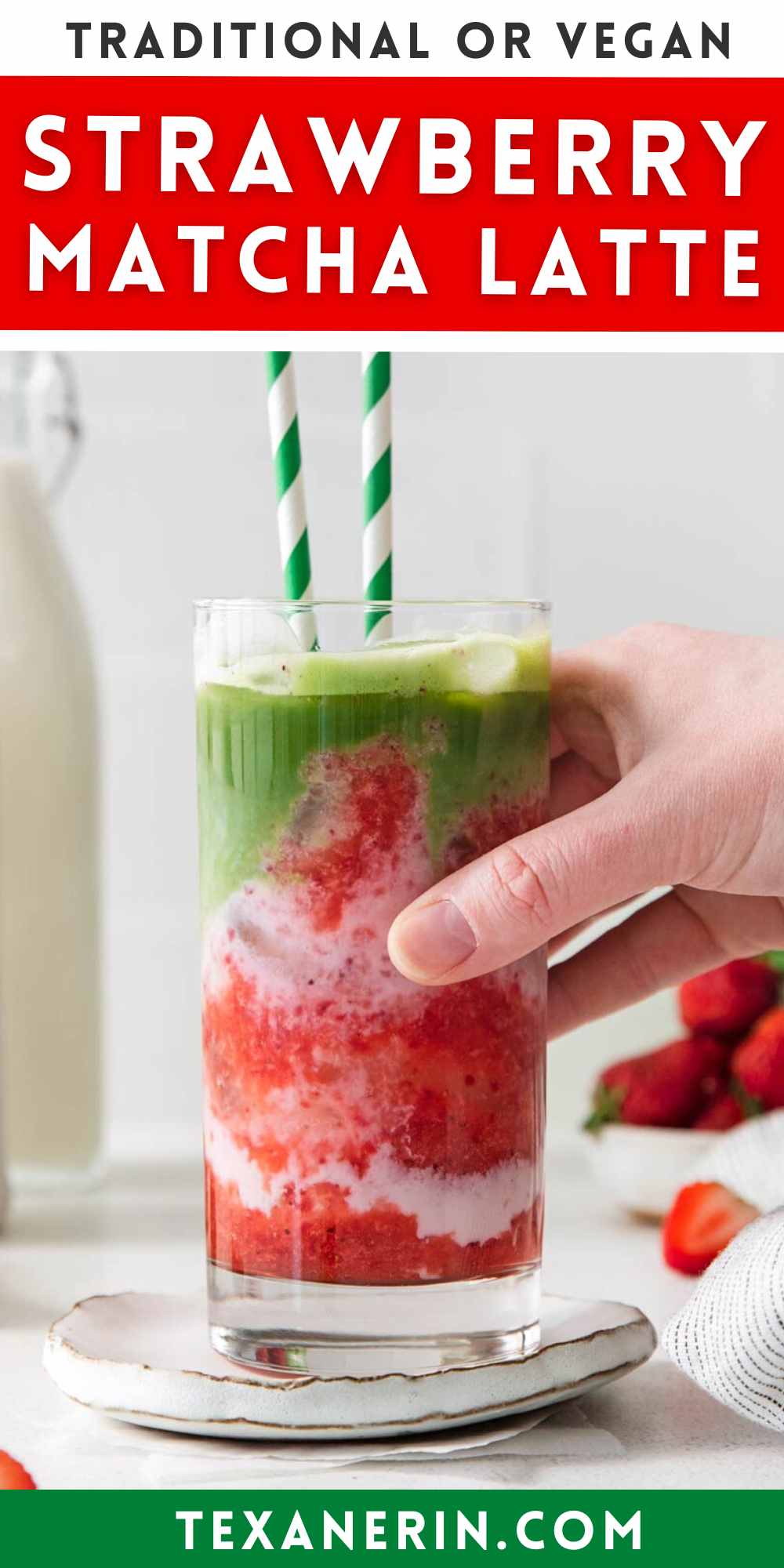 ❀
Strawberry Matcha Latte (traditional or vegan/paleo)
Prep Time:
Cook Time:
Ready in:
Yield:

1
Ingredients
Strawberry layer:

2/3 cup (120 grams) fresh or frozen + thawed strawberries
2 tablespoons maple syrup
1 teaspoon vanilla extract

Matcha layer:

1 1/2 teaspoons matcha
1/4 cup (60 ml) warm water

Assembly:

1/2 cup ice
3/4 cup (177 ml) milk of choice (I used cashew)
Directions
Blend the strawberries, maple syrup and vanilla in a blender or with an immersion blender.
Stir together the matcha and water in a small bowl.
Pour the strawberry puree into the bottom of a glass.
Add ice over that, being careful to keep the strawberry layer neat.
Pour the milk over the back of a spoon to create a neat milk layer over the strawberry layer.
Carefully pour the matcha over the milk layer by pouring it over the back of a spoon.
Serve immediately.