This amazingly delicious gluten-free strawberry rhubarb crumble is vegan, dairy-free and 100% whole grain!
It's finally time – my book is coming out next Monday! (update: it's out now! You an order here). If you missed my last post about it, go take a gander. It's all about 100% whole grain desserts. About half of the recipes use ancient grains, like teff, spelt, buckwheat, etc., but even those recipes can be made with regular whole wheat flour. Because I know most people can't just go pick up a bag of quinoa flour at their local grocery store, I tested all the recipes calling for ancient grains with regular whole wheat and list it as an option. A lot of white whole wheat flour is also used. If you have a bag of white whole wheat flour and some oats to grind into oat flour, you'll be able to make all but a handful of the recipes!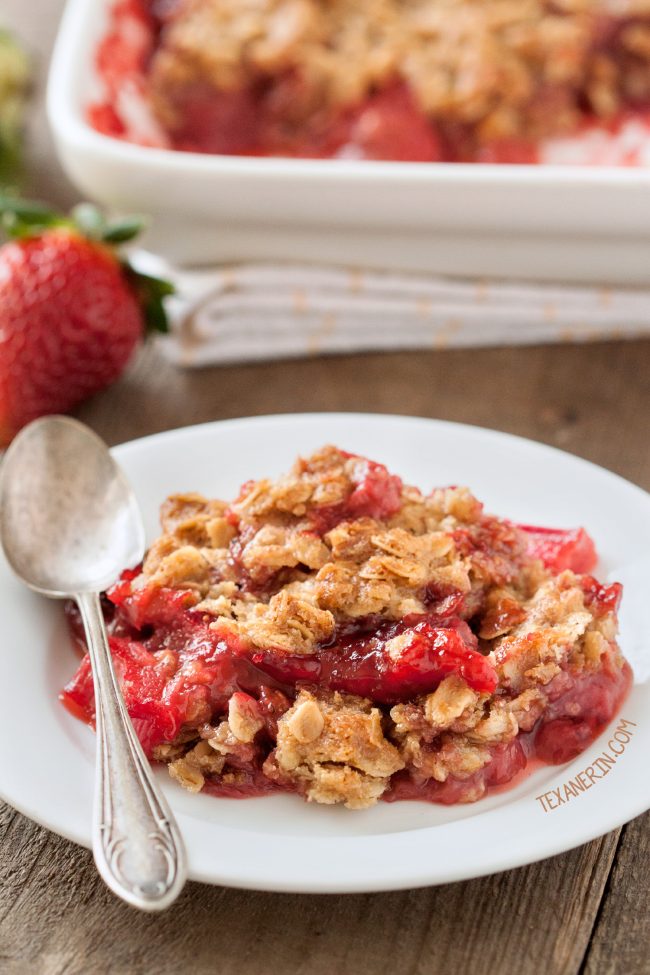 The book's focus isn't on gluten-free recipes, but there are 15 grain-containing gluten-free recipes (I say grain-containing because I have an extras section with recipes for homemade jam, ice cream, etc., that are mostly naturally gluten-free). The gluten-free recipes are heavy on the chocolate so if you need chocolate-free and gluten-free, this book probably isn't for you. There are 28 grain-containing dairy-free recipes and 6 grain-containing vegan recipes (sorry, vegans!) I would have absolutely loved to include more dietary-friendly options but time wasn't on my side.
A few people have asked what it was like to write a cookbook. I wish I could paint a magical, cheerful picture but in reality, I tested recipes about 14-15 hours a day, 7 days a week for about 4 months. Then over the next two months, I only baked about half that time and spent the rest of the day writing everything up and dealing with the recipe testing. My husband did everything else. I didn't go grocery shopping, clean, or cook. The poor guy was spending 2+ hours a day just doing my dishes, not to mention all the other housework. So thanks, Mr. Texanerin, for all the help. :)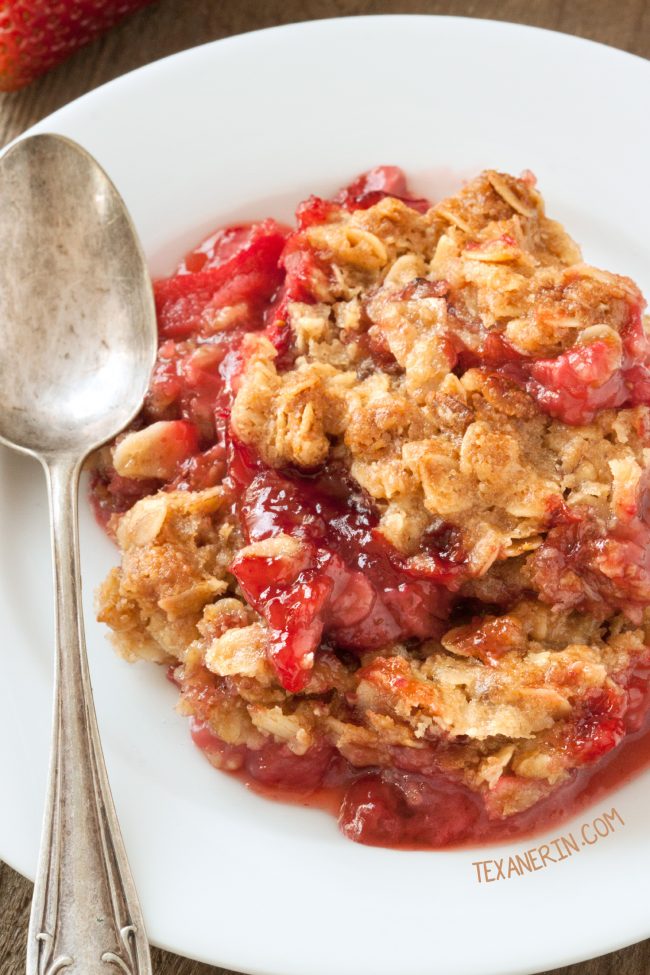 Seriously. All I did was sleep, shower, and bake. I also spent about 1 hour a week on blogging stuff (which I'm sure a few of you noticed with the lack of posts!) Because of all the flour, fat and sweetener variations, I typically tested each recipe about a dozen times. Some recipes really gave me issues and those I made over 30 times. It was, to be totally honest, a nightmare. It was the most stressful time of my life and I'm so incredibly thankful that it's over.
Everything was fine and dandy until I saw the finalized manuscript that was sent to the printer. I was totally devastated. All of the final corrections I had submitted to the publisher hadn't been corrected. To the average reader who just wants to make the recipes, it won't matter because the recipes are spot on and there aren't any mistakes in the recipes that will throw you off. But it's still such a huge disappointment. There are two places where the instructions say to add the coconut and it should have said coconut extract or coconut oil, but there aren't any mistakes that will hinder your success. The mistakes are in the prose and you can see all of them and the corrections here.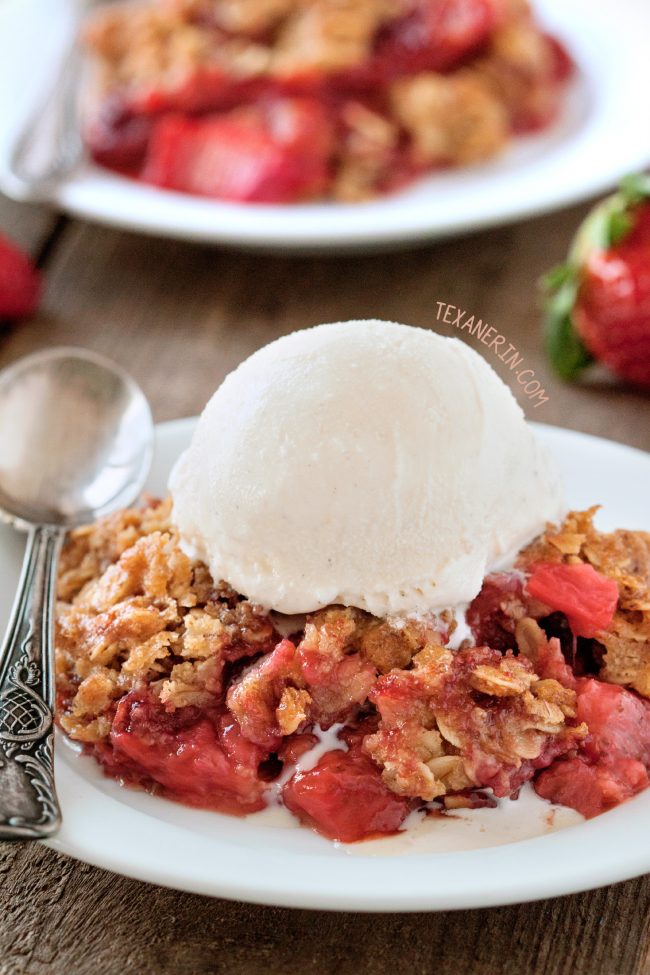 I hope this doesn't turn you off because I really think the recipes are solid! Since I live in Germany, I figured I should have everything tested by people living in the US. I used American white whole wheat flour, baking powder, and some other ingredients but I unfortunately don't have access to American cream cheese, butter and other refrigerated products. I also had testers in the UK, Puerto Rico, Greece, Austria and Germany and was relieved to find that nobody really had any ingredients issues. Thanks so much to all my testers. :) Their input really made the instructions, and therefore the book, so much better! I'm hoping that someone who has never baked before will be able to understand everything and won't have any issues.
This gluten-free and vegan strawberry rhubarb crumble is adapted from the Oat Flour Plum Crumble in the book. The filling is just lightly sweetened but the topping (of which there's a huge amount!) is nice and sweet. I love the balance! I wrote more about the actual recipe over on my My Baking Addiction post so if you're interested in reading about it, be sure to check it out here: gluten-free strawberry rhubarb crumble.
If you're more of a cobbler type, then give this strawberry cobbler from Vegetarian Mamma a try! It's also gluten-free.
❀
Strawberry Rhubarb Crumble (gluten-free, vegan, whole grain, dairy-free)
Prep Time:
Cook Time:
Ready in:
Yield:

8-12 servings
Ingredients
For the fruit:

2 cups (250 grams) rhubarb, cut into 3/4" pieces
2 cups (282 grams) strawberries, hulled and cut into 3/4" pieces
1/4 cup (50 grams) granulated or raw sugar
3/4 teaspoon almond extract
1/2 teaspoon vanilla extract
1 tablespoon cornstarch
pinch of salt

For the topping:

3/4 cup + 1 tablespoon (75 grams) oat flour (use gluten-free oat flour, if necessary)1
1 1/4 cups (115 grams) rolled oats (use gluten-free oats, if necessary)
2/3 cup (132 grams) light brown sugar or raw sugar
2/3 cup (149 grams) butter or 1/2 cup + 1 tablespoon (126 grams) coconut oil, melted and cooled slightly (use coconut oil for vegan / dairy-free)
1/4 teaspoon salt
Directions
Preheat the oven to 350 degrees F and grease a 1-quart, 8"x8" or another similar sized baking dish.
In a large mixing bowl, stir together the sugar, almond extract, vanilla extract, cornstarch and salt. Add the chopped fruit and stir to coat in the mixture. Let sit for at least 10 minutes while preparing the topping.
In another large mixing bowl, stir together the oat flour, oats, brown sugar, melted butter or coconut oil and salt until well combined.
Spoon the fruit mixture into the pan and top with the topping. Place the dish on a baking sheet to catch any spills.
Bake for 40-45 minutes or until the topping is firm and the fruit is bubbling. The topping will appear to be quite runny around 25-30 minutes but firms up in the last 10-15 minutes of baking. The filling may also appear runny while warm but thickens as it cools.
Let cool for 30 minutes and serve warm or room temperature. Cover and store at room temperature for up to 2 days.
Notes
To make oat flour, grind rolled or quick oats in a coffee grinder or small food processor until it resembles flour.
Source: my post on My Baking Addiction - Gluten-free Strawberry Rhubarb Crumble, which was adapted from my cookbook, The Sweet Side of Ancient Grains