This Swedish apple pie is similar to a crisp and is naturally gluten-free, vegan, dairy-free and 100% whole grain! With a how-to video.
Last Monday, I was so excited about posting those caramel apple cheesecake bars that I forgot about my International Apple Cake Monday thing I have going on. But I'm back with this Swedish apple pie! It's obviously not cake but it's close enough. ;)
I Americanized this recipe by adding vanilla to the topping and some spices to the apples. Vanilla extract doesn't seem to be a thing in Europe. Everywhere I go, I find vanilla sugar.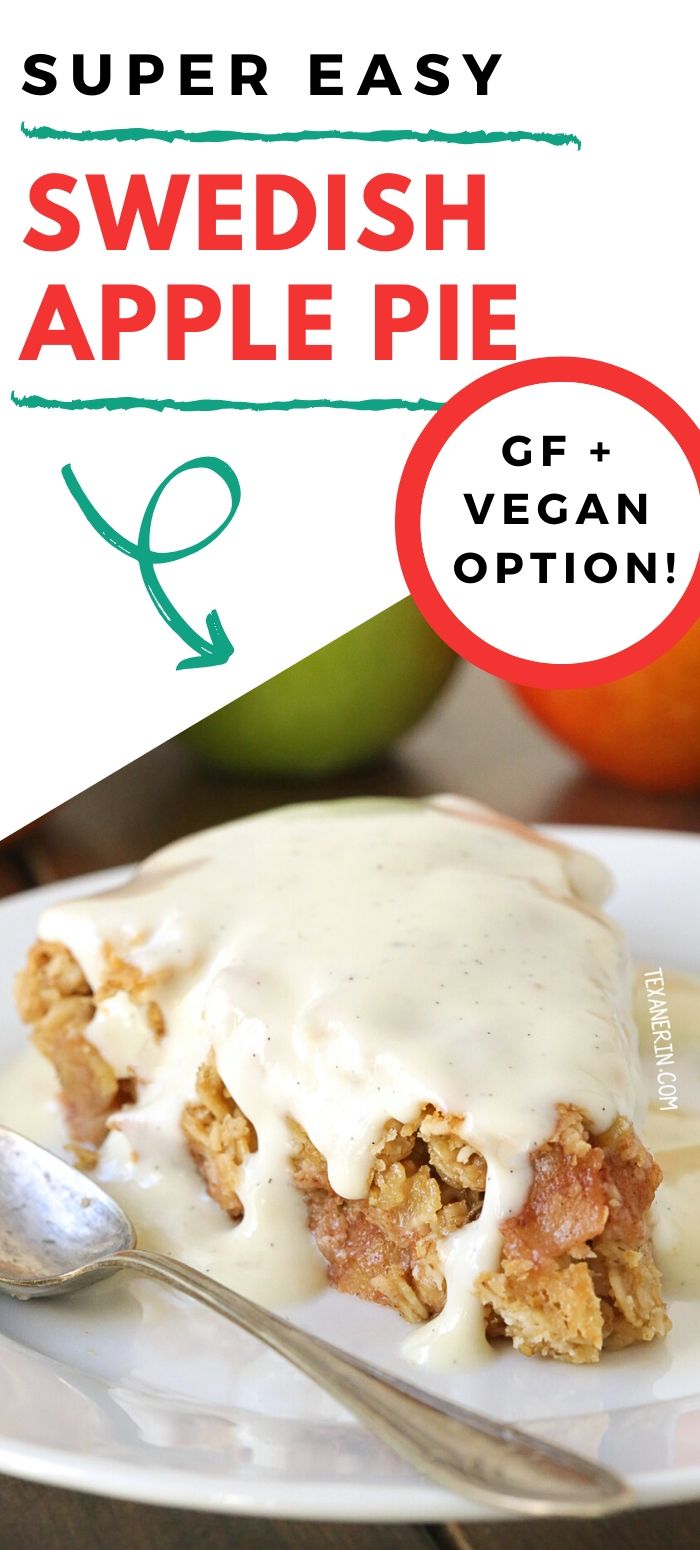 And most brands aren't even real vanilla sugar but use synthetic vanilla flavoring! Yuck. Luckily, it's really easy to make homemade vanilla, so that's what I use.
Most Swedish fruit pies I've had didn't have any spice but because I'm me, I added cinnamon and cardamom. Scandinavians love their cardamom and so do I! It just belongs in this pie.
I've mentioned this before, but I was an exchange student twice in Sweden and have gone back for lots of visits during the summer. This has resulted in me eating lots of Swedish pies.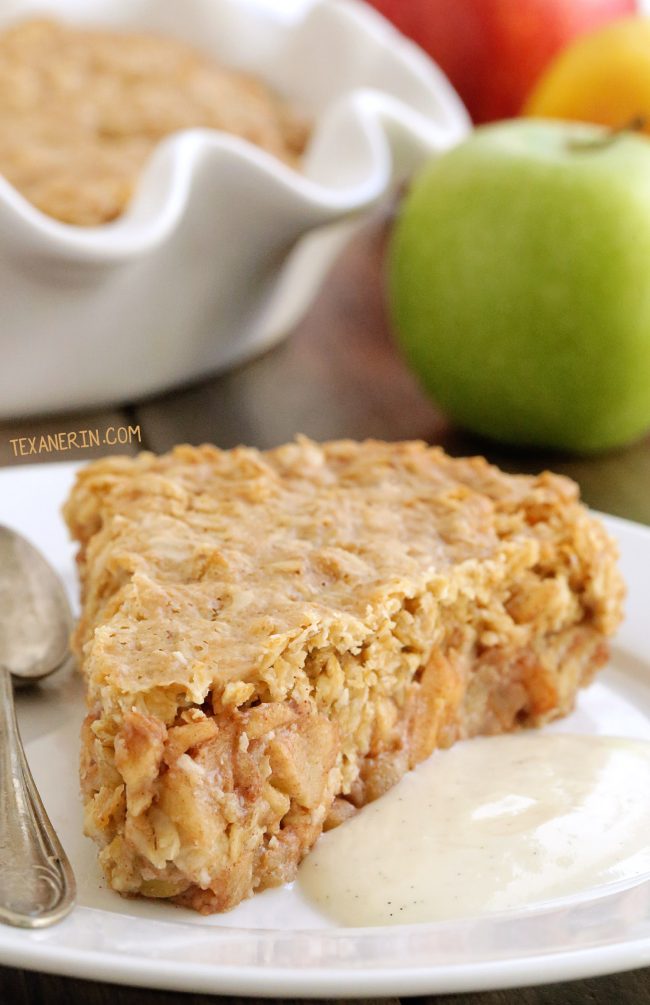 And lots of Swedish pancakes, kladdkaka (which is like a dense and fudgy brownie cake!), and pepparkakor (which are thin, crisp ginger cookies popular around Christmas!).
The type of pie here is called a smulpaj, or crumb pie and is almost like a crumble or crisp. I wanted to make today's Swedish apple pie gluten-free, so I replaced all-purpose flour with oat flour, and although the texture is a little different, it's no less delicious!
If apples aren't your thing, any kind of fruit can be used, though you'll probably want to adjust the amount of sugar and spices! Part of the beauty of this recipe is that it's really hard to mess up. Pie crusts are kind of my nemesis so I LOVE this Swedish apple pie. :D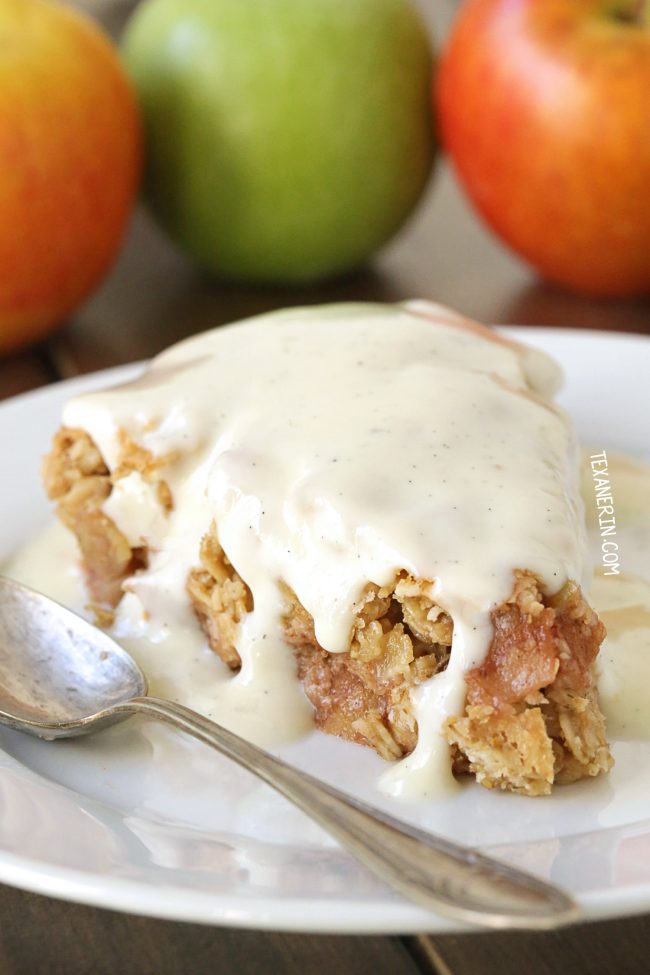 Instead of ice cream, Swedish fruit pies are usually topped with vanilla sauce (that usually comes from a box, I might add!) I included a recipe for vanilla sauce in the book that uses egg yolks and cream but because I was feeling too lazy to divide eggs and I wanted the sauce to be dairy-free, I'm sharing a different version here.
This one is easier and uses a whole egg and milk rather than cream. For a vegan alternative, use my paleo vegan vanilla sauce! I'm not including the recipe here because it's not as straightforward as the egg version.
It's super easy but I think the post should be read before making the sauce as it includes a lot of tips and answers to substitution questions I'm anticipating.
❀
Swedish Apple Pie (gluten-free, vegan, dairy-free, 100% whole grain)
Prep Time:
Cook Time:
Ready in:
Yield:

8 slices
Ingredients
For the apples:

4 cups firm baking apples, peeled, cored and chopped to 1/4" chunks (this was about 4 medium apples or 492 grams of chopped apples)
2 teaspoons ground cinnamon
3/4 teaspoon ground cardamom
1 tablespoon raw sugar or granulated sugar

For the topping:

9 tablespoons (126 grams) coconut oil, melted
1/2 cup (100 grams) raw sugar or granulated sugar
1/4 cup (60 milliliters) maple syrup
1 1/2 tablespoons vanilla extract
1 1/4 cups (113 grams) rolled oats (use gluten-free oats, if necessary)
3/4 cup + 1 1/2 tablespoons (78 grams) oat flour (use gluten-free oat flour, if necessary)
1/2 teaspoon baking powder
1/4 teaspoon salt

For the vanilla sauce:

click here for the → paleo vegan vanilla sauce or see the recipe in the notes section below for a non-vegan vanilla sauce1
Directions
For the pie:

Preheat the oven to 350 °F (175 °C) and grease a 9" pie pan.
In a large mixing bowl, stir together the apple chunks, cinnamon, cardamom and sugar.
In another large mixing bowl, stir together the melted coconut oil, sugar, maple syrup and vanilla extract. Add the oats, oat flour, baking powder and salt and stir just until combined.
Spread the apples evenly over the bottom of the prepared pie pan. Spread the topping over the apples.
Bake for 40-45 minutes or until the apples are bubbly and the topping is firm.
Serve warm, room temperature or cold.
Cover and store at room temperature for up to 2 days. Refrigerate after that.
Notes
This is the recipe for the non-vegan vanilla sauce.
– 1 1/2 cups (355 milliliters) milk of choice (just not canned coconut milk)
– 3 tablespoons raw sugar or granulated sugar
– 1 tablespoon cornstarch
– pinch of salt
– 1 large egg
– 1 vanilla bean or 1 tablespoon vanilla extract

In a medium saucepan over medium heat, stir together the milk, sugar, cornstarch and salt. Whisk in the egg. Slice the vanilla bean open and scrape out the seeds. Add them to the pan along with the scraped-out bean.

Bring to an almost simmer while stirring constantly. It should thicken quite a bit and coat the back of a spoon. It's okay if it simmers briefly, but do not let it boil. It'll likely take 5-10 minutes. If using vanilla extract instead of a vanilla bean, add it now. It will continue to thicken a little as it cools. Remove the vanilla bean before serving. Once cooled, refrigerate in an airtight container for up to 3 days.