This Vegan Gelato is insanely rich and decadent! It's made with coconut milk but doesn't have any coconutty taste. It's paleo, nut-free and no-churn. It's also super easy with only 5-ingredients and a little salt.
Dairy-free ice cream is usually too icy for my liking. I've tried many different paleo ice cream recipes, but never liked any of them.
Then I realized I already have the perfect recipe. When I made this Vegan Chocolate Cream Pie, I froze the leftovers and the filling tasted like ice cream.
It's one of those desserts that even non-paleo and non-vegan friends will love. Honestly, it tastes SUPER luscious and no one will know it's a healthier treat.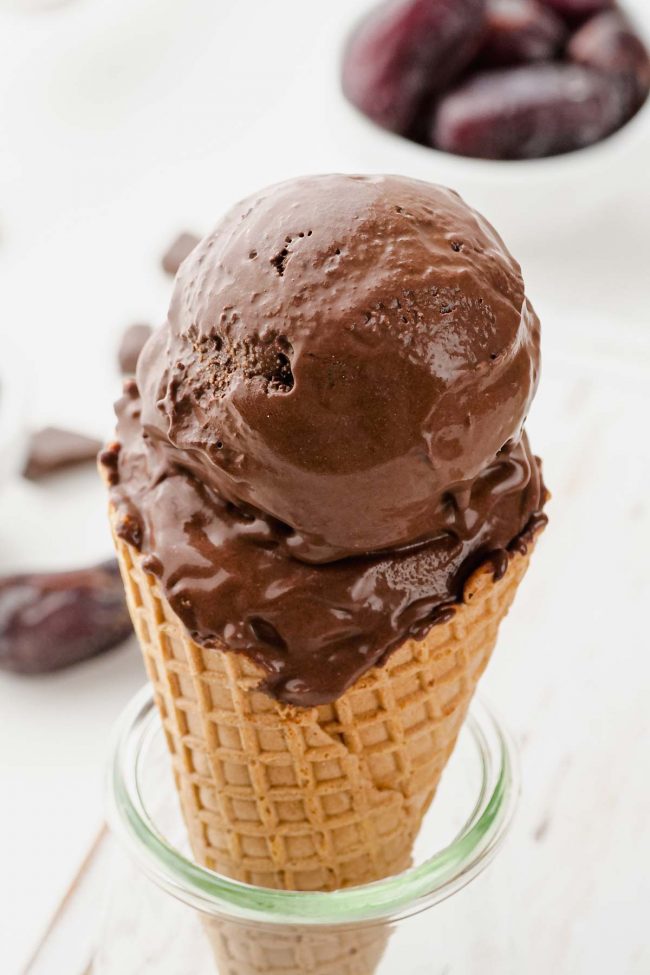 What is gelato?
Gelato is Italian meaning ice cream in English. Both are sweet, frozen treats made of milk, cream and sugar. Gelato has been around since the 16th century and is a favored dessert of many Italians.
While the two words can be directly translated and they seem quite similar, there are some differences between the two.
Gelato is denser and richer than American ice cream, which is milkier and creamer than an Italian gelato.
Interestingly, egg yolks are a common ingredient in some ice cream recipes, whereas, gelato doesn't usually call for egg yolks.
Plus, gelato uses more milk and less cream. Yolks are used as a natural emulsifier and help give ice cream that silkiness without the use of an ice cream machine.
USDA regulations require ice cream to be at least 10% butterfat. Most store-bought brands have between 14 and 25%.
Italian gelato, in contrast, has between 4 to 9% butterfat which makes gelato flavors more intense because the butterfat isn't coating your palate. And although you would think that gelato would be less creamy, it actually seems creamier than American ice cream.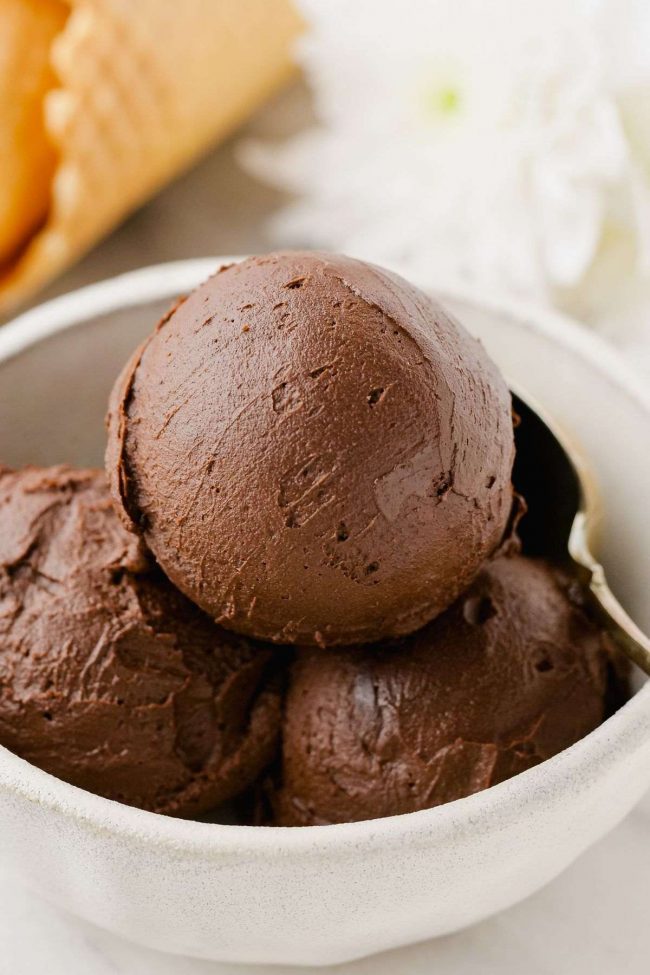 There's less air in gelato compared to ice cream, which keeps it dense yet silky and more intensely flavorful. Ice cream is normally made up of 50% air by volume, gelato – 20 to 35%.
In the traditional way of making gelato, it is churned at a much slower speed than ice cream.
Also, there's a difference in temperature. Gelato is served between 10 to 20 °F, but ice cream is served at 6 to 10 °F. I mention this because we generally taste things better when food is warmer, and it applies to gelato as well.
One other minute difference is ice cream is scooped with a half-round scooper, and scooping gelato is done with a spade. That's not to say you need to go buy an Italian gelato spade to serve this vegan gelato. ;)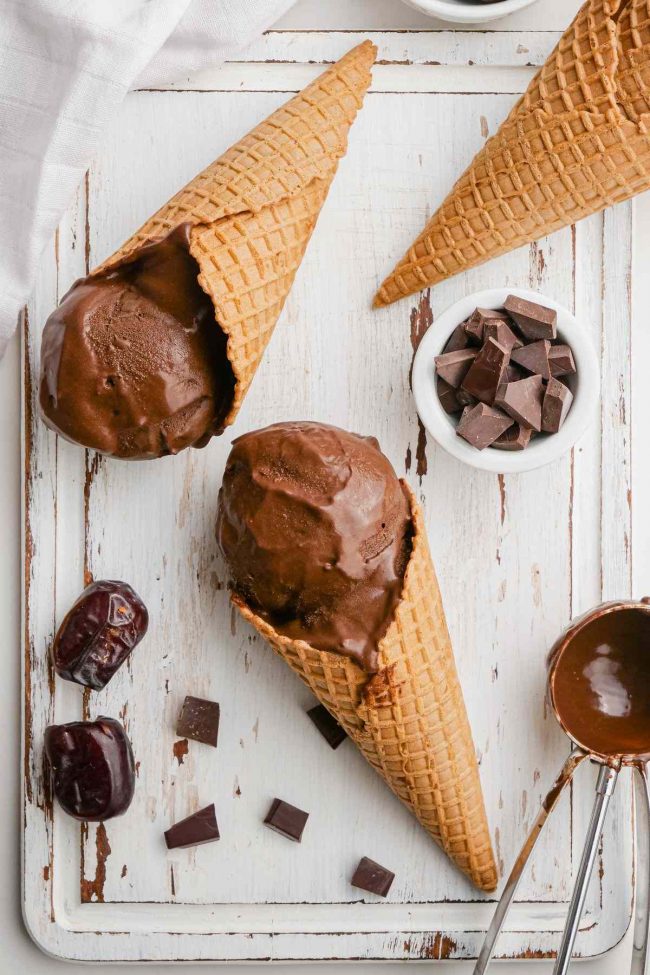 Ingredients:
One 14-ounce (400-ml) can of full-fat canned coconut milk – I highly recommend using full-fat so that the gelato is as creamy as it should be. The brand I use is 14.7% fat.

If yours is higher in fat, that's fine. If it's a little lower, your gelato will still be very creamy, but low-fat or fat-free coconut milk aren't good options.

This recipe was originally made with 1 1/2 cups of coconut cream. It was over-the-top rich – like eating a chocolate-flavored stick of butter.

I think there's a 0% chance that someone will say that the coconut milk version isn't rich or creamy enough! But if coconut cream is all you have, go ahead and use it as is, or water it down a little bit so that the consistency is more like coconut milk.


Pitted dates – no sub for these. They just don't add sweetness. They're needed to make the gelato creamy.


Coconut sugar – here you could use a different type of sweetener, but it needs to be granulated. If you're paleo, the only one I can think of is maple sugar.


Cocoa powder – I used Dutch-process for a deep and rich chocolate flavor, but regular cocoa like Hershey's would also work.


Vanilla extract + salt – it might look like a lot of salt, but you need it! Otherwise the chocolate flavor doesn't pop the way it should.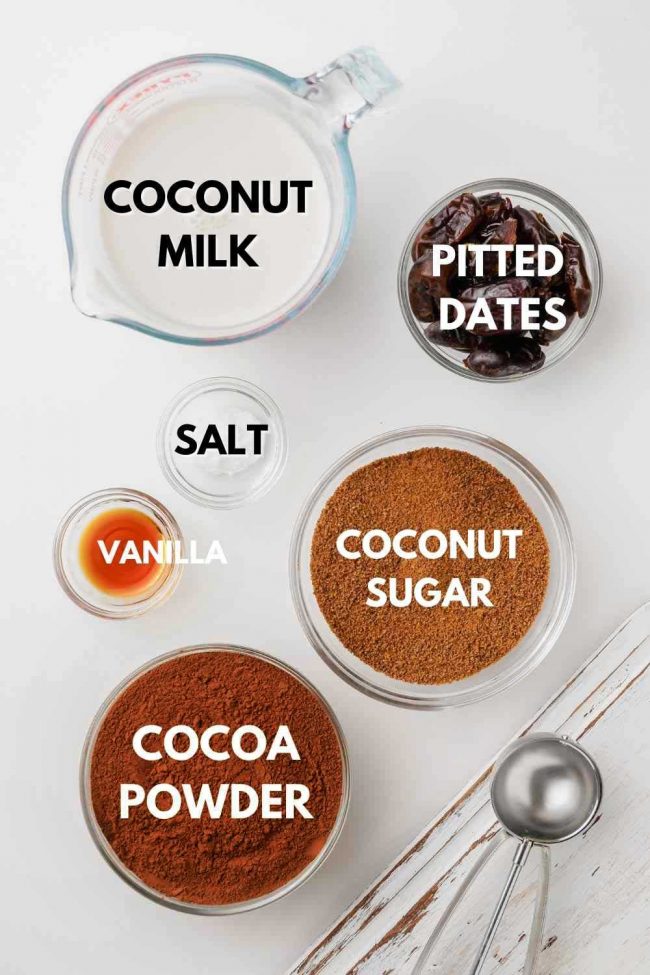 How to make it
In a high-speed blender, add all of the ingredients, in the order listed. You don't want the coconut sugar and cocoa powder at the bottom.
It's much easier to blend if you have the liquids at the bottom.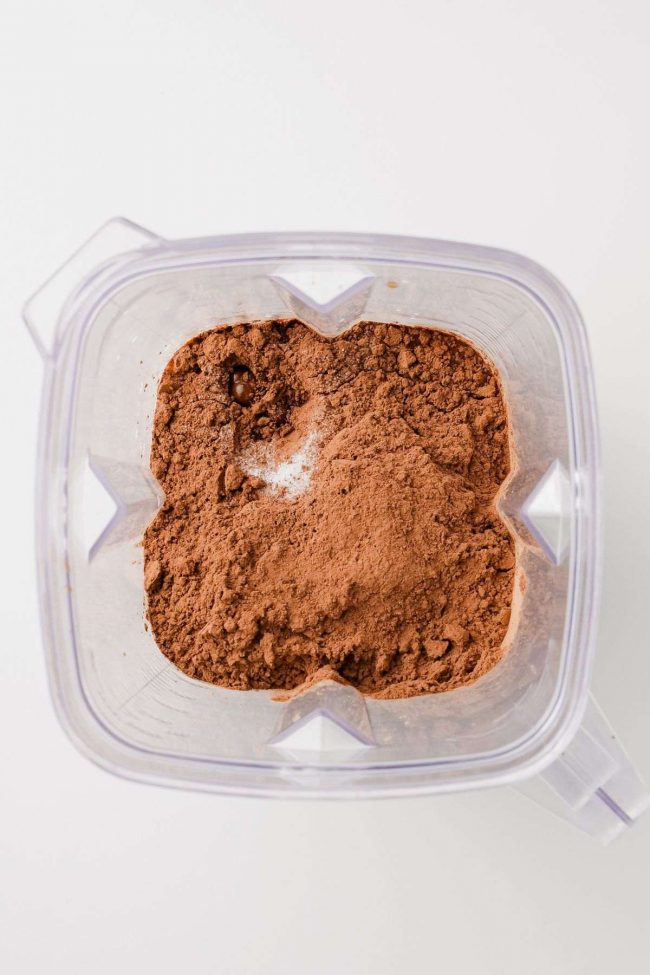 Blend until completely smooth and no date lumps remain. It doesn't take long. Maybe a minute.
But definitely don't stop before it's 100% creamy! Even if you like chunks of dates in your ice cream, you need to blend until smooth, because those pureed dates are needed to sweeten the gelato.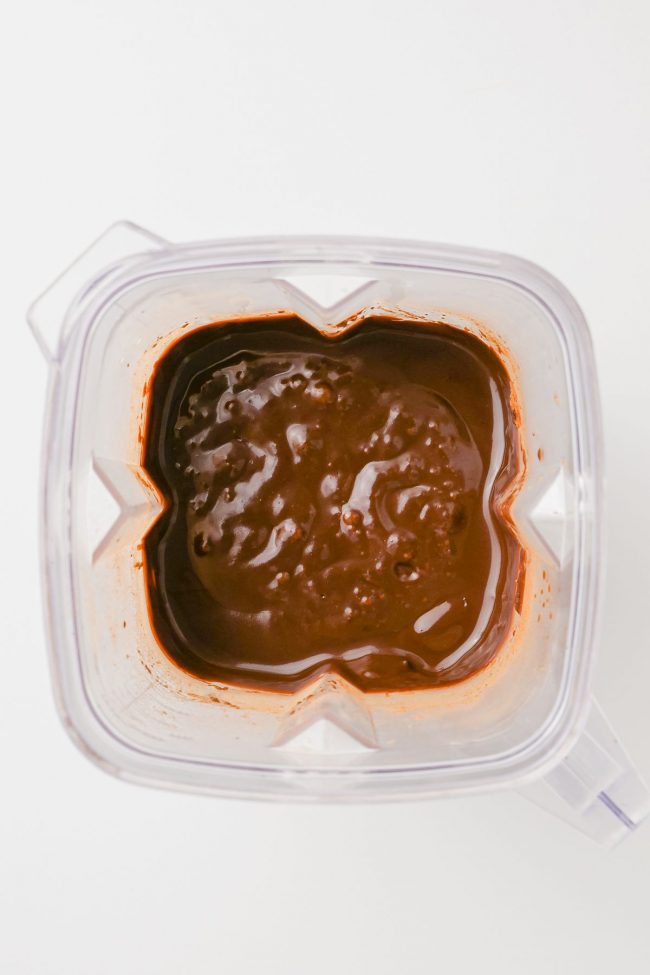 Pour into a freezer-safe container and freeze for 4 to 8 hours.
Make sure to use a container that's freezer-safe. I've used some plastic tupperware containers that have cracked while defrosting.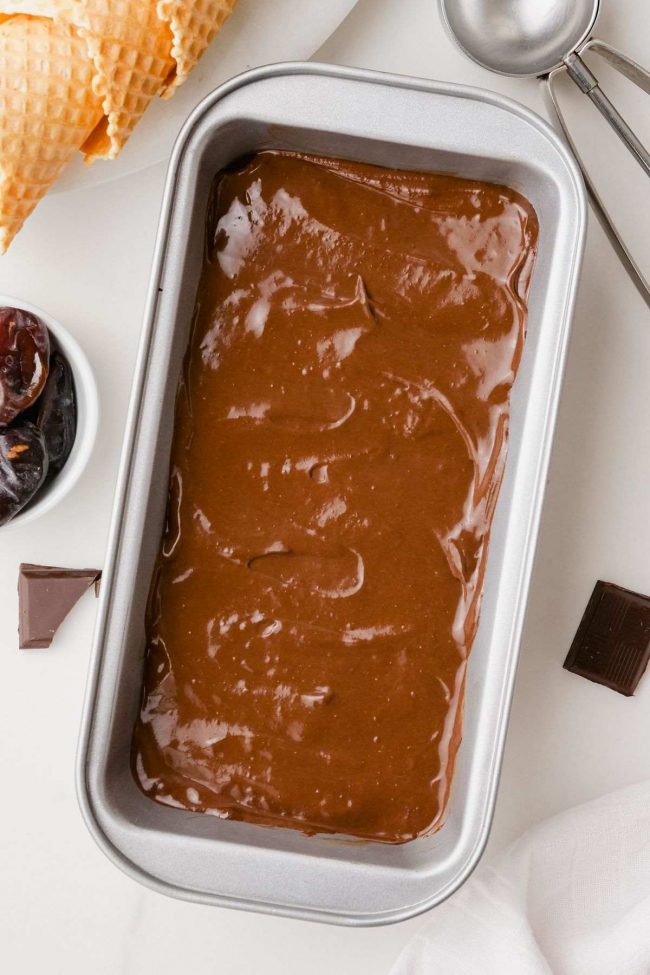 Scoop and serve! It's super rich, so you really don't need much.
Note: This gelato is too firm to scoop with an ice cream scooper straight out of the freezer, but it will scoop up nicely if you set it out for a bit and let it defrost.
I'm never patient enough to wait the 5 minutes, so I stab it with a fork to take what I want, and then it softens quickly in my bowl. If you use a metal loaf pan to freeze the gelato, you might have to wait more like 10-15 minutes to get it to defrost nicely.
Yield
This recipe yields about 2 3/4 cups (675 ml). It might not sound like much, but when you consider how rich it is, it's not such a small yield after all.
You do not want to serve multiple scoops of this to your guests. One is likely enough, though it'd be great as part of something like this Banana Split.
Yes, there are four scoops in the bowl in some of the photos, but a bowl with a single scoop doesn't look very appealing. ;)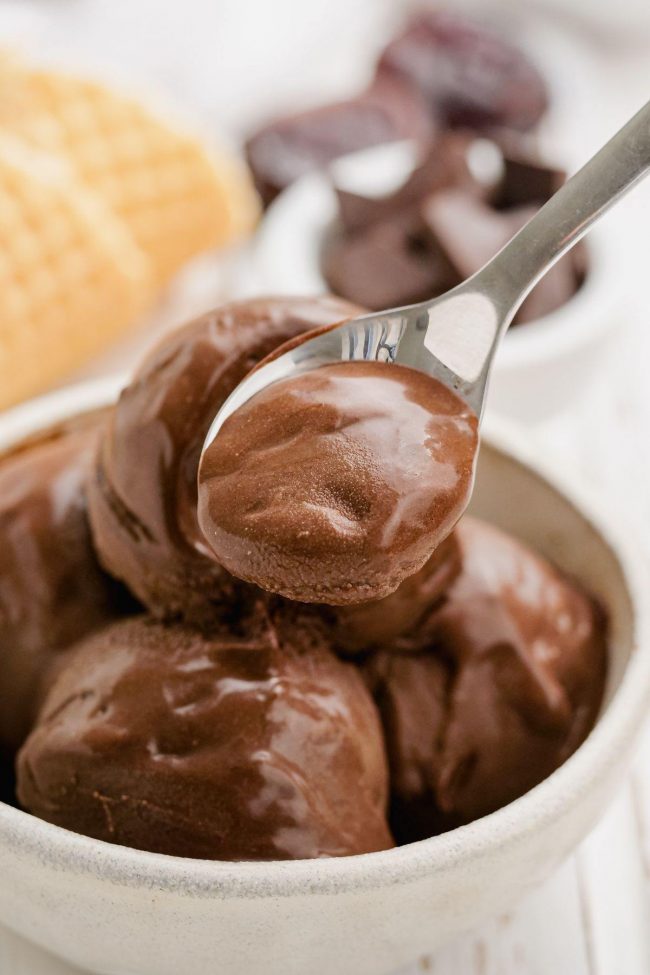 Do I have to use coconut milk?
Using dairy-free alternatives like soy or almond milk would result in something super icy. You would probably have to use an ice cream maker.
If you want to use something other than coconut milk, you might want to find a different recipe.
Can I use raw cacao powder?
I wouldn't recommend it. The taste is very different, and you'd need to use a lot more sugar.
33% more sugar if you insist on trying it. And you'd need to use the same amount of cacao as cocoa in grams (98 grams) – not cups.
I'm writing a whole post about the differences between cacao and cocoa. I thought it was ready to post a few weeks ago, but then I decided to try cacao out in "just one more" recipe. And buy "just one more" brand of cacao.
All in an effort to see if there's some issue with the brands I've bought or if the taste is really just so different. At least the post will be well-researched. :D My cacao powder collection and the cacao goodies in my freezer are getting out of hand, though.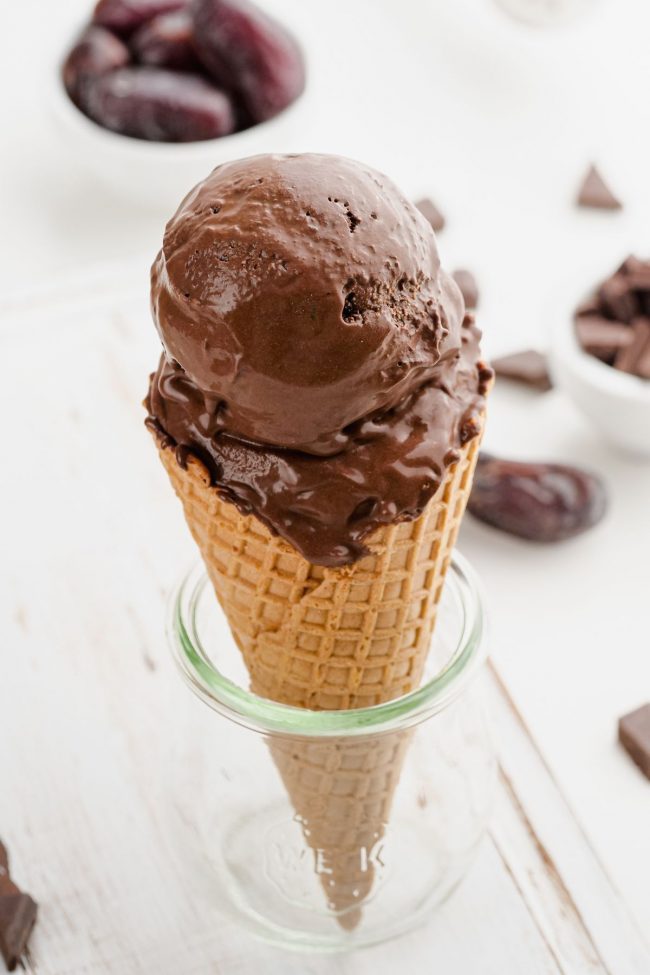 Other cool vegan recipes:
If you try this gelato or any recipes you find here, I want to hear about it! Just tag your photos #texanerin on Instagram, Facebook, and Twitter so I can easily find them. Enjoy!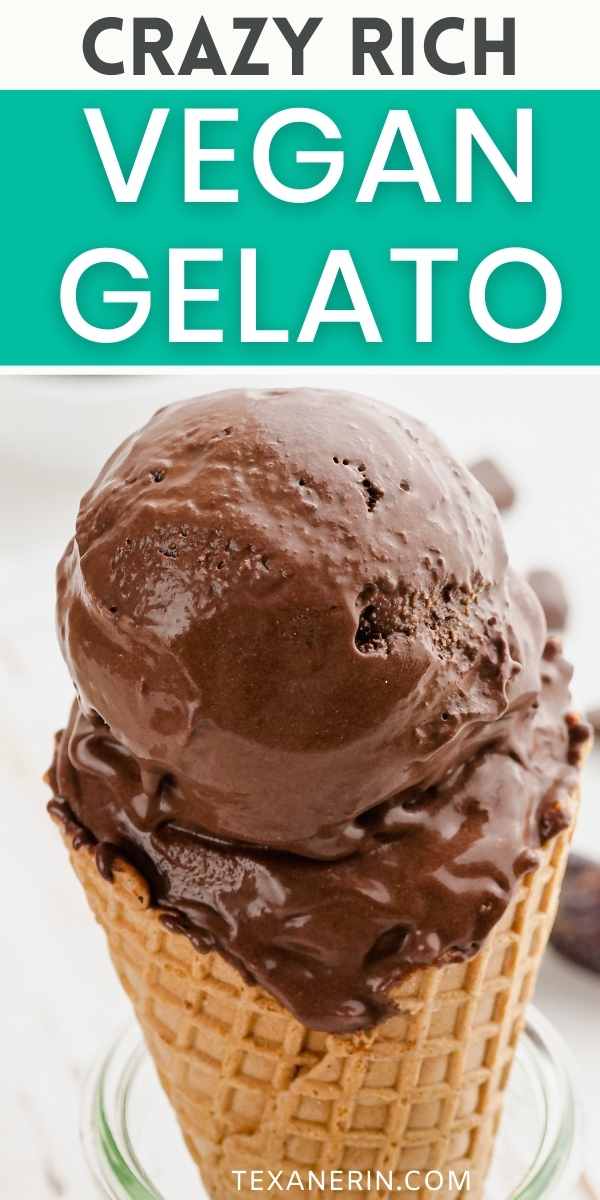 ❀
Vegan Gelato
Prep Time:
Cook Time:
Ready in:
Yield:

2.75 cups (650 ml)
Ingredients
one 14-ounce (400-gram) can full-fat canned coconut milk
1/2 cup (105 grams) pitted dates
1/2 cup (100 grams) coconut sugar1
3/4 cup + 1 1/2 tablespoons (98 grams) Dutch-process cocoa powder
2 1/2 teaspoons vanilla extract
1/2 teaspoon salt
Directions
In the bowl of a food processor or a high-speed blender, add all the filling ingredients, in the order listed, and blend for about 30-60 seconds (or a few minutes in a food processor) or until totally smooth and no lumps of dates remain. If you use a food processor, it could be that there are some little bits of dates left.
Pour into a freezer-safe container and freeze for 4-8 hours, depending on how hard you want the gelato.
Let it sit at room temp for 5-10 minutes before scooping.
This will stay good in the freezer for up to 3 months.
Notes
Note that it's best to weigh coconut sugar! Some brands are light and coarse and some brands (like the one I use) are very fine and dense.